Edwin Lutyens Hestercombe Symposium, Building, House Images, Designs, Style, Photos, Properties
Edwin Lutyens Architect
Arts & Crafts Architecture by Scotland + England, UK – Key Buildings / Projects
4 Oct 2019
Edwin Lutyens Symposium
Architects and artists explore the life of Edwin Lutyens
'Where Function Ends', Hestercombe, Taunton, Somerset, England
Symposium Friday 11 October
Exhibition until 27 October
Experts and practitioners of art and  architecture will come together to explore the life and work of the architect Sir Edwin Lutyens for a symposium at Hestercombe, Taunton on Friday 11 October.
The symposium takes place in the context of the exhibition Where Function Ends which responds to the legacy of Lutyens, and marks the 150th anniversary of the birth of the man whose designs transformed the Hestercombe site.


image courtesy of article provider
The Formal Garden at Hestercombe, built for the Portman family between 1904 and 1908, is one of the finest and most ambitious examples of Lutyens' garden design partnership with Gertrude Jekyll.
Symposium speakers
Lutyens expert Charles Hind, Chief Curator of Drawings at the Royal Institute of British Architects and trustee of the Lutyens Trust.
Niall Hobhouse who established a working collection of drawings, sketchbooks and models dating from the sixteenth century to the present, which is at the core of the work of Drawing Matter, a public forum for examining architectural drawing.
Where Function Ends artists Artists Alex Hartley, Liz Nicol and Oliver Sutherland, and exhibition curator Kate Best.
Guest artist Neville Gabie, who will be launching 'Outfield', a proposition to excavate Hestercombe's historic cricket pitch, and recreate the match  that would have been played between landowners and staff over 100 years ago.
Hestercombe's Curator Tim Martin said:
"This symposium and the exhibition can't happen anywhere else. They are unique to this place; its history, its buildings and its landscape. At Hestercombe, we have been working towards our vision of a cultural centre which brings together the things that are special about this place, using art to explore important aspects of the locality."
Orangery at Hestercombe, Taunton, Somerset, England: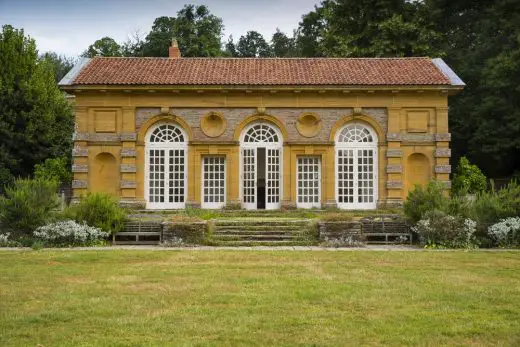 photo : Hestercombe
The exhibition brings together the work of three outstanding artists with a group of Lutyens' original sketches and plans, including some of those for Hestercombe, to explore his architecture at Hestercombe and beyond. The exhibition uses the 150th anniversary of Lutyens' birth to look at Hestercombe's history in a wider context and consider Lutyens' work afresh through the eyes of contemporary artists.
Grey Walls in Gullane, with red Aston Martin: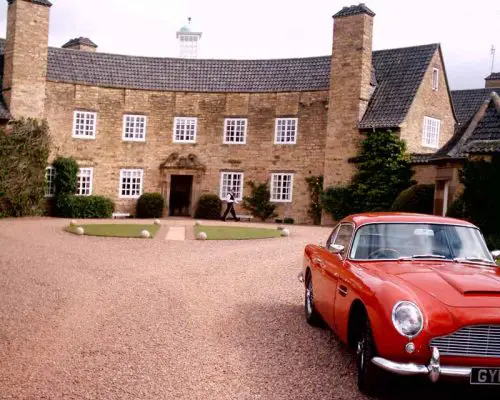 Lutyens house image © Isabelle Lomholt
The exhibition includes work by three artists:
Artist in residence Oliver Sutherland has been recording the garden and holding conversations with members of the gardening team at Hestercombe. Using contemporary technologies including 3D scanning and motion capture, as well as sound recording and writing, he has created a moving image work that layers performance, sound and written narratives to explore the Formal Garden as a technological space.
An installation by internationally-renowned artist Alex Hartley explores the contested relationship between Lutyens' architecture and Modernism, the dominant architectural language of the mid 20th century. As part of his series The Houses, Hartley has created new works for Hestercombe, depicting iconic British Modernist houses. These are shown alongside items from the Hestercombe archive, original drawings by Lutyens on loan from the Royal Institute of British Architects and Drawing Matter, and photographs by Gertrude Jekyll.
One of Liz Nicol's images of Thiepval which appears in the exhibition: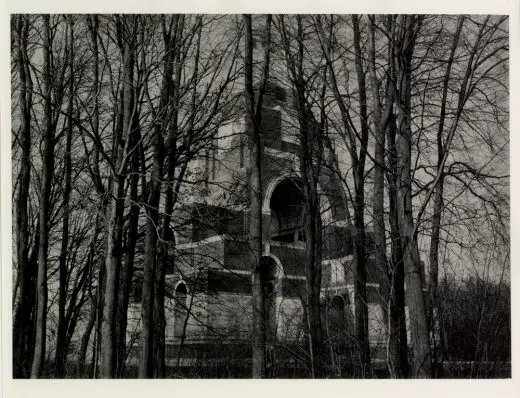 Thiepval, gelatine silver print, Liz Nicol
Photographer Liz Nicol has made a body of work about Lutyens' designs for the Imperial (now Commonwealth) War Graves Commission. The Commission was set up during the First World War to deal with the scale of the losses during that conflict and the collective need to recover, bury and commemorate the dead. Nicol has visited the cemeteries designed by Lutyens and his Memorial to the Missing of the Somme at Thiepval, and through her photography, explored the ways in which he developed his 'elemental mode', inspired by the orders and rules of Classical architecture, to articulate private and public acts of remembrance on a monumental scale.
Where function ends is at Hestercombe, Taunton, Somerset until 27 October. The Gallery is open daily 11am to 5pm.
The Where Function Ends symposium takes place at Hestercombe on 11 October.
Hestercombe Gallery 
Hestercombe Gallery opened in 2014 with the aim of showcasing the best in contemporary arts practice. Five years on from its opening Hestercombe Gallery has delivered a programme of high quality exhibitions in eight reclaimed spaces, a series of artists in residence, outdoor commissions as well as an engagement programme including talks, seminars and workshops involving artists, students, academics, teachers and experts from other disciplines.
Exhibitions have included 'Leaping the Fence' and 'Terrain: Land into Art' featuring  artists such as Tracey Emin, Marc Quinn, Peter Doig and Richard Long in partnership with Arts Council Collections. Solo shows by Tania Kovats, Clare Woods, Helen Sear and Tim Knowles. Group shows have included photographs by garden designer Gertrude Jekyll alongside photographers Sarah Jones, Helen Sear and Mark Edwards as well as showcasing historic works by painter and poet Rev.John Eagles together with contemporary work by Rebecca Chesney, Paul Desborough and Jem Southam.
Hestercombe has engaged with writers Lizzie Lloyd, Sarah Kent, Cherry Smyth and Phil Owen; delivered garden commissions by Jennie Savage and Philippa Lawrence; and opened a second exhibition space for community and educational projects.
Hestercombe Estate
The Hestercombe estate in Somerset is a unique combination of three gardens that cover three centuries of garden history and design:
The famous Edwardian formal garden, designed by architect Sir Edwin Lutyens and planted by Gertrude Jekyll.
The Victorian Shrubbery and Terrace originally laid out by the 1st Viscount Portman in 1878.
The eighteenth century landscape garden designed by Coplestone Warre Bampfylde between 1750 and 1791.
Hestercombe Gardens is managed by the Hestercombe Gardens Trust, established in 1996 as an independent charity. The Trust oversees the restoration and development of the gardens, house and archives to protect them for the future for public benefit.
Attracting over 90,000 visitors a year it is now 25 years since founder, Philip White MBE discovered the historic gardens and made it his life's work to restore Hestercombe.
Hestercombe House, which was previously the headquarters for the Somerset Fire Brigade, was acquired by Hestercombe Gardens Trust in 2013, with Hestercombe Gallery opening in 2014.
Alex Hartley (born 1963, West Byfleet)
Alex Hartley graduated from the Royal College of Art in 1990 and lives and works in Devon. His work addresses our complex attitudes to the built and natural environments through a practice that encompasses wall-based sculptural photographic compositions, large-scale architectural installations, filmmaking, climbing and participatory site-specific works. Uniting these works is an exploration of modern architecture and the ways in which it is conceived and presented.
Alongside Hartley's gallery practice, he has developed a series of works in the public realm that test notions of utopia and the relationship between the individual and the environment. Nowhereisland, originally part of the Cultural Olympiad 2012, resulted in a new nation being formed from a previously undiscovered island, while the participatory and collaborative artwork The Clearing (with Tom James) occupied the grounds at Compton Verney during 2017. Alongside his installation at Hestercombe Gallery, in Summer 2018, Hartley is building a large-scale modernist ruin for English Heritage at Witley Court and Gardens, Worcestershire.
Hartley was commission winner for Compton Verney (2017-2022); Fleck Fellow, The Banff Centre, Canada (2017); won the Coal Prix Arts Foundation Award and Arts Foundation Award (2015); was the National Trust for Scotland Artist in Residence, St. Kilda (2013); and (with Nowhereisland) participated in Artists Taking the Lead, Cultural Olympiad (2012). Other awards include the Linklaters Commission, Barbican, London (2005); and Sculpture at Goodwood ART2000 Commission Prize, London (2000).
Solo exhibitions include: The Houses, Victoria Miro Gallery, London (2018); After You Left, Victoria Miro Gallery, London (2016); A Gentle Collapsing II , outdoor installation at Victoria Miro Gallery (2016-18); The World is Still Big, Victoria Miro Gallery, London (2011); Leeds Metropolitan Gallery, Leeds (2008); Edinburgh Art Festival Exhibition, Fruitmarket Gallery, Edinburgh (2007); Outside, Distrito Cuatro, Madrid (2003); Galerie Ulrich Fiedler, Cologne (1998); and Galerie Gilles Peyroulet, Paris (1995).
Group exhibitions include: The Other Place, KØS Museum for art in public spaces, Køge, Denmark (2019); Zero point of orientation. Photography as a location in the room, DZ Bank AG, Frankfurt (2019); Nowhere, Yokohama Triennial, Yokohama (2017); Transparency, Walker Art Gallery, Liverpool (2017); Vigil, Lookout, Folkestone Triennial, Folkestone;  Misbehaving the city, Blaffer Museum, Huston (2014); Buildering Contemporary Arts Center, Cincinnati, Ohio (2014); ARCTIC, Louisiana Museum of Modern Art, Humlebaek (2013); Focal Points: Art and Photography, Manchester Art Gallery, Manchester (2012); and The Ship—The Art of Climate Change, Natural History Museum, National Conservation Centre Liverpool Biennale, Liverpool (2006).
Hartley is represented by Victoria Miro Gallery, UK.
Liz Nicol (b.1956, Liverpool)
Liz Nicol is a photographer who lives and works in Exeter and Venice. Her recent projects are responses to places of conflict, including WW1 sites of commemoration in France and Belgium, the politically contested space of the Green Line in Cyprus and the fragile ecology of the salt marshes of the Venetian Lagoon. She predominantly works with analogue black and white photography and cyanotype, an early camera-less process, using these techniques to evidence and elucidate a sense of place.
Alongside her photographic practice, Nicol has had a long career in education as a teacher and senior manager. Until 2018 she was Associate Professor of Photography at University of Plymouth and her research included a residency at Nicosia Municipal Arts Centre (NiMAC), Cyprus established through the Land/Water and the Visual Arts research group at Plymouth University (2013) and Remember Me: The Changing face of Memorialisation, an AHRC (Arts and Humanities Research Council) funded project in collaboration with Hull University (2015–2018). As one of the project's co-investigators, she developed an interest in the national identity of WW1 monuments, which led to her work on war cemeteries designed by Edwin Lutyens.
Solo exhibitions include: Endlessness, The Broderick Gallery, Hull (2018); Nella Veduta, Serra dei Giardini, Venice, Venice (2018); Field Studies of the Venetian Lagoon, Torre Massimiliana, Sant Erasmo, Venice (2016); Dialogues, Casa Caburlotto, Venice (2014); Umbra Penumbra, Trattoria dei Tosi, Venice (2013). Figureheads, Viewfinder Photography Gallery, Greenwich, London (2008); St Mary's Lighthouse, Newcastle (2004); Stalled, STATION, Bristol (2002); Viewing Distance – A Retrospective, Haugesund Billedgalleri, Bergen, Norway (2001); Fathom, Mission Gallery, Swansea (1999); Image Centre of Photography, Arhus, Denmark (1999); and The Rubber Band Project, Aspex Gallery, Portsmouth (1997).
Selected group exhibitions include: Places Remember (two-person show with John Spinks), Peninsula Art Gallery, Plymouth University (2018); Layers of Visibility, Nicosia Municipal Arts Centre (NiMAC) Cyprus (2018/19 ); other indications, Nicosia Municipal Arts Centre, Cyprus (2013/14); Trace & Transience, Centre for Contemporary Art and the Natural World, Exeter (2007); UNEASY SPACES, NYU, New York (2006); EAST international, Norwich (2004); Littoral, Swedish Storehouse-Museum, Stade, Maritime Museum Wischhafen/Elbe & Association of Arts, Freiburg/Elbe (2001); Shifting Horizons: Women's Landscape Photography Now, Q Gallery & Derby Museum & Art Gallery (2001) and MAC, Birmingham (2000); Behind the Scenes, IKON touring, (1998/99); Viewing Distance, Newlyn Orion Art Gallery (1996); and 'Heaven's Embroidered Cloths' Cameraless Photography, National Museum of Photography Film & Television, Bradford (1995).
Oliver Sutherland (b. 1985, Cornwall)
Oliver Sutherland, Hestercombe's 2018-19 Artist in Residence, lives and works in Bristol and graduated with an MA in Sculpture from the Royal College of Art in 2012.
Sutherland's work, which often takes the form of installation and immersive screen-based and audio artworks, examines the language of digital production, focusing on the relationship between content, tool and user. Recently he has worked with Falmouth University and Centroid Motion Capture Studios to focus on the physical attributes of Motion Capture as a sculptural and object based performance. During his residency at Hestercombe, he has experimented with a range of different technologies and researched different aspects of the estate, with a particular focus on the mechanisms used to orchestrate natural space in the construction of the gardens.
Sutherland was an associate artist as part of the Tate St Ives Artists Programme 2015, a recipient of the CMIR and Spike Island Moving Image Bursary 2016 and undertook the Folkskola Residency in Sweden, 2018.
Solo exhibitions include: And then…, Spike Island, Bristol & The Gallery, Plymouth College of Art, 2017; and Untitled (Losing It), Recent Activity, Birmingham, 2016.
Group exhibitions include: Open Sound, Out Post Gallery, Norwich. 2018; Intensive Care, Bureau Europa, Maastricht 2017; Mystic Service, Kiosk 7, Copenhagen, 2017; Club Video (screening with Cara Tolmie), SWG3 Gallery, Glasgow, 2016; Big Screen Programme, Focal Point Gallery, Southend, 2016; This is Living, The Approach Gallery, London, 2016; C~C, Tate St Ives, Cornwall, 2016; After/Hours/Drop/Box, Hackney Picturehouse, London, 2014; Home Theatre, Baró Galeria, São Paulo, 2013; Brand Innovations For Ubiquitous Authorship, Carroll/Fletcher, London, 2013.
Edwin Lutyens – Key Projects
Major Lutyens Buildings – featured
Grey Walls Hotel, Gullane, east Scotland, UK
Ferry Inn, west Scotland, UK
Lindisfarne, Northumbria, northeast England, UK
Featured Lutyens Buildings – in more detail
English architect Edwin Lutyens only designed two houses in Scotland
Grey Walls, in Gullane, East Lothian
Lutyens-designed house, Gertrude Jekyll-designed gardens: like entering an Agatha Christie film, one of our favourite places to spend an evening.
Grey Walls, Gullane, Scotland – garden frontage: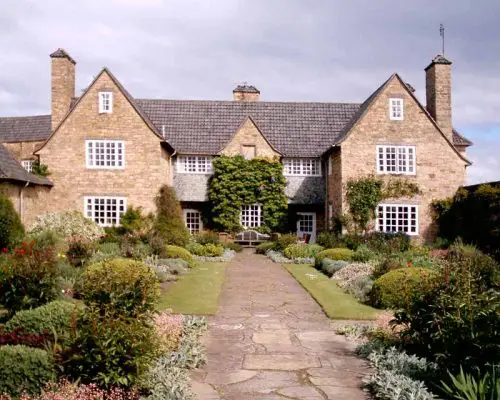 Lutyens house image © Isabelle Lomholt
Lutyens House – Ferry Inn, an Arts & Crafts house near Helensburgh
The house was put up for sale in late 2004 by FPD Savills
Category A Listed House
Strictly Private
Built: 1896/97 for Princess Louise, later Duchess of Argyll
Edwin Lutyens house : Ferry Inn, west Scotland
Lutyens extended the original Ferry Inn that dated from around 1800. Edwin was only 27 when he started the project. The original Inn was later demolished. The house is in the Arts & Crafts style and has three rather different elevations.
Building in the general area of Ferry Inn: Hill House by Rennie Mackintosh
Lindisfarne Castle, Holy Island, Northumbria, northeast England
Date built: –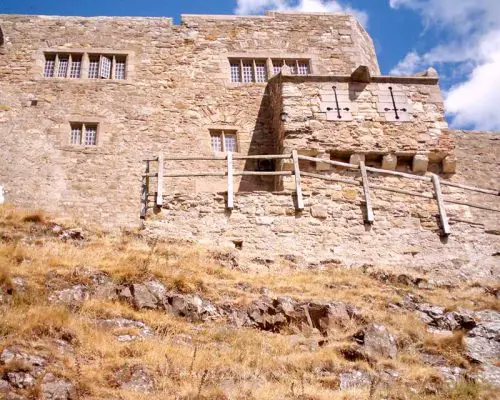 Lutyens building: image © Adrian Welch
Edwin Lutyens castle : buildings on Holy Island
Britannic House, 1 Finsbury Circus, London
Dates built: 1921-25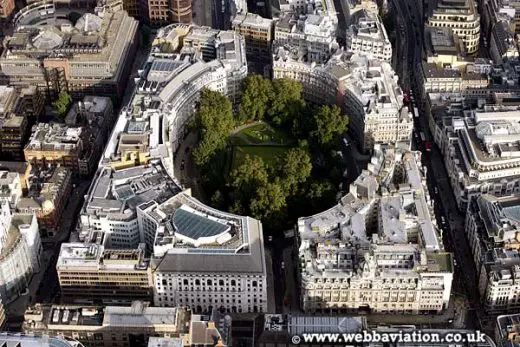 photo © webbaviation
Built as Anglo Persian Oil Company, later BP
St Jude on the Hill, Central Square, Barnet, London NW11
Date built: 1910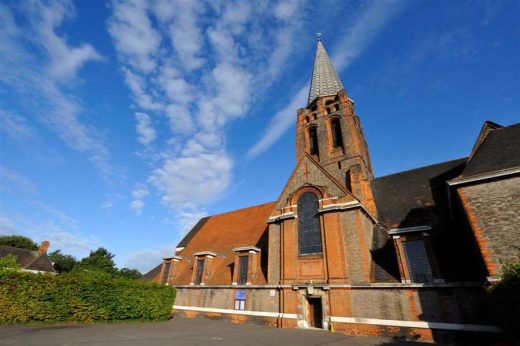 photo © Nick Weall
Hampstead Garden Suburb Buildings
Silver Street bridge in Cambridge by Queens' College & Benson Court at Magdalene College (1930-32): Cambridge Architecture
Another Scottish Country House by an English architect in the Arts & Crafts style: Sandford Country House Hotel by architect MH Baillie Scott
Architect Background
In 1885 Edwin Lutyens became a student at the Kensington School of Art but did not last the course. He joined the office of Ernest George and Peto where he made friends with chief assistant Herbert Baker; Edwin was later to collaborate with him in the building of New Delhi.
Edwin started work as an architect in 1889 and married in 1897. Sir Edwin Lutyens died in 1944.
The architect made his name designing English country houses in the arts & crafts style, working with garden designer Gertrude Jekyll.
Edwin Lutyens Architect – Major Buildings
British Embassy, Washington DC, USA
Castle Drogo, Dartmoor, Devon, England
Cenotaph, Whitehall, London
Crypt, Cathedral of Christ the King, Liverpool, UK
Johannesburg Art Gallery, South Africa
Lindisfarne Castle remodelling, Northumbria, England
Munstead Wood, Surrey, England – Gertrude Jekyll's home
Thiepval Arch, Somme, France
Viceroy's House, (Rastrapati Bhavan), New Delhi, India
Edwin Lutyens memorial : London Cenotaph
Edwin Lutyens – Key English Building
Castle Drogo, Drewsteignton, nr Exeter, Devon
Date built: 1910-30
Client: Julius Drewe, merchant
Castle Drogo gardens were designed by Gertrude Jekyll, high above the River Teign
National Trust property Tel. 01647 433306
Famous Lutyens houses
Deanery Garden
for Edward Hudson – Country Life magazine proprietor
Munstead Wood, 2km southeast of Godalming, near London
Date built: 1896
An important building as built for long-term collaborator Gertrude Jekyll
Goddards, Abinger Common, Surrey
Date built: 1900
extended by Lutyens in 1910. Garden designed by Gertrude Jekyll
Goddards was given to the Lutyens Trust in 1991. Run by the Landmark Trust.
Edwin Lutyens Architect – Other Buildings / Structures
Design listed alphabetically:
Crooksbury, England
Date built: 1889
Les Bois des Moutiers, Normandy, France
Date built: 1898
Liverpool Crypt
–
Middleton Park, England
Date built: 1938
Midland Bank, 140 Leadenhall Street, London EC3
Date built: 1931
Penheale Manor – new wing, Cornwall, England
Date built: 1920
Thiepval Arch: Memorial to the Missing, Thiepval, Somme
Date built: 1932
Location: London, England, UK
Edwin Lutyens Architect – Practice Information
Former architect practice based in southern England, UK
Scottish Castles – key buildings
RIBA Gold Medal Winner of 1921
Knebworth House, Knebworth, Hertfordshire
some building elements by this architect
Buildings / photos for the Edwin Lutyens Architect page welcome
Useful Links:
Gertrude Jekyll: www.gertrudejekyll.co.uk
Lutyens Trust: www.lutyenstrust.org.uk