Gensler Architects USA, American Design Office, Architectural Studio, Interiors
Gensler Practice Information
International Architecture Studio: Design Firm News + Images
May 12, 2021
Arthur Gensler – In Memoriam
Celebrating Art Gensler, architect, USA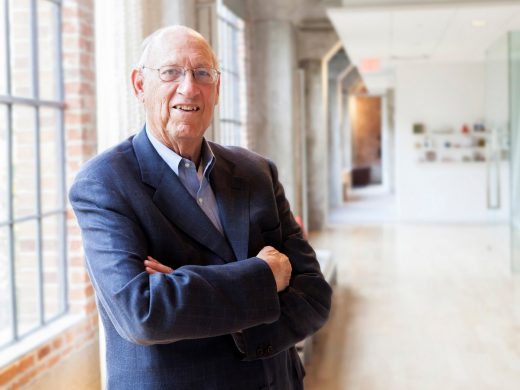 photograph : Emily Hagopian
Celebrating the Life, Contributions and Achievements of Architectural Icon and Groundbreaking Interiors Proponent, Arthur Gensler, Inaugural IFI PRIZE Recipient (2020)
In 2020, IFI was privileged to award Mr. Gensler with the inaugural IFI Global Awards Program (IFI GAP) PRIZE in recognition of his indelible contributions to our discipline. As its first recipient, he established the highest benchmark for practice and the profession for this, the top honor for Interior Architecture/Design at the world level. We celebrate his life and are appreciative of his leadership and the impactful legacy he has made to the built environment. On behalf of the world community of IFI, we share our condolences with Mr. Gensler's family, the Gensler firm, his friends and colleagues.
On this occasion, we share the following public announcement from Diane Hoskins & Andy Cohen, Co-CEOs, Gensler
We come to you today with heavy hearts to share with you the passing of Art Gensler. Art was an industry icon and entrepreneur with the vision that we not only design spaces, but that we do so with the understanding of how they have the power to shape the way we experience the world and who we become within it.
In 1965, with his wife Drue and James Follett, Art founded the firm that he led until the Board introduced the Co-CEO leadership structure in 2005. He is credited with making interior design a new area of architectural practice, raising it to a new level of professionalism. Art led the firm to break new ground as early proponents of interior spaces that reflect and reinforce a company's brand and unique culture. His "inside-out" approach to architecture, examining the user journey in a building, laid the seeds for the human experience framework our firm still embraces to this day.
In his later years with the firm, Art's leadership helped Gensler blossom into a full-service practice. He helped craft the blueprint for the firm's interdisciplinary approach seen through the creation of practice areas. These decisions helped the firm earn clients' trust and paved the way for Gensler's expansion abroad.
Art's lasting legacy is a global brand that only he could have created. He mentored his colleagues to put clients first, fostering a dynamic that can be seen in the firm's decades-long relationships with clients. He championed the adaptive, proactive, and client-focused approach that treated service as a privilege and clients as partners. His philosophy of working alongside our clients to provide solutions for their most pressing challenges was part of this trademark style for yielding the most value for clients. His spirit and people-focused values will always be the pillars of Gensler.
Art passed away peacefully today, May 10, at his home in Mill Valley, California. He was 85 years old.
Art was predeceased by his wife of nearly 60 years, Drucilla (Drue) Cortell Gensler. He is survived by his four sons and their families: David and his children (Aaron, Thisbe, Dunia, and Pales) with Alisoun; Robert and his wife Gillian; Douglas and his children (Cortie, Cailin, and Mamie) with Kinzie; and Kenneth and his children (Morgan, Jake, and Sam) with Jennifer and grandchild (and Art's great-grandchild) Charlotte.
Gensler Architects News
Gensler Architects – Latest News
17 May 2018
The Stephen Lawrence Centre, Deptford, London, UK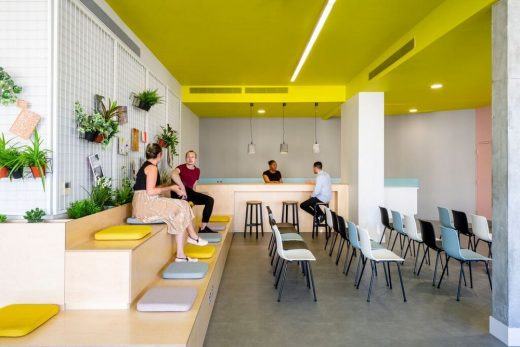 photography : Gareth Gardener
The Stephen Lawrence Centre
BW: Workplace Experts is thrilled to have delivered the fit-out for Your Space; an evolution of the design of the Stephen Lawrence Centre in Deptford, London.
29 Apr 2018
The Nest, Wapping, East London, England, UK
Architects: Gensler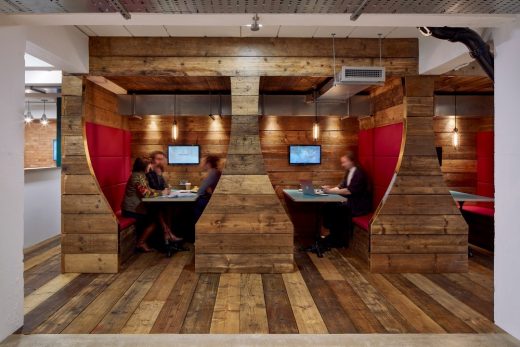 image from architects
The Nest in Wapping
Gensler creates creative co-working space for Cherryduck studios. A striking, architect-designed, creative co-working hub called The Nest has just opened in Wapping, near London's St Katharine Docks.
3 Oct 2016
Temporary UK Parliament Concept on the River Thames, England, UK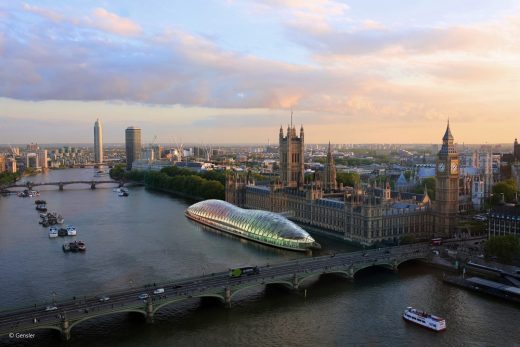 picture © Project Posiedon
Temporary UK Parliament on the River Thames in London
29 Jan 2013
Gensler Ranks 2nd in World Architecture 100 Survey
Gensler 2nd ranking : World Architecture 100 Survey
Gensler has been ranked the world's second largest architecture practice in the World Architecture 100 (WA100) survey.
16 Aug 2012
The Developing City – Vision 2050, London, UK
Gensler Developing City Walking Tour
A major exhibition on the past, present and future of the City of London as a centre for international trade.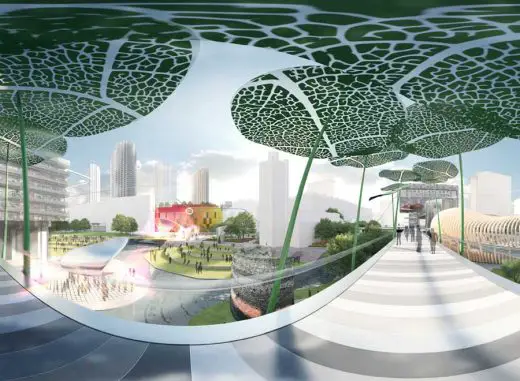 image from architects office
The Walbrook Building, London EC4
21 Jun – 9 Sep 2012
5 Sep, 13.15-14.30
The City in 2050 Walking Tour
Take a step into the future on this free guided walking tour around the City of London, exploring how the City might look in 2050. Led by leading global architects and planners Gensler, the walk will examine future visions for five London districts, using the architecture firm's panoramic visualisation app.
Take a peek at the fusion of innovation and creativity characterised by the tech media and life sciences sectors which will co-exist and thrive in proximity to the well established legal and banking industries. See also how the City will expand beyond its historic walls embracing the post war 'ring of opportunity' which will encompass the vibrant fringe districts of Aldgate, Shoreditch, Barbican, Smithfield and the Upper Thames Street. And hear about the pioneering infrastructure, new public parks and world class transport improvements that will ensure that the City of London becomes the ultimate Business Capital of the World.
Information:
This event is free but registration is essential
Meeting point: Reception of The Developing City exhibition at The Walbrook Building, London EC4, 10 minutes prior to the start time
If you can't make it take a virtual tour yourself…http://bit.ly/POIew3
An NLA exhibition in conjunction with the City of London
The Developing City – Vision 2050, London, UK
The Developing City – Vision 2050 – 19 Jun 2012
London consolidates its position as the world's Financial Centre and emerges as the first genuinely "Global City." The competition from New York, Hong Kong, Singapore and Shanghai is over. London has positioned itself as the capital of a global free trade zone which extends from the US to China. London is no longer one of two world cities; it is the only global city.
Gensler Architects : main page with news + key projects
21 Feb 2012
Gensler Appointment News
GENSLER APPOINTS PHILIP TIDD AS HEAD OF CONSULTING
London – this leading architecture, design and planning firm is delighted to announce that Philip Tidd has been appointed as Head of Consulting EMEA. The newly created role sees Philip lead architecture firm's consultancy practice area across the EMEA regions, building on the success of Gensler's US based consultancy teams.


image © Gensler
Working with Gensler London's leadership team, led by Managing Principal Chris Johnson, Philip will work closely with senior colleagues across Europe, the US and Asia to enhance the architecture firm's rapidly growing consulting practice area in the EMEA region. He will also be an intrinsic member of the firm's consulting practice area global leadership team, together with US based Gervais Tompkin and Andrew Garner-Wortzel.
Philip joined the architecture practice from DEGW where he undertook a number of leadership roles over a 20 year career, most recently as UK Managing Director. His career includes more than 15 years experience across mainland Europe, including establishing new businesses in Germany, the Netherlands and the Scandinavian markets.
David Gensler, CEO Gensler said "We're delighted to welcome Philip to Gensler, as he brings a wealth of experience garnered across Europe. Philip will be the driving force behind our strategy to emulate the success of our global consultancy practice across EMEA."
Philip Tidd, Head of Consulting at the architecture practice, said "I am delighted to have joined Gensler. The London office continues to go from strength to strength and the consulting group has tremendous opportunities ahead of it in the EMEA region. This is a fascinating period which I believe will see more fundamental change to 'The Future of Work' in the next decade than we have seen in the last twenty years. At the heart of Gensler's DNA is design thinking coupled with close and enduring relationships with many of the world's leading global corporate organizations; and we are ideally placed to bring creative insights and solutions to our client's challenges".
Philip is an active member of CoreNet, the British Council of Offices (BCO), the Workplace Consulting Organisation (WCO) and the Urban Land Institute (ULI) and is a regular speaker at Industry conferences in the UK and Europe on a wide range of 'Workplace and City' issues.
His appointment follows three recent promotions at Gensler London. Ian Mulcahey and Duncan Swinhoe's appointments as Managing Directors, and Krista Lindsay's promotion to Principal. These promotions further demonstrate the architecture practice's continuing commitment and growth within the EMEA region, whilst nurturing and rewarding the success and talent amongst its employees.
2 Feb 2012
Gensler London Appointments News
NEW LONDON LEADERSHIP
London – the leading architecture, design and planning firm today announces the appointments of Ian Mulcahey and Duncan Swinhoe as the new managing directors of the London office.
The new senior management positions underline the firm's continued commitment to the London market. The new managing directors key responsibilities will be the strategic direction of the London business across all design disciplines and typologies, building on the reputation established since the office opened over 25 years ago. They will also provide support to regional managing principal, Chris Johnson, and the Gensler offices in Abu Dhabi and Doha.
Chris Johnson, Managing Principal EMEA at the architecture office said "2011 was an exceptional year for the London office and similar expectations are anticipated for 2012. These new positions reflect the architecture practice's success and growth within the EMEA region. The appointments are also recognition of Ian and Duncan's dedication and leadership in driving the business forward."
Ian Mulcahey joined the architecture practice in 2000 and is the firmwide leader of Gensler's Planning & Urban Design practice area. Ian has 24 years experience in the design and implementation of complex urban projects working in major cities in the UK and across the globe. Whilst at Gensler, Ian has worked on a number of high-profile developments and masterplans, including Glasgow Clyde Gateway, Scotland, Saadiyat Island, Abu Dubai, UAE, Aqaba Special Economic Zone, Aqaba, Jordan and the London River Park.
Duncan Swinhoe is the architectural studio's firm-wide leader for Commercial Office Buildings with extensive experience in large-scale architectural developments in the UK, Europe and the Gulf region. Duncan joined the architectural practice as design director in 2004 and has led numerous projects at the practice, including the World Trade Centre and Gulf Corporation Council HQ buildings in Riyadh, Saudi Arabia, and the Tameer Towers in Abu Dhabi.
6 Dec 2011
Gensler Film
Surface Design Show have a new video, featuring a discussion between architects and designers from this architecture practice and 1508 London on the ways their roles can complement, or aggravate, each other: (no longer active)
More Gensler buildings online soon
Location: headquartered in USA – international offices
USA Architects Practice Information
Gensler Architects Background
This is a global design, planning, and strategic consulting firm, with over 2,200 professionals networked across 32 locations on five continents. Consistently ranked by U.S. and international industry surveys as the leading architecture and interior design firm, the studio leverages its deep resources and diverse expertise to develop design solutions for industries across the globe.
Since 1965, this architecture studio has collaborated with clients to create environments that enhance organizational performance, achieve measurable business goals, enrich people and communities, and enhance everyday experiences. For its longstanding commitment to the advancement of sustainable design, the architectural studio received the Leadership Award from the U.S. Green Building Council in 2005. Gensler Architects' Bay Area offices include San Francisco, San Jose and San Ramon.
This architectural studio is an international architecture and design firm that was founded in San Francisco in 1965. In 35 years the firm has grown from one office to a broad-based organisation with offices in London, Amsterdam, Hong Kong, Tokyo and a total of 18 offices in the USA. The London office of Gensler was opened in 1989. It has a team of 210 staff and has designed over 25 million sqft of office space and is responsible for over £1 billion of construction in the UK.
BD's Largest 100 World Practices 2007 : 1st place
Former Gensler designer : Marshall Strabala architect


First Featured Project by this US Architects Practice
New Street Edinburgh
£100m mixed-use development by Gensler Architects received detailed planning permission but didn't proceed:



image : Gensler, architects
Calton Gate was originally designed for the Cuckfield Group by one of the world's largest practices, Gensler, with Hackland & Dore Architects of Edinburgh.
Buildings / photos for the Gensler Architects page welcome
Website: https://www.gensler.com/