Erick van Egeraat Architects News, Buildings Photos, dEvE Studio, Dutch Office, Images
Erick van Egeraat : Architecture
dEvE: Contemporary Dutch Architecture Practice – Design Studio News + Key Buildings
post updated 24 February 2023
Design Erick van Egeraat News
Erick van Egeraat News
30 Nov 2017
Paulinum University Leipzig Building, Saxony, Germany
Official opening of the Paulinum University Leipzig
With the new main building, auditorium and Paulinum, designed by the Dutch architect Erick van Egeraat, the new University of Leipzig, founded in 1409 and the second oldest University of Germany, is now finally completed.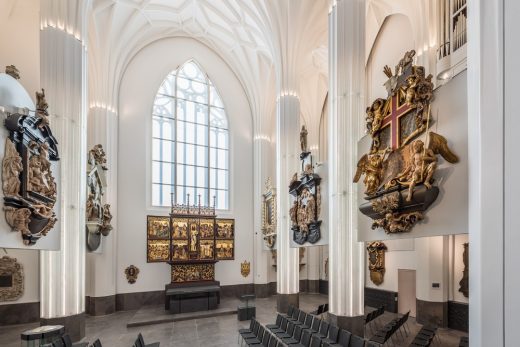 photo courtesy of architects
Paulinum University Leipzig Building
14 Oct 2013
Mercury Tower in Moscow, Russia – European Property Award news



photo © Egorkin Ilya
The tallest high rise in Europe, beating The Shard in London. Mercury Tower contains luxury apartments, offices, retail, restaurants, clubs, health & fitness facilities. This slender skyscraper building is designed by the late Frank Williams and Mosproekt-2 but completed by (designed by) Erick van Egeraat.
28 Aug 2012
Erick van Egeraat's Sberbank University receives building permit, Russia
Erick van Egeraat's design for the new Sberbank University has been formally approved by the Moscow regional state expertise. The Dutch architect won the international competition for the new 32.000m2 corporate University in 2010.





image courtesy of architects studio
"To win a prestigious competition is great, but my Architecture is not just an idea, it is there to be build. To meet and exceed any building requirements worldwide is a matter of enduring professionalism and leadership by our office. This, and an overall cooperative spirit amongst the many companies involved in the realization will ensure a striking end result." Says Erick van Egeraat.
Sberbank is Russia's largest and oldest state run bank with over 250.000 employees and 20.000 branch offices in the country. The new Sberbank University will provide education, seminars and team building programs to the company's top professionals, to continuously improve their performance within the corporate standards. The most prominent Russian bank implies the highest standards for its employees and therefore it aimed for the most ambitious educational project in terms of design and quality.





images courtesy of architects practice
The University site is located in a delicate suburban, almost rural setting bordered by woodlands on the South and Istra river on the North.The delicate nature of this environment provided both opportunities as challenges to the development.
According to the Moscow regional state expertise Erick van Egeraat's design not only met the environmental challenges but ensured a durable balance between nature and development. The University will consist of education and conference spaces, dormitories, guest teacher quarters, teacher housing, a club building and sports facilities. The complex fully integrates sustainable design tools and technologies, putting sustainability in the centre of the corporate agenda.



image courtesy of architects practice
The spacious and picturesque setting allows for a campus model; the program's distribution on site creates comfortably scaled public spaces that intensifies interaction with the natural surroundings. Education, lodging and sports functions are each clustered in orthogonally defined volumes. Taking into account the climate, all building elements except the teachers' housing are connected with an elegant and climate controlled colonnade. This colonnade is programmed with recreational, bar, relaxation functions and serves as an identifying backbone of the entire complex.
"The Sberbank University – campus is a benchmark in many respects, it incorporates the ambition of an organization to be transparent, solid and durable. At the same time the buildings meet the highest standards in sustainability. As a non-Russian Architect I can only be proud of be trusted this responsibility by my clients." Says Erick van Egeraat.
The Sberbank University will be completed in 2013.
Erick van Egeraat – Recent Buildings + Designs
Khanti-Mansiysk Buildings, Siberia, Russia



picture courtesy of architecture practice
Khanti-Mansiysk Buildings
Dynamo Stadium, Moscow, Russia
2018 FIFA World Cup Venue



image courtesy of architects practice
World Cup Stadium Russia
Kempinski Hotel River Park Slovakia



image © EvE
Kempinski Hotel River Park, Bratislava. 23 Feb 2010
Erick van Egeraat receives Italian US Award
Rotterdam, 5 February 2010 – Erick van Egeraat has received the second prize of the 'US Award 2009 – Workplace: Quality and Innovation' in the category 'Architecture' for the office buildings in the Milanofiori North mixed-use development in Milan, Italy. The award ceremony was held on Wednesday 3 February 2010 at the headquarters of ll Sole 24 Ore in Milan, the main financial media in Italy.


image © EvE
Erick van Egeraat's design for the Milanofiori Business Park was chosen from more than 100 international entries. Erick van Egeraat's project was honoured for the quality of the masterplan and the architectural-functional-ecological mix, that marks the project's innovative character as a new southern gateway to Milan.
Special attention in the design was given to energy efficiency and the use of renewable energy.
The buildings are designed in close relationship with the environment, the utilisation and the consumption of energy sources.
The facade cladding is, in order to control heat dispersion, carried out according to the latest available techniques.
The technological systems feature a good energy performance and solar panels are used to produce energy.
According to the jury, "Milanofiori North aims at being a district on a human-scale, with a high environmental quality, where architecture and landscape will complement each other perfectly. Besides complying with sustainability standards as to composition, technology and materials (bio-building, solar panels), it also provides for the enhancement of the surrounding wooden areas."
This was the second consecutive year that the US Awards were awarded. The annual competition, organised by the US-Ufficio Stile Magazine, identifies excellence in the planning of working environments in Europe and at the same time promotes and spreads the culture of quality and innovation in workplaces.
New Practice
Designed by Erick van Egeraat BV
Erick van Egeraat:



photo © EvE
Budapest City Hall
This Rotterdam architectural firm wins international competition to design a new wings for 18th century baroque building, 118,000sqm project includes offices, hotel and underground station connection. 3 Nov 2008
EvE Wins Rietveldprize for Best New Building – Medical Faculty at University of Utrecht
Key Projects
Municipal Theatre of Haarlem, The Netherlands
2008



photograph © Christian Richters
Municipal Theatre Haarlem
City Hall, Grave, nr Nijmegen, The Netherlands
2008



photo © Christian Richters
Dutch City Hall
A.A. Hijmans van den Bergh Medical Faculty, University of Utrecht, Netherlands
2007



photo © Christian Richters
Biomedic Faculty Utrecht
Drents Museum Extension, Assen, The Netherlands
2007-



image © EvE
Drents Museum Assen: Dutch architecture competition winner
Russian Black Sea development, Sochi
2007-



image © EvE
Sochi Building
National Library & National Bank of the Republic of Tatarstan, Kazan
2007-



image © EvE
Kazan Building
mima – Middlesbrough art gallery, County Durham, northeast England
2006
Middlesbrough Building
Budapest Buildings : New Projects and Awards in the UK, France and Hungary



image © EvE
Jan 2007
Metzo College Doetinchem, Netherlands



image © EvE
Metzo College Doetinchem Building
More Erick van Egeraat Architects' buildings online soon
Erick van Egeraat – Key Buildings
Designs, alphabetical:
Canning Town – Masterplanning project, Newham, east London, England
2007-
City Hall, Alphen aan den Rijn, Netherlands
–
Deák Palota – Refurbishment, Budapest, Hungary
–
Drents Museum Extension, Assen, Netherlands
2008-11
ING Headquarters, Budapest, Hungary
–
ING Headquarters – Extension, Budapest, Hungary
–
Inholland University Rotterdam – educational building, Netherlands
2007
Mahler 4 Office tower, Amsterdam, Netherlands
2007-
Masterplan for Oosterdoks Island, Amsterdam, Netherlands
2007-
Masterplan for Milanofiori, Milan, Italy
2007-
Metzo College, Doetinchem, Netherlands
2006
mima, Middlesbrough, County Durham, England
2006
Mixed-use project, Quartier de l'Amphitheatre, Metz, France
2007-
Pop Stage, Breda, The Netherlands [Copper in Architecture Award Shortlist 2005]
–
Royal Netherlands Embassy, Warsaw, Poland
–
Royal Shakespeare Theatre – Redevelopment, Stratford upon Avon, England
–
Überseequartier / HafenCity projects, Hamburg, Germany
2007-
University of Utrecht – educational building, Netherlands
–
University of Leiden – educational building, Netherlands
–
Vershina Trade & Entertainment Centre, Surgut, Russia
2007-
University of Utrecht – Faculty for the Biomedic Cluster, Netherlands
–
Utrecht School for Fashion and Graphic Industry – educational building, Netherlands
–


budapest building image © from Erick van Egeraat Architects 040107
More architecture projects by Erick van Egeraat online soon
Location: Rotterdam, Holland, western Europe
Rotterdam Architects Practice Information
Background on Dutch architect Erick Van Egeraat:
Erick van Egeraat:



photograph © (Designed by) Erick van Egeraat
Erick Van Egeraat Associated Architects
Founded in 1995, Erick Van Egeraat Associated Architects has offices in London, Budapest, Rotterdam and Prague. Its practice mainly focuses on urban, arts, education and residential sectors of architecture. Currently, the largest project for EVE is the redevelopment of the Royal Shakespeare Theatre in Stratford upon Avon, central England, UK.
In 2000, Erick Van Egeraat received an Honorary Fellowship from the RIBA


Budapest building image © from Erick van Egeraat Architects 040107
Website: https://erickvanegeraat.com
Architectural Designs
County Durham Buildings : first English building by this Dutch studio
Buildings / photos for the Erick van Egeraat Architects page welcome