Eva Jiricna Architect Office, England Design Studio, EJAL Buildings News, Architecture Practice
Eva Jiricna Architects
Contemporary British Architecture Practice – EJAL London, UK
post updated 12 Apr 2021
Eva Jiricna Architects – Key Projects
Practice Information
Qualifications / Awards for Eva Jiricna
1962 Architect / Engineer University of Prague
1963 Postgraduate Degree Prague Academy of Fine Arts
1973 Dip. Arch. Royal Institute of British Architects
1990 Honorary Fellow, Royal College of Art
1991 Royal Designer for Industry
1993 Honorary Fellow, Royal Society of Arts
1994 C.B.E, for Services to Interior Design
1996 Honorary Fellow, Royal Incorporation of Architects in Scotland
1997 Elected as Academician to The Royal Academy of Arts
2000 Honorary Doctorate of Technology, Southampton Institute
2000 Honorary Doctorate of Technology, Tech. Institute of Brno, Czech Republic
2001 Professor of Architecture & Design, University of Applied Arts, Prague
2002 Honorary Degree, Doctor of Letters, University of Sheffield
2003 Elected President of Architectural Association, London
Eva Jiricna Architects Office
Eva Jiricna Architects is an architectural and design practice based in London with an international portfolio of residential, commercial and retail interiors; furniture, products and exhibitions; private and public buildings. Eva Jiricna Architects is at the forefront of innovation in form and technology, with highly crafted and detailed designs employing classic materials – glass, steel and stone – in a thoroughly modern language.
As a multi-disciplinary practice, Eva Jiricna Architects (EJA) provides a comprehensive service including the design of new buildings and public spaces as well as detailed interiors, products and furniture. Eva Jiricna Architects has won numerous international design awards and its work is regularly published in magazines, books and periodicals. Its clients include major corporate and public organisations such as Amec plc, the Jubilee Line Extension, Andersen Consulting, Boodle & Dunthorne jewellers, the Royal Academy of Arts, Selfridges, the Victoria and Albert Museum. Eva Jiricna Architects has a strong collaborative track record, working closely with clients and other members of the design team, including engineers, landscape architects cost consultants and urban designers.
Eva Jiricna Architects is run by its founder, Eva Jiricna, a Czech born architect who has been based in London for over 30 years. The London office of Eva Jiricna Architects currently employs ten architects and designers, with a satellite office operating in Prague. Jiricna's wide experience includes working at the Greater London Council on her arrival in the UK in 1968 followed by the Louis de Soissons Partnership and the Richard Rogers Partnership – where she was responsible for the interior design packages for the Lloyds Headquarters building.
With Jan Kaplicky and his practice Future Systems, Eva designed the Way In store at Harrods, an award-winning scheme that influenced a generation of retail interiors.
Over the last decade, Jiricna's contribution to architecture and design has been recognised with personal awards, including being made a Royal Designer for Industry (RDI), a CBE (Commander of the British Empire), election as a Royal Academician by the Royal Academy of Arts, and induction in the American Hall of Fame. Eva Jiricna holds honorary doctorates and professorships in several universities, participates on international juries (recently for the Darwin Centre at the Natural History Museum and new arts wing for Goldsmith's College, London), and lectures widely on her work.
Lightness, transparency and truth to materials are the hallmarks of EJA's design approach. The shop interiors for Hugo Boss, Joseph, Joan & David in New York, London and Paris reflect the robustness of this integrated design strategy. Glass is used by Eva Jiricna Architects as a structural and decorative material to both optimise transparency and bring daylight deep into unpromising retail locations. Stainless steel details, from hinges and fixings to door handles and brackets, are crafted to reflect their structural integrity. Stone floors provide continuity, solidity and interplay with the sparkle of the glass and steel.
Eva Jiricna's dramatic staircases, delicately fashioned but sturdily engineered with glass treads and steel cables – central features of both retail and residential schemes – possess sculptural qualities that add to the fluidity of the internal spaces.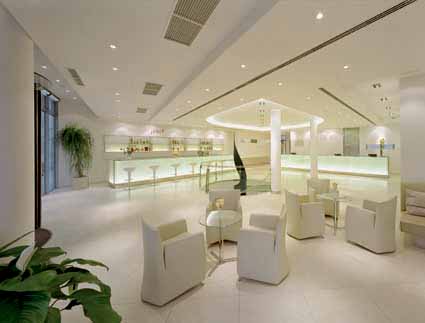 Hotel Josef Prague photo from Eva Jiricna Architects
Most recently, Eva Jiricna's holistic design approach has been applied to the 110
bedroom Hotel Josef in Prague (above, opening in mid-2002). This project follows completion by Eva Jiricna Architects of a glass and steel structure for the new Orangery in the grounds of Prague's Castle, a thoroughly contemporary addition to a unique set of heritage buildings.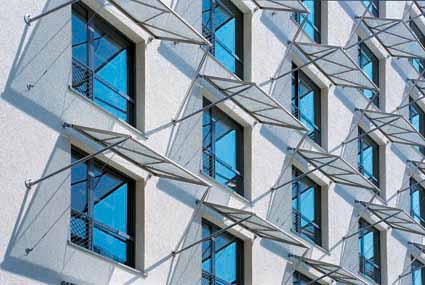 Hotel Josef, Prague: image from EJAL
Also in Prague, Eva Jiricna Architects has been responsible for residential projects, including a sensitive refurbishment of a 17th century loft in a town palace, and a feasibility study for a new rail terminus for the developers ASK.
EJA has a strong track record with its high-level clients, such as the Royal Academy of Arts and jewellers Boodle & Dunthorne, and is frequently invited to repeat commissions (eg, Andersen Consulting for whom Eva Jiricna designed offices in the landmark Gehry building in Prague, as well as locations in Warsaw, Moscow and Budapest).
In the UK, Eva Jiricna Architects has worked on numerous proposals for the London Docklands Development Corporation and was responsible for the elegant transport interchange at Canada Water, one of the prestigious Jubilee Line Extension developments.
In 1999, Eva Jiricna Architects designed the Faith Zone as part of the controversial Millennium Dome exhibition, London, delivering the project on time despite severe logistical, technical and management problems. Other exhibition schemes by Eva Jiricna include a subtle intervention in the Grade 1 listed Sir John Soane's Museum in London, and an exhibition design for the Mendel Institute in Brno.
Eva Jiricna Architects is working on numerous residential schemes in London, a series of penthouse flats in Canary Wharf, and a pedestrian bridge in London's Docklands. Also underway is the design of new entrances for Selfridge's flagship store in Oxford Street and development of the masterplan for the Victoria & Albert Museum.
Eva Jiricna – main page
Eva Jiricna Interior in London
Faith Zone – Millennium Dome exhibition, London
More designs by Eva Jiricna online soon
Location: London, England, UK
Eva Jiricna Practice Information
Born 03.03.1939 in Tschechien, Czechoslovakia (now Czech Republic)
Eva Jiricna Architects 6 Staircases



picture from amazon
Eva Jiricna
from £4.80
Availability: usually dispatched within 1 to 2 working days
Hardcover 192 pp (Nov 1, 2001) Publisher: Watson-Guptill
Publications ISBN: 082306896X
Eva Jiricna Architects 6 Staircases
Whether exposed to public view in shops, offices and museums, or hidden away for private enjoyment in domestic interiors, staircases say much about the creativity and skill of an architect or designer.
Presenting 49 key international projects from the last few years, this book by Eva Jiricna provides a showcase for this sculptural of all architectural features. The book begins with a historical overview of staircases from the ancient world to the 20th century. This is followed by themed chapters focusing on landscape staircases, glass stairs, staircases as main features, stairs as sculpture, technical stairs and minimalist staircases.
Projects featured range from Calatrava's footbridge at Bilbao to Philippe Starck's theatrical bar in Mexico City and are accompanied by commentaries. Among the architects and designers discussed are Tadao Ando, Ron Arad, I.M. Pei and Renzo Piano. This text refers to the Hardcover edition.
Reviewer: A reader from Glasgow
I was anxiously excited, whilst waiting for the arrival of this fantastic book. I had scoured many bookshops for over a year in search of it. This is a wonderfully illustrated book, providing a huge variation of staircases to admire. Eva Jiricna explores what has become a mundane and everyday object, and shown how it can be an exciting and aesthetically pleasing feature of any building. It features staircases from around the world, constructed from a variety of materials, some you would never have thought of until a few years ago, many pioneered by Eva herself, such as the glass staircase. A must have for anyone who is mystified by the unique and beautiful qualities of staircases.
The Joseph Shops, London 1979-88
Eva Jiricna (Architecture in Detail)
Jose Manser; Richard Bryant, Alastair Hunter,
Carolina Aivars (Illustrators)
from £29.15
Paperback 60 pp (1991) Publisher: Phaidon Press ISBN: 1854544454
Availability: usually dispatched within 1 to 2 working days
Eva Jiricna – Joseph Shops, London
Synopsis
An illustration of the shop interiors which resulted from the partnership between patron Joseph Ettegudi and the architect Eva Jiricna. They started working together in 1979 and have collaborated on a series of shop interiors which have won international acclaim. Those amongst them which most strongly demonstrate important stages in the development and progression of this partnership are described and illustrated in this monograph.
Each individual Eva Jiricna Architects interior is documented by outsize photographs (many in full colour), plans and sections drawn to scale, detailed working drawings of selected fitments and of the high-tech staircases which are a feature of Jiricna's shops. The interiors of their shops are noted for their use of space and lighting and also for the manner in which materials
are used. The book is intended for use by architects, interior designers, retail designers and students.
As part of the "Architecture in Detail" series, the book does not contain a formal contents list. The common layout of the books in the series is: essay, photographs, specially commissioned drawings, reference details (bibliography and chronology). Each of these monographs is designed to be a complete and accurate archival record and intended to be the standard reference on that building for students and scholars as well as practising architects.
Joseph Shops, London
Latest Book on this Czech Architect
The Works of Eva Jiricna
In/Ex-terior
Techo
Autumn 2005
£39.95
Unusual spiral bound cover but plenty of beautiful photographs inside of Eva's brilliant work over the years. Interspersed are sketches on translucent paper. Produced in the Czech Republic.

portrait photo from Eva Jiricna Architects
Architectural Design
School Proposal for Lounovice
Architects: JDAP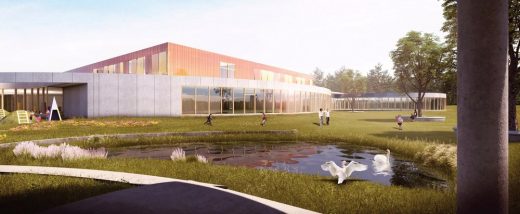 image courtesy of architecture office
School Proposal for Lounovice
Screw Factory Boiler House, Areál Šroubáren, Libcice nad Vltavou
Design: Atelier Hoffman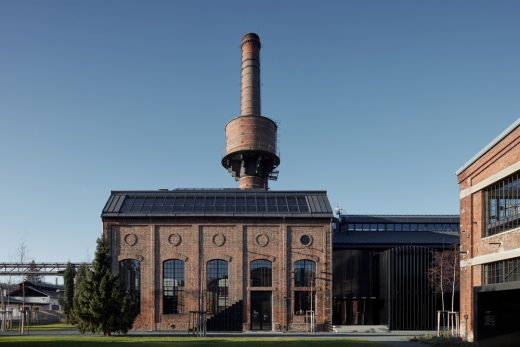 photo : BoysPlayNice
Screw Factory Boiler House
Eva Jiricna presented a lecture entitled: IN/EX-TERIOR ARCHITECTURE
Strathclyde University – Department of Architecture:
25 Mar 2004: Architecture Building, The Centre for the Built Environment
Comments / photos for the Eva Jiricna Architects London page welcome