Enota Architects, Ljubljana Architecture Studio, Design Office Slovenia, Buildings
Enota, Slovenia : Ljubljana Architects
Architecture Office Ljubljana – Design Studio, Eastern Europe
post updated 8 March 2022
Enota News
Enota News – latest additions to this page, arranged chronologically:
8 Mar 2022
Hotel Maestoso, Lipica, Slovenia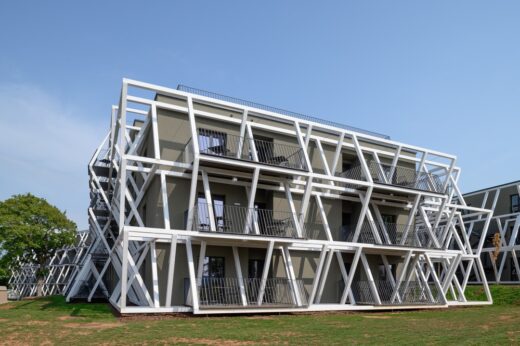 photo : Miran Kambič
Hotel Maestoso
The Stud Farm Lipica is one of the most remarkable natural and cultural monuments in Slovenia. The area of cultivated karst landscape comprises laid-out pastures and meadow areas featuring protective fences, oak groves, and tree lanes.
4 Feb 2021
Petrol Corporate Building, Slovenia
Petrol Corporate Building
30 July 2020
Maestoso Hotel & Spa, Lipica, Slovenia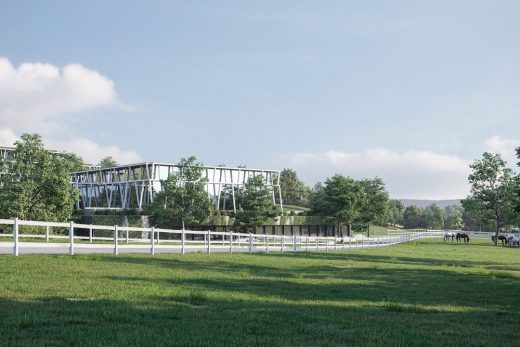 image : Collaborators Spacer
Maestoso Hotel & Spa in Lipica
The stud farm was founded in 1580 when a decision was made at the Habsburg court to raise horses, a key strategic commodity of the time, in their own territory.
20 Feb 2019
Koper Central Park, Slovenia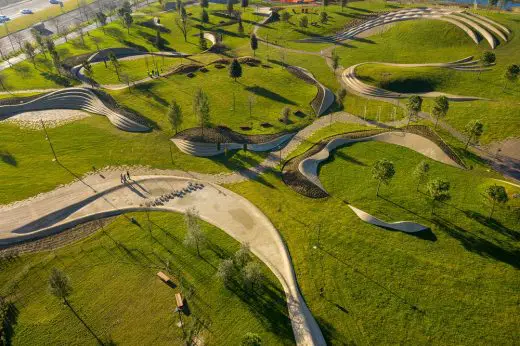 photograph : Miran Kambič
Central Park in Koper Slovenia
New Koper Urban Park is set between Piranska Road and the Semedela promenade, and between the Grande canal and the area just beyond the city market.
24 Oct 2018
Termalija Family Wellness, Podčetrtek, Slovenia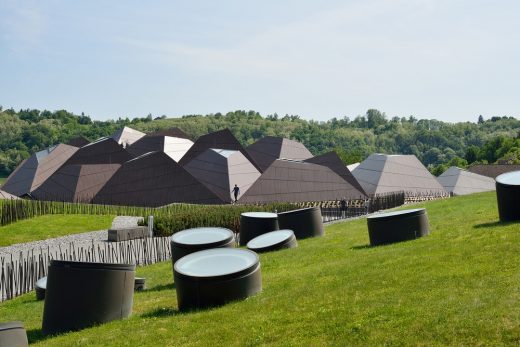 photograph : Miran Kambič
Termalija Family Wellness
Termalija Family Wellness is the latest in the series of projects which we have built at Terme Olimia in the last fifteen years and concludes the complete transformation of the complex from a classic health centre built in the 1980s to a modern relaxing thermal spa.
30 Jun 2018
Termalija Family Wellness Shortlist News
This Podčetrtek building is one of 536 shortlisted entries across 81 countries:
World Architecture Festival Awards 2018 Shortlist
12 Apr 2018
Skorba Village Center Building near Ptuj, near Ptuj, Slovenia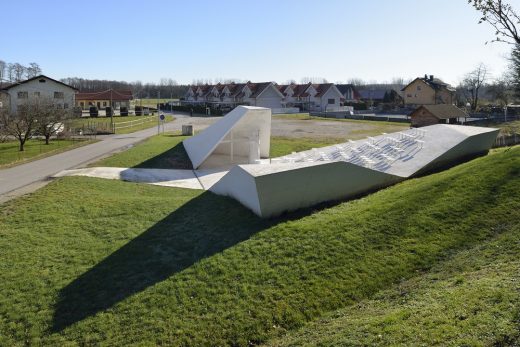 photograph : Miran Kambič
Skorba Village Center
In discussing the new village centre Skorba, it is remarkable that the entire project, from the initial idea to completion, was driven by the initiative of the inhabitants themselves.
28 Mar 2018
Koper Central Park, Koper, Slovenia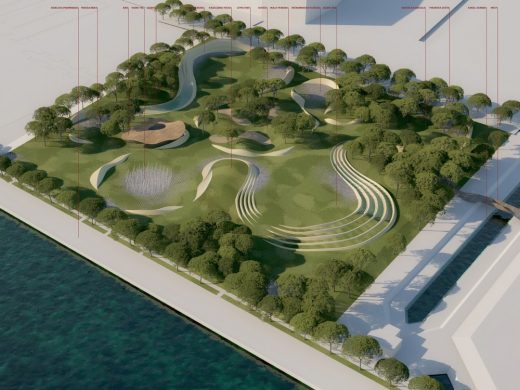 image courtesy of architects
Koper Central Park
Construction has started on ENOTA Architects recent winning proposal for a Central park in Slovenian coastal town of Koper.
12 Jan 2018
Wellness Plesnik, Solčava, Slovenia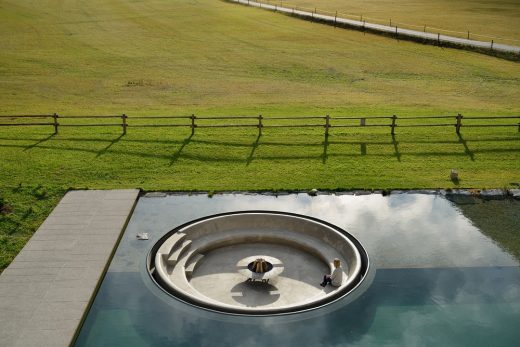 photo : Miran Kambič
Wellness Plesnik
Hotel Plesnik is a boutique family hotel found in the heart of a nature park, at the end of a glacial valley with views of Kamnik-Savinja Alp peaks.
7 Dec 2017
Qicun Hot Spring Healthness Resort, Qicun, Xinzhou, Shanxi, China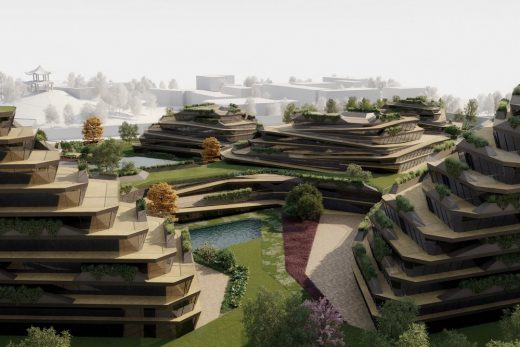 image courtesy of architects
Qicun Hot Spring Healthness Resort
The Qicun thermal complex has been designed as an expansion of the existing spa centre in order to offer a new higher level of service. Both in terms of its appearance and its organisation, the new design will later serve as a prototype for overhauling the existing capacities of the complex.
16 Oct 2017
Tetusa Oasis Thermal Resort, Çeşme, south west Turkey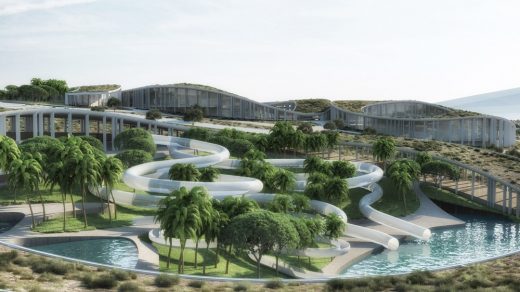 image courtesy of architects practice
Tetusa Oasis Thermal Resort in Çesme
Tetusa Oasis Thermal Resort is an extensive wellness and medical facility set in the midst of low-rise housing area in coastal town Cesme in Turkey.
21 Apr 2017
Stone Terrace Resort Hotel, Pag Island, Croatia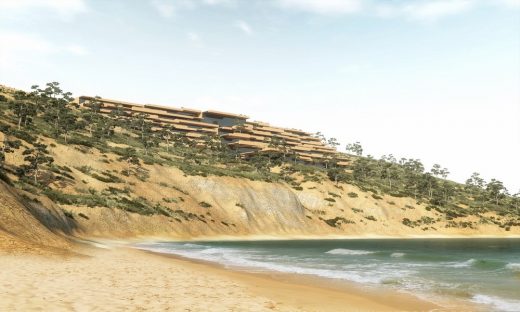 image courtesy of architects office
Stone Terrace Resort Hotel
Stone Terrace Hotel is set on steep slope in an idyllic bay on Pag Island in Croatia. It is a beautiful island surrounded with crystal water but is on the other hand also known for its harsh winter windy conditions and is therefore only scarcely covered with greenery.
27 Sep 2013
Ptuj Performance Center, Slovenia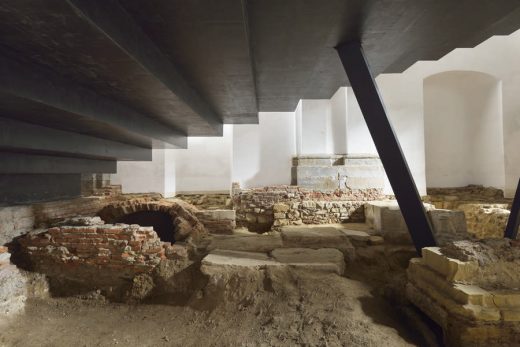 photo : Miran Kambič
Ptuj Performance Center
With its splendid and inspiring past, followed by an unfortunate fate after the dissolution of the fraternity, the renovation Dominican monastery represents a demanding task of great responsibility.
19 Apr 2013
Novo Mesto Central Market, Slovenia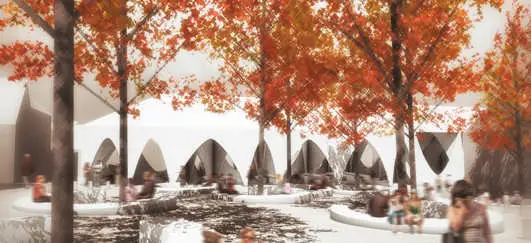 image from architect studio
Novo Mesto Central Market
Novo mesto central market lies in the very centre of the historical town core in the immediate vicinity of the main town square. Despite this, it feels somewhat removed today, being separated by its level and oriented towards the low-quality city space of Florjanov Square.
5 Feb 2013
Podčetrtek Traffic Circle, Slovenia
Design: Enota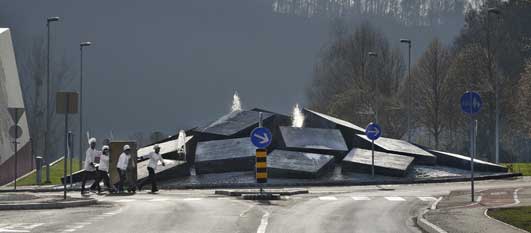 photo : Miran Kambič
Podčetrtek Traffic Circle design
This Slovenian traffic circle is built on a regional road. The design of the roundabout's central island thus references the appearance of both facilities and marks the entrance points to the destinations of the visitors to either of the programme centers.
17 Jul 2012
Stamboldžioski Dental Studio, Nova Gorica, Slovenia


picture from architects firm
Stamboldžioski Dental Studio
Stamboldžioski Dental Studio is located at the outskirts of the city, in a residential community featuring mostly single-family homes. It has been built as a replacement for the cramped surgery in the dentist's private house, which was set up on the ground floor.
23 Mar 2012
Residential complex Vrunčeva, Celje, Slovenia



picture from Enota architects
Vrunčeva Residential Building
Residential complex Vrunčeva introduces a new typology of the city block unit. The building is designed as a kind of hybrid of the classical block unit development and terraced structures characteristic of more open, suburban spaces.
15 Mar 2012
Enota Studio News
Equal Books from Korea recently published Enota's monograph covering Enota's work from it's beginnings twelve years ago. It was published as part of Designpeak architectural monograph series, which in previous editions already featured works of Massimiliano Fuksas, Morphosis, Jensen & Skodvin Architects. The book is available also on Amazon.com.



photo : Miran Kambič
Enota monograph
Enota also launched their Facebook page this week: http://www.facebook.com/enotaarchitects
Recent Enota Designs
Ptuj Archaeological Museum, north east Slovenia
2011-



picture from architects
Ptuj Archaeological Museum
This new Slovenian building is designed so as to fill the gap in the natural edge of the town and recreate the green belt along the entire northern edge of the town.
Terme Olimia Kranjska Gora Spa, Slovenia
2011-



picture from architects
Kranjska Gora Spa
Kranjska Gora is a well-known ski resort town, almost qualifying as luxury, at least in the context of Slovenia. It lies on a plain by the source of the Sava Dolinka river and is encircled, particularly in the south, by a picturesque mountain landscape.
Mivka Hotel Resort, Bled, Slovenia
2011-



image from Enota architects
Mivka Hotel Resort
What is it that identifies the planned new hotel and holiday apartment community? Being near to Bled definitely matters. Bled is a town with a long-standing tourist tradition, surrounded by beautiful nature.
Pegan Petkovšek National Gymnastics Centre, Ljubljana, Slovenia
2011-



image from Enota architects
Pegan Petkovšek National Gymnastics Centre
The National Gymnastics Centre Pegan Petkovšek is part of the comprehensive renovation of Svoboda Sports Park in Ljubljana. It is the first of the three sports halls that are to be built on the western edge of a belt between an access street on one side and a large greened park layout with sports grounds on the other.
Herman's Square, Celje, Slovenia
2011-
Design: Arhimetrics + Enota



image from architect
Herman's Square
Podčetrtek Sports Hall Building, Slovenia
2011



photo : Miran Kambič
Podčetrtek Sports Hall
Wellness Orhidelia, Podčetrtek, Slovenia
2009



photo : Miran Kambič
Wellness Orhidelia
Location: Ljubljana, Slovenia, central east Europe
Architects Practice Information
Enota are a design studio based in Ljubljana, Slovenia
Slovenian Architecture
Ljubljana Administration Centre
Design: Ofis Arhitekti



image from architects
City Municipality Ljubljana
Ljubljana Housing
Design: Groleger Arhitekti



picture : Janez Marolt
Ljubljana Housing
Comments / photos for the Enota – Ljubljana Architects page welcome