Greek Thomson Architect, Glasgow Architecture Photos, Scotland, Designs, Images
Alexander Greek Thomson : Scottish Architect
19th Century Buildings by Alexander Thomson, Glasgow, Scotland, UK
21 Apr 2020
Greek Thomson Building Photos
Architectural photos taken today by e-architect Editor Adrian Welch around the Gorbals area:
Caledonia Road Church, south Glasgow, Scotland, disrespectfully abandoned on a traffic island:
view from the south east: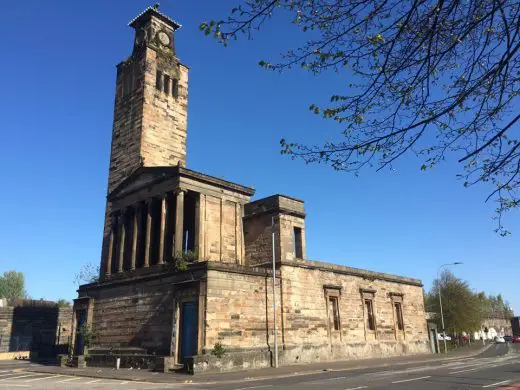 close-up view from the south: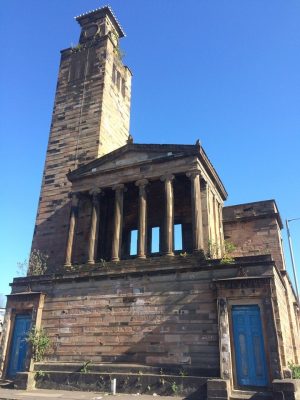 I am fascinated by the tower, unlike the portico it does not feel Greek, but then again it also does not feel Scottish – both the step back in size and the dominant circular features. There is a cross on top, visible in the pphotos from further away: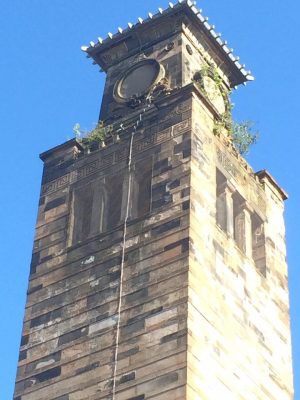 another view from the south-south-west:


photos © Adrian Welch
Key Greek Thomson Building
St Vincent Street Church, Glasgow, Scotland



photo © Adrian Welch
Greek Thomson church
Glasgow Buildings by Alexander Thomson
Buck's Head Building, 63 Argyle St – 1862-63
Caledonia Rd Church – 1856-57 (disused)
Double Villa, The, 25a Mansionhouse Rd – 1857
Egyptian Halls 84-100 Union St – 1871-73
Great Western Terrace – 1869
Grecian Chambers, 336-356 Sauchiehall St – 1865
Grosvenor Building, 72-80 Gordon St – 1859
Holmwood House, 61 Netherlee Rd, Cathcart – 1858
Knowe, The, Albert Drive, Shields Rd – 1853
Lilybank house extension – 1869
Maria Villa, Langside – 1861
Moray Place – 1861
Nithsdale Road, 200 – 1871
North Park Terrace – 1866
Oakfield Avenue, 41-53 – 1865
Otago Street, 94-106 – 1874
Queen's Park United Presbyterian Church, Langside Rd – 1869 (destroyed)
St Vincent St Church, 265 St Vincent St – 1859
Walmer Crescent – 1857
Watson Street Warehouse, 118-126 Watson St – 1880-2003 (destroyed)
Westbourne Terrace, 21-39 Hyndland Rd – 1871
West Nile Street, 99-107 – 1858
Caledonia Road Church, south Glasgow



photo © Adrian Welch
Alexander Thomson church – ruined building
Egyptian Halls, central Glasgow



photo © Adrian Welch
Alexander Thomson warehouse
Grosvenor building, central Glasgow



photo © Adrian Welch
Alexander Thomson building – very close to Egyptian Halls
Alexander Thomson : information on other buildings by theig Glasgow architect
Buildings by Greek Thomson outside Glasgow
Arran View, off Commonhead Street, North Airdrie, Scotland
Date built: 1867
Three-storey tower and attendant wings have Italianate massing with
Greco-Egyptian typical Greek Thomson detailing, built for Gavin Black
Motherwell. Arran View was converted by Ian Bridges Architect(s) into
flats in 1987.
Cairnhill House, Cairnhill Road, Cairnhill, Airdrie, Scotland
Date built: 1841
Alexander Thomson worked on this building only as apprentice to John Baird
Tor House, Rothesay, Bute, Scotland
Date built: 1867
More projects by Greek Thomson online soon
Alexander Thomson : Scholarship Competition



image from GIA
This Competition – run by the GIA on a three-year basis in memory of one-time GIA President, open to all students of architecture and architects below age of thirty in the UK, prize fund £1000, ideas souight for transport interchange using the ruins of Caledonia Road Church, Gorbals.
Alexander Thomson Architect
Alexander Thomson is one of the best architects of the nineteenth-century architecture and is frequently seen in opposition to fellow Glasgow architect Mackintosh due to the latter's greater fame in the last few decades.
Thomson was a prolific architect and created designs for a wide range of buildings including churches, houses, bazaars, tenements and warehouses.
Greek Thomson's designs are unusual and eclectic, decorative but powerful. His buildings are rooted in the Greek Revival, but he looked for inspiration in architectural styles far beyond Europe.
Thomson's most famous buildings I would suggest are the Caledonia Road Church and the St Vincent St Church (please advise if you think otherwise). Each exterior is fiercely strong, especially St Vincent St Church given its location on a steep hill within Glasgow's grid.
The St Vincent interior is wonderfully rich and in some ways its finicky and cosmopolitan decoration strikes a counterbalance to the external muscularity.
Vincent Street-Milton Free Church – Website: www.greekthomsonchurch.com
The Caledonia Road Church, in the Gorbals, was Greek Thomson's first attempt at a church (1856-57) and uses a tower and raised portico to create strong massing. The Grade A-listed building was sold to Glasgow Corporation in 1963 but caught fire in 1965 (tower and portico saved) and has never been restored.
First Church:
Caledonia Road United Presbyterian Church
Location: junction of Caledonia Road & Cathcart Road.
The church started life as a United Presbyterian Church with adjoining tenements but became a United Free. It became Hutchesontown and Caledonia Road United Free in 1924.
A computer model of the Alexander Thomson's Queen's Park United Presbyterian Church interior was created for The Lighthouse's first exhibition, in 1999. Queen's Park Church was hit by a bomb in 1944, and burnt down.
Murray Grigor made a film about Alexander Thomson called Ninevah on the Clyde, following his earlier film about Rennie Mackintosh.
Architectural Historian Gavin Stamp campaigned for Thomson's remaining work to be saved and celebrated; Stamp has since moved back from Glasgow to England, in early 2004.
Location: Glasgow, Scotland, UK
Scottish Architecture : best scottish buildings of the last three decades
Necropolis Exhibition
The derelict Southern Necropolis gatehouse and cemetery, famous for its connection to Alexander Thomson, is to be restored as a centre for tracing family roots if an £800k plan goes ahead. Gorbals Heritage and Environment Trust unveils its re-roofing and refurbishment plan: St Francis Centre, Cumbernauld St.
Greek Thomson Photos © Adrian Welch, except Scholarship image
Demolished Queen's Park Church : Queen's Park United Presbyterian Church building
A catalogue of 3D visualisations of a destroyed church interior by the C19th Scottish architect Alexander Greek Thomson – Website: www.scran.ac.uk/dl/ale/al
Comments / photos for the Greek Thomson page welcome
The Alexander Thomson Society – Website: www.greekthomson.com