Geoffrey Bawa, Architect, Colombo, Info, Projects, Asian Practice, Studio, News
Geoffrey Bawa Architect
Contemporary Sri Lankan Architecture, Southern Asia Buildings
23 July 2019
Geoffrey Bawa Architecture News
23rd July 2019 marks the 100 year birth anniversary of famous Sri Lankan architect Geoffrey Bawa.
Celebrating Architectural Genius GEOFFREY BAWA
23rd July 2019 marks the 100th anniversary of the birth of Geoffrey Bawa, Sri Lanka's undisputed architectural genius, recognised the world over for his revolutionary use of space, light and materials that work in synergy with their environment.  Jetwing Hotels, the family-run brand whose founder was a close acquaintance of Bawa, have many properties originally designed by the famous Sri Lankan architect and continue to honour his brilliance with a bespoke '12-day Architectural Tour' in which guests visit and reside in the iconic properties designed by one of the most influential Asian architects in the world.
Jetwing have deep-rooted links with Bawa – Jetwing founder Herbert Cooray enjoyed a life-long working friendship with the architect from early days of working together at Bawa's fathers' construction company. Thanks to a shared love of design, their friendship flourished, and when Herbert needed an architect for his first steps into hospitality, Bawa was the natural choice.  Shiromal Cooray, Herbert's daughter and MD of Jetwing today says,
"In the genius of Bawa, Herbert saw one of the unique differences that would set Jetwing Hotels apart from other Sri Lankan competitors. Though the architect had built hotels for others, and would do so in the future, Herbert saw to it that the name Geoffrey Bawa would forever be associated with Jetwing".
Jetwing Lighthouse Sri Lanka by architect Geoffrey Bawa: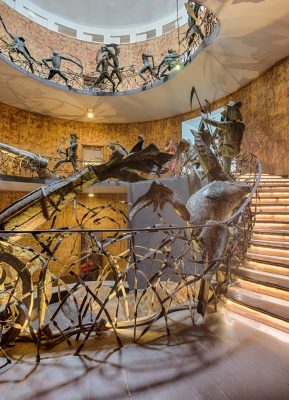 photo courtesy of article provider
Since his death, aged 83 in 2003, Bawa's acclaim has only increased. Today his work on Sri Lanka draws design and architecture-lovers from across the world, creating buildings that embody social, cultural and environmental sensitivities,  a style which is known globally as 'tropical modernism'. As well as the influence on a generation of architects in Sri Lanka after him, his legacy was also embraced in Asia and around the world, influencing many architects worldwide.
The Jetwing/Bawa 12-day Architectural Tour
Day 1 – Jetwing Beach Negombo, Western Province
Originally known as Bawa's 'Royal Oceanic', Jetwing Beach opened in 1987 in Negombo, one of Sri Lanka's first beach resorts. It was also here that both Jetwing was born and Geoffrey Bawa's collaboration with the brand first began. Original features of the hotel reflected a blend of Bawa's ethnic and colonial heritage (his father's Arabic/British lineage and mother's Sinhalese /Dutch Burgher) such as the open-fronted façade which evokes suggestions of an Arab loggia. The hotel's design evolved further in 2004 with a refurb and was renamed Jetwing Beach. One of Bawa's finest students, Vinod Jayasinghe, made a few crucial changes whilst respectfully maintaining the master-architect's original profile; rooms sizes were increased, dining space modified, plus the lobby roof was extended.
Bawa's former home, Number 11 Bagatelle Road, now a museum owned by the Geoffrey Bawa Trust, is situated in Sri Lanka's capital, Colombo. Bawa adjoined four terraced houses over a number of years which today still teem with his books and belongings. A labyrinth of corridors, water features, enclosed courtyards and open-plan designs amalgamate the houses to create a surprising sense of spaciousness. It is here visitors really see his mastery, and life, on an intimate scale.
Opened in 2016, Jetwing Lake has hints of Bawa everywhere. Rooms are light-filled with balconies and open-air bathrooms designed to bring the spectacular outdoor views inside.  With white pillars, open-air gardens, monochrome colour scheme and low-pitched roof, the ground floor restaurant is a study in 'tropical modernism'. Most spectacular is an open-air bar – a 'bridge' from the first floor that reaches out into the trees with stairs leading to a secreted-in-woodland spa. Three contemporary buildings rise before a huge pool and lawn edged by trees, each positioned perfectly to showcase the Siyambalawewa lake and its mountain backdrop. Dambulla's Buddhist cave temples (5-mins drive away) and the ruined rock fortress of Sigiriya (30-mins by car) are two of this region's utterly unmissable World Heritage Sites.
A Bawa original built in 1965, Jetwing Lagoon was Sri Lanka's first modern resort and one of Bawa's inaugural hotel projects. Bawa worked on the Jetwing Lagoon Hotel with one of his contemporaries, the sculptor and artist Laki Senanayake (whose sketches of twisted trees and vines decorate the hotel walls). A low-rise resort, Jetwing Lagoon was created with space in mind, set out like a set of villas in grounds. Jetwing bought the property in 2009 and made some renovations – the addition of an Ayurveda spa, an entrance pavilion and the incredible 100-metre outdoor pool that reflects the vast lagoon, and re-opened in 2012. The 'Bawa Room', re-modelled on Bawa's original footprint, features a spacious semi-outdoor area with rain shower and tub, suite-like lounges and a front garden.
Jetwing Yala was designed by Bawa protégé: Murad Ismail, a celebrated architect known for his simplicity and functional form.  Jetwing Yala hotel is essentially set on the beach dunes, metres from the sea, and three kilometres from Yala National Park. The design echoes Bawa's minimalist style with rooms characterised by ebony lacquer, red or turquoise hues, and are elegantly luxurious and distinctly Asian.
Jetwing Lighthouse was one of the last major projects Bawa worked on and remains one of his most admired. Perched on a scenic rocky promontory just west of Galle, the hotel opened in 1997 at a time when Galle barely featured on Sri Lankan itineraries, however this coastal region with its beaches, surf breaks, ancient temples, and low country tea plantations is one of the most visited parts of Sri Lanka today.  Bawa designed the hotel's granite walled entrance to mirror what is now Galle's prime attraction: a splendidly preserved seventeenth-century Dutch fort, home to eclectic and bustling streets of art galleries, cafés, boutiques and restaurants.
Jetwing Lighthouse by Geoffrey Bawa Architect in Sri Lanka: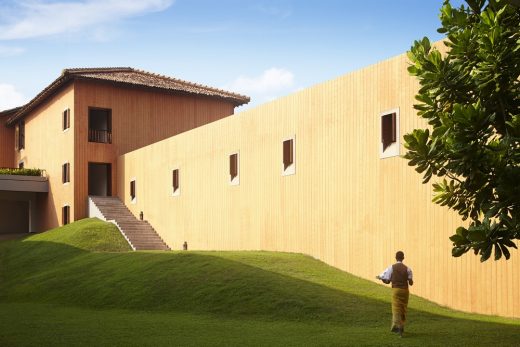 photograph courtesy of article provider
Channa Daswatta, another protégé of Bawa and perhaps the architect most closely associated with him, assisted Bawa on the Lighthouse project. The property was designed to command superb views of the ocean from its rock-top perch and comprises a series of interlinked open spaces that make the most of this unique landscape. It has been described as, 'a love affair with light'.
Perhaps most striking is how comfortably Jetwing Lighthouse lives with its environment. Whilst the rocks might have proved challenging to the design they are successfully incorporated and celebrated into the space, emerging boldly from steps and corridors. Bawa even transformed one of these into a statement entrance staircase. Created by Bawa's friend, Laki Senanayake, the intricately carved copper and brass balustrade depicting a clash between Portuguese and Sinhalese armies, is fiercely expressive, and playfully illuminated by a ball of light filtering in through an oculus in the Romanesque domed ceiling.
Incorporating the environment so brilliantly into the design of his projects is perhaps the most outstanding and best legacy Geoffrey Bawa could have bestowed on his fellow Sri Lankan architects. Indeed, contemporary architect Sunela Jayewardene, driven by a passion for the environment, recently spoke of her very simple principle of design; "I don't like to impose on the land. I like to frame views rather than try to become the view,". The full interview with Jayewardene can be read here.
Further information on the Jetwing /Bawa properties
Geoffrey Bawa – Key Project
Kandalama Hotel, Dambulla, Sri Lanka
Geoffrey Bawa – Key Buildings, Sri Lanka
Featured Building, alphabetical:
Ayurveda Pavilions – health retreat, Negombo
–
Blue Water Hotel, Wadduwa, south of Columbo
Date built: 1997
damaged by the Asian tsunami at end of 2004
Cinnamon Hill House & garden, Lunuganga
–
Druvi & Sharmini de Saram House, Colombo
–
Ena de Silva House, Colombo
–
House Bagatelle Road, Colombo
–
House for Pradeep Jayawardene, Red Cliffs, Mirissa, near Weligama
1997-98
House for David Spencer,, Rosmead Place, Colombo 7
1997-98
Kandalama Hotel, Dambulla (aka Heritance)
Date built: 1991-94
Lighthouse Hotel, Galle
Date built: 1995-97
Neptune, Beruwela
–
Ruhunu University, Matara
–
St Bridget's Montessori School
Date built: 1963
Design: Geoffrey Bawa with Laki Senanayake; murals by Barbara Sansoni
Serendib, Bentota
–
Sinbad, Kalutara
–
Sri Lankan Parliament – Buildings, Kotte
Date built: 1983
Triton, Ahungalla
–
More architecture projects by Geoffrey Bawa online soon
Location: Sri Lanka, South Asia
Design Practice Information
Geoffrey Bawa died in 2003
Sri Lanka's most famous architect
Architect studio was based in Sri Lanka
Awards:
Aga Khan Award for Architecture, Special Chairman's Award 2001
Sri Lanka Architecture



photograph from architect
Between 1957 and 1989 Geoffrey was a partner in the firm of Edwards Reid and Begg. His fellow partners from 1957 to 1967 were Jimmy Nilgiria and Valentine Gunesekera. The Danish architect Ulrik Plesner joined the architecturepractice in 1959 and worked as a close collaborator with Bawa until the end of 1966.
The Lunuganga Trust is a private trust that was set up in 1994 with the object of looking after the two properties that belonged to Mr. Geoffrey Bawa (and now ceded to the Trust) in Colombo and Bentota. Both properties are of outstanding architectural value and deemed masterpieces of architecture and landscape in a global context.
The Geoffrey Bawa Trust has set up a national award scheme to recognise and reward significant examples of contemporary Sri Lankan architecture. The aim of the scheme is both to foster the production of good architecture and to encourage its wider appreciation in the community.
The award scheme has been consciously modelled on the scheme that is run by the Aga Khan Trust for Culture in Geneva. That scheme is generally acknowledged to have had a very marked effect on architecture in developing countries since it was inaugurated by HRH the Aga Khan in 1977 and has now completed ten of its three-year cycles. The Trust also acknowledges the importance of the honour, which was bestowed upon Deshamaniya Bawa when he received HRH the Aga Kan's Special Award for a Lifetime's Achievement in Architecture in 2001.
source: architects website
Website: Geoffrey Bawa Architect, Sri Lanka
2004
A major exhibition of the work of the practice was mounted by the German Architecture Museum in Frankfurt from 23rd July to 16th October 2004. This was a celebration of the life and work of Bawa, now considered one of the most important and influential Asian architects of the last century. His standing was endorsed when he received the Special Chairman's Award in the eighth cycle of the Aga Khan Award for Architecture in November 2001.
source: architects website
1997
The works of the architect presented by the Singapore Institute of Architects in Singapore (March 1997).
The Lunuganga Trust controls the Geoffrey Bawa Estate
Comments / photos for the Geoffrey Bawa Architect page welcome