Nightingale Associates Architects England, IBI group English Design Office, Studio News
Nightingale Associates Architects : UK Office Information
IBI group Architecture Practice in England
post updated 24 Apr 2021
Nightingale Associates – Building News 2010
Jun 2010
Office Acquisition
Nightingale Associates practice purchased by IBI group, a Canadian architecture and urban planning group
14 Sep 2009
Nightingale Associates Architects News
Nightingale Associates appoints new board director
Leading science architect, Paul Dempsey, joins Nightingale Associates as the new board-level Science Development Director this month.
Further expanding Nightingale Associates' science division, Paul Dempsey, has been appointed as Science Development Director. Specialising in the pharmaceutical and science sector, Paul previously worked for CBRE, Pfizer and Bovis Lend Lease Pharmaceutical, bringing a wealth of experience and knowledge to the practice when he starts this month.
His addition to Nightingale Associates, a leading architectural practice specialising in health, education and science buildings, aims to build upon the practice's accomplishments within the science sector, helping to promote the company's knowledge and innovation.
Paul said: "I am delighted to be joining Nightingale Associates to help further expand the excellent track record it already has in the science sector. My appointment is intended to boost the science capability with our existing clients and to help develop future work in new and exciting industry sectors."
And Paul is no stranger to innovation; recognised as a pioneer and leader of 'Lab of the Future' projects, he was awarded the prestigious William E Upjohn prize for innovation – and was the first non-scientist award winner in Pfizer's history for his influential role on the Pfizer FlexiLab projects.
As part of his new role, he will help to develop and maintain Nightingale Associates' leading profile as thought leaders within the science sector. He will also commission research to support the work of Nightingale Associates and ensure future science projects continue to be leading-edge. The role also includes chairing the 'Nightingale science knowledge network', aiming to dissipate knowledge of scientific developments throughout the company.
Nightingale Associates' Architect and Executive Chairman, Richard Harrington, said:
"Paul's appointment is a significant step for us in the development of our specialist team of architects and designers working in the field of Science. His knowledge and expertise in the commercial sector is critical in broadening our service to clients."
Paul has extensive experience in Architecture and Strategic Real Estate Planning and has recently returned from working overseas in New York, USA and Europe for six years. Previously Paul has worked for CBRE as a Director of Strategic Planning, for Pfizer as the Director of Global Space Planning and for Bovis Lend Lease Pharmaceutical where he led the design of many complex and innovative pharmaceutical and laboratory projects.
Paul starts in mid-September and will be based in Nightingale Associates' London office.
Nightingale Associates : main page with project news
25 Aug 2009
Nightingale Associates shortlisted for four Building Better Healthcare Awards
Leading practice nominated in several categories
Nightingale Associates, one of the UK's leading architects specialising in the health, education and science sectors, has been shortlisted in four Building Better Healthcare (BBH) Award categories: Best Community Care Design for its work on Alltwen Community Hospital in Porthmadog, Wales; Best End-of-Life Care Design for its work on St. Francis Hospice; Best Interior Design for its work on the Centre for Neuromuscular Diseases at University College London Hospital; and Best Project Team for its part in the Eric Wright Group team for BRAHM LIFT.
The annual BBH Awards recognise excellence, innovation and professionalism in the healthcare built environment, looking specifically at building design, the patient environment, people, products and estates and facilities management.
The £12.8m Alltwen Community Hospital was designed by Nightingale Associates for Northwest Wales NHS Trust and opened to the public in April 2009. The project, which has been critically acclaimed by journalists in recent reviews, also won two International Green Apple Awards earlier this year for demonstrating environmental best practice.
Nightingale Associates' work on the St. Francis Hospice in Romford, Essex, was undertaken as part of the King's Fund's Enhancing the Healing Environment programme, which was established by Prince Charles in 2000 to encourage nurses to work in partnership with patients to improve the environment in which they deliver care. Patients and staff alike played an important part in the refurbishment and design of the scheme, along with helping to design artwork based on a theme of 'bringing the outside in'.
The Centre for Neuromuscular Diseases at UCLH was extensively refurbished earlier this year to provide a stimulating and modern environment in which to conduct specialist scientific research. The centre, which is located in a Grade 2 listed 1920s central London building, has a 'classic meets contemporary' design theme, displaying a unique mix of modern architectural design concepts with many carefully-restored original features.
Nightingale Associates, which specialises in the health, education and science sectors, is also involved with Eric Wright Group in the BRAHM LIFT Partnership, which has been shortlisted in the Best Project Team category. Under the Partnership, Nightingale Associates designed Nye Bevan House, a new £8m 'one-stop shop' providing a range of health services in Rochdale, and the Breightmet Health Centre, which also recently won a Local Authority Building Control Award.
Richard Harrington, Executive Chairman at Nightingale Associates, said:
"We are delighted to have been shortlisted for these awards. Not only is this fantastic recognition for the wide variety of work that we do, but also showcases our commitment to providing the health industry with innovative, sustainable designs that enhance the experiences of both staff and patients."
Liverpool One Award
8 Jul 2009
Nightingale Associates receives RIBA award for £1bn Liverpool shopping centre scheme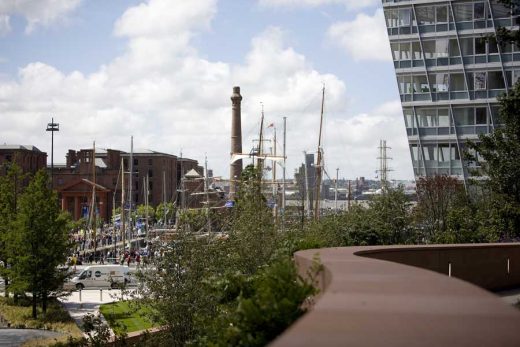 photo : David Barbour
Liverpool One
Excellence recognised for four-year master planning consultancy
Nightingale Associates, one of the UK's leading architecture practices, has achieved a RIBA award for its involvement in the Liverpool One scheme, a shopping centre that has made a significant contribution to the development of the city of Liverpool.
In July 2004, Nightingale Associates' Liverpool studio was appointed as access consultant to the master planning team (led by BDP) for the £1bn Liverpool One scheme, which was completed in 2008. As access consultants, Nightingale Associates was involved in giving access advice for the various buildings and areas of public realm for a period of just over three years, from conception to completion.
Liverpool One is a shopping experience in the exciting, rejuvenated city of Liverpool (the European City of Culture 2008). The area comprises six distinct districts in one central location, 37 sites and 1.65 million square feet of shopping – plus residential, leisure, transportation and commercial provisions. New elements include retail space, bars, restaurants, a bus station, BBC studios and a re-modelled park bordered by a hotel, 600 apartments and new multi-screen cinema.
Katy Heath (Principal, Nightingale Associates Liverpool Studio) said:
"Such a vast project, requiring effective interaction with 26 architects, proved to be a hugely complex undertaking. I am delighted that our efforts have been recognised by RIBA, in conjunction with the rejuvenation of Liverpool City Centre."
More information re Nightingale Associates Architects online soon
Location: 87-91 Newman Street, London, W1T 3EY, England, UK
Architects Practice Information
Architects offices located in UK (and Nightingale Architects in South Africa).
Website: www.nightingaleassociates.com
British Architecture
Regent Street Landscape Plans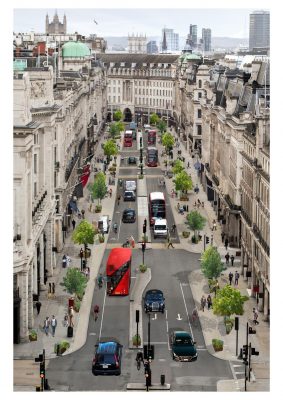 image courtesy of BDP
Regent Street Landscape Plans
Comments / photos for the Nightingale Associates Architects UK page welcome