Oscar Niemeyer Architecture, Brazilian Design Studio, Building Projects News, Brasilia Practice
Oscar Niemeyer Architect
Modern Brazilian Architectural Practice – 20th Century Design Office
post updated 7 June 2022
Oscar Niemeyer Buildings
Oscar Niemeyer Building Designs
7 June 2022
Renovation of Niemeyer Guest House, Tripoli, Lebanon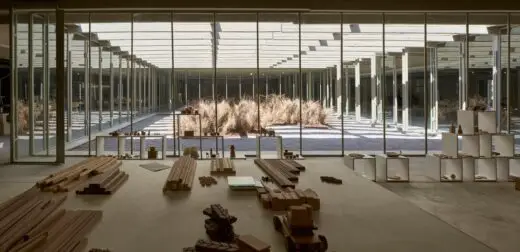 photo : Cemal Emden
Niemeyer Guest House Renovation Tripoli
Designed in 1962 by renowned Brazilian architect Oscar Niemeyer but abandoned on the brink of completion when civil war erupted in 1975, the Rachid Karami International Fair was recently added to UNESCO's World Heritage tentative list.
18 Oct 2019
Pampulha Church, Belo Horizonte, Brasil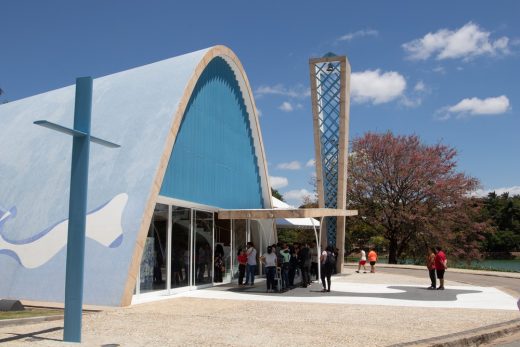 photograph : Lucas Nishimoto – Construtora Tecnibras
Pampulha Church
One of Belo Horizonte's (MG) main landmarks, the Pampulha Church underwent detailed restoration, carried out by Construtora Tecnibras and reopened on the 4th of October. The Modern building by this Brazilian architect had been closed since June 2018 for restoration.
4 Feb 2016
International Fair in Tripoli, Lebanon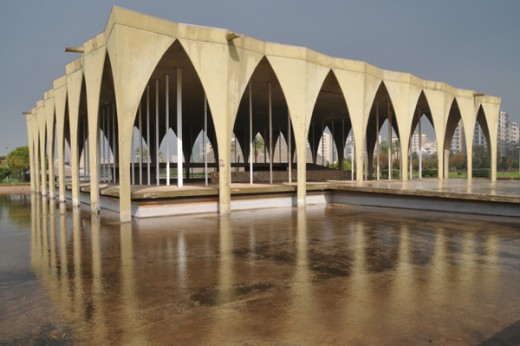 photograph courtesy Styliane Philippou
International Fair in Tripoli
30 May 2013
Oscar Niemeyer Museum, Curitiba, Brazil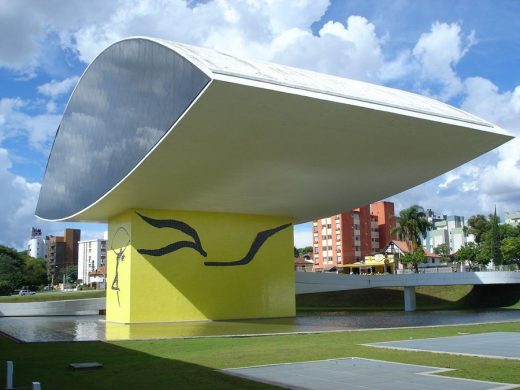 photo : John Lima
Oscar Niemeyer Museum
Architect Oscar Niemeyer
Celebrated Brazilian Architect Oscar Niemeyer
Dates: 1907-2012
This celebrated Brazilian architect died aged 104.
Key later building by the architect – Museu de Arte Contemporânea de Niterói, Brazil:



photo © Marcela Grassi
8 Dec 2011
Key Buildings
Photographs from Marcela Grassi – Architecture Photographer
Teatro Popular de Niteroi, Niterói, Rio de Janeiro, Brasil
Date built: 2007



photo © Marcela Grassi
Teatro Popular de Niteroi
Museu de Arte Contemporânea de Niterói – MAC, Niterói, Rio de Janeiro, Brazil
Date built: 1996



photo © Marcela Grassi
Museu de Arte Contemporânea de Niterói
Marcela Grassi – Architecture Photographer : Profile
6 + 5 Dec 2012
Famous Brazilian Architect Dies
Celebrated Brazilian Architect Oscar Niemeyer Dies
The celebrated Brazilian architect, died on Wednesday.
He had led a major architects studio based in Brazil. Oscar is a Modernist architect, working in a style influenced by Le Corbusier and the International Style.
Oscar Niemeyer Architect – external link : BBC film
6 Dec 2012
Tribute to Oscar Niemeyer by Norman Foster
I was deeply saddened to learn of the death of Oscar Niemeyer. He was an inspiration to me – and to a generation of architects. Few people get to meet their heroes and I am grateful to have had the chance to spend time with him in Rio last year.
For architects schooled in the mainstream Modern Movement, he stood accepted wisdom on its head. Inverting the familiar dictum that 'form follows function', Niemeyer demonstrated instead that, 'When a form creates beauty it becomes functional and therefore fundamental in architecture'.
Oscar Niemeyer & Lord Foster:



photograph : Abitare
It is said that when the pioneering Russian cosmonaut, Yuri Gagarin visited Brasilia he likened the experience to landing on a different planet. Many people seeing Niemeyer's city for the first time must have felt the same way. It was daring, sculptural, colourful and free – and like nothing else that had gone before. Few architects in recent history have been able to summon such a vibrant vocabulary and structure it into such a brilliantly communicative and seductive tectonic language.
One cannot contemplate Brasilia's crown-like cathedral, for example, without being thrilled both by its formal dynamism and its structural economy, which combine to engender a sense almost of weightlessness from within, as the enclosure appears to dissolve entirely into glass. And what architect can resist trying to work out how the tapering, bone-like concrete columns of the Alvorada Palace are able to touch the ground so lightly. Brasilia is not simply designed, it is choreographed; each of its fluidly-composed pieces seems to stand, like a dancer, on its points frozen in a moment of absolute balance. But what I most enjoy in his work is that even the individual building is very much about the public promenade, the public dimension.
As a student in the early 1960s, I looked to Niemeyer's work for stimulation; poring over the drawings of each new project. Fifty years later his work still has the power to startle us. His contemporary Art Museum at Niteroi is exemplary in this regard. Standing on its rocky promontory like some exotic plant form, it shatters convention by juxtaposing art with a panoramic view of Rio harbour. It is as if – in his mind – he had dashed the conventional gallery box on the rocks below, and challenged us to view art and nature as equals. I have walked the Museum's ramps. They are almost like a dance in space, inviting you to see the building from many different viewpoints before you actually enter. I found it absolutely magic.
During our meeting last year, we spoke at length about his work – and he offered some valuable lessons for my own. It seems absurd to describe a 104 year old as youthful, but his energy and creativity were an inspiration. I was touched by his warmth and his great passion for life and for scientific discovery – he wanted to know about the cosmos and the world in which we live. In his words: "We are on board a fantastic ship!"
He told me that architecture is important, but that life is more important. And yet in the end his architecture is his ultimate legacy. Like the man himself, it is eternally youthful – he leaves us with a source of delight and inspiration for many generations to come.
Norman Foster
December 2012
Oscar Niemeyer Architecture – external link : BBC film about Brasilia
Key Recent Building Project
Most Recent Building by Oscar Niemeyer
Centro Niemeyer, Avilés, Spain
Date built: 2011



Niemeyer Center photo : Ángel Navarrete
Centro Niemeyer
In 1989, the now one hundred year old Brazilian architect, was awarded the Prince of Asturias of the Arts Award. On the occasion of the 25th anniversary of the Awards in 2006, the Prince of Asturias Foundation (FPA) invited all the award winners to participate in the celebrations.
"I am an architect and, as such, what I do is design buildings and that is just what I am going to do; design a building" stated Oscar. And so, on a blank piece of paper, Oscar Niemeyer began sketching curves, a skill in which he excels. With this, he offered one of the best possible gifts ever.
Those first sketches by Oscar, drawn with a thick black marker, formed the foundations of an ambitious cultural project. It will be housed in what the architect himself has called his most important project in Europe and his only building in Spain.
Major Oscar Niemeyer Buildings
Key Oscar Niemeyer Designs, alphabetical:
Camargo House, Rio de Janeiro, Brazil
Date built: 1985
The Chapel of San Francisco de Assisi, Pampulha, Belo Horizonte, Brazil
Date built: 1943
Catedral Metropolitana – Metropolitan Cathedral, Brasilia
–
Congresso Nacional, Brasilia
–
Fata Building, Turin, Italy
Date built: 1977
French Communist Party headquarters, Paris
–
Interbau Apartment House, Berlin, Germany
Date built: 1957
Design with Soares Filho



photo © Adrian Welch
Hansaviertel Buildings by various celebrated 20th Century architects
Itamaraty Palace – Ministry of External Affairs, Brasilia
–
Leonel Miranda House, Rio de Janeiro
Dates built: 1952-55
Ministry of Education building, Rio de Janeiro
Dates built: 1936-45
Design with architect Le Corbusier
Mondadori building, Milan, Italy
Date built: 1968
Museum of the Republic + National Library, Brasilia, Brazil
Date built: 2006
National Museum & National Library, Brasilia, Brazil
Date built: 2006
Niemeyer Cultural Centre, Avilés, Spain
Dates built: 2007-11
Palacio da Alvorada – Palace of Dawn, Brasilia, Brazil
Date built: 1958; restored 2005
Ravello auditorium, Italy
2003-
£13m
Supreme Labour Court, Brasilia, Brazil
Date built: 2006
More Oscar Niemeyer buildings online soon
Location: Rio de Janeiro, Brazil, South America
Architectural Design
RIBA Gold Medal winner in 1998.
Paulo Mendes da Rocha : famous Brazilian architect
Buildings / photos for the Oscar Niemeyer Architecture page welcome