Populous Architects London, British Design Studio News, Events, Stadium Designers
Populous Architects Practice Information
Architectural Office located in England, UK – Stadium Designers Studio News
23 Mar 2016
Populous Appoints Peter Rigby Co-Chairman
Populous appoints Ex-Informa CEO Peter Rigby as co-chairman and promotes Christopher Lee to Managing Director role
23rd of March 2016 – International stadia and arena architects Populous has announced that Peter Rigby, formerly Chief Executive of Informa Plc, is to join the company [Populous] as co-chairman of its operations in Europe, the Middle East and Africa. In addition, senior principal Christopher Lee has been promoted to Managing Director.
Peter joins existing chairman, founder and senior principal Rod Sheard in overseeing the development of Populous' growing business in EMEA. The combination of Peter's proven track record for identifying commercial opportunities and partnerships, with Rod Sheard's experience as one of the world's leading architects in sports and entertainment, will help Populous meet the growing demand for its design expertise.
Populous board, from left to right. Mike Trice (director), Rod Sheard (co-chairman & founder), Peter Rigby (co-chairman), Christopher Lee (managing director), Nick Reynolds (director), Ben Vickery (director):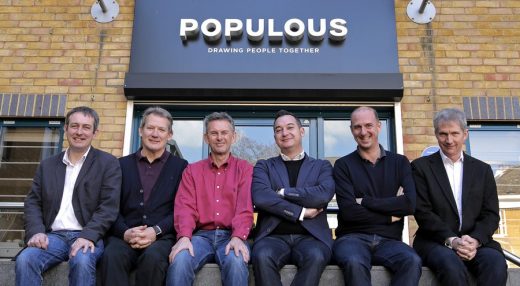 An exceptional business leader and strategist, Peter's 30 year career and leadership at Informa, the international publishing, business information and event business, saw the value of the company increase dramatically to a market capitalisation of £3bn.
Christopher has worked for Populous in Australia, the United States and Europe and been involved in the design of more than 30 stadia including the ANZ Stadium for the Sydney 2000 Olympics, Arsenal's Emirates Stadium in London and the Estadio das Dunas for the 2014 FIFA World Cup in Brazil. He is currently leading the company's projects in Qatar and for Tottenham Hotspur Football Club.
Commenting on the appointments, Rod Sheard, co-chairman and founder, Populous, said: "Looking ahead, we want to continue our focus on excellence and innovation. We are structuring our business to best support our clients' growing needs; to be able to work in diverse markets and to stay ahead of market demands.
"I have known Peter personally for many years and admired the way he steered Informa's growth into a hugely successful global media group. I have no doubt that his enthusiasm, enterprise and strategic counsel will help Populous maintain and develop its leading position in the design of world-class facilities and events.
"Our success has been built on designing venues that draw people together for truly memorable experiences. No one understands that better than Christopher Lee, who alongside our highly experienced team of senior principals, has played a big part in the growth of our European operations."
The full EMEA Board comprises senior principals Ben Vickery, Christopher Lee, Mike Trice, Nicholas Reynolds and Rod Sheard. Together they have worked on many iconic and well-loved venues including Wembley, Emirates, the Millennium and Aviva stadiums, Wimbledon, Ascot, the O2 Arena, Silverstone and both the Sydney and London Olympics.
Last year, five venues designed by Populous hosted matches in the 2015 Rugby World Cup. Opened in January, Parc Olympique Lyonnais will host the final of the rugby Challenge and Championship Cups in May as well as five matches of the European Championships.
Current projects include the new stadium, leisure and community facilities for Tottenham Hotspur F.C; an elite and community training centre for Queen's Park Rangers; a flexible 12,000 capacity Arena in Bristol; the Circuit of Wales motorsport and leisure precinct in South Wales; the Lord's Masterplan and Warner Stand, and a new home for French Rugby near Paris. The practice is also putting the finishing touches to the transformation of the Populous-designed London Olympic Stadium, for it to become the new home of UK athletics and West Ham United F.C.
EMEA operations have recently been extended with the opening of an office in Doha to facilitate the delivery of projects for the 2022 FIFA World Cup in Qatar as well as the strategic 2015 merger with London-based interiors firm Jump Studios.
14 Dec 2015
Populous Senior Adviser Geraint John
British Architect elected to International Association for Sports and Leisure Facilities (IAKS) Hall of Fame
14th December 2015 – The International Association for Sports and Leisure Facilities (IAKS) has announced that Populous Senior Adviser Geraint John has been elected to the IAKS Hall of Fame, as one of its inaugural members.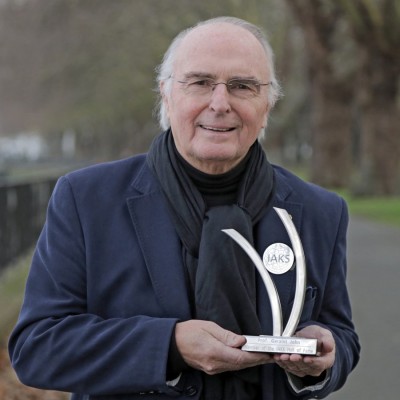 The IAKS Hall of Fame has been established to mark the 50th anniversary of the association, which has more than 1,000 members spread across 110 countries and all five continents. The purpose of the IAKS Hall of Fame is to pay tribute to personalities for outstanding services to the IAKS or to sports facilities during the past 50 years.
Geraint John has been a Senior Adviser to Populous from 1996 to the present day, during which time the global sports design and architecture practice has delivered three Olympic stadia (Sydney 2000, London 2012 and Sochi 2014) and countless major event designs.
His international experience and expertise includes service as the Chief Architect and Head of the Technical Unit for Sport at the Great Britain Sports Council, as well as being Honorary Life President of the International Union of Architects' (UIA) Sports and Leisure Programme Group. In 2014 he was awarded the International Olympic Committee's Pierre de Coubertin medal in recognition of his outstanding services to the Olympic Movement; the first Briton to be recognised with this award.
Along with his practice work, Geraint is a visiting Professor at the Universities of Hertfordshire, Bedfordshire and the Universidad Camilo Jose Cela in Madrid. He has written numerous articles for professional journals, and has spoken at countless conferences and seminars, both in the United Kingdom and overseas.
About Populous
From the Premier League to the Super Bowl and Olympic Games, Populous helps the world's biggest teams, clubs and events build lasting connections with their communities. An international architecture and design practice with over thirty years' experience of drawing people together, our designs for places like Yankee Stadium, the Sydney and London Olympic stadiums help to create emotional connections between people and the places and events they love best.
With involvement in ten Olympic Games, six FIFA World Cups and thirty one NFL Super Bowls, Populous has experience in sports, events and brand activation on the biggest global stages. We love helping our clients draw people together.
About IAKS
The International Association for Sports and Leisure Facilities (IAKS) was founded in 1965. It is the only non-profit organization concerned globally with the subject of sports and leisure facility development and has been awarded the status of a Recognized Organization by the International Olympic Committee (IOC).
The IAKS has about 1,000 members in 110 countries worldwide, which spread across all five continents. Starting with virtually all European countries, the IAKS network extends to Australia, New Zealand, Japan and China as well as to Russia, Namibia, Chile and the whole of North America.
Populous Design Guide
Stadia: The Populous Design and Development Guide
Architect, Populous, releases new edition of long-established design guide Stadia



image from architects
Design Guide for Stadia – 27 Feb 2013
Almost 20 years since it was first published in 1994, Stadia remains the most comprehensive guide to all aspects stadium design, from local club buildings to iconic international venues.
Covering every technical aspect of stadium development and design, including major alterations, the book is intended to provide the perfect guide for all professionals who commission, plan, design, and manage one of the most fascinating building types of today.
Populous : main page with news + key projects
2 Dec 2010
Populous Appointment
POPULOUS LONDON APPOINTED AS ADVISERS FOR 2018 HAMBANTOTA COMMONWEALTH GAMES BID
The Hambantota 2018 Commonwealth Games Candidate City Organising Committee has recently announced the appointment of an international team of advisers to help Sri Lanka develop its bid to host the 2018 Games.
The world class team, led by PMP legacy, includes Populous, Fast Track, Bell Pottinger and PWC, and will advise on all 15 themes in the candidature file, including legacy, finance, sport and venues, media and marketing, transport planning, sustainability, security and corporate identity.
Ajith Nivard Cabraal, Chairman of the bid, said: 'The team will bring a wealth of relevant event bidding and planning experience. Adding,' Sri Lanka has a unique and compelling story to tell, and the bid will act as an important catalyst in the Island's post conflict and tsunami reconstruction as well as raising Sri Lanka's profile on the world stage.'
John Barrow, Senior Principal and head of the Populous London team, said: "We are delighted to be part of the PMP-PwC-Populous team and we are excited by the opportunity to share the government of Sri Lanka's vision for Hambantota."
Populous, the official designer of London 2012 main stadium and overlay provider for all the Games venues, was also part of the technical team for London 2012 Olympics, Glasgow 2014 Commonwealth Games and FIFA 2018 World Cup bids.
11 Nov 2010
Populous Architects Awards
Populous, the Architects of the London 2012 Olympic Stadium, celebrated a double win at the recent World Architecture Festival Awards in Barcelona.
Soccer City Stadium, designed by Populous and Boogertman and Partners, won the 'World's Best Sport Building' award, while the Aviva Stadium, designed by Populous and Scott Tallon Walker, won the inaugural 'ONCE prize for accessible design' at the prestigious awards.
Aviva Stadium by Populous with local STW ; Soccer City by Populous & BUE



photo © Chris Gascoigne ; photo © Mike Schmucker
Soccer City, which hosted the 2010 FIFA world cup final, was chosen by some of the world's most distinguished architects and renowned industry experts, beating off competition from a shortlist of seven entries.
The judges said: "The Soccer City National Stadium makes a strong and memorable connection with its place in history, the game and the future of this area. It is a genuine example of a building forming deep and lasting roots in its culture and giving a new exciting future to an otherwise rundown area, becoming instantly recognisable as the face of the South African Wold cup."
With its main form inspired by the traditional calabash, Populous and Boogertman and Partners have created an "African Pot" which is now recognized instantly by spectators in every corner of the world and has already become a cultural signifier of the new South Africa and the FIFA World Cup.
Damon Lavelle, Project Architect at Populous, who received the award, commented: 'We are delighted to receive this prestigious award which recognises the outstanding achievement of the joint Populous/Boogertman team in designing the main stadium for the 2010 FIFA world Cup. The Stadium is already providing a lasting cultural and sporting legacy for the people of Johannesburg, South Africa and Africa generally.'
Populous also celebrated its other success with the new Aviva Stadium being awarded the inaugural ONCE prize for accessible design.
The Aviva Stadium is the first truly site responsive stadium of its kind in the world. Its organic form, mass, materials and aspect are defined by the site and its surrounds. The site, in the residential district of Dublin 4, is the historic home of international rugby and football in Ireland where the first game of international rugby was played in 1876. The stadium has been designed to be accessible for people with mobility difficulties, particularly those in wheelchairs, and for people with impaired sight or impaired hearing.
The general principle adopted is that disabled users are integrated with able-bodied people so far as practical. There are separated circulation routes in some locations (which provide safer routes for wheelchair users), but the accommodation is generally available to all. Key accessibility features include, amongst others, spectator seating spaces for the people with disabilities distributed at all levels of the seating tiers and an FM band radio narrowcast system, used to serve the seating bowl, allowing spectators seated anywhere in the tiers to listen to this on radio receivers available from the stadium company.
Ben Vickery, Senior Principal at Populous, said: 'We are delighted that Aviva Stadium won the accessibility award. This is part of a Europe-wide improvement in the standards of accessibility of sports buildings and shows the commitment of the whole team to achieve this. We hope that everyone will enjoy soccer and rugby together.'
Aviva Stadium, designed by Populous and Scott Tallon Walker, was also highly commended in the Sport category awards.
Populous Architects Developments – No Images
Designs by Populous, no images, alphabetical:
Al Ain Community, Abu Dhabi, UAE
2007-
Almaty Ski Village, Kazakhstan
–
Boddingtons Brewery Site – Masterplan, Strangeways, Manchester, UK
2007-
Iceland MotoPark – Racetrack + facilities, Reykjavik, Iceland
2007-
Indira Gandhi Airport Terminal, Delhi, India
2007-10
Olympique Lyonnais Stadium, Lyons, France
2008-
60,000-seat octagonal stadium
Silverstone Pitlane & Paddock complex, Northamptonshire, central England
2008-
More projects by Populous online soon
Location: London, south east England, UK
Populous Architects Practice – Company Information
Populous Architects Office
As one of the world's leading design practices Populous creates exceptional spaces and venues that draw people together and serve as a point of reference and rejuvenation for entire communities. Buildings by Populous range from iconic stadia and arenas, to convention centres and amphitheaters, with recent projects including the new Yankee Stadium and Citi Field in New York; the Olympic Stadium for the London 2012 Olympics; Nanjing Sports Park in China; Suncorp Stadium in Australia; the Phoenix Convention Centre in Arizona and the Florida Marlins' new baseball stadium under development in Miami. Populous used to be known as HOK Sport Venue Event and are celebrating a rebranding to Populous following our successful management buyout in 2008 from HOK Group
Populous' architects and event managers are some of the world's most experienced designers, drawing from the combined expertise of more than 1,000 projects with construction value exceeding $20 billion. The Populous client list is diverse and comprehensive; it includes 24 Major League Baseball franchises, 30 NFL franchises, 80 professional and civic arena clients, 40 soccer and rugby teams, 120 colleges and universities, 40 convention and performing arts centre clients, 27 Super Bowls and 30 major events. With 500 employees in offices in Kansas City, London, Brisbane, Singapore, Hong Kong, Auckland, Denver, Nashville, Knoxville and New York, Populous share and drive global best practice in our fields of expertise and most importantly, we use the power of design to draw people together.
Populous architects – News Item, Apr 2009
HOK Sport Venue Event Changes Name
YANKEES, METS, WIMBLEDON, WEMBLEY, LONDON + SYDNEY OLYMPICS STADIA DESIGNERS HOK SPORT VENUE EVENT ANNOUNCE NEW NAME POPULOUS
Global design practice, HOK Sport Venue Event, is delighted to announce its new name – Populous. The rebranding follows its successful management buyout in December 2008 from HOK Group and comes at a time of celebration for many of the practice's current projects:
Both the new Yankee Stadium and the new Citi Field Stadium for the New York Mets open this week, April 3. The test event for the new roof on Wimbledon's Centre Court, London, is scheduled for May 17.
The Michael Jackson concert series to be held this summer at the 02 Arena designed by Populous were the fastest selling tickets ever in London. Construction on the Populous-designed London 2012 Olympic Stadium has just reached the halfway milestone mark. And Populous recently completed the Phoenix Convention Center and has been appointed to design the new Florida Marlins ballpark in Miami.
To coincide with the unveiling of the new brand, which means 'full of people', Populous has launched a website to capture views on 'what draws people together?' People from around the world have started answering the question in a video that can be viewed on the site. To participate in this global discussion visit www.populous.com and submit your answer. The site also provides more detail on the meaning behind the new brand and the people behind the name.
Rod Sheard, Senior Principal of Populous said:
"What we do best is design buildings that draw people together so Populous is the perfect name to reflect our business. Whether it's for sports and entertainment or exhibits and conferences, our aim is to create buildings that people love to be in and which can become a point of reference and rejuvenation for their communities.
"The new Yankee Stadium and Citi Field Stadium, both opening this weekend, and the new roof at Wimbledon's Centre Court, to be showcased for the first time in May, are great examples of the special experiences and sense of community that can be shared in our buildings. With our rebranding Populous are calling for people from all over the world to come to our website and tell us what they think 'draws people together'."
Populous information received 3 Apr 2009
London Architecture : news + key projects
Buildings / photos for the Populous Architects London page welcome
Website : populous.com