NL Architects Amsterdam, Building, Dutch Design Studio, Image, Project, Holland Office
NL Architects, Amsterdam, The Netherlands
Contemporary Dutch Architectural Practice, Europe
12 May 2017
NL Architects – Latest Designs
NL Architects News arranged chronologically:
DEFLAT KLEIBURG in Amsterdam by NL architects and XVW architectuur Wins Mies van der Rohe 2017 Awards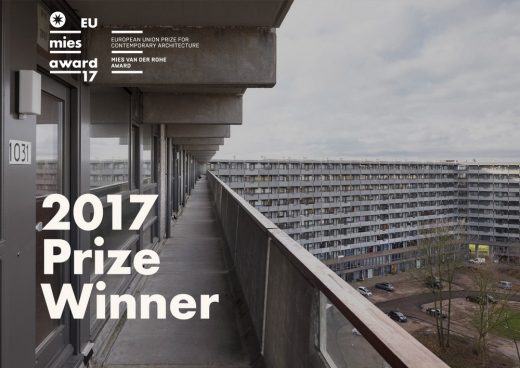 DeFlat Kleiburg in Amsterdam is the 2017 Winner of Prize. The architects are NL Architects and XVW architectuur and the client Kondor WesselsVastgoed.
DeFlat is an innovative renovation of one of the biggest apartment buildings in The Netherlands called Kleiburg, a bend slab with 500 apartments in Amsterdam's Bijlmermeer neighbourhood. Consortium DeFlat rescued the building from the wrecking ball by turning it into a "Klusflat", meaning that the inhabitants renovate their apartments by themselves.
Mies van der Rohe Awards: European Union Prize Winner in 2017
10 Feb 2016
Barneveld Centrum, province of Gelderland, centre of the Netherlands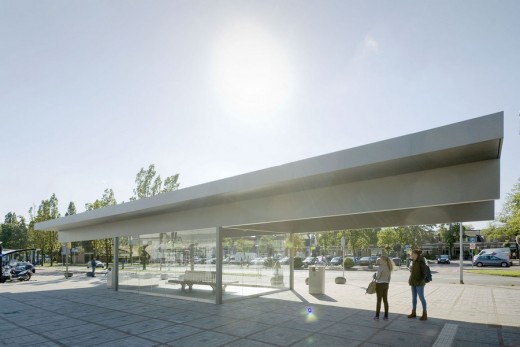 photos : Marcel van der Burg
Barneveld Centrum Building
One of the keys to the success of Prettig Wachten is to introduce permanent human presence on these stations, to create some sort of informal supervision. An effort is made to create small multifunctional shops. In Wolvega for instance a flower shop will be opened, the florist will also serve coffee (and clean the restrooms).
23 Oct 2013
Barneveld Noord Train Station, Gelderland, The Netherlands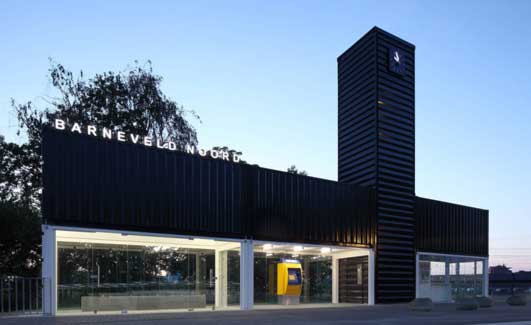 photo : Bart van Hoek
Barneveld Noord Train Station
ProRail, responsible for the Dutch railway network together with the national supervisor for railway architecture started a campaign to make waiting more comfortable. Smaller stations can be desolate and dull. What can architects do to improve them? This building shows that with a little imagination a basic typology can be transformed into life-affirming architecture.
10 Sep 2013
'Greening' the City: Mini Golf at the Harbour Club parking lot, Amsterdam, The Netherlands
Design: NL Architects



image from architect
Mini Golf Harbour Club
Building production in the Netherlands has come to a full stop, more or less. Numerous building sites currently remain un-used: the existing buildings have been demolished to make place for new developments but actual construction has been postponed.
2 Jul 2013
NS Stations Headquarters, Utrecht, The Netherlands
Design: NL Architects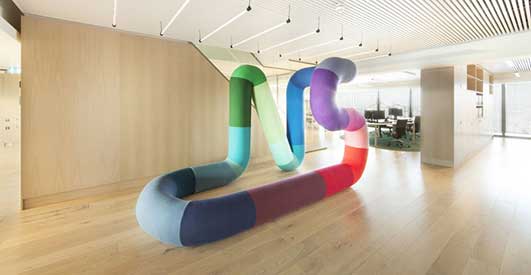 photo from architect
NS Stations Headquarters
The current floor plan consists of typical cellular offices along the facade and an oversized hallway in the center. The basic idea is to introduce a series of perpendicular walls that will organize the space. By 'inflating' these partitioning walls they can become storage spaces.
29 Apr 2013
Sanya Super Market, Hainan, China



image from architect
Sanya Supermarket Hainan
The idea is now to place the main shopping volume underground. The Super Market can directly draw its customers from the large basement parking below the residential buildings. In addition delivery and logistics can now disappear underground as well.
21 Mar 2013
Florida Pool House, FL, USA



image from NL Architects
Florida Pool House
Sketchbook investigates what new role the swimming pool could play in designing a home. Could the Pool serve as a more fundamental ingredient of the contemporary mansion? Could we imagine a 'mash-up' of Home and Pool?
27 Feb 2013
Columnar Towers in Hackney, London, England, UK
Design: NL Architects + WHAT Architecture


image from architects
Colville Estate Towers
Columnar Towers is a proposal for a residential development of 199 apartments in Hackney, London. The project is part of a masterplan by Karakusevic Carson Architects for the regeneration of the Colville Estate. The high residential density demands of the project brief will inevitably result in large massing.
10 Dec 2012
Kleiburg Apartment Building, Amsterdam, The Netherlands



image from architecture office
Kleiburg Apartment Building
Kleiburg is one of the biggest apartment buildings in the Netherlands: a bent slab with 500 apartments, 400 meter long, 10 + 1 stories high.
23 Nov 2012
Turnzaal Nieuw Welgelegen, Utrecht, The Netherlands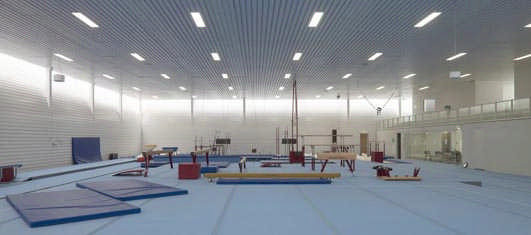 photo : Luuk Kramer
TNW Utrecht
This building is a sports hall dedicated to Gymnastics. It will not be used for any other sports. Four clubs combine efforts in this new facility. It is the 3rd and probably last building in the redevelopment of the sports complex in the center of Utrecht called Nieuw Welgelegen.
10 Jul 2012
De Kameleon, The Bijlmer, Amsterdam, The Netherlands



photo : Luuk Kramer
De Kameleon
De Kameleon is a supersized housing block including a new shopping center and plenty of parking in the area formerly known as Bijlmermeer. The Bijlmer is the one area in the Netherlands that sometimes is considered a ghetto.
Recent Designs by This Dutch Architecture Studio
16 May 2012
Bike Pavilion, Hainan Province, Southern China
NL Architects



picture from architects
Bike Pavilion China
Housing Corporation VANKE asked NL Architects to make a proposal for a Bike Club as part of a big resort in Southern China. The pavilion building should accommodate bike rental and a cafe.
24 Apr 2012
Sanya Block 5, Hainan Province, China
NL Architects



picture from architects
Sanya Block 5
Sanya is the southernmost city in China. Sanya is located in Hainan Province. The city is renowned for its tropical climate and is a popular tourist destination. Daily mean = 25˚ C!
Block 5 is part of a resort development. The project consists of 8 blocks of 6 stories on top of a ground floor with restaurants, bars and retail.
12 Sep 2011
Groninger Forum, Groningen, The Netherlands
2011-


image from NL Architects
Groninger Forum
Groninger Forum is a new type of public building; an innovative center for debate that aspires to blur the boundaries between Library, Museum and Cinema. A public 'square' winds up and makes all the 'pores' of the building accessible.
6 Jun 2011
Gapyong Space Invader, South Korea
2011-



image from NL Architects
Gapyong Building
Our good friend Young Joon Kim asked us to join forces in a competition for a residential development in the area of Gapyong, not too far from Seoul. Yo2 has been developing the masterplan and invited MSA (Marina Stankovic and Tobias Jortzick), CAT (Kazuhiro Kojima), Unsangdong (Joon Gyo Jang), FOA (Alejandro Zaera-Polo) and NL to participate.
Mash Up!
Kamiel Klaase – EUSAS lecture 11 Mar 2011 Edinburgh, Scotland:
.NL Architects Talk
NL Architects – Key Projects
Featured Buildings by NL Architects, alphabetical:
Basket Bar, Utrecht, The Netherlands
2003
NL Architects / Pieter Bannenberg, Walter van Dijk, Kamiel Klaasse, Mark Linnemann
European Union Prize for Contemporary Architecture Mies van der Rohe Award:
Emerging Architect Special Mention 2005
Loop House, Heiry Art Valley, South Korea
2007
Taipei Performing Arts Center entry, Taiwan



image from NL Architects
Taipei Performing Arts Center Building – design
More architecture projects by NL Architects online soon
Location: Van Hallstraat 294 NL 1051 HM Amsterdam, The Netherlands
Amsterdam Architecture Practice Information
Architect studio based in Amsterdam, The Netherlands
Dutch Architect : Netherlands Architecture Office contact details
Dutch Architecture



photograph © Luuk Kramer
Comments / photos for the NL Architects page welcome
Website: www.nlarchitects.nl