OBR Open Building Research Architects, Italy, Italian Buildings, Genova Design Studio, Office
OBR Open Building Research, Italia : Genova Architects
Contemporary Genova Architects Practice, Italy Design Studio
10 Oct 2016
OBR Open Building Research News
Parco Centrale Prato, Tuscany, Italy
Design: OBR Paolo Brescia and Tommaso Principi with Michel Desvigne Paysagiste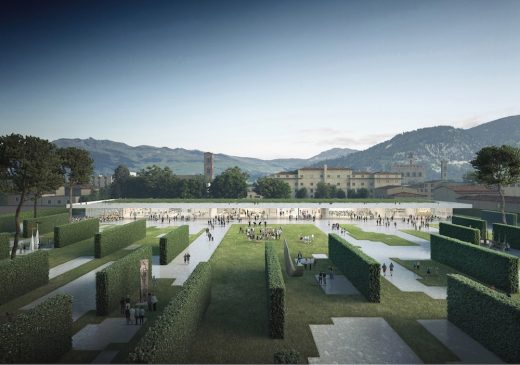 picture from architects
Parco Centrale Prato
OBR Paolo Brescia and Tommaso Principi with Michel Desvigne Paysagiste wins first prize in the international competition to design the new Parco Centrale (Central Park) in Prato, Italy.
Milanofiori Housing, Milan, Italy
Date built: 2010


photo from OBR Open Building Research
OBR Open Building Research complete Milanofiori housing
The Milanofiori housing complex is part of the master plan by Erick van Egeraat characterized by a series of functions (offices, hotels, restaurants, cinemas, leisure, residences) that define together a cluster whose elements appear to follow the characteristics of the surrounding landscape creating a public park as the extension of the existing forest. The design seeks the symbiosis between architecture and landscape, so that the synthesis of artificial and natural elements could define the quality of living and the sense of belonging by the inhabitants.
Award: 2010 European 40 Under 40, Madrid
More architecture projects by OBR Open Building Research online soon
Location: Genova, Italy
OBR Open Building Research – Practice Information
Italian architects office – studio based in Genova, with sub-offices in Milan, London, Hong Kong and Mumbai.
OBR Open Building Research has been established in 2000 with the idea of creating a design network between Genoa, Milan, London and New York, researching new ways of living working within the confluence of architecture and landscape.
OBR Open Building Research founding partners Paolo Brescia and Tommaso Principi:



photo from OBR Open Building Research
The founding partners Paolo Brescia and Tommaso Principi have been working together in Renzo Piano Building Workshop and collaborate with Architectural Design courses of the Faculty of Architecture of Università degli Studi di Genova. They link their working experience with the academic world, lecturing at Politecnico of Milan, Università degli Studi di Roma La Sapienza, Luiss, Università di Trieste, Kent State University, Università di Messina, Accademia di Architettura di Mendrisio, Helsinki Aalto University, Academy of Architecture of Mumbai.
The team of OBR develops the experimental line through the participation in international projects and design competitions involved in public and social programs in newly advanced urban development countries as China, India, Brazil, Egypt, Morocco and Ghana.
Since 2004 OBR has been evolving its design parameters according to the environmental and energy certification LEED Leadership in Energy & Environmental Design and since 2009 OBR is partner of the GBC Green Building Council.
The projects of OBR have been shown widely, including at 10th Biennale di Venezia (2006), Architecture: Where to, London (2007), V Bienal de Arquitetura in Brasilia (2007), XI Bienal Internacional de Arquitectura in Buenos Aires (2007), AR Award Exhibition in Berlin, Budapest and Seul (2008), China International Architectural Expo in Beijing (2009), Shanghai International Expo (2010).
OBR has been recognised for the architectural design research for which they have gained awards such as AR Awards honourable mention for Emerging Architecture at the RIBA Royal Institute of British Architects in London (2007), Plusform award for Best architecture realized by young architect under 40 (2008), Urbanpromo by INU Istituto Nazionale Urbanistica at 11th Biennale di Venezia (2008), honourable mention finalist for the Gold Medal for Italian Architecture at Triennale di Milano (2009), Europe 40 Under 40 in Madrid (2010), In/Arch and Ance premium in Rome for the best realised project in Italy designed by young architect (2011).
Paolo Brescia
Partner
1970 Born in Chiavari
1991 Worked for Vico Magistretti
1994 Faculty of Philosophy, Università Statale di Milano , Prof. Giulio Giorello
1995 Architectural Association, London
1996 Graduated in Architecture at Politecnico di Milano, Prof. Pierluigi Nicolin
1998 – 2000 Worked for Renzo Piano Building Workshop
2000 Established OBR
2003 – 09 University assistant professor at Faculty of Architecture of Università degli Studi di Genova
2004 – 05 Professor in charge of interior design at Politecnico di Milano
2006 10° Mostra Internazionale di Architettura, Città. Architettura e società, La Biennale di Venezia, Padiglione Italiano
2007 AR Award for Emerging Architecture, honourable mention, RIBA Royal Institute of British Architects, London
2007 V Bienal de Arquitetura de Brasília
2007 XI Bienal Internacional de Arquitectura de Buenos Aires
2008 Plusform Award, Best realised architecture under 40
2008 Urbanpromo Award, INU Istituto Nazionale Urbanistica, 11th Biennale di Venezia
2009 Medaglia d'Oro all'Architettura Italiana, honourable mention finalist, La Triennale di Milano
2010 European 40 Under 40 Award, Madrid
2011 In/Arch Ance Award, Opera realizzata da giovane architetto, Roma
Tommaso Principi
Partner
1970 Born in Firenze
1990 – 97 Worked for Studio di Architettura e Urbanistica G. Principi
1989 – 94 Faculty of Engineering, Università degli Studi di Bologna
1995 – 96 Comunicazione e sistemi video, Faculty of Literature and Philosophy, Università degli Studi di Genova
1999 Graduated in Architecture at Università degli Studi di Genova, Prof. Enrico D. Bona
1997 – 99 Worked for Renzo Piano Building Workshop
2000 Established OBR
2004 – 09 University assistant professor at Faculty of Architecture of Università degli Studi di Genova
2007 – 08 Coordinator at the International Coastal Area Messina Program, Università di Messina
2006 10° Mostra Internazionale di Architettura, Città. Architettura e società, La Biennale di Venezia, Padiglione Italiano
2007 AR Award for Emerging Architecture, honourable mention, RIBA Royal Institute of British Architects, London
2007 V Bienal de Arquitetura de Brasília
2007 XI Bienal Internacional de Arquitectura de Buenos Aires
2008 Plusform Award, Best realised architecture under 40
2008 Urbanpromo Award, INU Istituto Nazionale Urbanistica, 11th Biennale di Venezia
2009 Medaglia d'Oro all'Architettura Italiana, honourable mention finalist, La Triennale di Milano
2010 European 40 Under 40 Award, Madrid
2011 In/Arch Ance Award, Opera realizzata da giovane architetto, Roma
OBR Team
Paolo Brescia Partner
Tommaso Principi Partner
Michele Renzini Senior Associate
Andrea Casetto Associate
Alessandro Beggiao Architect
Alessandra Bruzzone Architect
Gaia Galvagna Architect
Chiara Mangini Architect
Yari Marongiu Architect
Marino Matika Architect
Riccardo Robustini Architect
Izabela Sobieraj Architect
Alessandra Vassallo Architect
Paula Vier Architect
Anita Pinto Landscape architect
Yu Chaoyin Junior architect
Giovanni Glorialanza Junior architect
Giuditta Parodi Junior architect
Pauline Renault Junior architect
Léa Siémons-Jauffret Junior architect
Jo Hou Public relation
Marta Garbarino Office manager
Mariangela de Marco Administration
Andrea Malgeri Model maker
Davide Simonetti Cost control
Matteo Casavecchia I_Technology
Awards
2007 AR Award for Emerging Architecture
honourable mention
RIBA Royal Institute of British Architects, London
2008 Plusform Award
Best realised architecture under 40
2008 Urbanpromo Award
INU Istituto Nazionale Urbanistica
11° Mostra Internazionale di Architettura
La Biennale di Venezia
2009 Medaglia d'Oro all'Architettura Italiana
Honourable mention finalist
La Triennale di Milano
2010 European 40 Under 40 Award, Madrid
2011 In/Arch Ance Award
Realized architecture by young architect, Roma
Competitions
2001
Tomihiro Museum, Azuma, Japan (selected)
Eco-connections, Reggio Emilia (2nd prize)
Polo Intermodale di Trieste FVG (1st prize)
2003
Nam June Paik Museum, Kionggy, South Korea
Museo di Pitagora, Crotone (1st prize)
Galleria Sabauda nel Palazzo Reale di Torino (1st prize)
2004
Villa Reale di Monza (2nd prize)
2005
Waterfront Rapallo (short listed)
Residenze Milanofiori, Assago, Milano (1st prize)
2006
Museo di Arte Nuragica e Contemporanea, Cagliari (short listed)
Ponte Polcevera, Genova (1st prize)
Aeroporto di Reggio Calabria (1st prize)
Ex Cinema Roma, Parma (1st prize)
Fiera Riva del Garda (short listed)
Nuovo Ospedale San Marco, Catania (2nd prize)
Residenze Varesine, Milano (short listed)
2007
Museo Diocesano, Milano (3rd prize)
Campus Divino Amore, Roma (1st prize)
Waterfront Reggio Calabria (3rd prize)
2008
River Douglas Bridge, Lancashire UK
Wejchert Golf Club (2nd prize)
Premio Demonte (3rd prize)
2009
Masterplan Polo di Funo, Bologna (1st prize)
Torrenova Città Parco, Roma (short listed)
Social Housing, Via Cenni Milano (special mention)
Nuova Sede della Provincia di Bergamo (short listed)
Venaria Urban Centre (2nd prize)
People Mover (2nd prize)
Nuovo Ospedale Galliera, Genova (1st prize)
2010
Fiera di Messina (1st prize)
Shantou University Center, China
Fengqing Square a Zhengzhou, China (1st prize)
2011
Rio 2016 Olympic Park Master plan, Rio de Janeiro, Brazil
Website : www.obr.eu
Architectural Designs
Comments / photos for the OBR Open Building Research Architects pages welcome: info(at)e-architect.com