Olson Kundig Architects, Architectural Office Washington, Building Photos, USA Design Projects
Olson Kundig : Washington Architecture Practice
Seattle Architecture Practice, WA, United States of America: Design Studio News
post updated May 12, 2023
Olson Kundig Architects News
Olson Kundig News, chronological:
Jun 8, 2022
The Bob Dylan Center™
Design: Olson Kundig, Seattle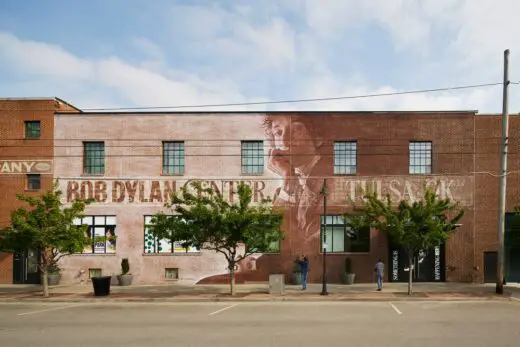 photograph : Matthew Millman
Bob Dylan Center Tulsa, Oklahoma Building
Dedicated to the study and appreciation of Bob Dylan and his worldwide cultural significance, The Bob Dylan Center™ serves as the primary public venue for The Bob Dylan Archive®, a collection of more than 100,000 items spanning nearly 60 years of Dylan's career, from handwritten manuscripts, notebooks and correspondence, to films, videos, artwork, memorabilia and original studio recordings. Olson Kundig was selected through an international design competition for this building located in the Tulsa Arts District.
April 29, 2022
Olson Kundig New York City Architects News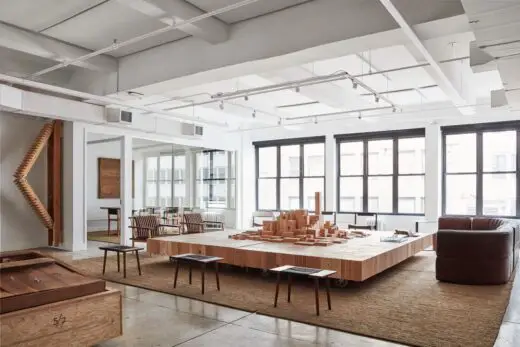 photograph : Angela Hau
Olson Kundig New York City Architects Studio
Olson Kundig is pleased to announce the opening of their new office in New York City, underscoring the firm's ongoing commitment to and investment in urban spaces.
Nov 26, 2020
False Bay Writer's Cabin, San Juan Islands, Washington, USA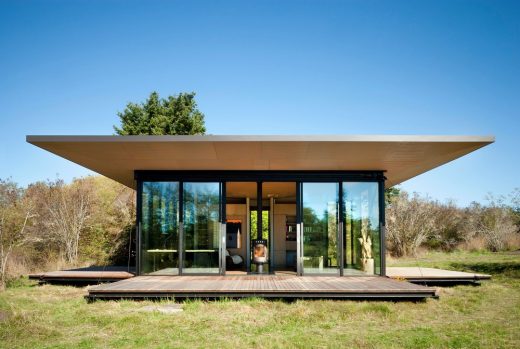 photograph : NicAaron Leitz
False Bay Writer's Cabin
This five-hundred-square-foot cabin serves as a private writer's retreat and guest cottage. The owners of False Bay Writer's Cabin asked for a space that felt connected to its island setting—the mild climate, scenic views, and proximity to wildlife. At the same time, they needed a structure that could be easily secured when not in use.
May 18, 2020
Collywood, West Hollywood, California, USA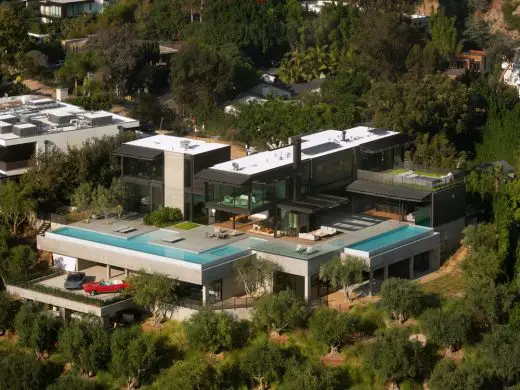 photograph : Nic Lehoux
Collywood, West Hollywood
A high-tech West Hollywood retreat is located just above the Sunset Strip and overlooks Los Angeles with sweeping views that stretch from the San Gabriel Mountains to the Pacific Ocean. Maximizing access to these breathtaking views from all parts of the home was a key design directive.
Feb 25, 2020
Burke Museum of Natural History and Culture, University of Washington campus, Seattle, WA, United States of America
Architects: Olson Kundig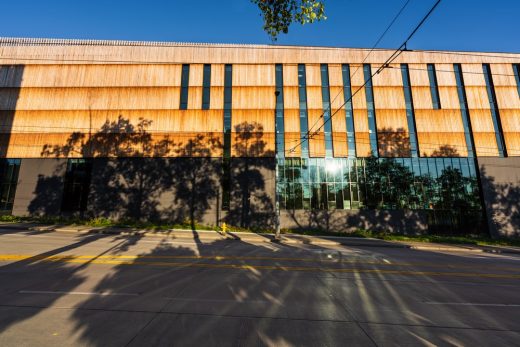 photograph : Ben Roberts
Burke Museum of Natural History and Culture
Designed by principal Tom Kundig and built by Skanska, the recently built facility features brand new exhibits, research facilities, and a new approach to discovery and learning about history and heritage in the Pacific Northwest.
Apr 18, 2019
Costa Rica Treehouse, Santa Teresa, Costa Rica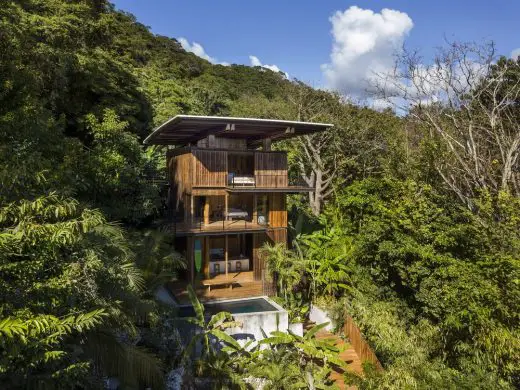 photograph : Nic Lehoux
Costa Rica Treehouse
Built entirely of teak wood harvested on-site, the retreat engages with the jungle at each of its three levels: at the forest floor, the middle floor is nestled within the trees, and the top level rises above the tree canopy with views of the surf at nearby Playa Hermosa beach.
Nov 23, 2018
Hotel Thompson Seattle – 100 Stewart Hotel and Apartments, Seattle, WA 98101, USA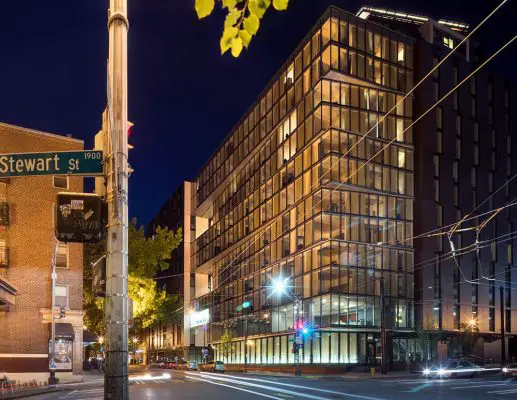 image courtesy of architecture office
Hotel Thompson Seattle Building
Located in the heart of downtown this new building responds to several edge conditions. The building also relates to its location in Seattle, a city at the edge of the Pacific Rim.
Jul 7, 2018
Bob Dylan Center Building, Tulsa Arts District, Tulsa, Oklahoma, USA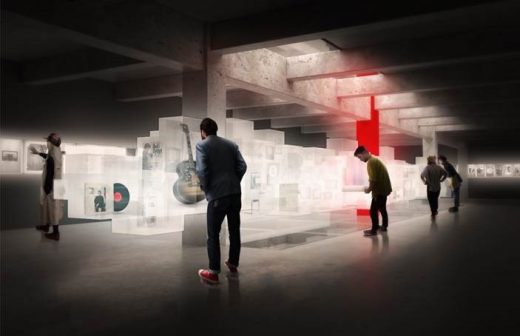 image courtesy of architecture office
Bob Dylan Center Building
The George Kaiser Family Foundation has selected Seattle-based Olson Kundig as the lead architect and exhibit designer for The Bob Dylan Center™, the public-facing home of The Bob Dylan Archive® to be located in the Tulsa Arts District.
Dec 20, 2017
Brook Bay Residence, Mercer Island, King County, Washington, USA
Design: Rick Sundberg, Principal-in-Charge and Lead Designer while at Olson Sundberg Kundig Allen (Rick is now a Principal at Sundberg Kennedy Ly-Au Young (SKL) Architects in Seattle)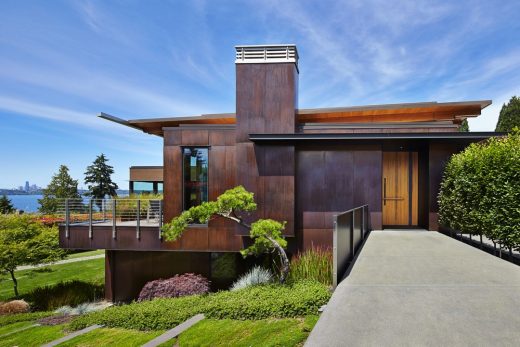 photo : Benjamin Benschneider
Residence on Mercer Island
Nestled into a Mercer Island hillside, across Lake Washington from Seattle, this intimate two-story residence emphasizes craft, materiality, and connection to the outdoors.
May 12, 2017
Charles Smith Wines Jet City Seattle Building, 1136 S Albro Pl, Seattle, WA 98108, USA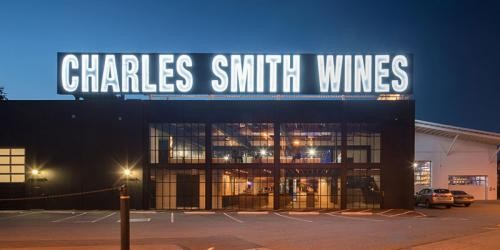 photo : Kevin Scott and Nic Lehoux
Charles Smith Wines Jet City Seattle Building
Originally constructed to house a Dr. Pepper bottling plant and later a recycling center, the design of the new Charles Smith Wines Jet City preserves much of the building's hard-won industrial patina.
Apr 29, 2017
Martin's Lane Winery Building, Okanagan Valley, BC, Canada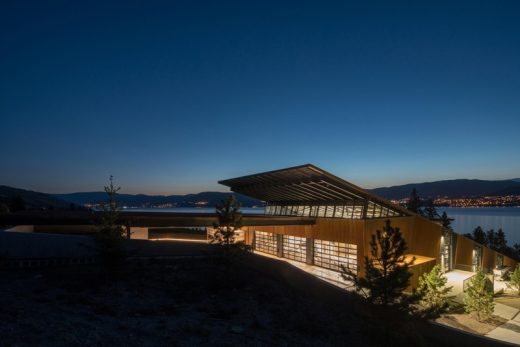 photo courtesy of Vik Retreats
Martin's Lane Winery, Kelowna
Tucked into a hillside in Kelowna, British Columbia, the design of the newest winery in the von Mandl Family Estates creates an intimate relationship between the topography of the land and a new gravity-flow winery.
Mar 16, 2017
Shinsegae Tower, Seoul, South Korea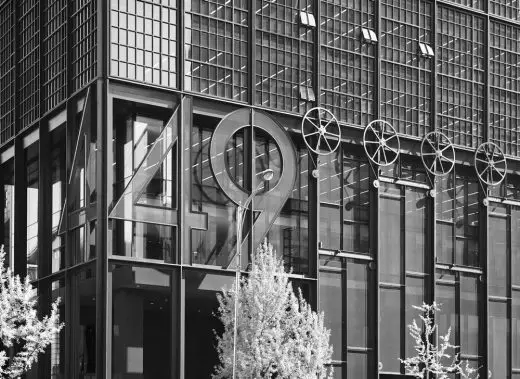 photograph from architects practice
Shinsegae Tower Building design by Olson Kundig Architects
In designing a new fifteen-story headquarters for international luxury clothier Shinsegae International, Olson Kundig sought to create an iconic landmark in the heart of Gangnam-gu, one of Seoul's largest districts. Completed in 2015, the building unites more than five hundred Shinsegae employees, who were previously spread between several buildings throughout the city.
Feb 6, 2017
The Pierre, San Juan Islands, Washington, United States of America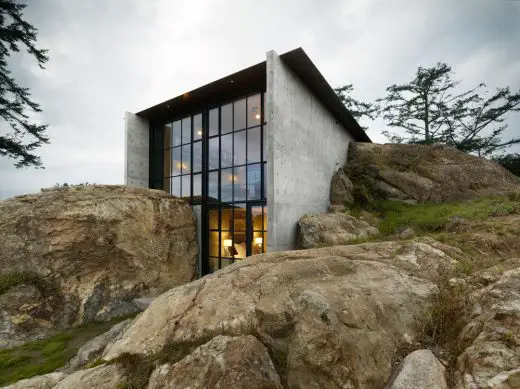 photograph © Benjamin Benschneider
The Pierre, San Juan Islands, by Olson Kundig
Conceived as a secure and unexpected retreat nestled into a rock, the Pierre (the French for stone) celebrates the materiality of this site. From certain angles, the house – with its rough materials, encompassing stone, green roof and surrounding foliage – almost disappears into nature.
Aug 4, 2016
Olson Kundig Architects News – latest additions to this page, arranged chronologically:
Alan Maskin Wins Jewish Museum Berlin Competition
Alan Maskin, Owner/Principal at Olson Kundig, has won first prize in the Jewish Museum Berlin Foundation's competition for a new Kindermuseum. The two-stage, international design competition was announced on January 18, 2016, and first, second, and third prizes were selected from the entries for this second phase combining architectural and exhibit design.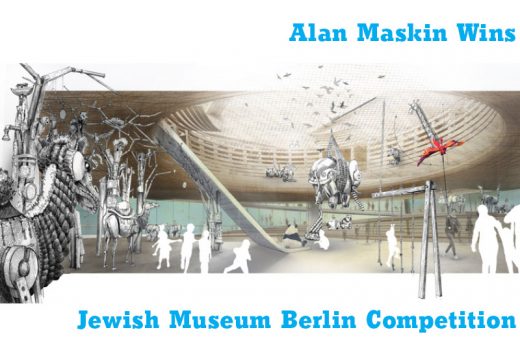 The story of Noah's Ark was the competition concept set forth by the Jewish Museum Berlin. The flood narrative is deeply rooted in Abrahamic cultures. "The design by Olson Kundig has the potential to unpack the biblical story in all its relevance, as well as building connections with the present day―rescuing people and animals, the relationship between nature and civilization, and the chance to make new beginnings," says Peter Schäfer, Director of the Jewish Museum. The jury that awarded first prize to Olson Kundig recommended its implementation.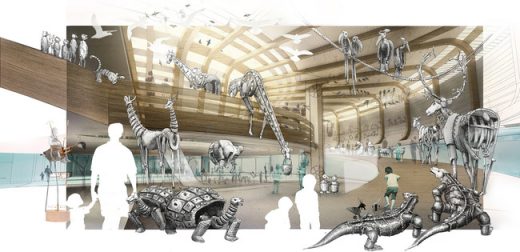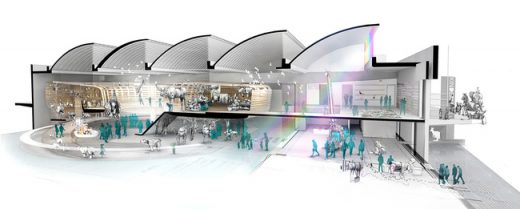 This marks Maskin's second win in an international design competition this year―his first was for "Welcome To The Fifth Façade" in Blank Space's Fairy Tales competition. Alan reacted to the announcement of Olson Kundig being selected as the first prize winner: "We are thrilled to have been awarded first place in this competition. The Noah's Ark story, and the hundreds of flood narratives that precede the Old Testament story were a source of inspiration to our team. Our design approach was to create a modern retelling of the ancient story―an experience that provides a sense of hope and possibility to the people who will visit it."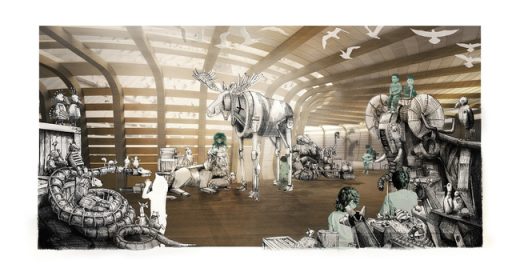 Olson Kundig Design Team:
Alan Maskin, Owner/Principal, Design Principal
Marlene Chen, Principal
Stephen Yamada-Heidner, Principal
Laura Bartunek, Architectural Staff
Tessa Crespo, Architectural Staff
Juan Ferreira, Architectural Staff
Jerome Tryon, Architectural Staff
Andy Cho, Architectural Intern
Samantha Gutteridge, Architectural Intern
Ernest Wang, Architectural Intern
Gabriela Frank, Director of Business Development & Marketing
Katie Miller, Marketing Coordinator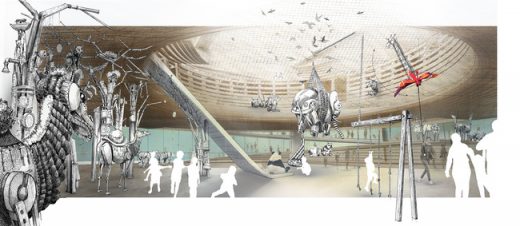 Competition Consultants:
Structural engineering: Karen Eisenloffel, EiSat GmbH, Berlin
Climate engineering: Thomas Auer, Transsolar KlimaEngineering, Stuttgart
Fire protection: Peter Stanek, Architektur- und Sachverständigenbüro, Berlin
Local architect: Philip Engelbrecht, Architekturbüro Engelbrecht, Berlin
Structural engineering: Jay Taylor, Magnusson Klemencic Associates, Seattle
Cost consultant: Andrew Cluness, C&N Consultants, Inc., Seattle
Exhibition fabrication: Kevin Belcher, Pacific Studio, Seattle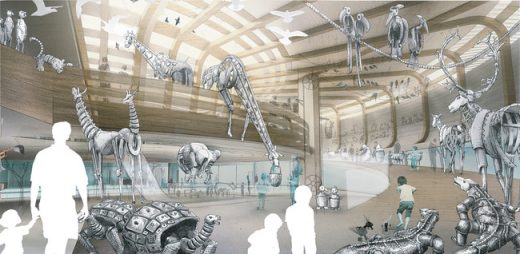 Apr 1, 2016
Alan Maskin of Olson Kundig Wins Fairy Tales Competition
Alan Maskin, principal and owner of Olson Kundig, with Jerome Tryon, Kevin Scott, Gabriela Frank, and Katie Miller have won the third annual Fairy Tales competition for their story titled "Welcome to the 5th Facade". Established by Blank Space this year's contest was the most competitive edition yet with over 1,500 submittals.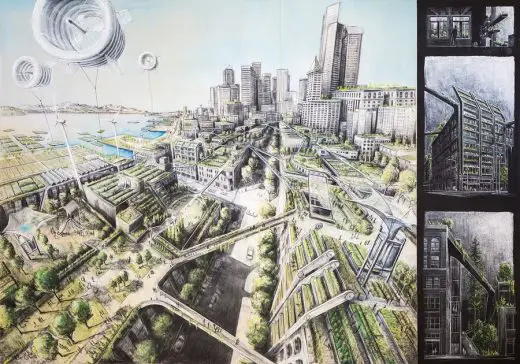 7′ x 10′ Mural from The Fifth Façade Project by Alan Maskin and Jerome Tryon
Alan Maskin of Olson Kundig Wins Fairy Tales Competition
Feb 24, 2016
Kirsten R. Murray Elevated to AIA College of Fellows – Statement from this architecture practice:
We are proud to announce that Kirsten R. Murray, a Principal/Owner of Olson Kundig, has been elevated to the American Institute of Architects' (AIA) College of Fellows. The Fellowship program was developed to recognize those architects who have made significant contributions to architecture and society and who have achieved a standard of excellence in the profession on a national level.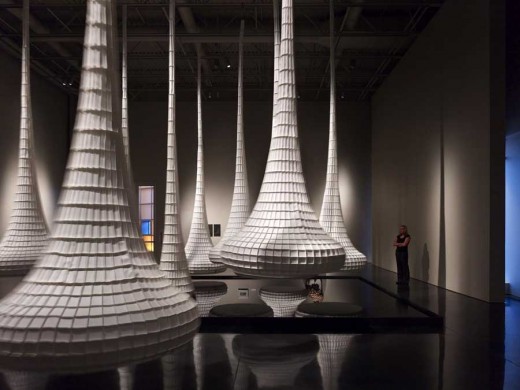 image : Benjamin Benschneider
From the beginning of her tenure at Olson Kundig, 26 years ago, Kirsten has been a firm-wide leader, enhancing core practices and creating new programs that have helped the organization grow from a small architectural firm of a dozen to an internationally recognized design practice with 150 employees. Many of her specific contributions were cited as distinctions when the firm was honored in 2009 with the AIA National Firm Award.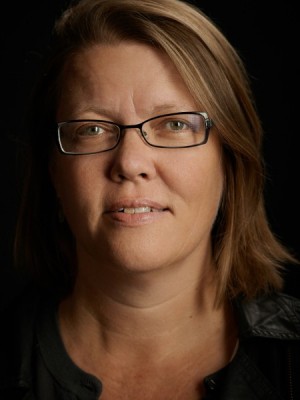 Today, Kirsten R. Murray works across a broad range of project types including arts and cultural design, mixed-use and private residential design, adaptive reuse, workplace, and urban design. She has dedicated her career to elevating the rigor and impact of design through hands-on education and mentorship programs, staff development, community outreach and thought leadership.
Kirsten has collaborated on projects that have received National AIA Honor Awards and AIA Housing Awards, including Outpost, Tye River Cabin, and two mixed-use projects, Art Stable and 1111 E. Pike. An architect deeply engaged with issues of site and context, Kirsten's project work has been published in a variety of magazines and books, including The New York Times, Architectural Digest, Interior Design, and Architectural Record. She serves on the Board of Trustees for the University of Washington's Henry Art Gallery and the national board of the AIA Trust.
Lightcatcher Building at Whatcom Museum by Olson Kundig Architects: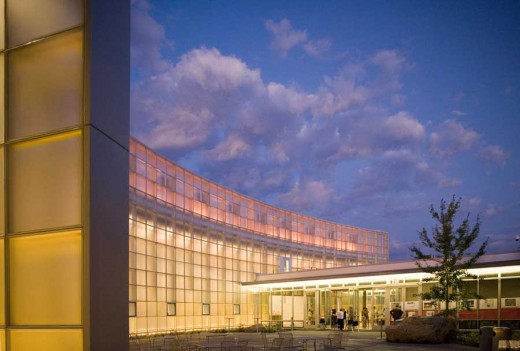 photo : Tim Bies/Olson Kundig Architects
Tom Kundig, FAIA, a Principal/Owner of Olson Kundig, said of Kirsten, "Her wisdom, mentorship, creativity and high standard of excellence have helped to elevate the practice of architecture at so many levels. I cannot think of an architect more deserving of the honor of Fellowship than Kirsten."
Out of a national AIA membership of nearly 88,000, there are fewer than 3,200 distinguished with the honor of fellowship. Kirsten and her cohort of 2016 Fellows will be honored at an investiture ceremony at the AIA Convention in Philadelphia in May.
Oct 29, 2013
Wagner Education Center, The Center for Wooden Boats, South Lake Union, Seattle, WA, USA
Design: Olson Kundig Architects



illustration courtesy of Olson Kundig Architects
Wagner Education Center Seattle
Construction of the new $6.6 m Wagner Education Center at CWB is scheduled to begin this winter. Designed by Seattle architect Tom Kundig the building harkens back to historic Northwest boatbuilding facilities while at the same time serves as a modern front door for the growing museum, Lake Union Park and the surrounding South Lake Union neighborhood.
Sep 9, 2013
Tacoma Art Museum Building Expansion news, near Seattle, Washington, USA
Design: Olson Kundig Architects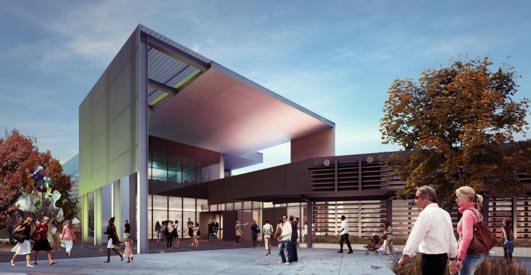 illustration courtesy of Olson Kundig Architects
Tacoma Art Museum celebrated a groundbreaking ceremony to kick off the museum's transformative building expansion project. Construction begins in late October on the approximately 16,000 sqft new wing and building renovation. The new wing will provide a home for the Haub Family Collection of Western American Art, double the museum's gallery space, provide greater art e xperiences for visitors, and increase the museum's role in downtown Tacoma. Award-winning architects Olson Kundig Architects will design the expansion and renovation.
Aug 12, 2013
Washington State University Visitor Center, USA
Design: Olson Kundig Architects



image from architect
Construction is underway on the new Washington State University visitor center designed by the design-build team, Olson Kundig Architects and Sellen Construction. Located on the west edge of the WSU campus in Pullman, Washington, the 4,277 square-foot visitor center will provide visitor information and orientation to WSU and the Palouse region, an overview of student culture and alumni history, and an introduction to university research activities.
Sep 6, 2012
Underbelly premieres as part of the Seattle World's Fair 50th anniversary celebration, Seattle, WA, USA
A Degenerate Art Ensemble and Olson Kundig Architects collaboration
Degenerate Art Ensemble (DAE) and Olson Kundig Architects will present the world premier of Underbelly as part of Seattle's Next 50 celebrations on October 5th and 6th at the Seattle Center. The four-performance engagement–supported by a grant from the Seattle Center Foundation and part of the World's Fair 50th anniversary–will bring Seattle Center's subterranean world to life through dance, live music, and multimedia installations.
Following a tremendous year for Seattle-based DAE and Olson Kundig Architects in their respective mediums, this unprecedented collaborative project will stretch the boundaries of arts experiences. DAE's artistic director and lead performer Haruko Nishumura, music director Joshua Kohl and designer Alan Maskin of Olson Kundig Architects are joined by over 50 artists and technicians to create Underbelly, a meditation on the Northwest's colorful past.
"When asked to create a proposal and grant application with DAE as part of The Next 50 celebrations, we researched the engineered subterranean underpinnings that supported the 1962 Seattle World's Fair structures," says Maskin. "This subterranean world became the primary set location for Underbelly and was a fantastic venue for our team to react to and build upon."
"This collaboration reminds me that a space has so much energy–and if you give a space a full sensory opportunity, it begins to speak," says Nishimura. "We have tried to find ways to harmonize with the space as well as play with its disharmony."
Nishimura, recipient of a 2012 Guggenheim Fellowship, will embody three misunderstood and controversial female personalities from the Northwest's past, including Gracie Hanson, a cabaret club operator who built the short-lived Sin Alley as part of the 1962 World's Fair on the very same grounds where Underbelly will be performed.
"It has been an unbelievable experience to work with Olson Kundig Architects on this project,"says Kohl. "Working with the Olson Kundig Architects visionaries continually opens our eyes to completely unexpected possibilities of the concepts of space and perspective. Our mind jams have been filled with surprises and delights. With this project we are embracing the strangeness of the space, the history of our community and stretching the bounds of our media. This work is an artistic meditation on the people, the space and the imagination of the landscape in which we live."
Additional contributors to the multisensory experience include renowned installation artists Ben Beres and Zach Culler of SuttonBeresCuller, lighting installation duo Ben Zamora and Etta Lilianthal of Lilienthal I Zamora, video artist Leo Mayberry, painter/printmaker Romson Regarde Bustillo and Bay Area vocalist/drummer Dohee Lee. Costume artist Alenka Loush, photographer Bruce Tom, animation artist Reilly Sinanan and video artists Ken Rome and Robert Twomey will also help bring the experience to life.
Maskin was joined by his Olson Kundig Architects colleagues Blair Payson and John Nebendahl to design many of the props and set pieces that are integrated into the site and used as elements in the video installations.
DATES:
Oct 5 8pm & 10pm
Oct 6 8pm & 10pm
LOCATION: Seattle Center
Olson Kundig Architects – Key Recent Buildings
Feb 17, 2011
Bellevue Botanical Garden Buildings, WA, USA
2011-



image © Olson Kundig Architects
Bellevue Botanical Garden Building
Mar 31, 2010
Lightcatcher Building at the Whatcom Museum, Bellingham, WA, USA
2010



image : Benjamin Benschneider
Lightcatcher Building Whatcom Museum
Jun 14, 2012
The Bo Bartlett Center, RiverPark Campus of Columbus State University, Georgia, USA



image : Rollerhaus
Olson Kundig Architects is pleased to announce that it is designing The Bo Bartlett Center, an 18,425 square foot gallery and learning center at the RiverPark Campus of Columbus State University in Georgia. Tom Kundig, FAIA, a principal and owner of the firm, is leading the design of the project. Located on the second story of a former textile warehouse, the Center will include a grand lobby, a main gallery, "Bo's Brain," a visitor's gallery, storage and archive space for Bartlett's work, and office and reception areas. Upon completion, the Center will serve as an experiential learning center and cultural hub for the visual arts while affording visitors a broad range of arts experiences offered within the University's arts district.
"The Center's design concept celebrates the simplicity of the warehouse space," says Tom Kundig. "With the exception of a few modifications including the removal of a portion of roof to make room for a large skylight, the project is a minimal insertion of pivoting and shifting walls intended to highlight art."
Features include:
Main gallery, The Bo Bartlett Center. Rendering by Rollerhaus
MORPHABLE GALLERIES
The addition of pivoting and shifting walls will enable artists and curators to convert the gallery spaces as needed to suit the scale and shape of the changing exhibits.
LARGE SKYLIGHT
In order to bring daylight into the mostly windowless space, a large skylight that runs the length of the building will be installed. Diffuser shades will move to adjust the amount of light entering the space.
BO'S BRAIN
A "box" in the center of the gallery, dubbed "Bo's Brain," will include an interactive research center where students and scholars can access Bartlett's archival materials, including sketch books, correspondence, journals, recordings, photographs, artistic notes, memorabilia, and objects d'art.
When finished, The Bo Bartlett Center will house and display more than 300 paintings and drawings by Bartlett. The visitor's gallery will feature work of visiting American artists who will also teach master classes at the Center. On occasion, the gallery will also exhibit pieces from CSU's Permanent Collection of more than 500 works of art and objects such as the Benno and Babette Rothschild New Guinea Collection.
The project is a collaboration between Columbus State University and the design team, which includes Seattle-based Olson Kundig Architects and Columbus-based Hecht Burdeshaw Architects. Tom Kundig, FAIA, of Olson Kundig Architects led the design through the conceptual design phase. Fundraising is currently underway.
May 25, 2012
Foss Waterway Seaport, Tacoma, Washington, USA


image from architects
Foss Waterway Seaport
Olson Kundig Architects is pleased to announce that work has started on the historic rehabilitation and adaptive re-use of the Foss Waterway Seaport, Puget Sound's premier maritime heritage, education and recreation center. When building rehabilitation is completed, the new 45,000 square foot public facility will feature an expansive maritime heritage museum, compelling indoor program spaces (including a K-16 marine science and environmental education center), a heritage boat building shop and the "Discovery Wharf" children's learning center.
Sep 29, 2011
Olson Kundig Architects Exhibition
Jim Olson : Architecture for Art
First Retrospective Devoted to the Architect's Career
30 Sep – 10 Dec 2011
The Museum of Art at Washington State University is organizing "Architecture for Art," the first comprehensive exhibition devoted to the career of Jim Olson, one of the Northwest's most significant architects and founder of the internationally recognized Seattle-based firm, Olson Kundig Architects.
About Jim Olson
Jim Olson is the founding partner of Olson Kundig Architects and the most prominent heir to the legacy of the 1950's Northwest master architects. A 1963 graduate of the University of Washington, Jim Olson served early apprenticeships with two of the Northwest's legendary architects: Paul Kirk and Ralph Anderson. In 1966, he established his first firm in Seattle and in 1970 established the partnership Olson/Walker.
The office has since grown into a diverse practice with an international reputation as Olson Kundig Architects. Among Olson's numerous built designs are residences for major art collectors around the world, the Pike & Virginia Building in Seattle's Pike Place Market, and the recent Lightcatcher at the Whatcom Museum in Bellingham, Washington. He has served on the boards of numerous arts organizations including the Seattle Art Museum, and lectures extensively on the relationship of architecture and art.
Olson's work has appeared in publications worldwide, including the New York Times, Architectural Digest, Architectural Record, Art + Auction, Monocle, and Interior Design. In addition to the most recent monograph, Jim Olson Houses (The Monacelli Press) which features sixteen of his projects, his work has also been featured in Art + Architecture: the Ebsworth Collection and Residence (William Stout Publishers) which focuses on the home of an art collector; and a monograph on the firm's work, Architecture, Art and Craft: Olson Sundberg Kundig Allen Architects (The Monacelli Press).
Jim Olson : Architecture for Art Exhibition, Seattle, WA, USA



photo : Paul Warchol
Mar 21, 2011
Olson Kundig Architects Architecture Awards News
Olson Kundig Architects wins Two National AIA Housing Awards
Art Stable and 1111 E. Pike are honored in the Multifamily Living category
Olson Kundig Architects is pleased to announce that the American Institute of Architects (AIA) has honored two of the firm's projects with 2011 National AIA Housing Awards. Art Stable and 1111 E. Pike have received awards in the Multifamily Living category, and are among the eighteen projects recognized nationwide. The AIA's Housing Awards Program was established to recognize the best in housing design and promote the importance of good housing as a necessity of life, a sanctuary for the human spirit and a valuable national resource.
Tom Kundig, FAIA, led the design of both projects. "It's an honor to receive this award for the first two multifamily, urban infill buildings we've completed in many years," says Kundig. "These projects are located in distinctive neighborhoods and are built to serve different purposes. As architects, we tried to come up with unique solutions based on the context of each project. It's exciting to continue to visit 1111 and Art Stable and see how they are becoming part of their communities."





images : Benjamin Benschneider
Art Stable (above) is an urban infill project in the rapidly developing South Lake Union neighborhood of Seattle. Built on the site of a former horse stable, the building carries its working history into the future with highly adaptable live/work units. Both front and back elevations of the building are active. The alley-facing façade features an 80-foot 5- inch tall hinge, davit crane and five steel-clad, hand-cranked doors that cover nearly a third of the façade. The system references a warehousing tradition in how it moves oversize objects into the building. On the street side, large hinged windows open to provide natural ventilation throughout the units. The building draws upon the architectural concepts of prospect and refuge, transposed to an urban setting.
The shell and core of Art Stable are built to last over 100 years. Units within the building are designed to accommodate flexibility in use and changes over time, and are zoned for both residential and commercial use. An energy-efficient radiant heating and cooling is supported by an innovative system, in which geothermal loops were inserted into the structural piles.
The jury commented on Art Stable: "This is a home for artists that rises to the level of high art itself….Its style, along with the operable doors and the crane on the roof, seems very Dutch in feel. It is very cleverly detailed…..It almost has a handmade look – it seems to represent what the art is all about and harken artists to the workshop."
Art Stable recently was announced as the residential architect design award's 2011 Project of the Year.
1111 E. Pike (above) brings architectural diversity to the Pike/Pine neighborhood by serving as a modern counterpoint to nearby remodeled historic structures. The site's history as part of Seattle's "auto row" is captured in the 1111's tall, wide windows and high ceilings, the use of steel, and an exterior of panelized siding with a palette inspired by classic car colors from the 1950s.
It was designed so that owners would be able to choose the exterior color of their unit from a pre-selected set, much like selecting your own car color, resulting in a mix-and-match aesthetic.


image © Tim Bies
The owner and developer of this project, a long time resident of the neighborhood, wanted to support the economic and social diversity of the neighborhood by providing affordable housing. Simple materials and straightforward construction kept costs low, enabling people who work in the community to live there as well.
Inside each unit, a custom-designed Puzzle Door allows owners to adapt their space as needed. 1111 E. Pike meets LEED requirements for Development Density, Site Selection, Alternate Transportation, and Storm-water Management.
The jury comments on 1111 E. Pike included: "Uplifting – its everchanging face is arguably its best delight!…I love the flexibility of exterior spaces….The architect and developer allowed the future owners to personalize their unit by choosing their own exterior color – one of the classic car colors – which gives the project richness and a joyful appearance."
The jury for the 2011 Housing Awards includes: Katherine Austin (jury chair), AIA, Katherine Austin Architect; Claire Conroy, Residential Architecture Magazine, Editorial Director; Mike Jackson, FAIA, Historical Preservation Agency, State of Illinois; Luis Jauregui, AIA, Jaurequi, Inc. and Marilys Nepomechie, FAIA, Florida International University Miami.
Oct 28, 2010
Olson Kundig Architects Awards News
The Lightcatcher at the Whatcom Museum and the Wing Luke Museum of the Asian Pacific American Experience, two museum projects by Olson Kundig Architects, are among the recipients of the American Architecture Awards for 2010, given by The Chicago Athenaeum: Museum of Architecture and Design and The European Centre for Architecture Art Design and Urban Studies. The awards will be presented in the "New World Architecture" exhibition at "The City and The World: Madrid Symposium" in Madrid, Spain. Organized by The Chicago Athenaeum, the exhibition will open on Thursday, November 4, 2010.


image : Lara Swimmer
Wing Luke Asian Museum building
After Madrid, the exhibition will travel to Contemporary Space Athens in Athens, Greece. In April, 2011 the exhibition is scheduled to travel to Istanbul.
The American Architecture Awards are one of the most prestigious building awards in the United States that honor new and cutting-edge design.
Olson Kundig Architects Practice News
Olson Sundberg Kundig Allen Architects
Changes Firm's Name to
Olson Kundig Architects
Taking effect January 2010
Seattle, WA, November 17, 2009—Olson Sundberg Kundig Allen Architects will change its name to Olson Kundig Architects starting January 1, 2010. The new name reflects the growing nature of a firm that has evolved since its founding in the late 1960s and whose vision is now marked by the rich and varied personalities of its five owners, Jim Olson, Tom Kundig, Rick Sundberg, Kirsten Murray and Alan Maskin.


photo : Tim Bies
The current firm name has been in use since 2000 but is no longer appropriately reflecting the partnership: Alan Maskin and Kirsten Murray became partners in 2008 and Scott Allen left the firm in 2009 to create Scott Allen Architecture. In addition, Rick Sundberg, who remains as a partner, is in the planning stages for the creation of a new philanthropic organization focused on architecture. With all these changes and growth, the owners decided to simplify the name of the firm to Olson Kundig Architects.
More information re Olson Kundig Architects online soon
Location: 159 South Jackson Street #600, Seattle, WA 98104, United States of America
Seattle Architecture Practice Information
Architecture studio based in Seattle, WA, USA
About Olson Sundberg Kundig Allen Architects
Led by five owners, Olson Sundberg Kundig Allen Architects (to become Olson Kundig Architects starting January 1, 2010) is an architecture studio based in Seattle, which received the 2009 AIA Architecture Firm Award by the American Institute of Architects. With a staff of more than 75, the office combines the capacity of a large firm with the intensity of a small one, and its commitment to vigorous, critical design review sessions has infused its designers with a shared sense of commitment to every project and an appreciation of the technical and artistic elements involved in the realization of a building.
The architecture studio specializes in a range of projects both nationally and internationally including mixed-use buildings and complexes; academic and civic projects; museums and cultural spaces; exhibit design; places of worship; single use residential projects, often for art collectors; and interior design.
Founding partner Jim Olson began working in the late1960s on projects that would explore the relationship between dwellings and the landscape they inhabit. Rick Sundberg joined Olson as partner in 1975 for a period of years that was marked by an increased commitment to urbanism and civic work with major projects in the Northwest.
Such projects included the award-winning Pike & Virginia Building, the first contemporary structure to be built in Seattle's Pike Place Market Historic District in 50 years. In1998, Tom Kundig joined Olson and Sundberg as an owner, bringing a new level of creative exploration, building the international reputation of the office, including Kundig's receipt of the National Design Award from the Smithsonian Cooper-Hewitt in 2008.
Alan Maskin and Kirsten Murray became partners in 2008, continuing the evolution of the firm and furthering its commitment to the craft of architecture through expanded work in exhibition design, interiors, and connections to urban and rural landscapes.
Montecito Residence



photo : Tim Bies
Wabi Sabi house, Houston, Texas, USA



photo : Don Glentzer
2009 AIA Architecture Firm Award : Olson Sundberg Kundig Allen Architects
Tom Kundig architect – Seattle practice
Olson Sundberg Kundig Allen Architects : Wing Luke Asian Art Museum
Tom Kundig : Idaho building



image from architect
Comments / photos for the Olson Kundig Architects Architecture page welcome
Website: www.olsonkundigarchitects.com