Paul Rudolph, Architect, American Building, US Design Studio, Yale, Asian Projects, Office
Paul Rudolph Architect : Architecture
20th Century Architect Practice, USA – Building Design Information
Nov 11, 2020
Visualization of Paul Rudolph's Gatot Subroto (Jakarta 1990, unbuilt):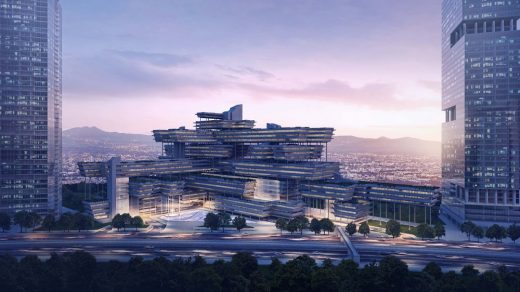 The Gatot Subroto was an 87500 square meter office condominium complex of eight towers designed for Jakarta, Indonesia by American Architect Paul Rudolph. The design includes many "green" sustainability features that were new to the world of architecture in 1990.
Each three story block was separated from the next by a void deck, an outdoor space intended to be planted as a sky garden; making the total added green space larger than the footprint of the building itself! The visualization process is iterative, and this is an interim view of the building, with some details yet to be addressed.
Oct 29 + 25 + 22, 2020
Paul Rudolph's undiscovered buildings
Collaborating with premier Architectural Visualization Studio Design Distill, Paul Rudolph's unknown late designs to be brought to life
Latest visualization of Gatot Subroto in Jakarta, Indonesia: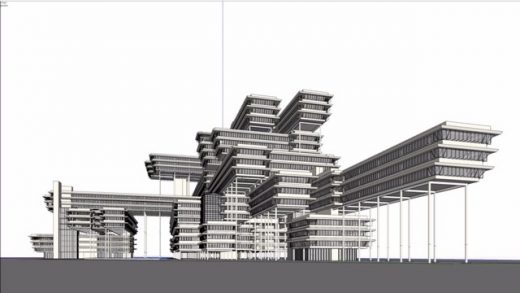 image courtesy of: Architectural Visualization Studio Design Distill
New visualization of Gatot Subroto in Jakarta, Indonesia: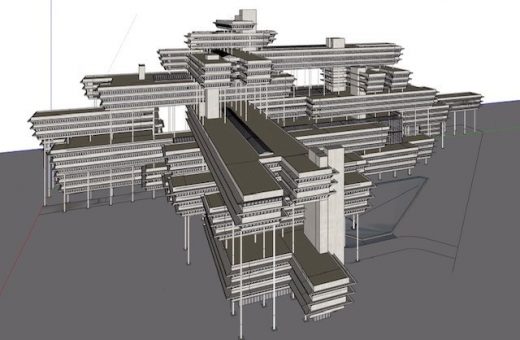 image courtesy of: Architectural Visualization Studio Design Distill
Over the past several years Eric Wolff has been researching Paul Rudolph's archives to understand his late-career works in Asia. Scholars have described Rudolph's late works as "seven buildings including a couple of villas".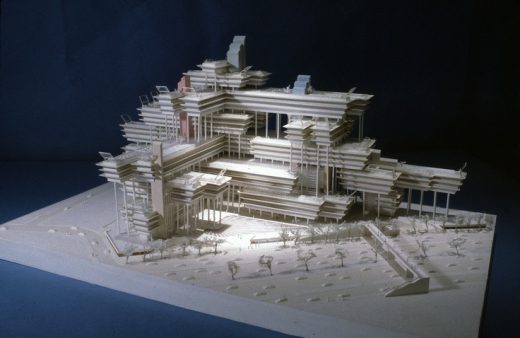 image courtesy of: Library of Congress, photographer unknown
Eric's research has uncovered a very different narrative about Rudolph. In Asia, Rudolph designed more than 20 buildings and participated in more than 50 projects during his late career (1978 – 1997). These "unknown" designs are amongst his finest, most refined, and most ambitious. Based on the research of 1000s of items from Rudolph's archives digital models were created of Rudolph's "unbuilt" late designs.
Sketch by Paul Rudolph of his Gatot Subroto, Jakarta, Indonesia: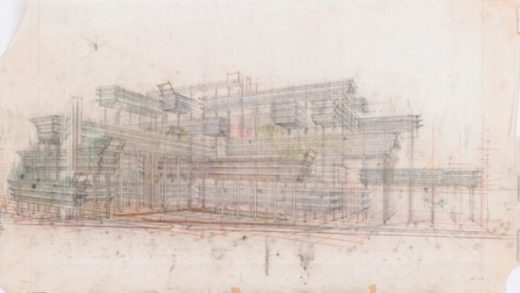 image courtesy of: Library of Congress, digital pictures courtesy of Eric Wolff
To illustrate the design of Paul Rudolph's Gatot Subroto (unbuilt, Jakarta 1990) an exciting collaboration with Design Distill was born. "Design Distill is a multidisciplinary group that has the passion, talents and capabilities to translate my research of Paul Rudolph's late works into visualizations, bringing the buildings to life so they can be evaluated and celebrated." Eric Wolff, Researcher and Author.
Model of Paul Rudolph's Gatot Subroto, Jakarta, Indonesia: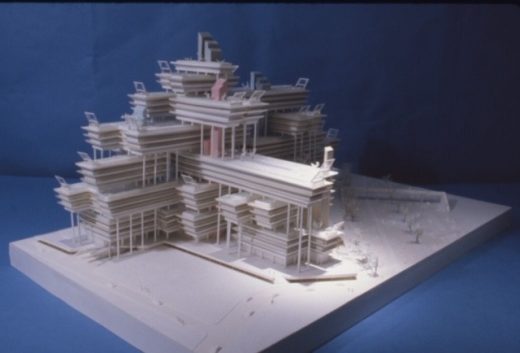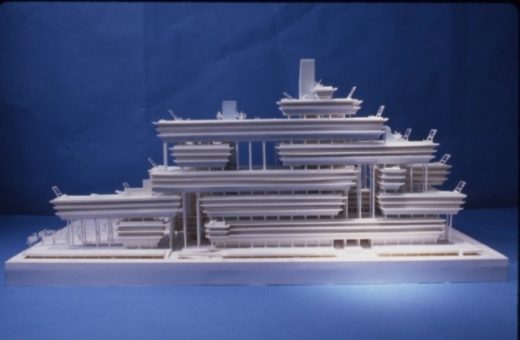 images courtesy of: Library of Congress, digital pictures courtesy of Eric Wolff
Design Distill a visualization studio that narrates design projects. They are about the creative communication of architecture, urban design, landscape architecture, real estate development and digital media. "I was intrigued and surprised by the sheer volume of designs Paul Rudolph had completed in his late career in Asia. It was a natural fit for Design Distill to be the collaboration partner in this project; we are enthusiastic with the challenge to capture and illustrate the sculptural complexity of Rudolph's Gatot Subroto" Andrew Hartness, Principal Design Distill.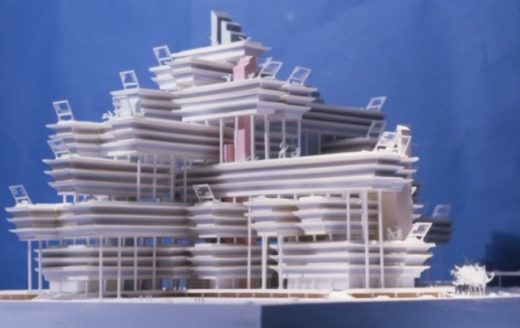 image courtesy of: Library of Congress, digital picture courtesy of Eric Wolff
The Gatot Subroto an 87,500 m2 office condominium complex was a client request for eight office towers of varying foot prints to be an office condominium complex, where the Dharmala group would occupy the main tower and the seven towers rented to prime tenants. Rudolph's final design was a masterpiece; not only because he met the customer brief, but he also created a sustainable building far before it was fashionable.
Visualization of Gatot Subroto, Jakarta, Indonesia: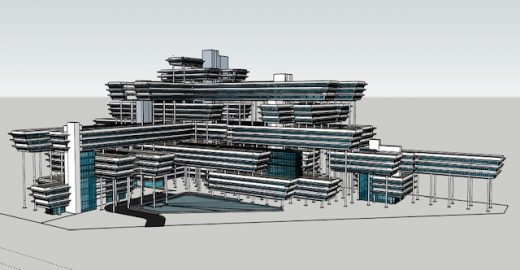 image courtesy of: Architectural Visualization Studio Design Distill
Kickstarter to fund the visualization project: Illustrating Paul Rudolph's undiscovered buildings
For information on Paul Rudolph and his works: https://www.paulrudolphheritagefoundation.org
Paul Rudolph – Key Projects
Jan 31, 2020
Walker Guest House, Palm Spings, California, USA
Design: Paul Rudolph Architect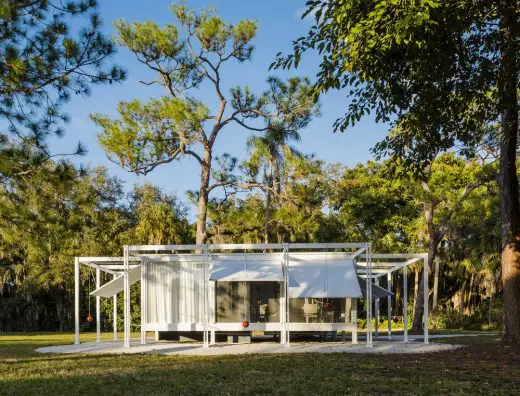 photo : Anton Grassl, Esto, courtesy Sarasota Architectural Foundation
Walker Guest House by Paul Rudolph
Featured Buildings by Paul Rudolph, alphabetical:
Burroughs Wellcome headquarters, North Carolina, USA
Dates built: 1969; 1980
The Burroughs Wellcome Fund (BWF) is a private, independent biomedical research foundation based in Research Triangle Park.
In 1969 pharmaceuticals giant Burroughs-Wellcome commissioned Paul Rudolph to design its headquarters in Research Triangle Park, NC, an area between Raleigh and Durham dominated by high-tech corporate research facilities.
The building was expanded by Rudolph in the 1980s and a covenant prevented unauthorized changes during his lifetime. After a series of mergers, Burroughs became GlaxoSmithKline, which sold the 700,000 square foot facility.
The new owners, United Therapeutics, describe themselves as admirers of this Modern architect and plan to retain what they consider 'historically important' parts of the complex and demolish others, presumably the 1980s expansion.
BWF was founded in 1955 as the corporate foundation of the Burroughs Wellcome Co., the U.S. branch of the Wellcome pharmaceutical enterprise, based in the United Kingdom. In 1993, a $400 million gift from the Wellcome Trust enabled BWF to become fully independent from the company, which was acquired by Glaxo in 1995 and is now known as GlaxoSmithKline.
BWF is one of the most significant funders of biomedical research. Its overall goal is to help scientists early in their careers develop as independent investigators, and to advance fields in the basic medical sciences that are undervalued or in need of particular encouragement.
source: http://paulrudolph.blogspot.com/2013/03/burroughs-wellcome-under-threat.html
Riverview High School, Sarasota, Florida, USA
Dates built: 1957-58
was under threat for demolition in (early) 2007
Riverview High School – redevelopment, Sarasota, Florida
Date built: 2007-
Architecture Competition: Shortlist of 5 incl. RMJM Hillier and John McAslan & Partners
Riverview High School is a four-year comprehensive public high school in Sarasota, Florida, United States. Riverview educates students from ninth grade to twelfth grade. The school has 2,654 students and 161 teachers. The school's mascot is the ram. As of the 2012-2013 school year, it is the largest school in the county.
Notable programs at the school include the International Baccalaureate Program, a rigorous regimen that prepares its candidates on an international rubric and prepares them for further education; a Chamber Choir that has performed in Europe and New York's Carnegie Hall; and the Riverview High School Kiltie Band, a group of about 220 musicians that has marched three times in the Macy's Thanksgiving Day parade and has traveled to perform in Ireland, California, and many other places.
The Rudolph building, 1958-2009
Riverview's old main building opened in 1958, and included a planetarium. The main building was designed by noted International Style architect Paul Rudolph, dean of the Yale School of Architecture. While Rudolph was later associated with the architectural style Brutalism, Riverview was in the International Style. It was one of the best-known structures associated with the Sarasota School of Architecture, sometimes referred to as Sarasota Modern.
source: https://en.wikipedia.org/wiki/Riverview_High_School_(Sarasota,_Florida)
Yale Arts Complex – Paul Rudolph Hall at Yale University, USA
Date built: 1963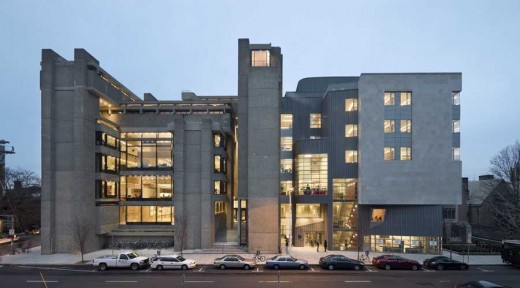 photo : Peter Aaron
Paul Rudolph Hall
The 114,000 square foot building, constructed of cast-in-place concrete in the Brutalist style, was formerly known as the Art and Architecture Building.
It was designed by then chair of the Department of Architecture, Paul Rudolph and completed in 1963.
More Paul Rudolph buildings online soon
Location: Elkton, Kentucky, USA
Paul Rudolph Practice Information
Architect studio was based in USA
Paul Rudolph Foundation
This preservation and 501(c)3 nonprofit organization, is based in New York City. Founded in 2002, its mission is to facilitate the preservation and maintenance of the remaining structures designed by Paul Rudolph through education, advocacy, preservation easements and technical services.
The Collections & Library
The Foundation owns, maintains, and is developing a collection of information on Paul Rudolph including press clippings, books, and various tangible and digital materials about or relating to Mr. Rudolph's own work, influences and the contemporary cultural context in which he lived and worked. The Foundation has begun to digitally preserve a selection of photographs and articles related to Mr. Rudolph. The Foundation, pending further financial support, will professionally document, categorize, and present this and additional material in a cohesive manner for study by students, scholars, and the general public.
Phone:
212.223.7479
Address:
c/o George Balle
150 East 57th Street, #26-B
New York, NY 10022
United States
source: http://www.paulrudolph.org
20th Century Architecture
US Architecture
Contemporary Architecture in USA
Buildings / photos for the Paul Rudolph page welcome