Pitágoras Architects, Guimarães Architects, Design Studio Portugal, Office
Pitágoras Arquitectos, Portugal : Guimarães Design Studio
Contemporary Portuguese Architect Practice based in Guimarães
post updated 20 Apr 2021
Pitágoras Architects Building News
12 Jul 2012
International Center for the Arts Jose de Guimarães, northern Portugal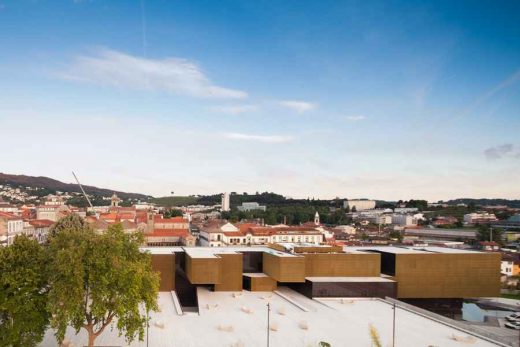 photograph : Joao Morgado
Platforma Artes Guimarães
The buildings that make up the Municipal Market and the space defined by them, commonly referred to as "the square", a name inherited from market square are, as a unit, characteristic elements of the urban landscape of the city of Guimarães.
The grounds of the old municipal market boasted a privileged and very central location with excellent accesses, very close to the Toural Square and the historic center.
More architectural projects by Pitágoras Architects online soon
Location: Rua João Oliveira Salgado 5 C – Costa, 4810-015 Guimarães, Portugal, south western Europe
Porto Architects Practice Information
Architect studio based in Porto, Portugal
English text (scroll down for Portuguese):
Pitágoras Arquitectos
Pitágoras Arquitectos is an architectural firm based in Portugal with 20 years of experience. It's growing team is now made up of 14 people, led by its four senior architectural partners, Fernando Seara de Sá, Raul Roque Figueiredo, Alexandre Coelho Lima and Manuel Vilhena Roque.
In collaboration with external partners, it creates an overall multidisciplinary team that embraces every commission, local or international, large or small, to meet client expectatons and desires, always founded on strong architectural principles and ethics.
An interdisciplinary practice that works all architectural fields: from interior design to urban planning, including residential, health and equipment for both the private and public sector, developing projects from concept design through to tender packages and field management.
Over the years, Pitágoras Arquitectos have created a strong and solid body of work, which has been recognised through accumulated awards and publication of various buildings.
Portuguese text:
Pitágoras Arquitectos Porto
CV – Pitágoras Arquitectos
Pitágoras Arquitectos é uma empresa de arquitectura portuguesa com 20 anos da experiência. Em fase de crescimento, conduzida por quatro arquitectos seniores sócio-gerentes, Fernando Seara de Sá, Raul Roque Figueiredo, Alexandre Coelho Lima e Manuel Vilhena Roque, a equipe é composta por 14 profissionais.
Em colaboração com sócios externos, Pitágoras Arquitectos constitui-se como uma equipe multidisciplinar que conduz cada projecto, local ou internacional, grande ou pequeno, com as expectativas e desejos do cliente, sempre fundados em princípios e éticas arquitecturais fortes.
Numa prática interdisciplinar que trabalha todos os campos da arquitectura: do projecto interior ao planeamento urbano, onde se inclui habitação, saúde e equipamento, quer no sector privado ou público, esta equipa, projecta desde o conceito, passando pelo projecto de execução até ao acompanhamento de obra.
Ao longo dos anos, Pitágoras Arquitectos tem criado uma base sólida e contínua de trabalho, que tem sido reconhecida através de vários prémios bem como um acumular de edifícios em diversas publicações.
English text (scroll down for Portuguese):
Fernando Seara de Sá
Fernando Seara de Sá


photograph : Pitágoras Arquitectos
born in Guimarães on 25.01.61
course in architecture at the School of Fine Arts in Oporto in 1984, entered the company in 1992
Raúl Roque Figueiredo
Raúl Roque Figueiredo


photograph : Pitágoras Arquitectos
born in Coimbra on 07.06.62
course in architecture at the School of Fine Arts in Oporto in 1989, entered the company in 1992
Alexandre Coelho Lima
Alexandre Coelho Lima


photograph : Pitágoras Arquitectos
born in Porto on 27.01.65
course in architecture from the School of Architecture, in Oporto 1991, entered the company in 1995
Manuel Luís Vilhena Roque
Manuel Luís Vilhena Roque


photograph : Pitágoras Arquitectos
born in Guimarães on 19.07.69
course in architecture from the School of Architecture, in Oporto 1994, entered the company in 2000
Portuguese text:
Fernando Seara de Sá
nasceu em Guimarães, em 25.01.61
curso de Arquitectura pela Escola Superior de Belas Artes do Porto, em 1984, integra a sociedade Pitágoras – Arquitectura e Engenharia Integradas, Lda. em 1992
Raúl Roque Figueiredo
nasceu em Coimbra, em 07.06.62
curso de Arquitectura pela Escola Superior Artística do Porto, em 1989, integra a sociedade Pitágoras – Arquitectura e Engenharia Integradas, Lda. em 1992
Alexandre Coelho Lima
nasceu no Porto, em 27.01.65
curso de Arquitectura pela Escola Superior de Belas Artes do Porto, em 1991, integra a sociedade Pitágoras – Arquitectura e Engenharia Integradas, Lda. em 1995
Manuel Luís Vilhena Roque
nasceu em Guimarães, em 19.07.69
curso de Arquitectura pela Escola Superior de Belas Artes do Porto, em 1994, integra a sociedade Pitágoras – Arquitectura e Engenharia Integradas, Lda. em 2000
Website: www.pitagoras.pt
Portuguese Architecture
Comments / photos for the Pitágoras Architects Guimarães page welcome