ONG&ONG Architects, Singapore Design Studio, Asian Architecture Office
ONG&ONG : Singapore Architects Office
Contemporary Architectural Practice in Southeast Asia: Design Studio News
post updated 6 July 2021
ONG&ONG News
6 July 2021
Kandis Residence, Singapore
Design: ONG&ONG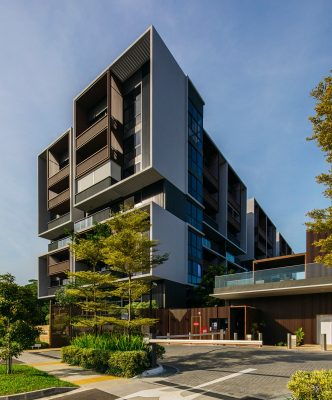 photo courtesy of architects office
Kandis Residence
Set within an idyllic location in northern Singapore, Kandis Residence contains 130 condominium units housed within four residential blocks – one three-storey block, along with three seven-storey blocks. The project was predicated on the concept of "homes in the woods", envisioned as a green, immaculately landscaped sanctuary that accommodates the modern urban lifestyle.
4 June 2020
ONG&ONG receives ISO 19650 – Now internationally BIM-certified
4th June 2020, Singapore – ONG&ONG Group, the longstanding multi-disciplinary consultancy in Singapore, Southeast Asia and beyond, is one of the first in the region to cop the ISO 19650 for its cutting-edge business processes in digitisation of information about buildings and civil engineering works, including building information modelling (BIM).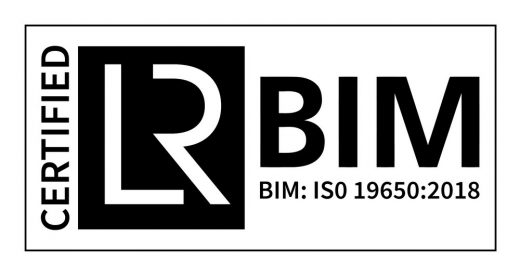 ISO 19650 is applicable to built assets and construction projects of all sizes and complexities, an international standard for Digital Project Delivery. While there are various routes to meeting delivery requirements of a built project, adopting a collaborative mindset between participants is pivotal in achieving higher levels of quality and precision. BIM is now the industry standard for integration across the built environment throughout the asset cycle, as encouraged by Singapore's Building and Construction Authority or BCA.
Fotis Kampouris, Business Director of Lloyd's Register, says "We are honoured that ONG&ONG Group Pte Ltd, as one of the key players in architecture, BIM, engineering and management services consultancy, has recognised the importance of BIM ISO 19650, and has become one of the pioneers in Singapore to attain ISO 19650 Certification in line with BIM Stage 2 capabilities."
BIM is an intelligent 3D model-based process that provides the Architecture, Engineering and Construction (AEC) Industry the insight and tools to efficiently plan, design, construct and management buildings and infrastructure. With Chairman Ong Tze Boon leading the ONG&ONG Group as disruptive innovators with the annual BeyondX tech event and a collaborative environment in the office, the consultancy continues to reinvent the 360 solution for Design, Engineering and Management.
Daniels Chandra, ONG&ONG's Director of Design Technology says "This accreditation has become another digital transformation milestone that will give more assurance to our clients and business collaborators on ONG&ONG Group readiness to embrace and lead end-to-end BIM-based digitalisation workflow in the built environment industry."
Notable infrastructural contributions from ONG&ONG Group include Singapore Land Transport Authority's Mass Rapid Transit (MRT) Downtown MRT stations, Seletar Bus Depot, Singapore's Integrated Train Testing Centre and several of Jakarta's MRT Stations.
26 Oct 2016
ONG&ONG Singapore Architecture Designs – latest additions to this page, arranged chronologically:
Archipelago wins at the FIABCI Singapore Property Awards 2016
ONG&ONG's Archipelago condominium was selected as the winner of the Residential (Low Rise) category at this year's FIABCI Singapore Property Awards.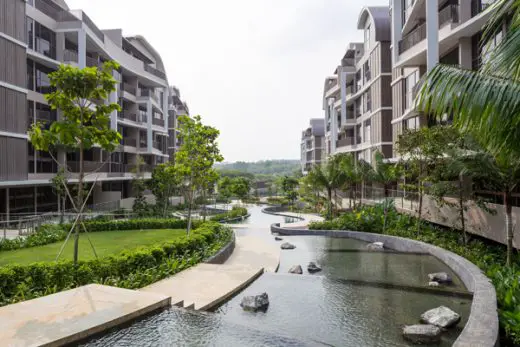 A 577-unit suburban development located near Bedok Reservoir, Archipelago was completed using processes from ONG&ONG's 360 Solution service. The firm's architecture, interior design and project management teams collaborated to successfully deliver a range of impressively designed homes accentuated by lush landscaping and splendid views of the nearby reservoir.
Since its inception in 2011, the FIABCI Singapore Property Awards have recognised local projects that exemplify distinction and excellence. Winning projects from Singapore will go on to participate internationally at the prestigious FIABCI Prix d'Excellence Awards.
3 Aug 2016
ONG&ONG Group names new CEO and COO
3rd of August 2016 – ONG&ONG Group has appointed Ashvinkumar Kantilal as Group CEO and Tan Peck Khoon as Group COO.
This is part of the ONG&ONG Group cyclical managerial rotation, that provides a regular infusion of new perspectives and different leadership styles, both appointments will take effect from1st August 2016.
Appointment to the WorldGBC Board
24 Jun 2016 – It is with great pleasure that the ONG&ONG family announces the appointment of Mr. Tai Lee Siang,
Group Managing Director, as Chair of the Board for the World Green Building Council (WorldGBC).
Recognised for his achievements and successes as President of the Singapore Green Building Council (SBGC), Mr. Tai's leadership and dedication to the green building movement will undoubtedly prove essential in the time to come. The first Asian to chair the WorldGBC Board, Mr. Tai will look to build on his stellar track record that has seen green design become increasingly vital to modern construction and development.
Cyan, Singapore
12 Feb 2016 – Landscape design by ONG&ONG Pte Ltd
Cyan is located in Bukit Timah, a prime residential enclave in Singapore. Capitalising on the site's proximity to the Singapore Botanic Gardens, Cyan's landscape architecture takes inspiration from the verdant surroundings to make residents feel like they are living in an extension of the iconic garden.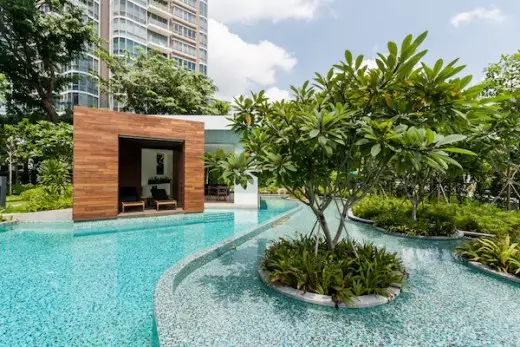 An azure 50-metre lap pool, enveloped within a curtain of rainforest trees, takes centre stage at Cyan, much like the Swan Lake at the Botanic Gardens. Cyan's lush, flora-filled surroundings also lend a resort-esque ambience to the twin spa suites and lagoon villas ensconced within the property.
This luxuriant greenery is also reflected in Cyan's beautiful sky terraces. These rooftop sky terraces have relaxing spa villas and cosy corners to hold parties, for instance. There are also private dip pools with hydro-massage beds and seats dotted around the sky terraces.
Cyan's landscaping capitalises on the ideal location, using a variety of plant life and structural elements to turn this residential development into a luxurious garden home.
MIPIM Asia Awards 2015 News
3 Dec 2015 – We are pleased to announce that Al-Ansar Mosque was awarded Silver at the MIPIM Asia Awards 2015 for Best Refurbished Building. Led by ONG&ONG directors Kurjanto Slamet and Loh Kah Wai, the design modernises the iconic Al-Ansar Mosque in Bedok, so that it represents the contemporary, forward-looking aspects of Islam.
Held in Hong Kong on 1 December 2015, the MIPIM Asia Awards celebrates the property industry's best and brightest in a variety of fields.
Congratulations to Kurjanto, Kah Wai and team!
Let's Experience Design
18 Nov 2015 – A book that showcases ONG&ONG's Experience Design Studio
Not just content on designing physical spaces, the ONG&ONG experience design studio has been creating solutions that enhance the users' experience of the space as well. The studio specialises in designing engaging spaces that embody the ideals and aspirations of the users, which then lead to improvements that go beyond function and aesthetics. Their award-winning projects include the SilverKris Lounge for Singapore Airlines in Sydney and the conservation project, House at Neil Road.
JustOffice, Singapore
3 Nov 2015 – Interior design by SCA Design (a member of the ONG&ONG Group)
A creatively designed workspace is crucial to sparking creativity and contributing to a dynamic working environment. Situated at a prime location at Asia Square, JustOffice is a manifestation of spatial fluidity and spatial dynamism, designed to be user friendly at best.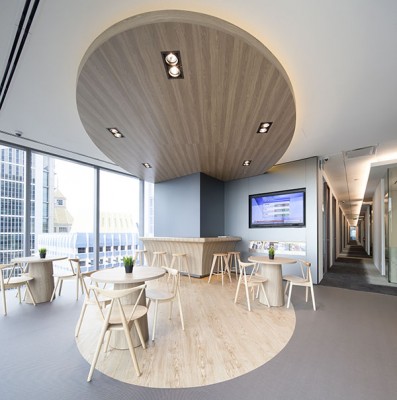 The office space is divided into rows and grids, with the compartmentalized space connected by continuous calligraphic and ornamental patterns that flow from wall to wall. Colours on the carpeted floor play out like ink seeping through from one floor to another, visually facilitating interaction amongst the subdivided spaces. Flexible construction – having each suite able to be reconfigured and merged to form larger pockets – also contribute to the modular nature of the new space. These design elements allow the workspace to be spatially linked while having demarcated boundaries.
The spatial dynamism of the space extends beyond its physical floor space. Taking full advantage of Asia Square building's glass façade, ceiling-height glass panels are used to distinguish different areas. Besides maximizing natural light penetration, the strategic use of these glass panels further promote visual connectivity and interaction among physically segregated spaces. This interplay of openness and boundaries is further heightened as one is treated to the unobstructed view of Singapore's spectacular city skyline behind clear glass panels.
By developing an articulate and dynamic relationship between the various spaces, JustOffice is successfully transformed into a unique and spatially dynamic environment that lends itself to supporting the business role and identity of its users.
studioSPUTNIK JOINS ONG&ONG
16 Oct 2015 – We are pleased to welcome studioSPUTNIK to the ONG&ONG Group. Based in Bangkok, the team is led by Sarawoot Joe Chatdecha, who has 15 years of experience in interior design, having worked on various international projects in that time.
After working in Bangkok and Shanghai, Joe founded studioSPUTNIK in 2010 and the firm has a diverse portfolio ranging from hospitality and residential to corporate and retail works.
Asia Pacific Entrepreneurship Awards
September 3, 2015 – Congratulations to Chrisandra Heng from SCA Design (member of the ONG&ONG Group) who was one of the winners at the recent Asia Pacific Entrepreneurship Awards, in the 'Outstanding Category'.
CT Hub, Alexandra Road, Singapore
Architect: ONG&ONG Pte Ltd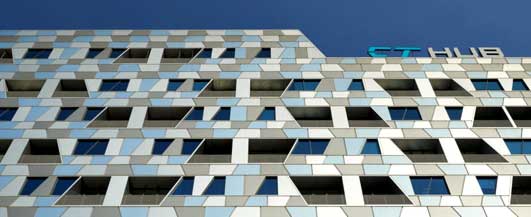 photograph : Kenerf Sim
CT Hub Singapore
CT Hub is an eleven-storey building with two levels of retail space and nine levels of light industrial offices and production facilities, totaling 34,000 sqm. The building's massing is conceived as a 'jewel box', with forms and patterns embossed and carved out to create courtyards, gardens and terraces. Its facade constitutes a complex lattice pattern, combining straight and 20-degree angled lines drawn from digital LED displays.
23 Sep 2013
Collyer Quay Landscape, Singapore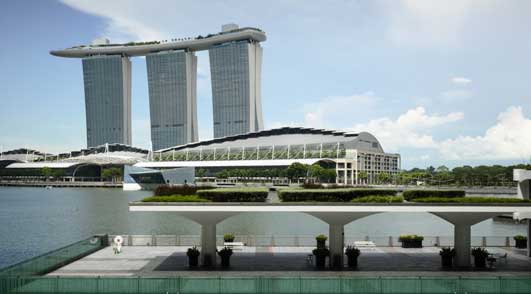 photo : Derek Swalwell
Collyer Quay Landscape
The development includes the newly completed Fullerton Bay Hotel flanked by two conservation buildings, Clifford Pier and Customs Harbour Branch Building. An array of retail, dining and entertainment establishments are housed along this stretch, which is nicely complemented by the vast outdoor performance spaces that were incorporated into the landscape.
5 Jun 2013
Audi Terminal, Alexandra Road, Singapore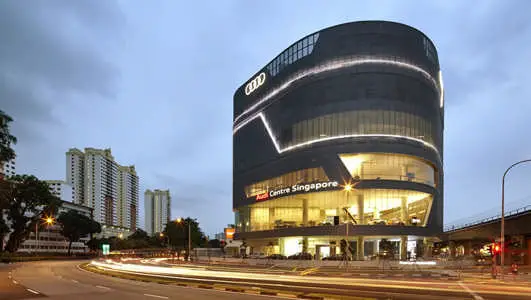 photo from architects
Audi Terminal Singapore
Standing eight-storeys high, Audi Singapore's newly unveiled flagship store is the first ever high-rise Audi Terminal, and at 1,350 square metres per floor, is also the largest Audi showroom in Southeast Asia. The façade is clad in aluminium with hexagonal cut-outs forming a honeycomb pattern, while full-height glass windows for the lower floors make the building appear to float off the ground.
8 Oct 2012
ONG&ONG win at Cityscape Awards
BT TIMAH HOUSE TOPS RESIDENTIAL PROJECTS AT INTERNATIONAL AWARDS, CITYSCAPE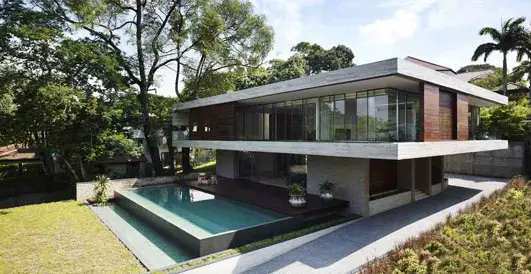 photo from architects
JKC1 Singapore
JKC1 and M-House, two of ONG&ONG's latest residential projects were recipients at last week's Cityscape Awards for Emerging Markets. JKC1 was overall winner in the 'Residential Built Project' category, while M-House was also highly commended.
5 Oct 2012
ONG&ONG win at URA Architectural Awards
At today's URA Architectural Awards ceremony, ONG&ONG's 51 Joo Chiat Terrace was a winner for its minimalist design and unique layout that stayed true to conservation guidelines. Since the award's inception in 1995, the Urban Redevelopment Authority has celebrated the best in Singapore's conservation efforts, thereby raising public awareness on the cultural impact of preserving historical buildings and monuments.
3 Oct 2012
ONG&ONG gain double win at Colombian Diaspora Archi Awards
At the recent Colombian Diaspora Architecture Awards, ONG&ONG's Diego Molina and Maria Arango's 55 Blair Road and JKC1 projects garnered a gold and silver medal for their respective categories.
Organised by SCANY (Sociedad Colombiana de arquitectos New York), this award gives due recognition to outstanding works created by Colombian architects and designers, wherever they are in the world.
12 Jul 2012
ONG&ONG celebrates 40 years
2012 heralds ONG&ONG's 40th year in the design and construction business, so the company has embarked on a year-long celebration starting with a 12th of July reception at the Shangri-la Hotel, while a travelling exhibition and book launch are coming up in October.
This Thursday's event is a big thank you to all clients, associates and friends without whose support ONG&ONG would not be where it is today. Visitors can look forward to a very special exhibition documenting the finest from ONG&ONG's past, present and future projects.
From all of us at ONG&ONG, thank you for your continued support and we look forward to seeing you at the reception.
Ong&Ong – Key Projects
Featured Buildings by Ong&Ong architects, alphabetical:
27 Jan 2012
Sentosa Cove House, Singapore



photograph from architects
Sentosa Cove House
This is a home that can endure the tropics with minimal environmental impact, by tapping on available resources.
Four levels make up the building, each catering to various social and entertainment needs while also accommodating each family member's individual need for solitude.
Achieving space maximisation and privacy were also factored into this design, in view of the house's proximity to neighboring units. As a result, the internal spaces face inward into a multi-functional courtyard which acts as circulation pivot and lightwell, while also serving as a visual focal point. Dense foliage also provides a natural means for additional privacy.
More projects by ONG&ONG architects online soon
Location: 510 Thomson Road, SLF Building #11-00, Singapore 298135
ONG&ONG Architects Practice Information
About ONG&ONG
With a track record of 40 years in the industry, ONG&ONG has earned an unparalleled reputation for servicing our clients with creativity, excellence and commitment.
ONG&ONG offers a complete 360º solution, encompassing all aspects of construction from design (architecture, urban planning, interior, landscape, environmental branding, lighting and experience design) to engineering (mechanical, electrical, civil, structural, fire safety and environmental) and even project management. In addition to projects in Singapore, ONG&ONG has also completed large-scale developments regionally, prompting the setting up of offices in China, Vietnam, India, Malaysia, USA, Indonesia, Mongolia as well as Abu Dhabi.
Website : www.ong-ong.com
Singapore Architecture
Singapore Architectural News, latest at the top
Singapore Architectural Designs – chronological list
Singapore Architecture Walking Tours
Singapore Institute of Architects Architectural Design Awards
Comments / photos for the ONG&ONG Architects page welcome