OLIN, American Landscape Architects, US Designers, United States Public Realm Design Images
OLIN Landscape Architects : Architecture
Contemporary Landscape Architect Practice, USA
post updated Apr 19, 2021
OLIN Landscape Architects News
Nov 12, 2012
Opening of Canal Park in Washington, D.C., USA
OLIN'S CANAL PARK IN WASHINGTON, DC, A NATIONAL MODEL FOR SUSTAINABILITY, OPENS TO THE PUBLIC
New Park Transforms a Former Parking Lot Into a Neighborhood Gathering Place and Destination for our Nation's Capital
WASHINGTON, D.C. — OLIN, a landscape architecture, urban design and planning studio with locations in Philadelphia and Los Angeles, has led the design and construction of Canal Park in Washington, D.C. The park opens to the public on November 16, 2012. One of the first parks built as part of the District's Anacostia Waterfront Initiative, Canal Park has been designed as a vibrant social gathering place and an economic catalyst for the surrounding neighborhood. The park is also a model of sustainable design, serving as a pilot project for the Sustainable Sites Initiative (SITES™) and a candidate for LEED® Gold certification.
The three-block site was once a part of the historic Washington City Canal that connected the Anacostia and Potomac Rivers. The canal was paved over in the 1870s and most recently served as a parking lot for school buses. Inspired by the canal's heritage, Canal Park's design evokes the history of the area with a linear rain garden reminiscent of the Washington Canal and three pavilions, designed by STUDIOS Architecture, which recall floating barges that were once common in the canal.
The park will feature diverse amenities, including a café with outdoor seating, an interactive fountain, an ice skating path, play and performance areas, and sculptures by artist David Hess. Each block is given its own unique identity within a cohesive urban experience. The Canal Park Development Association, in partnership with the Capital Riverfront Business Improvement District, will host numerous events throughout the year, such as movies and concerts, holiday and seasonal festivals, farmers markets, art expositions, educational and environmental programming, storytelling events, and more.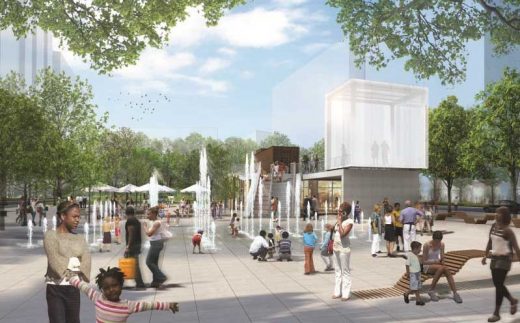 image of design
In addition to being a vibrant social destination, Canal Park is a model for green infrastructure strategies. The former brownfield has been transformed into a landscape that restores vital ecosystem services that were lost when the site served as a parking lot.
Contaminated soils were replaced with a healthy growing medium and the native plant habitat was re-introduced. Canal Park's stormwater system includes a linear rain garden that spans the length of the park, Low Impact Design tree pits, and two underground cisterns which can collectively hold 80,000 gallons of water.
The stormwater system captures, treats and stores almost all of the stormwater runoff generated by the park and neighboring city blocks, which averages to 1.5 million gallons of reused water each year. The treated water is used to satisfy up to 95 percent of the park's water needs for fountains, irrigation, toilets and the ice skating path. Underneath the park, 28 geothermal wells provide a highly efficient energy supply for park utilities.
The wells are forecasted to reduce Canal Park's overall energy consumption by 37 percent. Other sustainable features include the use of sustainably harvested wood for benches and architectural elements, electric car parking stations, ample bicycle racks and cross-streets designed to calm traffic speeds around the park and provide a safe pedestrian environment.
"Canal Park is a unique place that delivers an artful assembly of social, economic and environmental performance," stated Steve Benz, OLIN Partner and Director of Green Infrastructure. "As a successful social space, people can enjoy the re-established natural systems previously lost to development while providing an economic stimulus for the surrounding area."
Through a close collaboration with OLIN, STUDIOS Architecture designed three permanent pavilions. The largest pavilion, at 9,000-square-feet, will host a café and dining area, as well as utilities that support the park and ice skating path. The structure is made of reclaimed and sustainably harvested wood from black locust trees and is expected to earn LEED Gold certification. The roof also serves as a public plaza and features a large lantern with translucent acrylic panels which will become a medium for projection art and light displays.
The pavilion's sustainable features include geothermal heating and cooling, vegetated roof surfaces, natural ventilation, low-flush toilets and fixtures, energy/water monitoring dashboard systems, and utilization of the park's stormwater treatment system for non-potable water. Made of similar materials and approximately 150-200-square feet each, a second pavilion appears to float above a linear fountain, while a third pavilion bookends the park at the north and provides storage for park amenities.
The OLIN team, led by Partner and Director of Green Infrastructure Steve Benz and managed by Associate Sophie Robitaille, directed a team of fourteen consultants on the project, including architects STUDIOS Architecture; stormwater engineers Nitsch Engineering; civil engineers VIKA Capitol, Inc.; lighting designer and sustainability energy consultants Atelier Ten; MEP engineers Joseph R. Loring & Associates; structural engineers SK&A Structural Engineers; irrigation designers Lynch & Associates; ice path designers & fountain engineers Stantec Bonestroo; geotechnical consultants Soil Consultants; sculptor David Hess; signage designers The Design Theorem; audio visual consultants Shen Milsom & Wilke; dry utility consultants Richter & Associates; and cost estimator Davis Langdon, an AECOM Company.
23 Jan 2012
OLIN – Recent News
Aberdeen City Garden Competition, Scotland, UK
OLIN ON TEAM THAT WINS CITY GARDEN COMPETITION IN ABERDEEN, SCOTLAND
Philadelphia – OLIN is pleased to announce that it is on the winning team for the Aberdeen City Garden project design competition in Aberdeen, Scotland. In addition to OLIN, the team includes Diller Scofidio + Renfro and KeppieDesign. Malcolm Reading Consultants organized the international competition process. This remarkable project, which will transform the center of Aberdeen, is both a garden and a cultural center. The winning design concept will now be subject to a referendum. If the referendum reveals that the public is in support of the project, detailed designs will be produced for a planning application.


image of winning design Courtesy of Diller Scofidio + Renfro
"Our studio is truly honored to be part of team of such accomplished firms to transform Aberdeen's City Garden into an accessible public space that seamlessly integrates the history of the city and provides unique opportunities for residents to engage and learn," said OLIN partner Richard Newton.
The landscape of the City Garden is envisioned as a reinvigorated green heart of the city that doubles its present size. The landscape celebrates the dramatic topography of Aberdeen by weaving a web of paths across the Denburn Valley to reconnect the city's rich urban fabric. Within this web, a diverse series of gardens draw from Aberdeen's wider landscape and cultural heritage. The gardens' planting palettes will mimic the regional landscape and ecology of Northeast Scotland and be supplemented with plants from its European neighbors and other parts of the world.

image of winning design Courtesy of Diller Scofidio + Renfro
The gardens will promote local horticultural skill and expand seasonal diversity and the stimulation of the senses. Underlying the design of the landscape is a desire both to engage and teach. This didactic approach embraces civic engagement by making gardens that provide opportunities for the local community; their presence can elevate awareness of contemporary approaches to sustainability.
The overall layout of building and landscape will create microclimates, providing protection from the harsher effects of the local weather. By its native character, the landscape will form habitat for native fauna and will be highly sustainable. State of the art planting techniques combined with a sustainable approach to maintenance will be employed to ensure healthy and vigorous growth in the garden's urban setting.
Aberdeen City Garden Competition



image of winning design
More projects by OLIN online soon
Location: USA
Landscape Architect Practice Information
OLIN are a Landscape architect studio based in the US.
About OLIN
OLIN is a landscape architecture, urban design and planning studio dedicated to creating timeless spaces that promote social interaction and enhance life. The studio remains at the forefront of the design profession by uniting a dynamic design process, rigorous research and analysis. OLIN is engaged in projects across the globe and at all scales, including ecological and regional systems, urban districts, campuses, civic parks, plazas and intimate gardens. Bryant Park and Battery Park City in New York,
The J. Paul Getty Center in Los Angeles and The National Gallery of Art Sculpture Garden in Washington, D.C. are some celebrated OLIN projects. OLIN's team of landscape architects, building architects, planners, ecological engineers and support staff includes 13 partners: Laurie Olin, Dennis McGlade, Lucinda Sanders, Susan Weiler, David Rubin, Robert Bedell, Richard Newton, Skip Graffam, Chris Hanley, Hallie Boyce, Steve Benz, Richard Roark and Tiffany Beamer. OLIN has studios in Philadelphia and Los Angeles.
Website: www.theolinstudio.com
Architectural Design
Comments / photos for the OLIN Landscape Architecture page welcome