Patrick Hodgkinson Architect UK, Cambridge, English Works, Design Projects, English Office
Patrick Hodgkinson Architect
Obituary: 20th Century Architecture Practice, London, England, UK: Key Buildings
21 + 20 Apr 2016 – new photos loaded of the Brunswick Centre; 30 + 8 Mar 2016
Architect Patrick Hodgkinson
Brunswick Centre photos: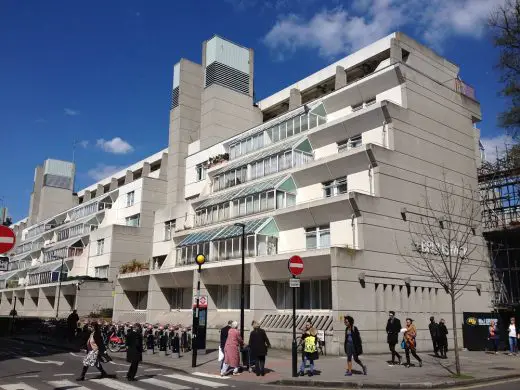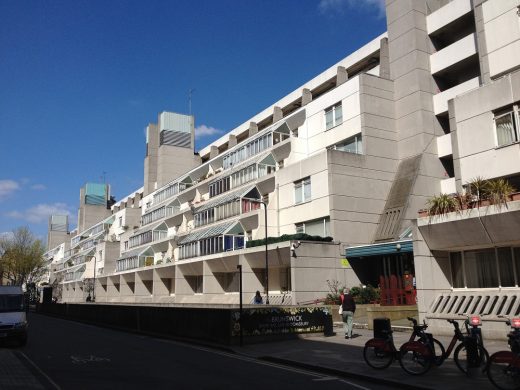 Patrick Hodgkinson, architect – obituary
"Patrick Hodgkinson, the architect, who has died aged 85, is celebrated for his design of the futuristic Brunswick Centre in Bloomsbury, completed in 1972, after he had resigned in protest against the contractor-developers, McAlpine", reports The Daily Telegraph.
"Successive political and economic changes meant that what began as a private sector development to reconfigure a then down-at-heel section of London for the Foundling Estates was compromised during its long gestation. It emerged incomplete, divided in ownership, finished in the wrong materials, with its intended variety of use and occupation compressed into units of a limited range of sizes, for Camden Council tenants and unglamorous shops."
Patrick Hodgkinson, Architect – Daily Telegraph obituary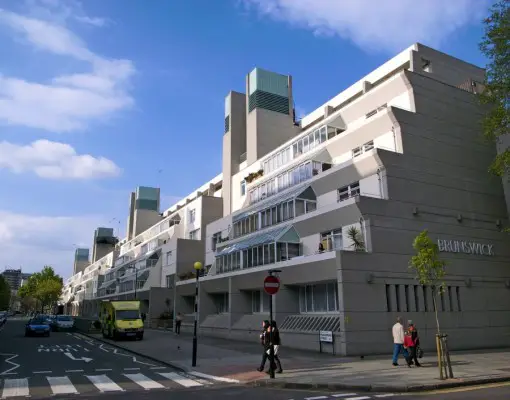 photo by mibuchat, CC BY-SA 2.0, http://commons.wikimedia.org/w/index.php?curid=31763757
"Hodgkinson is best known for designing the A-framed Brunswick Centre in Bloomsbury, London, which Richard Rogers has called "one of the greatest modern buildings in Britain", reports Building Design.
Hodgkinson began working on the mixed-use ziggurat with his then boss Leslie Martin in 1959, but from 1963 was sole architect. Construction did not begin until 1968 and when it was completed in 1972 it made headlines in the architectural press around the world.
Along with Pimlico's Lillington Estate (John Darbourne) and Highsett in Cambridge (Eric Lyons), it was one of the first developments to challenge the Corbusian theory that high densities could only be achieved with at least one tower block. Brunswick managed 200 people per acre."
Patrick Hodgkinson, Architect – BD
Brunswick Centre, Bloomsbury, seen here from Marchmont Street: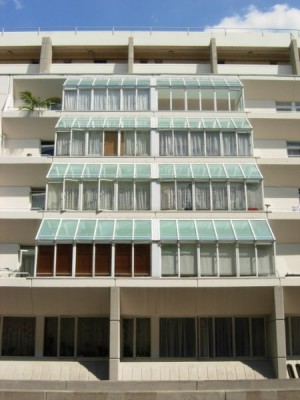 photo from geograph.org.uk Author Stephen McKay
"In the late 1990s Hodgkinson was invited back by developer Allied London to realise his original vision, working with Levitt Bernstein Architects on a £20 million reconfiguration of the Grade II-listed block. The much-praised revamp completed in 2006", reports the Architects' Journal.
"The mixed-use scheme was designed to house 1286 people, with a ratio of 2:1 for the commercial sections of shops, offices, cinema, pubs, restaurants and garages, and sat on the site of streets of run-down terraced housing."
Patrick Hodgkinson, Architect – AJ
"The orthodoxy of the day was tower blocks (a previous scheme had proposed two 17-storey towers). But Martin and Hodgkinson envisaged something quite different, scarcely higher than the surrounding Georgian terraces, with flats in twin A-shaped linear blocks facing across a raised public/retail plaza with car parking below", reports The Guardian.
"When Harold Wilson's Labour government in 1964 unexpectedly introduced security of tenure for furnished tenants, Colman told Hodgkinson to go and talk to the new borough of Camden about housing. The result was a public-private partnership avant la lettre: as developer, McAlpine built the car parking and shopping privately, and as contractor it built the flats as local authority housing for Camden."
Patrick Hodgkinson, Architect – The Guardian
Patrick Hodgkinson – Key Projects
Major Designs, alphabetical:
Brunswick Centre, Marchmont Street, Bloomsbury, WC1, London, UK
The Brunswick Centre is a Grade II listed residential and shopping centre in Bloomsbury, Camden, London, England, located between Brunswick Square and Russell Square.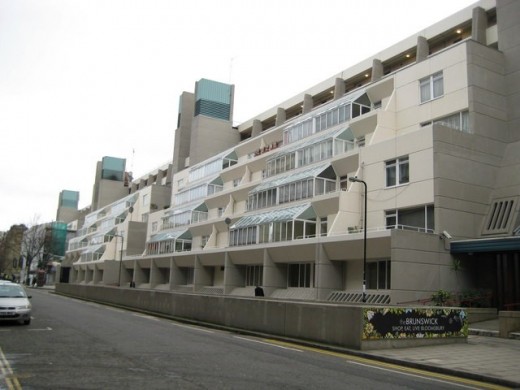 photo from geograph.org.uk Author Nigel Cox
It was designed by Patrick Hodgkinson in the mid-1960s, based on studies by Leslie Martin. It was initially planned as a private development at a time when private, mixed-use development in the UK was rare.
Building started in 1967 and was completed in 1972, though the building fell some way short of its intended size. The original plan extended up to Euston Road but the Ministry of Defence would not release the site of a building they leased for use by the Territorial Army (and that still stands next to the Centre today).
source: wikipedia
Harvey Court, Gonville & Caius College, Cambridge, England
Date built: 1960-62
Design: Leslie Martin with Patrick Hodgkinson
More buildings / projects by Patrick Hodgkinson online soon
Location: Brunswick Centre, Marchmont Street, WC1, London, England, UK
British Architectural Designs
UK Architecture Designs – architectural selection below:
Cambridge Architecture



image © Adrian Welch
The name of Leslie Martin lives on in the Martin Centre for Architectural Studies, Cambridge, England, UK.
Comments / photos for the Patrick Hodgkinson Architecture page welcome