Pugh + Scarpa Architects USA, California Design Studio, Buildings Images, L.A. Office
Pugh + Scarpa : Los Angeles Architecture Studio
Contemporary American Architecture Practice, based in California
post updated Apr 26, 2021
Brooks + Scarpa (formerly Pugh + Scarpa) Architects
Pugh + Scarpa – Most Recent Buidling
Cherokee Lofts, Santa Monica, Los Angeles, California, USA
Date built: 2010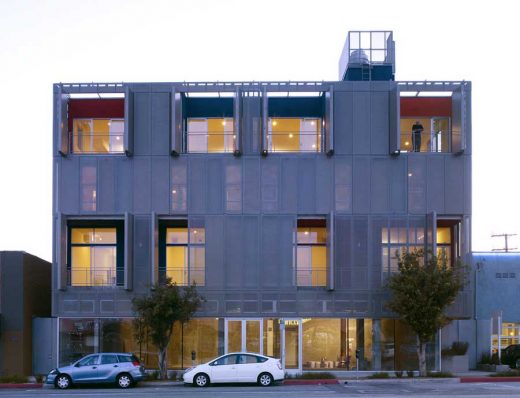 photo : John Edward Linden
Cherokee Lofts
Pugh + Scarpa – Key Projects
Featured Buildings by Pugh + Scarpa, alphabetical:
Make it Right Duplex home, Lousiana, USA
–



image from architects
Make it Right Duplex
New Orleans Houses, Lower Ninth Ward, Lousiana, USA – for Make it Right : MIR
Date built: 2008
New Orleans Houses
Orange Grove Lofts, 1011 Orange Grove Ave, West Hollywood, California, USA
Date built: 2004



photo : Marvin Rand
Orange Grove Lofts
Located in a neighborhood characterized by traditional bungalow style single-family residences, Orange Grove is a new landmark for the City of West Hollywood. The building is sensitively designed and compatible with the neighborhood, but differs in material palette and scale from its neighbors. Referencing architectural conventions of modernism rather than the pitched roof forms of traditional domesticity, the project presents a characteristic that is consistent with the eclectic and often unconventional demographic of West Hollywood.
Solar Umbrella Residence, Venice, California, USA
Date built: 2008
Solar Umbrella : Sustainable energy-neutral building
Step Up on Fifth, Santa Monica, California, USA
Date built: 2009
Step Up on Fifth
More projects by Pugh + Scarpa online soon
Location: Los Angeles, California, USA
Pugh + Scarpa Practice Information
Pugh + Scarpa is committed to producing work of exceptional rigor and architecture that expresses the highest aesthetic, environmental and social ideals. Pugh + Scarpa have consistently sought new and different design challenges and have resisted becoming excessively specialized in any particular building type. As a result, our innovative work ranges from designs for small objects, furniture and public art, to large-scale educational, civic and affordable housing buildings. Pugh + Scarpa are also known for our experience in master planning and urban design. Approaching every project with fresh eyes, we produce design solutions that are unique and appropriately suited to client and context.
At Pugh + Scarpa our working method has always been highly intuitive and flexible – there are no rigid boundaries or pre-set formulas. Our interest is in producing meaningful work that is rooted in its context, both cultural and physical. Pugh + Scarpa have developed a design process that focuses on the unique values of each client and the specific programmatic requirements and aesthetic opportunities of each project.
Pugh + Scarpa understand that the role of the architect is one often marked by conflict, contradiction, and change as projects evolve and respond to stakeholders' needs. Skilled at building dynamic rapport with our clients and user groups, we create inspiring and exceptionally functional buildings that fulfill their collective goals. Together with the stakeholders, we begin by exploring both the functional needs and the aesthetic goals of each project with no limiting preconceptions. This ensures that the final design emerges from the specific context and essential function of the project. Our ability to understand and interpret user needs and goals is evidenced in the positive relationships we have developed with our clients. Pugh + Scarpa encourage you to contact any of our past clients, to better understand our methods and abilities.
At Pugh + Scarpa, each project is approached as the continuation of an ongoing inquiry. We have become specialists in finding creative and unique solutions to the most difficult budgets and programs. Careful consideration is given to the appropriateness of design choices in terms of context, program and construction. Pugh + Scarpa are known as architects who link exceptional design with time and budget concerns, joined with a larger commitment to community and quality.
Our work is driven by the belief that architecture can have a transformative influence by providing an environment that engenders freedom of thought, creativity and curiosity; and as such, we believe in the possibility of creating architecture that itself becomes an instrument of the human experience. It is from these beliefs and values that we continually strive to deliver buildings that redefine the typology and establish new paradigms for each project we undertake. While we practice architecture with an extremely rigorous and exacting methodology, we remain open-minded, so that our work can adapt throughout the dynamic process of making places for people.
In our eyes, the quality of a project is not necessarily related to how much it costs, but rather how wisely the resources of time and money are spent. Pugh + Scarpa firmly believe that design excellence can be achieved on any scale or budget; that economy and aesthetics are not mutually exclusive. Proper cost management and life cycle building cost is of great importance to us. Our design strategy is to seek simplicity, which results in flexibility in use and economy in cost. In everything we do, we are constantly aware of our responsibility to our clients, who rely on us to honor our commitments to budget, schedule, and quality of work.
Research of materials and technologies has lead us to new and innovative solutions while respecting tried and tested construction methods. This is true regardless of the scale, whether big or small, for public or private use, for rich or poor. Working closely with clients, users, industry and a network of consultants is an approach that has often led us to successfully reinvent established building types. Our attitude not only stresses the search for fundamental principles in architecture, such as light, volume and spatial flow, but also attempts to reveal extraordinary beauty within ordinary ideas and materials.
At Pugh + Scarpa, our design process particularly emphasizes the unique requirements and aesthetic opportunities of each project. From this perspective, the contextual issues of a given site often provide great opportunity to develop an architectural language that is layered and multivalent. Pugh + Scarpa see a site's unique considerations as highly valuable, providing rich and diverse material to draw upon. The specific conditions of the multiple physical and cultural forces impacting the building-its embedment in the surrounding urban fabric, relationship to adjacent buildings, and proximity to community assets-help us develop a solution that contributes a distinctive sensibility to the environment.
As the design process begins, we focus on the unique attributes of and opportunities afforded by the site. Pugh + Scarpa begin with an investigation of the site, surrounding buildings, existing building and structural system, attitudes and patterns of use, topographical surroundings, etc. While the programmatic aspects of the project are being defined, our designers begin their investigation of contextual issues, on both a micro and a macro level. These subjective contextual readings are balanced by combining the perspective of the "indigenous" client group and the "outsider" perspective of Pugh + Scarpa and our assembled team of consultants.
To locate an architecture, we typically operate on a question/answer paradigm in which the antecedents and precedents of initial answers are absorbed or challenged in order to identify the salient issues. The questions that will form the basis of our inquiry for the physical design of this project include: What is the relationship between the identity of the specific site and the larger cultural and social identity of the surrounding city? What are the sign systems at work that are taken for granted, overlooked and yet understood intuitively? As we examine and absorb the local idioms and syntax, the architectural language will become layered with meaning that is connected to its place and time, providing an armature for development.
As a service-oriented organization that has worked for numerous private and institutional clients whose priorities tend to emphasize low initial cost and long-term value, we have learned how to deliver project excellence at a minimum price. Pugh + Scarpa is accustomed to working on private and publicly-funded projects which have rigid time and budget requirements and allow very little room for error.
The success of Pugh + Scarpa at working under these conditions is reinforced by the statistic that nearly all of our projects that reach the construction design drawing stage have been built, on-time and on-budget. Pugh + Scarpa can consistently deliver these kind of impressive statistics because our design and engineering approach minimizes complex and possibly expensive or time-consuming structural elements, in favor of a simplified, direct approach which results in more flexibility at the building stage, fewer problems, and ultimately lower costs. In addition, our consistent record of delivering innovative and effective design solutions, while strictly adhering to time and budget requirements, has resulted in a high percentage of repeat clients, who frequently return to us for further services and additional projects.
Pugh + Scarpa believe that architecture cannot escape an active engagement in the issues and conditions of our contemporary society. We cannot stand apart from social, ethical, cultural, technical, or ecological issues, because it is only by facing them that we may find a significant subject for our work. Thus, every project we undertake has an important symbolic role to play in public life. The success of a design is measured by the degree to which it responds to the community, to the building's users, and to the citizens of its city. It will be judged by its presence and by its ability to create a dialogue between building, user, and surroundings.
Pugh + Scarpa has received 10 National American Institute of Architecture Design awards, including 2006 and 2003 AIA Committee on the Environment "Top Ten Green Project" awards, 32 State and Local American Institute of Architecture awards, The Rudy Bruner Prize, Record Interiors, and numerous other honors since the firm's founding. Pugh + Scarpa work was recently on display in two different exhibits at the National Building Museum in Washington, DC and at the Architecture and Design Museum in Los Angeles.
Information received re New Orleans Houses:
Lawrence Scarpa, AIA, and Angela Brooks, AIA are recognized leaders in design innovation: formal, social, and sustainable. Under their direction as Lead Designers of Pugh + Scarpa, the firm has received 36 major design awards, notably eleven National AIA Awards, including 2006 and 2003 AIA Committee on the Environment "Top Ten Green Project" awards, 2005 Record Houses, 2003 Record Interiors, and the 2003 Rudy Bruner Prize. In 2004, the Architectural League of New York selected Lawrence Scarpa as an "Emerging Voice" in architecture. His work is currently on exhibit at the National Building Museum in Washington, DC.
They have taught and lectured at the university level at numerous schools including UCLA, University of Florida, Mississippi State University and SCI-arc. Mr. Scarpa is the 2008 Ruth and Norman Moore visiting professor at Washington University, 2007 Eliel Saarinen Visiting Professor at the Alfred Taubman College of Architecture at the University of Michigan, 2005 University of Michigan Max Fisher Visiting Fellow and 2004 Friedman Fellow at the University of California at Berkeley.
Mr. Scarpa and Ms. Brooks are also co-founders of Livable Places, a nonprofit development and policy organization dedicated to promoting healthy communities and improving quality of life through policy reform and responsible mixed-use housing developments.
Pugh + Scarpa : American Architects
The Pugh + Scarpa book is now available, 1 Jul 2009


image from architects
If you are interested in ordering copies please contact: Daniel Safarik at [email protected]
Website: https://brooksscarpa.com/
Los Angeles Architectural Designs
Los Angeles Architecture Designs – architectural selection below:
Vertical Courtyard, Santa Monica
Design: Montalba Architects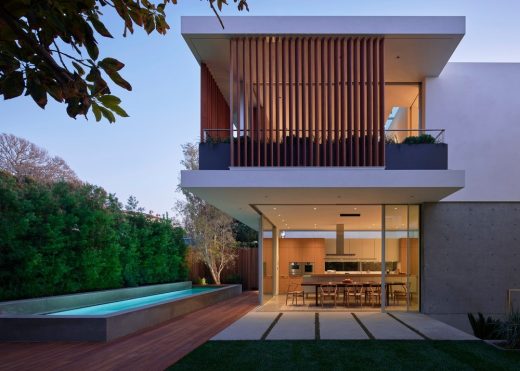 photograph : Kevin Scott
Vertical Courtyard Residence in Santa Monica
LA River
Architects: Ballman Khapalova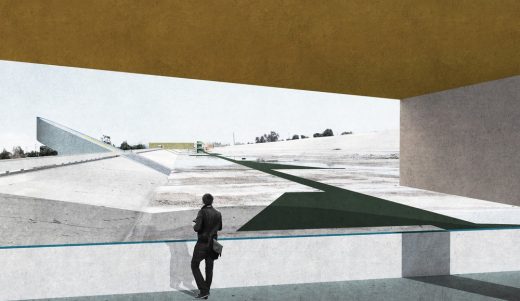 image courtesy of architects
LA River
USA Architecture
Buildings / photos for the Pugh + Scarpa Architecture page welcome