Page Park Architects Glasgow, Design Office Scotland, Architectural Studio Photos, Project Images
Page\Park Architects Glasgow
Major Scottish Architecture Practice News – Design Office Scotland, UK
post updated 7 April 2023
Page\Park Architects News
Page\Park Architects News in chronological order:
20 May 2022
The Great Tapestry of Scotland Gallery, Galashiels, Scottish Borders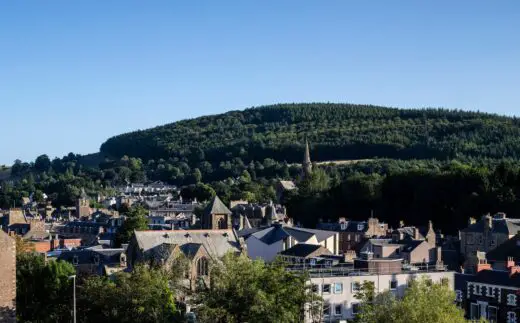 photograph : Keith Hunter
The Great Tapestry of Scotland Visitor Centre Galashiels
18 May 2022
Health and Wellbeing Centre, 7 Bristo Square, Edinburgh, south east Scotland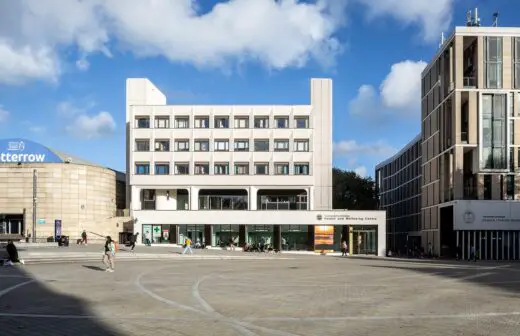 photo : Keith Hunter
University of Edinburgh Health and Wellbeing Centre
For the first time, the University of Edinburgh's new Health and Wellbeing Centre brings together the institution's previously disconnected Counselling and Disability services, Pharmacy and Health Centre, in a now fully accessible facility. Dedicated to the prevention and treatment of mental and physical health issues, both clinically and holistically, the Centre has become a beacon for the promotion student and staff well-being.
15 Jan 2022
Milngavie Streetscape, Milngavie, East Dunbartonshire, Scotland, UK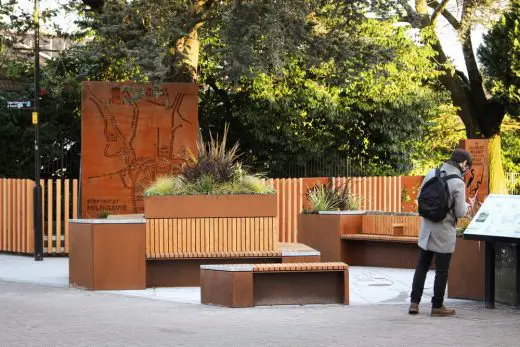 photograph : ZAC and ZAC
Milngavie Streetscape, East Dunbartonshire
Since 2018, Page\Park have been working closely with Milngavie BID, a community organisation formed of stakeholders and representatives of local businesses, to strategise and deliver a series of incremental projects in Milngavie Town Centre. This relationship began when Page\Park was appointed to develop proposals for an artwork in Milngavie town centre, at the start of the WHW.
11 Sep 2020
Leeds Playhouse, Leeds, West Yorkshire, England, UK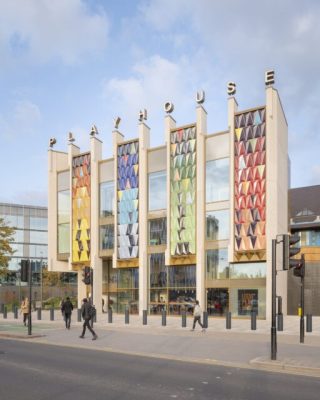 photograph : Jim Stephenson
Leeds Playhouse Building
The Leeds Playhouse has been transformed by a radical reconfiguration and extension of the existing building to create a new face for the organisation and improve accessibility for all.
28 + 25 Aug 2020
Page / Park faces legal action over Glasgow Mac fire
Glasgow architects PagePark is facing legal action relating to its work on the restoration of the Mackintosh School of Architecture. A second fire occurred at this world-famous building in June 2018.
A syndicate of insurers, acting in the name of the Glasgow School of Art, have lodged claims at the Court of Session against Park\Page and Arrest Fire & Security, the firm responsible for installing new security and fire systems after the 2014 fire.
The Mac said the process was being undertaken to recover documents from the two companies.
The fire service has been investigating the cause and spread of the fire at the Charles Rennie Mackintosh building since the evening of the fire. It does not know when its investigation will conclude.
On-site investigations and excavations have now recommenced after having been temporarily suspended due to the Covid-19 pandemic.
New restoration work can not recommence until the fire service has finished its inspection, remaining rubble has been removed, and internal bracing has been fitted.
25 Jan 2020
New Gorbals Housing Association, Crown Street Development, Glasgow, Scotland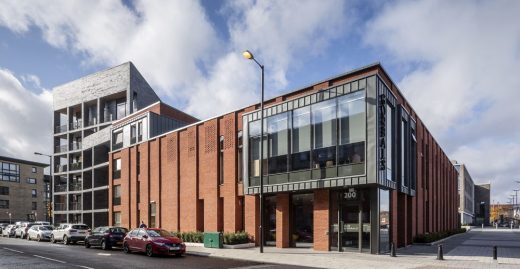 photo : Keith Hunter
New Gorbals Housing Association Building
The new home of the New Gorbals Housing Association is a bespoke office and civic piazza forming the
centrepiece of the Crown Street redevelopment in Glasgow.
19 Mar 2018
Hawkhead Centre, Paisley, Southwest Scotland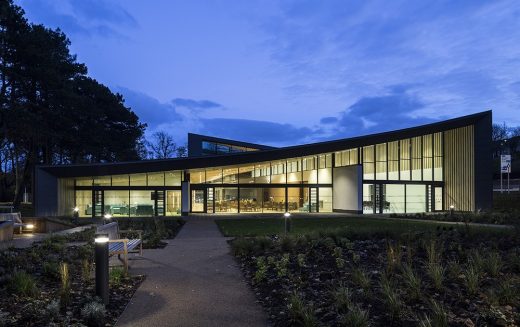 photo : Keith Hunter
Hawkhead Centre in Paisley
This new activity and support centre is for the charity Scottish War Blinded, who provide free support to ex-service men and women who have lost their sight during or after military service. Scottish War Blinded is a sister charity to Royal Blind, Scotland's largest visual impairment organisation.
11 Dec 2017
Scottish War Blinded Hawkhead Building
This building is primarily for veterans who have visual impairments.
The design is by architects Page and Park.
The £17 million project has created 150 new jobs, and 100 military veterans have already signed up to use the facility, along with residents of the nearby Royal Blind facility, Jenny's Well.
Scottish War Blinded Hawkhead Building
27 Jun 2017
University of Edinburgh Student Centre, Scotland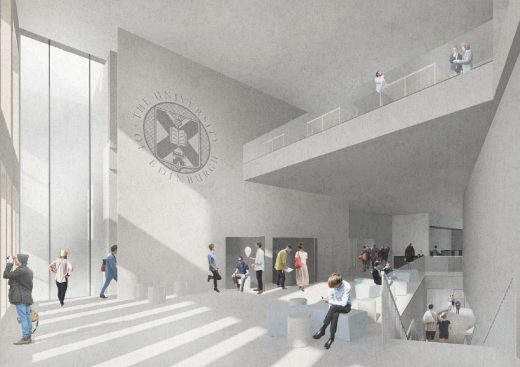 images courtesy of architects
Edinburgh University has unveiled plans designed by Glasgow's Page\Park Architects for a radical extension to Teviot Row House, billed as the world's oldest purpose-built student union, under a £75m modernization plan.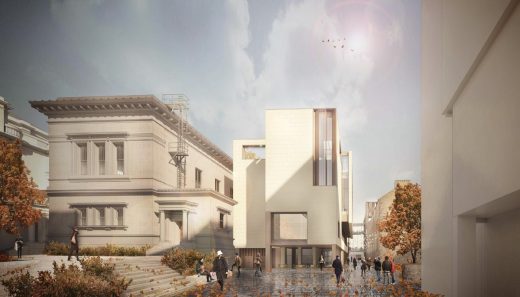 Occupying a gap site between George and Bristo Square the Student Centre would provide a one-stop shop for university services and student wellbeing; including cafes, foodhalls and a nightclub.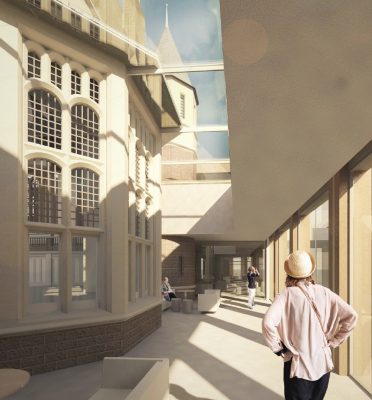 Indicative plans were placed on display on 27th June, illustrating how a rear access lane could be reborn as a public square.
3 Nov 2016
Page \ Park win RIAS Andrew Doolan Award for Architecture 2016
The Saunders Centre, Glasgow by Page\Park Architects has been awarded the RIAS Andrew Doolan Best Building in Scotland Award for 2016.
From a shortlist of eleven projects, all winners of RIAS Awards for 2016 (presented in June 2016), the judges selected the Saunders Centre as a clear winner.
1 Nov 2016
The Saunders Centre – Glasgow Academy Science and Technology Building, Scotland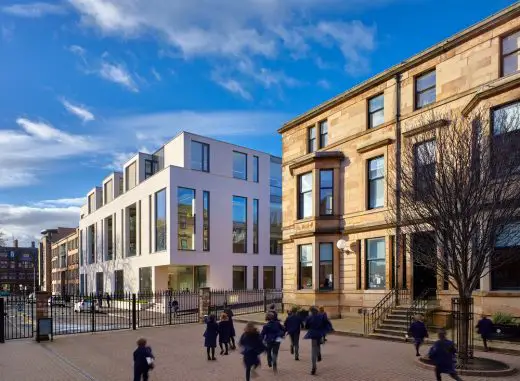 photo : Andrew Lee
Saunders Centre Building in Glasgow
The requirement to meet current needs and expectations to keep abreast of the most advanced teaching in the sciences has resulted in a significant and substantial new urban block for the Academy.
The Westwater Building Dollar Academy, Scotland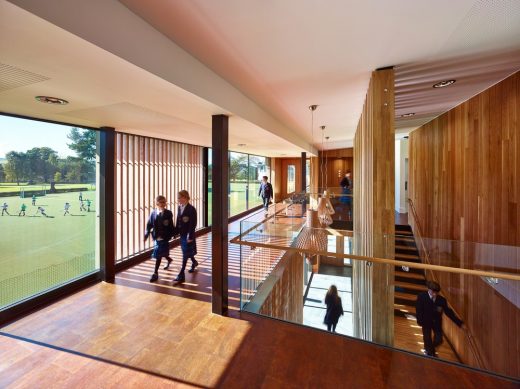 photo : Andrew Lee
The Westwater Building Dollar Academy
This modest pavilion teaching building, nestles into the site at the foot of the Ochil Hills alongside the impressive principle school building, designed by William Henry Playfair. It forms a component of Dollar Academy's new 'Teaching L' which edges the all weather hockey pitch, conceived as an open 'quad' at the heart of the campus.
5 Jul 2016
Page \ Park Architects Management Team Restructuring
Architecture firm Page\Park has reached another milestone towards its evolution into an employee-owned practice with a restructure of its management team.
The Glasgow-based business transferred to an employee ownership model three years ago and has been implementing the next part of its transition by appointing Karen Pickering to the role of chair of the board and Andrew Bateman as managing director.
Karen Pickering has been with the office for 25 years and is well respected in the profession for her enthusiasm and support for exciting architecture across a wide range of fields.
Andrew Bateman has been with Page\Park for 16 years and has become well known for his ability to guide and realise complex and creative projects. For the past two years Andrew has taken the role of finance director on the board and the extension of this role into that of managing director will provide a steady hand overseeing the operational and financial management of the practice as it seeks to evolve and respond to new challenges.
This Glasgow architecture practice was established in 1981 by David Page and Brian Park who will remain on the board as part of a collaborative management model.
Outgoing chair Brian Park said: "The time has come for the next chapter in the Page\Park journey. Karen Pickering has been with the company for 25 years and is well respected in the profession for her enthusiasm and support for exciting architecture across a wide range of fields. That energy and drive to ensure the best possible architectural outcomes will continue in her new leadership role as chair of the practice."
31 Mar 2015
Mackintosh Building Restoration Architects Announced
Page \ Park Architects to Restore the Mackintosh Building
The Glasgow School of Art announced the appointment of a design team led by Page \ Park Architects for the restoration of the Mackintosh Building in Glasgow.
The appointment was made following presentations by a shortlist of five architecture practices earlier this month.
Page Park News
Glasgow Architects Have Designs on More Growth after Becoming Employee-Owned
Business transforms from traditional architectural partnership into 40-strong practice owned by its employees
11 Dec 2013 – A Glasgow architectural practice whose turnover has risen 30 per cent over the past two years has designs on more growth after becoming employee-owned.
Page\Park Architects – which employs 40 and now turns over £3.5m – has become employee-owned, 32 years after it was established by founders David Page and Brian Park in 1981.
David Page: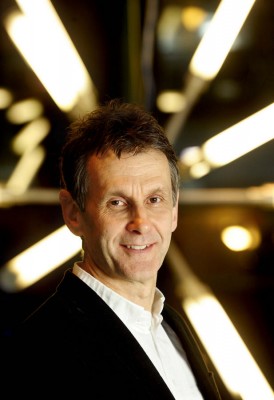 The firm – which has worked on iconic projects such as the Lighthouse, Scottish National Portrait Gallery, Rosslyn Chapel and Collegelands in Glasgow – intends to develop its award-winning business, particularly across the UK and Europe.
Co-operative Development Scotland (CDS), Scottish Enterprise's employee ownership support arm, provided initial support and guidance on ownership, governance and employee engagement.
Founders David Page and Brian Park remain with the business. Head of architecture David Page commented: "Over the last year we have transformed from a traditional architectural partnership into a 40-strong employee-owned company. The journey, which began five years ago, has been an exciting one and we are looking forward to delivering more exceptional work for our clients in years to come.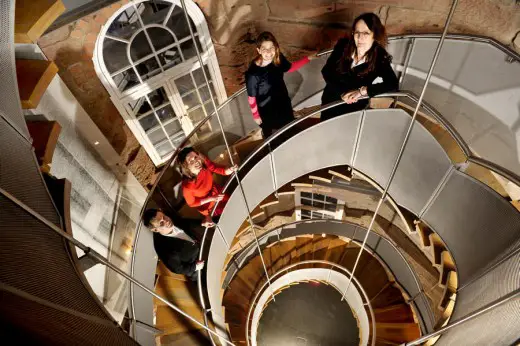 "Now, when you speak to anyone in Page\Park, you are speaking to someone with a share in the future of the practice, a belief in its values and a commitment to them: a shared optimism. We are following in the footsteps of the likes of Arup and John Lewis, who have quietly trail-blazed employee ownership over many years.
"We have always been a very collaborative organisation so employee ownership – as well as helping us plan for the long-term, including succession – is just a logical extension of our business model."
Sarah Deas, chief executive of CDS, said: "Creating a business environment where everyone shares not just financial investment but emotional involvement might seem implausibly ambitious. But with employee ownership, all parties have a genuine say in how a business is operated, giving everyone a meaningful stake in their organisation.
"Page\Park's ethos has always been very collaborative. It has been a pleasure to help them embed that spirit of co-operation in their ownership structure and help root this exciting business firmly in Scotland."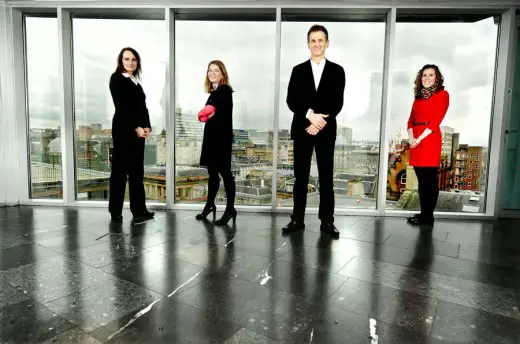 In addition to support from CDS, Page\Park was advised by Shirlaws on building an effective business model while Baxendale advised on the design of the new trust ownership model, setting up its governance systems and further development of its employee engagement practices.
In Scotland, employee-owned businesses employ more than 8000 people and account for a combined annual turnover of just under £1bn. The number of employee-owned businesses headquartered in Scotland has doubled since 2009.
Examples of other employee-owned businesses in Scotland include paper and board manufacturers Tullis Russell, engineering consultants Arup, manufacturing firm Clansman Dynamics and animal feed manufacturer and agricultural merchant Galloway & MacLeod.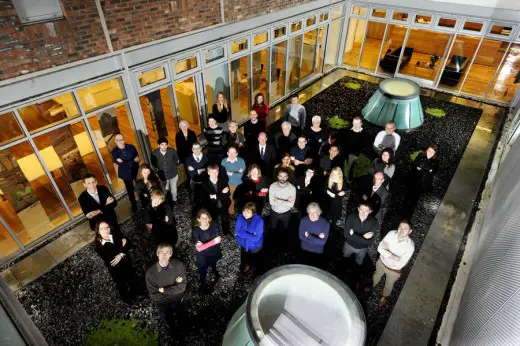 About CDS
Co-operative Development Scotland (CDS) is the arm of Scottish Enterprise working in partnership with Highlands and Islands Enterprise that supports company growth through collaborative and employee ownership business models.
An employee-owned business is one in which the employees hold the majority of the shares either directly or through an employee benefit trust. Selling to employees allows owners to manage their exit and achieve fair value whilst safeguarding the long-term future of the company. Employee ownership gives employees a meaningful stake in their organisation together with a genuine say in how it is run. It roots business in Scotland, drives performance and delivers economic wellbeing.
For further information on CDS see www.cdscotland.co.uk or call on 0141 951 3055. Follow CDS on Twitter @cdscotland or look at the blog www.cdsblog.co.uk
About Page\Park
Page\Park Architects has been responsible for many important restorations and new building settings, from early works such as Cathedral Square and the Italian Centre, through to the Lighthouse in Glasgow, National Museum of Rural Life in East Kilbride, Scottish National Portrait Gallery Edinburgh, Rosslyn Chapel as well as major housing works in New Gorbals and Laurieston Glasgow.
Its current work includes major university projects for Edinburgh, Glasgow, Caledonian, West of Scotland, Stirling and Heriot-Watt Universities as well as the new extension to Scottish Opera's Theatre Royal, Kelvinhall refurbishment and Scottish Power's headquarters in Glasgow.
11 Aug 2012
Theatre Royal Glasgow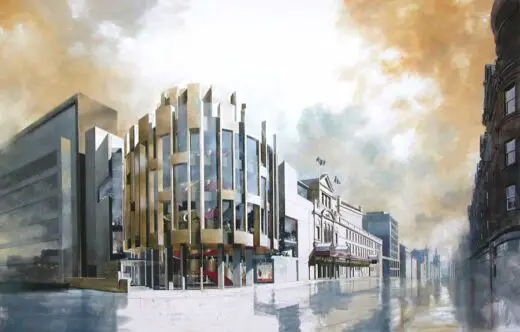 image : Brian Allen
Theatre Royal Glasgow
Work to create much-needed new public spaces for Glasgow's Theatre Royal is to begin in an ambitious project which aims to create a world-class venue and transform the experience for audiences at one of the most beautiful and historic theatres in Scotland.
May 2012
Scottish War Blinded Building, Linburn, West Lothian



image from architect
Scottish War Blinded Building
RICS Awards 2012 : Overall Project of the Year award winner
1 Mar 2012
Olympia Theatre, Bridgeton Cross, Glasgow, Scotland
2010-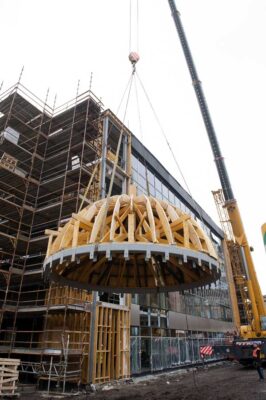 photograph : Warren Media
Olympia Theatre
This redevelopment project reached a milestone point with the reconstructed cupola lifted into place.
Church of St Paul the Apostle – Extension, Glasgow, Scotland
2011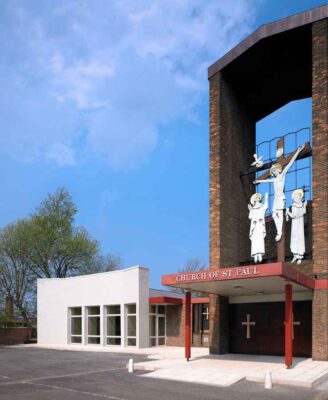 photograph © Andrew Lee
The category B-listed Church of St Paul the Apostle stands on the busy Shettleston Road two miles east of Glasgow City Centre. Jack Coia, of Glasgow architects Gillespie Kidd and Coia, designed the church in an Italian Baroque style, and it was built from 1957 to 1959. The Cube – design by Page Park Architects. 22 Nov 2011
Glasgow Architects – contact details
Page Park architects Building News 2010
The Foundry, Leamington Spa, England
2010-



image : Page / Park Architects
The Foundry Leamington Spa
McManus Galleries, Dundee, Scotland
2010



photo from Page Park Architects
McManus Galleries – Best Building in Scotland – shortlisted, 2 Nov 2010 + a Civic Trust Award Winner 7 Mar 2011
Page Park – Key Projects
Page Park architects – Building News 2009
Fraser Building, Glasgow University, Hillhead, northwest Glasgow, Scotland
2009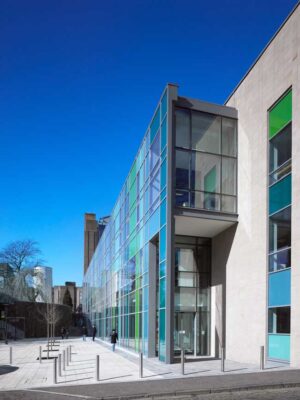 photo : Andrew Lee
Fraser Building
Bluebell Views Student Residences, University of Warwick, England
2009-



image from architects
University of Warwick Student Residences
Fettes Prep School, Edinburgh, Scotland
2009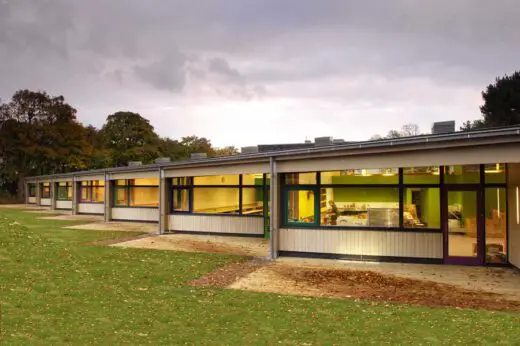 photo : Renzo Mazzolini
Fettes Prep School
Buildings by Page Park architects up to 2008
Page Park Architects : older projects
Key Buildings by Page Park architects
Museum of Scottish Country Life, East Kilbride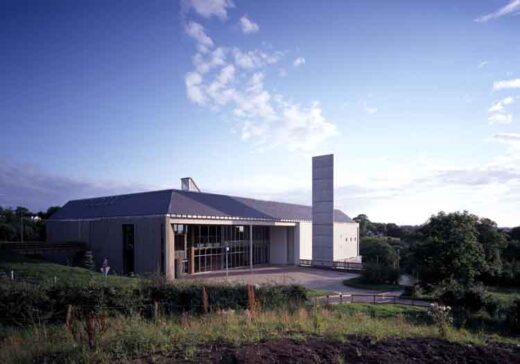 photo from Page & Park Architects
Maggies Inverness



image © Keith Hunter
The Lighthouse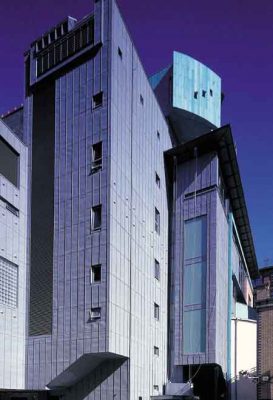 image : David Churchill
Graham Square building – Molendinar Park Housing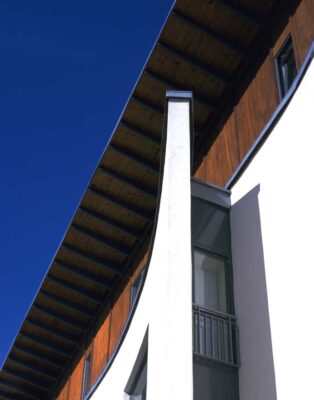 photo : Keith Hunter
More projects by Page Park Architects online soon
Location: Glasgow G1 5PE, Scotland
Glasgow Architecture Practice Information
Glasgow Architects studio, western Scotland
Page Park Architects : Glasgow Architecture office – contact details
Buildings / photos for the Page Park Architects Glasgow page welcome
Website: http://pagepark.co.uk