Nicholas Hare Architects London, Building, English Project, Image, Development, Design Studio
Nicholas Hare Architects
Contemporary British Architectural Practice, UK Design Office News
Nicholas Hare Architects News
Nicholas Hare Architects News
26 May 2018
The David Attenborough Building is a RIBA East Awards Winner in 2018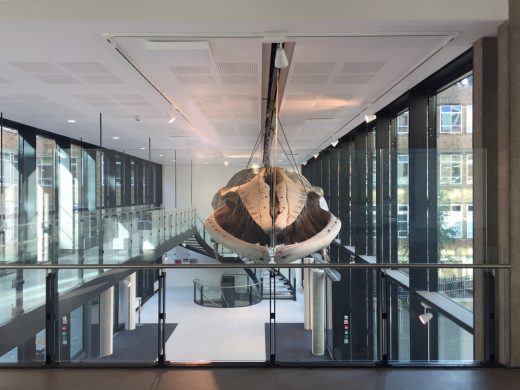 photograph © David Lowe
28 Mar 2018
RIBA East Awards Shortlist 2018
The David Attenborough Building, Cambridge, is one of nineteen buildings shortlisted for RIBA East 2018 regional awards:
RIBA East Awards Shortlist in 2018
21 Mar 2018
Old Street Roundabout Competition, London, England, UK
Nicholas Hare Architects are delighted that their proposal for the "Old Street Iconic Gateway" has been selected as one of only four winners from a longlist of 39 teams.
Old Street Roundabout Competition design by NHA
21 Nov 2017
Planning consent for Glyndebourne Production Hub, East Sussex, England
South Downs National Park Authority has granted planning consent for the new Production Hub that the architecture practice have designed for Glyndebourne. The design places a double-height assembly workshop as the heart of the building. Workshops for those who make props, scenery and costumes are ranged around it, as well as a rehearsal room, practice rooms and a central tea-room.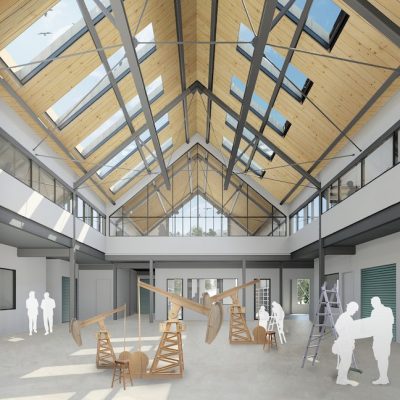 image courtesy of architects practice
Glyndebourne is an English country house, the site of an opera house that, since 1934, has been the venue for the annual Glyndebourne Festival Opera.
"Our plan to build a new, state-of-the-art production hub will unite our making departments under one roof and give them world-class facilities in which to work."
Gus Christie, Executive Chairman, Glyndebourne Productions
In line with Glyndebourne's strong environmental credentials, the project will achieve an 'Excellent' BREEAM rating. Work is due to start on site after Christmas.
27 Sep 2017
Best Office : AJ Retrofit Award
The David Attenborough Building has won the Architects' Journal Retrofit Award: Best Office (2,000m2 – 10,000m2) in 2017.
This award relates to the workspace within the building for the Cambridge Conservation Initiative (CCI) – a unique collaboration between the University of Cambridge and leading internationally-focused biodiversity conservation organisations. Their new offices, created out of old laboratory and server room space, are designed to enhance collaboration and interaction between the partners. The workplace features an interior green wall and rooftop courtyards that both encourage urban biodiversity and provide a sense of wellbeing.
The project had ambitious environmental objectives which were captured in an innovative bespoke sustainability plan that is now being used to monitor the occupation of the building. As well as extending the life of a Brutalist icon and saving more than 82% of the embodied carbon, the project has significantly reduced energy consumption – closing the gap between predicted levels and outcome.
27 Jul 2017
Capital Idea : London Air Meter
Air pollution is London's hidden killer. A 2016 report by the Royal College of Physicians estimated there are more than 40,000 deaths in the UK each year due to pollution.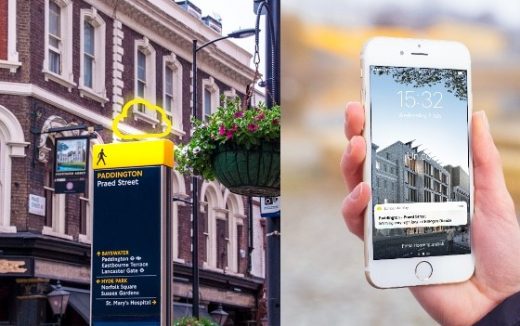 image courtesy of architects
As NLA partners, we were invited to submit our idea for making the capital a better place, and our London Air Meter is featured in the current issue of New London Quarterly.
The London Air Meter (LAM) plugs into the Air Quality Network and provides information to pedestrians on how safe it is to use a particular route. A small air meter fitted to existing signage totems connects to an illuminated cloud above with a binary indicator that shines white when air levels are acceptable and glows yellow when levels are dangerously high.
16 Jun 2017
New Arts Building for Canterbury Christ Church University, Kent, Southeast England
Nicholas Hare Architects have been appointed to design a new Arts Building for Canterbury Christ Church University.
Located on the edge of a World Heritage Site and within sight of Canterbury Cathedral, the new Arts Building will bring together the Schools of Media, Art and Design and Music and Performing Arts.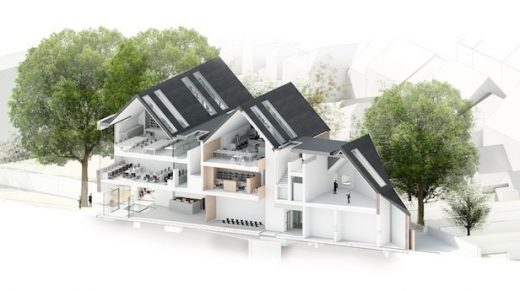 image © Nicholas Hare Architects
"This is an exceptional project; a world heritage site requiring a high quality well-considered sensitive and intelligent design solution"
Jayne Bird, Partner, Nicholas Hare Architects
"The new Arts building will allow the development of new subject and research areas and will create a student-centred space alongside existing performing arts facilities on the North Holmes campus."
Dr Keith McLay, Dean of the Faculty of Arts and Humanities
Canterbury Christ Church University
28 Apr 2017
Warwick Independent Schools Foundation's Myton Road Campus, Warwick, Central England
Nicholas Hare Architects' £29m masterplan for the Warwick Independent Schools Foundation's Myton Road Campus was unveiled in September 2016 and has now received planning permission. Construction is due to start this Summer.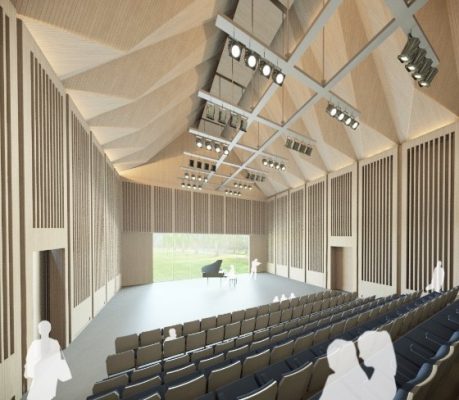 image © Nicholas Hare Architects
"The project gives us the opportunity to offer one-stop educational facilities for our pupils from 3-18, and will continue to honour our determination to provide state-of-the-art, efficient buildings which are fit for now and for the future."
Richard Nicholson, Head Master of King's High School
—
"We are delighted that planning permission has been granted for Project One Campus. In addition to creating a wonderful new school for Kings High and facilities that will be shared across the Foundation, the project will also transform the campus, making it safer, more attractive and greener."
Paul Baxter, Partner, Nicholas Hare Architects
29 Mar 2017
Christies Care Office Building, Saxmundham, Suffolk, Southeast England
"Nicholas Hare Architects' expertise in not only designing a great building, but putting together a great team made the whole process a pleasure. Started and finished on time – we couldn't ask for more."
Hugh Gathorne-Hardy, Chairman
Christies Care, Saxmundham
The newly completed office building for Christies Care on a rural site in Suffolk is perhaps our greenest building yet. The design followed Passivhaus principles and achieved an EPC 'A' rating. It is largely built of wood: the external cladding is of specially treated unpainted timber boards and the superstructure is of cross-laminated timber. It was put up in three weeks.
Website: Christies Care, Saxmundham by Nicholas Hare Architects
7 Mar 2017
Farnborough College of Technology, England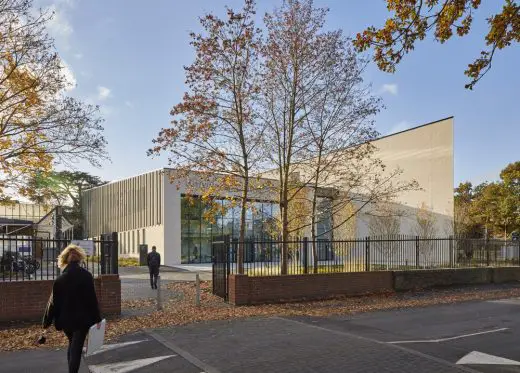 photo © Alan Williams photography
Farnborough College of Technology Building
Farnborough College of Technology is a successful Further Education College, which also offers degree courses in collaboration with the University of Surrey. Most of the College buildings were designed by Hampshire Architects Department under the guidance of Sir Colin Stansfield-Smith.
4 Mar 2017
James Dyson Building at University of Cambridge, England, UK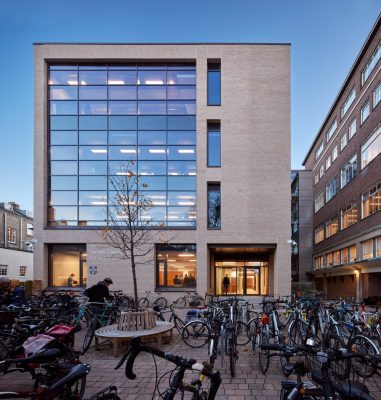 photo © Alan Williams photography
James Dyson Building, University of Cambridge
The new building occupies a restricted, but important site adjacent to the existing Department of Engineering building and with frontage onto The Fen Causeway – a busy artery into and out of Cambridge. The building aims to raise the department's profile by providing a 'window' into its varied activities and to improve its somewhat undistinguished entrance forecourt.
14 Sep 2016
World Green Building Week at Nicholas Hare Architects
Nicholas Hare Architects are once again participating in the 2016 World Green Building Week, the flagship event of the global green building movement's network of 74 Green Building Councils and their 27,000 member companies.
An evening of presentations and debate here on Tuesday 27 September at 18:00:
Why bother with BREEAM?
Do bespoke environmental strategies deliver greener buildings?
What advantages or disadvantages does a bespoke approach offer compared to standardised environmental assessment methods such as BREEAM or LEED?
Does a bespoke approach foster better client engagement and provide scope for more innovative and relevant outcomes, or are they simply too costly for the majority of projects?
A number of case study projects will be discussed, including the recently completed David Attenborough Building for the University of Cambridge.
27 May 2016
University of Cambridge Engineering Buildings opened by Sir James Dyson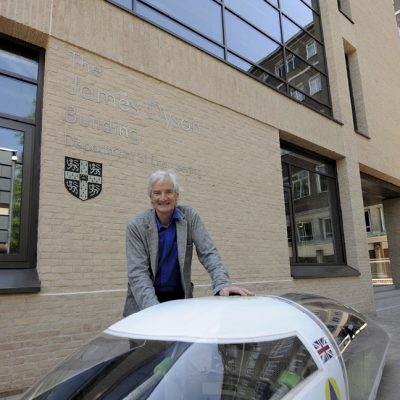 photo : Phil Mynott / University of Cambridge
The James Dyson Building and the Dyson Centre for Engineering Design at the University of Cambridge officially opened earlier in May.
The technology hub was designed by Nicholas Hare Architects and funded in part by a £8m donation from the James Dyson Foundation, and will give some of the world's brightest young engineering students access to advanced laboratories.
Website: University of Cambridge Engineering Buildings by Nicholas Hare Architects
Kettering's innovative Academy
24 Sep 2013 – Kettering Buccleuch Academy, part of the United Learning group, is an all-through school for 1,770 children ranging in age from 4 to 19. The new building allows the whole 12,600m² academy to be located on the same site for the first time.
The school is designed to express the unity of the Academy as a single organisation whilst maintaining the identities of both the primary and secondary phases. The project also meets the aspiration to increase the Academy's presence in, and accessibility to, the community it serves.
The Academy is organised around a central 'heart' comprising the main performance spaces. A generous triple-height atrium wraps around the theatre and links to the secondary school's three teaching wings. By contrast, the paired primary school classrooms enclose a quiet and secure courtyard.
Drama Centre starts on site
30 Jul 2013 – A new Drama Centre for St Paul's School started on site last week with Prime Construction as Principal Contractor. This will be the second building by Nicholas Hare Architects for the school on its riverside site in Barnes, following the completion of a state-of-the-art Science Building in January 2013.
The 250-seat theatre space is at the heart of the Drama Centre. It is designed primarily for thrust stage use, with easy conversion to different forms. The centre also includes teaching rooms and a double-height foyer with views over the Thames.
Nicholas Hare Architects – Key Project
Nicholas Hare Architects Building:
Sadler's Wells Theatre, London, UK
1998
Design: RHWL with Nicholas Hare Architects



photograph © Nick Weall
Sadler's Wells Theatre
The new Sadler's Wells is designed to attract international dance companies, create an arts training centre and provide community and education facilities. It features a 1,560 seat auditorium with a 15m by 15m stage and 80 seat orchestra pit. The auditorium is lined with metal gauze panels that take dramatically transforming light and image projection, uniting audience and performers. There are three foyer galleries with bars, plus rehearsal and teaching spaces.
More projects by Nicholas Hare Architects online soon
Location: 3 Barnsbury Square, London, N1 1JL, United Kingdom
English Architecture Practice Information
Architect studio based in London, UK
London Architects Office
Nicholas Hare Architects was started in 1977 and in 2004 the practice was reformed as a limited liability partnership.
London Architecture : news + key projects
Comments / photos for the Nicholas Hare Architects page welcome
Website: Nicholas Hare Architects