OBRA Architects New York City, US Design Office, Architectural Studio NYC, Images
OBRA Architects Practice Information
Beijing + Seoul + New York City Design Studio – American Architecture Office Information + News
post updated Apr 7, 2023
OBRA Architects studio based in New York City with sub offices in Beijing + Seoul.
OBRA Architects
OBRA New York City Practice Information
Design Discipline:
The firm's process tries to take advantage of a "partially obstructed view" of architecture, to create an architecture as if generated from within itself, not the creation of an object distinct from ourselves, observable and defined from without with the perfect clinical precision of the technician resolving a problem. The work of OBRA Architects proposes the design of buildings as a way of developing a clearer awareness between ourselves and the world we create and inhabit.
Pablo Castro (left ) + Jennifer Lee (right):



photo from OBRA Architects
Office Locations
New York, NY, USA
Beijing, PR China
Seoul, Korea
OBRA Architects : main page with project information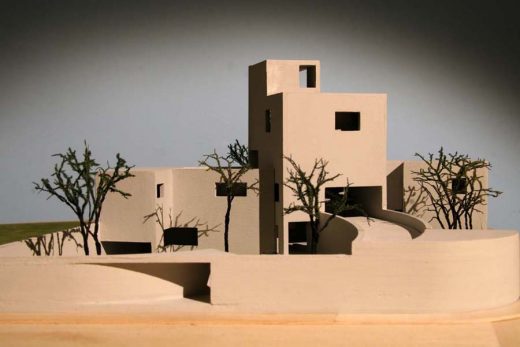 image : OBRA architects
OBRA studio at work:



photo from OBRA Architects
Profile
OBRA Architects was founded by Pablo Castro and Jennifer Lee in the year 2000 in New York City. This year marks the opening of their second office in Beijing. The projects undertaken by OBRA span a wide range of programs and sizes, from furniture and interior landscapes to single-family residences, housing, and larger-scale masterplanning projects, yet consistently seek to evoke invention and interest through explorations of material, structure, site and experience.
Their practice and their work seek to challenge and expand the range of metaphors in which architecture finds its meaning. OBRA considers each and every project to be intimately bound to its surroundings, extending afield into site and landscape the conceptual understanding of the architectural work. As a result many proposals and built works include outdoor components and integration into the natural or urban landscape.
OBRA New York Office:




photo from OBRA Architects
Pablo Castro's design direction at OBRA Architects has produced a body of award-winning projects: four AIA NY Design Awards, 2008 ID Annual Design Review Award, and two 2004 Chicago Athenaeum American Architecture Awards. He is a 2006 NYFA Fellow in Architecture/Environmental Structures and a 2003 Society of Architectural Historians de Montëquin Senior Fellow.
He participated in MoMA's 2007 Conversations with Contemporary Artists. He has taught at Barnard Columbia College, RISD, Parsons, Pratt Institute Graduate Architecture, and Cranbrook Art Academy. He has lectured across the globe, at Central Academy of Fine Arts (China), Tsinghua University, UC Berkeley, Universidad Nacional de Chile, Instituto di Tella, Universidad Diego Portales, RISD, Columbia University, Cranbrook Academy of Art, and most recently at ETSAM, Madrid. He is a 2012 Rome Prize winner.
OBRA Beijing Office:



photo from OBRA Architects
Jennifer Lee has been collaborating with Pablo Castro since 1997. With the inception of their design studio OBRA Architects in 2000, she has co-directed over 50 works ranging from conceptual projects and masterplans to built construction. She is the 2007 Cooper Union Urban Visionary Emerging Talent, 2006 NYFA Fellow in Architecture/Environmental Structures, a 2003 Society of Architectural Historians de Montëquin Senior Fellow, Registered Architect in New York and a USGBC LEED-Accredited Professional.
She has taught at Pratt Institute Graduate Architecture, Cranbrook Art Academy, and the Irwin S. Chanin Architecture School at Cooper Union. She is currently teaching in Seoul, Korea at the Korea National University of the Arts.
Jennifer Lee / Pablo Castro:




photo from OBRA Architects
Current work includes a masterplan art park development in Gyeonggi-do outside of Seoul, Korea, masterplanning of art residences and park in Nikola-Lenivets, Russia, a floating cinema in London, and private residences in Argentina and Costa Rica. They have recently completed a café in Soho, New York City, and a 5-acreweekend retreat in Southampton, New York.
Past projects range from large- scale residential masterplans, museums and opera houses to small-scale furniture and lighting. They have expanded their international reach to include several projects in China, including museum interiors and a villa in Ordos, Inner Mongolia, and have a few projects in early planning stages in various areas in and around Beijing including a primary school with boarding dormitories that is scheduled to begin construction in early 2013.
OBRA Architects Studio News
Jun 2010
OBRA is pleased to announce that we have been included in the 2010 Wallpaper* Architects Directory. OBRA Architects were one of thirty international firms selected to submit a design for a conceptual house. Our proposal, Twisted Tower, envisions three slender 14-story apartment towers near Penn Station channeling the kinetic panorama of the city.
Additionally, the opening reception and awards ceremony for Bello E Possible: Progetti Di Social Housing Per La Riqualificazione Urbana Di Mestre was held June 18, 2010 at Centro Culturale Santa Maria Delle Grazie, Via Poerio n 32, Mestre, Italy. The proposal "Quartieri Parco Ca D'Oro," completed by OBRA Architects in collaboration with AZstudio, placed 3rd in this competition for Venetian social housing and was among the designs honored at the opening gala. An exhibition of the project proposals will be on view from 19-27 Jun.
Feb 2010
SMART PRICE HOUSES AT THE IBA – OBRA SELECTION
OBRA Architects has been selected by the Internationale Bauausstellung IBA Hamburg to participate in the competition 'SMART PRICE HOUSES,' a limited open qualifying procedure involving 16 architectural firms from both Europe and the US. OBRA are the only US firm amongst the chosen architects.
OUR PROJECT
In presenting solutions for residential architecture for the 21st century our project combines high quality design and inventive construction strategies (prefabrication as well as use of autoclaved aerated concrete, an economical, sustainable, material providing high thermal and acoustic insulation as well as fire and termite
resistance) to achieve a unique low cost building. The proposal by OBRA aims to achieve innovative architecture within extreme constraints of economy and high goals of energy efficiency.
OUR TEAM
The OBRA team includes H+H Deutschland GmbH, Arup [SMEP], Viridian Energy & Environmental [sustainability], and Meyer Steffens Architekten und Stadtplaner BDA [cost estimating].
ABOUT THE IBA
'Over the last hundred years the Internationale Bauausstellung – IBA
(English: International Building Exhibition) has been established as a tool in Germany for implementing innovations in architecture and urbanism and stimulating urban development. Each building exhibition in the past has reflected the change of paradigms and the crucial questions of its time: Housing concepts (Weissenhofsiedlung, Stuttgart 1927), reconstruction after World War II (Hansa quarter, Berlin 1957), urban redevelopment (IBA Old, IBA New, Berlin 1980-1987), post-industrial consolidation of industrial past (IBA Enscher Park, Ruhr region 1989-1999).' (quote from Arch+ website)
'The IBA Hamburg (2006-2013)
In carrying out anew an IBA, Hamburg stands in line with Germany's tradition of building exhibitions. Faced with the demographic, social, and ecological challenges of today, the IBA Hamburg focuses on three topics: Cosmopolis, Metrozones and City and Climate Change. The pilot projects are expected to showcase the cosmopolitan, post-industrial, and sustainable future of Hamburg.' (quote from Arch+)
OBRA Architects is also currently beginning construction on:
Casa Osa, Osa Peninsula, Costa Rica
Casa para un viñatero, San Juan, Argentina
OBRA Architects are also included in the Solomon R. Guggenheim's 50th anniversary exhibition, "Contemplating the Void: Interventions at the Guggenheim Museum" which opens February 12.
More projects by OBRA Architects online soon
New York City Architects Studio News
315 Church Street, New York City, New York 10013, USA
American Architecture
The Art of Being Happy, South Korea
Lecture by Pablo Castro, OBRA Architects
16 Dec 2013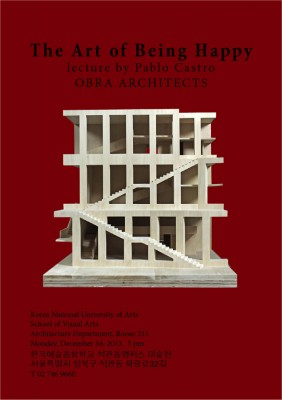 image by architects
Korea National University of Arts – School of Visual Arts, Architecture Department
Location: Korea National University of Arts Seokgwan-dong Campus, Hwarang-ro 32-gil, Seongbuk-gu, Seoul, South Korea
Comments / photos for the OBRA Architecture page welcome
Website -: www.obraarchitects.com
Website: Architecture