Office for Architectural Culture Architects, OAC, Building, Charles Phu, Design
Office for Architectural Culture, London Architects
OAC – Contemporary Architecture Practice, England, UK
post updated 18 Apr 2021
Office for Architectural Culture – Key Project
Tanmen Fishing Culture Centre and Museums, Hainan Province, Southern China
Design: Office for Architectural Culture (OAC)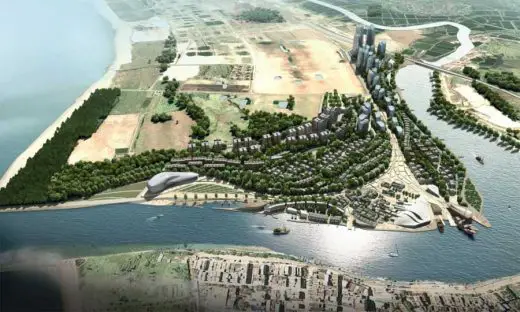 picture from architects
Tanmen Fishing Culture Centre and Museums – 19 Feb 2013
The London-based architectural practice Office for Architectural Culture (OAC) has completed the masterplan and architectural concept of the prestigious 650,000 sqm Tanmen International Oceanic Fishing Culture Centre and Museums project on the southern island of Hainan.
Charles Phu, Design Director / founder of Office for Architectural Culture, said: 'this is one of the largest architectural and master plan projects in Asia focused around an important fishing village with a rich heritage. Our aim is to create ''a living museum'' integrating the old and the new, visitors, local fishermen and fishing villagers, the Chinese and localised Western cultures. It brings together the sites history and heritage paving the way for a rich and prolonged future.'
More projects by Office for Architectural Culture online soon
Location: 10 Rathbone Place, London, England, UK
Office for Architectural Culture Practice Information
Architect studio based in London, UK
Office for Architectural Culture was founded in early 2011 by Charles Phu to undertake specialist design projects in the UK, throughout Europe, Russia, and Asia including China.
Charles Phu was the lead designer on the Okhta Centre project in St Petersburg taking the project from concept through the detail design phase. He was selected by Italian journalists to be one of the 18 international architects for the exhibition project 'Future Roots', which premiered at Triennale di Milano during the Milan Design Week in April 2012.
Charles Phu is also involved in opera and ballet stage set designs. After highly acclaimed set designs for several opera and ballet productions at venues including London Coliseum and Rome Opera House, one of his current engagements is the stage set design of Mozart's opera 'Così fan tutte' for the prestigious Dubrovnik Summer Opera for July 2013, where he also undertakes the design of the amphitheatre in a medieval terraced garden for the outdoor opera performances, supported by the OAC design team. Charles Phu is also undertaking the design of a new full-scaled, four-act opera 'Uncle Vanya', the world's first opera adapted from the Russian playwright Chekhov's original play.
Roger Whiteman was the management director of SOM's London Office and more recently RMJM's London office. He established Beside Design in 2009 to assist young architectural practices by providing management support. He has been responsible for project management for Office for Architectural Culture since its founding. Roger Whiteman was the Managing Director on the Okhta Centre project in St Petersburg, Russia.
The project's senior designer Oliver Hempel was the senior designer for Renzo Piano Building Workshop since 1995, and was the team design leader for the concert hall and base buildings of the Okhta Centre project in St Petersburg, Russia.
Office for Architectural Culture has established an innovative way of working on large complex design projects
Office for Architectural Culture (OAC) is a London-based multi-disciplinary design practice. It provides architecture, master planning, urban design, public realm and environmental design, interiors, as well as performing arts design services. Project types range from tall buildings, mixed-use, cultural and performing arts buildings, master plan to leisure, hospitality, residential and retail.
OAC and its senior members believe that good buildings are not about style; they are created and exist to inspire people with the past, present, and future. A cultural core is a must for a good building and a good space. The locality is the root. These are difficult to find in today's buildings. Both Phu and Whiteman believe that to bring them back to people's daily lives is architects' most important responsibility.
The core of OAC is – the cultural consciousness and creativity of the team of professionals who spearhead its design and project-focused approach. It is a team dedicated to a philosophy of creating 'an aesthetic rooted in culture, innovative concepts' and the use of the latest technologies. The team's high standard in the delivery of uncompromised high quality architectural projects is based on its strong belief in respecting and celebrating local people, context, culture and heritage.
To Office for Architectural Culture, architecture is a realisation of harmony between human, environment, still and movement. It must be rooted in local culture and human heritage, and it must bring culture and human heritage to the next level. To enhance OAC's core philosophy it is advised by internationally renowned experts and advisers in art, culture, and performing arts, alongside our international engineering specialist consultants.
OAC has formed collaboration with some of the very best design consultants from the field of landscape, engineering, theatre design, art and sculpture. It collaborates with the design management consultancy beside design, the engineering consultants Ramboll (London), Davies McGuire +Whitby, London-based museum consultant Real Studios, UK theatre consultant TheatrePlan, German acoustics consultant Mueller BBM, and Russian design and engineering consultant ViPS. Specialist advisers also collaborate with OAC, which include the opera director Sally Burgess and Royal Ballet Principal Dancer and producer David Makhateli in performing arts.
This collaboration allows OAC to compete with the very best design practices across the world, which has proved successful.
Location: London, England, UK
Architecture in London
Contemporary Architecture in London
London Architect : Office Listings
Camden Cloud House
Design: Peter Morris Architects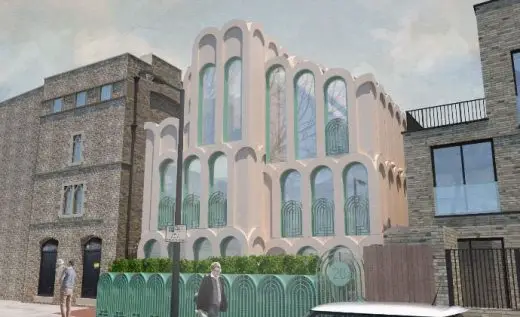 image courtesy of architects practice
The Cloud House in Gospel Oak
Chinese Architectural Designs
Architectural Design
Comments / photos for the Office for Architectural Culture – OAC London page welcome
Website: www.officeforarchitecturalculture.com