OMA Architects studio, Office for Metropolitan Architecture, Dutch designs photos, NL Projects news
OMA Architects, Netherlands
Office for Metropolitan Architecture Rotterdam: The Netherlands Architectural Practice Info
post updated 2 February 2023
OMA Architecture News arranged chronologically:
Oct 25, 2022
Stone Island, 48 East Oak Street, 60611 Chicago, Illinois, USA
Architects: OMA / AMO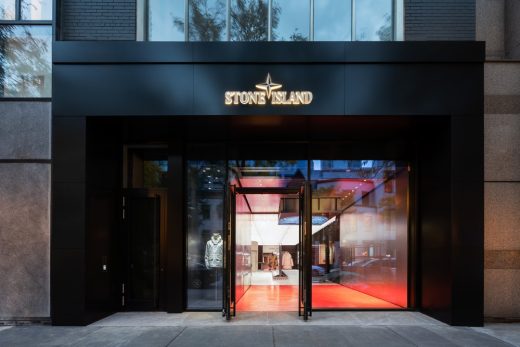 photos : Marco Cappelletti, courtesy OMA AMO and Stone Island
Stone Island, Chicago: Illinois Shop
Long before social media, Stone Island built a loyal community of followers, drawn by the brand's devotion to research and technology. The new stores – in Chicago, Seoul, Munich, Stockholm – complement Stone Island's current online presence. Here, the physical and virtual journeys come together.
OMA News in 2022
29 Mar 2022
Qatar Auto Museum, Lusail Express Way, Qatar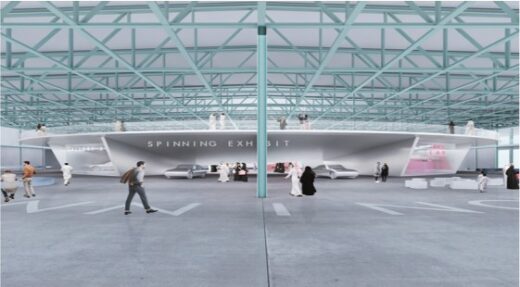 image courtesy of architects practice
Qatar Auto Museum by OMA
The Qatar Auto Museum will be located along the Lusail Express Way between the 5/6 Park and Katara Cultural Village, in the former exhibition centre building that hosted the first Qatar Motor Show in 2011. Qatar Museums is working with OMA on designs to transform the building. Development will begin after the Supreme Committee for Delivery & Legacy has concluded its operations for the FIFA World Cup Qatar 2022.
Jan 3, 2022
ReefLine Sculpture Park, Miami Beach, FL, United States of America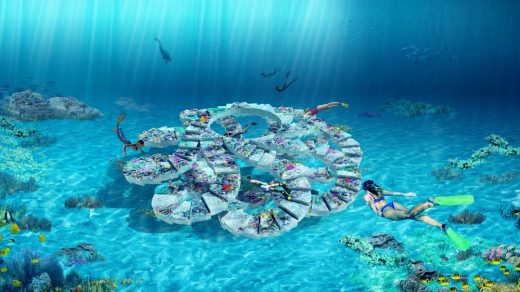 image by OMA
ReefLine Sculpture Park Miami Beach
The ReefLine will be a new 7-mile underwater public sculpture park, snorkel trail and artificial reef located off Miami Beach's shoreline. The large-scale environmental public art project has been conceived by cultural placemaker Ximena Caminos, who will serve as the project's Artistic director.
more OMA architects news on e-architect soon
OMA News in 2021
4 Dec 2021
Taipei Performing Arts Center, Taiwan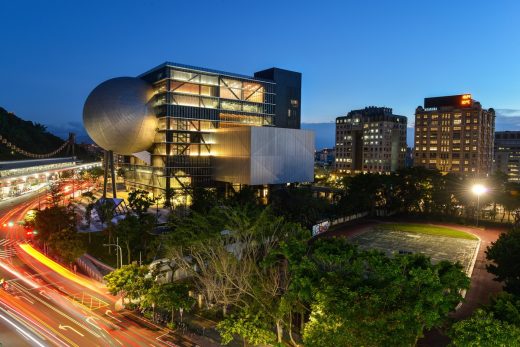 photo © OMA by Chris Stowers
Taipei Performing Arts Center Building by OMA
Considered Asia's most important cultural development in 2022, Taipei Performing Arts Center will open to the public in summer 2022.  The new spectacular landmark of Taiwan's capital city will become the epicentre of the island's vibrant contemporary culture where no subject matter and technical demand is off limits.
8 Oct 2021
KaDeWe, Berlin, Germany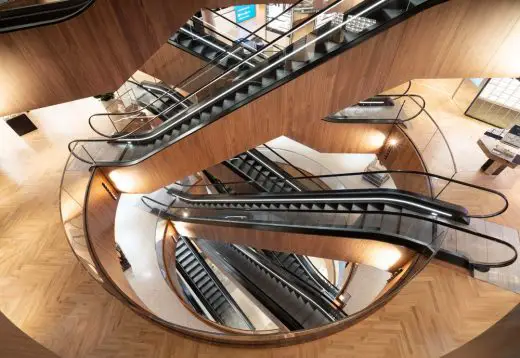 image courtesy of architecture office
Kaufhaus des Westens, Tauentzienstraße Berlin
Kaufhaus des Westens (KaDeWe) belongs to a consolidated tradition of historical European urban department stores such as Galeries Lafayette in Paris, Selfridges in London and La Rinascente in Milan. Historically, these department stores have been some of the pillars of early modern retail, acting as incubators for sophisticated crafts, social exchange and experimentation in services.
21 Sep 2021
Prestige Liberty Towers, Mumbai, India
Architects: OMA / Iyad Alsaka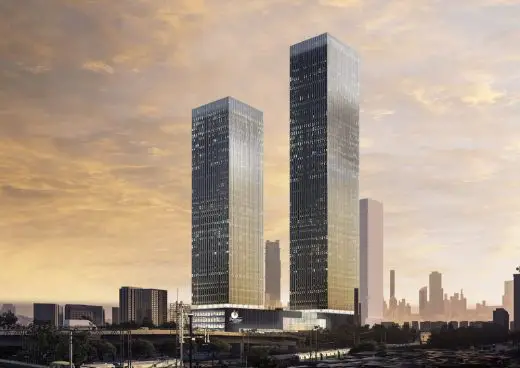 image courtesy of architecture office
Prestige Liberty Towers Mumbai
In the heart of the historic textile mills area of Mumbai, Prestige Liberty Towers is located in the Mahalaxmi district formerly known as Girangon, the "Village of Mills'. Central to Mumbai's economy especially during colonial times, it is now rapidly transforming into a global financial city, buzzing with new transport networks, high-rise residential, retail and office spaces.
6 May 2021
New Feyenoord Stadium, Rotterdam, Netherlands
Design: OMA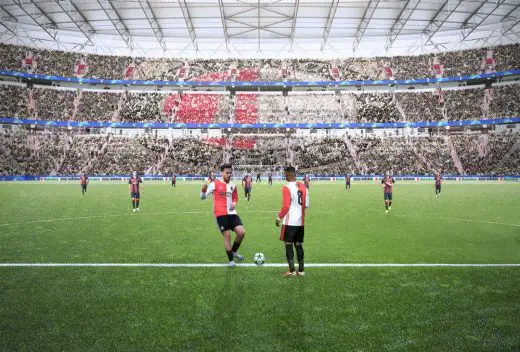 image courtesy of OMA
New Feyenoord Stadium Building
Fondly referred to as De Kuip (or the tub) in Rotterdam, Feyenoord's stadium in the city's south has been home to the Dutch football club for over eighty years.
28 Aug 2020
Prince Plaza, Shekou District, Shenzhen, China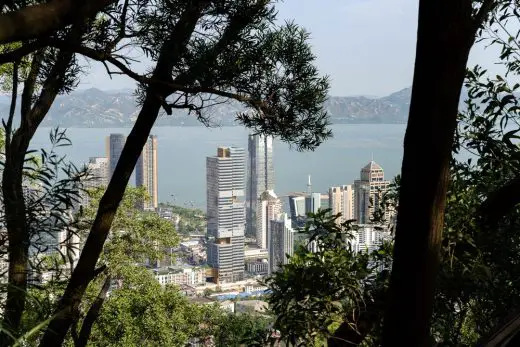 photograph © Seth Powers, courtesy of OMA
Morden Wharf Greenwich Peninsula
Prince Plaza, designed by OMA / David Gianotten and commissioned by CMSK (China Merchants Shekou Holdings) opens in Shenzhen, China. The mixed-use podium tower is located at Shekou's most prominent view corridor linking the Nanshan mountains and the Shenzhen Bay.
22 June 2020
Morden Wharf, Greenwich Peninsula, London, England, UK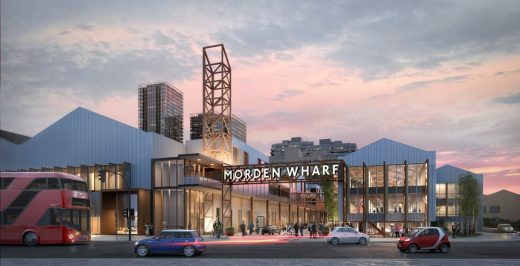 images : Pixelflakes
Morden Wharf Greenwich Peninsula
U+I submits plans for Morden Wharf, a 1,500 homes and employment space within a public park on the River Thames.
25 Mar 2020
Galleria Department Store, Gwanggyo, South Korea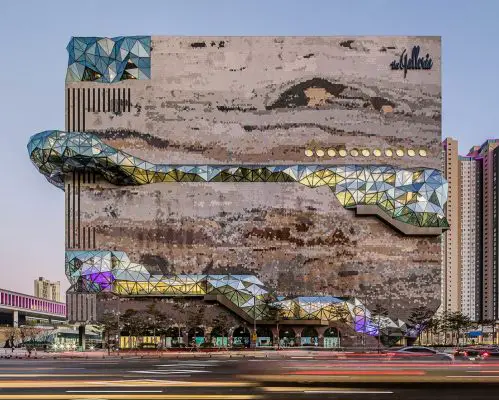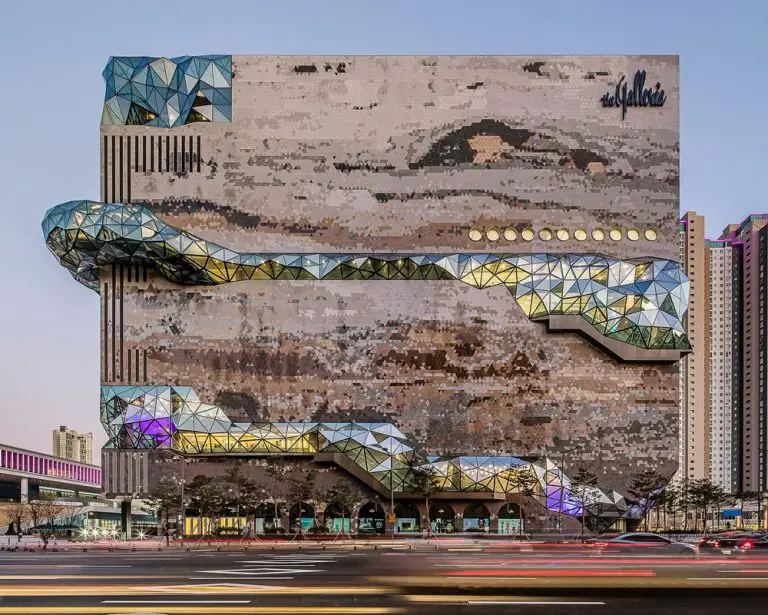 Photography by Hong Sung Jun, courtesy of OMA
Galleria Department Store in Gwanggyo
The Galleria is Korea's first and largest upscale department store franchise founded in the 1970s, and has remained at the forefront of the premium retail market in the country since then.
2 Apr 2019
Making Doha 1950-2030, Doha, Qatar
Architects: OMA/AMO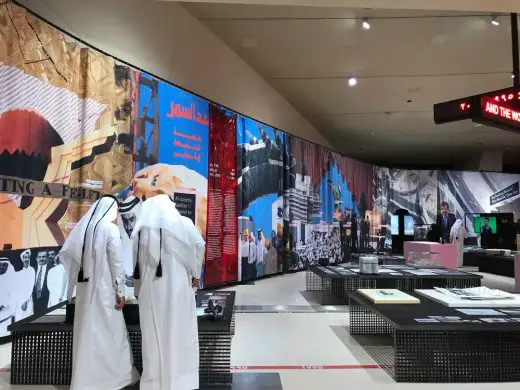 photography : OMA
Making Doha 1950-2030 Exhibition in Qatar
The new National Museum of Qatar presents an exploration of the ongoing urban and architectural development of the capital city, Making Doha 1950-2030, on view from 28 March through 30 August 2019.
11 Mar 2019
Xinhu Hangzhou Prism, Hangzhou, Zhejiang, China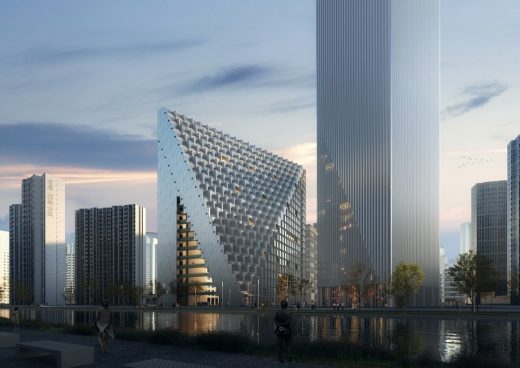 image : Bloomimages, Courtesy of OMA
Xinhu Hangzhou Prism Building
Construction has begun on OMA's pyramid-shaped mixed-use building which forms the heart of Hangzhou's Future Tech City in the new Technology Central Business District (CBD). The project is commissioned by Zhejiang Xinhu Haichuang Group.
OMA Architects News 2016-2018
7 May 2018
BLOX – Danish Architecture Center, Bryghuspladsen, Copenhagen, Denmark
Design: OMA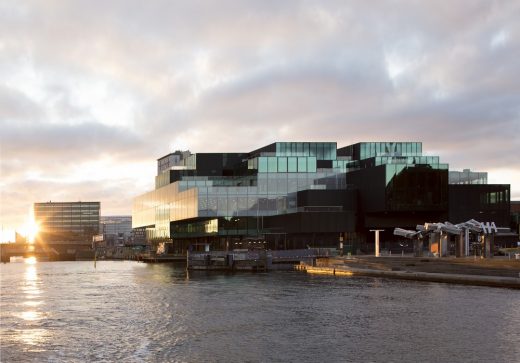 photo © Clement Guillaume
BLOX – Danish Architecture Center
The BLOX project, home of the Danish Architecture Center (DAC), contains exhibition spaces, offices and co-working spaces, a café, a bookstore, a fitness centre, a restaurant, twenty-two apartments and an underground automated public carpark, but it is not the acrobatic mixing of uses that defines this project; its ultimate achievement is in 'discovering' its own site.
17 Apr 2018
Qatar National Library, Doha, Qatar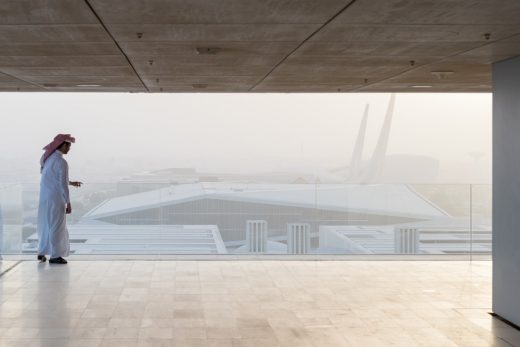 photo © Iwan Baan
Qatar National Library Building
The physical impact of books has been important in terms of my entire formation. The first books that fascinated me were the fairy tales of Grim illustrated by Gustave Doré. I still remember the physical nature of those books as one of the strongest memories of my entire life. In the 1950s I would spend time in the library of the Stedelijk Museum – almost like in a living room.
20 Feb 2018
New Tretyakov Gallery, Moscow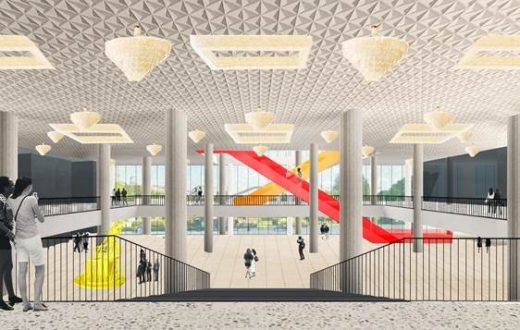 image courtesy of architects
New Tretyakov Gallery Building in Moscow
OMA's renovation plans of the New Tretyakov Gallery on Krymsky Val have been unveiled. Reserve will collaborate on the project as a local partner. The New Tretyakov houses an extensive and important collection of Russian art, including seminal work from Malevich, Kandinsky, Chagall, and Soviet artists such as Aleksandr Deyneka and Vera Mukhina.
20 Feb 2018
Palais de Justice, Lille, France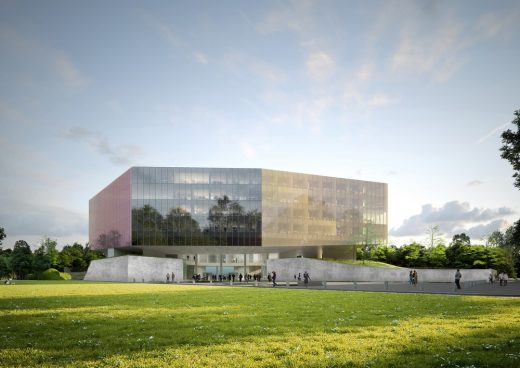 Lille Palais de Justice View from the parvis – image courtesy of OMA / ArtefactoryLab
Palais de Justice, Lille
OMA's design for the new Palais de justice in Lille has been selected as the winner of four finalists from a competition. The new public building, commissioned by the Ministry of Justice, will accommodate the high court and district court of Lille. With the design of the new courthouse, OMA returns to Lille more than twenty years after designing the masterplan for the new Euralille district (1989) and the conference and exhibition centre Congrexpo (1994).
Rijnstraat 8, The Hague, The Netherlands
OMA have converted a building, completed only in 1992, which was a keystone for an administration hub grew near the city's central railway station. They have pared back a brilliantly conceived but cluttered structure and creating a platform for a more flexible bureaucracy.
4 Apr 2017
Masterplan for Columbia Circle in Shanghai, China
OMA has designed a new masterplan for Columbia Circle in Shanghai. A historically-rich area, Columbia Circle includes preserved colonial-era monuments as well as former industrial buildings, reports archinect. Located on a 4.7 hectare compound, the new master plan is the first urban renewal project in the city center by the Chinese real estate developer Vanke.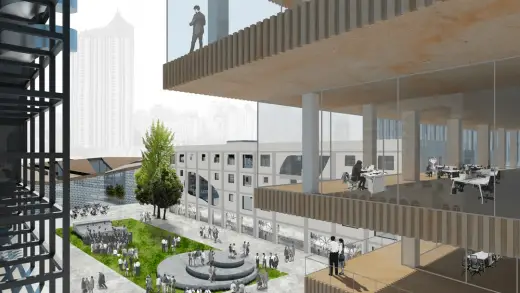 The site includes the Columbia Country Club, which was designed by the American architect Elliott Hazzard in the 1920s, as well as a villa designed by the Hungarian architect László Hudec in 1930, which was owned by Sun Ke, the son of Sun Yat-sen. Later, the latter building became a research campus owned by the Shanghai Institute of Biological Products.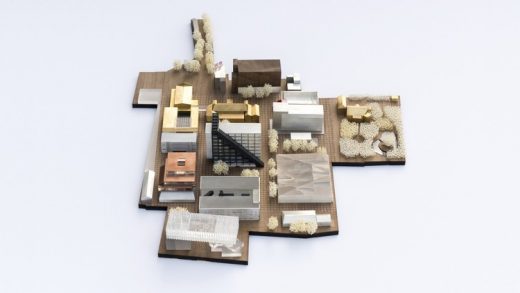 Website: Masterplan for Columbia Circle in Shanghai by OMA
18 Mar 2017
Lusanga International Research Centre for Art and Economic Inequality, Bulungu Territory, Kwilu Province, Democratic Republic of the Congo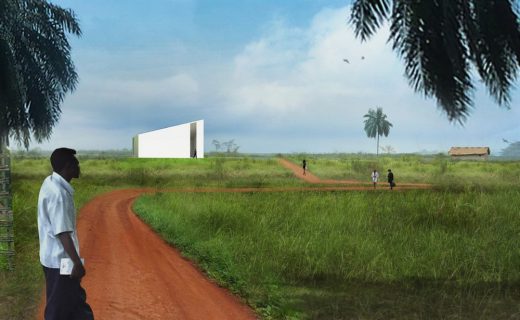 image © OMA
White Cube in Lusanga DRC building by OMA
On April 21–22, a quintessential White Cube will be inaugurated on a former Unilever plantation in Lusanga, 650 km southeast of Kinshasa, D.R. Congo. Designed by OMA, this White Cube is a central element of the Lusanga International Research Centre for Art and Economic Inequality (LIRCAEI).
16 Mar 2017
Concrete Alserkal Avenue, Dubai, UAE
Concrete, OMA's first completed project in the United Arab Emirates, opens at Alserkal Avenue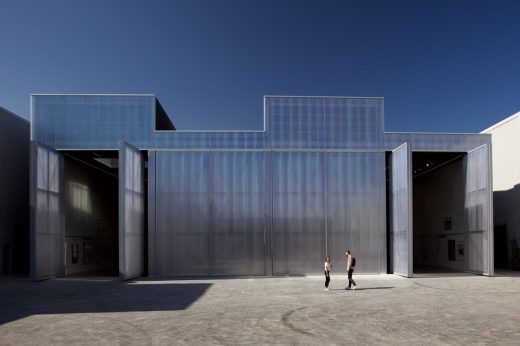 photo : Mohamed Somji, courtesy Alserkal Avenue
Concrete Alserkal Avenue Building by OMA
20 Feb 2017
MPavilion 2017 Building, Queen Victoria Gardens, Melbourne, Victoria, Australia
Design: OMA Rem Koolhaas + David Gianotten
MPavilion 2017 Pavilion Building by OMA – news, 20 Feb 2017
The Naomi Milgrom Foundation today announced the commission for the fourth annual MPavilion has been awarded to internationally renowned Netherlands-based OMA and will be designed by Rem Koolhaas & David Gianotten.
12 Jan 2017
The Factory, Manchester, England, UK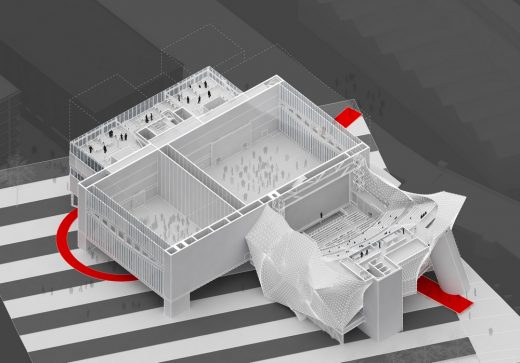 image from architect
The Factory Building
The plans for this flagship cultural venue for the North designed by world-leading architects Office for Metropolitan Architecture (OMA), founded by Rem Koolhaas, were granted planning approval by Manchester City Council. It is OMA's first major public building in the UK.
7 Jan 2017
Fondazione Prada, Milan, Italy


photo © Bas Princen
Fondazione Prada Building nominated for Mies van der Rohe 2017 Awards
The Fondazione is not a preservation project and not a new architecture. Two conditions that are usually kept separate here confront each other in a state of permanent interaction – offering an ensemble of fragments that will not congeal into a single image.
20 Oct 2016
Macdonald Warehouse Building, Paris, France
Original Design: Marcel Forest, in 1970
New Design: OMA, Paris with XDGA + FAA (lots N5 and S6)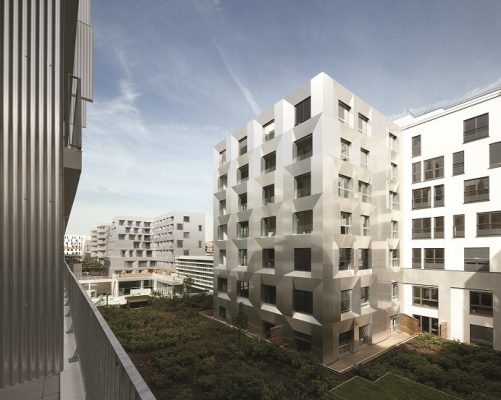 photograph : Eric Sempé – SPIKSTUDIO
Macdonald Warehouse Building
8 Jun 2016
Competition for Albright-Knox Art Gallery Expansion, New York State, USA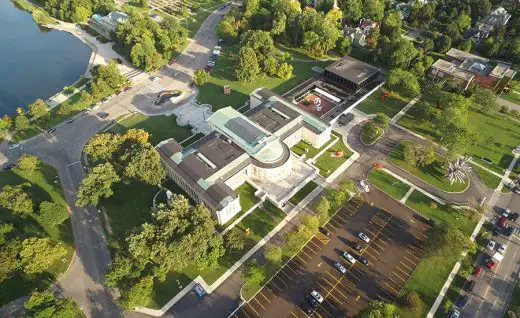 photograph © Blake Dawson
Albright-Knox Art Gallery Expansion in Buffalo
OMA wins the architecture competition for the $80m expansion of the Albright-Knox Art Gallery in Buffalo, New York. It will be the studio's first art museum project in the USA.
8 Jun 2016
Holland Green Housing, Kensington and Chelsea, Southwest London
Design: OMA with Allies and Morrison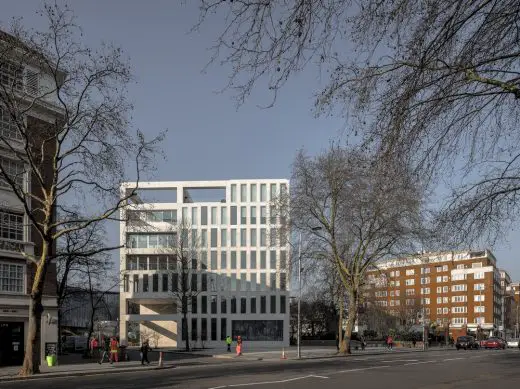 image : Sebastian van Damme
Holland Green Housing
London's booming property market has been the subject of much criticism. For good reason. The recent soar of London's house prices has increasingly reduced the city from a real place into a game of Monopoly, forcing many ordinary Londoners to live ever further from their original neighbourhoods.
3 Feb 2016
Bibliothèque Multimédia à Vocation Régionale, Caen, Lower Normandy, France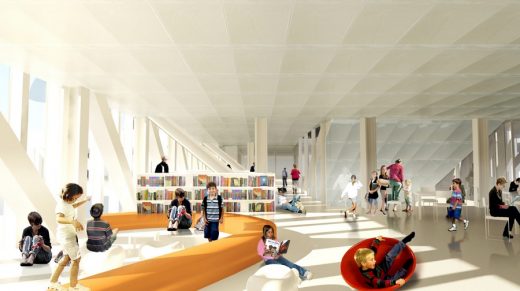 images courtesy of OMA
Caen Library Building
31 Jan 2016
Timmerhuis, Rotterdam, The Netherlands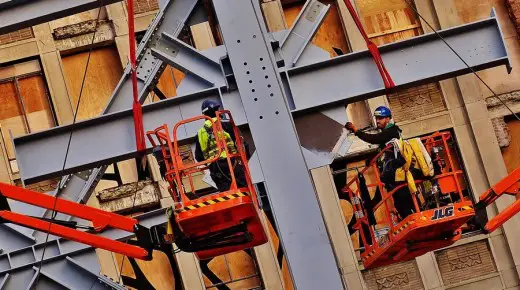 Timmerhuis Building by OMA – new photographs of this key Dutch city building.
19 Jan 2016
KaDeWe department store renewal, Berlin, Germany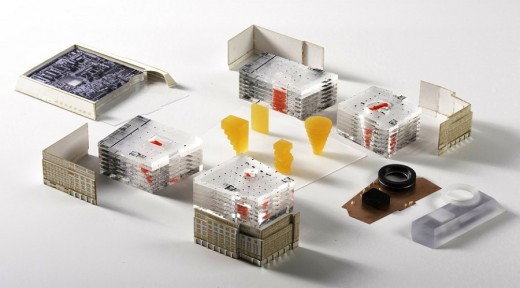 image courtesy of OMA
KaDeWe department store renewal
"Rather than treating the existing building as a singular mass, the project aims to break it into four quadrants, each one with different architectural and commercial qualities, targeted at different audiences: classic, experimental, young, generic, etc…; four department stores under one single roof, fragmenting the original mass into smaller, easily accessible and navigable components – similar to distinct urban sectors embedded into a unifying city fabric."
Office News 2013
8 Oct 2013
Shenzhen Stock Exchange Headquarters, China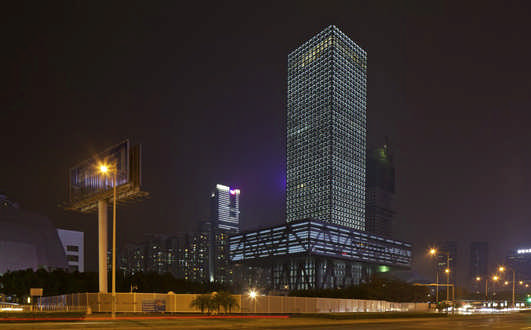 image courtesy of OMA ; photography by Philippe Ruault
Shenzhen Stock Exchange Headquarters
Defying the conventional building typology of tower-on-podium, SZSE's three-storey base is cantilevered 36m above the ground, allowing for a generous public space below and a lush roof garden on top. The raised podium contains the listing hall and offices of the Stock Exchange; in its elevated position, it can "broadcast" the activities of the stock market to the entire city.
24 Jul 2013
Greenwich Peninsula Masterplan, London, England, UK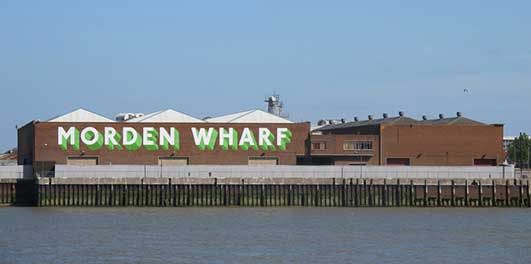 photo from architect practice
Greenwich Peninsula Masterplan
The leading international architecture practice OMA has been appointed by specialist mixed-use developer Cathedral Group PLC and joint venture partner Development Securities PLC as masterplanner and lead architect on the mixed-use development of Morden Wharf, a 19 acre regeneration site on London's Greenwich Peninsula.
13 Mar 2013
HIA Airport City, Doha, Qatar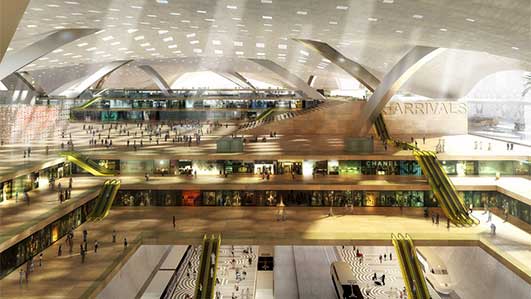 image from architect
Airport City Buildings Doha
Rem Koolhaas commented "We are delighted and honored to participate in the exciting growth of Doha, in a project that is perhaps the first serious effort anywhere in the world to interface between an international airport and the city it serves."
Partner-in-charge Iyad Alsaka commented "Doha's Airport City is an important addition to the realization of OMA's work in urbanism and will incorporate unprecedented transport planning opportunities; we look forward to collaborating with the HIA to meet the objectives of this ambitious project."
13 Dec 2012
Darling Harbour Redevelopment – Masterplan + ICC Hotels, Sydney, NSW, Australia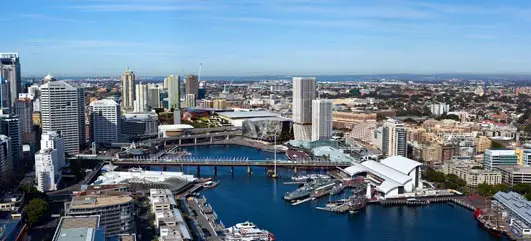 image : OMA
Darling Harbour Redevelopment
The New South Wales Government announced today that Destination Sydney, consisting of Lend Lease, HOSTPLUS, Capella Capital, AEG Ogden and Spotless, is the preferred consortium for Sydney International Convention, Exhibition and Entertainment Precinct (SICEEP) redevelopment. OMA is the master plan designer within the consortium, and is also the conceptual architect of the ICC Hotels within the master plan.
8 Nov 2012
Maggie's Gartnavel, Glasgow, Scotland – winner of UK's Richest Architecture Prize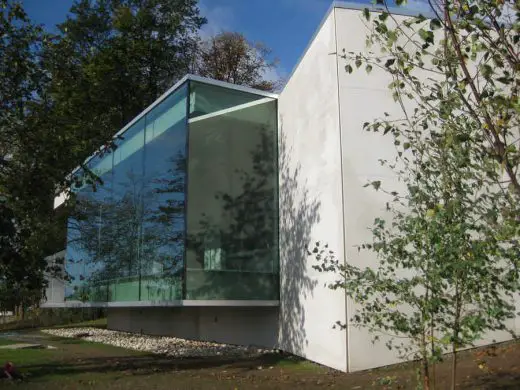 photo © Adrian Welch
At a ceremony in the Scottish Parliament, Maggie's Gartnavel in Glasgow by Dutch architects, OMA, has been awarded the RIAS Andrew Doolan Best Building in Scotland Award 2012. The building was selected from a shortlist of fourteen projects which represented a comprehensive range of building types.
29 May 2012
G-Star RAW Headquarters, Amsterdam, The Netherlands



image © OMA
G-Star RAW HQ
Situated next to the A10 in the industrial ZuidOost area of Amsterdam, the new HQ for G-Star RAW will consolidate their disparate facilities into a single building that aims to stimulate interaction between various departments. The 27,500m2 horizontal building – 140 metres long – consists of a creative nucleus containing the core departments of G-Star RAW, which are enveloped by a ring of offices, parking and support facilities.
28 May 2012
Maggie's Centre Gartnavel, Glasgow, Scotland
Maggie's Gartnavel – exclusive photos
Having revisited this building I feel my initial positive response to it has been underlined. The simple uncluttered spaces are now softened and humanised by various items of furniture and personal effects, the result feeling harmonious.
Editor, Adrian Welch
Major OMA Buildings
Central Chinese Television Tower, Beijing, China 2012
Casa da Música, Porto, Portugal 2006
Seattle Public Library, Seattle, Washington, USA 2004
Netherlands Embassy, Berlin, Germany 2001
Maison at Bordeaux, Bordeaux, France 1998
Lille Grand Palais, Lille, France 1994
Kunsthal Rotterdam, Rotterdam, Netherlands 1992
14 May 2012
Recent Building News
OMA designs stage set for ancient Greek theatre in Syracuse
OMA's design for the stage set at the Greek Theatre in Syracuse, Sicily, was inaugurated on 11 May with the performance of Aeschylus's Prometheus Unbound (directed by Claudio Longhi). The scenography features three temporary architectural devices that reinterpret the spaces of the theatre, which dates from the 5th century BCE.
Scenography OMA – OPENING REPRESENTATION Prometeo 1:





photos : Alberto Moncada
OMA's interventions will be dramatically exploited and adapted at strategic moments within this summer's cycle of plays staged by the Istituto Nazionale del Dramma Antico, which also includes Euripides' Bacchae (dir. Antonio Calenda) and Aristophane's The Birds (dir. Roberta Torre).
The first intervention, the Ring, is a suspended walkway that completes the semi-circle of the terraced seating, encompassing the stage and the backstage, and giving actors an alternative way of entering the scene.
The Machine is a fully adaptable backdrop for the plays: a sloping circular platform, seven metres high, mirroring the amphitheatre. The backdrop can rotate, symbolizing the passage of 13 centuries during Prometheus's torture; split down the middle, it can also be opened, allowing the entrance of the actors, and symbolizing dramatic events like the Prometheus being swallowed in the bowels of the earth.
The Raft, a circular stage for the actors and dancers, reimagines the orchestra space as a modern thymele, the altar that in ancient times was dedicated to Dionysian rites.
The Greek Theatre scenography – executed by AMO, the unit within OMA dedicated to non-architectural and transient projects – is part of the office's long history of designing innovative performance spaces, from the Netherlands Dance Theatre (1987) and the Wyly Theatre in Dallas (with Rex, 2009), to the Taipei Performing Arts Centre – three adaptable theatres plugged into a central cube, now under construction in Taiwan. AMO has also designed scenography for ephemeral events such as Prada catwalk shows and Francesco Vezzoli's 24-Hour Museum in Paris earlier this year.
Ref. "Medea and Edipo a Colono" Set, Siracusa
2009
Massimiliano & Doriana Fuksas Architects



picture : Moreno Maggi
Siracusa Theatre Stageset : for the INDA Foundation
27 Apr 2012
Garage Center for Contemporary Culture – new building in Gorky Park, Moscow, Russia



image © OMA
Garage Gorky Park
Garage Center for Contemporary Culture unveiled concepts for a new building in Gorky Park, designed by Rem Koolhaas' OMA. A renovation of the 1960s Vremena Goda restaurant, a derelict prefabricated concrete structure. OMA is collaborating on the 5,400 sqm building with the Russian architects practice Form Bureau.
27 Apr 2012
Moscow City Agglomeration Development Concept Competition, Russia



image © OMA
Moscow City Agglomeration Development
A consortium of experts led by OMA scored the highest of the 10 teams that completed the first stage of the competition to develop the concept of the Moscow Agglomeration.
15 Feb 2012
Fondaco dei Tedeschi, central Venice, Italy
OMA – controversy



image © OMA
Fondaco dei Tedeschi
A plan to convert a 500-year-old palazzo in the heart of Venice into a Benetton 'megastore' has come under fire from Italian heritage campaigners, reports The Daily Telegraph. The Renaissance building, known as the Fondaco dei Tedeschi, overlooks the Grand Canal and the city's famous Rialto Bridge.
15 Feb 2012 + 27 Nov 2011 : new information + photos
Rothschild building, City of London, UK



image from Office for Metropolitan Architecture
Rothschild Bank London
OMA/Progress
6 Oct 2011 – 19 Feb 2012
Barbican Art Gallery, London, England, UK
OMA Exhibition – 10 Oct 2011
'Every architect carries the utopian gene.'
Rem Koolhaas
OMA/Progress is the first major presentation of OMA's work in the UK and is guest curated and designed by the Brussels-based collective Rotor, who were responsible for the much praised Belgian Pavilion at the 2010 Venice Architecture Biennale.
Office for Metropolitan Architecture Links
OMA : main page with current news + building images (this page)
OMA Architects : projects up to 2011
OMA Hong Kong : HK practice information
Office for Metropolitan Architecture : Background + alphabetical list of all buildings
More buildings by Office for Metropolitan Architecture (OMA) online soon
Location: Rotterdam, Holland, northern Europe
OMA Architects Rotterdam Practice Information
OMA – Architecture Studio
OMA was created in 1975.
Shenzhen Stock Exchange, China:



building photo © OMA Architects
Architectural Awards
Rem Koolhaas Winner of RIBA Gold Medal 2004
Casa da Musica – RIBA European Award 2007
Rem Koolhaas was the Pritzker Prize Architects Winner in 2000.
Website: www.oma.com
Prada Foundation, Milan, Italy



image : OMA architects
Prada Foundation Milan by AMO
Buildings / photos for the OMA Architecture page welcome