Peter Womersley Architect, Buildings, English Studio, Project, Info, Architecture Office, News
Peter Womersley Architecture
Modern UK Architect: 20th Century Scottish + English Building Projects
post updated 23 June 2022
Peter Womersley News
23 June 2022
High Sunderland Building Award
High Sunderland is one of the 29 winners of the 2022 RIBA National Awards for architecture.
Winners:
6 June 2022
High Sunderland, Galashiels by Loader Monteith
This Modern Scottish property wins an RIAS Award in 2022
It is one of the eight exceptional buildings as winners of Scotland's national architecture awards.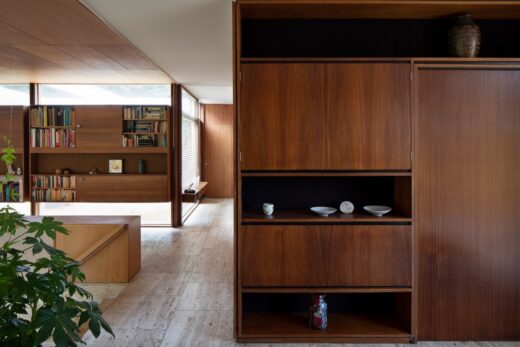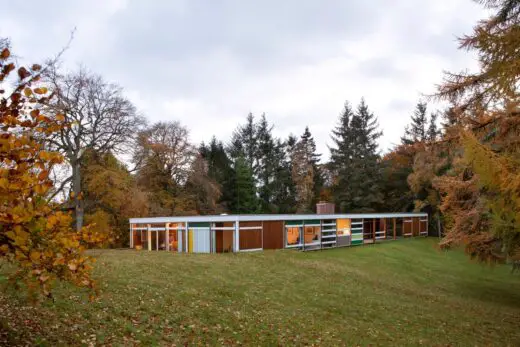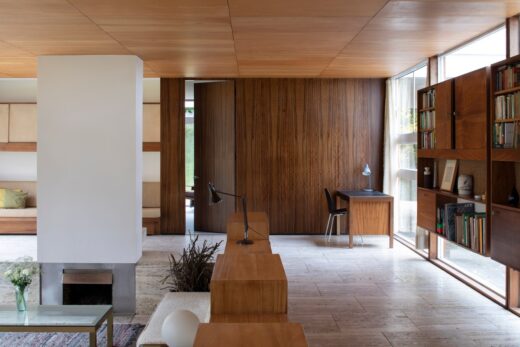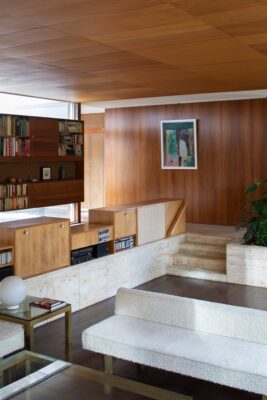 photos : Dapple Photography
High Sunderland is a 1957 Category A-listed modernist icon designed by Peter Womersley. Its future was in jeopardy following a fire in 2017 until new owners Juliet Kinchin and Paul Stirton – both Scottish historians of architecture and design – appointed Loader Monteith to undertake an extraordinarily careful and skilful restoration.
22 Jan 2017
Peter Womersley Architect
"Combining brutality and breezy optimism, the British architect Peter Womersley brought a purist's beauty to small-town projects in the 60s and 70s. Now his virtuosic talents are being rediscovered", reports Rowan Moore in The Guardian today.
Bernat Klein Studio in Selkirk by architect Peter Womersley: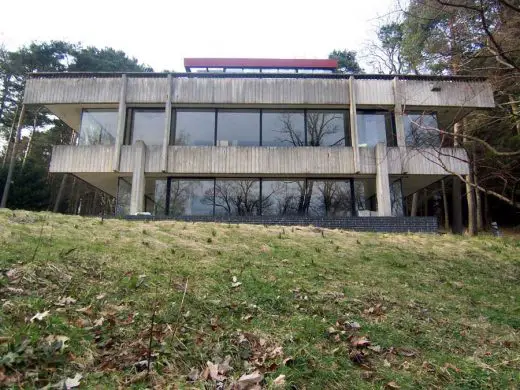 photograph : Rebecca Wober
Peter Womersley (1923-93) was, quite simply, one of the best British architects of the 20th century, and until recently one of the most overlooked. His buildings are adventurous but poised; lucid, brave in conception and considered in their detail.
Fairydean Stadium, Galashiels, Borders, Scotland: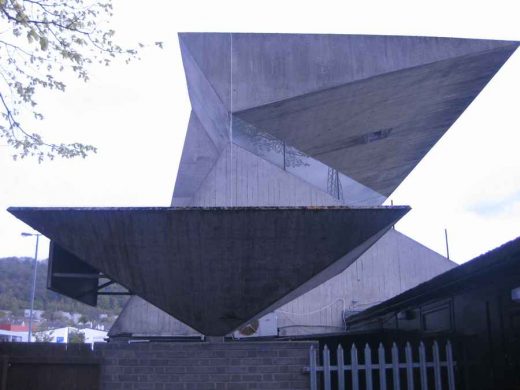 photo © Adrian Welch
He knew how to be elegant in a classical modern way but also how to play with a mannerism – a strange window rhythm, an imbalance in the structure, a stretched proportion, an ambiguous material – so as to achieve a greater composure than if he had played only by the rules.
Garleton Unit, Herdmanflat Hospital, Haddington, East Lothian, Scotland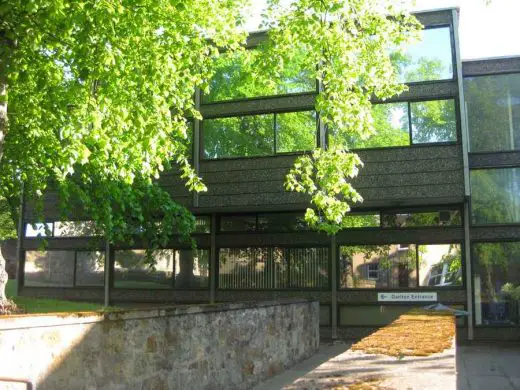 photo © Adrian Welch
Rebecca Wober, an Edinburgh-based architect (Ed. a friend and former colleague of mine on the Scottish Parliament Building) who has done much to unearth his life and work, says he made "spaces that just sing".
Sadly last summer an "exquisite house of his, perched like Frank Lloyd Wright's Fallingwater over some coastal rocks" in Ayrshire was destroyed. Historic Scotland had not listed it.
Bernat Klein Studio in Scottish Borders by Peter Womersley architect: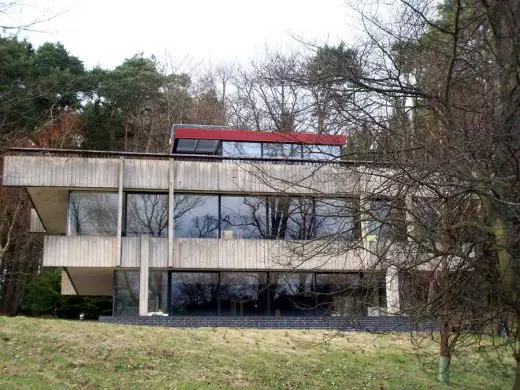 photo : Rebecca Wober
Rebecca and her partner, architect Gordon Duffy, is currently striving to rescue a boiler house, designed by Womersley for a former mental hospital in Melrose, by carving five apartments out of the concrete building: Dingleton Boiler House Building in Melrose
source: Peter Womersley Architect
9 Aug 2016
A portrait of Womersley: a talk at the Mound in Edinburgh during the Festival, Edinburgh, Scotland
To coincide with the Scottish National Portrait Gallery Festival exhibition "Out of their Heads", architect Rebecca Wober will be giving a talk on Peter Womersley – 20thC Architecture.
When: Wednesday 10th August, 12.45- 1.30pm
Where: Hawthornden lecture theatre, National Gallery of Scotland, The Mound, Edinburgh, Scotland, UK.
28 May 2012
Garleton Unit, Herdmanflat Hospital, Haddington, East Lothian, Scotland
Date built: 1965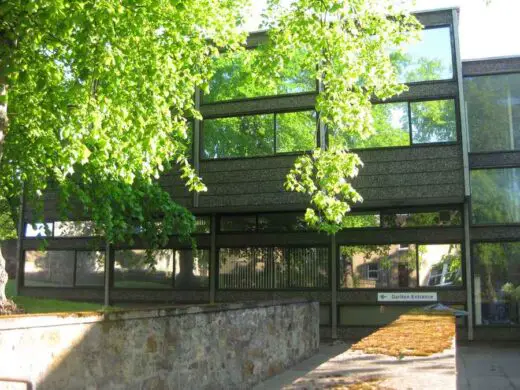 photo © Adrian Welch
Haddington Buildings
Fairydean Stadium, Galashiels FC, Borders, Scotland
Date built: 1965



photo © Adrian Welch
Gala Fairydean Stadium
This building is designed in a similar architecture style to Meadowbank Stadium in Edinburgh. The raw shuttering of the concrete, the powerful angular forms and the focus on cantilever and buttresses in tension are dominant. This building was controversially listed by Historic Scotland in late 2006.
Farnley Hey, Huddersfield, England, UK
Date built: 1952-55
For sale in Apr 2012
Website with sales details: http://www.wowhaus.co.uk/2011/06/04/on-the-market-1950s-farnley-hey-house-by-peter-womersley-in-farnley-tyas-near-huddersfield-west-yorkshire/#more-276
The residence, also known as Farnley Tyas, has a Grade II listing. The unusual glass design of the house won widespread acclaim. This Modern house is located in a 1.2 acre plot. Farnley Hey house was built by Law Stead, a building company owned by Peter Stead, Architect, 1922-99, known for modern & inspirational architecture proposals.
Peter Womersley Architect – Key Projects
Peter Womersley Scottish Projects
Health Centre, Kelso, Borders, Scotland
Date built: 1967
Group Practice building
Bernat Klein Studio, Selkirk, Borders, Scotland
Dates built: 1969-72
now listed, for Yugoslavian textile designer
Bernat Klein Studio project, Scottish Borders, Scotland
Date built: 2002-



photo : Rebecca Wober
Bernat Klein Studio
This bold modern studio was voted 5th of the Best 100 Modern Scottish Buildings in Oct 2005. The building is being refurbished and redeveloped by Duffy & Batt Architects.
Dingleton Boiler House – redevelopment, Melrose, Scottish Borders, Scotland
2008-



image : studio DuB
Dingleton Boiler House
Garleton Unit, Herdmanflat Hospital, Haddington, East Lothian, Scotland
Date built: 1965
Under refurbishment in 2012.
Monklands Leisure Centre, Bank Street, Langloan, Coatbridge
Date built: 1977
One of Womersley's final projects, rather dull
Nuffield Transplantation Surgery Unit, Western General Hospital (WGH), Crewe, Edinburgh, Scotland
Date built: –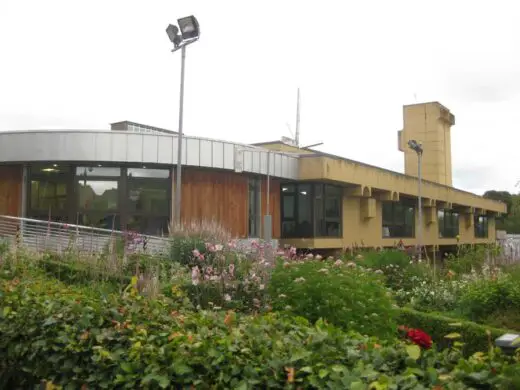 photo © Adrian Welch
The Nuffield Transplantation Surgery Unit was a sophisticated purpose-built unit for transplantation which aimed to provide a "germ-free" environment for transplant patients.
Location: Scottish Borders, Scotland, UK
Peter Womersley Architect Practice Information
Former English modernist architect practice
British Architecture Practices
Peter Womersley (1923-93) was a British architect, known for his work in the modernist style.
This Modernist architect lived in the Scottish Borders.
He was influenced by the work of Frank Lloyd Wright and by the American Case Study Houses.
Stadium in Galashiels:



photo © Adrian Welch
Another Modern Architect based in the UK with buildings in Scotland is Basil Spence
Modern Architectural Designs
Buildings / photos for the Peter Womersley Architect page welcome