NatureHumaine Architects, Montréal Design Studio, Buildings, Québec Architectural Office
NatureHumaine : Architecture
Contemporary Montréal Architects Practice – Québec Design Studio Information + Images
NatureHumaine Architects News
NatureHumaine Architecture News – latest additions to this page, arranged chronologically:
13 May 2018
Ville-Marie Apartment, Montreal, Qc, Canada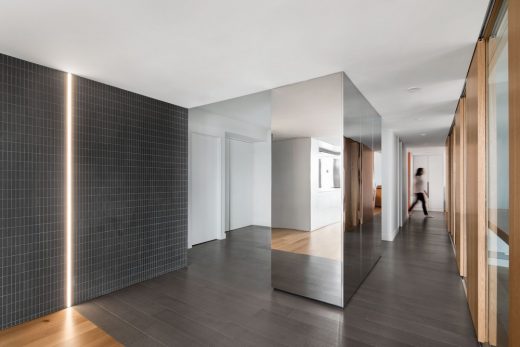 photo : Adrien Williams
Apartment in Ville-Marie
This new residential project is located in a 1980s downtown tower. The interior renovation project aims to completely open a space originally partitioned and to compensate for the lack of light at the heart of the apartment.
2 Nov 2017
De la Roche Residence, Rosemont-La-Petite-Patrie, Montréal, Quebec, Canada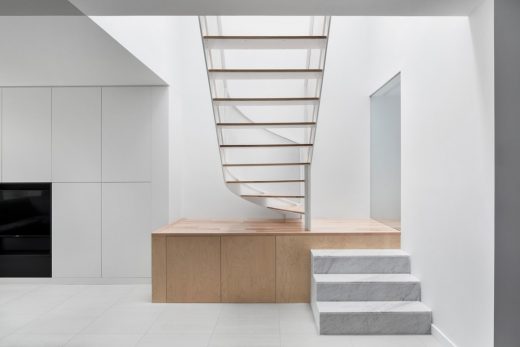 photo : Adrien Williams
De la Roche Residence
A couple with two young children wish to transform a duplex located in Rosemont-La-Petite-Patrie into their principal family residence. The project consists in reorganizing the original portion of the house and enlarging it with an extension in the yard while preserving the façade on the street as required by the city bylaws.
7 May 2017
Résidence Sommerville, Montréal, Quebec, Canada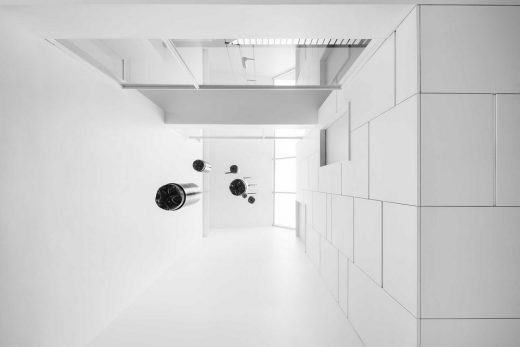 photo : Adrien Williams
Marquette Residence in Montréal
A couple with two young children wishes to renovate a row house dating back to the 1970s. Being part of a set of rowhouses designed uniformly, no changes were brought to the exterior appearance of the house.
18 May 2016
Marquette Residence, Montréal, Quebec, Canada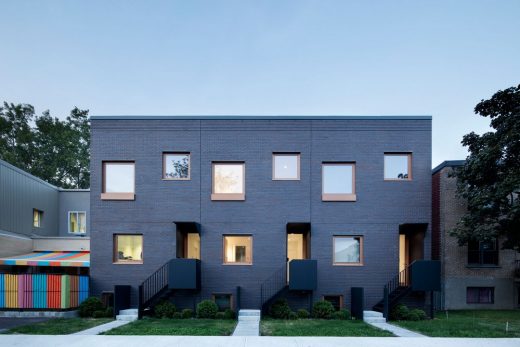 photo : Adrien Williams
Marquette Residence in Montréal
The project is located in the Rosemont-Petite-Patrie facing the backyard of Papineau Street, a busy commercial street in Montreal. The project consists of 6 housing units each boasting a private access.
6 Feb 2015
Bolton Residence, Bolton East, Québec, Canada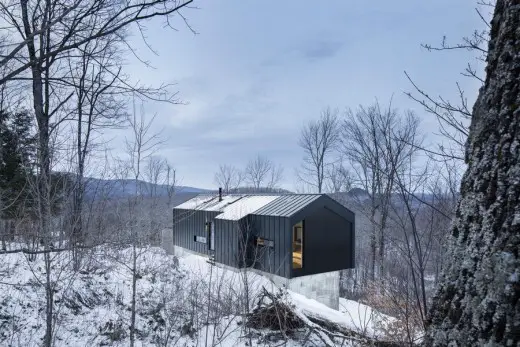 photo : Adrien Williams + David Dworkind
Bolton Residence in Quebec
Having bought a beautiful plot of wooded land in Quebec's Eastern Townships, the client dreamt of building a country house that would be in perfect symbiosis with its natural environment.
12 Sep 2013
Connaught Residence, Notre Dame de Grâce, Montréal, Quebec, Canada



photo : Adrien Williams
Connaught Residence in Montréal
The changing needs of a growing family triggered the complete reconfiguration and extension of their existing 1950 concrete house. They wanted a contemporary extension that would harmonize with the modern spirit of the original house.
Stacked House, Rue St-Christophe, Montréal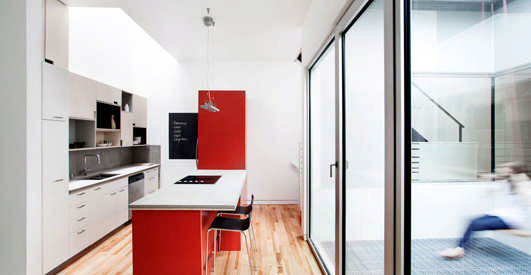 photo : Adrien Williams
House on Rue St-Christophe – 12 Aug 2013
This project was done in collaboration with the client who wished to build his own home. The site is located in a back alley of Montréal's Plateau neighborhood and the design reflects the patchwork of extensions and renovations typically found in Plateau alleyways. The constraints of the site called for a house that was built upwards versus outwards. Four boxes clad in different materials are stacked one on top of the other. A void carved out of the center of the house, provides daylight, ventilation, and private outdoor space.
Chambord Residence, Saguenay–Lac-Saint-Jean, Quebec



photo : Adrien Williams
Chambord Residence – 13 Jun 2013
The client wanted to utilize the second storey of her 1920s duplex by converting her former rental unit into 3 bedrooms and an office space. While the grey-stone front facade only required minor restorations, the back of the house was transformed completely. An emphasis on transparency creates constant visual and physical connections with the backyard.
NatureHumaine – Key Projects
Major Projects by NatureHumaine, alphabetical:
La Couleuvre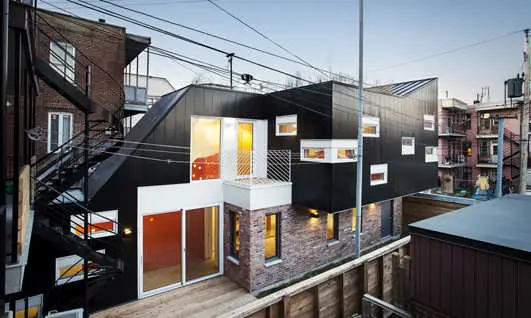 photo : Adrien Williams
Montreal Flat Extension – 27 May 2013
Nicknamed "la couleuvre" (the garden snake). The parents' quarters are located in the ground floor brick volume, while the kid's bedrooms are pushed up into the twisting volume upstairs. A bright orange handrail leads you up into the kids' zone. An open concept bathroom that facilitates family bath time also acts as the circulation to the 3 bedrooms with built in bunk beds and furniture in a similar playful language.
More projects by NatureHumaine Architects online soon
Location: 305 de Bellechasse, Montréal, Québec, H2S 1W9, Canada
Architects Practice Information
NatureHumaine – architect offices based in Montréal, Québec, Canada.
Canadian Architecture Developments
Canadian Building Developments
Comments / photos for the NatureHumaine – Albuquerque Design Studio page welcome
Website: naturehumaine.com