Philip Johnson Architect, Buildings, USA Design Studio, American Practice, Projects, Photo
Philip Johnson Architecture
Postmodern Architecture in the United States of America – Modern US Design Office
post updated Mar 15, 2020
Philip Johnson News
Booth House, Bedford, NY, USA
Apr 20, 2017 – The first residence designed by architect Philip Johnson is the Booth House in rural Bedford, New York.
The home was built in 1946, three years prior to his world-famous pared down house in New Canaan, reports 6sqft.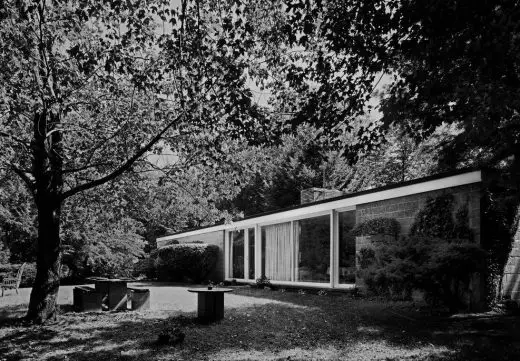 Like the Glass House, it boasts Johnson's iconic floor-to-ceiling glazing, location atop a grass podium, and internal organization around a central fireplace.
But unlike the Glass House, now a historic house museum, the Booth House is not protected, and moreover, its title is in litigation which means it could very well face the wrecking ball.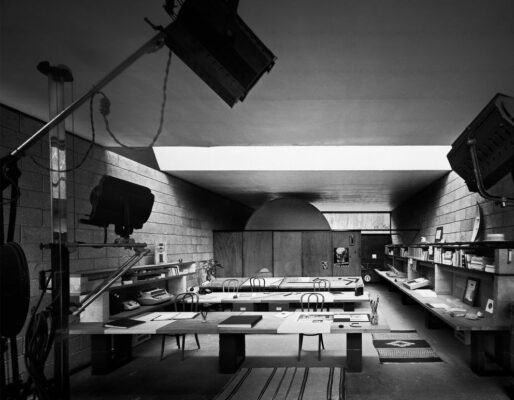 Archpaper reports that the long-time owners have listed the home for $1 million in hopes that a preservation-minded buyer will step up.
All images by Robert Damora, courtesy of the Damora family
source: First residence designed by architect Philip Johnson
Johnson designed the house for Richard and Olga Booth, a young couple who wanted a weekend house near Manhattan.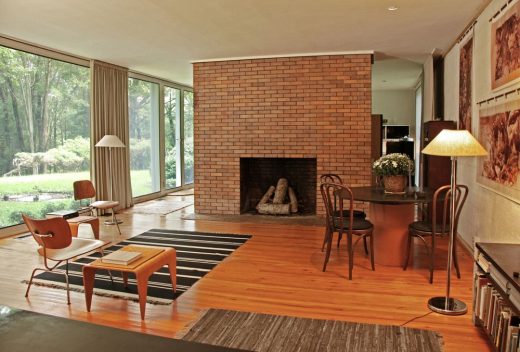 Architectural photographer Robert Damora and architect Sirkka Damora purchased the house in 1955 and lived there for 55 years.
In 2010, the widowed Sirkka Damora put the 1,440-sqft (134 m2) house, an 800-sqft (74 m2) studio building, and their 1.92-acre (0.78 ha) lot up for sale, with an asking price of $2 million.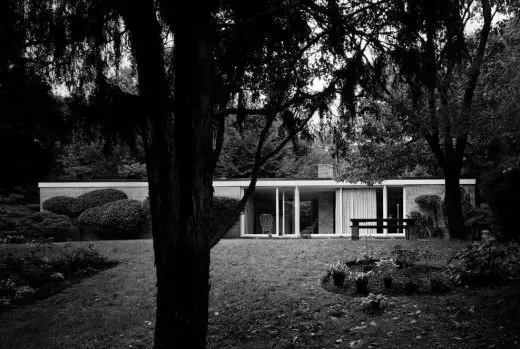 The house's concrete block and plate glass exterior is supported by steel beams and columns, and its interior features a large masonry fireplace.
Website: Booth House by architect Philip Johnson – wikipedia
Oct 20, 2016
Modular Glass House
Design: Philip Johnson Alan Ritchie Architects – PJAR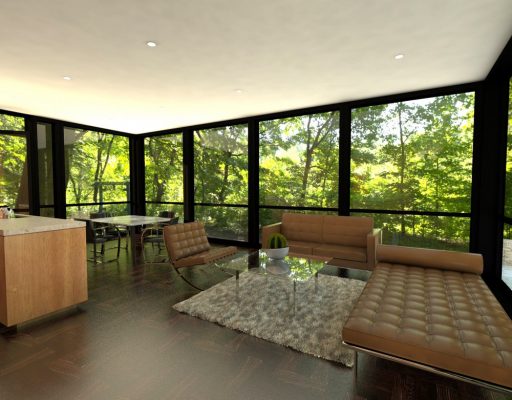 image from architect
Modular Glass House by Philip Johnson Alan Ritchie Architects
Jan 21, 2016
Influential American architect the late Philip Cortelyou Johnson was namedropped by David Bowie back in 1995, in the song "Thru' these Architect's Eyes".
In the first verse, the pop music legend names both this late American architect and UK-based architect Richard Rogers:
"And stomping along on this big Philip Johnson/Is delay just wasting my time/Looking across at Richard Rogers/Scheming dreams to blow both their minds."
"Thru' These Architect's Eyes" is on David Bowie's concept album, Outside:

Philip Johnson Architect – News re The Glass House
Philip Johnson Glass House, New Canaan, Connecticut, USA – news



photograph courtesy The National Trust for Historic Preservation
Philip Johnson Glass House – 27 Aug 2012
New program reintroduces fresh flowers to the Glass House; floral displays to be inspired by and reflect design sensibility of the American architect and David Whitney. It coincides with the Glass House tour season, May to Nov 2012. Generously supported by Architectural Digest magazine.
Key Architecture Projects
Key Philip Johnson Buildings – all in USA (chronological):
Mathematics Tower, Columbus, Ohio 1992
PPG Place, Pittsburgh, Pennsylvania 1984
AT&T Building, New York 1984
John F Kennedy Memorial, Dallas, Texas 1970
New York State Pavilion, New York 1964
Seagram Building, New York 1958
Rockefeller Guest House, New York 1950
Johnson House, New Canaan, Connecticut 1949
Philip Johnson New York Buildings
Manhattan Architecture Designs by this studio, alphabetical:
1001 Fifth Avenue Façade, 1001 Fifth Avenue
Date built: 1978-80
Design with John Burgee
Postmodern New York architecture
AT&T Building, Madison Avenue, Midtown
Date built: 1980-83
Design: with John Burgee, architect



scanned image from 1989 by isabelle lomholt
AT&T Building : very famous Postmodern building with its so-called 'Chippendale Chair' top. Its marriage of a regular (efficient = profitable) skyscraper with a iconic piece of architecture 'plonked' on top made it highly unpopular amongst many architects but regarded by many others as invigorating, moving away from the solemnity of typical Modern movement buildings – which had largely become stripped-down variants to money-making shells by the early Eighties. This Manhattan tower has since been renamed the Sony Building.
Lipstick Building, New York
Date built: 1986
This NYC building is quite an elegant Midtown tower, brown coloured, curvilinear, East of Madison Avenue
Also known as 53rd at Third it is a 453-foot (138 meter) tall skyscraper located at 885 Third Avenue, between East 53rd Street and 54th Street, across from the Citigroup Center in Manhattan, New York City, United States. It was completed in 1986 and has 34 floors. The building was designed with John Burgee Architects. The building receives its name from its shape and color, which resemble a tube of lipstick.
New York State Pavilion : World's Fair, Flushing Meadows, Corona Park, Queens
Date built: 1964
Design: Philip Johnson & Richard Foster Architects
1964-65 World's Fair
1982 : Building interior renovation Johnson/Burgee Architects
New York State Theater
–
Also by this architect are the Lincoln Center plaza + fountain, 1965
Rockefeller Guest House, 242 East 52nd Street
Date built: 1949-50
Philip Johnson, Architect with Landis Gore and Frederick C. Genz, Architects
Seagram Building, 375 Park Avenue, New York
Date built: 1954-58
assistant to Ludwig Mies van der Rohe, Architect
More architecture projects info for this US architect online soon
Penzoil Place, Houston, Texas, USA
–
Another building by architect Mies van der Rohe is the Barcelona Pavilion
Philip Johnson became an associate for architect Mies van der Rohe on the Seagram Building in 1955: he worked on interiors such as the Four Seasons Restaurant. Philip had met Mies in 1928
Location: Cleveland, Ohio, USA
US Architect Practice Information
The Architect
He was the Pritzker Prize Winner in 1979.
Philip Cortelyou Johnson
1906-2005
Philip was born in Cleveland, Ohio, USA
MoMA Department of Architecture and Design founder
1930
Famous for promoting Postmodernist style
Awards
American Institute of Architects Gold Medal
1978
First Pritzker Architecture Prize
1979
Website: The Pritzker Architecture Prize
Education
Harvard Graduate School of Design
Key Exhibition
'The International Style: Architecture Since 1922', Museum of Modern Art, New York
1932
with Alfred H. Barr, Jr. and Henry-Russell Hitchcock
Architect Philip Johnson in his Glass House, New Canaan, Connecticut, USA:



photograph : Todd Eberle
New York State Architecture Designs
Habana Riviera Hotel, Cuba
Date built: 1957
Design with Polevitzky
Modern Architects – major architecture firms globally
The architect was a Mies van der Rohe associate
New York Architects Offices – key NYC design practices
Website: Philip Johnson Architect
Modern Houses



image © gm+ad architects
Buildings / photos for the Philip Johnson Architecture page welcome