French Developments, France Building, Project, News, Design, Property Information
France Developments : Architecture
French Architecture Information – West Europe Built Environment: Building Links
post updated 3 Feb 2020
France Building Developments
French Architectural Projects + Key New Property Designs, alphabetical:
French Architecture Design – chronological list
3Land Masterplan
60 Social Housing Apartments in Rive-De-Giern
9-9 bis Cultural Complex in Oignies
A Multigenerational Space in Olemps
Albert Camus School in Coulaines
Albert Cultural Centre
Albert Einstein High School
Alesia Museum and Archaeological Park
Alesia Museum Building
Allianz Riviera Stadium
Alveole14 Lin
Amiens Media Library
Andromède District Housing
Angouleme Media Library
Annecy Congress Center
The Ring of Remembrance Memorial Notre-Dame-de-Lorette
Aqua Leisure Center Val de Scarpe
Aquaterra Environmental Centre
Aquatic Center of Annemasse
Aurillac Building
Bayonne Gateway
Beaumont-Hague Cultural Centre
Bègles Housing
Belfort Train Station
Belvedere Saint Christophe
Bibliothèque Multimédia à Vocation Régionale
Bicycle Building Grenoble
Bioclimatic House in the Gulf of Morbihan
Biodiversarium in Banyuls-Sur-Mer
Boarding School of Excellence Montpellier
Bordeaux Buildings
Boves Pharmacy
Breitenbach Landscape Hotel France
BT01 Oignies
Caen Law Courts
Caen Library Building
Caen Masterplan
Caen Peninsula Refurbishment
Calais Skatepark Youth Centre
Campus Saint-Charles Montpellier
Cannes Buildings
Canopia Mixed-Use Development in Bordeaux
Carre d Art Nimes
Chalet Baltoro
Chalet Dag in Chamonix
Chalet Piolet in Chamonix-Mont-Blanc
Chalet Soleya in Les Houches
Chalet Whymper in Chamonix-Mont-Blanc
Chateau Margaux Winery Building
Chemin des Carrières, Alsace
Cité de l'Océan et du Surf
Cité du Design
Cité du Design Saint-Étienne
Cité Internationale Paul Ricœur in Rennes
CMA CGM Headquarters Tower Marseille
Conversion of the Former Hospital of Meursault
D1 House in Saint Tropez
Dag Cottage in Chamonix-Mont-Blanc
Daours Primary School
Dijon Mustard laboratory
Domaine des Vignes
Ramatuelle Property
Drulingen Family Crèche
Dunkirk Arts Quarter
Dortoir Familial Ramatuelle House, Var Property
Ecole Bobigny
Ecole Maternelle Nimes
Ecomuseum Rennes
EDF Archives Centre
EDF Pylons
EHPAD Vigny Mervans
Electronic Music Venue in Grenoble
Epinay Student Housing
Euromed Center Marseille
European International Trade Centre
European Parliament Strasbourg
Fluy House Amiens
Fonderie Center Mulhouse
FORUM of Saint-Louis, Haut-Rhin, Alsace Building
FRAC Centre Garden
FRAC Centre Orleans
French Architect
French Architecture News
French UEFA Euro 2016 Stadiums Guide
French Houses
French Housing
French Office Buildings
French Skyscrapers
French Theatre Buildings
Georges-Frêche School Montpellier
Glass House on the Cap d'Antibes, French Riviera
GMCD Grenoble
GOM House in Montpellier, France
Grand Arénas Nice
Grand Large Housing Dunkirk
Grand Musee d Art Nantes
Grand Sports Arena Brest
Grenoble Buildings
Grenoble Music Hall
Gymnase Neudorf Sports Hall in Strasbourg
Gymnasium of the Louis de Cormontaigne High School
Gymnastics Building Tourrette Levens
Headquarters of Métropole Rouen Normandie
Helicopter Group of Civil Security Extension
Higher Education and University Center Le Havre
Hoenheim Nord Terminus Strasbourg
Hopital de la Croix Rousse
Hotel Loisium Alsace
House H2 on Corsica
House in Beauvallon
House in Saint-Didier-au-Mont-d'Or
House RT 2012 in Riec-sur-Bélon
Housing Rennes Courrouze
Hub Creatic, La Chantrerie, Nantes
Humanities Research Center in Montpellier
Ilot Queyries Mixed-Use Development in Bordeaux
INRA Research Laboratory
International Cave Painting Centre
Jean-Claude Carrière Theatre
Jean-Louis Trintignant Middle School in Uzès
L2 House in Saint Tropez
La Croisette Boutique Cannes
La Fabrique Nantes
La Grande Mosaique Caen Masterplan
La Grande Motte Montpellier
La Luciole Auditorium
La Maison des Etudiants Grenoble
Lascaux IV in Montignac
Le Quai Theatre Angiers
Leonard De Vinci High School in Montpellier
Leonard De Vinci High School in Montpellier Phase Two
Les 2 Alpes Ski Station
Les Arcades du Lac
Les Cabanes du Lac in Aix-les-Bains
Les Echelles du Baroque
Les Espaces d'Abraxas
Lille Buildings
Lille Metropole Museum
Lille Museum of Modern Art Pavilion
Lille Office Building
Limoges Buildings
Limoges Concert Hall
Ilot de l'Octroi Housing in Rennes
Lironde Gardens Montpellier
Lisieux Mediatheque
Lodève Childcare Center in France
Lons le Saunier Building
Ecole louis De vion Montévrain
Lour Picou Local Hospital
Louvre Lens Museum
Lustucru Grenoble
Lycée Albert Camus Nimes
Lycée René Goscinny Nice
Lyon House
Lyons Buildings
Maison Art in Montpellier
Maison H3 in Saint Tropez
maison L Yvelines
Maison Louis Carré
Maison Spirale Montpellier
Marche Permanent Bethune
Marchesini HQ
Marseilles Buildings
Marseille Vieux Port Masterplan
MAS de Mattaincourt
Massy Social Housing
Médiathèque La Turbie
Metaphone Oignies
Metz Buildings
Millau Bridge
MISUNDERSTANDINGS Exhibition at FRAC Centre
Mizoen Information Centre
Modern Music Centre Evreux
Montlouis-sur-Loire Housing
Montpellier Apartments
Montpellier Buildings
Montpon-Ménestérol Centre
Montreuil Theatre
Mosquito Coast Factory in Campbon
Mouvaux Housing
Multimodal Centre Nice Tramway
Multiplex Europalaces Gaumont
Municipal Offices Lacq
Musée de la Romanité in Nîmes
Musée de la Romanitée Narbonne
Musée des Beaux-arts Reims
Musée des Beaux-arts Rheims
Museum of the Human Body Montpellier
Music School Louviers
Nanterre Apartment Block
Nantes Buildings
Nantes Tripode
NBGEN Strasbourg
Nevers Cultural Centre
Nice Buildings
Nimes Buildings
Off Grid Villa Camargue
Offices Saint Etienne
Oignies Coalmine
Orleans Buildings
Orleans Mediatheque
Paladru Archaeology Museum
Paloma Music Venue
Parc des Expositions Toulouse
Paribas Marché Saint Honoré
Patinoire Grenoble
pierresvives Montpellier
Piscine Tourcoing
Centre Pompidou-Metz
Ratp Bus Centre
RBC Design Center
Refuge du Goûter
Regional Chamber of Commerce and Industry
RER E Station, Nanterre
Residential Tower in Strasbourg
Rossignol Headquarters
Rouen Masterplan
Rungis Mediatheque
Saint Cyprien Auditorium
Saint Etienne Buildings
Saint Etienne Office Building
Saint-Genis-Laval Housing
Saint Nazaire Buildings
Salorge Building
Gallo-Roman Villa of Séviac
Shadow and light Montpellier
Sir John Monash Centre in Villers-Bretonneux
Somme Buildings
SPE House in Spéracèdes
St Tropez Villa in France
Steelband Project Vannes
Stone House France
Strasbourg Buildings
Strasbourg Cathedral
Strasbourg Kehl Zollhofareal
Swimming Pool in Châteaulin
Technical Center of Blagnac France
Teletech Campus Dijon
Terrasson Cultural Greenhouse
Terrasson's Multimedia Library
The Cabin Menuires
The Fishermen's House in Bonifacio
The Jetty to the Mont-Saint-Michel
The PortHole in La Grande Motte
The Scarab Riorges
The Turbulences FRAC Centre
Theater Dunkerque
Tignespace Building Savoie
Touching the Loire Nantes
Toulouse Buildings
Tourrette Levens Childcare Center
Town Hall in Montpellier
Troyes Mediatheque
Val de Marne Development Agency
Vieux Port Pavilion
Villa in the Var
Villa M1 in Hyères les Palmiers
Villa Théoule sur Mer
Villeneuve d'Ascq Masterplan
Vincent van Gogh Foundation Rehabilitation
Water Park Aqualagon
Windshape
Wooden Pavilion Montpellier
ZAC Beauvert Grenoble
ZAC Châteaucreux
Zenith Music Hall Amiens
Zenith Music Hall Strasbourg
Zenith Saint Etienne
We aim to add more buildings in this West European country soon – submissions are welcome.
Location: France, Europe
Contemporary French Building Designs
Contemporary French Architecture
Portes Bonheur, le Chemin des Carrières in Rosheim (Rosheim-St Nabor railway), Alsace, Northeast France building designed by Reiulf Ramstad Arkitekter AS, based in Oslo, Norway: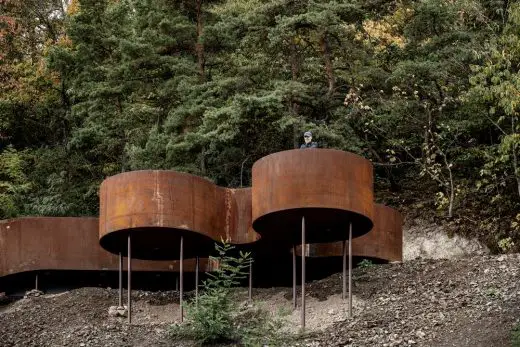 photograph : Florent Michel 11h45
Portes Bonheur, le Chemin des Carrières in Rosheim
The "Portes Bonheur" greenway is an original creation for the Communauté de Communes des Portes de Rosheim.
This index page is for architectural projects in this Western European country on the e-architect website
The French Republic (French: République française), is a country whose territory consists of metropolitan France in Western Europe and several overseas regions and territories.
The metropolitan area of France extends from the Mediterranean Sea to the English Channel and the North Sea, and from the Rhine to the Atlantic Ocean. It is bordered by Belgium, Luxembourg and Germany to the northeast, Switzerland and Italy to the east, and Andorra and Spain to the south.
Le Dôme Winery, Saint-Émillion, Bordeaux, south west France, building designed by Architects Foster + Partners, based in London, England: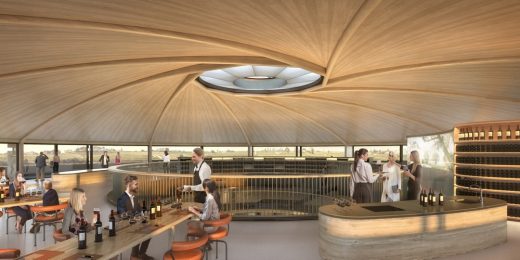 image courtesy architecture office
Le Dôme Winery in Saint-Émillion, Bordeaux
Nestled in the rolling hills of Bordeaux, the design of the new building aims to blend seamlessly with the UNESCO World Heritage Cultural Landscape of the region with a state-of-the-art facility for the young label.
Comments / photos for the French Architecture Information page welcome
Website: Visit France