French Architecture News 2021, France Building Projects, New Construction Design, Property
French Architecture News
Contemporary Buildings in France Information – Built Environment Updates & Images
post updated 16 October 2021
French Building News
French Architectural News + Key New Property Designs, alphabetical:
French Architecture Design – chronological list
11 Oct 2021
Angers Cathedral Arched Portals Design, Angers, Pays de la Loire, western France
Design: Kengo Kuma & Associates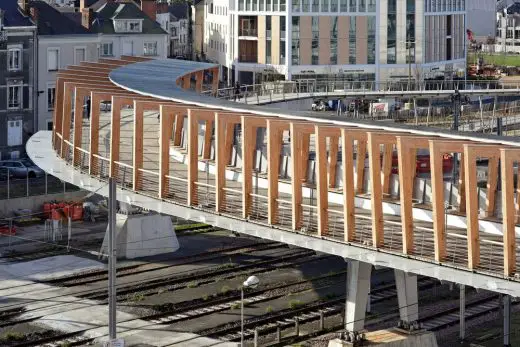 image courtesy of architects practice
Angers Cathedral Arched Portals
This architectural intervention is to protect the western portal of the church, containing polychromatic sculptures from the 12th and 17th-Century.
22 Sep 2021
Tour Alto Courbevoie – Emporis Skyscraper Award
Design: IF Architectes; SRA Architectes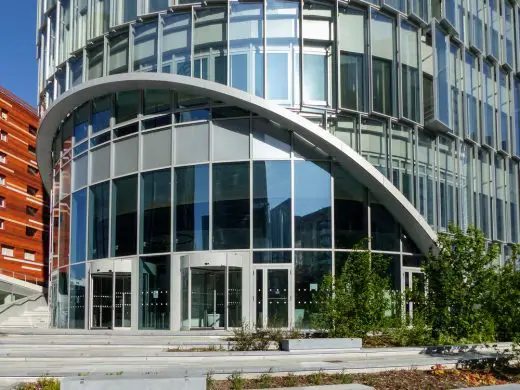 photo © Thomas Pichereau
This tower is one of the winners of a Emporis Skyscraper Award 2020
4 Aug 2021
BBC Pavilion, Cannes, southern France
Design: Giles Miller Studio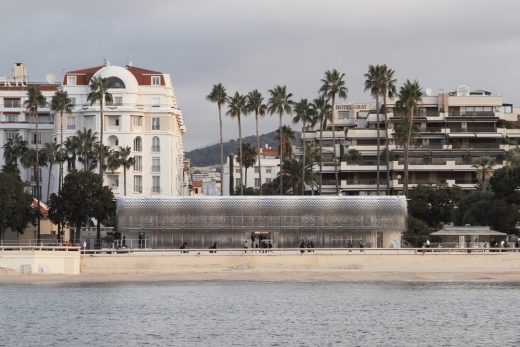 photograph : Edvinas Bruzas
BBC Pavilion, Cannes
The BBC Pavilion, a seminal project that was in development for almost two years, is a large-scale organic structure located on the beach front in Cannes. The building fuses an iconic sculptural aesthetic with highly innovative architectural functionality.
24 Jul 2021
Partenord Habitat, Lille, Hauts-de-France
Design: Coldefy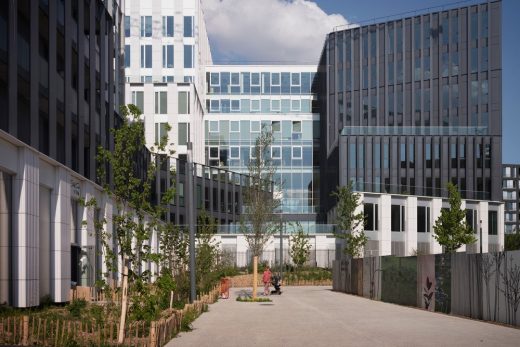 photo © Julien Lanoo
Partenord Habitat Plot, Lille Buildings
At the heart of a dynamic neighbourhood in the Porte de Valenciennes joint development zone (ZAC), the Partenord plot seeks to bring Lille into the third industrial revolution through a mixed project, including the headquarters of Partenord Habitat (Nord Department Public Housing Office), offices, housing, and shops.
25 June 2021
Luma Arles building, Arles, southern France
Design: Architect Frank Gehry, Gehry & Partners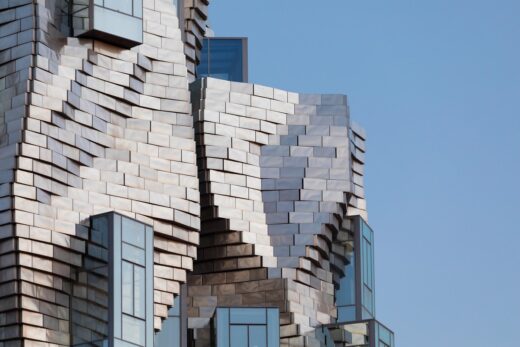 photograph © Adrian Deweerdt
Luma Arles building by Frank Gehry
LUMA Arles, a 27-acre creative campus at the Parc des Ateliers in the city of Arles, opened in June 2021. Work by over 45 artists and designers will feature in the opening programme, with special new commissions for LUMA by major international artists, including Etel Adnan, Ólafur Elíasson, Koo Jeong A, Kapwani Kiwanga, Helen Marten, Pierre Huyghe, Carsten Höller, Philippe Parreno and Rirkrit Tiravanija amongst others.
17 Jul 2021
Residence G, Northern France
post updated 26 June 2021
Maison Louis Carré, Bazoches-sur-Guyonne, Yvelines department, north-central France
Architect: Alvar Aalto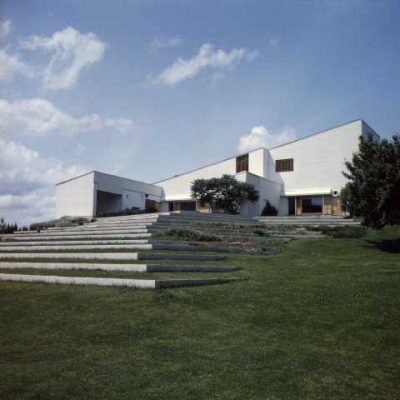 photograph © Collection Maison Louis Carré
Maison Louis Carré France
In June 1959, the French art dealer and collector Louis Carré moved with his third wife Olga into the house designed by Alvar Aalto in Bazoches-sur-Guyonne, some 40 km southwest of Paris. Combining architecture, furniture and landscape, Maison Louis Carré is the architect's only remaining building in France and one of his most remarkable private houses.
26 Jun 2021
Institute of Sustainable Mobility and Transport
25 Jun 2021
Saint-Corneille Library, Compiegne
21 Jun 2021
Le Tourp Cultural Center, Omonville-la-Rogue
4 June 2021
Bayeux Media Library, Bayeux, Calvados department, Normandy, northwestern France
Design: Serero Architectes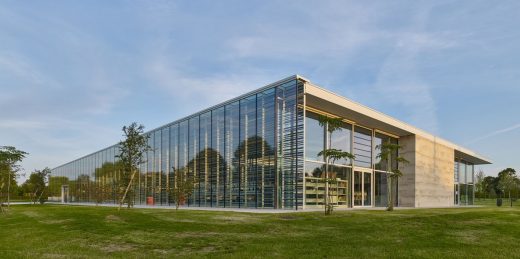 photo © Didier Boy de la Tour
Bayeux Media Library Normandy
Standing beside the beltway surrounding the dense center of Bayeux with its winding narrow streets, the new Bayeux Media Library is thoughtfully integrated into the rich historical context of the town. The project rises on an open plot connecting the historic center with the town's future development zones, creating splendid views of the cathedral.
7 Jun 2021
Equation Office Building, Montpellier
31 May 2021
Arty – 40 social housing units, Cesson-Sévigné, Rennes, Brittany, north west France
Design: a/LTA architectes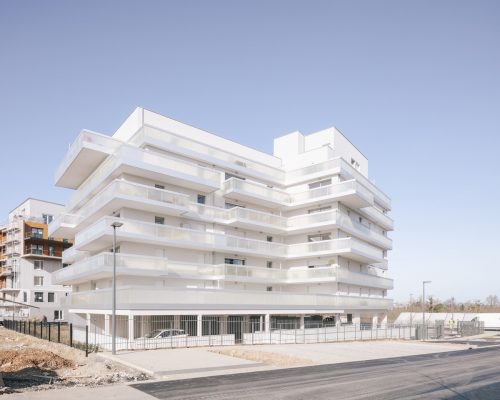 photo © Charly Broyez
Arty Les Hauts de Sévigné, Rennes
The "Les Hauts de Sévigné" development project, led by the Launay Group, is located between the Rennes-Paris railroad line, the Route de Paris and the Rigourdière business park. This sector at the entrance to the city is today mainly composed of activities.
30 Mar 2021
Park & Ride Parking, Nantes
25 Mar 2021
Alpex Cultural Centre, Haute-Savoie
25 Mar 2021
House of the Boulonnais Horse, Samer
13 Mar 2021
Westside Office Building, Rennes
15 Feb 2021
Johnny Depp's French Village
8 Feb 2021
l'Aldilonda, Bastia, Corsica
Design: Dietmar Feichtinger Architectes together with Buzzo Spinelli Architecture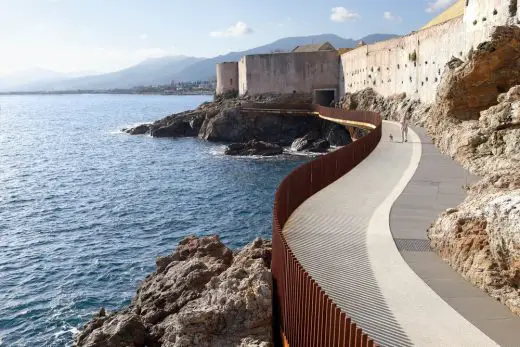 photo © David Boureau
l'Aldilonda Promenade, Bastia
In Bastia, Corsica's second largest city on the north-east coast, Dietmar Feichtinger Architectes together with Buzzo Spinelli Architecture achieved the promenade Aldilonda, which means "Above the Sea" in Corsican with Insitu landscape and the engineers of Sbp. Anchored in the rock, Aldilonda follows the cliffy coastline five meters above sea level.
20 Jan 2021
Breitenbach Landscape Hotel Alsace Resort
2 Nov 2020
Contemporary Duplex Cannes
29 Oct 2020
100% wooden house, Château de la Bourdaisière, Montlouis-sur-Loire
Design: LOCAL and Suphasidh Studio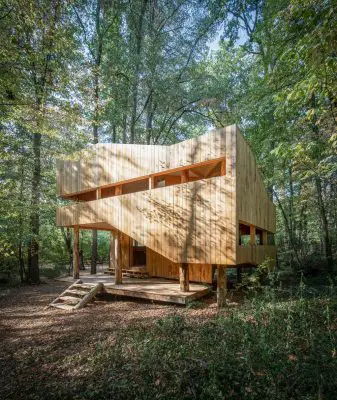 photo : Atelier Vincent Hecht
100% wooden house Montlouis-sur-Loire
LOCAL and Suphasidh Studio build a prototype of a 100% wooden house in the park of the Bourdaisière Castle. The project questions the flexibility and the usage of wood; it aims to modify the traditional codes of the individual housing.
27 Oct 2020
Théâtre "Legendre" in Evreux
Design: OPUS 5 architectes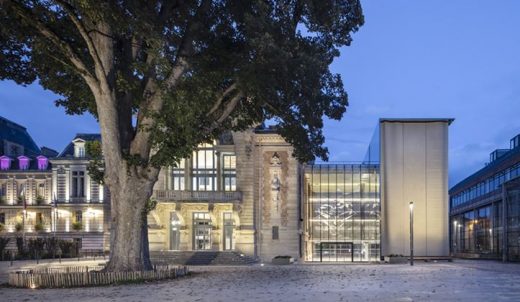 photo : Luc Boegly
Théâtre Legendre Evreux
The highly respectful project aimed to restore this theater dating from 1903 to its former glory, in its original architectural style and including the design of a new décor for the lobby.
16 Oct 2020
I Park Housing, Montpellier
30 Sep 2020
MEETT Exhibition and Convention Centre, Toulouse, southern France
Design: OMA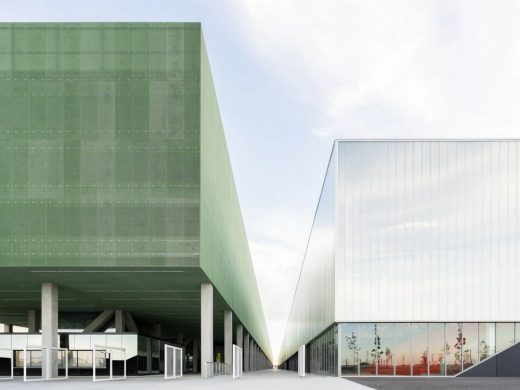 photograph : Marco Cappelletti, Courtesy of OMA
MEETT Exhibition and Convention Centre
MEETT, Toulouse's new Exhibition and Convention Centre designed by OMA / Chris van Duijn, has been completed, becoming the third largest parc des expositions in France outside of Paris.The 155,000 sqm project incorporates exhibition halls, a convention centre, a multi-function event hall, a car park silo for 3,000 cars and a transportation hub with a new tram station.
28 Sep 2020
Les Belles Echappées, Chamonix-Mont-Blanc
16 Aug 2020
Wicker Pavilion, Jardins de l'Europe
Design: DJA – Didzis Jaunzems, Ksenia Sapega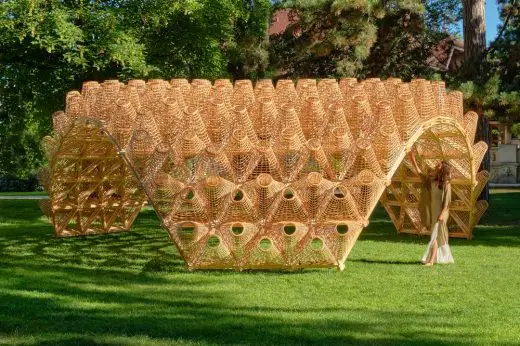 photo : Eriks Bozis
Wicker Pavilion Annecy
The pavilion blends in with the surrounding landscape and forms a shaded space for park visitors to shelter from the hot summer sun.
2 Aug 2020
House H2 on Corsica
27 July 2020
Footbridge at the Angers Saint-Laud Train Station
18 July 2020
Saint-Pierre-et-Saint-Paul Cathedral Fire
Cathédrale Saint-Pierre de Nantes facade: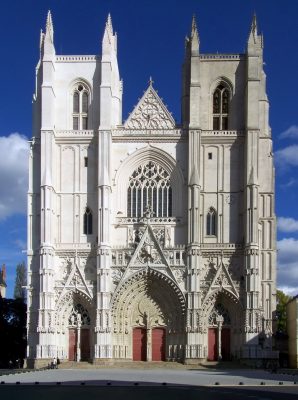 photo © Guillaume Piolle, Public Domain, https://commons.wikimedia.org/w/index.php?curid=5045100
A fire at the cathedral in the French city of Nantes is believed to have been started deliberately, prosecutors say.
Three fires were started at the west end of the building. An investigation into suspected arson is under way, French prosecutors state.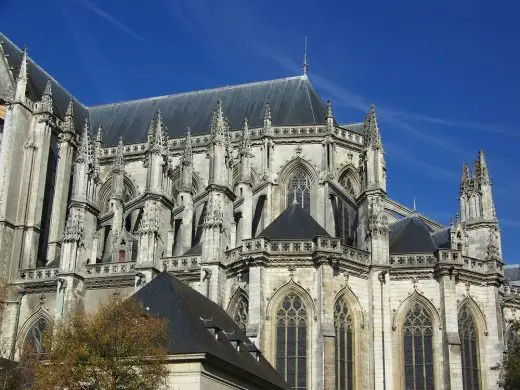 photo by Florestan – Own work, CC BY 3.0, https://commons.wikimedia.org/w/index.php?curid=5150386e
The blaze destroyed stained glass windows and the grand organ at the Saint-Pierre-et-Saint-Paul cathedral, which dates from the 15th Century.
It follows the devastating fire at Notre-Dame cathedral in Paris in 2019.
But the local fire chief said the fire in Nantes had been contained and was "not a Notre-Dame scenario".
The damage is concentrated on the organ, which appears to be completely destroyed. The platform it is situated on is very unstable and risks collapsing.
The cathedral roof had not been touched by the blaze.
The fire seems to have started around 07:30 local time.
Construction of the Gothic church building began in 1434, but did not reach completion until 1891.
25 June 2020
Sean Connery South-of-France Villa, Nice
19 June 2020
Cannes Temporary Cinema Competition
1 June 2020
MON House and Brick Extension Montpellier
12 Apr 2020
Refuge du Goûter – French Alps Building
post updated 11 Apr 2020 ; 24 Oct 2019
Belaroia Hotel and Apartments, Rue Jules Ferry, Montpellier, southern France
Design: Manuelle Gautrand Architecture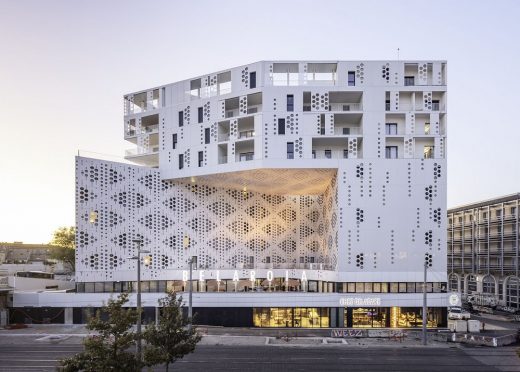 photo © Luc Boegly
Belaroia Hotel and Apartments in Montpellier
Belaroia Hotel and Apartments is an important project for the City of Montpellier and its development agency, the SERM, as it holds a strategic position between the city's hyper-centre, characterised by its escutcheon form in plan, and new surrounding districts that have appeared in succession.
20 Mar 2020
Architectural Adventures in The French Alps
17 Mar 2020
The Wet Docks Offices in Bordeaux
10 Mar 2020
Garden Tennis Club of Cabourg in Normandy
10 Mar 2020
Chemin des Carrières, Alsace Building
5 Mar 2020
LUX* La Baraquette, Marseillan, Hérault department, southern France
Architecture: Slow Life Architects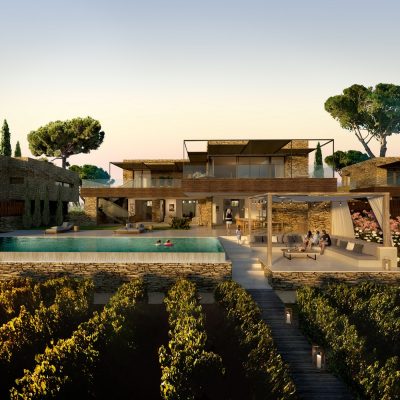 image courtesy of architecture practice
LUX* La Baraquette
Construction at this picturesque new waterfront resort in the charming port town of Marseillan by luxury developer Propriétés & Co, is progressing well, with the first phase of residences taking shape.
2 Jan 2020
Dortoir Familial Ramatuelle Property, Var department, Provence-Alpes-Côte d'Azur region, southeastern France
Design: NADAAA, Architects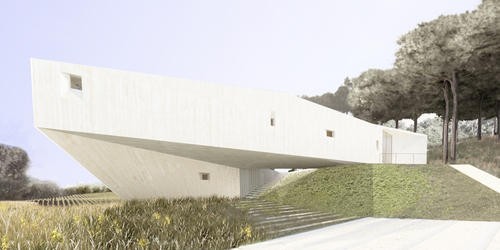 image courtesy of architects office
Dortoir Familial Ramatuelle House, Var Property
For centuries, the enclosed courtyard has been overlaid on various geographic settings—each time transformed according to the climate, rituals, and construction practices of the place. A vehicle to capture the outdoors within the building, the courtyard is defined by its interiority.
2 Jan 2020
House H2 on Corsica, Luxury Property
French Architect
French Architect – France architecture office listings
More contemporary French Architecture News on e-architect soon
French Architecture News 2019
13 Nov 2019
Portes Bonheur, le Chemin des Carrières in Rosheim (Rosheim-St Nabor railway), Alsace, North East France
Design: Reiulf Ramstad Arkitekter AS, Norway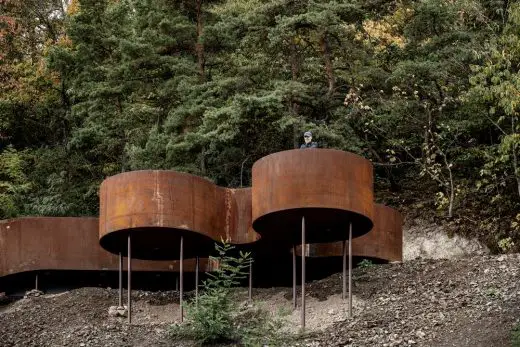 photography : Florent Michel 11h45
Portes Bonheur, le Chemin des Carrières in Rosheim
The "Portes Bonheur" greenway is an original creation for the Communauté de Communes des Portes de Rosheim.
28 Sep 2019
Le Dôme Winery, Saint-Émillion, Bordeaux, south west France
Architects: Foster + Partners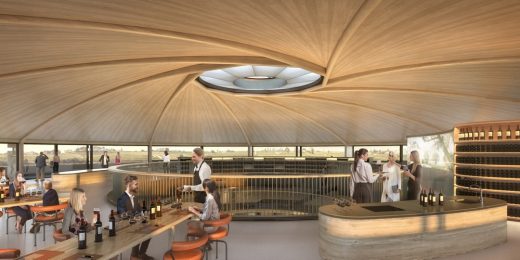 image courtesy architecture office
Le Dôme Winery in Saint-Émillion, Bordeaux
Nestled in the rolling hills of Bordeaux, the design of the new building aims to blend seamlessly with the UNESCO World Heritage Cultural Landscape of the region with a state-of-the-art facility for the young label.
20 Sep 2019
Footbridge over high-speed train station in Laval, Mayenne department, western France
Design: Dietmar Feichtinger Architectes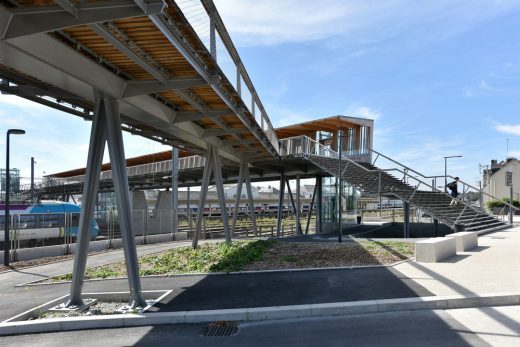 photograph : David Boureau
Train Station Footbridge in Laval, Mayenne
With the opening of the new high-speed rail and its various urban planning functions, the ZAC "Laval à Grande Vitesse" from the station area, is making an economic pole of the city and its metropolitan area.
27 Aug 2019
Metropole's Crematorium in Rennes
8 Aug 2019
Maison Louis Carré France: Alvar Aalto House
10 July 2019
Rennes Competition for a New Residential Tower
Design: Team JDSA with local architects Maurer & Gilbert and Paris offices SMAC and Think Tank
Rennes Residential Tower Competition
More contemporary French Architecture News online soon
French Architecture News 2018
25 Oct 2018
Les Cabanes du Lac, Aix-les-Bains, department of Savoie, Auvergne-Rhône-Alpes, southeastern France
Design: Pietri Architectes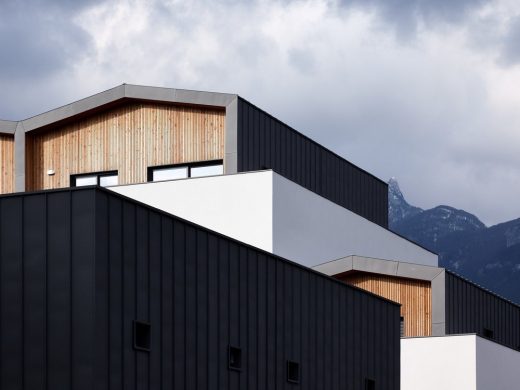 photography : Kevin Dolmaire
Les Cabanes du Lac in Aix-les-Bains
This programme, featuring 58 apartments and 2 shops, forms part of the development of the ZAC des Bords du Lac, Quartier Nouvel Aix, an exceptional, 15-hectare site connecting the historic heart of Aix-les-Bains with Lac du Bourget.
14 Sep 2018
Headquarters of Métropole Rouen Normandie
30 Jun 2018
Aqualagon Waterpark Shortlisted at World Architecture Festival 2018 Awards
Aqualagon Waterpark, Marne la Vallée, France, is one of 536 shortlisted entries across 81 countries:
World Architecture Festival Awards 2018 Shortlist
17 Jun 2018
Water Park Aqualagon, Villages Nature Paris, Marne-la-Vallée, France
Design: Jacques Ferrier Architecture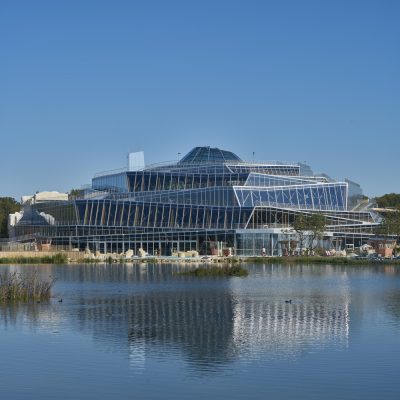 photo © Jacques Ferrier Architecture ; photographs by Didier Boy De La Tour
Water Park Aqualagon
The direction of the winds and the path of the sun have determined the floor plan for our project. Protected from cold north-easterly winter winds, nestling up to the forest, the aquatic park opens towards the west to make the most of cool breezes in warm weather.
10 May 2018
Grand Musée d'Art Nantes Wins RIBA Award for International Excellence 2018
Design: Stanton Williams Architects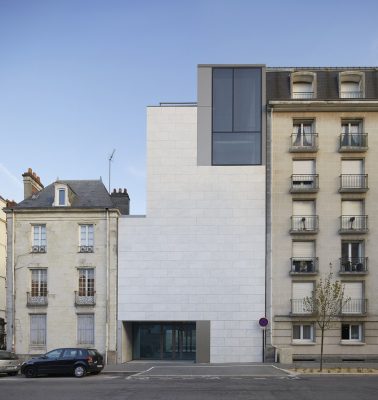 photo © Nick Hufton
Grand Musee d Art Nantes
The Royal Institute of British Architects (RIBA) has announced the winners of the RIBA Awards for International Excellence and the 2018 RIBA International Emerging Architect, including this elegant and beautifully proportioned alteration and major extension for Nante's Musee d'Arts.
27 Apr 2018
Sir John Monash Centre, Villers-Bretonneux, Somme department, Hauts-de-France, northern France
Design: Cox Architecture with Williams, Abrahams, Lampros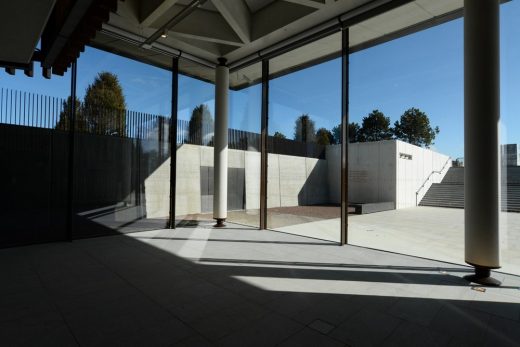 photo © Tim D Williams
Sir John Monash Centre in Villers-Bretonneux
To the east of the 1938 Edwin Lutyens-designed memorial to the Australians who fell in the nearby fields during World War I, a new feature has been added.
17 Apr 2018
Breitenbach Landscape Hotel, Breitenbach, Bas-Rhin department, Alsace, north-eastern France
Design: Reiulf Ramstad Arkitekter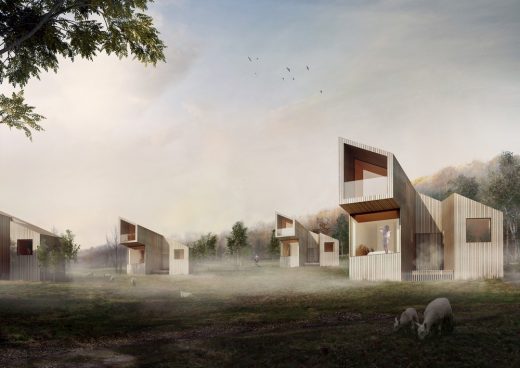 images : Reiulf Ramstad Arkitekter, WSBY, Tejo
Breitenbach Landscape Hotel France
Breitenbach Landscape Hotel will have a prominent role linking the hotel activity to the site and local traditions. At the same time, it will gather the best of architecture, design, spa facilities and food culture in the region.
26 Mar 2018
Glass House, Cap d'Antibes, Provence-Alpes-Côte d'Azur region, southeastern France
Architects: David Price Design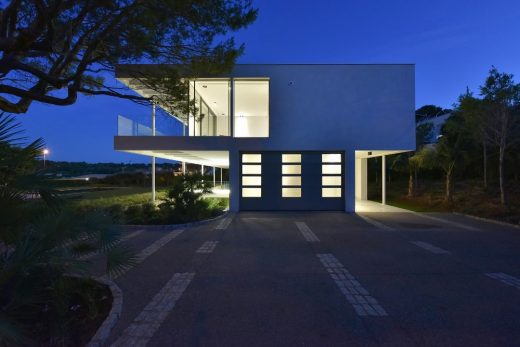 photo :Hervé Hôte
Glass House on the French Riviera
British designer David Price, who works out of offices in Provence and on the Côte d'Azur, together with his Anglo-French-American team, has completed a show-stopping 'Glass House' for a British client on the Cap d'Antibes.
15 Mar 2018
Technical Center of Blagnac, Gignac, Hérault département, Occitanie region, southern France
Design: NBJ architectes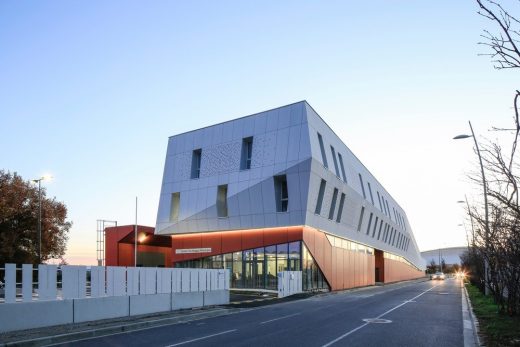 photo : photoarchitecture.com/PaulKozlowski
Technical Center of Blagnac France
Located next to an expressway, the Technical Center of Blagnac was built in the middle of a neighborhood characterized by a highly industrialized program. Nevertheless, a classified forest and a cemetery are located just next to the site. These elements constitute the principal specificity of this program.
5 Mar 2018
9-9 bis Transformation of a Former Mine Site Into a Cultural Complex
Design: Hérault Arnod architectures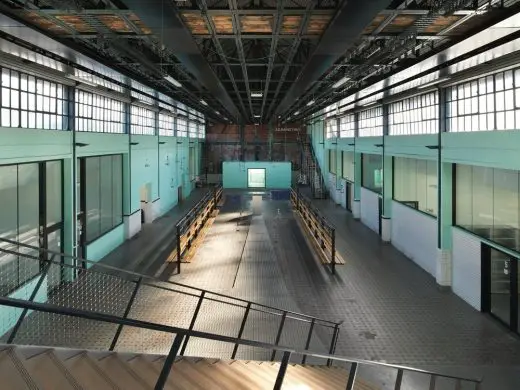 photo : André Morin
9-9 bis Cultural Complex in Oignies
The Oignies coal mine closed in 1990, leaving a whole population and its industrial mining heritage in disarray (pithead buildings, industrial buildings, head frames). The project to reinstate this territory marked by decades of mining operations, began in 2005 with the competition mounted by the Hénin-Carvin Intermunicipal Council.
2 Mar 2018
Gymnasium of the Louis de Cormontaigne High School, Metz
Architects: agence ENGASSER & associés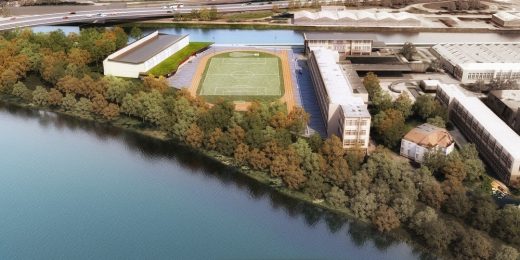 photo : Mathieu Ducros
Gymnasium of the Louis de Cormontaigne High School
The new gymnasium is located on the site like a ship's bow, facing the Louis de Cormontaigne High School building, a three-story structure housing the classrooms between the Moselle River and the canal and facing the motorway, which is the site's main acoustic challenge.
1 Mar 2018
Tête de Pont Bayonne, south west France
Design: Josep Lluis Mateo – Mateo Arquitectura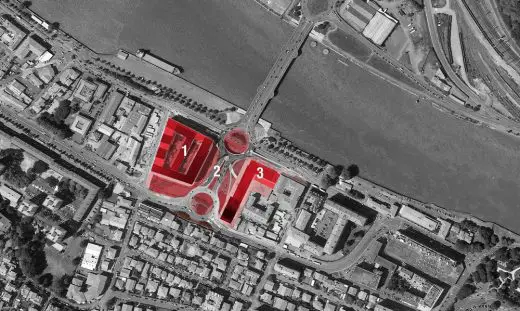 image Courtesy architecture office
Bayonne Gateway
Three interventions address three independent yet complementary themes:
– The Marinadour complex, which represents the organization of a considerable urban density and a mixed programme.
– In the Park, the ground is the protagonist. Vegetation, transparency, public space, pedestrian connectivity.
– The Rivadour complex closes the urban space. It is a continuous block that follows the river before breaking off towards the city.
20 Feb 2018
Palais de Justice, Lille
Design: OMA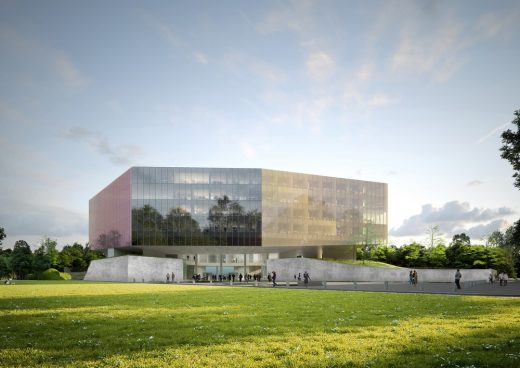 image courtesy of OMA / ArtefactoryLab
Palais de Justice Lille
OMA's design for the new Palais de justice in Lille has been selected as the winner of four finalists from a competition. The new public building, commissioned by the Ministry of Justice, will accommodate the high court and district court of Lille.
13 Feb 2018
Church of Saint-Jacques de la Lande, Rennes, east of Brittany, northwestern France
Architects: Alvaro Siza Vieira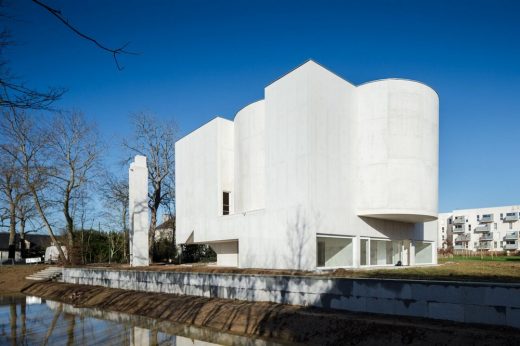 photo : Joao Morgado
Church of Saint-Jacques de la Lande in Rennes
This project in Brittany was contracted to the Portuguese architect Álvaro Siza Vieira. His use of light and white concrete provide a unique ceremonial space that gently folds into the neighbourhood south of Rennes, a residential area with five-story housing blocks.
9 Jan 2018
St Tropez Villa, Saint-Tropez, Var department, Provence-Alpes-Côte d'Azur region, southeastern France
Architects: SAOTA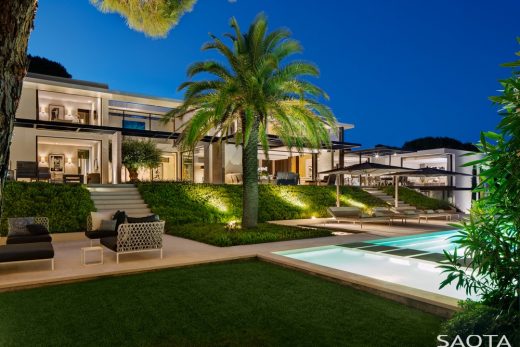 photo : Adam Letch
Luxury Villa in Southern France
The design comprises a series of horizontal planes – the green hedge on street level, the solid street facing front of the house, the indoor layers running from east to west, the linear terrace and sloping green embankment and swimming pool below.
French Building News – archive up to and including 2017
We aim to add more French Architecture News online soon
Location: France, Europe
New Buildings in France
Contemporary Architectural Projects in France
Comments / photos for the French Architecture News page welcome
Website: Visit France