French Architecture News 2017, France Building Projects, New Construction Design, Property Images
French Building News
Contemporary Buildings in France – Built Environment Updates
French Architecture News 2017
French Architectural News Archive up to 2017, alphabetical:
French Architecture Design – chronological list
17 Dec 2017
Redesigned 90's GOM House, Gignac
Design: (ma!ca) architecture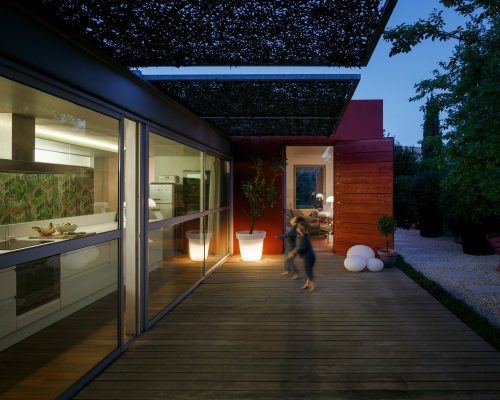 photograph : Julien Kerdraon
House in Gignac
The villa was built in the 1990s. Its floor plan presents very particular proportions: a 15 metres long entrance hall which leads inside the house and a linear perspective view opening up to the garden. The architecture "takes care" and improves the well-being through the use of materials, colours, light, highest craftsmanship and, as a result, made-to-measure spaces.
29 Nov 2017
Leonard De Vinci High School Phase Two, Montpellier, Southern France
Design: Hellin-Sebbag, architects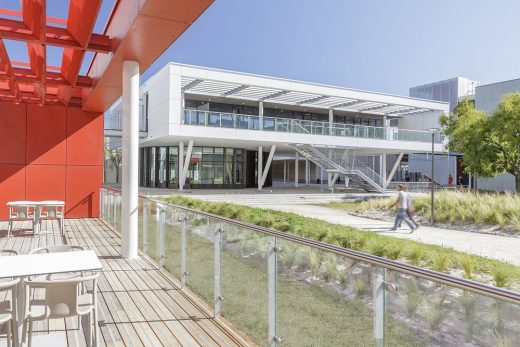 photograph : Benoit Wherlé
Leonard De Vinci High School in Montpellier Phase Two
Thermal comfort is provided by reinforced external insulation, double flow ventilation and external solar protection. Financed by the Occitanie Region for 29 € million excluding taxes, the two construction phases in occupied premises lasted nearly eight years.
25 Nov 2017
Off Grid Villa, The Camargue, South of France
Architect: Blueroom, The Netherlands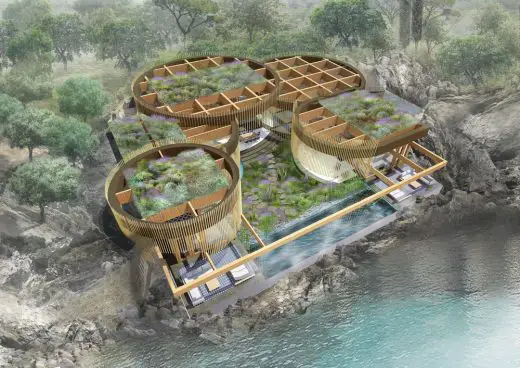 image © Blueroom
Off Grid Villa Camargue
The team researched the design potential for building a patio villa on a 1.000 m2 site, in a region in the south east of France. The Client requested a striking, contemporary design that blends into its natural context.
9 Nov 2017
Headquarters of Métropole Rouen Normandie, Rouen, Normandy, north of France
Design: Jacques Ferrier Architecture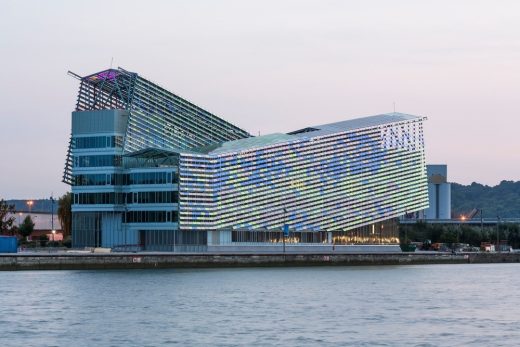 photo © Luc Boegly
Headquarters of Métropole Rouen Normandie
This headquarters building forms a memorable image on the banks of the Seine in Rouen. What makes it so unique is how the new building fits in with the surrounding landscape of Rouen. The building's dynamic silhouette echoes the renovated industrial buildings on the right bank.
8 Nov 2017
Residential Tower, Strasbourg, Grand Est region, eastern France
Design: KCAP Architects&Planners and OSLO architectes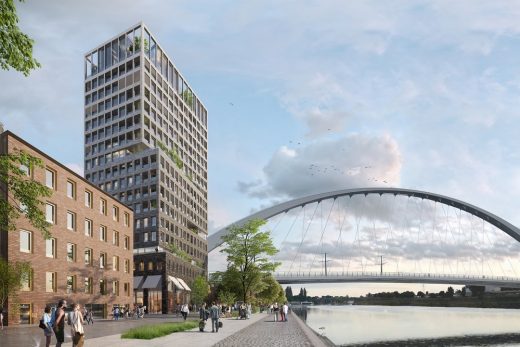 visuals © Yam Studio for KCAP/OSLO/SAS-3B
Residential Tower in Strasbourg
First prize in an architectural design competition. The tower will be the first and most symbolic building of the new neighborhood 'Strasbourg, Presqu'ile–citadelle'. With its 57 meters of height, the tower will become a landmark for the area located between the city center of Strasbourg and the river Rhine.
7 Nov 2017
A Multigenerational Space, Olemps, Aveyron department, southern France
Design: CoCo architecture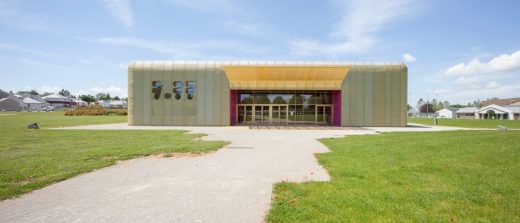 photograph © Edouard DECAM
A Multigenerational Space in Olemps
The project near the city center of Olemps – a "new city" of 3,500 inhabitants – is located on the outskirts of the agglomeration of Rodez. The site is located in a peri-urban area made up of architectural objects, built in the '70s and '80s.
26 Oct 2017
Biodiversarium, Banyuls-Sur-Mer (66)
Architects: Tectoniques


photograph : Tectoniques
Biodiversarium in Banyuls-Sur-Mer
The port of Banyuls-Sur-Mer provides a unique setting for exploring and better understanding the marine biodiversity of the Pyrénées Orientales region. It is home to an extraordinarily abundant marine nature reserve, covering 650 hectares under the sea. On the land, the bay is dominated by an ocean observatory built in 1882, originally known as the "Laboratoire Arago".
10 Oct 2017
Musée de la Romanité, Nîmes
Architect: Elizabeth de Portzamparc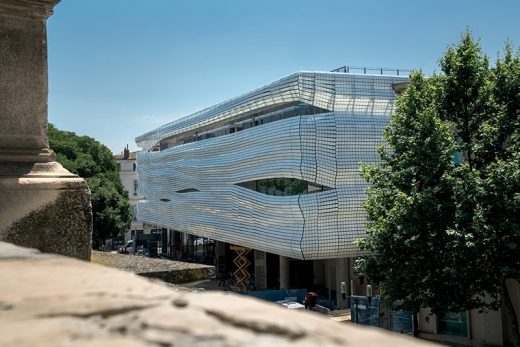 photograph © Serge Urvoy
Musée de la Romanité in Nîmes
The building that will house the Musée de la Romanité has been delivered to the city of Nîmes. Prior to the installation of its collections and its forthcoming 2018 opening, this building and its unique façade are being unveiled facing the Arenas of Nîmes (the Roman amphitheater).
18 Sep 2017
Louis de Vion school Montévrain, Seine-et-Marne department, Île-de-France region, north-central France
Design: Vincent Parreira Atelier Architecture – AAVP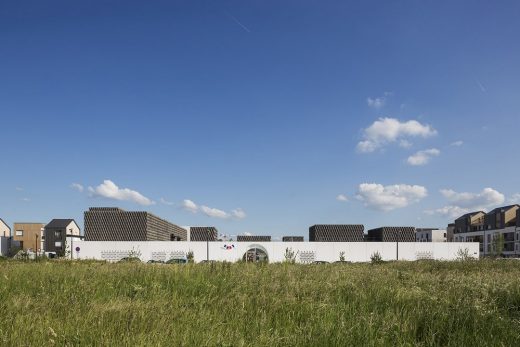 photograph : Luc Boegly
Ecole louis De vion Montévrain
Once across the threshold of this school complex near Paris delivered by the architect Vincent Parreira, the child enters a non-standard world, one that evokes the troglodyte houses, vernacular architecture… or a pupil's escape.
17 Sep 2017
Humanities Research Center Building, Campus of University Saint-Charles, Montpellier
Design: Hellin-Sebbag, architects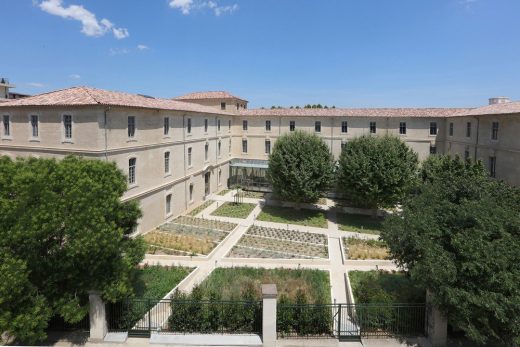 photograph : Jean-Pierre Porcher
Humanities Research Center in Montpellier
Delivered in 2011, the first phase converted the general hospital into university buildings for graduates and researchers in the Faculty of Humanities, Paul Valéry University.
9 Sep 2017
Jean-Louis Trintignant Middle School, Uzès, Gard department, southern France
Design: NBJ architectes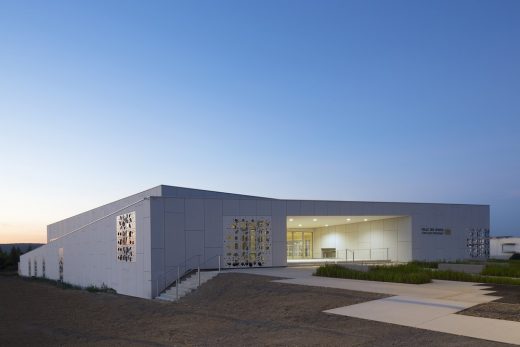 photo : Paul Kozlowski
Jean-Louis Trintignant Middle School in Uzès
The challenge of building the Sports Hall Jean-Louis Trintignant in Uzès is to suggest a project that can work perfectly with the existing environment while creating optimal conditions allowing sports practice.
27 Jun 2017
Chalet Whymper, Chamonix-Mont-Blanc, Eastern France
Design: Chevallier Architectes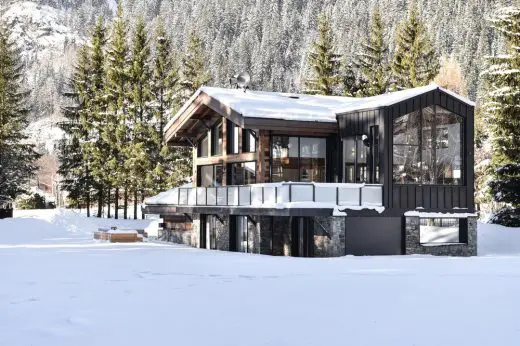 photo : Solène Renaud for Chevallier Architectes
Chalet Whymper in Chamonix-Mont-Blanc
The situation was unique: Chevallier Architectes took on this project when it was on the verge of being abandoned. There were many constraints, but the Chevallier Architectes team studied the file and proposed solutions that would make it possible to successfully complete the construction, including optimization of the space.
15 Jun 2017
Ilot Queyries, Bordeaux
Architects: MVRDV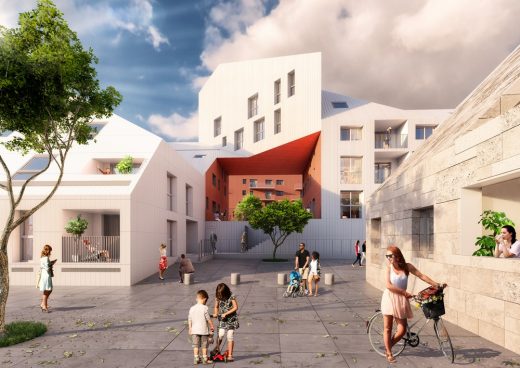 image : MVRDV
Ilot Queyries Mixed-Use Development in Bordeaux
Designed to fully exploit this exceptional location, the building facades adapt to their opposite views towards the River Garonne and the historic city. The plan aims to reflect the qualities of Bordeaux World Heritage Site city centre whilst adding new qualities.
7 Jun 2017
The Fishermen's House, Bonifacio, Corse-du-Sud department, Corsica
Design: Buzzo Spinelli Architecture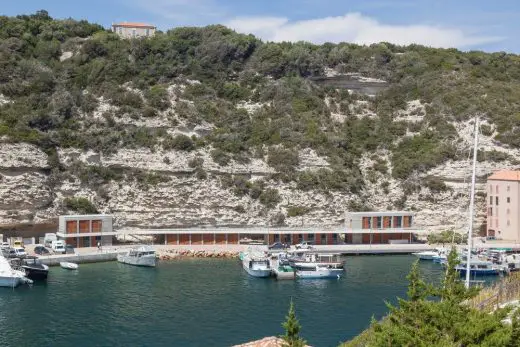 photography : Serge Demailly
The Fishermen's House in Bonifacio
The original commission aimed for a fishermen facility made of 20 workshops. But after in-depth analysis of the site, its history, and the municipality needs; Buzzo Spinelli Architecture proposed to enhance the program by adding a sales area and an urban space.
15 May 2017
SPE House, Hyères les Palmiers, Departement of Var, Southern France
Design: ELLENA MEHL Architects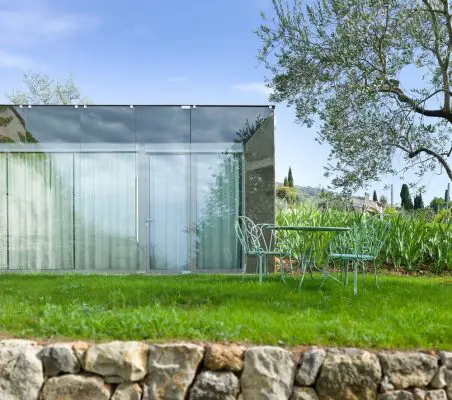 photograph @ Hervé ELLENA
New House in Spéracèdes
The house is located on the French Riviera, at the very end of a small road, in a old hamlet built around a local spring that has been known since before the XIX th century.
9 May 2017
Quiet House, Gignac, Herault, Languedoc-Roussillon region (Occitanie region), south of France
Architectes: Artelabo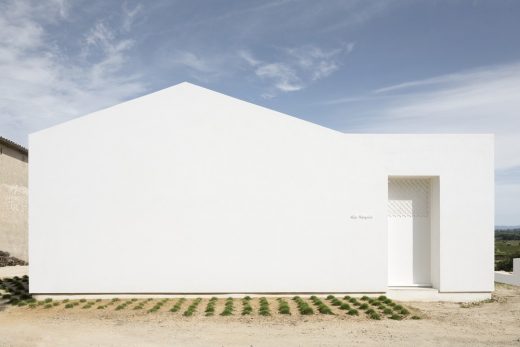 photograph : Marie-Caroline Lucat
Contemporary House in Gignac
This villa project meets a very particular context. The land on which it fits, of very small size, is located between a vineyard shed in operation to the West, the parking of a neighbour to the East, surrounded by their access road, a main street to the south.
19 Apr 2017
Concert Hall for actual and contemporary music in Evreux, Haute Normandie, Northern France
Design: Hérault Arnod Architectes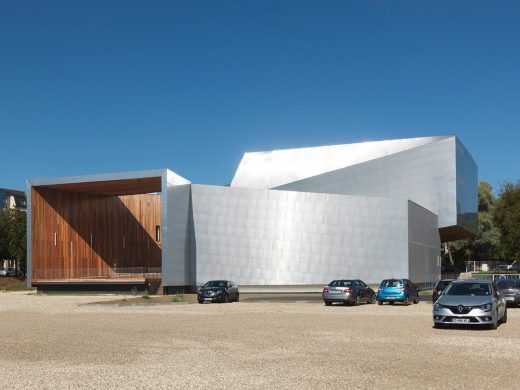 photograph : André Morin
Modern Music Centre Evreux
The site of the building is a corner of the Bel Ebat fairground, on the edge of the historic town centre. The difficulty lies in the size relation between the new building, essentially small and non-central, and the fairground, a huge empty esplanade.
3 Apr 2017
Lascaux IV: The International Centre for Cave Art, Montignac, Dordogne, Nouvelle-Aquitaine, southwestern France
Design: Snøhetta and Casson Mann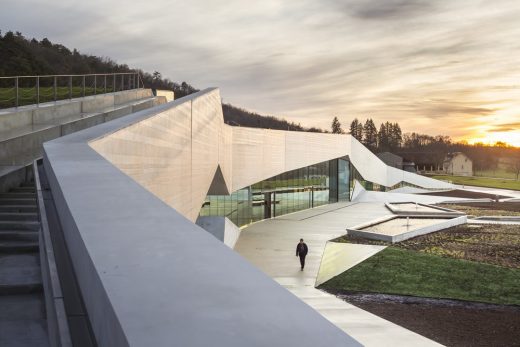 photo © Boegly +Grazia
Lascaux IV in Montignac
The new Centre International d'Art Parietal in Montignac welcomes visitors to an immersive educational experience of the prehistoric Lascaux cave paintings. Known by archaeologists as the 'Sistine Chapel of Prehistory' due to their spiritual and historical significance, the 20,000-year-old paintings are among the finest known examples of art from the Paleolithic period.
22 Mar 2017
Conversion of the Former Hospital of Meursault
Design: JUNG Architectures & Simon Buri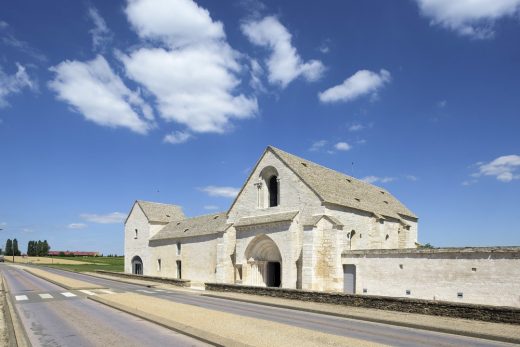 photo : Martin Argyroglo
Former Hospital of Meursault Building Conversion
The municipality of Meursault is located in the heart of the Burgundy vineyards of Côte de Beaune, in the department of Côte-d'Or.
Meursault, a flagship of Burgundy great wines, has an undisputable world-wide reputation, and its "Climats" have been classified as World Heritage by the UNESCO since 2015.
15 Mar 2017
Cité Internationale Paul Ricœur, Rennes
Design: Hérault Arnod Architectes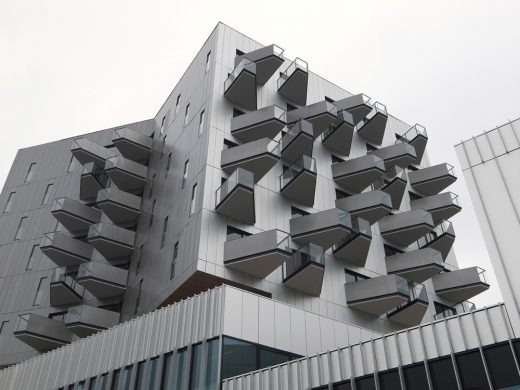 photo : André Morin
Cité Internationale Paul Ricœur in Rennes
The plot is located at the interface between two very different urban logics: on one side, a modern district made up of wide public spaces and large-sized buildings, on the other, the historical town-centre consisting of smaller slate-roof buildings.
24 Feb 2017
Chemin des Carrières, Rosheim-St Nabor railway, Alsace, Northeast France
Design: Reiulf Ramstad Arkitekter AS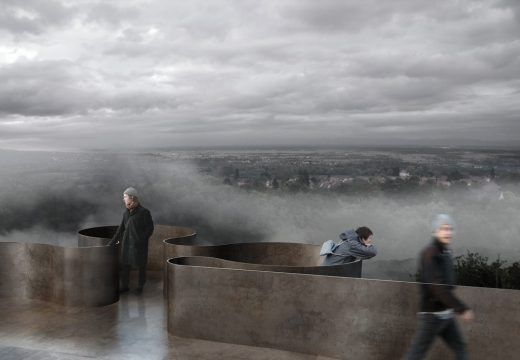 image Courtesy architecture office
Chemin des Carrières, Alsace
Chemin des Carrières, the Quarries' Track, is a lace undulating in the landscape, an invitation to travel as our ambition behind the reconquest of the Rosheim-St Nabor railway in Alsace, France.
10 Feb 2017
House H2, South Corsica
Architect: Vincent Coste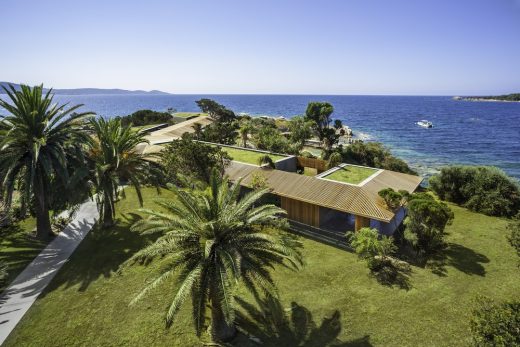 picture © Florent Joliot
House H2 on Corsica
This Corsican house is located on an exceptional site, a peninsula surrounded by a beach and a port that overlooks the sea. The project was conceived by the architects Vincent Coste and Bruno Fléchet in a logic of erasure in relation to the place.
10 Jan 2017
MISUNDERSTANDINGS Exhibition at the FRAC Centre Orléans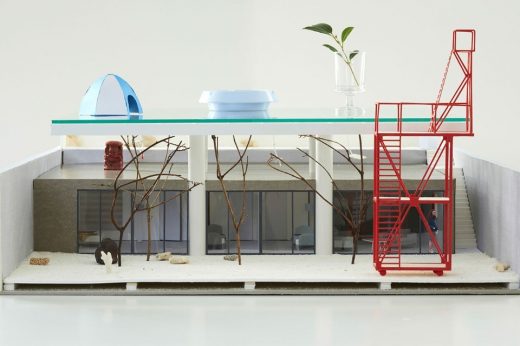 image Courtesy FRAC
MISUNDERSTANDINGS Exhibition at FRAC Centre
CAMPO discards the traditional monographic, typological or historical readings, to adopt a looser and unconventional framework that pairs human emotions and architectural principles.
5 Jan 2017
Cottage in Chamonix-Mont-Blanc
Design: Chevallier Architectes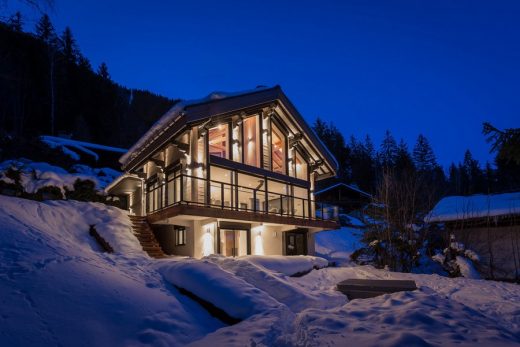 photograph : Alexandre Mermillod Onixstudio.com
Cottage in Chamonix-Mont-Blanc
Dag is located in the Chamonix heights and has exceptional mountain views. Situated in a small, cozy family neighbourhood, it was essential that Dag's modern style fit with the setting.
Electronic Music Venue in Grenoble
Helicopter Group of Civil Security Extension
Hub Creatic, La Chantrerie, Nantes
Terrasson's Multimedia Library
The Ring of Remembrance Memorial Notre-Dame-de-Lorette
Ilot de l'Octroi Housing in Rennes
Vincent van Gogh Foundation Rehabilitation
The PortHole in La Grande Motte
Chateau Margaux Winery Building
Lodève Childcare Center in France
Leonard De Vinci High School in Montpellier
French Euro 2016 Stadiums: Buildings Guide
60 Social Housing Apartments in Rive-De-Giern
Albert Camus School in Coulaines
The Jetty to the Mont-Saint-Michel
FORUM of Saint-Louis, Haut-Rhin, Alsace Building
Mosquito Coast Factory in Campbon
Villa M1 in Hyères les Palmiers
Canopia Mixed-Use Development in Bordeaux
House RT 2012 in Riec-sur-Bélon
House in Saint-Didier-au-Mont-d'Or
La Grande Mosaique Caen Masterplan
Beaumont-Hague Cultural Centre
Bibliothèque Multimédia à Vocation Régionale
Gymnase Neudorf Sports Hall in Strasbourg
We aim to add more French Architecture News online soon
Location: France
New French Architecture
Contemporary Architectural Projects in France
Comments / photos for the French Building News 2017 page welcome
Website: Visit France