Montpellier Installation, Architect, Image, Ukigomo, Design, Photo, French Project, News
Montpellier Architecture Installation, south of France
"Between Shadow and light" – international competition by Champ Libre, southern France
23 Jul 2010
Floating Clouds Montpellier
5th FESTIVAL OF LIVELY ARCHITECTURE in MONTPELLIER
Theme: "Between Shadow and Light"
Organizer: the association Champ Libre
Location: Montpellier, France
Contents: the installation-art by the participating architects in the courtyards of private houses the colloquium with presentation of the projects of the participating architects




images of the Floating Clouds project : MoNo
This project was the activities through creation and exhibition of an installation art, and interchange for presentations, as the participant in The 5th FESTIVAL OF LIVELY ARCHITECTURE which was held 4 days from June 17th of 2010 in Montpellier France with the theme "Between shadow and light".
The participants were 11 teams in all, 10 teams chosen in the international competition which about 170 architect teams from Europe, North America, Australia, Asia and South Africa applied, and 1 guest team.
MoNo was the only team outside Western area and also the first winner from Asia in this competition.
This festival is conducted by the association CHAMP LIBRE with the cooperation of Montpellier city, the national architectural university and some local architects.




images of the Floating Clouds project : MoNo
The purpose of this festival is to make the old town a gallery for a limited time and to rediscover city's dormant worthiness, setting an installation art as modern art by architects in 11 court yards of certified historical architectures in the old town.
This festival could become a big topic this year, with around 7,000 visitors and with broadcast in on the French state television.
MoNo's art work "UKIGUMO – floating clouds" is developed one from the presentation theme "Japanese independent space sense" which was treated in the installation art work "Light and Atmosphere in the Japanese way" in Vienna Austria with the coordination of local architectural network in 2009.
The comparison was intended in this work with placing Japanese space into Western space, because the exhibition place "Hotel Griffy", one of certified historical architectures, has an atmosphere of medieval Europe with beautiful stone columns and sculptures.
Many thin and pliant pillars stood closely as a motif of Japanese column confronting Western one, furthermore "UKIGUMO – floating clouds" was added as a device of connection between different these two worlds.




images of the Floating Clouds project : MoNo
With an image came from Japanese medieval picture "Rakuchu Rakugai-zu (old Kyoto city picture)" "Tale of Genji (famous novel's picture scroll)" , non woven fabric and balloons were set over the Japanese space as a method for placing different elements in one stage.
The reason why clear color was selected in many color balloons was because it could change the color to white with time, and it means a free transfer between the medieval times and today.
Additionally, in this exhibition place, some lanterns "SaSa", setting for leading visitors to the viewpoint of art work, could spread the world of this work. (The lantern design "SaSa" is a version for Europe which came from "Sofu tourou" designed for Kyoto illumination event Hanatouro in 2009.) "UKIGUMO – floating clouds" was treated widely in local media which reported this festival, and got much attention at the presentation conference with the difference of expression and of approach for the work from Western teams.
This international activity followed the one in Austria for us, moreover, it could become a worthwhile experience because it was the event with many architects in the world by the local government and association.
We are going to develop world wide activities, so we would like to nurture good communications with people all over the world.
Previously:
Floating Clouds – UKIGUMO
19 Apr 2010
Installation Art Exhibition, Montpellier, France
"UKIGUMO" – floating clouds
Design : MoNo – Fumiaki Nagashima + Mami Maruoka Nagashima
Summary of the project
The stage we try to create is a place filled with atmosphere of medieval France.
Therefore we set a theme "the encounter of two old styles of France and Japan" as the concept of our installation art.
In the courtyard we will put many columns. These clustered columns produce a space with Japanese independent sense, implying a Japanese traditional building. And with the hotel's own columns standing around the courtyard, we will let two different countries columns emphasize their individuality of own style each other. The installation that achieves a new creative relationship between the Japanese space and the local hotel building is a device of floating clouds "UKIGUMO" that is also one of so important characters of Japanese old painting.
It continually appears in Japanese old picture rolls and screen paintings, meaning a border and also a connection between different scenes on one painting. We are going to use these floating clouds as a major apparatus that bond French elements and Japanese smoothly beyond place and time. We will fulfill this art work with contemporary industrial standard products, not Japanese traditional special materials. To be more specific, we have slender fiber-glass pipes as clustered columns standing on the gland, and have clear balloons as UKIGUMO with nonwoven fabric and polyethylene mesh net spreading over pipes.
By passing through several layers of nonwoven fabric and balloons, daylight changes unevenly and makes the unpredictable gradation of atmosphere between shadow and light. In clustered pillars, every visitor of the courtyard can enjoy to walk around freely and to stay there for a while. Our work "UKIGUMO" will show various expressions between shadow and light. It intimates various splendid relationships between your country and our country.


photo of the team (MoNo)
Between Shadow and light – About the team
MoNo is a Japanese first class architectural office for 2 architects, Fumiaki Nagashima and Mami Maruoka Nagashima, in Yokohama Japan. The works extend to wide range: the design of architecture, urban, interior and product, the art of installation, graphic and video. We also get involved in some design educations under various forms. Without border lines of fields, our activities are developing.
In 2009, MoNo carried out an exhibition of installation art "Light and Atmosphere in the Japanese way" in a suburb of Vienna Austria, under the organizing by ORTE architectural network, as an official project of the 140 anniversary friendship for Japan and Austria that two countries embassies promoted. It expressed a space like Japanese bamboo forest, with many devices put lushly that moved softly and changed lights and atmosphere.
Furthermore we presented the illumination lamp in the art work, it's "Chasen" that we designed for the illumination event in Kyoto of Japan with an image of Japanese traditional bamboo product. This exhibition was a part of the activities as guests of "Artist in Residence Krems" that is an artist invitation system of the State of local Lower Austria, putting by the win-ning with MoNo's architectural work "hanasaki-house" at the international competition "Daylight Spaces "TIA Scholarship Award 2007 that ORTE architectural net-work and Danube university organized.
This small urban residence was recognized for the fact that the light and shadow made the inside spaces fuller and richer, just like Japanese old traditional residence style.
The common denominator of the line of these activities, the installation art, the product and the architecture, is to make up a world that has Japanese unique atmosphere by contemporary industrial technology, not by especial or limited traditional method and material. We will retry to create our own world in this way, expecting unpredictable wonderful meeting in FAV 2010.
Location: south of France – Languedoc-Roussillon région capital
Between Shadow and light, Montpellier images / information from MoNo, architects
Another installation design by MoNo:
Molecular Cluster, Japan



picture from MoNo, architects
Molecular Cluster
Location: Montpellier, France
New Buildings in France
French Architectural Projects
French Architecture Design – chronological list
French Architecture Offices – design firm listings
Paris Architecture Walking Tours by e-architect
FAV 2016, Festival des Architectures Vives
Another design by MoNo:
Hanasaki house, Yokohama, Japan
MoNo, it's a Japanese architectural office for 2 architects, Fumiaki Nagashima and Mami Maruoka Nagashima.
MoNo were selected as one of exhibitors for the 5th FESTIVAL OF ARCHITECTURE in MONTPELLIER "Between Shadow and light" in the international competition organized by the association Champ Libre. This festival is based on concept that people rediscover the value of urban space by activities of setting contemporary arts in historical spaces. In this June, a total of 10 architects' teams will present a work at 10 spaces each other.
We are going to create an original installation-art in a court yard of historical building in the old city area of Monpellier in southern France. As we are only one team from Asian area, we try to design our work with a theme "Japanese independent sense" about "shadow and light".
Actually we had the exhibition of installation-art "Light and Atmosphere in the Japanese way" in a suburb of Vienna Austria in April 2009. This opportunity was also set by the prize of international competition "Daylight Spaces – TIA Scholarship Award 2007" organized by Danube University and ORTE local architectural network. And our art work also had concept the Japanese contemporary independent sense about spaces. It was our pleasure that many people recognized our art work.
We retry to communicate with people in Europe through our world with Japanese independent sense.
The 5th FESTIVAL OF LIVELY ARCHITECTURE in MONTPELLIER from 17th to 20th June 2010 theme : "Between Shadow and Light"
Montpellier Buildings
Montpellier Buildings – Selection
Apartments in Montpellier, ZAC Port Marianne – Ilot F1
Du Besset-Lyon Architectes



picture from architects
Montpellier apartments : Architecture Competition, 2003
Lironde Gardens
Atelier d'architecture Christian de Portzamparc



picture from architects
Montpellier Housing
Pierre Vives
Zaha Hadid Architects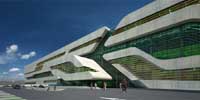 picture from architects
Montpellier building
French Architecture – Selection
Zenith Music Hall Strasbourg
Massimiliano Fuksas Architecture



photo : Moreno Maggi
Zenith Saint-Etienne Building
Foster + Partners



photo : Nigel Young
Pierre Vives Montpellier Project
Zaha Hadid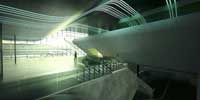 picture from architects
Buildings / photos for the Montpellier Architecture Festival page welcome
Website : http://favmontpellier.nerim.net/