Extension of the Helicopter Group of Civil Security Building, Architecture, France, Interior Design, Images
Helicopter Group of Civil Security Extension
Nîmes-Alès-Camargue-Cévennes Airport Building, Saint-Gilles, France – design by NBJ Architectes
page updated 17 Nov 2016 with new photos ; 15 Jul 2014
Extension of the Helicopter Group of Civil Security
Design: NBJ Architectes
Helicopter Group of Civil Security Extension
Location: Nîmes-Alès-Camargue-Cévennes Airport, Saint-Gilles, France

The restructuration and expansion of the helicopter base for civil security in Nimes Garons is a relatively complex project, under two major constraints. Firstly the fact that the work should be done without interrupting the activity of helicopter maintenance requiring extreme rigor in the areas of site partitioning and scheduling of work, then look at environmental issues classified BBC and Very High Energy Performance (TPHE). To this is added disparate entities built into the ground that need the introduction of a first coherent site.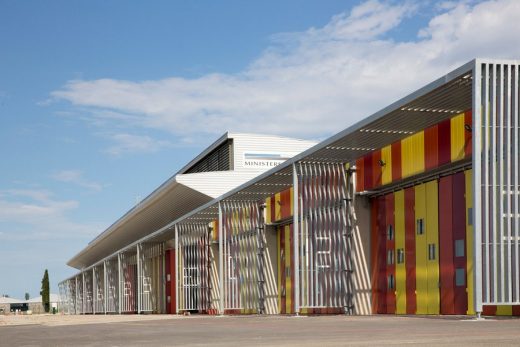 The set of proposals aims to address these constraints, program and optimize the operation of the site. Thus the project is based on two major axes. The first is the logical organization of the site. The creation of new buildings in their establishment seeks to unify all and offers better built compact.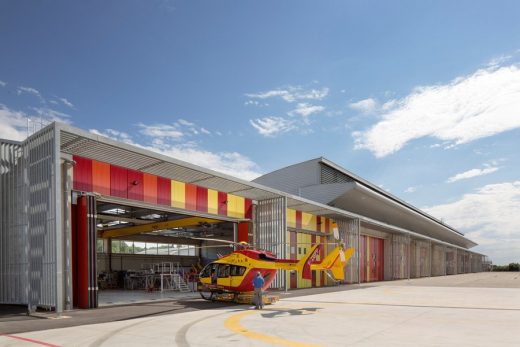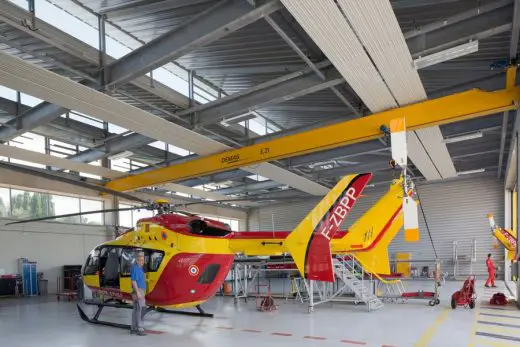 The extension of the main hangar takes place continuously to the existing volume to allow the possibility of extension on the east side of the building. The volumes continuity also leaves the possibility to transform the training area following the same scenario as the current program. From its shape overhead lighting is desired, it is oriented to the north and to optimize the comfort of illumination but also ensure better thermal management of the building.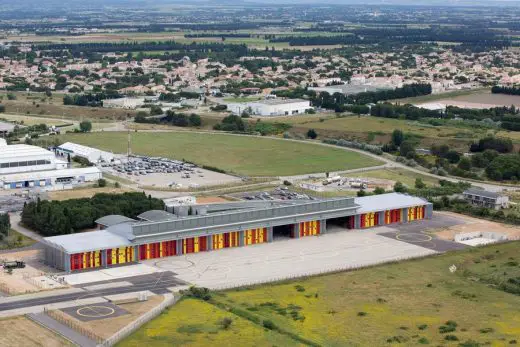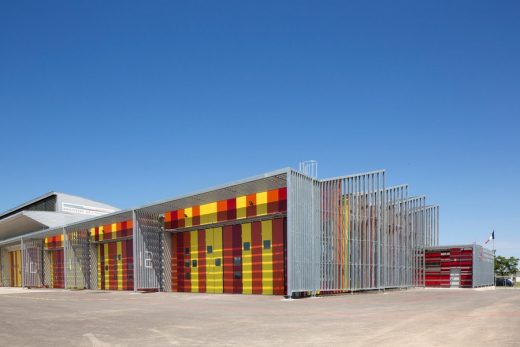 Secondly we attempted to demonstrate that the architectural features implemented were intended to meet environmental expectations prior to implementation of specific technical systems. This is an accuracy of implantation, a logical arrangement of openings for natural ventilation and glazing for heat gains and prevent overheating, but also from work on the development of skin thickness breezes sun than many targets are met. These provide thermal regulation, but also support the rating which guarantee architectural homogeneity to all and offers the creation of an identity.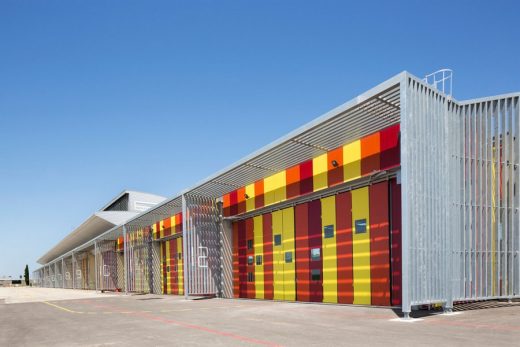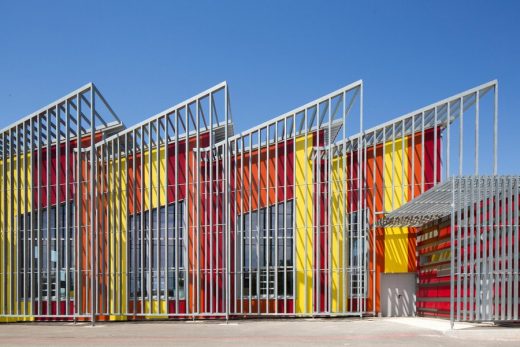 So we want to show that any program, even if it is only shed must be an architectural commitment to build beyond a performance tool a real living for users. Finally, the architecture must be the first guarantor of environmental quality before the establishment of technical devices. Space, matter, light materials are basic to implement. It is through these wishes that we have achieved the extension of basic civil helicopter safety Nimes Garons.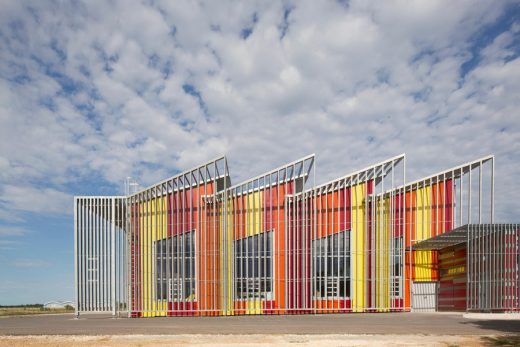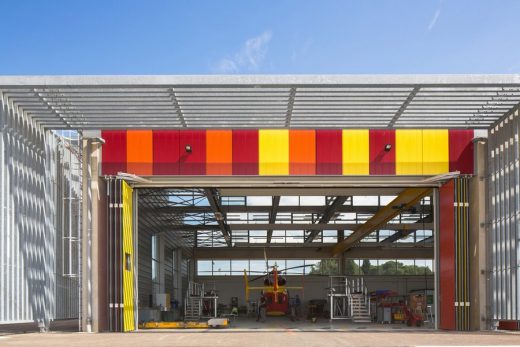 Le centre de maintenance du groupement hélicoptères de la Sécurité Civile – Building Information
Architects: NBJ architectes
Location: Aéronautique Navale de Nîmes-Garons, Nîmes-Alès-Camargue-Cévennes Airport, 30800 Saint-Gilles, France
Architects in Charge: Elodie Nourrigat, Jacques Brion, Romain Jamot
Area: 5,700 sqm
Project Year: 2013
Engineering: ARCOBA
Cost: 5,6 Million €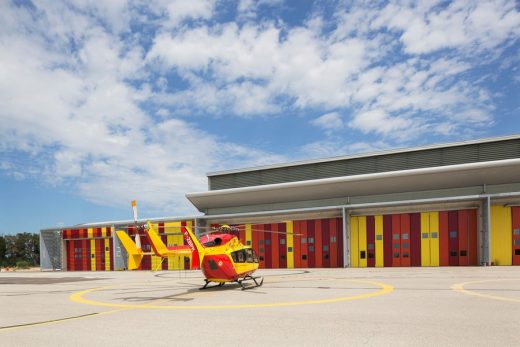 Text in French:
Le centre de maintenance du groupement hélicoptères de la Sécurité Civile
Lauréat du Prix Spécial AMO-GrDF 2015
LIEU // NÎMES (30), FRANCE
STATUT // RÉALISÉ
TYPE // ÉQUIPEMENT
MAÎTRE D'OUVRAGE// MINISTÈRE DE L'INTÉRIEUR, DEPAFI-DGSCGC-GHSC
SURFACE // 2200 m² créés 3500 m² rénovés
ANNÉE // 2013
COÛT // 5,6 M€
EQUIPE // NBJ ARCHITECTES

Le centre de maintenance du groupement hélicoptères de la Sécurité Civile a nécessité une extension au regard de ses activités à venir. L'idée principale fut de reconquérir l'espace par une meilleure répartition des constructions afin de retrouver une échelle optimisée dans les bâtiments et les espaces extérieurs.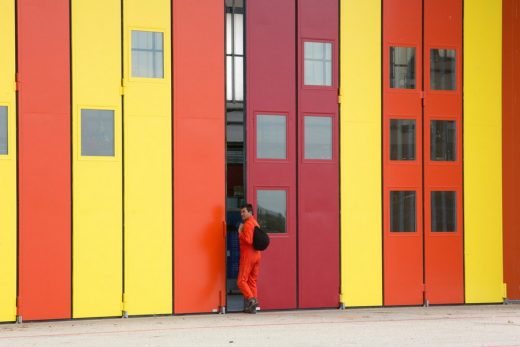 Notre première action à été donc de repenser ce paysage actuel, d'apporter une fonctionnalité aux aménagements extérieurs qui doivent véhiculer de véritables qualités spatiales, de créer une logique globale de circulation au sein de l'établissement – tout doit être connecté. Ainsi le projet se structure autour des axes suivants : La notion de flexibilité, L'échelle du lieu, et la création d'une cohérence au site en respect d'un environnement. Différents points essentiels ont été pris en compte: le hangar, les ateliers, le magasin.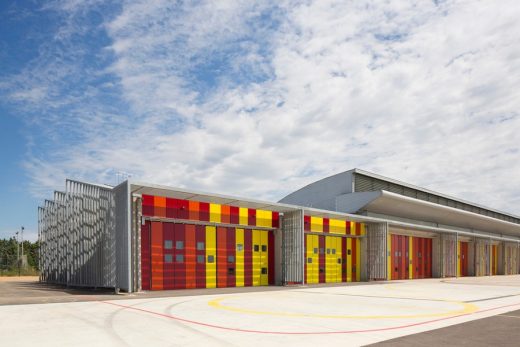 Photos © Paul Kozlowski
Helicopter Group of Civil Security Extension Building information / images received 150714
Location: Nîmes-Alès-Camargue-Cévennes Airport, Saint-Gilles, France
New Buildings in France
French Architectural Projects
French Architecture Design – chronological list
French Architect Offices – design firm listings
Bastide Niel, Bordeaux, south west France
Design: MVRDV architects
Parc des Expositions Toulouse, southern France
Design: OMA
Pierre Vives Montpellier Project
Design: Zaha Hadid Architects
Website: Le centre de maintenance du groupement hélicoptères de la Sécurité Civile
Comments / photos for the Helicopter Group of Civil Security Extension – page welcome
Website: NBJ Architectes