French Housing, Residential Buildings France, Images, Architecture, Designers, Projects
French Housing Design
Contemporary Residential Buildings France – New Homes
post updated 13 Oct 2020
French Residential Buildings
French Residential Building – Latest Additions, chronological:
1 Apr 2020
Mayflower, Nantes, France
Architects: ECDM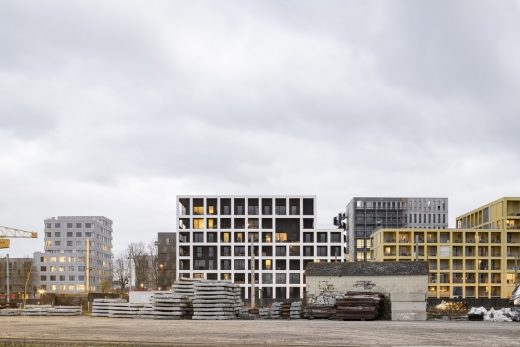 photograph : Salem Mostefaoui
Mayflower Apartment Building in Nantes
Geometric, quantified, the void is the predominant material of facades, designed by ECDM Architects. Organized in an accumulation of cavities, the voids multiply the surface of the accommodation by adding external volumes; contained volumes where everyone's privacy is defined and protected by a constructive framework: half-balcony, halfloggia but certainly extension areas for housing that is never large enough.
24 Oct 2018
Belleville Social Housing and Shop
23 Aug 2013
Montlouis-sur-Loire Housing, northern France
Design: Renaud BROISSAND architect DPLG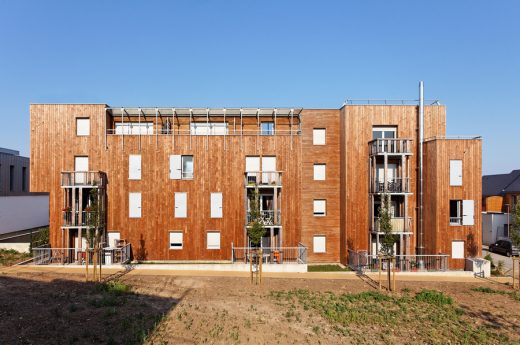 photo © David BOUREAU and Courtesy of R. BROISSAND
Montlouis-sur-Loire Housing
These residential buildings are part of an ambitious urban study for the creation of a new town center – the Zone d'Aménagement Concertée (ZAC), a special planning district known as the "Heart of the City" – in this northern French town of 12,000 inhabitants. A vast area of land was made available before beginning this urban development project, which comprises a diverse range of residences and services surrounding a landscaped public park.
Residential Architecture in France – latest additions to this page, arranged chronologically:
19 Jul 2013
Paris Social Housing, Cavaignac, northern France
Design: h2o architectes



photo : Stéphane Chalmeau
Paris Social Housing
The project of the rue Godefroy Cavaignac in Paris consisted in the rehabilitation of a building which did not meet hygiene and security standards into new social housing.
14 Jun 2013
Saint-Genis-Laval Housing, near Lyon, southern France
Design: Jacky Suchail Architectes



photo from architects
Saint-Genis-Laval Housing
Saint-Genis-Laval has developed hand in hand with a dynamic, innovative social housing policy. The purpose of Les Platanes is to provide accommodation for travellers who have been sedentary for the last thirty years. This project, both in its design and its urban character, comprises a subtle equilibrium of collective considerations and private life, in a spirit of receptiveness and attention to human needs.
13 Dec 2012
Nanterre Apartment Block, Paris, northern France
Design: X-TU Architects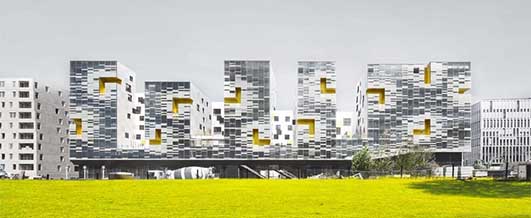 photo : Luc Boegly
Nanterre Apartment Block
A striking facade, grounded by a common base line just above street level, with a serrated roofline and randomised cladding punctuated with deep yellow L-shaped incisions. Text from the architects, rather enigmatic…indeed obtuse!
3 Dec 2012
Massy Social Housing, Massy, south west Paris, northern France
Design: du Besset-Lyon Architectes



photo : Philippe Ruault
French Social Housing
In order to hold its place efficiently within the urban fabric its architecture is simple and takes advantage of the sheer size of a 60 apartment's construction. Size matters when it comes to achieve a dense city. Simplicity and some uniformity contribute to the appeal of residential buildings. The specific color of the facades helps assert the presence of the building.
9 + 4 Jul 2012
Housing in la Courrouze, Rennes, north east France
Design: Philippe Gazeau



photo : Stéphane Chalmeau
Housing in la Courrouze
The BH2 programme is located at the north-east end of the ZAC mixed development zone, in the "Bois Habité" area. It is bounded by the Rue Claude Bernard to the east, and by the Boulevard de Cleunay to the north.
French Housing
Major Residential Projects, alphabetical:
Bègles housing, Gironde, south-western France
2010-
Design: LAN Architecture



image from architect
Bègles housing
A new, ecological and social living space geared to the 21st century. The project's richness and major interest lie in the possibility of inventing an urban lifestyle set in a highly experimental framework enabling the affirmation of new ecological and contemporary architectures. The diversity of architectural propositions and communal and private spaces had to ensure and enhance this specificity. The first stage was to 'sculpt' the volumes in order to exploit their urban potential and intrinsic spatial qualities. We directed our research towards a hybrid typology combining the house and the apartment.
Bicycle Building, Grenoble
2008
Design: Hérault Arnod Architectes



photo © André Morin
Grenoble housing
This project is part of an initiative by the city of Grenoble, which had asked a number of architects to propose projects for buildings that would be forward-looking in terms of sustainable development, in order to complete the construction of the final blocks in a new district in the south of the city.
Lironde Gardens, Montpellier, south France
1991-2009
Design: Atelier d'architecture Christian de Portzamparc



image from architect
Montpellier housing
Montpellier Apartments, Montpellier
2007
Design: Du Besset-Lyon Architectes



image from architect
Montpellier Apartments
Mouvaux Housing, Nord, northern France
2010-
Design: LAN Architecture



image from architect
Mouvaux Housing
Hybrid model between collective and individual housing in Mouvaux. New constructions' urbanization potential and their capacity to integrate the history and the morphology of the city hosting them constitute the major challenge for new built-up areas.
Nantes Tripodes
2005-10
Design: Atelier d'architecture Christian de Portzamparc



image from architect
Nantes Tripodes : mixed-use development
108 rue de Picpus – Social housing, Paris
2008
Design: ecdm



photo : Benoit Fougeirol
Social Housing Paris
Located at the intersection of the homogeneous and haussmannian landscape along Gossec Street, and of the disparate architecture made up through time on Picpus Street, the site on which this 63 social housing program is established is an element of a typical "collage-city" landscape, also characterized by a double movement of the natural soil.
Location: France, western Europe
New Buildings in France
French Architectural Projects
French Architecture Design – chronological list
French Architect Offices – design firm listings
French Architecture – Selection
Maison at Bordeaux
Design: Rem Koolhaas, OMA
Limoges concert hall
Design: Bernard Tschumi Architects
Pierre Vives Project
Design: Zaha Hadid
Comments / photos for the French Residential buildings page welcome