Farnsworth House Photos, Mies van der Rohe Architecture, Architect, Modern Building, Home Pictures
Farnsworth House, Illinois : Architecture
Key 20th Century Mies van der Rohe Building, Plano: Modern Residence in Illinois, USA
post updated Mar 25, 2020 ; Feb 13, 2016
Farnsworth House News
Special Events: For the Love of Farnsworth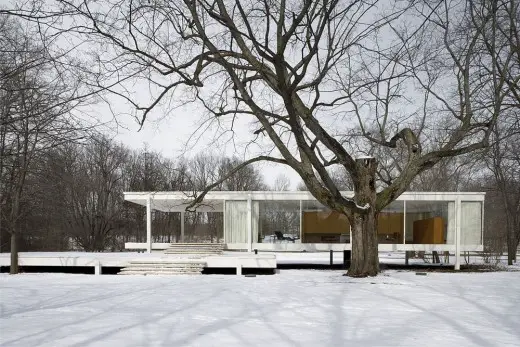 photo by Carol M. Highsmith, courtesy wikimedia commons
On Saturday, February 13th 2016, Matthew Rachman Gallery will team up with the Farnsworth House, a historic site of the National Trust for Historic Preservation for a special event titled, "For the Love of Farnsworth: A Celebration to Benefit the Farnsworth House."
Farnsworth House by Mies van der Rohe interior: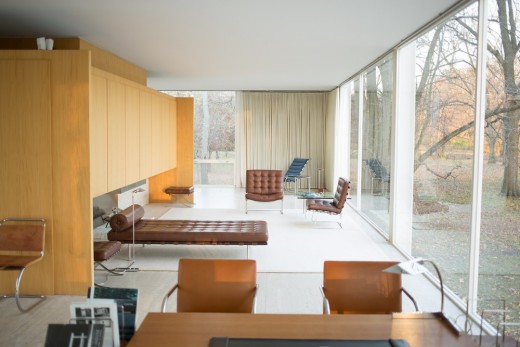 photo by Victor Grigas – Own work, CC BY-SA 3.0, http://commons.wikimedia.org/w/index.php?curid=42288802
An "elegant evening of libations and heavy hors d'oeuvres from ATE 3 FOUR supper club, as well as an introduction by leading historic preservation architect and 2010 Chicagoan of the Year, Gunny Harboe; a short address by Dirk Lohan, award-winning architect, designer and grandson of Mies van der Rohe; and performances by original composer Owen Clayton Condon."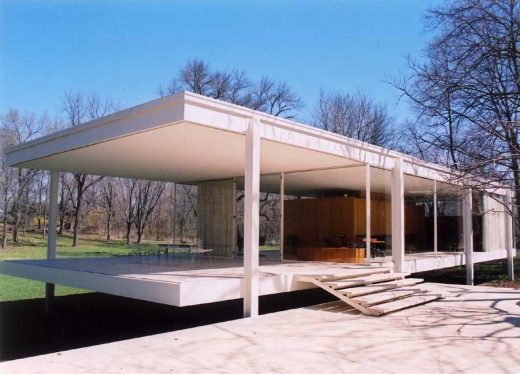 property photo © gm+ad architects
In addition, the gallery will exhibit a specially-curated collection of Farnsworthian art. The exhibition features artwork by Kate Joyce, Tom Judd, Natasha Kohli, Luftwerk, Krista Svalbonas and Glenn Wexler, and will hang at Matthew Rachman Galley through Sunday, February 21. 10% of all art sales during the duration of the exhibition will directly benefit this Modern US home.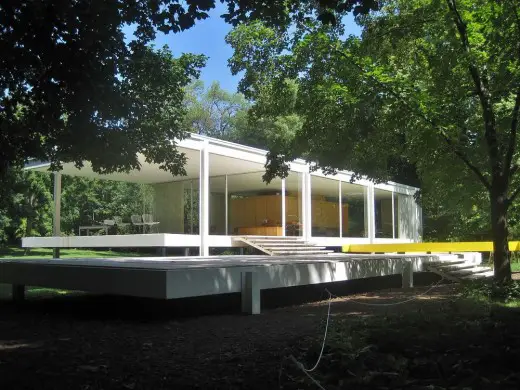 photo by Teemu008 from Palatine, Illinois, USA – uploaded by AlbertHerring, CC BY-SA 2.0, http://commons.wikimedia.org/w/index.php?curid=29482110
November 10, 2015
Farnsworth House Lift
Lift to Protect the Building against Flooding
The National Trust for Historic Preservation wants to protect Mies van der Rohe's landmark Farnsworth House from flooding by raising the entire 275-ton structure on a hydraulic lift during storms, reports hwww.chicagobusiness.com.
The announcement yesterday by the National Trust, the nation's top owner and operator of historic sites, was its long-expected endorsement of a lift instead of other leading options its staff and consultants investigated for the protecting the home, completed in 1951 on the banks of the Fox River in Plano.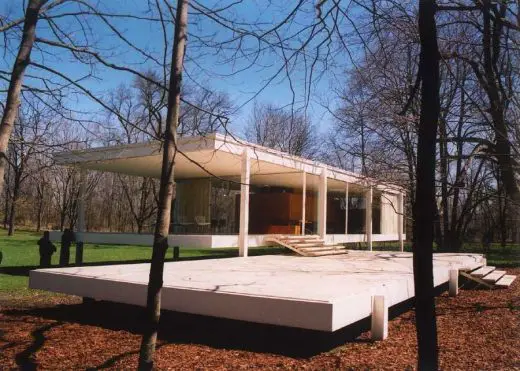 building image © gm+ad architects
May 26, 2014
Hydraulic lift to prevent flood damage to this world-famous Modern Property – article by Fred Bernstein at Architectural Record:
Plans to protect Mies van der Rohe's Farnsworth House by placing it on a hydraulic lift that can be deployed in case of flooding are proceeding at a rate that has taken even the plans' supporters by surprise, reports Fred Bernstein in the Architectural Record.
The lift will cost as much as $3 million, according to Robert Silman, a structural engineer whose firm has done preliminary design work on the system. But Silman says that the National Trust for Historic Preservation, which owns this Modern American property, "has a potential donor who is very interested, and we understand that the donor's decision will be based on public acceptance." That public acceptance could emerge as early as this month. On May 29 and 30, the National Trust will hold two town hall meetings, one in Chicago in Crown Hall by Mies van der Rohe Architect, and one in Plano, Illinois.
Lohan, principal of the Chicago firm Lohan Anderson, says he supports the plan, and that in fact he proposed a similar hydraulic lift in the 1990s. Lord Peter Palumbo, who owned the house at the time, decided to sell the property instead. The trust bought the house from Palumbo, chairman of the Pritzker Architecture Prize jury, at a Sotheby's auction in 2013.
Mies van der Rohe chose the location of the house along the Fox River to create just the right views – both to and from the famously transparent building.
Read more at Farnsworth House Lift
Farnsworth House by Mies van der Rohe – wikipedia
Mar 11, 2013
Farnsworth House Flooding
Above freezing temperatures and continued rainfall has left the Fox River that runs next to the Farnsworth House in a state of rising flood waters today, March 11, 2013. The house is fully surrounded by river water, but neither the lower deck nor the upper deck has yet to be breached – source: miesglasshouse.wordpress.com
Farnsworth House Plano
Key American Building
Farnsworth House, Plano, Illinois
Date built: 1950
Design: Mies van der Rohe Architect
Photographs below are strictly prohibited from copying (except for offline student work) without express authorisation, we monitor copying and have successfully had photographs removed from websites via google.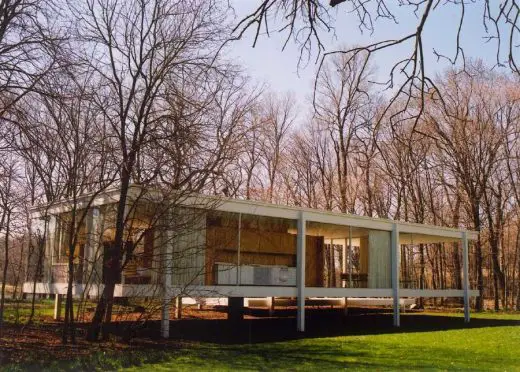 image © gm+ad architects
"an icon of 20th century modern architecture"
"The Farnsworth House is one of the most significant of Mies van der Rohe's works, equal in importance to such canonical monuments as the Barcelona Pavilion".
Farnsworth House Move
Director of the Farnsworth House, Whitney French, is considering how to protect the building from floods. The Fox River is close by and the lawns above which this Modern home 'floats' are increasingly prone to flooding. According to Fred Bernstein writing for archnewsnow.com the Modern Illinois residence has been "flooded at least four times (three of them in the last 13 years). The most recent flood, in September 2008, caused at least $500,000 in damage, mostly to interior woodwork".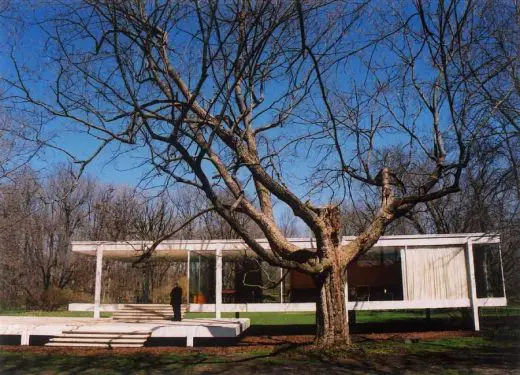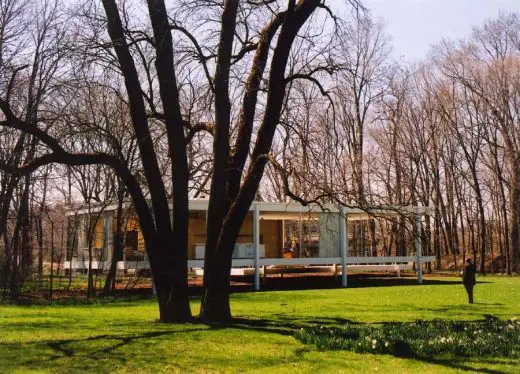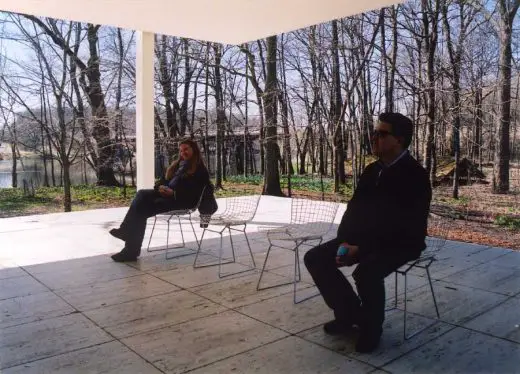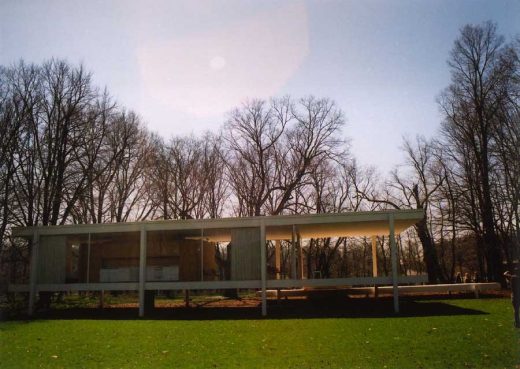 Mies van der Rohe building – photographs © gm+ad architects
Currently when floods occur the property contents are protected but the building itself is left prone. So proposals to move the Farnsworth permanently, or to provide discreet protection such as pop-up glass walls around the perimeter, are being discussed.
Farnsworth House
Address: 14520 River Road, Plano, Illinois, United States of America
Date: 1950
Location: 60 miles from Chicago
Directions: head southwest from Chicago
Client: home built for Dr. Edith Farnsworth
Edith sold the Farnsworth House in 1972 to Lord Palumbo from England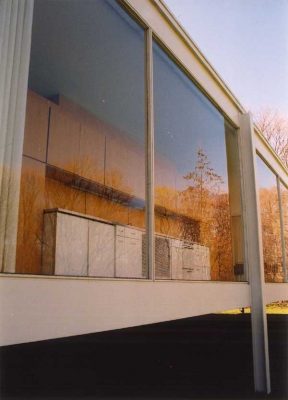 Mies van der Rohe building – image © gm+ad architects
Mies van der Rohe architect, USA
Location: 14520 River Road Gate 1, Plano, IL 60545, United States
Architecture in Chicago
Contemporary Chicago Architectural Projects
Chicago Architectural Design – chronological list
Chicago Architecture Tours – city walks by e-architect
Illinois Buildings by the Farnsworth House architect
860-880 Lake Shore Apartments, Chicago
Dates built: 1948-51


photo : William Zbaren
860-880 Lake Shore Drive
Chicago Federal Center, Chicago
Date built: 1974
Crown Hall + IIT Masterplan, Chicago
Dates built: 1940-
IBM Building, Chicago
Date built: 1971
Key Buildings by Mies van der Rohe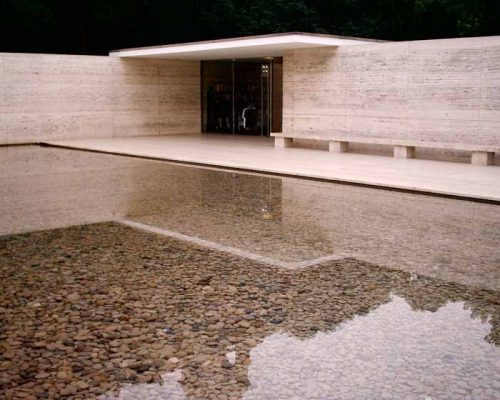 photo © architect Adrian Welch
National Gallery Berlin



photo © Adrian Welch architect
Modern US Home
A Modern home, with simple rectilinear styling sitting aloof from the landscape – just like the Farnsworth House – is Johnson House, New Canaan – 1949 by Modern architect Philip Johnson : Connecticut Architecture
Comments / photos for the Farnsworth House Illinois Architecture page welcome