Canadian Architecture News 2021, Canada Buildings, Construction Design, New Property Photos
Canadian Architecture News
Key Contemporary Architectural Developments in Canada, North American Built Environment Updates
post updated 21 September 2021
Canadian Architectural News
Canadian Building News, arranged chronologically:
Canada Architecture Design – chronological list
Canadian Houses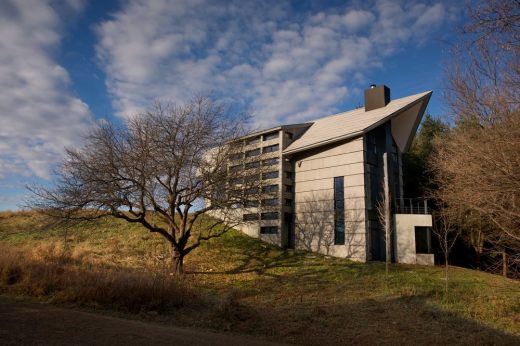 photo © Francis Pelletier
21 Sep 2021
Forest Glamp, Petite-Rivière-Saint-François, Nova Scotia
Design: Bourgeois / Lechasseur architectes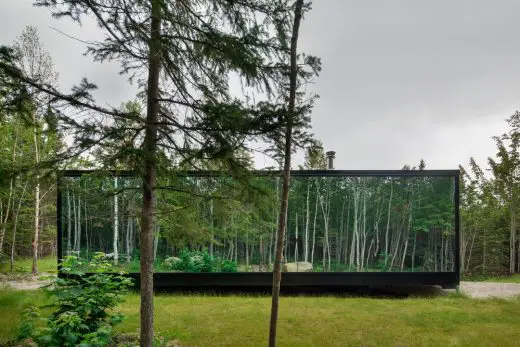 photography : Adrien Williams + Maxime Brouillet
Forest Glamp, Petite-Rivière-Saint-François
Meters away from some of Québec's most spectacular landscapes is an unusual new glamping project. Reflection is the work of Québec-based Bourgeois Lechasseur / architects, who have developed a highly versatile approach to get-away rentals. They first experimented with the luxurious Charlevoix Domes, followed by the slightly nostalgic Cabin A. Reflection, their latest endeavor, is a set of two resolutely contemporary cabins in the woods.
16 Sep 2021
Out(side)In House, Scarborough Bluffs, Ontario
Architecture: Atelier RZLBD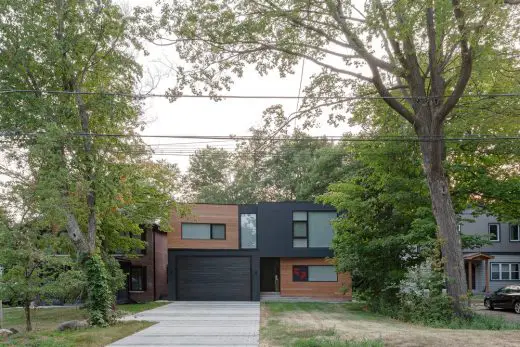 photograph : Borzu Talaie
Out(side)In House in Ontario
24 August 2021
The Senate of Canada Building in Ottawa Award News
Design: Diamond Schmitt Architects with KWC Architects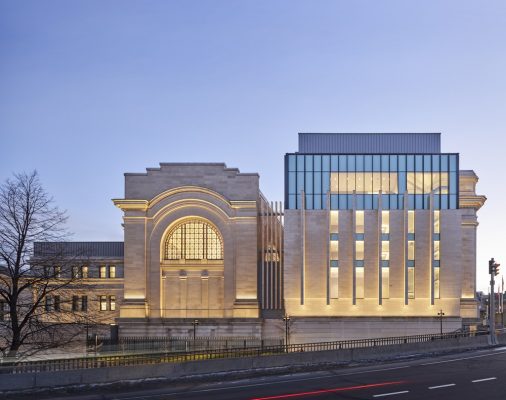 photo : doublespace photography, courtesy Diamond Schmitt Architects
The Senate of Canada Building
The Senate of Canada Building received top honours in the Government Buildings category. It was among 130 projects chosen for the 2021 International Architecture Awards from the final shortlist of 450 projects presented to an international jury composed of distinguished architects, designers, critics and educators.
9 Aug 2021
Saltbox Passive House, Bromont
25 Jun 2021
Sweet Seven Cannabis, Waterloo, Ontario
Architecture: dkstudio architects inc.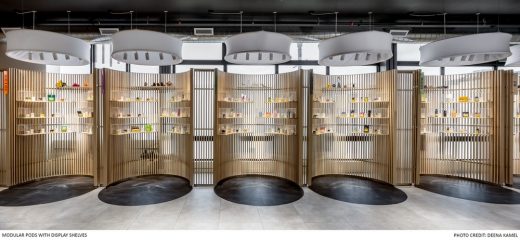 photograph : Deena Kamel
Sweet Seven Cannabis Shop, Waterloo, Ontario
Characterized by a sleek, youthful, and urban design, Sweet Seven Cannabis is a boutique located in Waterloo, Canada. Sweet Seven was created by two independent entrepreneurs who at the time had no previous cannabis nor retail experience.
Jun 11, 2021
Parc des Saphirs Skating Rink, Boischatel, Quebec
Design: ABCP Architecture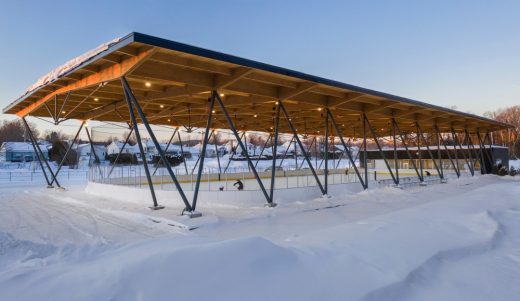 photograph : Stéphane Groleau
Parc des Saphirs Skating Rink, Boischatel
The Parc des Saphirs project turned part of a wooded area beside the Royal Québec golf course into a city park. The resulting sports, fitness and family linear park now occupies a former Hydro-Québec easement. It will eventually include a ropes fitness course, strength-training stations, skating tracks, volleyball courts, and a BMX pump track. The main park facilities are an outdoor covered skating rink and service building.
12 Jun 2021
Longueuil Split-Level Renovation, Québec
May 7, 2021
Collège Saint-Paul, Varennes, Quebec
Architecture: Taktik design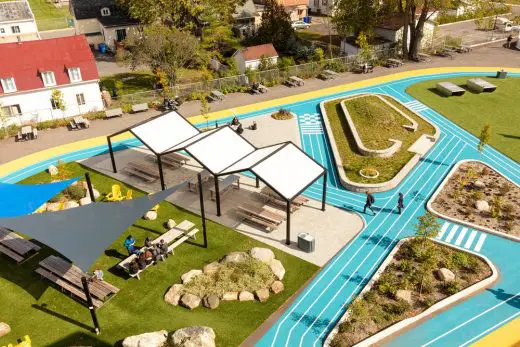 photo : Maxime Brouillet
Collège Saint-Paul, Varennes, Québec
Taktik design has completely redesigned the exterior schoolyard of Collège Saint-Paul, a high school institution renowned for its sporting vocation located in Varennes, in the suburbs of Montreal near the St. Lawrence River. Initially and mainly composed of asphalt areas, the schoolyard presented a development problem due to a street that divided the space into two distinct sections.
Apr 30, 2021
Grand Théâtre de Québec, Mont-Royal, Québec
Architects: Lemay and Atelier 21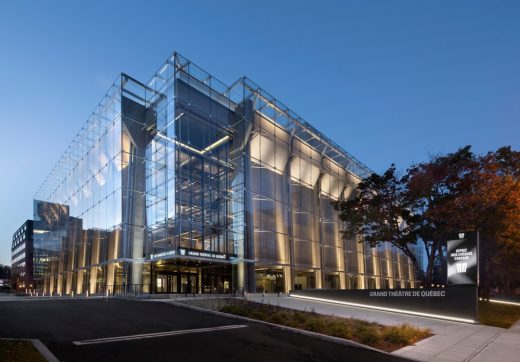 photograph : Stéphane Groleau
Grand Théâtre, Québec City Building
The Grand Théâtre de Québec restoration project has just been awarded four prestigious awards of excellence. Two have been presented by the Ordre des architects du Québec – the jury's highest honors and the public's choice.
12 Apr 2021
UBCO Skeena Residence, Kelowna
15 Dec 2020
Artopex Head Office, Granby, Quebec
Architects: Luc Plante architecture + design inc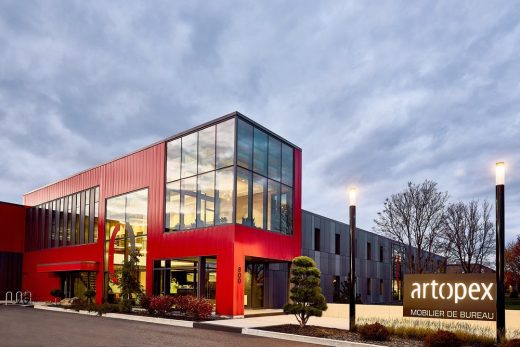 photo © Bastiani photography
Artopex Head Office, Granby
The recently modernized structure of the Artopex Head Office stands out in an industrial district that has seen better days. From the outset, the building's bright fire-engine red signage welcomes visitors with its vast floating volume.
2 Dec 2020
Wolfdown German Streetfood Restaurant, Ottawa
12 Nov 2020
Fredericton Performing Arts Centre, New Brunswick
Design: Diamond Schmitt Architects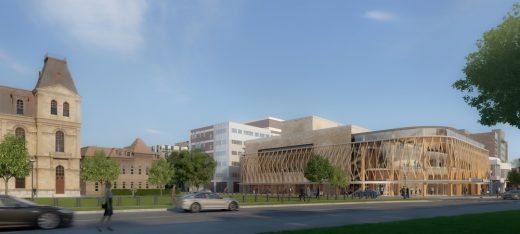 image courtesy of architects
Fredericton Performing Arts Centre, New Brunswick
The City of Fredericton has selected internationally recognized Diamond Schmitt Architects with local partner EXP Engineering, to design their new Performing Arts Centre.
26 Oct 2020
Blackwood Studio, Hinchinbrooke
22 Oct 2020
Oakville Trafalgar Community Centre
31 Jul 2020
Chester Cottage in Nova Scotia
14 Jul 2020
Portland Residence in Mont-Royal, Québec
7 May 2020
Haskyane School of Business, University of Calgary
2 May 2020
New Central Library, Alberta
Architects: Snøhetta and DIALOG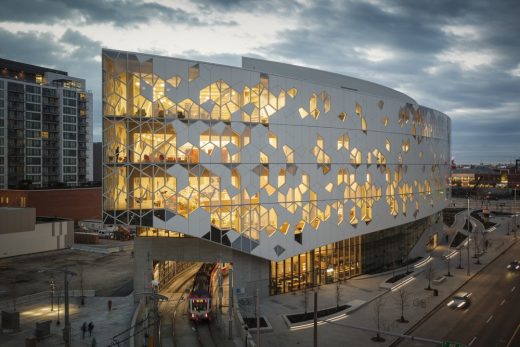 photography © Michael Grimm
New Central Library in Calgary
Calgary's New Central Library aims to welcome over twice as many as previously annual visitors to its 240,000 SF of expanded facilities, the library will fill a vital role for the rapidly expanding city. As Calgary's largest public investment since the 1988 Olympics, the library signals the beginning of a new chapter in the life of the city, one centered on the creation and innovation of knowledge and culture.
15 Apr 2020
Mitchell Family Student Housing Sherbrooke
4 Apr 2020
SODO Residences Calgary, Beltline District
24 Mar 2020
AK Room, Brampton, Ontario, Canada
Architects: Atelier RZLBD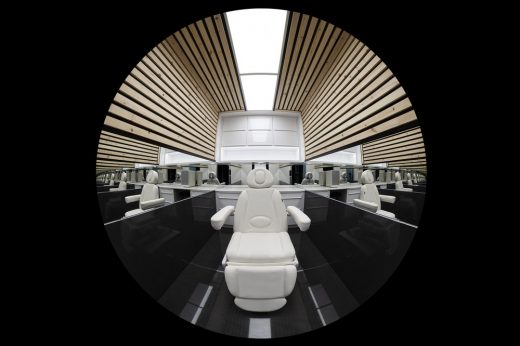 architectural photography : Borzu Talaie
AK Clinic Treatment Room in Brampton, Ontario
Our own human body reveals that beauty or health is symmetrical, balanced, and ordered. The smallest intervention project is a spatial experimentation of these values, converting a typical clinic room of an insignificant footprint into one that transcends its physical boundary and inspires a deeper sense of well-being.
20 Mar 2020
Gravenhurst Cottage in the Muskoka Region of Ontario
14 Mar 2020
Don Ross Innovation Labs + Gender Neutral Washrooms in BC
10 Mar 2020
The Senate of Canada Building, Ottawa
10 Mar 2020
Résidence St-Ignace in Lanaudière Region of Quebec
9 Mar 2020
Cabin A in Petite-Rivière-Saint-François, Québec
28 Feb 2020
Nova Centre Development, Halifax, Nova Scotia
Design: IBI Group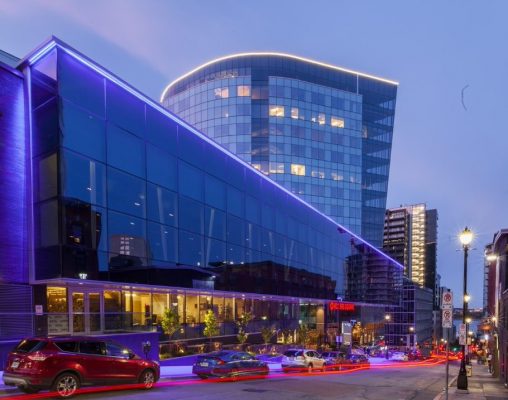 image courtesy of architects
Nova Centre Halifax Building News
$500M, mixed-use development, comprised of 1m sqft of commercial, hotel and retail space on a 2.5 acre downtown sloped site, and featuring the centerpiece facilities for the Halifax Convention Centre.
4 Feb 2020
Rodeo Drive House in Calgary, Alberta
1 Feb 2020
Modern Farmhouse near Calgary
31 Jan 2020
River's Edge House in Calgary
24 Jan 2020
Ottawa Public Library and Archives Canada Joint Facility, Ottawa, ON, Canada
Design: Diamond Schmitt Architects and KWC Architects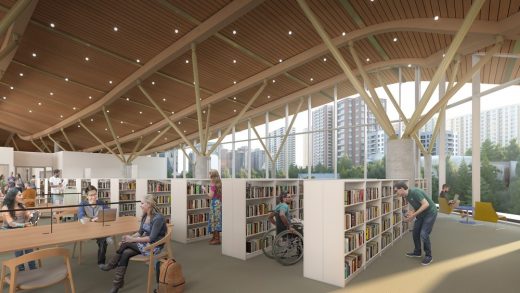 picture courtesy of architects office
Ottawa Public Library Building News
A unique partnership between municipal and federal institutions is the catalyst for an innovative facility on a prominent site in Canada's capital city.
15 Jan 2020
CNC Heavy Mechanical Trades Training Facility
6 Jan 2020
Langlois-Lessard Residence in Léry, Quebec
21 Dec 2019
Bigwin Island Club Cabins in Ontario
5 Nov 2019
The River Cabins, Wheatley River, Prince Edward County
Design: Nine Yards Studio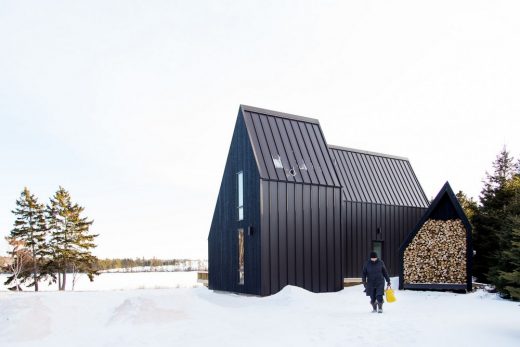 photograph : Tamzin Gillis, Nine Yards Studio
Prince Edward County Buildings
Floating in the Gulf of St. Lawrence is a serene island lined with red sand beaches and stunning ocean views.
28 Oct 2019
Brandon Firehall no.1, Brandon, Manitoba
Design: Cibinel Architects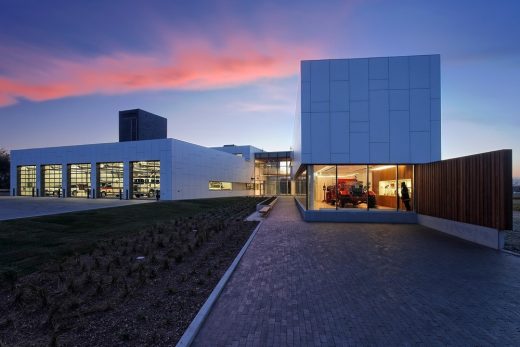 photograph : Mike Karakas
Brandon Firehall Building
4 Sep 2019
Parc de la Rivière-des-Mille-Îles Exploration Centre in Laval
18 Aug 2019
Panorama in Laval
2 Aug 2019
Nunavut Arctic College Expansion, Nunatta Campus
25 Jun 2019
Strøm Nordic Spa, Old Québec
Design: Chevalier Morales Architectes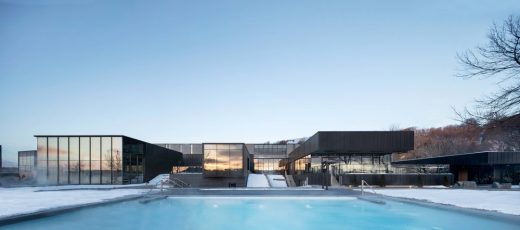 photograph : Adrien Williams
Strøm Nordic Spa in Old Quebec
This new Canadian building on the banks of the St. Lawrence River is a finalist at the International Hotel & Property Awards. The awards celebrate the beautiful designs in real estate and architecture around the world.
22 Jun 2019
Tomlinson Corporate Headquarters in Ottawa
17 Apr 2019
The Pavillon Ouest in Bromont, Québec
5 Apr 2019
Bishop's University Library in Sherbrooke, Quebec
1 Apr 2019
House of Literature in Old Quebec
26 Mar 2019
Metis Beach Intermediate School, Métis-sur-Mer, Québec
Design: PROULXSAVARD + CCM2 architects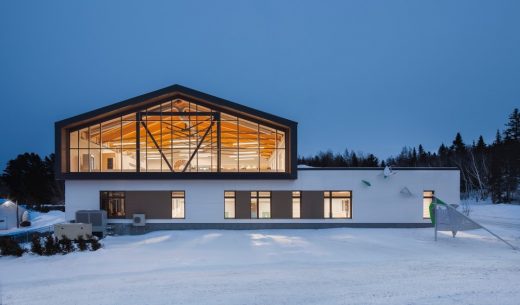 photograph : Adrien Williams
Metis Beach Intermediate School in Quebec
This Canadian Intermediate School serves approximately ninety English-speaking children from Matanie, Mitis, Matapedia and Rimouski Regional county municipality. The institution was established in 1829.
23 Mar 2019
Tigers Retrofit in Medicine Hat
6 Mar 2019
Royal Alberta Museum in Edmonton
2 Mar 2019
The Senate of Canada Building
28 Feb 2019
Walper Hotel in Kitchener, Ontario
25 Feb 2019
SKYBOX in Winnipeg
4 Dec 2018
Rigaud City Hall in Québec
16 Nov 2018
Ottawa Central Library and Archives
11 Nov 2018
The New Central Library in Calgary
8 Nov 2018
Dômes Charlevoix in Petite-Rivière-Saint-François, Québec
7 Nov 2018
Voltigeurs de Québec Armoury
26 Sep 2018
Trafalgar Park Community Centre in Oakville, Ontario
19 Sep 2018
Dion Project, Blainville, suburb of Montreal, southwestern Quebec
Design: LEGUË architecture Inc.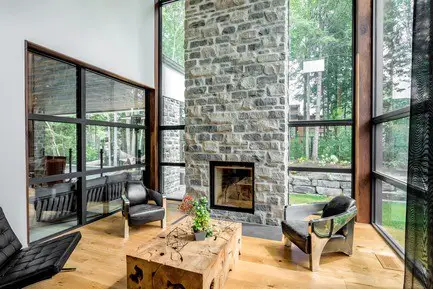 photography : Dominic Boudreau
New Building in Blainville
13 Sep 2018
2018 Wood Design & Building Awards News
11 Sep 2018
Arborescence Homes, Mont-Tremblant, Quebec
Design: ABCP Architecture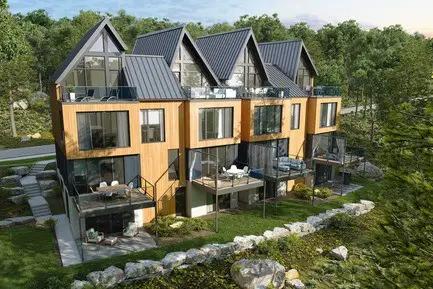 image : Knightsbridge
Arborescence Homes in Mont-Tremblant
This is a series of eco-friendly condominiums located on Bromont Mountain's Kamloops Trail. The project is aiming for LEED certification and will be built in various phases, for a total of approximately 260 units. The first phase will have 48 units and be delivered toward the end of 2019.
2 Aug 2018
Welcome Pavilion, Wellington, Prince Edward County, eastern Ontario
Design: Studio North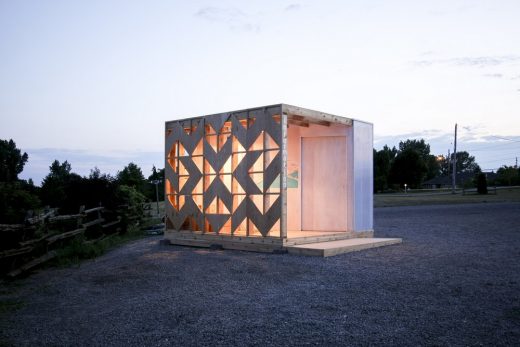 image from architects
New Building in Wellington, Ontario
This project was done in collaboration with the University of Toronto Daniels School of Architecture. Over a 2 week period, Studio North led a design build seminar with the aim to create a new Welcome Pavilion for the village of Wellington, Ontario.
1 Aug 2018
Baker Street Development in Ontario
1 Aug 2018
Workshop on a Cliff in Sainte-Adèle
29 Jul 2018
West Block of Parliament Rehabilitation, Ottawa, southern Ontario
Design: EVOQ Architecture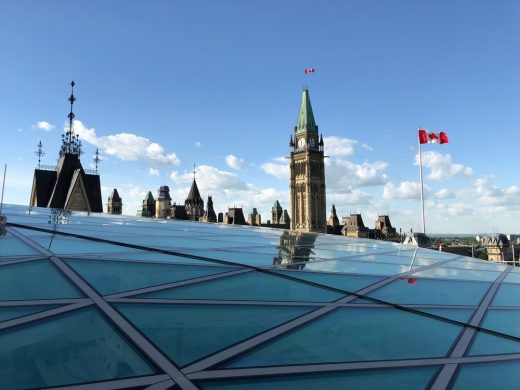 photo © EVOQ
West Block of Parliament Ottawa
EVOQ Architecture is strengthening its presence in the National Capital area with the addition of longtime Ottawa resident, Jayant Gupta, Senior Architect OAA, OAQ, LEED AP, RAIC who joined EVOQ this spring after having worked alongside the company for three years on the West Block Rehabilitation Project.
26 Jul 2018
Ambulatory Care Building, Medicine Hat Regional Hospital, Medicine Hat, Alberta
Design: Gibbs Gage Architects and Diamond Schmitt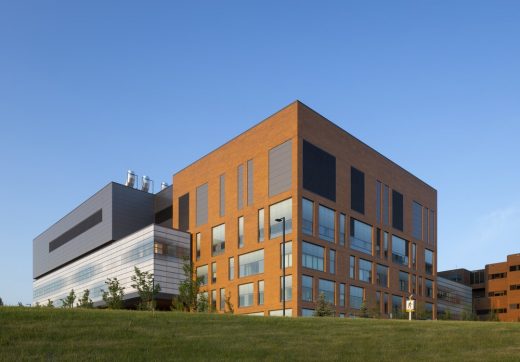 photo : Tom Arban Photography
Ambulatory Care Building, Medicine Hat Regional Hospital
The expansion and renewal of the Medicine Hat Regional Hospital was celebrated today. A ribbon-cutting ceremony officially opened the new Ambulatory Care Building designed by Gibbs Gage Architects and Diamond Schmitt Architects in joint venture.
21 Jul 2018
Innovation Centre at Red River College Exchange District Campus, Winnipeg, Manitoba
Design: Diamond Schmitt Architects with Number TEN Architectural Group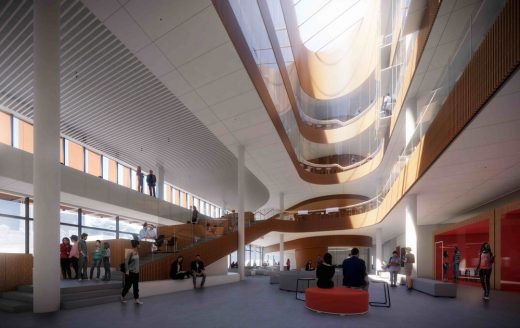 picture courtesy of architects office
Innovation Centre at Red River College
Construction has commenced on a $95-million Innovation Centre at the Red River College Exchange District campus in Winnipeg. This transformative project positions architectural innovation to inspire and support a culture of advanced learning and knowledge transfer. The 100,000-sqft development incorporates a repurposed downtown heritage building and new construction.
5 Jul 2018
North York Central Library Building, Toronto, Ontario
Design: Diamond Schmitt Architects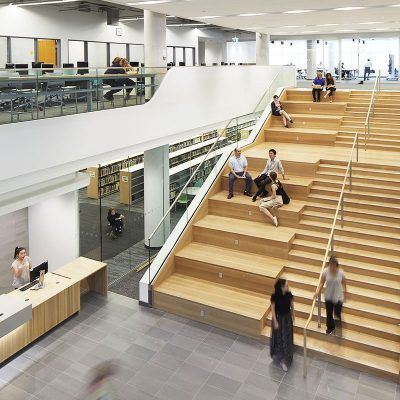 photo : Lisa Logan Photography
Museum Station Toronto Building
Toronto's largest circulating library re-opens today after a major renovation project. Diamond Schmitt Architects has revitalized the North York Central Library and reprogrammed space to support the delivery of new services to meet the changing needs and expectations of its users.
28 Jun 2018
Museum Subway Station, Toronto, Ontario
Design: Diamond Schmitt Architects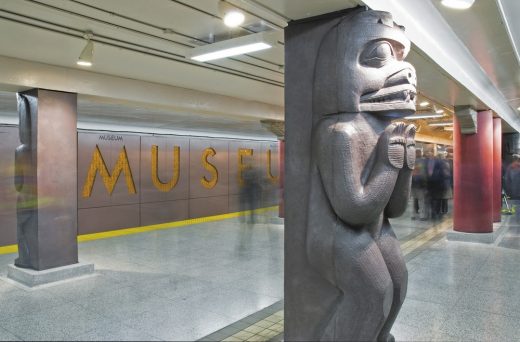 photo : Elizabeth Gyde
Museum Subway Station Toronto Building
It has been a decade since Diamond Schmitt Architects transformed the quotidian into a time travel experience on the Toronto subway at Museum station.
16 May 2018
Metropolitan Toronto Central YMCA, Ontario
Design: Diamond Schmitt Architects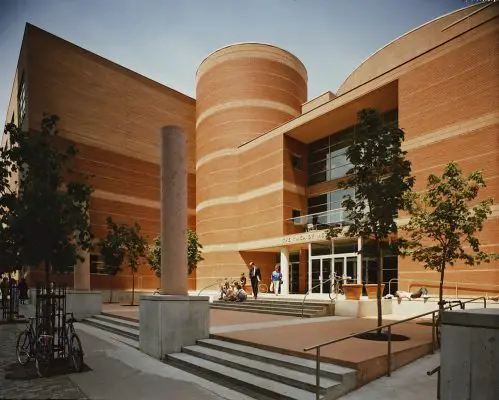 photograph : Fiona Spalding-Smith
Metropolitan Toronto Central YMCA
The Metropolitan Toronto Central YMCA, designed by Diamond Schmitt Architects, is this year's recipient of the Prix du XXe siècle, an award that recognizes outstanding contribution to Canadian architecture of 20th century design.
8 May 2018
DARE District at Algonquin College, Ottawa
Design: Diamond Schmitt Architects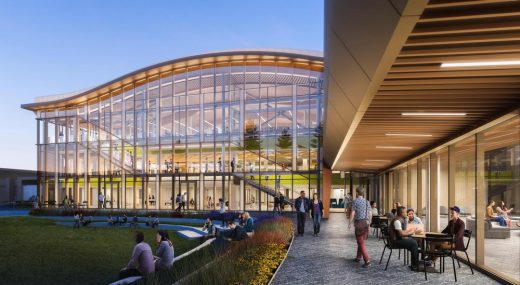 images courtesy of architects
DARE District at Algonquin College
Algonquin College in Ottawa has opened a new centre for learning, innovation and entrepreneurship that features state-of-the-art collaborative environments with an emphasis on the sharing and embracing of Indigenous knowledge.
6 Feb 2018
National Monument dedicated to the Holocaust, Ottawa
Architects: Studio Libeskind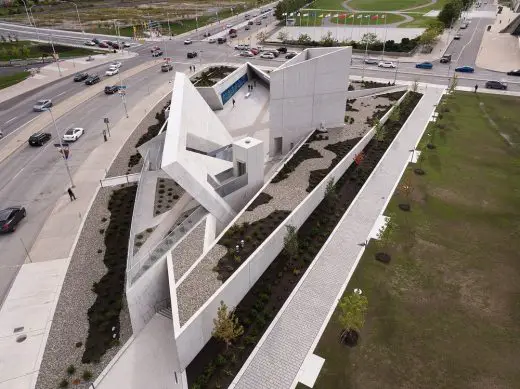 photo © Doublespace
National Holocaust Monument in Ottawa
The Monument will honor the millions of innocent men, women and children who were murdered under the Nazi regime and recognize those survivors who were able to eventually make Canada their home. The Monument is an experience that combines architecture, art, landscape and scholarship in ways that create an-ever changing engagement with one of the darkest chapters of human history while conveying a powerful message of humanity's enduring strength and survival.
1 Feb 2018
Decidedly Jazz Danceworks, Calgary, western Canada
Architects: DIALOG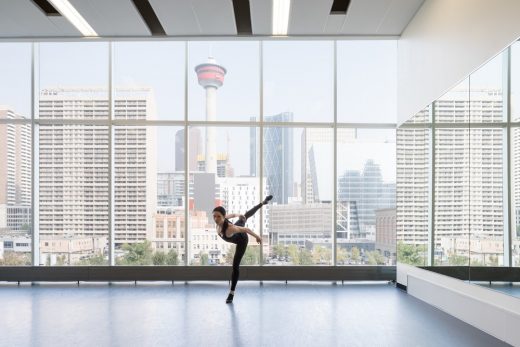 photo : Ema Peter Photography
Decidedly Jazz Danceworks in Calgary
DJD, a professional and recreational dance company, has been exploring how jazz music shapes movement and feeling since its humble beginnings in 1984. Over 30 years later, DJD continues innovating and evolving this art form, growing a jazz-savvy community around the world.
18 Jan 2018
Base Camp, Canmore, Alberta
Design: Studio North ; Architects of Record: Systemic Architecture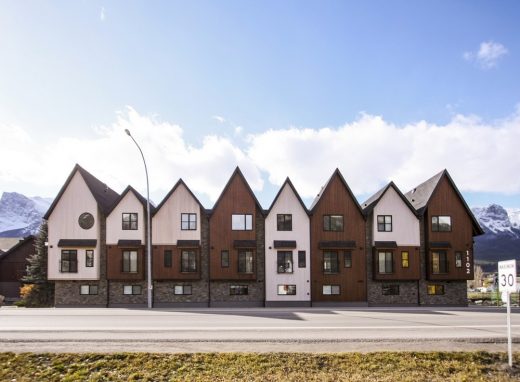 photo : Matthew Kennedy
Base Camp Canmore
The Base Camp buildings are a re-interpretation of the traditional mountain dwelling. The building mass is broken down into simple, archetypal forms that reference historical building typologies seen during the early days of settlement in Canmore and other mountain villages.
12 Jan 2018
The 100 Street Funicular and Frederick G. Todd Lookout, Edmonton, Alberta
Architects: Dialog Design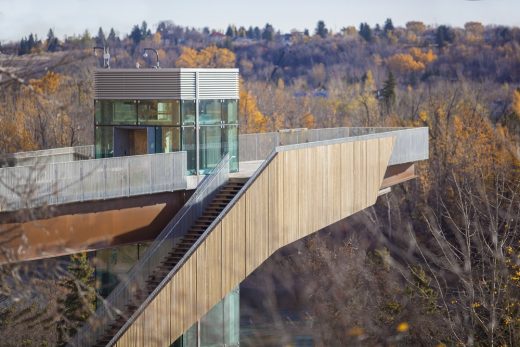 photo © Brock Kryton
The 100 Street Funicular in Edmonton
Canada's first funicular, officially named 'the 100 Street Funicular and Frederick G. Todd Lookout', has now opened as an attraction to members of the public in downtown Edmonton. Designed in its entirety by Dialog Design, this $24 million project has been publicly funded to improve access to Edmonton's river valley – the city's largest and publicly accessible green space.
9 Jan 2018
Centre de services Le Bonnallie, Parc national du Mont-Orford, Orford, QC
Design: Anne Carrier architecture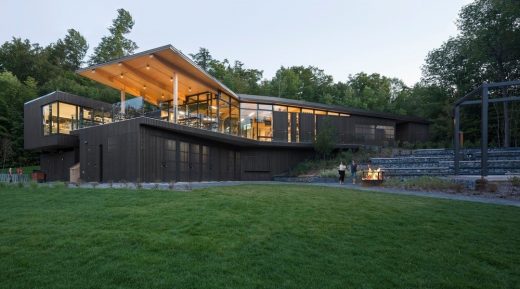 photographer: Stéphane Groleau
Centre de services Le Bonnallie
This building is characterized by its interplay between opacity and transparency and between interior and exterior. It is very carefully integrated into its setting, following the site's topography so closely that the building appears to be sculpted from the landscape itself. The mix of materials and colours gives it character, while creating clear boundaries between different spaces.
More Canadian Architecture News online soon
Location: Canada, North America
Architecture in Canada
Montreal Architecture Walking Tours : city walks by e-architect
Canadian Architecture by City
Montreal Buildings – key buildings + designs
Toronto Architecture – key buildings + designs
Calgary Buildings – key buildings + designs
Canadian Architecture : news + key projects
Habitat 67, Montreal, Quebec
Moshe Safdie, Architect
Habitat 67 Buildings
Vancouver Architecture Walking Tours, BC
Canadian Centre for Architecture Exhibition
Comments / photos for the Canadian Architecture News page welcome
Website: Canada