Dubai building news 2023, Property images, Architects, New UAE construction projects, Towers photos
Dubai Building News: UAE Construction
Contemporary Architecture in the United Arab Emirates: Persian Gulf Property Developments
post updated 15 November 2023
Dubai Architecture Designs – chronological list
Dubai Architecture Tours by e-architect – city walks – prior booking required
Dubai Building News 2023
UAE Architecture News – latest UAE property development additions to this page, arranged chronologically:
EYWA Dubai Business Bay residential development
27 September 2023
Jumeirah Group Appoints Senior Vice President Of Architecture And Spatial Design To Drive Luxury Identity
Industry expert Joanne Behrens joins Jumeirah Group to elevate the brand's design vision
and refine Jumeirah's positioning among the highest echelons of luxury hospitality operators.
Joanne Behrens Jumeirah Group Dubai, UAE: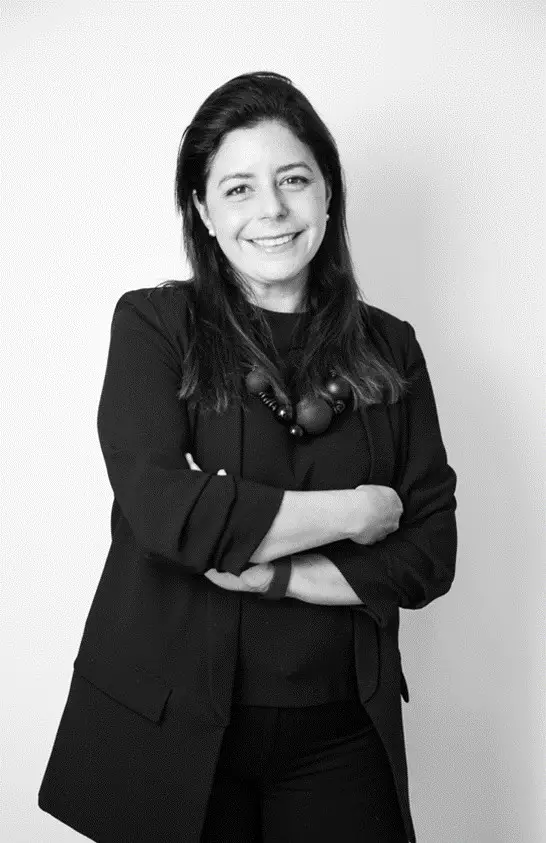 photograph courtesy of the Jumeirah Group
London, 27 September 2023: Jumeirah Group, the luxury hospitality company and member of Dubai Holding, has announced the appointment of Joanne Behrens as Senior Vice President of Architecture & Spatial Design. The appointment is a pivotal step in the Group's commitment to evolving the Jumeirah brand with a guest-centric design approach, blending creativity, lifestyle, and local elements across its physical spaces.
With almost two decades of architectural and design expertise in the luxury hospitality sector, Behrens will spearhead the evolution of Jumeirah's design ethos to align with the brand's new expression of luxury hospitality. With capital assigned to grow its portfolio globally, as well as refine its existing properties, Behrens will play a central role in elevating Jumeirah's brand vision across all new projects, renovations, and conversions, including Jumeirah Marsa Al Arab Dubai, Jumeirah Le Richemond Geneva and Jumeirah Red Sea.
Katerina Giannouka, Chief Executive Officer of Jumeirah Group, said: "Since the creation of Burj Al Arab Jumeirah over two decades ago, Jumeirah has consistently broken boundaries and created the exceptional. Our hotels offer immersive experiences, connecting the most discerning travellers, cultures and communities. As we enter a new era for the Jumeirah brand, we are taking the opportunity to evolve our business and our entire value proposition, with a very human-centric approach. This new role forms an essential part of our vision for Jumeirah to shine brilliantly, with a refined position among the highest echelons of luxury hospitality operators."
Joanne Behrens Jumeirah Group, UAE: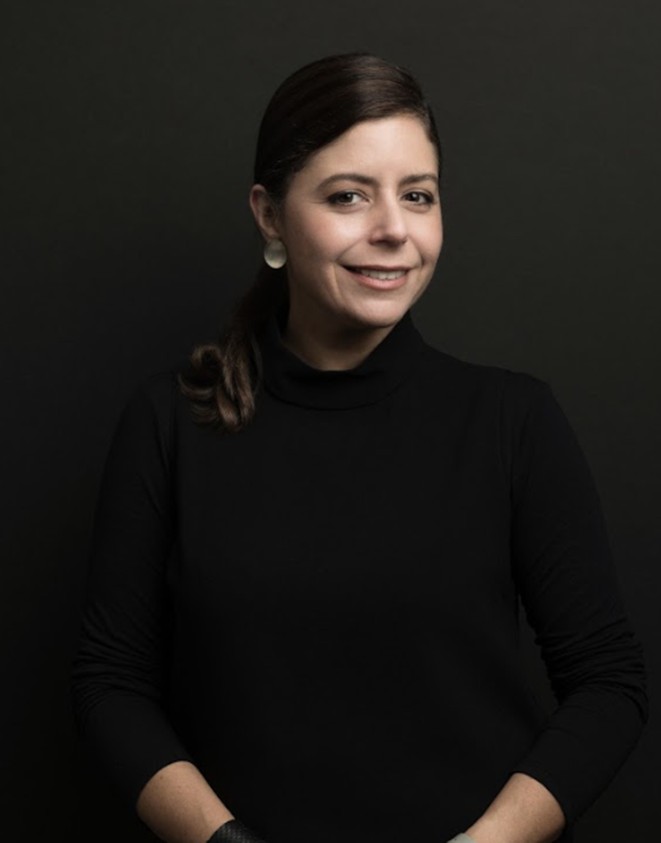 photo courtesy of the Jumeirah Group
Behrens brings an impressive track record, having collaborated with world-renowned designers and artists to conceive and deliver distinctive designs, fashioning the guest experience with captivating and unique spaces. She has held senior positions with renowned luxury brands, including most recently Rosewood Hotel Group, where she was Vice President of Design & Project Services for the Americas.
Central to the evolution of the Jumeirah brand is a commitment to embrace tangible, scalable and practical sustainable solutions for the hospitality industry. As part of this commitment, Behrens will work closely with Jumeirah Group's Sustainability Committee to uphold sustainable and inclusive design practices across its portfolio.
For more information about Jumeirah Group, please visit www.jumeirah.com.
About Jumeirah Group
Jumeirah Group, a member of Dubai Holding and a global luxury hotel company, operates a world-class 7,500+ key portfolio of 27 luxury properties across the Middle East, Europe and Asia.
The group boasts some of the most prestigious and captivating properties in the world, from the iconic flagship hotel and timeless pinnacle of luxury, Burj Al Arab Jumeirah, and lavish Arabian palaces across Dubai's Madinat Jumeirah, to its contemporary Maldivian island paradise at Olhahali Island and art-inspired dolce vita on the island of Capri. Whether a modern twist on a British classic in the heart of Knightsbridge at The Carlton Tower Jumeirah, or a futuristic setting at Jumeirah Nanjing, Jumeirah's name is synonymous with service excellence, crafting exceptional experiences for everyone who walks through its doors.
Beyond its properties and resorts, Jumeirah Group is also dedicated to destination dining experiences, combining the most authentic and diverse cuisines with spectacular settings to create those unforgettable moments worth sharing. With over 85 restaurants across its portfolio, Jumeirah Group's award-winning homegrown concepts including Sal, KAYTO, Shimmers, Al Mare, Pierchic and French Riviera, enjoy an enviable reputation for culinary excellence, with nine featuring in the Gault&Millau UAE 2023 guide. The group also has three Michelin starred restaurants – Shang High, L'Olivo and Al Muntaha.
www.jumeirah.com
26 September 2023
The Beauty of Impermanence: An Architecture of Adaptability curated by Tosin Oshinowo, Sharjah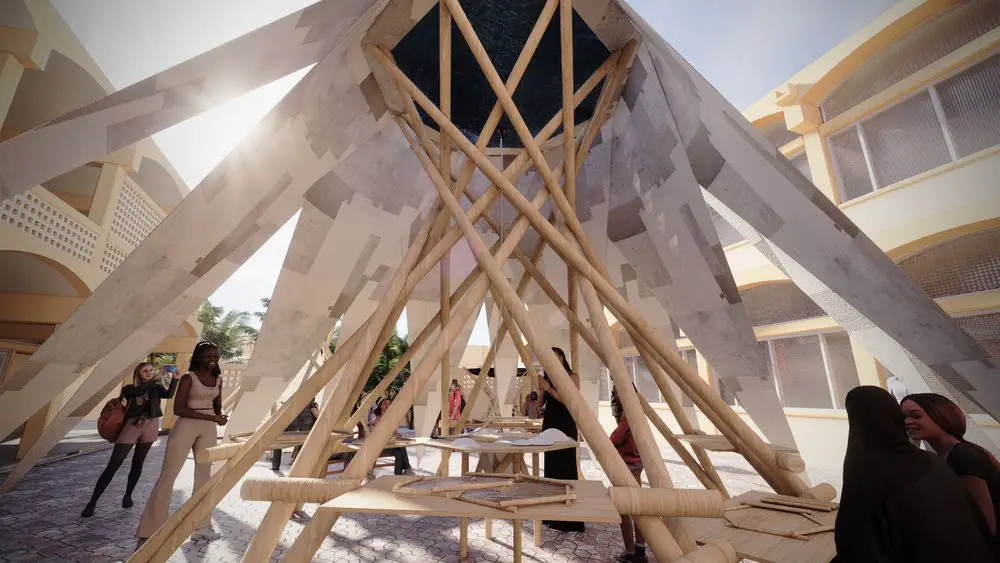 image : Collab – Henry Glogau & Aleksander Kongshaug, Render of Resource Autonomy
Sharjah Architecture Triennial 2023 News, UAE
Sharjah Architecture Triennial reveals details of new commissions and site-specific projects for its 2023 edition, The Beauty of Impermanence: An Architecture of Adaptability. Curated by architect Tosin Oshinowo, the Triennial will feature 30 architects, designers and studios from 26 countries, who will explore innovative design solutions borne out of conditions of scarcity in the Global South.
2 Feb 2023
New Citizens School
Architects: Godwin Austen Johnson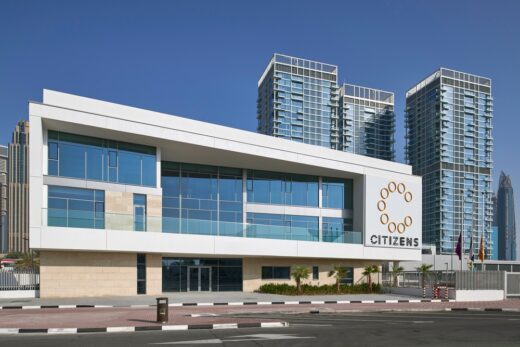 image courtesy of architects practice
New British Curriculum School
Conceived and developed by Al Zarooni Emirates Investments and designed by Godwin Austen Johnson (GAJ) the New Citizens School has been designed to inspire and stimulate and features a teacher training foundation, excellence centre and K-12 school.
Dubai Building Design News in 2022
UAE Architecture News in 2022, chronological:
22 Dec 2022
W Dubai – Mina Seyahi, King Salman Bin Abdulaziz Al Saud Street, Dubai Marina
Design and Project Architect: Aedas ; Interior Designer: Blink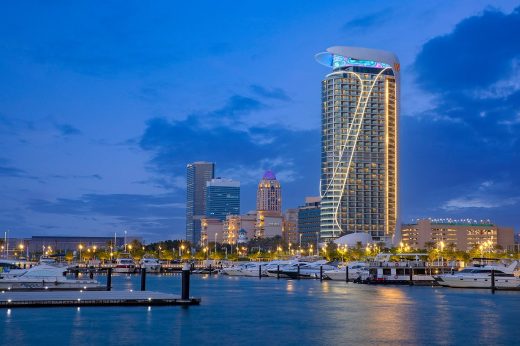 photos by Aedas and W Dubai – Mina Seyahih
W Dubai – Mina Seyahi
This 5-star beachfront resort is located in north of the renowned Dubai International Marina Club. The project is an extension to the existing Le Meridien hotel. With an unrivalled beachfront location, the new Aedas-designed hotel tower is Dubai's newest luxury hotel destination, promising to stun with its eclectic design.
14 Nov 2022
Museum of the Future Dubai Building Photos
New photos of this intriguing structure designed by Killa Design: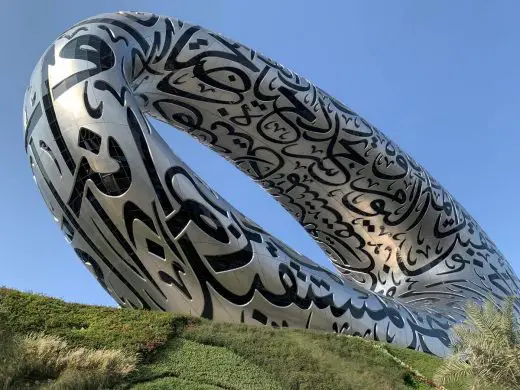 photo © Adrian Welch
Museum of the Future Dubai Building
12 Nov 2022
Dubai Canal Tower Buildings – including the waterfall at Sheikh Zayed Road: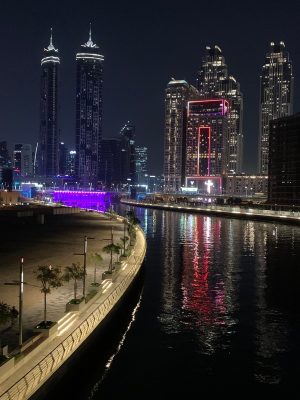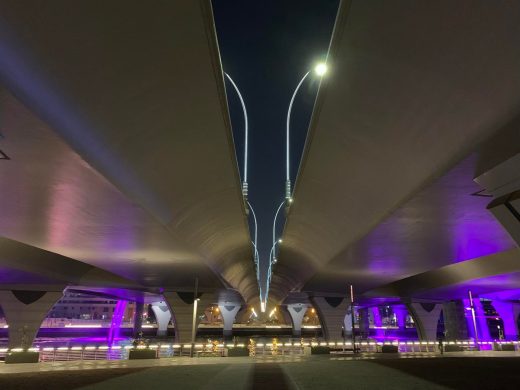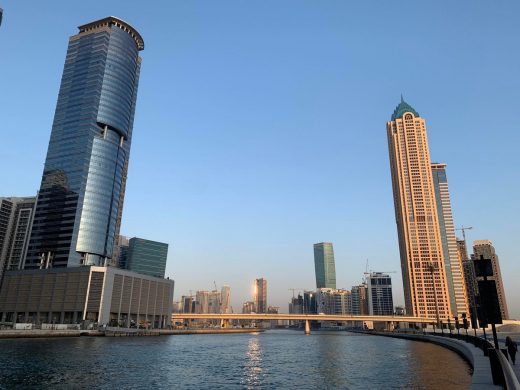 photos © Adrian Welch
23 Aug 2022
Bringing Life To The Desert With Biophilic Design
Design: BDP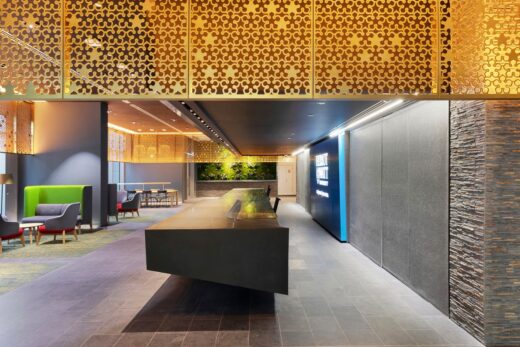 photo : Rebecca Hobday, BDP
Biophilic design at Heriot Watt campus Dubai
When visitors cross the threshold of Heriot Watt's new university campus in Dubai, they leave behind the searing heat of the desert for climate-controlled comfort, where diffused lighting offers relief from the harsh glare of the sun.
15 June 2022
The Perfect Storm, Dubai Hills Mall
Design: Pharos Controls Limited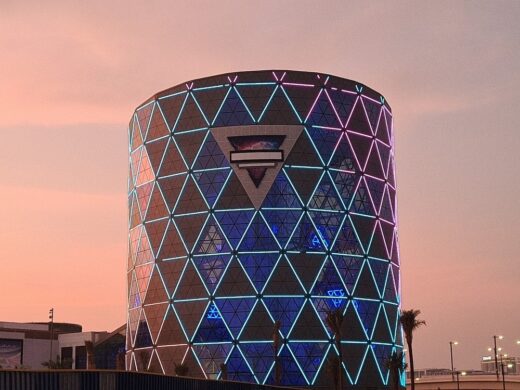 photo Courtesy of Creation Gulf
The Perfect Storm, Dubai Hills Mall
The recently opened Dubai Hills Mall is a glamorous destination in a popular tourist spot, offering plenty of opportunities for shopping, dining and entertainment. It is also home to The Storm, the fastest indoor rollercoaster in the city; an adventurous ride that stands 50 metres tall.
14 June 2022
Sharjah Flying Saucer Building Rehabilitation
Design: SpaceContinuum Design Studio / Mona El Mousfy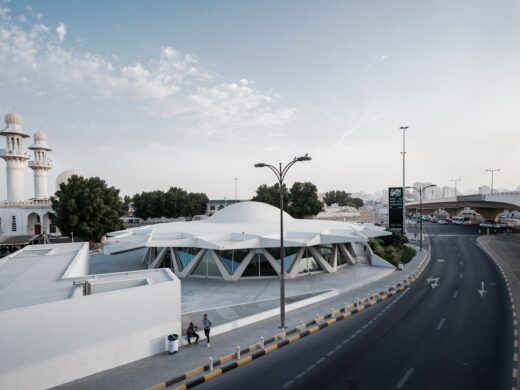 photo : Danko Stjepanovic
Sharjah Flying Saucer Building Rehabilitation
The core structure was revealed by removing the grey aluminum cladding on the saucer's pillars and the orange aluminum cladding on its canopy. The Flying Saucer is a 1978 Brutalist-style building that originally housed a café, restaurant, newsstand and gift shop; use of the building changed several times from 1988 onwards.
Dubai Future Academy, The Boulevard, Emirates Tower, Sheikh Zayed Rd, launched as the capacity building arm of the Dubai Future Foundation in 2017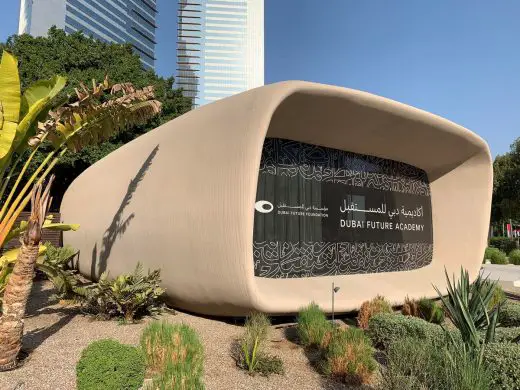 photo © Adrian Welch
Dubai Mall shops interior: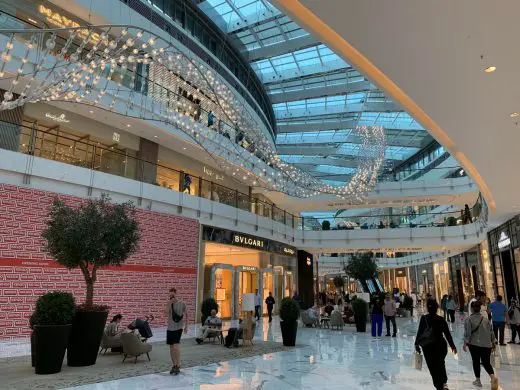 photo © Adrian Welch
20 May 2022
Ariant Residences, Palm Jumeirah
Design: XBD Collective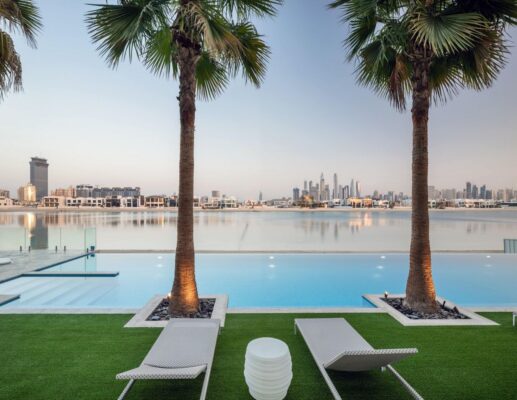 image courtesy of architects practice
Ariant Residences Palm Jumeirah beach mansion
The Ariant Residences in Palm Jumeirah is a project aimed at raising the level of residential living. XBD Collective placed a strong focus on letting the beauty of the sea view permeate throughout the entirety of the home. Combining modern design cues with minimalist luxury, the architectural design marries the best of both worlds into a quietly elegant living space.
31 March 2022
BEEAH Group's new headquarters, desert south of Sharjah city centre, UAE
Design: Zaha Hadid Architects (ZHA)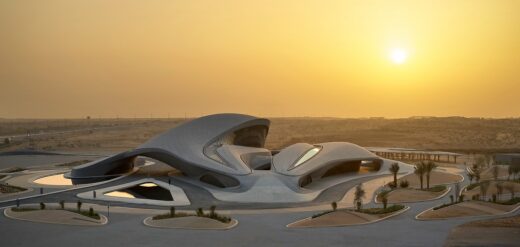 photo : Hufton+Crow
BEEAH Group headquarters in Sharjah, UAE
BEEAH Group's new headquarters in Sharjah, UAE, was opened on March 30 by His Highness Dr. Sheikh Sultan bin Muhammad Al Qasimi, Ruler of Sharjah. Powered by its solar array and equipped with next-generation technologies for operations at LEED Platinum standards, the new headquarters has been designed by ZHA to achieve net-zero emissions and will be the group's management and administrative centre that sets a new benchmark for future workplaces.
31 Mar 2022
Majlis + Sameem for Expo 2020, Dubai, UAE
Design: AGi architects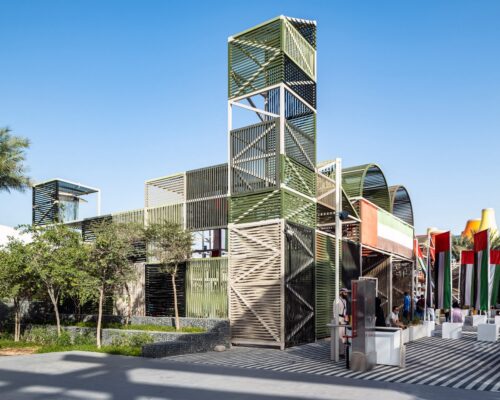 photo : Iñigo Bujedo Aguirre
Majlis + Sameem for Expo 2020 Dubai
Majlis for Expo 2020 Dubai by AGi architects are a set of urban living rooms conceived as human scale places. Given the immensity of the Expo site, in its relationship with users they aim to show hospitality as a symbol of the UAE character.
26 Feb 2022
Pavilions at Expo 2020 Dubai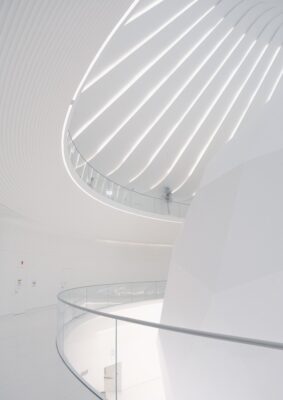 photo © Riccardo Rivano
Expo 2020 Dubai Pavilion Building Photos
With the title "Connecting Minds, Creating the Future" the first Expo hosted in the Middle East has faced many challenges, not least due to the slippage of nearly a year compared to the expected date. In fact, Expo Dubai 2020 was inaugurated in Dubai on 1 October 2021.
22 Feb 2022
Museum of the Future
Architecture: Killa Design ; Interior Design: ATELIER BRÜCKNER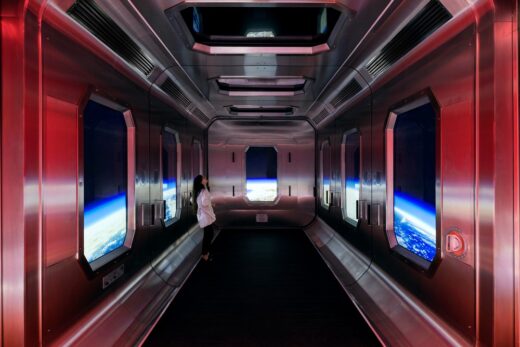 photo © ATELIER BRÜCKNER / Giovanni Emilio Galanello
Museum of the Future Dubai Building
TheMuseum of the Future is one of Dubai's new attractions and is taking its place on the world map. In an iconic building (architecture by Killa Design), visitors are invited to embark upon an expedition to a future for which they will, through individual choices, become part of a collective effort to create a better future for all humanity.
23 Feb 2022
ASPECT Studios launch of Dubai Studio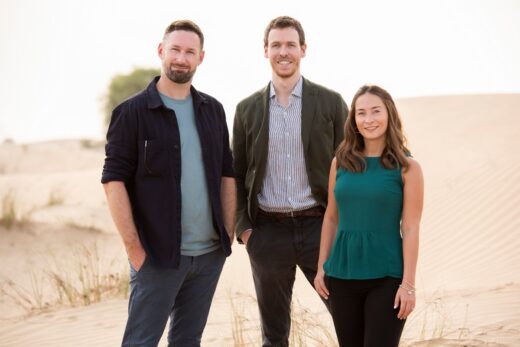 image courtesy of architects practice
ASPECT Studios Dubai landscape design firm
ASPECT Studios, a leading landscape design practice has successfully set up in the Middle East with the opening of a new studio in Dubai. The practice has been active in the region since 2016 and is currently engaged in a wide variety of development schemes, master planning and public domain projects in the area.
9 Feb 2022
AURA SKYPOOL, Palm Tower skyscraper, Palm Jumeirah
Design: Kokaistudios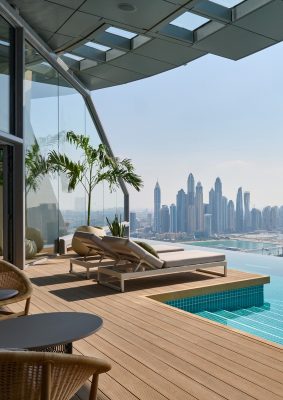 photo : Juliet Dunne
AURA SKYPOOL Dubai: world's highest 360° infinity pool
Spanning the 49th and 50th floor of Dubai's commanding Palm Tower skyscraper, AURU SKYPOOL welcomes visitors to an imagined island in the sky, surrounded by the world's highest 360° infinity pool. All fluttering canopies, lush greenery, and natural features, the design emphasizes detail and quality to deliver impact and drama.
2 Feb 2022
Indian Pavilion at EXPO 2020
Design: CP Kukreja Architects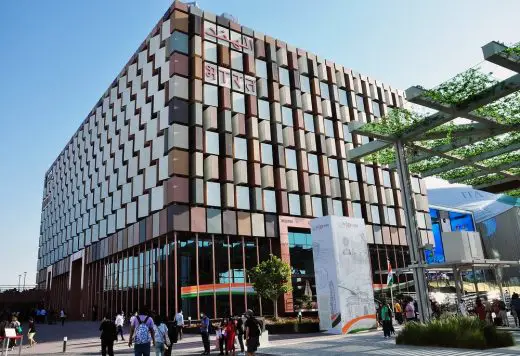 photos : Federation of Indian Chambers of Commerce & Industry (FICCI) and NBCC (India) Limited
Expo 2020 Dubai India Pavilion Building
The Expo 2020 Dubai is a global stage for renowned architects from all over the world to represent countries whilst showcasing design finesse. With an overarching theme of 'Connecting Minds, Creating the Future', it is a platform promoting partnerships for innovation, inclusion and understanding.
More contemporary Dubai Building News on e-architect soon
Dubai Building News 2021
19 Nov 2021
Latvia Pavilion Building at Expo Dubai 2020
Design: DJA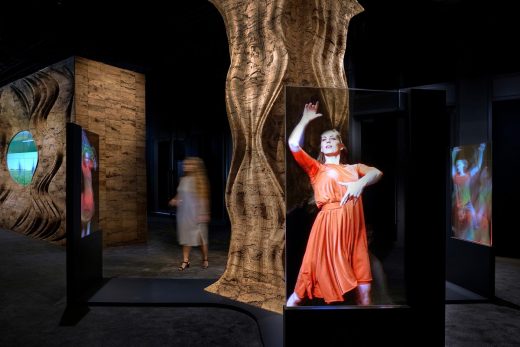 photo : Eriks Bozis
Latvia Pavilion at EXPO 2020 Dubai
Latvia pavilion – Soil (for innovation) at Expo 2020 Dubai is designed as a symbiosis of ancient and futuristic. The Latvian genetic code has been chosen as its basic material – peat, which is used as a canvas on which to tell the stories of Latvia's potential and future development.
15 Nov 2021
Expo 2020 Dubai Landscape Architecture and Urban Design
Design: SWA Group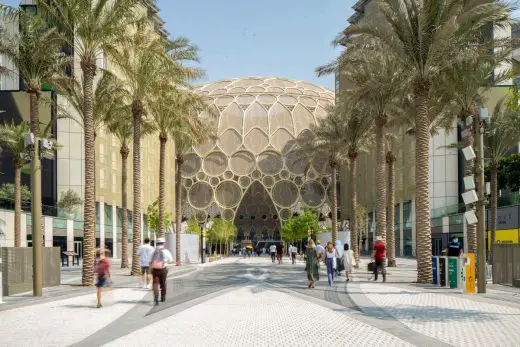 photo : Jason O'Rear
Expo 2020 Dubai Landscape Architecture
Expo 2020 Dubai is the world in one place – a global experience dedicated to bringing together people, communities and nations to build bridges, inspire action and deliver real-life solutions to real-life challenges. In a spirit of optimism, Expo 2020 has gathered more than 200 participants for a visually striking and emotionally inspiring 182 days.
28 Oct 2021
Mission Possible – The Opportunity Pavilion
Design: AGi Architects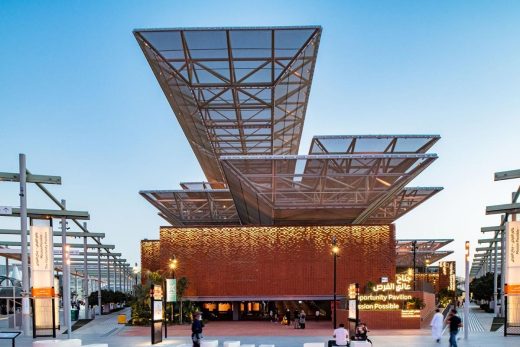 photo : Iñigo Bujedo Aguirre
Opportunity Pavilion Expo 2020 Dubai by AGi architects
This pavilion encapsulates the concept of 'Opportunity': the idea that any action we take can create an impact; that anything is possible with a small step. The pavilion is a public space that allows every visitor from every corner of the planet and every walk of life to connect across age, language and culture, working together to achieve meaningful, positive change for our planet and its people.
27 Oct 2021
Luminescents Pavilion
Luminescents Pavilion
27 Oct 2021
Expo 2020 Dubai German Pavilion
Design: LAVA (Laboratory for Visionary Architecture)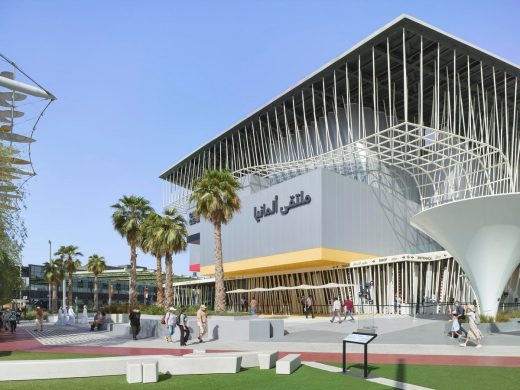 photograph : Roland Halbe
Expo 2020 Dubai German Pavilion Building
The pavilion is a forward-looking, optimistic place of knowledge, research and human interaction. It is full of sustainability-themed examples of innovation and ingenuity to inspire, fascinate and thrill visitors young and old.
26 Oct 2021
i-Mesh Canopy
Design: Werner Sobek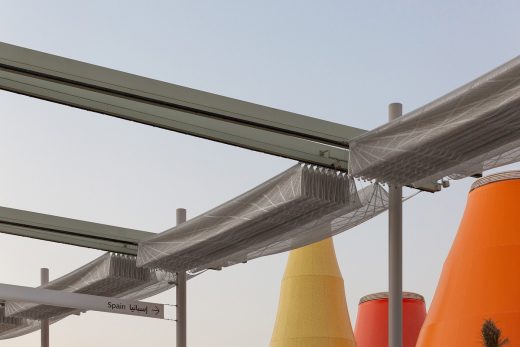 photo : i-Mesh
i-Mesh Expo 2020 Dubai Canopy
These canopies are made with an innovative textile fiber: 2.7 kilometers of retractable textile surfaces provide 52,500 square meters of lightness and technology, acting as a screen between land and sky. i-Mesh, a Made in Italy technical fabric, allows the realization of a high-performance cover for Expo's promenade.
19 Oct 2021
Russian Pavilion Building at Expo Dubai 2020, UAE
Design: SPEECH architectural office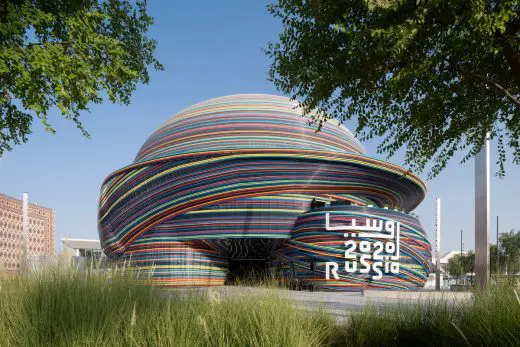 photograph : Ilya Ivanov
Russian Pavilion at EXPO 2020 Dubai
EXPO 2020 takes place in Dubai. The exhibition territory is divided into three thematic districts: Opportunity, Mobility, and Sustainability. Russian Pavilion's moto is 'Creative mind: driving the future'. Situated in the Mobility district, the Russia Pavilion develops precisely this theme.
6 Oct 2021
Terra – The Sustainability Pavilion
Design: Grimshaw Architects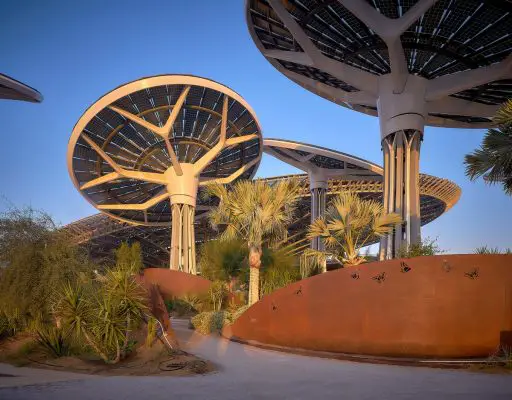 photo : Phil Handforth
Expo 2020 Dubai Sustainability Pavilion Building
Terra – The Sustainability Pavilion, opened to the public in 2021 as one of the top three attractions of the Dubai Expo 2020, and aims to illuminate the ingenuity and possibility of architecture as society looks to intelligent strategies for future sustainable living.
5 Oct 2021
Italian Pavilion Building at Expo Dubai 2020
Design: CRA-Carlo Ratti Associati and Italo Rota Building Office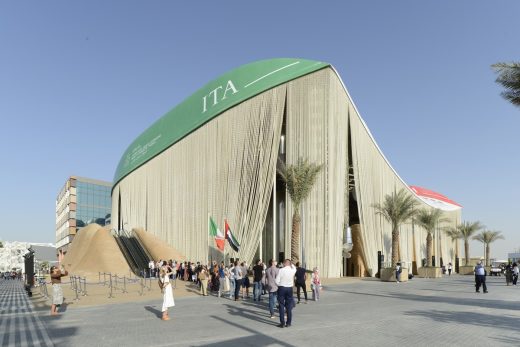 photo : Michele Nastasi
Expo 2020 Dubai Italian Pavilion Building
Italy's Pavilion at Expo Dubai 2020 opens to the public as an experiment into reconfigurable architecture and circularity. It features three boat hulls as the structure's roof; a multimedia facade made with two million recycled plastic bottles; and a natural climate mitigation system that substitutes for air conditioning.
30 September 2021
Singapore Pavilion At Expo 2020 Dubai
Design: WOHA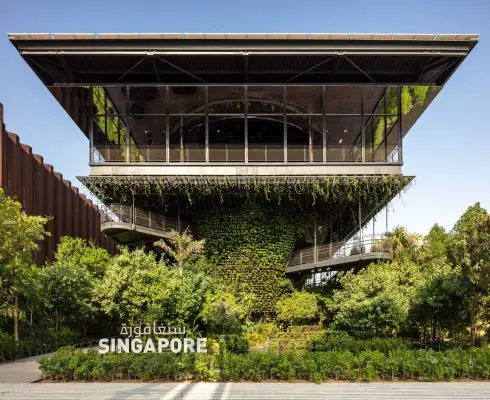 photo © Singapore Pavilion, Expo 2020 Dubai
Expo 2020 Dubai Singapore Pavilion Building
Singapore's Urban Redevelopment Authority appointed WOHA to design the Singapore Pavilion for the 2020 World Expo, Dubai. The Expo officially opens its doors to the public on 1 October 2021 and will run until 31 March 2022. The Singapore Pavilion will welcome visitors into a sustainable oasis in the desert that integrates nature, innovation and architecture and encapsulates Singapore's vision of becoming a City in Nature.
29 Sep 2021
Dubai Expo UK Pavilion
Design: Es Devlin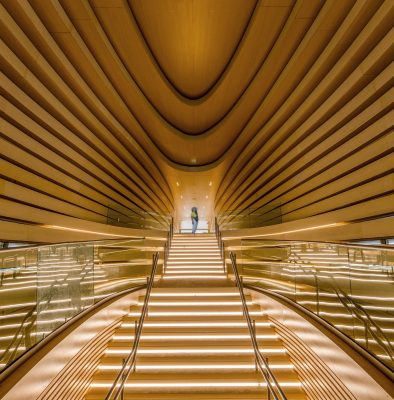 photo by Alin Constantin ; image courtesy of Es Devlin
Expo 2020 Dubai UK Pavilion Building
The UK Pavilion, created by leading artist and designer, Es Devlin, will be launched on 1 October 2021. Shaped like a giant wooden conical musical instrument, the Poem Pavilion gathers words donated by each visitor and uses an advanced machine learning algorithm to generate the cumulative collective poem which illuminates its twenty-metre diameter facade.
29 Sep 2021
Dubai Expo Swedish Pavilion Building
Design: Alessandro Ripellino Architects, Studio Adrien Gardère and Luigi Pardo Architetti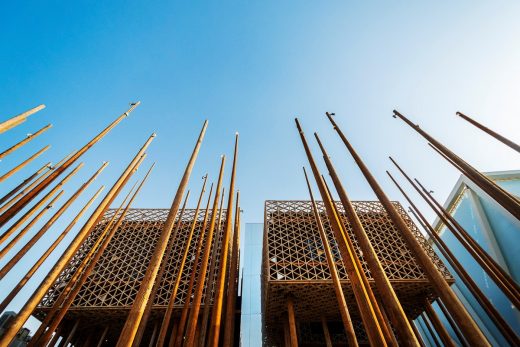 photo courtesy of Swedish government
Dubai Expo Swedish Pavilion Building
On Friday 1 October, the world exhibition Expo 2020 will be inaugurated in Dubai. Sweden participates with an exhibition pavilion, and the Swedish investment is a co-financing between the state and the business community in equal parts.
29 Sep 2021
Dubai Expo Entry Canopy : WonderCool
Design: Woods Bagot UAE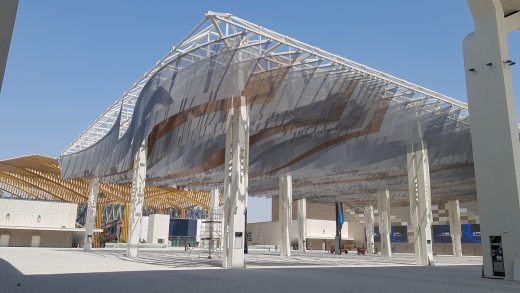 photo courtesy of architecture office
2020 Expo Dubai Entry Canopy: WonderCool
This is a beautiful installation among a host of amazing exhibits at one of the world's best displays of the future of architecture and design. The first spectacle of architectural design to be encountered by the expected 25 million visitors to Dubai World Expo is the soaring kinetic shade canopy over the visitor arrivals hall.
28 Sep 2021
2020 Expo Dubai German Pavilion
21 Sep 2021
Mosque of the Late Mohamed Abdulkhaliq Gargash, Um Suqeim Road, Al Quoz
Design: Dabbagh Architects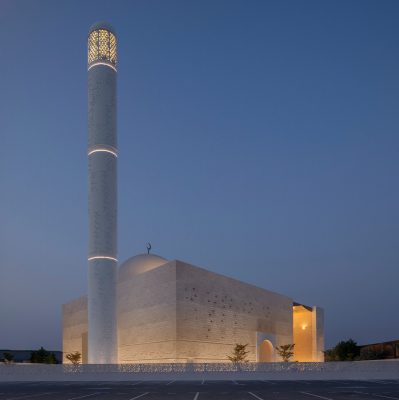 photo courtesy of architects office
Mosque of the Late Mohamed Abdulkhaliq Gargash in Dubai
A contemporary place of worship quietly masterful in its use of form, materiality and controlled natural lighting to create a sense of calm and spiritual connection. A pared down form that eschews traditional Islamic typology, with a design narrative to transition the worshipper from the outer everyday world to an inner spiritual experience.
14 Aug 2021
Dubai Residence Landscape
Design: NGS Architects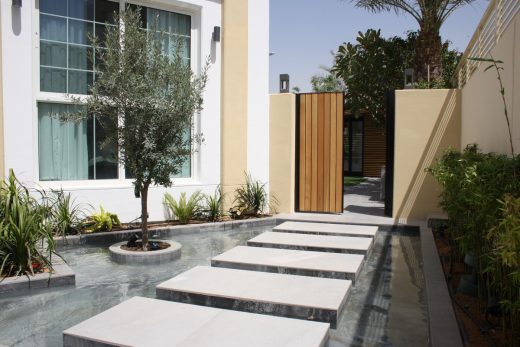 photo courtesy of architects office
02 Mudon Dubai Garden Residence
This is the center of the project and is pivotal to the arrangement and architecture of the whole project. The Man cave/Spa was created for the work-at-home parent as a result of the Covid Pandemic.
12 Mar 2021
House of Wisdom in Sharjah, UAE
12 Mar 2021
The Scroll Sculpture in Sharjah
More modern Dubai Building News online soon
Dubai Building News 2020
17 Dec 2020
The SPACE, Dubai College
19 July 2020
KOA Canvas Apartments
11 July 2020
Grand Mosque of Gate Avenue + KSA Pavilion
5 July 2020
Kraz Restaurant, Sharjah
Architects: H2R Design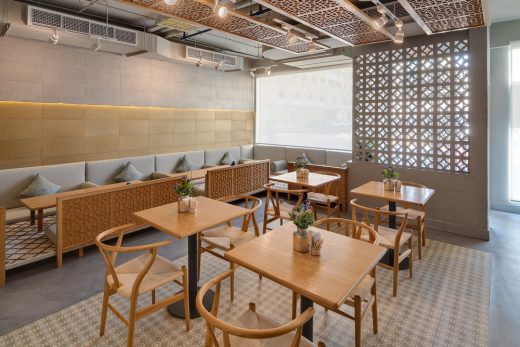 image courtesy of architects office
Kraz Restaurant in Sharjah
Kraz, a modern Emirati restaurant located in a residential area and close to universities in Sharjah. The boutique firm designed Kraz in a way that lets diners discover the eloquence of Emirati traditions, while enjoying a minimalistic ambiance harmonized between luxury and simplicity with singular tones and subtle patterns.
11 June 2020
Flamenca at The World Islands
Design: UNICA Architects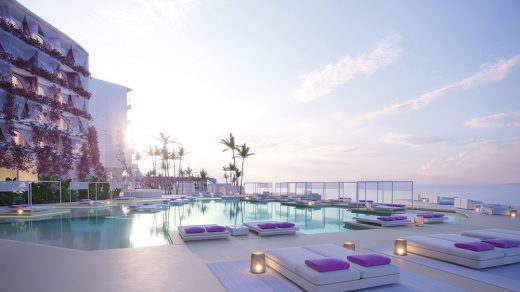 image courtesy of architects
Flamenca at The World Islands in Dubai
The essence of Andalusian Heritage. Representing the culture and history of a place through a contemporary construction.
22 May 2020
Coca-Cola Arena, City Walk
Architects: Populous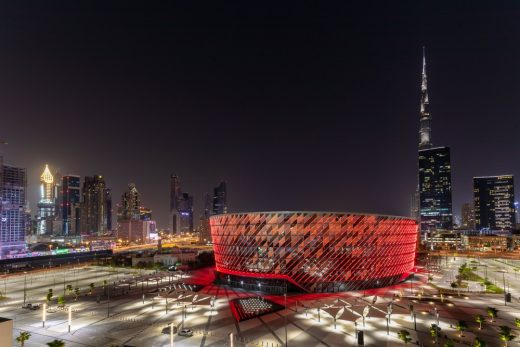 photo courtesy of architects
Coca-Cola Arena
Global architecture firm Populous celebrates its first arena concept design in the Middle East. With a capacity of 17,000, the arena becomes the largest multi-purpose indoor arena in the region and, by incorporating climate control throughout the building.
6 May 2020
The Opus
Design: Zaha Hadid Architects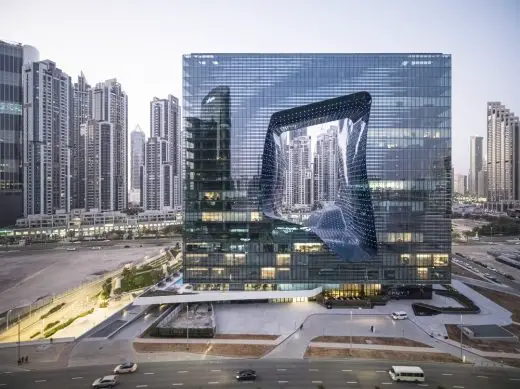 photograph : Laurian Ghinitoiu
The Opus Hotel in Dubai
Home to the new ME Dubai hotel, The Opus is located in the Burj Khalifa district adjacent to Downtown Dubai and Business Bay on the Dubai Water Canal.
23 Apr 2020
EXPO pavilion
Architects: 10 Design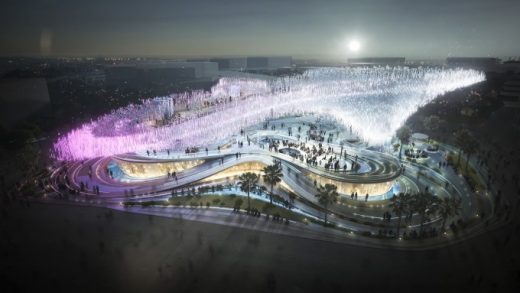 image courtesy of architects office
EXPO Pavilion Concept
By imagining, making, communicating, and sharing within the pavilion's activity spaces on the ground, a bright and open future is revealed in the clouds above.
14 May 2020
RIBA Cityscape Intelligence Sketchbook News
Cityscape Intelligence and RIBA are hosting a Sketchbook competition – Culturally Significant Vernacular Architecture in the Gulf
It is an open call competition to RIBA members in the Gulf (UAE, Kingdom of Saudi Arabia, Bahrain, Kuwait, Qatar, Jordan, Sultanate of Oman), non-member local Gulf architects and architecture students across the Gulf to submit a sketch in line with the theme of vernacular architecture in your country.
The winner will receive a VIP ticket to one Cityscape Conference of their choosing and access to one Cityscape architecture workshop (valid until 2021) and will display their sketching skills in a live RIBA Cityscape Intelligence webinar session that will be livestreamed for members across the Gulf to view on June 18 2020.
The silver and bronze delegates will be featured in the RIBA International newsletter and promoted on the RIBA website. Through this competition, the RIBA and Cityscape Intelligence aim to celebrate the similarities and differences in traditional architecture across the Gulf.
Wednesday, May 20th: Deadline for submission (10 pm UAE, Oman time & 9 pm Bahrain, Jordan, Qatar, Kuwait, KSA time)
RIBA Cityscape Intelligence Sketchbook
25 Mar 2020
Springs Warehouse Gym in UAE
10 Feb 2020
Expo Entry Portals
Architect: Asif Khan Studio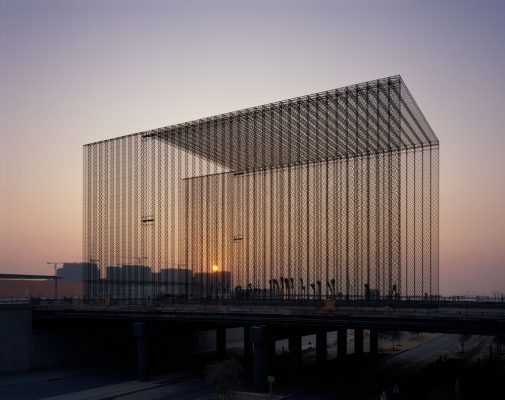 photograph : Hélène Binet
Dubai 2020 Expo Entry Portals in UAE
Asif Khan, renowned British architecture studio, has designed the Expo Entry Portals, three spectacular gateways to Expo 2020 Dubai that will grant entry to visitors from 20 October. The structures are the first works to be unveiled from the studio's design of more than six kilometres of Expo 2020 Public Realm.
More current Dubai Building News online soon
UAE Property + Construction Updates 2019
2 Nov 2019
Barjeel Museum for Modern Arab Art in Sharjah – 1st Prize Winner News
Design: Architects AIDIA STUDIO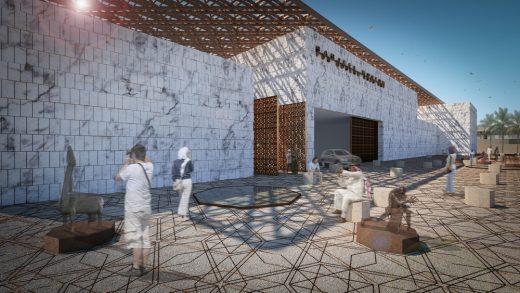 images courtesy of architects office
Barjeel Museum for Modern Arab Art in Sharjah
First Prize Winner, Tamayouz Excellency Award, Barjeel Foundation
1 Nov 2019
Barjeel Museum for Modern Arab Art, Sharjah
Design: Architect Habibeh Madjdabadi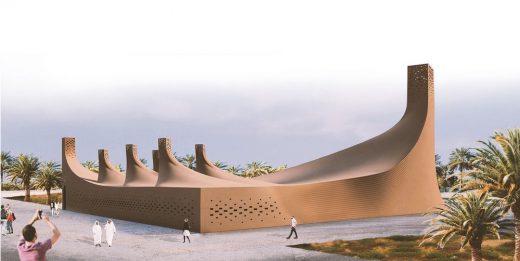 image courtesy of architects
Habibeh Madjdabadi's Museum for Modern Arab Art in the UAE
14 Oct 2019
Light Middle East
Opens on Tuesday 15th October.
Light Middle East event registration
15 – 17 October 2019
Dubai World Trade Centre
www.lightME.net
19 Sep 2019
Hotel Room Design Challenge News
Godwin Austen Johnson has won the Hotel Room Design Challenge at The Hotel Show Dubai.
A new feature for this year The Hotel Room Design Challenge was introduced to showcase some of the UAE's leading interior designers and fit out contractors.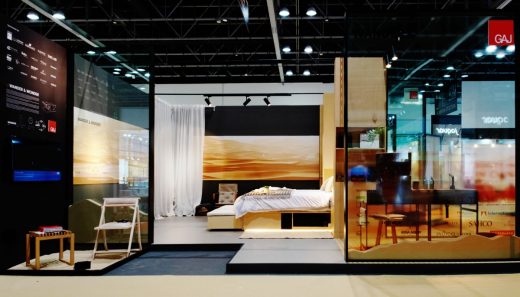 photograph : Refaad Sulttan
Competing teams were given a designated space within the event to create their room set design, based upon a theme Dubai: A World of Possibility, A Lifetime of Stories. Visitors at the event were asked to vote for their favourite room set design during the first and second days of the Hotel Show, and the winning team was awarded at the Middle East Hospitality Awards.
Headed by a young team of designers from GAJ the Wander concept was conceived by junior designer Faizal Razak and interior designer Abdallah Mohamed Gad and supported by junior designer Hala Abdelbaky and intern Aya Faour with guidance from senior members of the team.
Their room design was contemporary, sleek and minimalistic with elements deigned to create a practical multifunctional experience. The materiality was hand-picked to reflect sustainability and durability throughout the space with use of recycled and low environmental impact materials. Flexibility and adaptability were some of the key influences throughout the design allowing users to create various possibilities functionally both inside and outside the space.
"The team for this initiative was chosen based on their passion for the project. It was an exciting challenge and we wanted to ensure the people working on it were going to see it as a platform to showcase their creativity and technical skills," said Jacinda Raniolo, lead creative designer at Godwin Austen Johnson.
Sponsors:
– NOAF Interiors
– Mirodec
– Sensi
– Tarrab
– Green Coverings
– Forbo
– Arteco
– International Hotel Supply Company
– Assa Abloy
– MUJI
– Rubelli
– Studio Art
– Kikkerland
– Ikon House
– Sahco
– Restonic
– Huda Lighting
– Indigo Living
– Elitis
2 Aug 2019
Timber Pavilion at Dubai Design Week 2019
Architects: Collaborative Architecture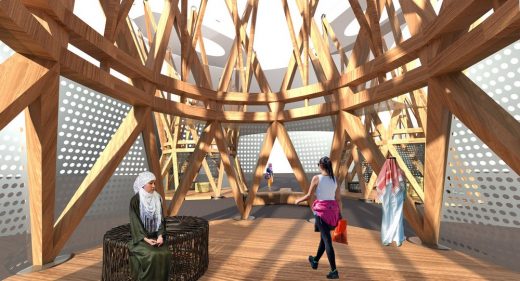 image courtesy of architects
Timber Pavilion Dubai Design Week 2019
Collaborative Architecture to install, an innovative, islamic pattern inspired,
Timber Pavilion – 'The Souk' at Dubai Design Week, Dubai, UAE
11-16 Nov 2019
8 July 2019
ASMA Dubai Mall
Architects: H2R Design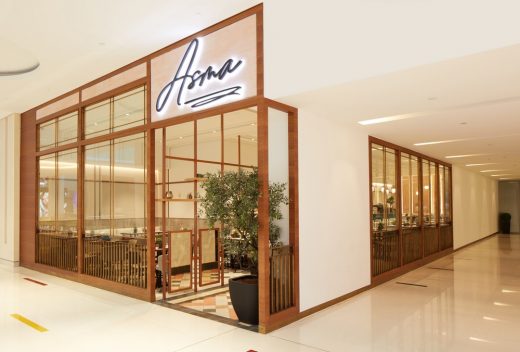 photo : Nikola Stokanovic
ASMA Dubai Mall Restaurant
A Middle Eastern restaurant, inspired by the mother of three Emirati siblings (entrepreneurs).
25 Apr 2019
'Eat, Sleep, Work, Repeat' lighting CPD with Dyson
Date: 30 April 2019, 6.30pm-8.30pm
Dubai Design District, Building 1A, 1st Floor, ESAG Design Hub
Learn about the Human connection to natural light and our dependence on the right light at the right time to keep us in sync with our natural Circadian Rhythms. Explore with Dyson the current understanding of visual and nonvisual effects of light and how this ties up with WELL Building Standard 2.0.
RSVP: [email protected]
24 + 19 Mar 2019
RIBA Middle East architecture Events in Dubai
Leaders in Architecture Summit
27 – 28 March 2019
Join over 100 senior level professionals from the construction industry at this 2 day architecture summit in Dubai.
Leaders in Architecture MENA is dedicated to developing, celebrating and connecting architects, interior designers and senior decision makers from leading international architectural practices, contractors, developers, government officials, engineers and solution providers. Gathering the most senior industry professionals from across the world, the summit provides a unique opportunity to learn from and get inspired by leaders, luminaries, and legends from within and outside architecture, set future business plans and appreciate breathtaking and daring architecture.
RIBA Gulf Chapter Chair and Founder of Dabbagh Architects, Sumaya Dabbagh, will be participating in the event along with more than 100 senior level architects, designers and developers.
To explore your participation options, please contact the organizers at [email protected] or on +420797610422.
CPD: RIBA Inclusive Design (Access) seminar in Dubai
17 April 2019
Would you like to learn more about inclusive design? This seminar will identify key aspects of inclusive design, informing structure and overall design, as well as reviewing key detail designs, common misconceptions and design errors. Sponsored by Geberit.
Essential advice on Inclusive Design for Architects and the Dubai Universal Design Strategy
17 April 2019, 6pm to 9pm, Dubai
Geberit d3, Dubai Design District, Dubai
As Access becomes a key requirement of successful architecture, all built schemes will need to be suitable for all users no matter what their capability.
In the first half day RIBA CPD seminar of 2019, Jane Simpson, Access Expert and Architect will explore the imperatives and the process of Inclusive Design and give you the tools to meet your obligations. Inclusive Design is a Core CPD curriculum topic and this seminar will count towards your CPD points.
CPD: Inclusive Design (Access) seminar in Dubai
The presentation will be split into two parts:
PART 1
Overview of the Philosophy of inclusion
Comparison of the UK and Dubai approach and an explain the benefits of diversity
Detailed explanation of requirements from construction stages from briefing to completion using the sequential journey
PART 2
Review of design standards – Universal Design Strategy, Dubai
Overview of key structure and design concerns
Guidance on design approach to produce successful and compliant schemes
The Speaker: Jane Simpson, Jane Simpson Access Ltd
Jane is Director of Jane Simpson Access Ltd and a RIBA Chartered Architect and consultant member of the National Register of Access Consultants (NRAC) and one of the UK's leading experts in the field. She sits on the Civic Trust Selwyn Goldsmith Awards Panel, is the RIBA's Specialist Practice Advisor on inclusion, representing them on Design Council, Regulations & Standards, CPD, Architects for Change, UIA Architecture for All Western Europe and BSI committees.
• RIBA/CIAT Members 120AED + VAT (UAE Dirhams)
• Non-members 240AED + VAT (UAE Dirhams)
How to book https://www.architecture.com/whats-on/inclusive-design-in-dubai
Sponsors Geberit made this UAE architecture event possible.
5 Mar 2019
Internationally Recognized Transportation and Commercial Building Designer Now Leading Architectural Studio at Perkins+Will Dubai
DUBAI, United Arab Emirates—Morgan Fleming, an architect who managed the design of Kuwait International Airport's Terminal 2 and the expansion of Amsterdam Airport Schiphol's Pier A in The Netherlands, in addition to dozens of other large-scale projects in cities around the world, is now the design director of Perkins + Will's Dubai studio.
In his new role, Fleming oversees the studio's design teams and works directly with clients to realize their visions for corporate, commercial, civic, and cultural buildings, as well as transportation projects. Familiar with the culture and economic development goals of the Middle East and North Africa thanks to a decade spent working there, Fleming is both highly qualified for the position and passionate about it.
"I've always had a unique appreciation of, and affinity for, the design culture of this region. To me, it reflects the cherished balance of two distinct values: the preservation of history and cultural heritage, and the celebration of urban modernity in an increasingly global economy," Fleming says. "I'm honored to be able to help our clients here maintain that important balance through intelligent design and architecture."
Fleming's personal design ethos complements that of Perkins+Will, too. Both are committed to architectural excellence through the design of places that support health, happiness, and well-being; reduce energy and water use; and protect and restore the natural environment.
"Morgan is a world-class architect in every way. He brings to our studio—and to our clients—just the right mix of international and regional experience, enthusiasm, and expertise," says Richard Marshall, interim managing director of Perkins+Will's Dubai studio. "From design to on-site construction management, he understands every aspect of our business, both here and abroad, and he has a proven track record of successful project outcomes."
Other noteworthy projects in Fleming's portfolio include The Spire in London, planned to be the tallest residential tower in Europe; the expansion of Terminal 2 at Heathrow International Airport, also in London; the Waldorf Astoria Hotel and Residences in San Francisco, California—part of the city's new Oceanwide Center development; the HS1 Vision Plan for the California High-Speed Rail Authority in Sacramento, California; and the National Bank of Kuwait Headquarters Tower in Kuwait City, Kuwait.
Fleming is a member of the American Institute of Architects and is a registered Architect in the State of New York. He holds a Master of Science in Advanced Architectural Design from the Columbia University Graduate School of Architecture, Planning and Preservation, and a Bachelor of Architecture from the Illinois Institute of Technology in Chicago.
4 Mar 2019
Ethar – Honoring Generosity
Design: OMA and Inside Outside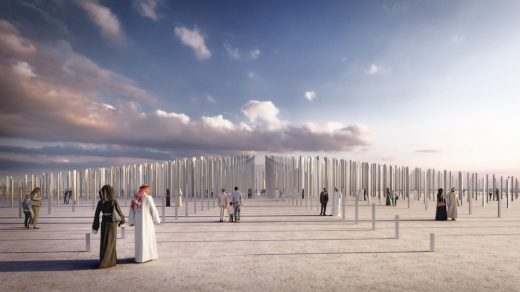 image Courtesy architecture office
Ethar – Honoring Generosity
OMA and Inside Outside have collaborated on a design for a field of columns engraved with stories from Arabic scholars, scientists and thinkers, unified in a monumental landscape embodying generosity and knowledge.
24 Feb 2019
RIBA DIT Dubai Networking Reception
Meet with key influencers and decision makers in architecture, construction sectors and local government.
RIBA DIT Dubai Networking Reception
Sol Sky Lounge, Zabeel House, Dubai UAE
6.30pm Monday 18 March 2019
First networking event of 2019.
This informal evening is a great opportunity to meet influencers and decision makers in architecture, construction sectors and local government at the new contemporary Zabeel House hotel in Dubai Creek.
You will be able to enjoy drinks and canapes on the beautiful rooftop Sol Sky Bar and take in the spectacular views of the Dubai skyline at sundown.
The event is being run in partnership with the UK government's Department of International Trade Dubai office, and we are delighted that we will be joined by senior staff from the British Embassy who will give an insight into their operations in Dubai and the UAE. You will also get the chance to catch up with RIBA staff to hear the latest news from the institute and our plans for RIBA International Regions in 2019.
The event is the social highlight of a three-day architecture export mission, delivered by RIBA and DIT to bring five up and coming UK practices to Dubai. As part of the RIBA's work to celebrate excellence in architecture and design, there will also be a pop-up architecture exhibition on display, showing work from RIBA Chartered practices from both the UK and the RIBA Gulf Chapter.
Bookings close on 14 March and spaces are limited so please register now to ensure your place for this exciting event.
Website: RIBA DIT Architecture Networking News
22 Feb 2019
Al Seef Dubai by 10 Design up for MIPIM Awards 2019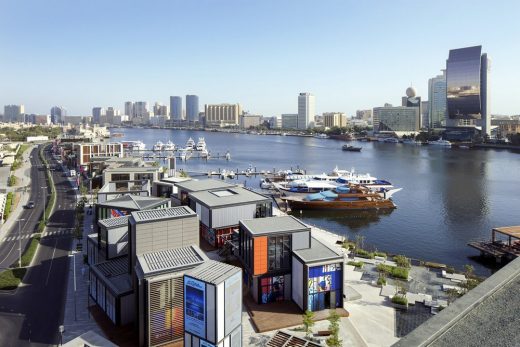 photo : Gerry O'Leary
Al Seef Dubai Development
2 Feb 2019
Smart Traffic and Road Safety Summit
Date: 25th March 2019
Venue: Park Hyatt Dubai, United Arab Emirates
Smart Traffic and Road Safety Summit, Dubai 2019, aspires to identify and analyze Traffic and Road Safety challenges in UAE and the Middle East.
Given the tremendous developments in UAE and the Middle East and the expansion of road networks, evolution of road transport and the new policies and strategies to overcome traffic related obstacles, Smart Traffic, Road Safety and Accident Prevention have become more critical than ever.
Website: http://www.wpsummits.com/stars/
27 Jan 2019
Warehouse GYM D3 in Dubai
26 Jan 2019
Al Bait Resort in Sharjah, UAE
19 Jan 2019
RIBA Architects' Breakfast Dubai
'Fire Strategy and Building Assurance for Architects: How to Avoid Common Mistakes'
With guest speaker, specialist fire safety engineer, Peter Stephenson of Warringtonfire UAE
The event took place on Tuesday 12 February 2019 and was held in association with Geberit Group who have kindly sponsored a programme of activities with RIBA in the UAE this year. This UAE architectural event took place at their wonderful facilities in Dubai Design District.
Al Fattan Towers Dubai, The Walk, Dubai Marina
Design: Tabanlioglu Architects (TA_)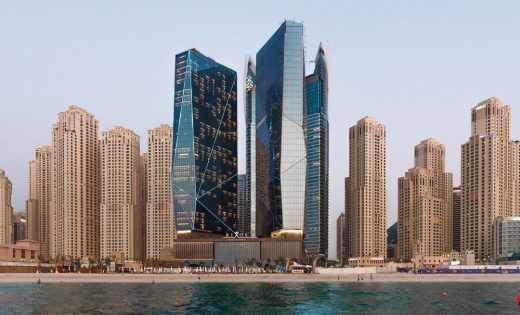 photo © Elif Simge Fettahoğlu
Al Fattan Towers Dubai Marina
Location: Dubai, United Arab Emirates – the Middle East, western Asia
UAE Architectural Archive
Dubai Architecture
Dubai Architectural Designs – chronological list
Dubai Marina : due to be tallest residential tower in the world: 516m high
Dubai Construction / Property photos welcome
Buildings / photos for the Dubai Building News 2019 – UAE Architectural Developments page welcome
Website: Dubai