Montreal Architecture News 2020, Quebec Building Design Photos, Canadian Real Estate, Architects
Montreal Architecture News
Key Contemporary Quebec Architectural Developments: Built Environment Canada, North America
post updated 23 Nov 2020
Montreal Architectural News
Montreal Building News, chronological:
Montreal Architecture Designs – chronological list
Montreal Architectural Tours
Montreal Architecture Walking Tours – North American architectural tours by e-architect
Montreal Restaurants, Cafés & Bar Lounges – new page
23 Nov 2020
NMBHD Triplex, Rosemont
Design: Studio Jean Verville Architectes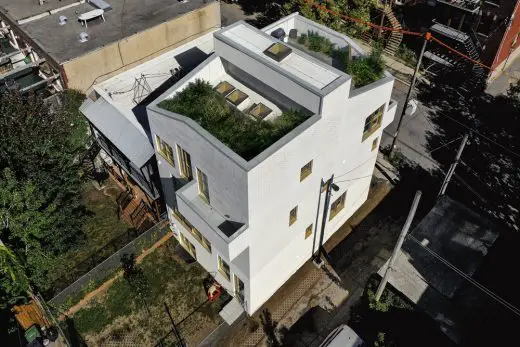 photo direction: Special collaboration / Félix Michaud + studio Jean Verville architectes
NMBHD Triplex Rosemont
Aiming to develop a real estate heritage for a young family from the Montreal's Rosemont district, the NMBHD Triplex project offers spatial investigations reshaping the typology of the Montreal triplex. The playful approach proposed by the architect enabled the family to question their relationship to functionality as well as to compactness within their domestic spaces.
5 Nov 2020
Frank and Oak
Interior Design: Imperatori Design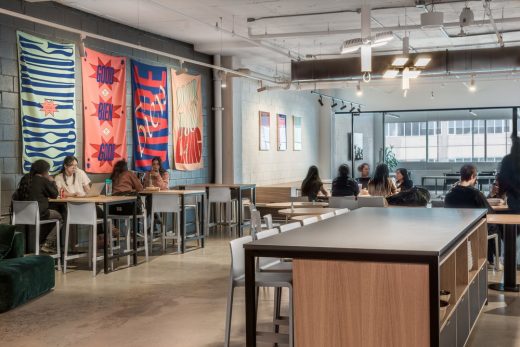 photograph : Ray Van Dusen
Frank and Oak Workshop
The Frank and Oak clothing brand is inspired by life in the city and in nature, purposefully curated to be innovative and responsive to their clientele as well as the environment.
3 Nov 2020
Moving Dunes, Montréal: NÓS
3 Nov 2020
Prefabricated Country Home, Ivry-sur-le-Lac
3 Nov 2020
Caffettiera Montréal Caffé Bar
3 Nov 2020
Quartz Co Boutique
5 Oct 2020
The Ogilvy Montreal Agency
8 Sep 2020
Alexandre-de-Sève Town House
9 Sep 2020
TULIP – Your Place at the Table!, Hydro-Québec Parc, Sainte-Catherine Ouest, corner Clark
Architects: ADHOC architectes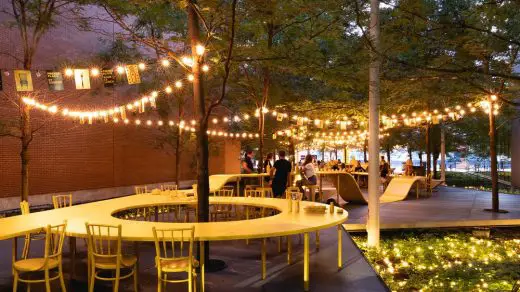 photo : Raphaël Thibodeau
Your Place at the Table! Hydro-Québec Parc
The project was designed with the collaboration of graphic designers Maude Lescarbeau and Camille Blais.
8 Sep 2020
hinterhouse, La Conception, Québec
28 Aug 2020
Maison Ave Courcelette House, Outremont, Québec
Architects: Salem Architecture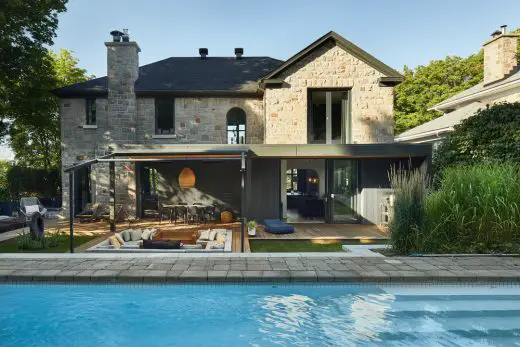 photo : Phil Bernard
New House in Outremont
26 Aug 2020
Le Newman Mixed Residential Project
24 Aug 2020
Monique-Corriveau Library
20 Aug 2020
FlightHub HQ Offices
21 July 2020
Imperia Condominiums in Quartier des Spectacles
13 June 2020
Le Super Qualité – Le Central
13 June 2020
Heirloom pizzeria Le Central
20 May 2020
Pavilion A in Saint-Bruno-de-Montarville
13 May 2020
Kinoya II Restaurant on Bishop Street
28 Apr 2020
Autodesk Offices in Griffintown
11 Mar 2020
Rental Condos in Quebec
8 Mar 2020
Cabin A in Petite-Rivière-Saint-François, Québec
1 Mar 2020
Le Cathcart Restaurants and Biergarten, Place Ville Marie, Montreal, QC
Design: Sid Lee Architecture and Menkès Shooner Dagenais LeTourneux Architectes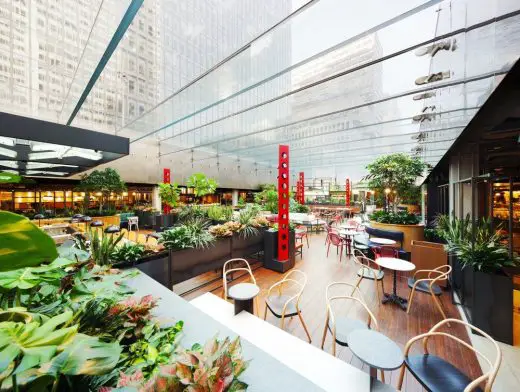 photo : Sid Lee Architecture
Le Cathcart Restaurants and Biergarten at Place Ville Marie
As part of Ivanhoé Cambridge's Projet Nouveau Centre, the A5 Hospitality team is excited to announce the official opening of Le Cathcart Restaurants et Biergarten at Place Ville Marie.
8 Feb 2020
The cafeteria — Le Marie-Victorin
Design: Cégep Marie-Victorin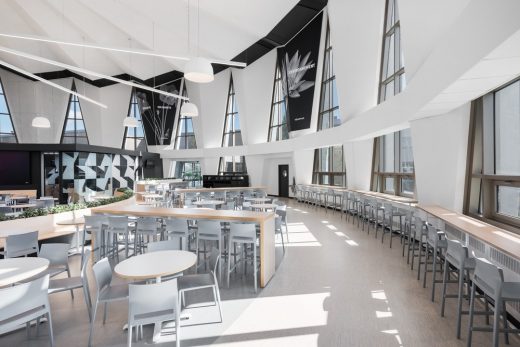 photo : Vincent Brillant
The cafeteria – Le Marie-Victorin in Montréal
In this structure, built in 1965, an impressive ceiling covers the space. The unique shape of the old chapel, which became a cafeteria in 1981, inspired innovative lighting.
6 Feb 2020
Desjardins Offices, Montréal Tower, 4141, avenue Pierre-De Coubertin, Montréal
Interior Design: Provencher_Roy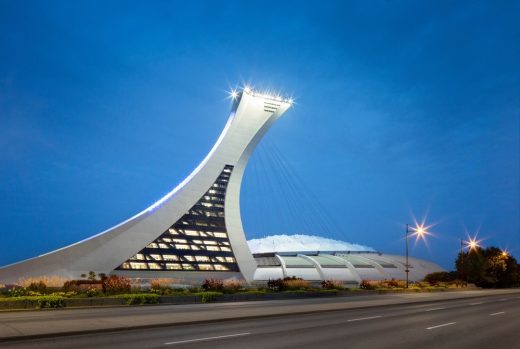 photo : Stéphane Brügger
Desjardins Offices in Montréal Tower
Desjardins Movement's online services' office spaces relocated to the Montréal Tower. Unoccupied since 1987, the tower has transformed into an interesting contemporary office space.
31 Jan 2020
Le Boulevardier restaurant and Le Flâneur Bar Lounge, Le Germain Hotel Montreal, 2050 Mansfield St, Montréal
Interior Design: Atelier Zébulon Perron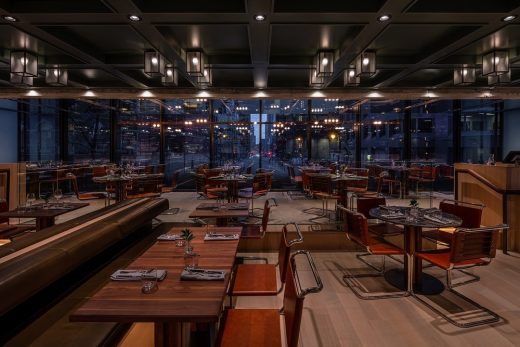 photo : David Boyer
Le Boulevardier Restaurant & Fâneur Bar Lounge
This new architectural design comprises the food and beverage portion of a major $30m renovation of Germain Hotels' flagship property in downtown Montreal.
9 Jan 2020
Drummondville Library, Centre-du-Québec
Architects: Chevalier Morales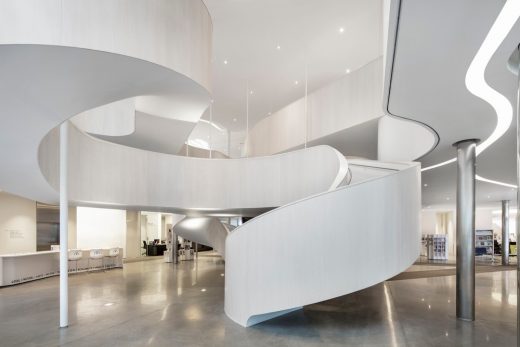 photo : Adrien Williams
Drummondville Public Library in Quebec
Originating from an architectural competition, this architectural project transposes the historical, cultural and poetic essence of the region into a studied urban and architectural composition.
7 Jan 2020
Corten Pavilion, Clémentine-de-la-Rousselière Park, Montréal, Québec, Canada
Architect: Les Architectes Labonté Marcil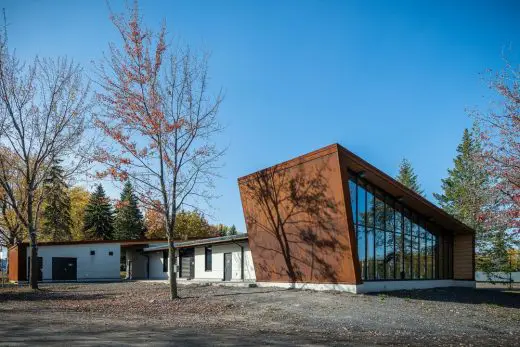 photo : Martin Girard
Corten Pavilion in Clémentine-de-la-Rousselière Park, QC
The Corten Pavilion is implanted in a park of the Rivière-des-Prairies/Pointe-aux-Trembles's district, on the tip of the east island of Montreal.
7 Jan 2020
Atrium Townhome in Westmount
More contemporary Montreal Architecture News online soon
Montreal Architecture News 2019
6 Dec 2019
Four Seasons Hotel in Montreal
28 Nov 2019
Reinventing the Shoebox in Montréal
22 Nov 2019
Le James – McGill University Bookstore
19 Aug 2019
The Montarville – Boucher la Bruère Public Library, Boucherville
BGLA | Architecture + Design urbain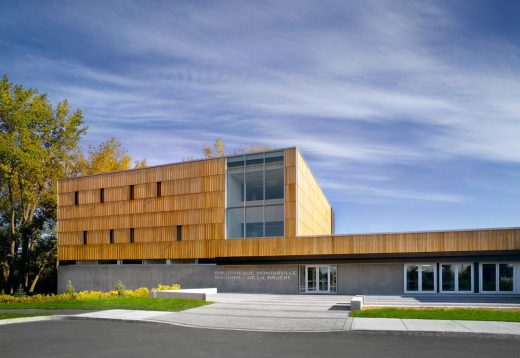 photo : Christian Perreault
The Montarville in Boucherville near Montreal
Located in the downtown core of Boucherville, a town of 40,000 situated on the banks of the St. Lawrence River just east of the Island of Montreal. Built more than 25 years ago, the municipal library needs to expand and reconfigure its existing facilities.
17 Aug 2019
Panorama, Laval, southwestern Quebec
Architects: ACDF Architecture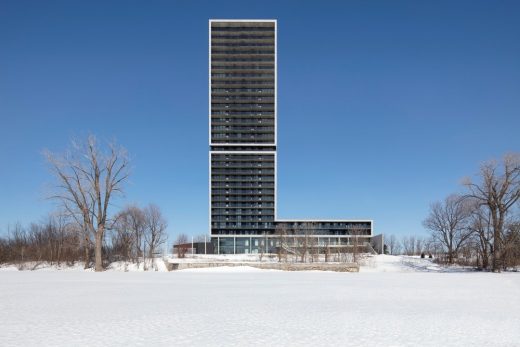 photo : Adrien Williams
Panorama in Laval
A 30-storey retirement complex on the banks of Rivière des Prairies in Sainte-Dorothée, Quebec.
26 June 2019
Ryù Restaurant, 1474 Peel St, Montreal, QC
Architect: Guillaume Ménard and David Dworkind (MRDK)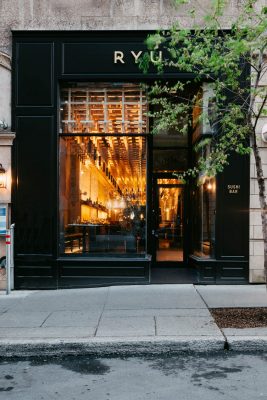 photo © David Dworkind
Ryu sushi restaurant Peel Street, downtown Montreal
The fifth Ryu sushi restaurant just opened its doors on Peel street in downtown Montreal designed by Ménard Dworkind architecture and design.
25 Jun 2019
Grand Quay Port of Montreal
Architects: Provencher_Roy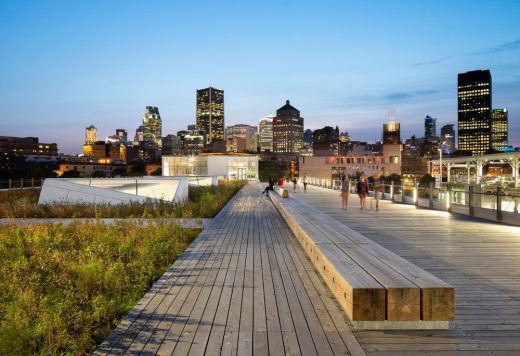 photograph : Stéphane Brügger
The Port of Montreal's Grand Quay
Visitors and tourists can now walk along all of the green spaces on the site and contemplate wonderful views of the city. Thanks to this new, privileged access to the river, Montrealers have reconnected with these grounds.
25 June 2019
Strøm Nordic Spa in Old Quebec
10 June 2019
Maison Atelier yh2
16 May 2019
Birks Hotel
20 March 2019
Campus1 Montreal
11 Feb 2019
Sportium Saint-Hubert, Longueuil
Architects: Indesign inc.
Sportium Saint-Hubert in Longueuil
6 Feb 2019
ENTICY, a new boutique condo project in downtown Montreal
Architects: Claridge-Omnia Technologies-Geiger Huot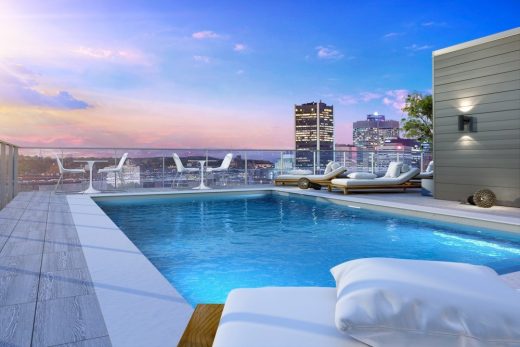 photography : Enticy
ENTICY condos downtown Montreal
Enticy is a boutique condo project coming soon to downtown Montreal, at the corner of René-Lévesque and Mackay. This unique 24-story project combines old and new, with a contemporary design built around a façade of historical townhouses. The team behind the real estate project includes financial partner Claridge, builders Omnia Technologies, and architects Geiger Huot.
30 Jan 2019
La Barque Residence, Saint-Donat-de-Montcalm, Matawinie, Quebec
Architects: ACDF Architecture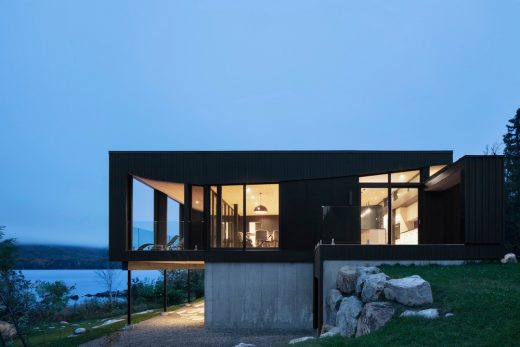 photography : Adrien Williams
La Barque Residence in Saint-Donat-de-Montcalm
La Barque is a hyperactive family's peaceful shelter. Located on the shores of Lake Ouareau in Saint-Donat, the house was inspired by the owners' love for the northern landscapes.
17 Jan 2019
Ice Shore House, Verdun
Architect: INDESIGN inc CONRATH architecte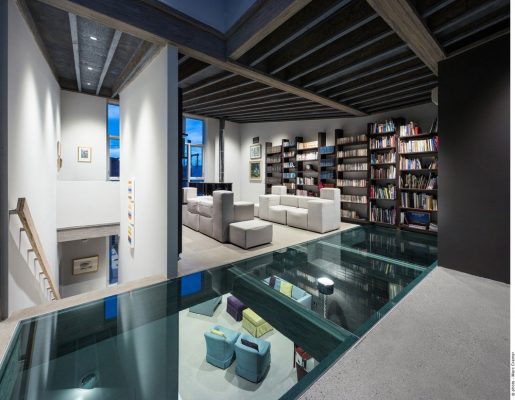 photograph : Marc Cramer
Ice Shore House in Verdun
Following the advice of her architect, the client purchased a vacant lot in Verdun, a neighbourhood with history dating from the beginning of New France. Of prime importance, the site provided several alternatives to automobile driving.
Montreal Architecture News 2018
17 Dec 2018
Hutchison Flat in Montreal
11 Dec 2018
L'Édifice Wilder
24 Nov 2018
Hôpital Vétérinaire du Parc
Architects: TBA / Thomas Balaban Architecte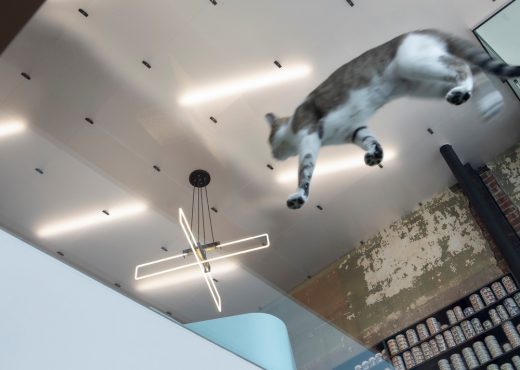 photograph : Adrien Williams
Hôpital Vétérinaire du Parc
A mixed-use renovation and extension, HVdP squeezes a state-of-the-art veterinarian hospital, SPCA emergency clinic, and four residential units in and on top of a small abandoned photo studio.
15 Nov 2018
Hôtel Monville
Architects: ACDF Architecture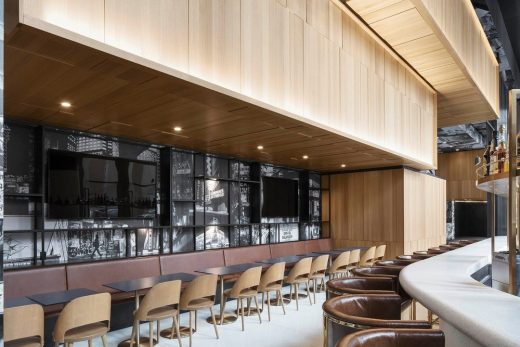 photograph : Adrien Williams
Hôtel Monville
Chic, avant-garde and Canada's first hotel offering autonomous robot room service – Shortlisted for the 2019 International Hotel & Property Awards
4 Oct 2018
Golf Exécutif Montréal Clubhouse, Nuns' Island
Architects: Architecture49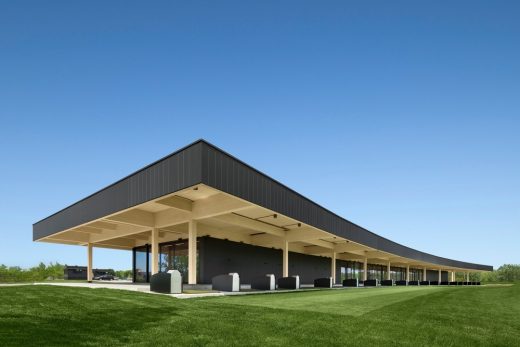 photo : Stéphane Brügger
Golf Exécutif Montréal Clubhouse
A new building, including sheltered driving-range tees, bar / lounge, a full restaurant kitchen, golf simulators, pro shop, offices and mechanical spaces, set on a 'green oasis' facing downtown Montreal.
22 Aug 2018
Miss Wong Chinese Restaurant, Avenue Pierre-Péladeau, Laval, Quebec
Architect: Guillaume Ménard and David Dworkind (MRDK)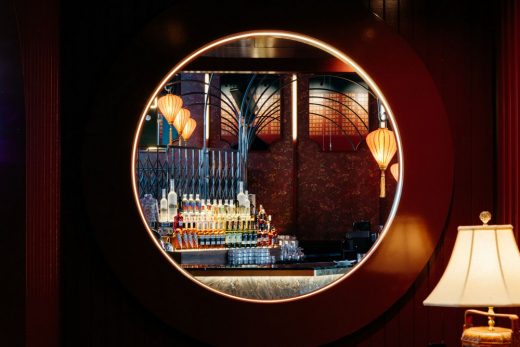 photo : David Dworkind architect
Miss Wong Laval Restaurant
After a few days visiting the Chinatowns of San Francisco and Vancouver, the architect designer team developed a clear design intention for the Miss Wong restaurant in Laval.
10 Jul 2018
Discovery and Services Center, Boucherville, Montreal, Quebec
Design: Smith Vigeant architectes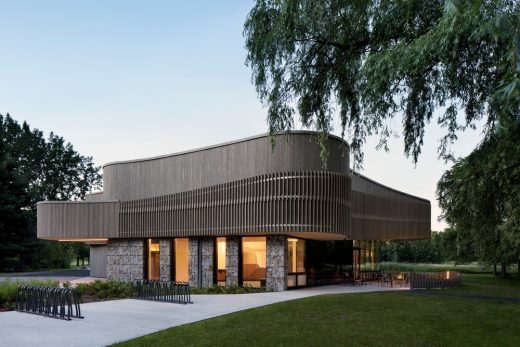 photograph : Adrien Williams
Discovery and Services Center, Boucherville
The discovery center was recognized by the Canadian Green Building Awards 2018, the Canadian Wood Council's Wood Design&Building Award 2018, the American Architecture Prize 2017 and won the Sustainable Development Award and Use of Wood Award at the Grands Prix du Design 2018.
21 Jun 2018
Charlebois Lake House, Ste-Marguerite-du-Lac-Masson, north of Montreal, Québec
Architects: Paul Bernier Architecte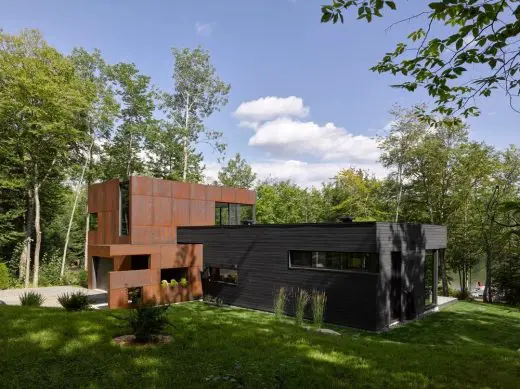 photographer : James Brittain
Property in Ste-Marguerite-du-Lac-Masson
18 Jun 2018
Baltic Club Store in Montreal, Mount-Royal Avenue, Plateau
Design: IVYSTUDIO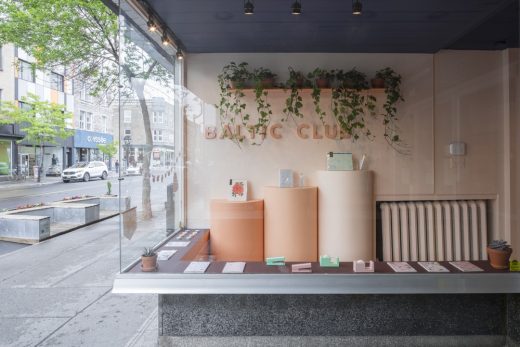 photograph by architects office
Baltic Club
Despite its great location in the heart of the city, the space is highly constrained by its narrow width of 9'6". This formed a tough challenge for dynamic circulation and product display.
12 Jun 2018
Cégep Marie-Victorin
Design: Héloise Thibodeau, Architecte Inc.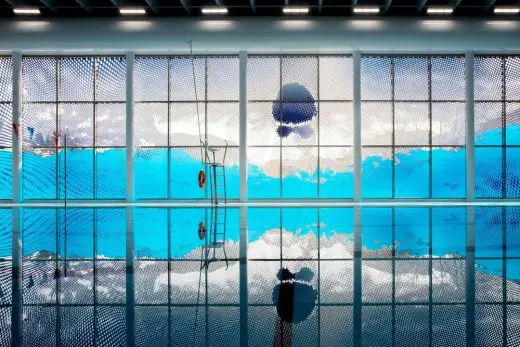 photography : Sébastien Roy
Cégep Marie-Victorin
Cégep Marie-Victorin, a public college in north-east Montreal, offers a wide range of diverse programs, some of which are artistic in nature (graphic design, interior design and visual arts, for example). Since 2008, the college has undertaken several large-scale development projects aimed at improving its environment.
6 Jun 2018
Espace C2, Fairmont The Queen Elizabeth hotel
Design: Sid Lee Architecture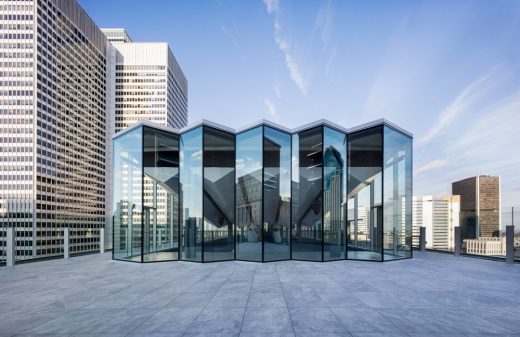 photography : Adrien Williams
Espace C2
Espace C2 is the prototype conference centre crowning the Fairmont The Queen Elizabeth hotel in Montreal – the centrepiece of the hotel's business campus and a Montreal landmark in the making. Elevated above the hotel's rooftop, Espace C2 is an iconic structure that pays tribute to the city's creativity and potential.
19 May 2018
Chalet La petite soeur, Saint-Donat-de-Montcalm, Canada
Architects: ACDF Architecture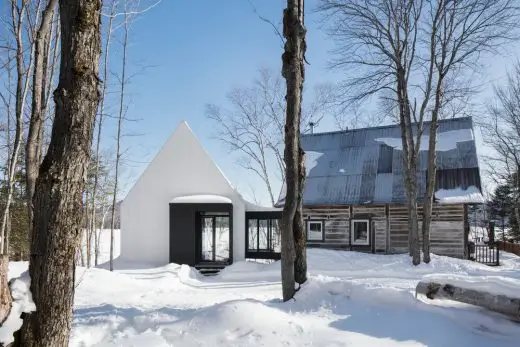 photography : Adrien Williams
Saint-Donat-de-Montcalm Residence
19 May 2018
Falafel Yoni in Montreal, 54 St Viateur street West, Mile-End
Architect: David Dworkind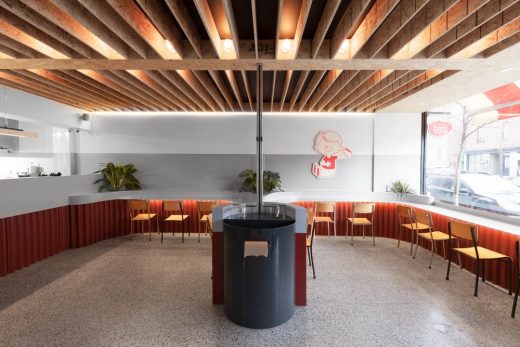 photo © David Dworkind
Falafel Yoni Mile-End
Falafel Yoni is nestled in the heart of Montreal's trendy Mile-End neighbourhood. The city's zoning regulated that the restaurant's capacity be limited to 12 seats, which led to the design of a generous curved bar with a diner feel.
13 May 2018
Ville-Marie Apartment
Architectes: naturehumaine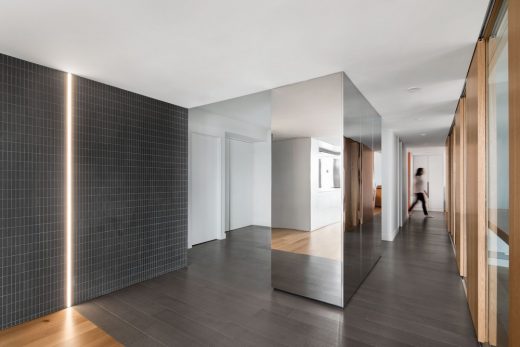 photo : Adrien Williams
Ville-Marie Apartment
This new residential project is located in a 1980s downtown tower. The interior renovation project aims to completely open a space originally partitioned and to compensate for the lack of light at the heart of the apartment.
6 May 2018
New Spaces for Desjardins
Architectes: Provencher_Roy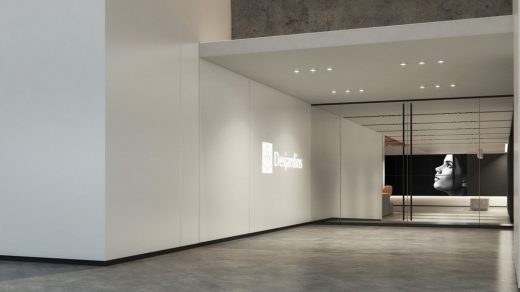 photo : Provencher Roy
Desjardins – Montréal Centre-ville
27 Apr 2018
CRISP Barbershop
Architectes: IVYSTUDIO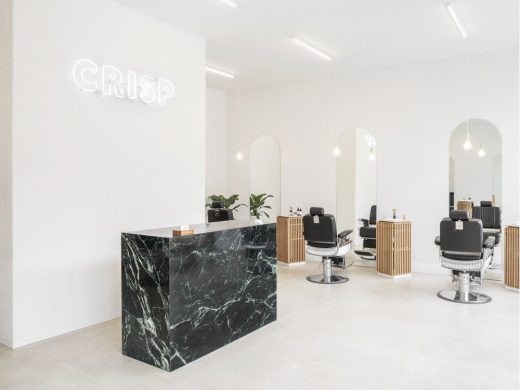 photography: Jack Jerome
New Barbershop in Montreal
CRISP was born from the owner's strong will to open a barbershop unlike all others. In the emerging neighborhood of Pointe Saint-Charles, his ambitions were to create a unique experience in a minimalistic environment that put the spotlight on the barbers without compromising on the spaces functionality.
13 Apr 2018
REM Architectural and Landscape Concept
Architecture: Lemay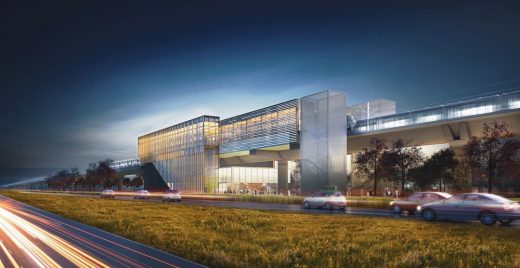 image courtesy of REM
Réseau Express Métropolitain Montreal
One of North America's largest public transportation projects, the Réseau Express Métropolitain (REM) will transform the Greater Montreal Region public transport experience with some of the nation's most inspiring, meaningful and transformative architecture and design.
2 Mar 2018
Stikeman Elliott Montréal Office Interior, CIBC Tower, 1155 Boulevard René-Lévesque O #4100
Design: Saucier+Perrotte Architectes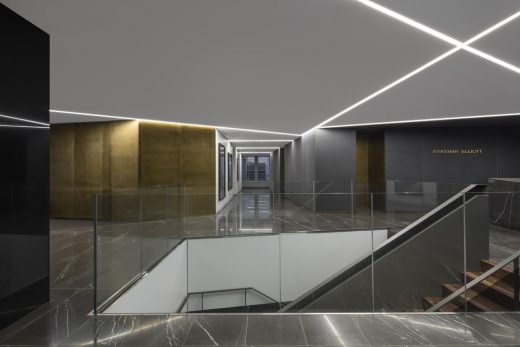 photo : Olivier Blouin
Stikeman Elliott Montréal Offices
19 Feb 2018
La Luge Cabin, La Conception, in the Laurentides region of Quebec, Canada
Architects: YH2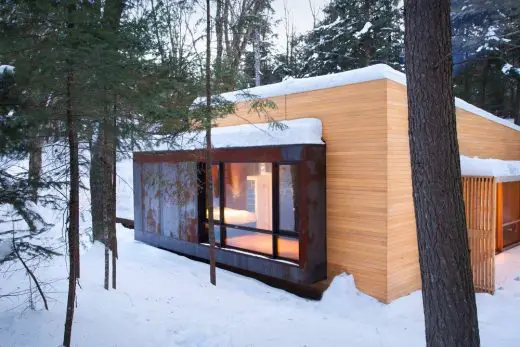 photograph : Francis Pelletier
New House in La Conception
6 Feb 2018
C'est Beau Boutique, 1556 Mont-Royal Ave E
Architectes: OBIEKT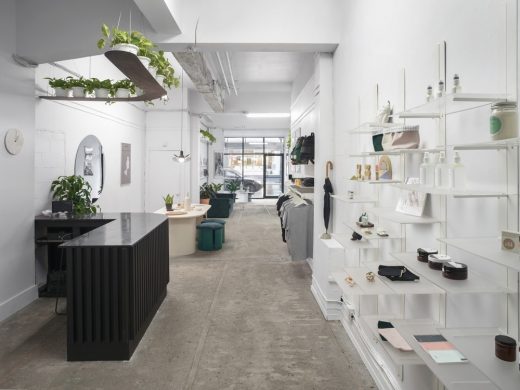 photo : Jack Jerome
C'est Beau Boutique
Known for their online store for over 5 years, C'est Beau finally open the doors to their very first concept-store on Mont-Royal Avenue in Montreal. Its founders envisioned a space where all furniture was designed and manufactured in Quebec, in line with the company's philosophy.
Jan 9, 2018
Mount-Royal Kiosks, Parc du Mont-Royal, Montreal, QC, Canada
Architectes: Atelier Urban Face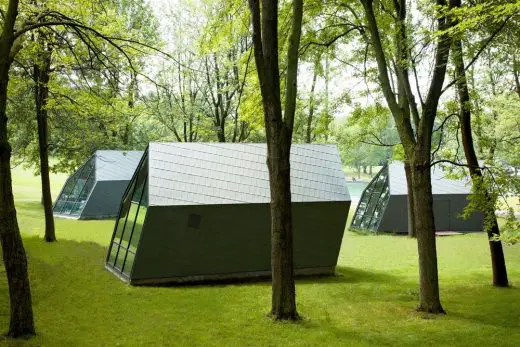 photographers : Fany Ducharme, Normand Rajotte, Sylvain Legault and Sylvie Perrault
Mount-Royal Kiosks
Built on one of Montreal's most beloved landmarks and urban family escapes, Mount Royal Park, the kiosks are both a poetic and practical response the surroundings. And through their specific uses and architecture, the kiosks appear to tell us a story – one that has been told for countless generations.
Montreal Architectural News 2017
18 Dec 2017
Jouney Café, 1486 Saint Catherine West
Design: David Dworkind Architectes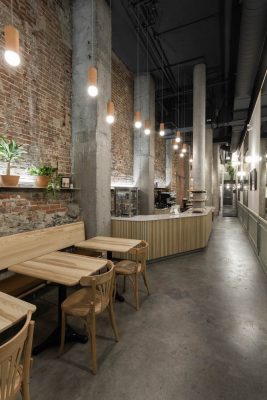 photograph : David Dworkind
Jouney Café, Downtown Montreal
Jouney café, located in the heart of downtown Montreal, is a Lebanese café/bakery concept created by Patrick Abdelahad. It takes takes its name from the seaside town of Jounieh, the owner's hometown.
11 Dec 2017
Canadian Museum of History – Illuminations, Hull, Gatineau, Québec
Design: Lightemotion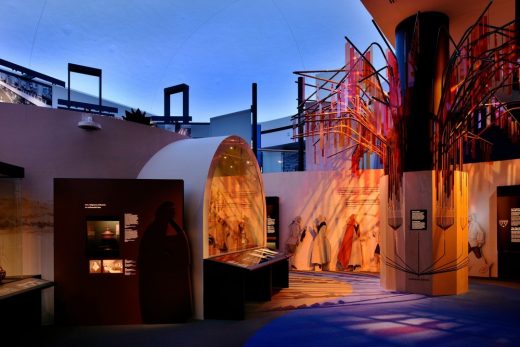 photo : Gordon King
Illuminations of the Canadian Museum of History in Gatineau
After two years of work, Lightemotion, for GSM Project, has added another noteworthy project to its list with the lighting design for Gatineau's Canadian Museum of History.
10 Dec 2017
Ericsson's Montreal – Corporate Campus and R&D Centre, Borough of Saint-Laurent
Design: Menkès Shooner Dagenais LeTourneux Architectes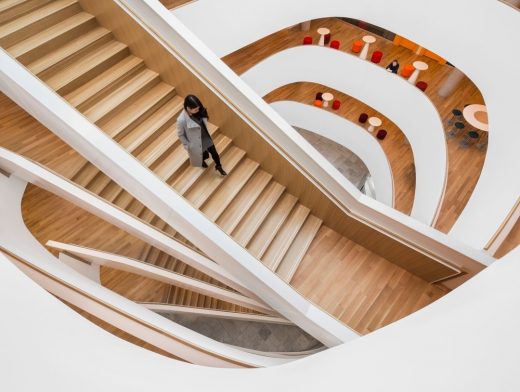 photo : Stéphane Brügger
Ericsson's Montreal Corporate Campus and R&D Centre
8 Dec 2017
La Hacienda Creative's New Sound Studio in Montreal
4 Dec 2017
Discovery and Services Center in Îles-de-Boucherville Sépaq National Park
29 Nov 2017
Maison Manuvie
Design: Menkès Shooner Dagenais LeTourneux Architectes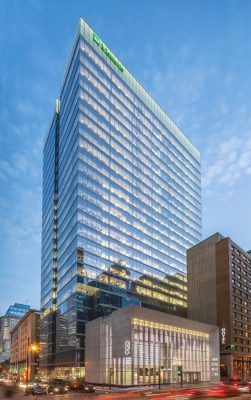 image courtesy of architects
Maison Manuvie in Montreal
9 Nov 2017
BLACK BOX II Residence in Montréal
2 Nov 2017
De la Roche Residence, Rosemont-La-Petite-Patrie
Design: naturehumaine architecture et design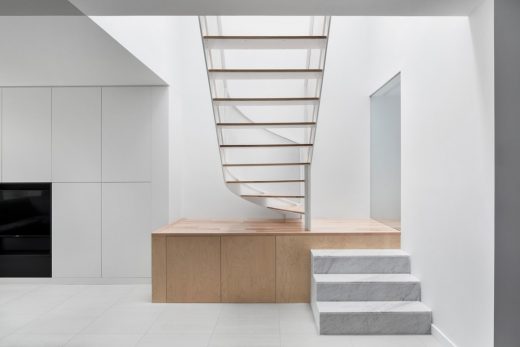 photo : Adrien Williams
De la Roche Residence
A couple with two young children wish to transform a duplex located in Rosemont-La-Petite-Patrie into their principal family residence. The project consists in reorganizing the original portion of the house and enlarging it with an extension in the yard while preserving the façade on the street as required by the city bylaws.
31 Oct 2017
Le Castelnau in Montréal
27 Oct 2017
Perles et Paddock Restaurant in Montréal
26 Oct 2017
Greystone: Tools for Understanding the City Exhibition in Montreal
5 Oct 2017
Complexe sportif de Saint-Laurent, Montréal, Saint-Laurent
Design: Saucier + Perrotte / Hughes Condon Marler Architects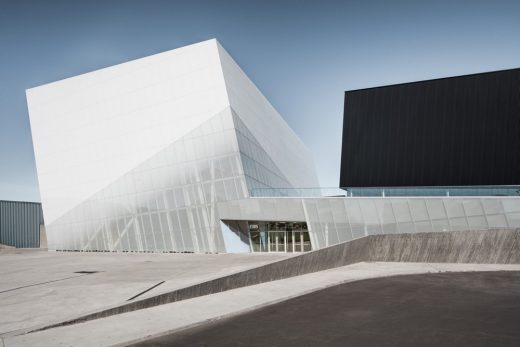 photo : Olivier Blouin
Complexe sportif de Saint-Laurent Montréal
The project site is situated between the existing Émile Legault School and Raymond Bourque Arena, both of which are horizontal in form and neutral in character.
18 Sep 2017
CHUM Building, Centre Hospitalier de l'Université de Montréal, 1000 Rue Saint-Denis
Design: CANNONDESIGN + NEUF architect(e)s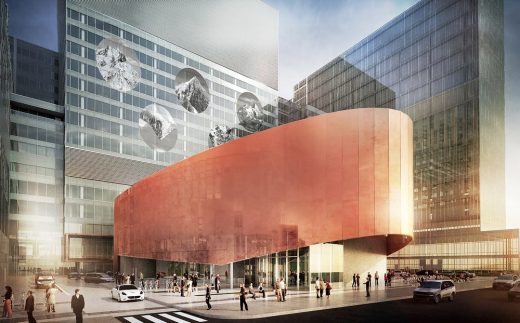 image from architect
CHUM Hospital Montréal Building
Begun in 2009, the CHUM teaching institution is the largest healthcare construction project in North America and the largest public—private partnership project in Canadian history. Already, the building has ignited the revitalization of a neglected sector of Montreal's urban core.
Building Updates up to and including 2016
22 Jun 2016
Claire and Marc Bourgie Pavilion of Quebec and Canadian Art
Design: Provencher_Roy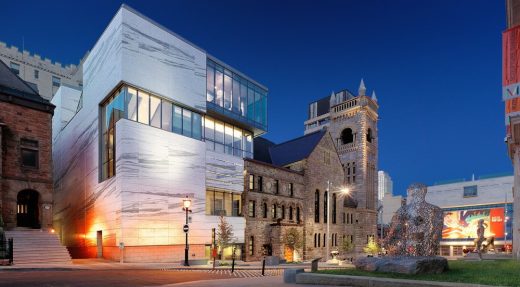 images courtesy Tom Arban, Alexi Hobbs, Marc Cramer, Jean-Guy Lambert
Claire and Marc Bourgie Pavilion of Quebec and Canadian Art in Montreal
Beside the restored former Erskine and American Church, transformed into a 444-seat concert hall, the rear annex has been completely reconstructed in contemporary style to form the new art pavilion.
5 Nov 2013
La Vitrine Culturelle, St-Catherine / St-Laurent, Quartier des spectacles
Design: Moment Factory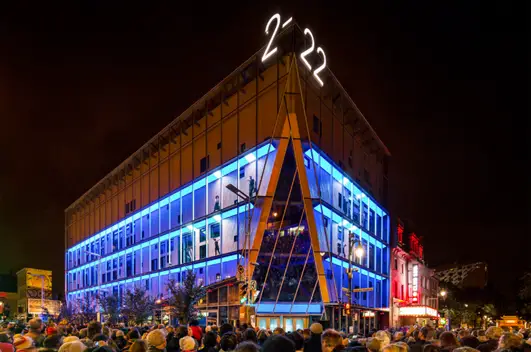 photograph from Moment Factory
La Vitrine Culturelle
Among the many features specially created for the 2#22 is "Urban Clock", a capsule of sixty seconds that synchronizes all the visual components of the building every hour. The other atmospheric features are composed of various graphical effects that play with trompe l'oeil and optical illusion. The video content and the lighting effects are controlled by X#Agora, Moment Factory's own multimedia control and playback system.
4 Jun 2013
Fifth Pavilion Competition
Design: Saucier + Perrotte Architectes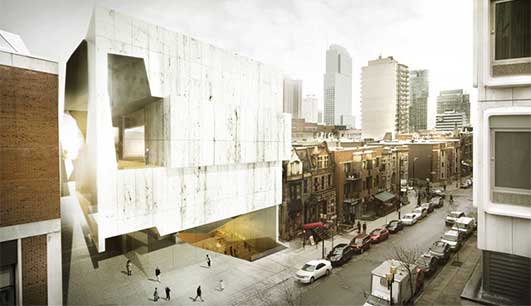 render : Saucier+Perrotte
Fifth Pavilion Competition Montreal
Just as layers of history accumulate through time to offer varying perspectives on culture and environment, Saucier + Perrotte's design for the Fifth Pavilion of the Montreal Museum of Fine Arts is composed of a series of mineral strata that form a home for the Hornstein collection of art. Floating gently above street level, each marble stratum is superimposed to produce a sculpted volume containing the collection and defining a space dedicated to the next generation of Montreal art lovers.
28 May 2013
Montreal Luxury Hotel
Design: Lemay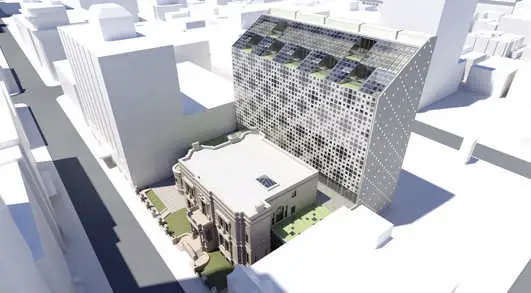 image by architects
Montreal Luxury Hotel
A new luxury hotel building on the Mount Stephen Club site located on 1440 Drummond Street in Montreal. Tidan Group owner of this impressive heritage building has started the construction of an 80-room hotel at the heart of downtown. The 12-storey building will contain luxurious accommodation, banquet rooms for 500 guests, flexible meeting rooms, a spa and a fitness center.
More Montreal Building News online soon
Location: Montreal, Quebec, Canada
Architecture in Canada
Canadian Architectural Projects
Buildings / photos for the Montreal Architecture News page welcome
Website: Montreal, Quebec, Canada