Montreal Architecture News 2021, Quebec Building Design Photos, Canadian Real Estate, Architects
Montreal Architecture News
Key Contemporary Quebec Architectural Developments: Built Environment Canada, North America
post updated 29 November 2021
Montreal Architectural News
Montreal Building News, chronological:
Montreal Architecture Designs – chronological list
Montreal Architectural Tours
Montreal Architecture Walking Tours – North American architectural tours by e-architect
Montreal Restaurants, Cafés & Bar Lounges – new page
29 Nov 2021
Tiramisu Restaurant, Hilton Hotel Montréal Chinatown
13 Nov 2021
Pierrefonds Public Library
19 Oct 2021
Behavox, 900 West de Maisonneuve
Design: ISSADESIGN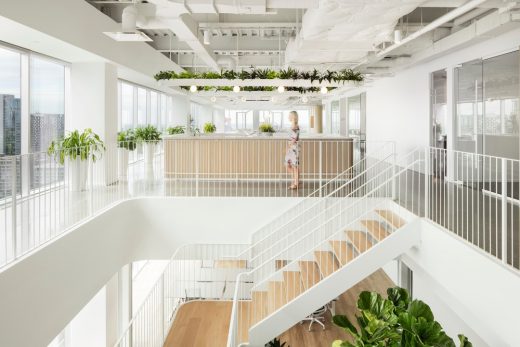 photograph : Maxime Brouillet
Behavox, Montréal Office Building
ISSADESIGN and A+ present the new research and development centre of Behavox, a data analysis company based on artificial intelligence. Mandated by A+, an integrated project management firm offering a turnkey service, we had the mission to design the client's new work environment.
20 Oct 2021
Queen Mary Residence, Hampstead, Quebec, Canada
Design: Atelier Barda architecture
Queen Mary Residence, Hampstead Quebec
20 Oct 2021
Appartement Saint-Gérard
Design: Vives St-Laurent
Appartement Saint-Gérard, Montréal
13 Oct 2021
Rue de la Gauchetière
Design: Future Simple Studio
Rue de la Gauchetière, Montréal Apartment
27 Sep 2021
Humaniti
Design: Lemay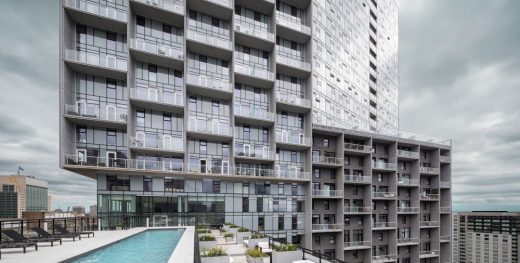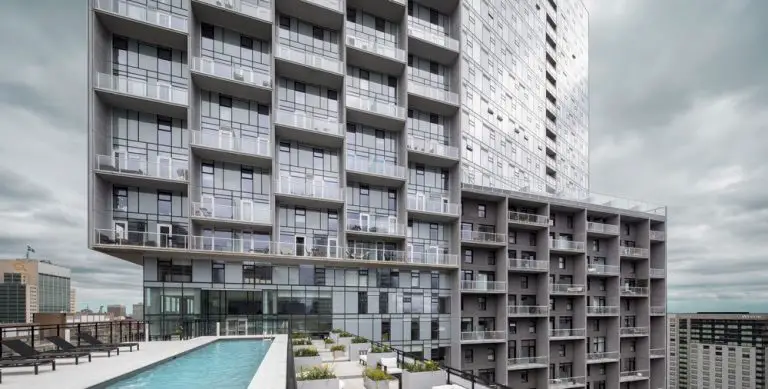 photo : Brandon Barré
Humaniti Vertical City
Located at the crossroads of the International district, the Quartier des spectacles, and Old Montreal, Humaniti is Montreal's tallest mixed-use community. It includes a luxury hotel, rental units, restaurants, boutiques, and public spaces.
23 Sep 2021
Place Carmin Restaurant
17 Aug 2021
Business Development Bank of Canada
7 Aug 2021
Residence Alma, Little Italy
30 Jul 2021
MAA Condominiums & Penthouses
1 Jul 2021
Screenplay Workshop
25 Jun 2021
Expansion of Christ-Roi Elementary School
25 Jun 2021
Centre hospitalier de l'Université de Montréal
12 Jun 2021
Marriott Château Champlain Hotel
20 May 2021
Gentile Pizza Parlour
14 May 2021
Verdun Auditorium
2 May 2021
Le Monarque Restaurant
21 Apr 2021
Canada F1 Grand Prix
18 Apr 2021
Brasserie Harricana
11 Apr 2021
Aesop Westmount
11 Apr 2021
Stillife Bar, Montréal Québec Interior
8 Apr 2021
McGill University Power Plant
20 Mar 2021
Light into the Darkness Installations
10 Feb 2021
Quai 5160-Maison de la Culture Verdun
1 Feb 2021
RYÙ Sushi Restaurant, Montréal YUL Airport
1 Feb 2021
Clarke Terrace
26 Jan 2021
RYÙ Sushi Restaurant, Montréal YUL Airport
15 Dec 2020
Artopex Head Office, Granby, Quebec
Architects: Luc Plante architecture + design inc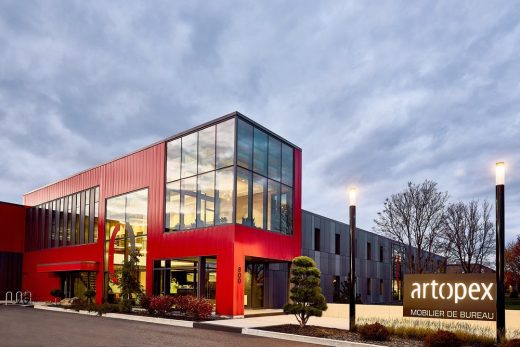 photo © Bastiani photography
Artopex Head Office Granby
The recently modernized structure of the Artopex Head Office stands out in an industrial district that has seen better days. From the outset, the building's bright fire-engine red signage welcomes visitors with its vast floating volume.
12 Dec 2020
Lightspeed offices – Phase 2
Architects: ACDF Architecture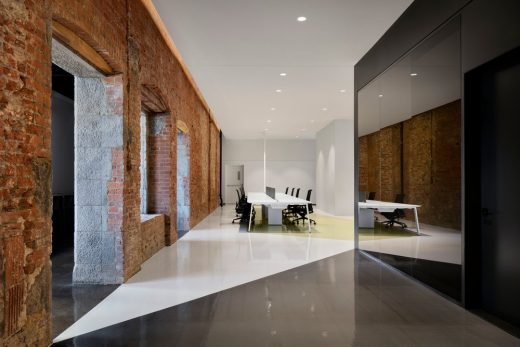 photo © Adrien Williams
Lightspeed offices Phase 2
Lightspeed commissioned ACDF Architecture – the designers for the first phase of the firm's headquarters – to create a new floor dedicated to product development. The workspace of the point-of-sale software company is located on the ground floor of a 19th-century railway hotel, the chateau-style Viger Railway Station.
10 Dec 2020
Lightspeed offices Phase 1
2 Dec 2020
Residence Marconi, Mile-Ex
25 Nov 2020
Cottage on the Point, Lanaudière, Québec
Design: Paul Bernier Architecte
Cottage on the Point, Lanaudière
23 Nov 2020
NMBHD Triplex, Rosemont
Design: Studio Jean Verville Architectes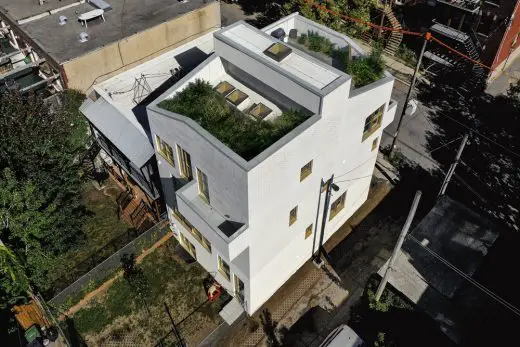 photo direction: Special collaboration / Félix Michaud + studio Jean Verville architectes
NMBHD Triplex Rosemont
Aiming to develop a real estate heritage for a young family from the Montreal's Rosemont district, the NMBHD Triplex project offers spatial investigations reshaping the typology of the Montreal triplex. The playful approach proposed by the architect enabled the family to question their relationship to functionality as well as to compactness within their domestic spaces.
5 Nov 2020
Frank and Oak
Interior Design: Imperatori Design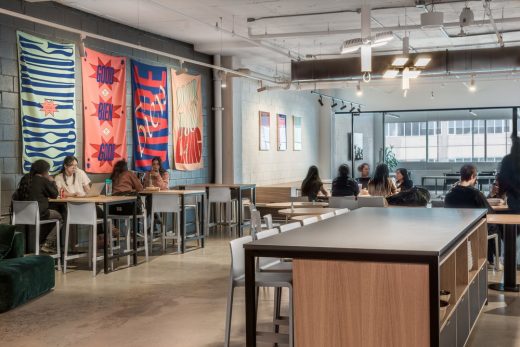 photograph : Ray Van Dusen
Frank and Oak Workshop
The Frank and Oak clothing brand is inspired by life in the city and in nature, purposefully curated to be innovative and responsive to their clientele as well as the environment.
3 Nov 2020
Moving Dunes, Montreal Museum of Fine Arts, Downtown
Design: NÓS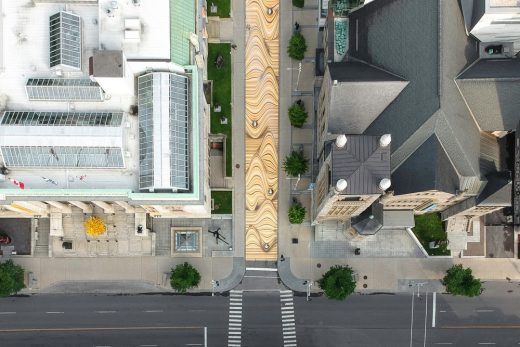 photo © Eloa Defly
Moving Dunes Montréal
Inspired by the early arts this extension of the temporary exhibit 'From Africa to the Americas: Face-to-face Picasso, Past and Present'. The plastic approach of cubist painters questions the role of perspective in visual representation.
3 Nov 2020
Prefabricated Country Home, Ivry-sur-le-Lac
30 Oct 2020
Caffettiera Caffé Bar, 2055 rue Stanley
Design: Ménard Dworkind Architecture & Design – MRDK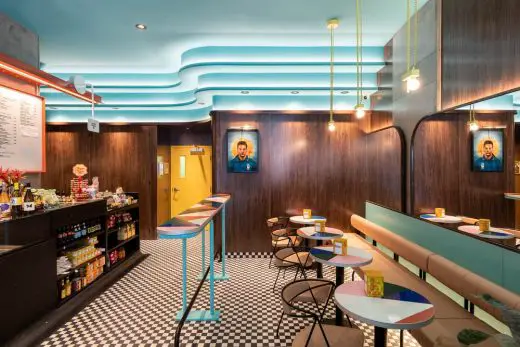 photo © David Dworkind
Caffettiera Montréal Caffé Bar
In Italy, going to the coffee bar is not just about the coffee. It's about taking a break from the day, meeting up with friends or taking the time to contemplate life. Caffettiera Caffé Bar aims to bring that culture to North America at its 745-square-foot commercial space in the heart of downtown Montreal.
3 Nov 2020
Quartz Co Boutique
5 Oct 2020
The Ogilvy Montreal Agency
8 Sep 2020
Alexandre-de-Sève Town House
9 Sep 2020
TULIP – Your Place at the Table!, Hydro-Québec Parc, Sainte-Catherine Ouest, corner Clark
Architects: ADHOC architectes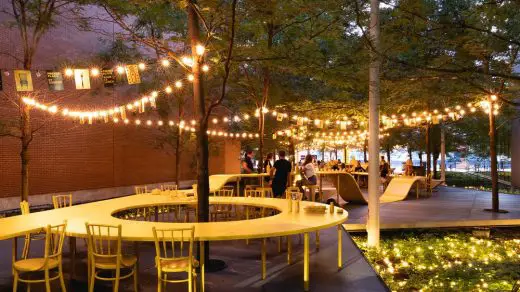 photo : Raphaël Thibodeau
Your Place at the Table! Hydro-Québec Parc
The project was designed with the collaboration of graphic designers Maude Lescarbeau and Camille Blais.
8 Sep 2020
hinterhouse in La Conception, Mont-Tremblant valley, Québec, Canada
Design: Ménard Dworkind Architecture & Design – MRDK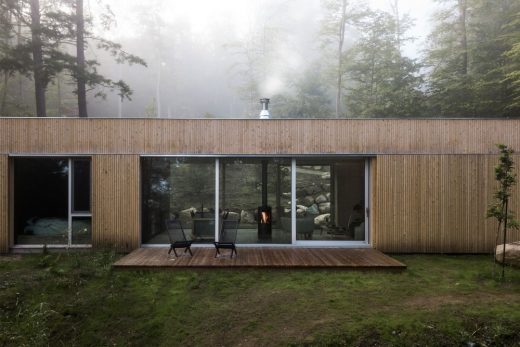 photo : David Dworkind
hinterhouse, La Conception, Québec
Hinterhouse is nestled into a densely forested hillside with sweeping views of the Mont-Tremblant valley. The 16-foot wide house, designed to be prefabricated, can be driven on local roads and delivered to site. The hintercompany hotel concept aims to provide an escape from the hustle and bustle of city life.
28 Aug 2020
Maison Ave Courcelette House, Outremont, Québec
Architects: Salem Architecture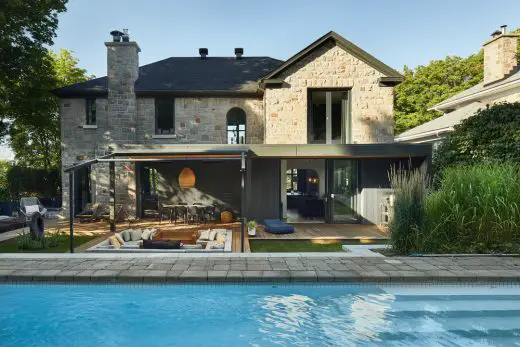 photo : Phil Bernard
New House in Outremont
26 Aug 2020
Le Newman Mixed Residential Project
24 Aug 2020
Monique-Corriveau Library
20 Aug 2020
FlightHub HQ Offices
21 July 2020
Imperia Condominiums in Quartier des Spectacles
13 June 2020
Le Super Qualité – Le Central
13 June 2020
Heirloom pizzeria Le Central
20 May 2020
Pavilion A in Saint-Bruno-de-Montarville
13 May 2020
Kinoya II Restaurant on Bishop Street
28 Apr 2020
Autodesk Offices in Griffintown
11 Mar 2020
Rental Condos in Quebec
8 Mar 2020
Cabin A in Petite-Rivière-Saint-François, Québec
1 Mar 2020
Le Cathcart Restaurants and Biergarten, Place Ville Marie, Montreal, QC
Design: Sid Lee Architecture and Menkès Shooner Dagenais LeTourneux Architectes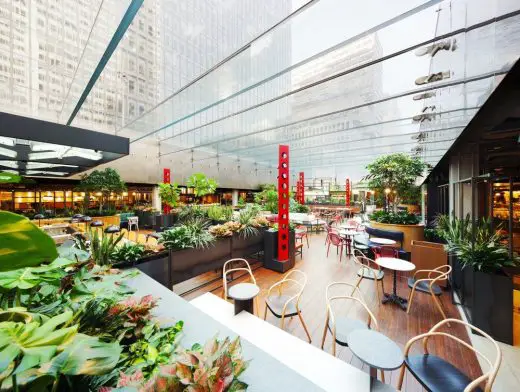 photo : Sid Lee Architecture
Le Cathcart Restaurants and Biergarten at Place Ville Marie
As part of Ivanhoé Cambridge's Projet Nouveau Centre, the A5 Hospitality team is excited to announce the official opening of Le Cathcart Restaurants et Biergarten at Place Ville Marie.
8 Feb 2020
The cafeteria — Le Marie-Victorin
Design: Cégep Marie-Victorin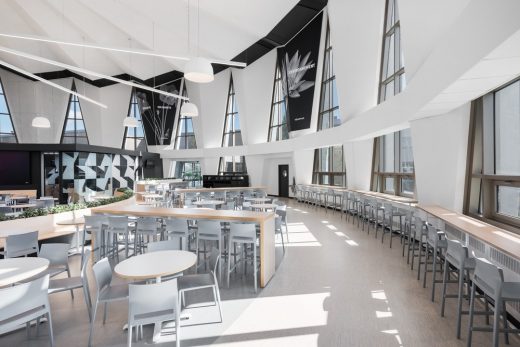 photo : Vincent Brillant
The cafeteria – Le Marie-Victorin in Montréal
In this structure, built in 1965, an impressive ceiling covers the space. The unique shape of the old chapel, which became a cafeteria in 1981, inspired innovative lighting.
6 Feb 2020
Desjardins Offices, Montréal Tower, 4141, avenue Pierre-De Coubertin, Montréal
Interior Design: Provencher_Roy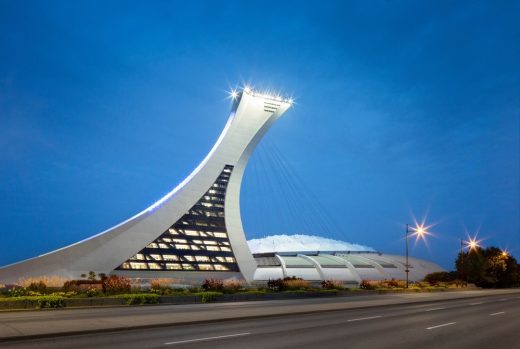 photo : Stéphane Brügger
Desjardins Offices in Montréal Tower
Desjardins Movement's online services' office spaces relocated to the Montréal Tower. Unoccupied since 1987, the tower has transformed into an interesting contemporary office space.
31 Jan 2020
Le Boulevardier restaurant and Le Flâneur Bar Lounge, Le Germain Hotel Montreal, 2050 Mansfield St, Montréal
Interior Design: Atelier Zébulon Perron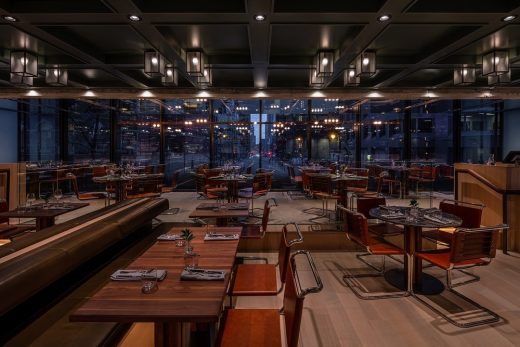 photo : David Boyer
Le Boulevardier Restaurant & Fâneur Bar Lounge
This new architectural design comprises the food and beverage portion of a major $30m renovation of Germain Hotels' flagship property in downtown Montreal.
9 Jan 2020
Drummondville Library, Centre-du-Québec
Architects: Chevalier Morales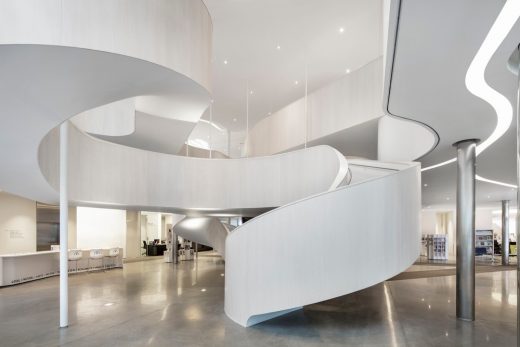 photo : Adrien Williams
Drummondville Public Library in Quebec
Originating from an architectural competition, this architectural project transposes the historical, cultural and poetic essence of the region into a studied urban and architectural composition.
7 Jan 2020
Corten Pavilion, Clémentine-de-la-Rousselière Park, Montréal, Québec, Canada
Architect: Les Architectes Labonté Marcil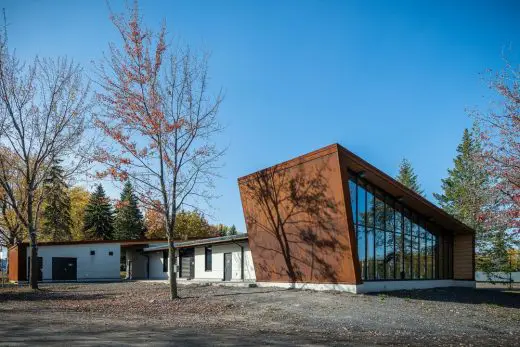 photo : Martin Girard
Corten Pavilion in Clémentine-de-la-Rousselière Park, QC
The Corten Pavilion is implanted in a park of the Rivière-des-Prairies/Pointe-aux-Trembles's district, on the tip of the east island of Montreal.
7 Jan 2020
Atrium Townhome in Westmount
More contemporary Montreal Architecture News online soon
Montreal Architecture News 2019
6 Dec 2019
Four Seasons Hotel in Montreal
28 Nov 2019
Reinventing the Shoebox in Montréal
22 Nov 2019
Le James – McGill University Bookstore
19 Aug 2019
The Montarville – Boucher la Bruère Public Library, Boucherville
BGLA | Architecture + Design urbain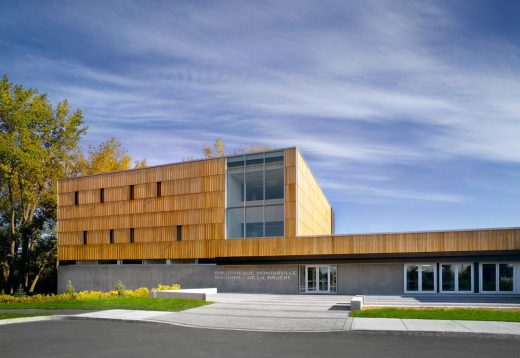 photo : Christian Perreault
The Montarville in Boucherville near Montreal
Located in the downtown core of Boucherville, a town of 40,000 situated on the banks of the St. Lawrence River just east of the Island of Montreal. Built more than 25 years ago, the municipal library needs to expand and reconfigure its existing facilities.
17 Aug 2019
Panorama, Laval, southwestern Quebec
Architects: ACDF Architecture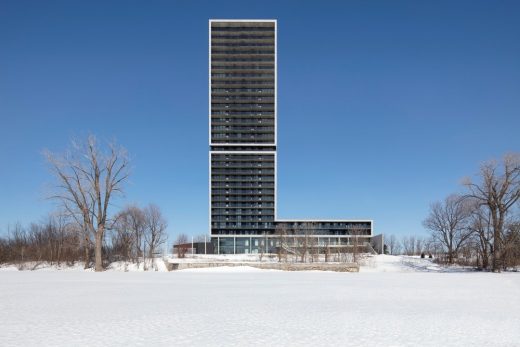 photo : Adrien Williams
Panorama in Laval
A 30-storey retirement complex on the banks of Rivière des Prairies in Sainte-Dorothée, Quebec.
26 June 2019
Ryù Restaurant, 1474 Peel St, Montreal, QC
Architect: Guillaume Ménard and David Dworkind (MRDK)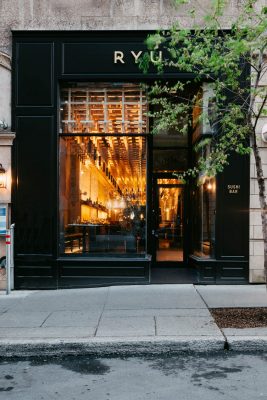 photo © David Dworkind
Ryu sushi restaurant Peel Street, downtown Montreal
The fifth Ryu sushi restaurant just opened its doors on Peel street in downtown Montreal designed by Ménard Dworkind architecture and design.
25 Jun 2019
Grand Quay Port of Montreal
Architects: Provencher_Roy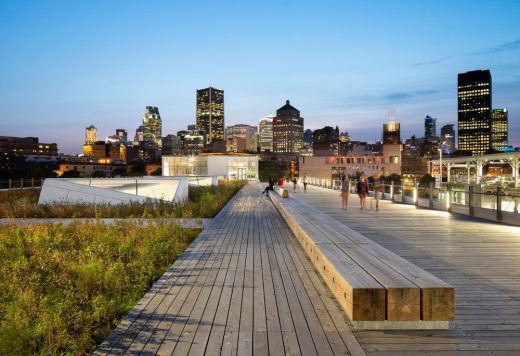 photograph : Stéphane Brügger
The Port of Montreal's Grand Quay
Visitors and tourists can now walk along all of the green spaces on the site and contemplate wonderful views of the city. Thanks to this new, privileged access to the river, Montrealers have reconnected with these grounds.
25 June 2019
Strøm Nordic Spa in Old Quebec
10 June 2019
Maison Atelier yh2
16 May 2019
Birks Hotel
20 March 2019
Campus1 Montreal
11 Feb 2019
Sportium Saint-Hubert, Longueuil
Architects: Indesign inc.
Sportium Saint-Hubert in Longueuil
6 Feb 2019
ENTICY, a new boutique condo project in downtown Montreal
Architects: Claridge-Omnia Technologies-Geiger Huot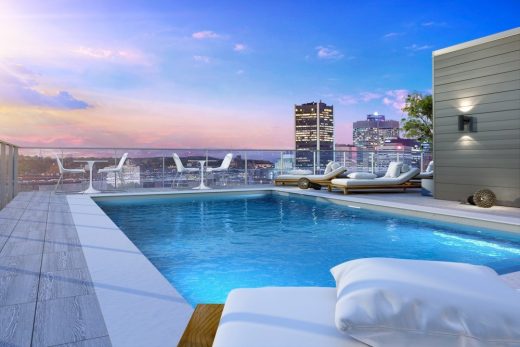 photography : Enticy
ENTICY condos downtown Montreal
Enticy is a boutique condo project coming soon to downtown Montreal, at the corner of René-Lévesque and Mackay. This unique 24-story project combines old and new, with a contemporary design built around a façade of historical townhouses. The team behind the real estate project includes financial partner Claridge, builders Omnia Technologies, and architects Geiger Huot.
30 Jan 2019
La Barque Residence, Saint-Donat-de-Montcalm, Matawinie, Quebec
Architects: ACDF Architecture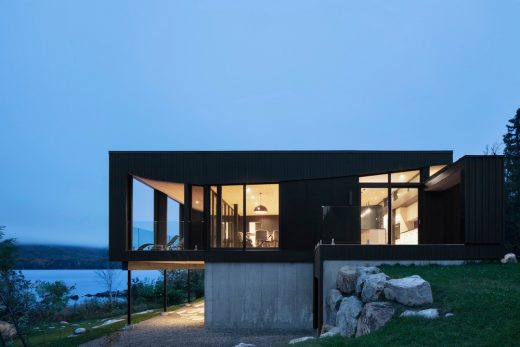 photography : Adrien Williams
La Barque Residence in Saint-Donat-de-Montcalm
La Barque is a hyperactive family's peaceful shelter. Located on the shores of Lake Ouareau in Saint-Donat, the house was inspired by the owners' love for the northern landscapes.
17 Jan 2019
Ice Shore House, Verdun
Architect: INDESIGN inc CONRATH architecte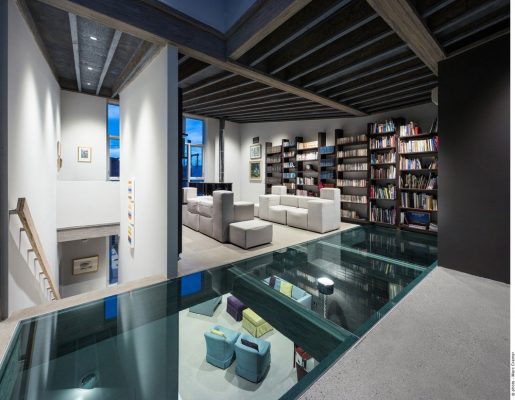 photograph : Marc Cramer
Ice Shore House in Verdun
Following the advice of her architect, the client purchased a vacant lot in Verdun, a neighbourhood with history dating from the beginning of New France. Of prime importance, the site provided several alternatives to automobile driving.
Montreal Architecture News 2018
Montreal Architecture News 2018
More Montreal Building News online soon
Location: Montreal, Quebec, Canada
Architecture in Canada
Canadian Architectural Projects
Montreal Architect – design practice listings on e-architect
Buildings / photos for the Montreal Architecture News page welcome
Website: Montreal, Quebec, Canada