Montreal Architecture News 2022, Quebec Building Design Photos, Canadian Real Estate, Architects
Montreal Architecture News
Key Contemporary Quebec Architectural Developments: Built Environment Canada, North America
post updated 2 January 2023
Montreal Architectural News
Montreal Architecture Designs – chronological list
Montreal Architectural Tours
Montreal Architecture Walking Tours – North American architectural tours by e-architect
Montreal Restaurants, Cafés & Bar Lounges – new page
Montreal Building News, chronological:
16 Nov 2022
Le Relais Boréale, Mile-Ex neighborhood
Architects: Atelier L'Abri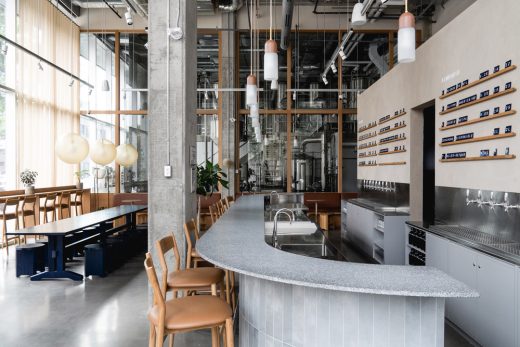 photo : Raphaël Thibodeaus
Le Relais Boréale, Montreal Restaurant
This Mile-Ex neighborhood property is a meeting and tasting place for beer lovers. This is a homecoming for Les Brasseurs du Nord, a pioneer of microbreweries in Quebec, which brewed its first Boréale beers in the city 35 years ago.
11 Nov 2022
La Chapelle, Querbes Avenue, Outremont
Architects: ACDF Architectur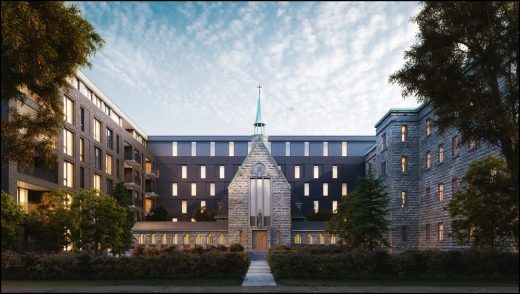 image : Demonfort
La Chapelle, Outremont
Montreal-based real estate company, Demonfort, announces the development of La Chapelle, an innovative and inspiring 78-unit condominium project which is very likely to be the last of its kind to be undertaken in such a strategic area. Located on Querbes Avenue, in the heart of Outremont, La Chapelle is just a short distance from Saint-Viateur Park, Théâtre Outremont, and many of the neighbourhood's finest restaurants and shops.
6 Nov 2022
Shefford House, Shefford – east of Montreal
Design: Atelier BOOM-TOWN
Shefford House, Quebec
29 Oct 2022
MEV, Laurentides, Quebec, Canada
Design: Studio Jean Verville architectes
MEV, Laurentides, Quebec
3 Oct 2022
Joie de Vivre, Outremont, Montréal, Québec, Canada
Architects: ACDF Architectur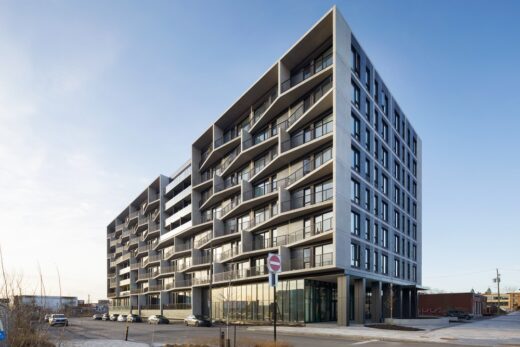 photo : Adrien Williams
Joie de Vivre, Outremont
ACDF Architecture, a forward-thinking Canadian firm internationally recognized for designing a new generation of meaningful and impactful buildings, is proud to unveil Joie de Vivre, a 225-unit residential building thoughtfully integrated into an industrial backdrop. In order to breathe new life into a former railyard and industrial sector in Montreal's Outremont neighborhood, ACDF was commissioned to design the 8-story apartment complex to help set a new tone for the neighbourhood, and to contribute to a new residential community emerging around the new campus of Université de Montréal.
12 Sep 2022
Montreal Holocaust Museum New Downtown Building
Design: KPMB Architects + Daoust Lestage Lizotte Stecker Architecture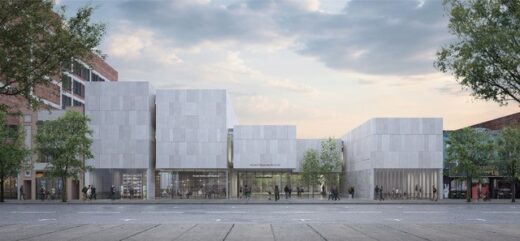 image courtesy of architects practice
Montreal Holocaust Museum Downtown Building
The Montreal Holocaust Museum (MHM) is proud to reveal the architectural designs of its new downtown Museum opening in 2025 at 3535 Blvd. St-Laurent. Created by KPMB Architects + Daoust Lestage Lizotte Stecker Architecture, the winning designs were selected following an international architectural competition.
25 Aug 2022
Collège Saint-Hilaire, southern Quebec
Architects: KANVA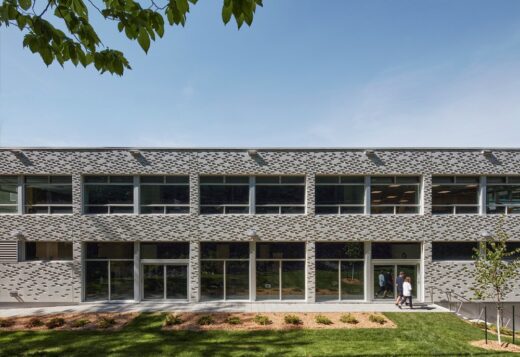 photo : James Brittain
College St-Hilaire Expansion, Southern Quebec
The history of Mont-Saint-Hilaire is closely tied to the mountain and the river which the settling community followed. On its north side, the Collège Saint-Hilaire academic institution is anchored. Founded in 1964, the mixed private college is graced by exceptional surroundings, providing an environment conducive to learning and development for its young students.
17 July 2022
Étage CL, Old Québec
Design: Taktik design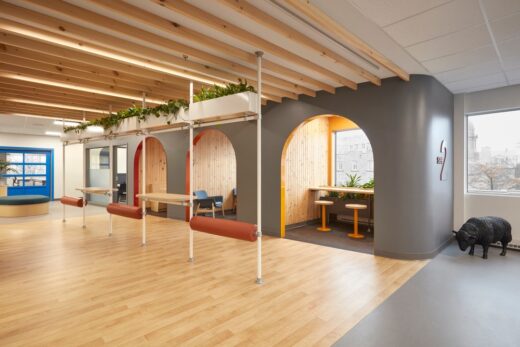 photo : Maxime Brouillet
Étage CL, Old Québec
Taktik Design continues its transformation of Collège Sainte-Anne. After having completely renovated the oldest of the buildings on-site, which dates back to 1860, this new development will take place in the adjacent building (constructed in the 1980s) on the same floor as the classrooms connected to the Sports Complex.
14 July 2022
Café Constance, Wilder building
Design: Atelier Zébulon Perron
Café Constance in the Wilder building
8 July 2022
Partly cloudy with a strong chance of "wow"!, Plateau-Mont-Royal
Architects: EN TEMPS ET LIEU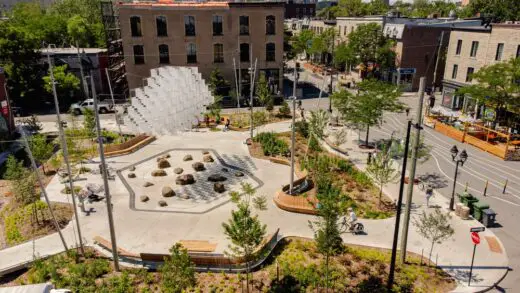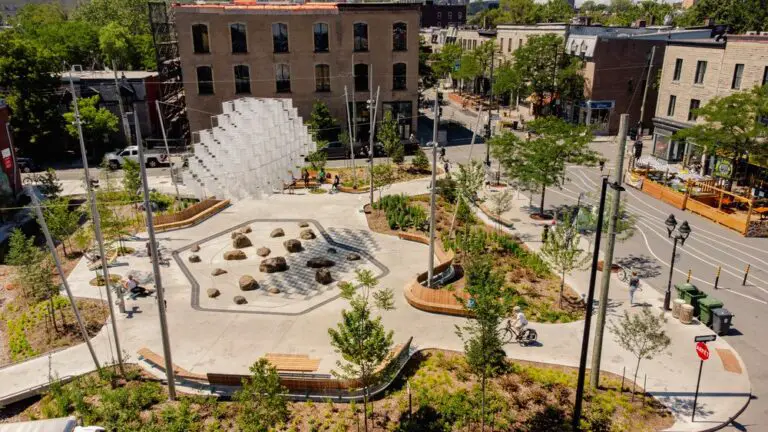 photo : Latrompette Studio
Partly Cloudy, Montréal Architectural Installation
Mont-Royal Avenue has been transformed into a 2.5 km pedestrian-only zone this summer. Additionally, passersby at Place des Fleurs-de-Macadam will now be able to look up at Partly cloudy with a strong chance of "wow"! (Partiellement nuageux avec de fortes probabilités de « wow »!), an installation suspended 30 feet above the ground.
15 Jun 2022
Maison Accuracy
Architects: Atelier L'Abri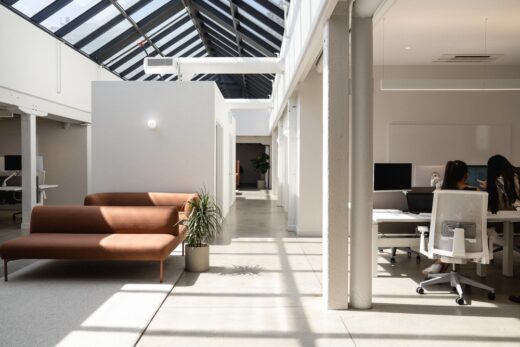 photo : Raphaël Thibodeau
Maison Accuracy
Feeling at home, while embodying the unique corporate identity of international consulting firm, Accuracy: this is the challenge that L'Abri took up by designing refined workspaces that rhyme with conviviality. Building on the codes of residential projects within Maison Accuracy, the architects offer warm and generous offices for employees and visitors alike.
13 Jun 2022
Le Rosaire, 7671 rue Saint-Hubert
Architects: Fugere Architecture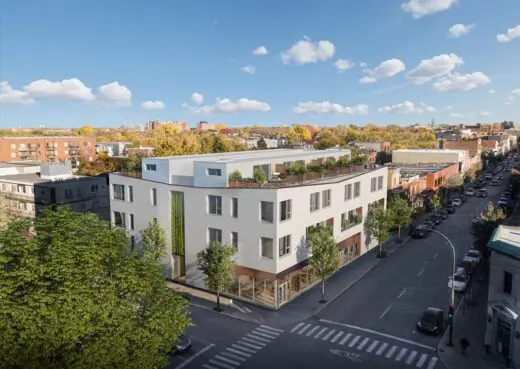 render : Residia
Le Rosaire, Montréal Housing
Residia Real Estate Development is pleased to announce the start of construction of its Le Rosaire project, which will be completed in the summer of 2023. Located in the effervescent Villeray district of Montreal, this unique three-storey project offers buyers 31 units of townhouses and condos with 1 to 3 bedrooms benefiting from a green interior courtyard, which is a rarity in the metropolis.
30 May 2022
Pilote Restaurant and Bar
Architects: ACT architecture design inc.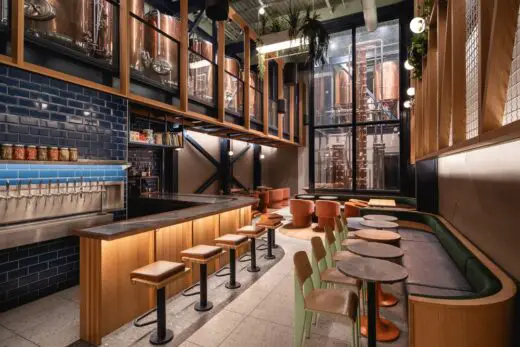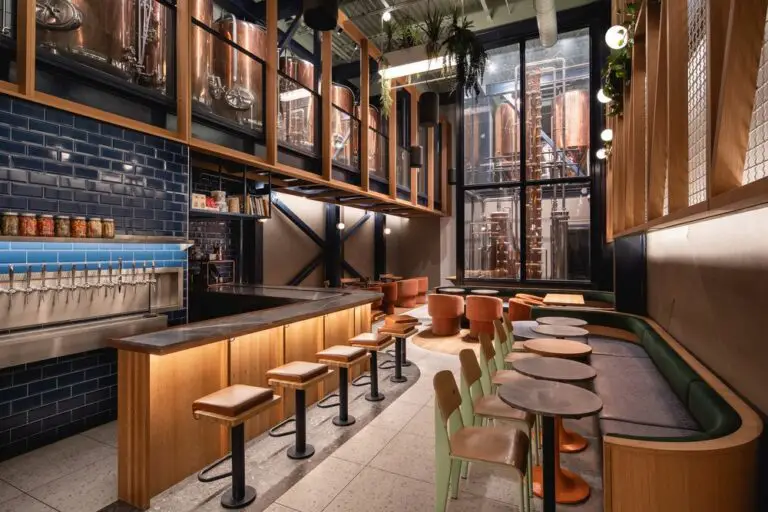 photo : Raphaël Thibodeau
Pilote Restaurant Bar
19 May 2022
Prise d'eau Canal de l'Aqueduc
Architect: Smith Vigeant architectes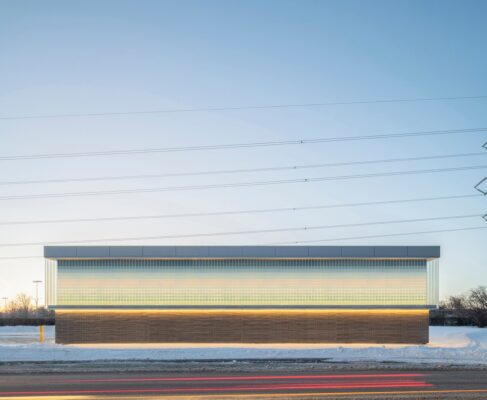 photo : David Boyer
Prise d'eau Canal de l'Aqueduc
In order to improve water quality, the city has built a new water intake along the Aqueduct Canal. The announcement of the construction of such a building on the green banks of the Aqueduct Canal, in the heart of a public park, immediately aroused great concern in the community among residents and users of the borough of Verdun.
17 May 2022
Institut Pacifique
Architect: CB Architecte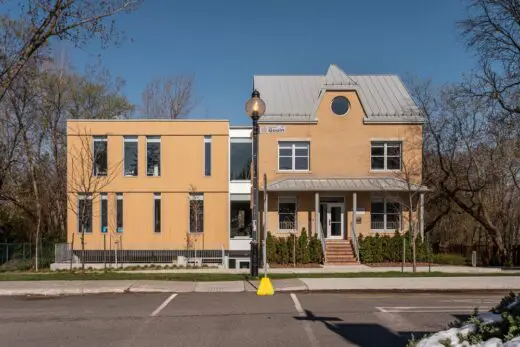 photo : Félix Audette
Institut Pacifique
Since its founding in 1976, the Institut Pacifique, a leader in conflict resolution and mediation for young people, has occupied the property located at 2901 Gouin Boulevard East, Montreal.
3 May 2022
Iru Izakaya, Brossard, Québec
Architect: Cléo Katcho Design Architectural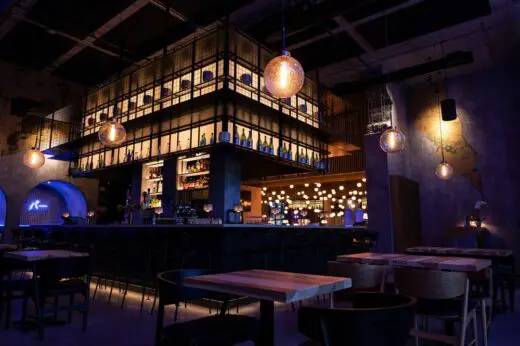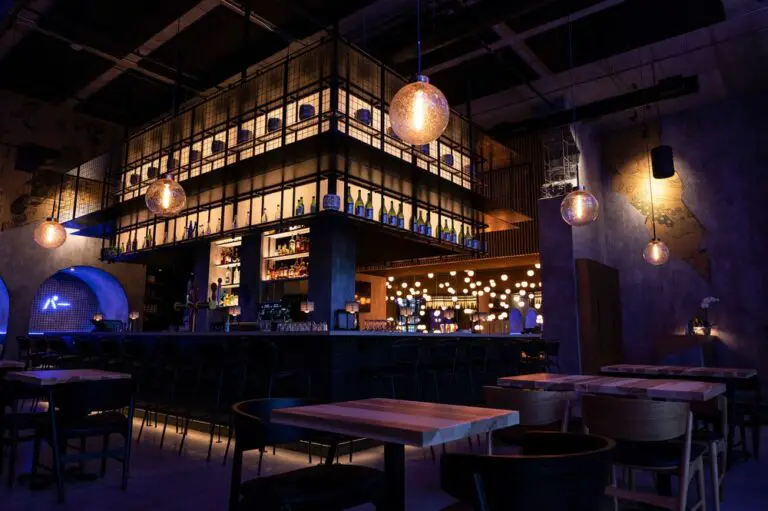 photo : Francis Champoux
Iru Izakaya Restaurant, Brossard
26 Apr 2022
2nd Avenue, Rosemont-La-Petite-Patrie
Design: Microclimat
2nd Avenue Residence Rosemont
22 Apr 2022
Îlot Balmoral
Architect: Provencher_Roy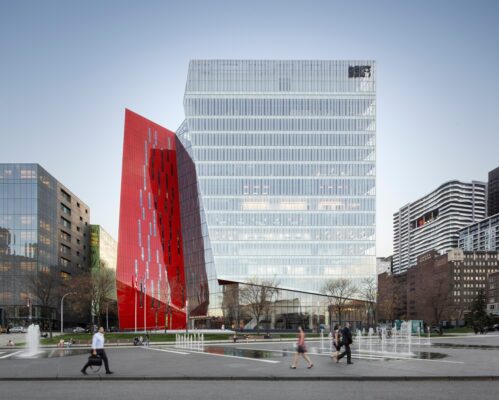 photo : Stéphane Brügger
Îlot Balmoral, Downtown Montréal
The Îlot Balmoral, a 13-storey mixed-use office building commissioned by the Société d'Habitation de Montréal (SHDM), rises as a testimony to Montréal's creative economy. One of the final major developmental pieces of the 'Quartier des Spectacles' in downtown Montréal, the impressive structure is the new home of the National Film Board of Canada (NFB) and UQAC's École des arts numériques, de l'animation et du design (NAD School).
11 Apr 2022
PHI Contemporary International Architecture Competition Finalists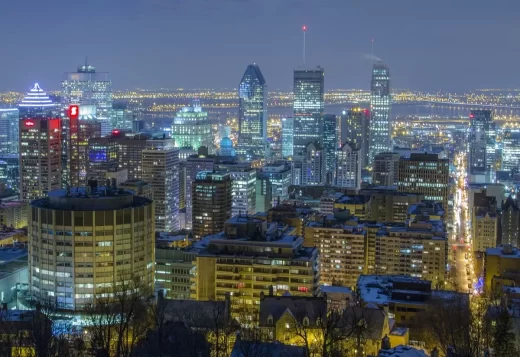 photo courtesy of architects office
PHI Contemporary, Montreal: Competition Stage 2 Finalists
The 5 Finalists selected to proceed to Stage 2 of the Competition will present their Architectural Proposals to the Jury in the format of a public virtual event on May 2, 11:00 EST.
4 Apr 2022
MB
Architect: Jean Verville architecte
MB Cottage, Quebec
30 Mar 2022
Repentigny Theater
Architects: Les architectes FABG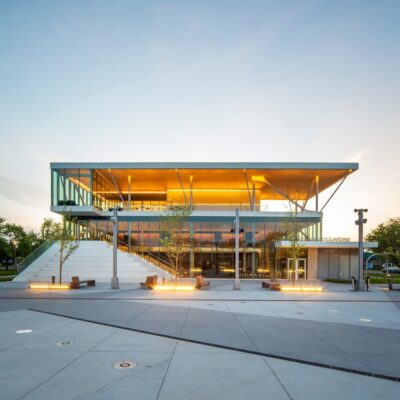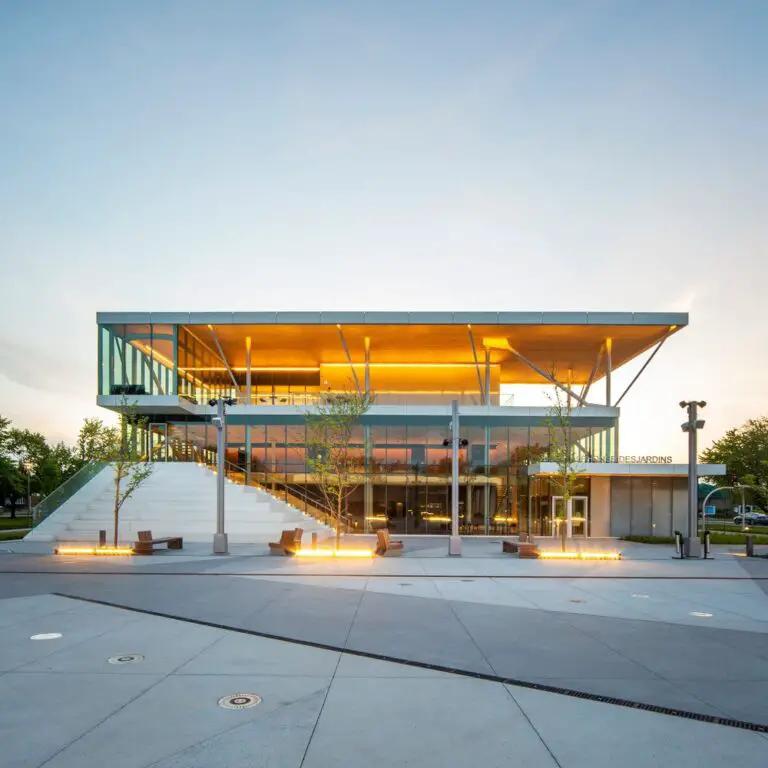 photograph : Steve Montpetit
Repentigny Theater
The new Repentigny Theater is the result of an architectural competition aimed at offering patrons a variable configuration room with 350 seats for various cultural activities, while also providing a prominent space for classical music. The project completes a civic ensemble called Repentigny Cultural Space, conceived and developed at the heart of the municipality.
1 Mar 2022
OneSpan office
Design: inside Studio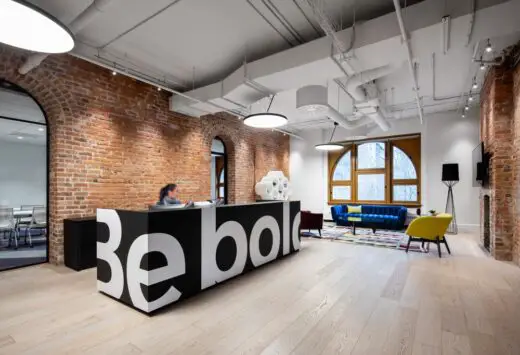 photograph : Stephane Brugger Photographe
OneSpan Offices, Montréal Interior
LumiGroup, Quebec's largest lighting agency, is proud to unveil its collaboration with inside Studio, designers of the OneSpan office in downtown Montreal. Located within the confines of historic Windsor station, the 55,000 sq. ft. space is a melding of inspired architecture and bold interior design, with inside Studio's unique perspectives, sequences, and discoveries being recognized by Canadian Interiors as a Best of Canada Award winner in the office category.
Montreal Biodôme – Textile Architecture 101
Domaine Dumont Chapelle Ste-Agnès
Odea Residential Tower, Old Montreal
Experience Chute, Montmorency Falls Quebec
More Montreal Architecture News online soon
Quebec Architectural Updates 2021
29 Nov 2021
Tiramisu Restaurant, Hilton Hotel Montréal Chinatown
13 Nov 2021
Pierrefonds Public Library
19 Oct 2021
Behavox, 900 West de Maisonneuve
Design: ISSADESIGN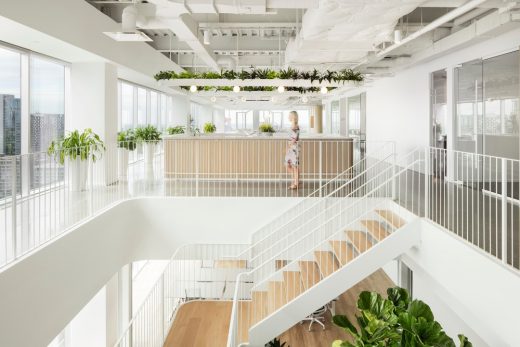 photograph : Maxime Brouillet
Behavox, Montréal Office Building
ISSADESIGN and A+ present the new research and development centre of Behavox, a data analysis company based on artificial intelligence. Mandated by A+, an integrated project management firm offering a turnkey service, we had the mission to design the client's new work environment.
20 Oct 2021
Queen Mary Residence, Hampstead, Quebec, Canada
Design: Atelier Barda architecture
Queen Mary Residence, Hampstead Quebec
20 Oct 2021
Appartement Saint-Gérard
Design: Vives St-Laurent
Appartement Saint-Gérard, Montréal
13 Oct 2021
Rue de la Gauchetière
Design: Future Simple Studio
Rue de la Gauchetière, Montréal Apartment
27 Sep 2021
Humaniti
Design: Lemay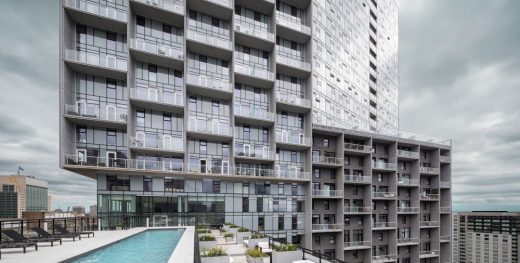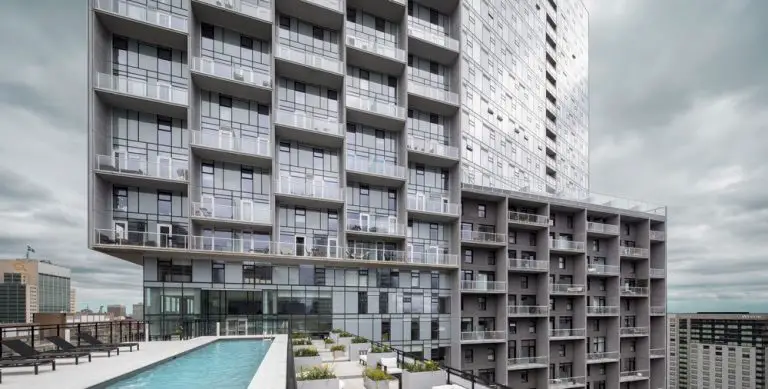 photo : Brandon Barré
Humaniti Vertical City
Located at the crossroads of the International district, the Quartier des spectacles, and Old Montreal, Humaniti is Montreal's tallest mixed-use community. It includes a luxury hotel, rental units, restaurants, boutiques, and public spaces.
23 Sep 2021
Place Carmin Restaurant
17 Aug 2021
Business Development Bank of Canada
7 Aug 2021
Residence Alma, Little Italy
30 Jul 2021
MAA Condominiums & Penthouses
1 Jul 2021
Screenplay Workshop
25 Jun 2021
Expansion of Christ-Roi Elementary School
25 Jun 2021
Centre hospitalier de l'Université de Montréal
12 Jun 2021
Marriott Château Champlain Hotel
20 May 2021
Gentile Pizza Parlour
14 May 2021
Verdun Auditorium
2 May 2021
Le Monarque Restaurant
21 Apr 2021
Canada F1 Grand Prix
18 Apr 2021
Brasserie Harricana
11 Apr 2021
Aesop Westmount
11 Apr 2021
Stillife Bar, Montréal Québec Interior
8 Apr 2021
McGill University Power Plant
20 Mar 2021
Light into the Darkness Installations
10 Feb 2021
Quai 5160-Maison de la Culture Verdun
1 Feb 2021
RYÙ Sushi Restaurant, Montréal YUL Airport
1 Feb 2021
Clarke Terrace
More Montreal Architecture News online soon
Quebec Architectural Updates 2020
15 Dec 2020
Artopex Head Office, Granby, Quebec
Architects: Luc Plante architecture + design inc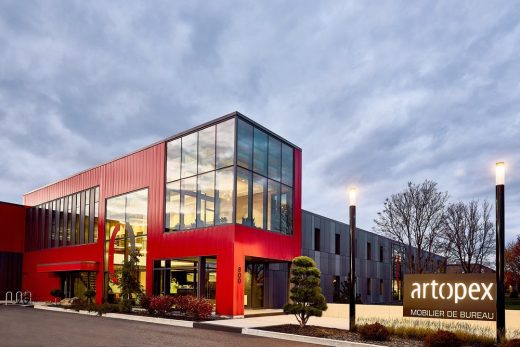 photo © Bastiani photography
Artopex Head Office Granby
The recently modernized structure of the Artopex Head Office stands out in an industrial district that has seen better days. From the outset, the building's bright fire-engine red signage welcomes visitors with its vast floating volume.
12 Dec 2020
Lightspeed offices – Phase 2
Architects: ACDF Architecture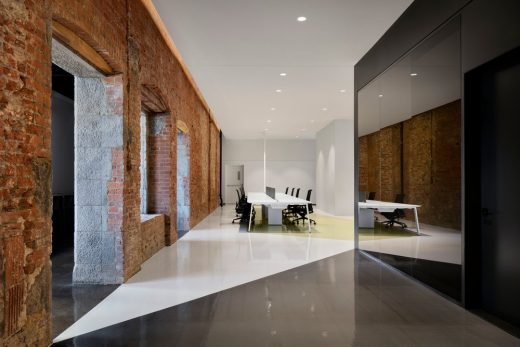 photo © Adrien Williams
Lightspeed offices Phase 2
Lightspeed commissioned ACDF Architecture – the designers for the first phase of the firm's headquarters – to create a new floor dedicated to product development. The workspace of the point-of-sale software company is located on the ground floor of a 19th-century railway hotel, the chateau-style Viger Railway Station.
10 Dec 2020
Lightspeed offices Phase 1
2 Dec 2020
Residence Marconi, Mile-Ex
25 Nov 2020
Cottage on the Point, Lanaudière, Québec
Design: Paul Bernier Architecte
Cottage on the Point, Lanaudière
23 Nov 2020
NMBHD Triplex, Rosemont
Design: Studio Jean Verville Architectes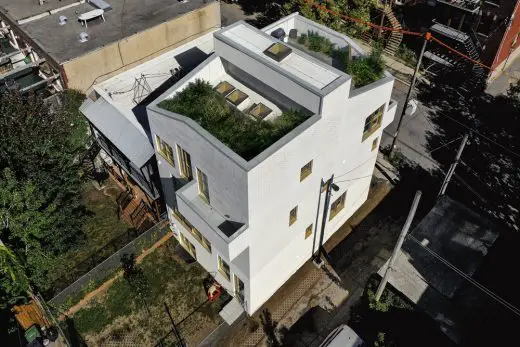 photo direction: Special collaboration / Félix Michaud + studio Jean Verville architectes
NMBHD Triplex Rosemont
Aiming to develop a real estate heritage for a young family from the Montreal's Rosemont district, the NMBHD Triplex project offers spatial investigations reshaping the typology of the Montreal triplex. The playful approach proposed by the architect enabled the family to question their relationship to functionality as well as to compactness within their domestic spaces.
5 Nov 2020
Frank and Oak
Interior Design: Imperatori Design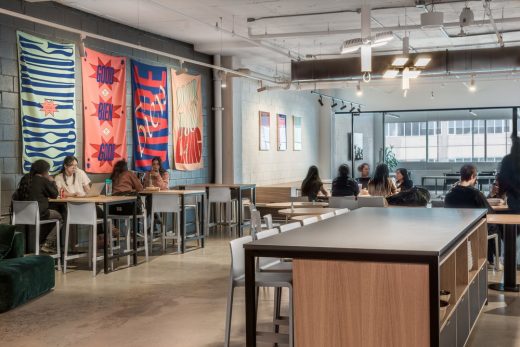 photograph : Ray Van Dusen
Frank and Oak Workshop
The Frank and Oak clothing brand is inspired by life in the city and in nature, purposefully curated to be innovative and responsive to their clientele as well as the environment.
3 Nov 2020
Moving Dunes, Montreal Museum of Fine Arts, Downtown
Design: NÓS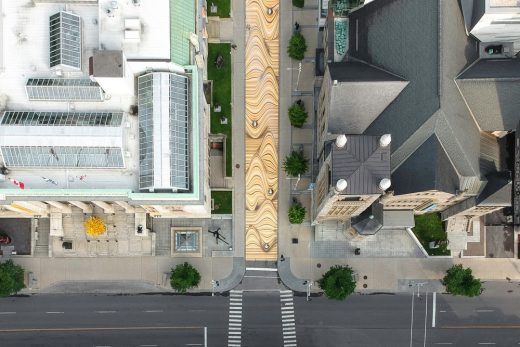 photo © Eloa Defly
Moving Dunes Montréal
Inspired by the early arts this extension of the temporary exhibit 'From Africa to the Americas: Face-to-face Picasso, Past and Present'. The plastic approach of cubist painters questions the role of perspective in visual representation.
3 Nov 2020
Prefabricated Country Home, Ivry-sur-le-Lac
30 Oct 2020
Caffettiera Caffé Bar, 2055 rue Stanley
Design: Ménard Dworkind Architecture & Design – MRDK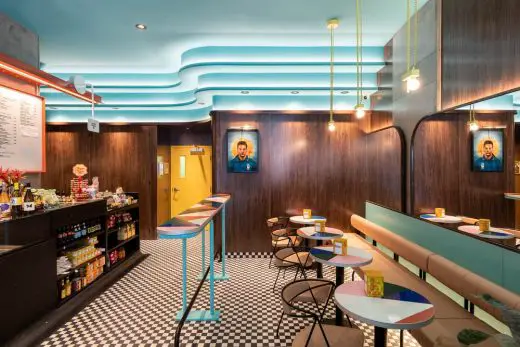 photo © David Dworkind
Caffettiera Montréal Caffé Bar
In Italy, going to the coffee bar is not just about the coffee. It's about taking a break from the day, meeting up with friends or taking the time to contemplate life. Caffettiera Caffé Bar aims to bring that culture to North America at its 745-square-foot commercial space in the heart of downtown Montreal.
3 Nov 2020
Quartz Co Boutique
5 Oct 2020
The Ogilvy Montreal Agency
8 Sep 2020
Alexandre-de-Sève Town House
9 Sep 2020
TULIP – Your Place at the Table!, Hydro-Québec Parc, Sainte-Catherine Ouest, corner Clark
Architects: ADHOC architectes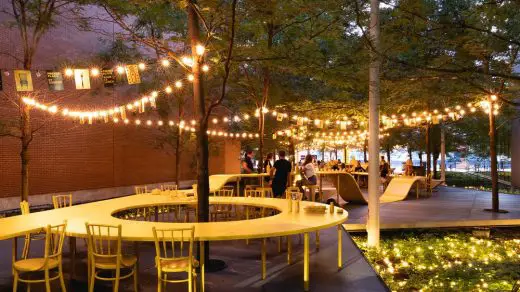 photo : Raphaël Thibodeau
Your Place at the Table! Hydro-Québec Parc
The project was designed with the collaboration of graphic designers Maude Lescarbeau and Camille Blais.
8 Sep 2020
hinterhouse in La Conception, Mont-Tremblant valley, Québec, Canada
Design: Ménard Dworkind Architecture & Design – MRDK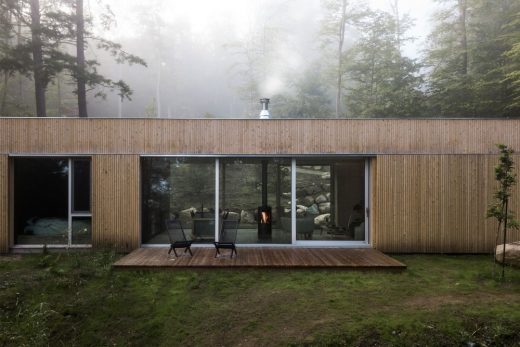 photo : David Dworkind
hinterhouse, La Conception, Québec
Hinterhouse is nestled into a densely forested hillside with sweeping views of the Mont-Tremblant valley. The 16-foot wide house, designed to be prefabricated, can be driven on local roads and delivered to site. The hintercompany hotel concept aims to provide an escape from the hustle and bustle of city life.
28 Aug 2020
Maison Ave Courcelette House, Outremont, Québec
Architects: Salem Architecture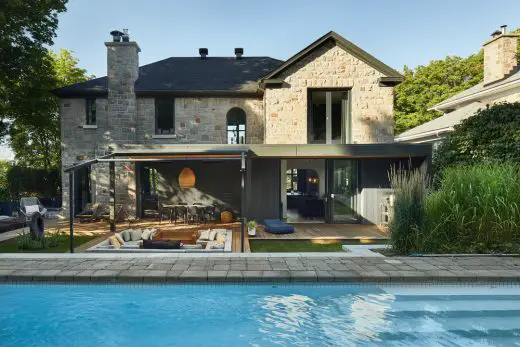 photo : Phil Bernard
New House in Outremont
26 Aug 2020
Le Newman Mixed Residential Project
24 Aug 2020
Monique-Corriveau Library
20 Aug 2020
FlightHub HQ Offices
21 July 2020
Imperia Condominiums in Quartier des Spectacles
13 June 2020
Le Super Qualité – Le Central
13 June 2020
Heirloom pizzeria Le Central
20 May 2020
Pavilion A in Saint-Bruno-de-Montarville
13 May 2020
Kinoya II Restaurant on Bishop Street
28 Apr 2020
Autodesk Offices in Griffintown
11 Mar 2020
Rental Condos in Quebec
8 Mar 2020
Cabin A in Petite-Rivière-Saint-François, Québec
1 Mar 2020
Le Cathcart Restaurants and Biergarten, Place Ville Marie, Montreal, QC
Design: Sid Lee Architecture and Menkès Shooner Dagenais LeTourneux Architectes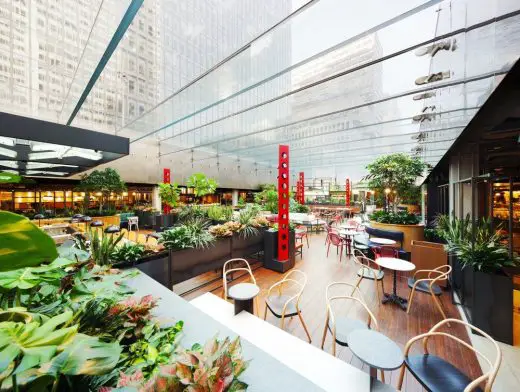 photo : Sid Lee Architecture
Le Cathcart Restaurants and Biergarten at Place Ville Marie
8 Feb 2020
The cafeteria — Le Marie-Victorin
Design: Cégep Marie-Victorin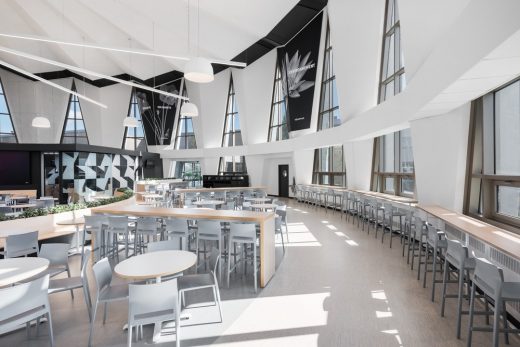 photo : Vincent Brillant
The cafeteria – Le Marie-Victorin in Montréal
In this structure, built in 1965, an impressive ceiling covers the space. The unique shape of the old chapel, which became a cafeteria in 1981, inspired innovative lighting.
6 Feb 2020
Desjardins Offices, Montréal Tower, 4141, avenue Pierre-De Coubertin, Montréal
Interior Design: Provencher_Roy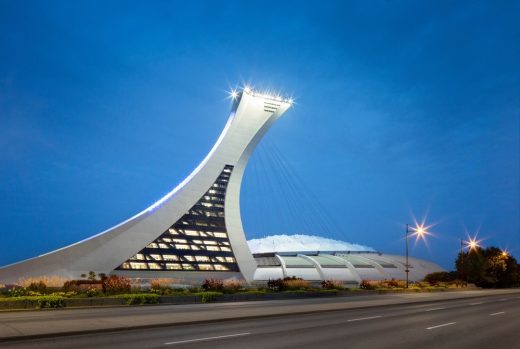 photo : Stéphane Brügger
Desjardins Offices in Montréal Tower
Desjardins Movement's online services' office spaces relocated to the Montréal Tower. Unoccupied since 1987, the tower has transformed into an interesting contemporary office space.
31 Jan 2020
Le Boulevardier restaurant and Le Flâneur Bar Lounge, Le Germain Hotel Montreal, 2050 Mansfield St, Montréal
Interior Design: Atelier Zébulon Perron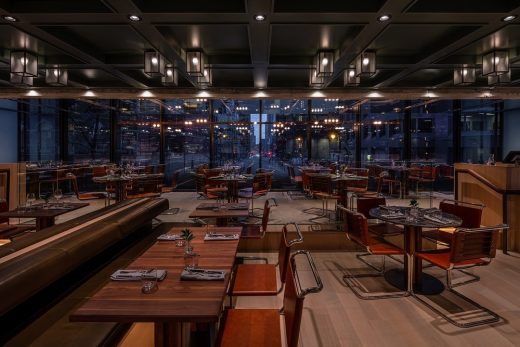 photo : David Boyer
Le Boulevardier Restaurant & Fâneur Bar Lounge
9 Jan 2020
Drummondville Library, Centre-du-Québec
Architects: Chevalier Morales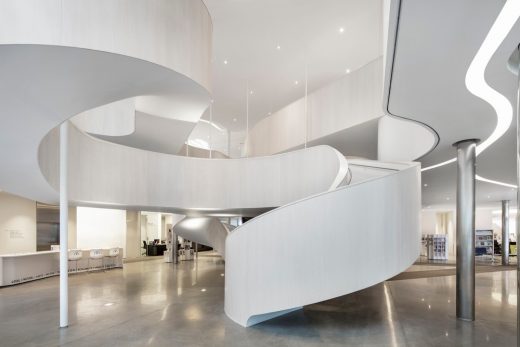 photo : Adrien Williams
Drummondville Public Library in Quebec
Originating from an architectural competition, this architectural project transposes the historical, cultural and poetic essence of the region into a studied urban and architectural composition.
7 Jan 2020
Corten Pavilion, Clémentine-de-la-Rousselière Park, Montréal, Québec, Canada
Architect: Les Architectes Labonté Marcil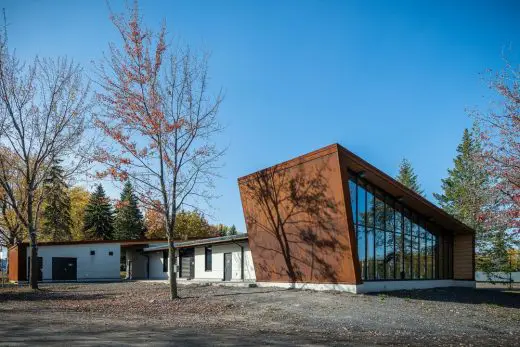 photo : Martin Girard
Corten Pavilion in Clémentine-de-la-Rousselière Park, QC
The Corten Pavilion is implanted in a park of the Rivière-des-Prairies/Pointe-aux-Trembles's district, on the tip of the east island of Montreal.
7 Jan 2020
Atrium Townhome in Westmount
More contemporary Montreal Architecture News online soon
Montreal Architecture News 2019
6 Dec 2019
Four Seasons Hotel in Montreal
28 Nov 2019
Reinventing the Shoebox in Montréal
22 Nov 2019
Le James – McGill University Bookstore
19 Aug 2019
The Montarville – Boucher la Bruère Public Library, Boucherville
BGLA | Architecture + Design urbain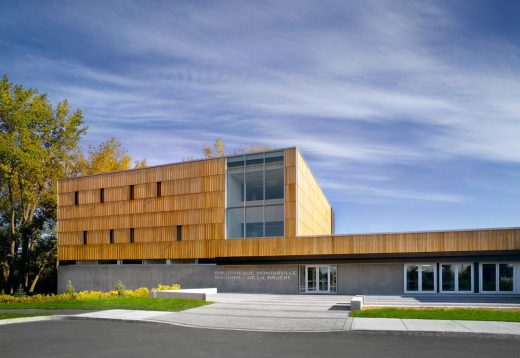 photo : Christian Perreault
The Montarville in Boucherville near Montreal
Located in the downtown core of Boucherville, a town of 40,000 situated on the banks of the St. Lawrence River just east of the Island of Montreal. Built more than 25 years ago, the municipal library needs to expand and reconfigure its existing facilities.
17 Aug 2019
Panorama, Laval, southwestern Quebec
Architects: ACDF Architecture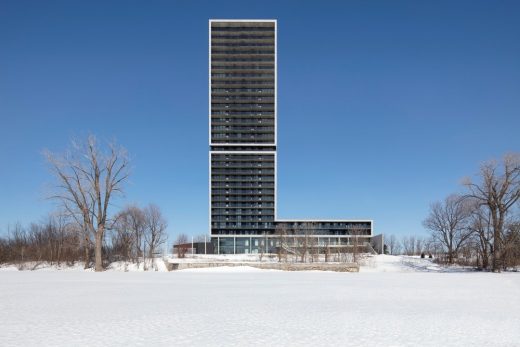 photo : Adrien Williams
Panorama in Laval
A 30-storey retirement complex on the banks of Rivière des Prairies in Sainte-Dorothée, Quebec.
26 June 2019
Ryù Restaurant, 1474 Peel St, Montreal, QC
Architect: Guillaume Ménard and David Dworkind (MRDK)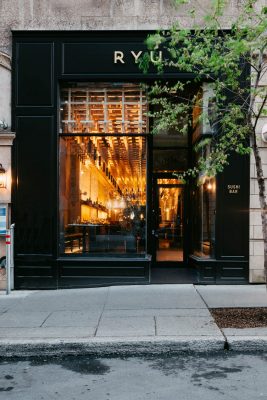 photo © David Dworkind
Ryu sushi restaurant Peel Street, downtown Montreal
25 Jun 2019
Grand Quay Port of Montreal
Architects: Provencher_Roy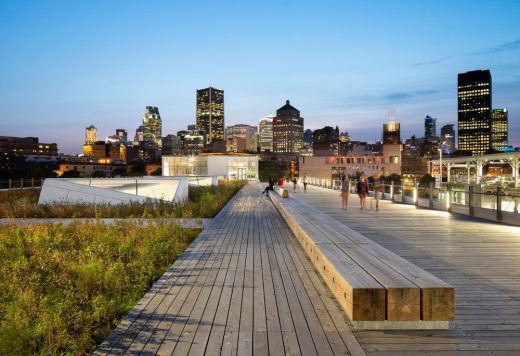 photograph : Stéphane Brügger
The Port of Montreal's Grand Quay
Visitors and tourists can now walk along all of the green spaces on the site and contemplate wonderful views of the city. Thanks to this new, privileged access to the river, Montrealers have reconnected with these grounds.
25 June 2019
Strøm Nordic Spa in Old Quebec
10 June 2019
Maison Atelier yh2
16 May 2019
Birks Hotel
20 March 2019
Campus1 Montreal
11 Feb 2019
Sportium Saint-Hubert, Longueuil
Architects: Indesign inc.
Sportium Saint-Hubert in Longueuil
6 Feb 2019
ENTICY, a new boutique condo project in downtown Montreal
Architects: Claridge-Omnia Technologies-Geiger Huot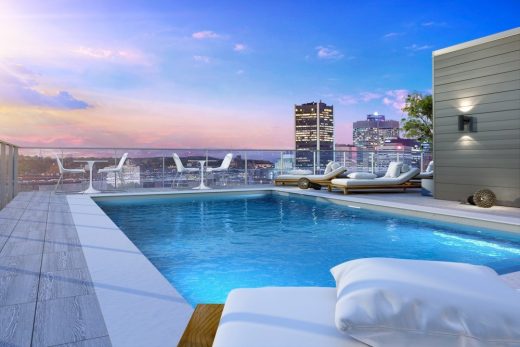 photography : Enticy
ENTICY condos downtown Montreal
Enticy is a boutique condo project coming soon to downtown Montreal, at the corner of René-Lévesque and Mackay. This unique 24-story project combines old and new, with a contemporary design built around a façade of historical townhouses. The team behind the real estate project includes financial partner Claridge, builders Omnia Technologies, and architects Geiger Huot.
30 Jan 2019
La Barque Residence, Saint-Donat-de-Montcalm, Matawinie, Quebec
Architects: ACDF Architecture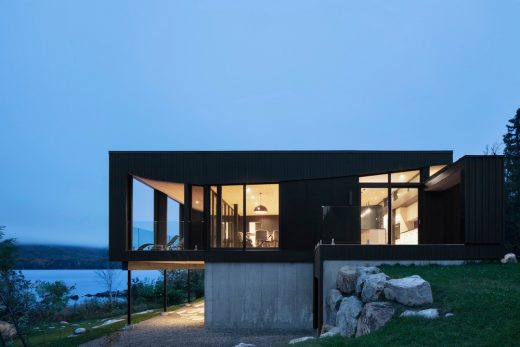 photography : Adrien Williams
La Barque Residence in Saint-Donat-de-Montcalm
La Barque is a hyperactive family's peaceful shelter. Located on the shores of Lake Ouareau in Saint-Donat, the house was inspired by the owners' love for the northern landscapes.
17 Jan 2019
Ice Shore House, Verdun
Architect: INDESIGN inc CONRATH architecte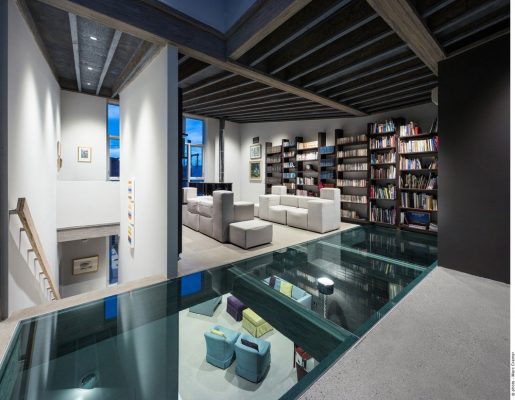 photograph : Marc Cramer
Ice Shore House in Verdun
Following the advice of her architect, the client purchased a vacant lot in Verdun, a neighbourhood with history dating from the beginning of New France. Of prime importance, the site provided several alternatives to automobile driving.
Montreal Architecture News 2018
Montreal Architecture News 2018
More Montreal Building News online soon
Location: Montreal, Quebec, Canada, North America
Architecture in Canada
Canadian Architectural Projects
Montreal Architect – design practice listings on e-architect
Buildings / photos for the Montreal Architecture News page welcome