Montreal Architecture, Canadian Building, Architect, Photo, Quebec Design, Real Estate, Pictures
Montreal Buildings : Québec Architectural News
Key Contemporary Montréal Developments in Canada, North America
Montreal Architecture News
Montreal Architecture News, chronological:
Montreal Architecture Designs – chronological list
2 Nov 2017
De la Roche Residence, Rosemont-La-Petite-Patrie
Design: naturehumaine architecture et design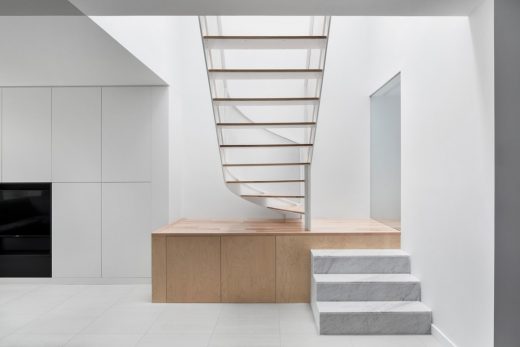 photo : Adrien Williams
De la Roche Residence
A couple with two young children wish to transform a duplex located in Rosemont-La-Petite-Patrie into their principal family residence. The project consists in reorganizing the original portion of the house and enlarging it with an extension in the yard while preserving the façade on the street as required by the city bylaws.
5 Oct 2017
Complexe sportif de Saint-Laurent, Montréal, Saint-Laurent
Design: Saucier + Perrotte / Hughes Condon Marler Architects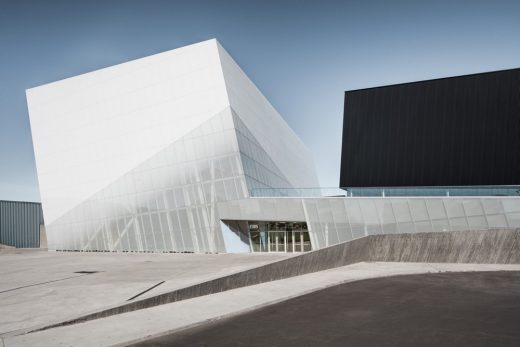 photo : Olivier Blouin
Complexe sportif de Saint-Laurent Montréal
The project site is situated between the existing Émile Legault School and Raymond Bourque Arena, both of which are horizontal in form and neutral in character.
5 Aug 2016
CHUM Building, Centre Hospitalier de l'Université de Montréal, 1000 Rue Saint-Denis
Design: CANNONDESIGN + NEUF architect(e)s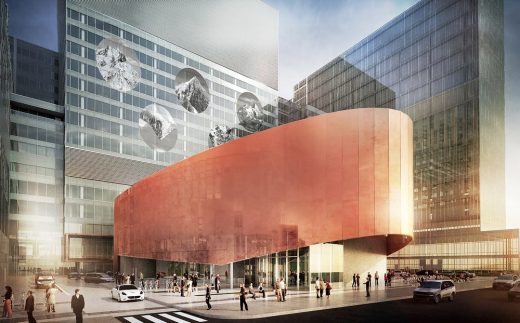 image from architect
CHUM Hospital Montréal Building
22 Jun 2016
Claire and Marc Bourgie Pavilion of Quebec and Canadian Art
Design: Provencher_Roy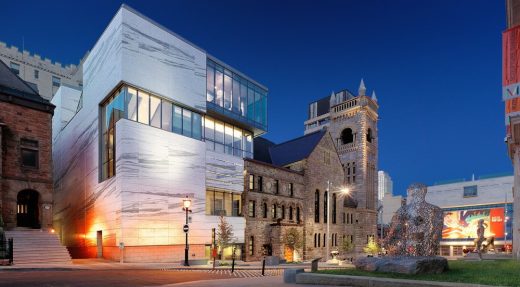 images courtesy Tom Arban, Alexi Hobbs, Marc Cramer, Jean-Guy Lambert
Claire and Marc Bourgie Pavilion of Quebec and Canadian Art in Montreal
Beside the restored former Erskine and American Church, transformed into a 444-seat concert hall, the rear annex has been completely reconstructed in contemporary style to form the new art pavilion.
5 Nov 2013
La Vitrine Culturelle, St-Catherine / St-Laurent, Quartier des spectacles
Design: Moment Factory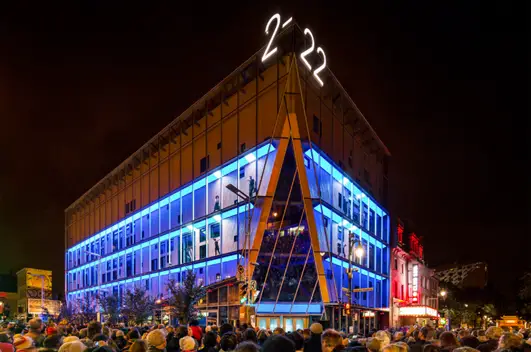 photograph from Moment Factory
Among the many features specially created for the 2#22 is "Urban Clock", a capsule of sixty seconds that synchronizes all the visual components of the building every hour. The other atmospheric features are composed of various graphical effects that play with trompe l'oeil and optical illusion.
12 Sep 2013
Connaught Residence
Design: NatureHumaine



photo : Adrien Williams
The changing needs of a growing family triggered the complete reconfiguration and extension of their existing 1950 concrete house. They wanted a contemporary extension that would harmonize with the modern spirit of the original house.
12 Aug 2013
Stacked House, Rue St-Christophe, Montréal
Design: NatureHumaine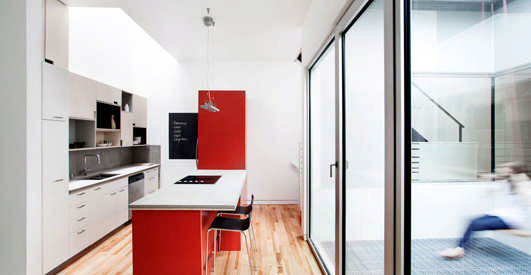 photo : Adrien Williams
House on Rue St-Christophe
This project was done in collaboration with the client who wished to build his own home. The site is located in a back alley of Montréal's Plateau neighborhood and the design reflects the patchwork of extensions and renovations typically found in Plateau alleyways.
13 Jun 2013
Chambord Residence, Saguenay–Lac-Saint-Jean, Quebec
Design: NatureHumaine



photo : Adrien Williams
Chambord Residence
The client wanted to utilize the second storey of her 1920s duplex by converting her former rental unit into 3 bedrooms and an office space. While the grey-stone front facade only required minor restorations, the back of the house was transformed completely.
4 Jun 2013
Fifth Pavilion Competition
Design: Saucier + Perrotte Architectes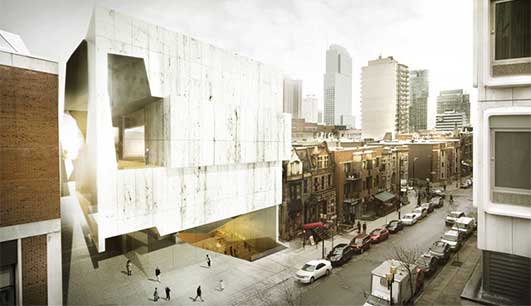 render : Saucier+Perrotte
Fifth Pavilion Competition Montreal
Just as layers of history accumulate through time to offer varying perspectives on culture and environment, Saucier + Perrotte's design for the Fifth Pavilion of the Montreal Museum of Fine Arts is composed of a series of mineral strata that form a home for the Hornstein collection of art.
28 May 2013
Montreal Luxury Hotel
Design: Lemay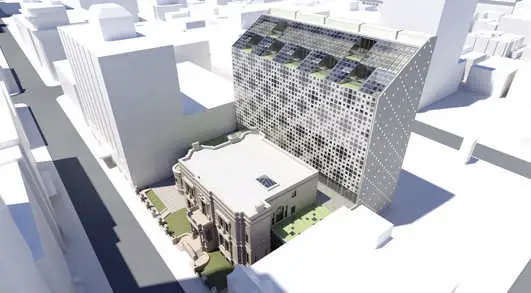 image by architects
Montreal Luxury Hotel
A new luxury hotel building on the Mount Stephen Club site located on 1440 Drummond Street in Montreal. Tidan Group owner of this impressive heritage 12-storey building has started the construction of an 80-room hotel at the heart of downtown.
27 May 2013
La Couleuvre
Design: NatureHumaine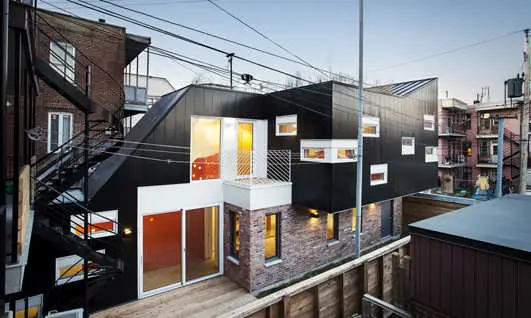 photo : Adrien Williams
Montreal Flat Extension –
Nicknamed "la couleuvre" (the garden snake). The parents' quarters are located in the ground floor brick volume, while the kid's bedrooms are pushed up into the twisting volume upstairs. A bright orange handrail leads you up into the kids' zone.
11 Jan 2013
Cahier d'Exercices Montréal, Québec, Canada
Design: Saucier + Perrotte



photo : Marc Cramer
Cahier d'Exercices Montréal –
Cahier d'Exercices is located at the entrance level of the historic Ross warehouse-store. The stone façade, its cast iron columns, and an expansive brick wall (punctuated with pieces of wood and metal) that runs the length of the store recall the 19th Century building's industrial past as a retailer of large tissues, leathers and furs.
Montreal Architectural Tours
Montreal Architecture Walking Tours
Latest North American architectural tour launched by e-architect
21 Feb 2012
Mies van der Rohe Gas Station, Nun's Island
Les architectes FABG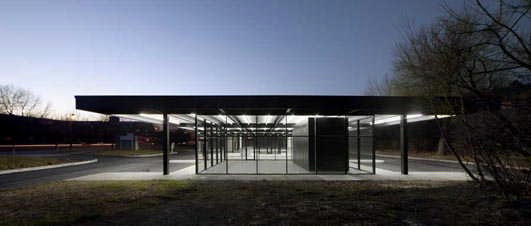 photograph : Steve Montpetit
Mies van der Rohe Gas Station –
Nun's Island is part of the Hochelaga archipelago located immediately southwest of Montreal. It's urbanization followed the opening of the Champlain bridge in 1962 under an ambitious master plan carried out by Metropolitan Structures, a real estate giant who had built numerous projects in Chicago with the collaboration of Mies van der Rohe.
Montreal Architecture – Recent Building News
14 Feb 2012 : contest entry
Verdun Cultural Center, Montréal – design
Saucier + Perrotte



image from architects
Verdun Cultural Center Montréal
Located in a large forested park along the edge of the St-Lawrence River, the project offers the City of Verdun a center dedicated to the performing arts. The design takes advantage of the bucolic character of the surroundings by creating an architectural work whose unique presence is felt strongly throughout the landscape.
8 Feb 2012
Centre de Diffusion Culture



image from architects
Les architectes FABG Montréal
Les Architectes FABG is the winning firm in the architecture competition for the project to set up a new cultural venue, including a professional theatre, which will be built starting in September 2012, a few metres away from the St. Lawrence River in the Verdun Borough.
5 Feb 2012
Centre de soccer intérieur au CESM, Montréal
Saucier + Perrotte / HCM Architects



image : Saucier + Perrotte
Centre de soccer intérieur au CESM
On the site of the former Miron quarry and a future Ecological Park, the new Centre de Soccer intérieur emerges from the park's artificial topography as a layer of mineral stratum recalling the geological nature of the site. The mineral stratum is articulated by a continuous roof which cantilevers over the entry plaza and folds down over the interior soccer field.
30 Jan 2012
Stewart Museum
Les architectes FABG



image from architects
Montréal Museum Building
Originally scheduled to serve as a warehouse for ammunition and artillery, the arsenal of Fort Saint Helena Island was built between 1820 and 1824. It was converted into a military museum in 1956, now the David M. Stewart Museum. The Stewart Museum presents with a large collection of over 30,000 objects and artifacts in the history of New France and the European influence in North America.
Théâtre la Licorne, 4559 avenue Papineau, central Montréal
Design: Les architectes FABG



photo : Steve Montpetit
Montréal Théâtre Building
The new building of Théâtre la Licorne like the theater company that runs it, La Manufacture, has a strong bond with its surrounding area. It tends to communicate with the city and reflects the type of theater that it produces: straightforward and urban. Aesthetic choices made during the design phase also reflects the idea of "manufacture": Simplicity of form and the use of raw materials: glass, metal, concrete, brick.
Palais des Congrés, Place Jean-Paul Riopelle
Date built: 2003
Realisation: Les architectes Tétrault, Dubuc, Saia et associés
Hal Ingberg architecte (Independent architectural consultant and co-designer)



picture : Hal Ingberg
Palais des Congrés Montreal
Montreal Architecture
Major Montreal Architecture Projects, alphabetical:
Claire and Marc Bourgie Pavilion
–
Provencher Roy + Associés architects



picture © Montreal Museum of Fine Arts
Claire and Marc Bourgie Pavilion
Habitat 67
1967
Moshe Safdie, Architect



photo © Timothy Hursley
Habitat 67
L'Assomption College – Sports Complex Building, near Montréal
2010
Les architectes FABG



photo: Steve Montpetit
L'Assomption College
McGill University Schulich School of Music – New Music Building
2005
Saucier + Perrotte



photograph : Marc Cramer
McGill University Schulich School of Music
Michel Brisson, 1074 Laurier West
–
Saucier + Perrotte Architectes



image : Saucier + Perrotte
Michel Brisson Montréal
Montréal Rio Tinto Alcan Planetarium
2009-
C. R. Julien – Ædifica_Architecture + Design



image from architect
Montréal Planetarium
Saint-Laurent Sports Complex
–
Saucier + Perrotte / Hughes Condon Marler



image : Saucier + Perrotte
Saint-Laurent Sports Complex
Spa Nordique, Nun's Island
–
Chevalier Morales architectes



photo © Marc Cramer
Spa Nordique Montréal
Théâtre de Quat'sous Building
2010
Les architectes FABG



image from architect
Théâtre de Quat'sous Montréal
Montreal Architecture – No Images
Major Montreal Architecture Projects, alphabetical:
Bibliothèque Nationale de Québec competition
2005
Patkau Architects
Centre CDP Capital, Place Jean-Paul Riopelle
–
Gauthier, Daoust Lestage Inc, Faucher Aubertin Brodeur Gauthier, with Architectes Lemay et Associés
Expo '67 master plan + Habitat '67 Housing
1967
Moshe Safdie
First Nations Garden Pavilion, Montreal Botanical Gardens
2004
Saucier + Perrotte Architectes, Montreal
Hendrie Gateway Pavilion, Royal Botanical Gardens Ontario
2007-
Diamond + Schmitt Architects
£3m
McGill University Health Centre Glen Campus
2006-
Moshe Safdie and Associates
Montreal Expo Building
1967
Rolf Gutbrod, engineering by Frei Otto
Robson Square
–
Arthur Erickson
More Montreal Buildings online soon
Location: Montréal, Quebec, Canada
Architecture Tours Montreal – Quebec architectural tours by e-architect
Buildings / photos for the Montreal Architecture page welcome