Canadian Houses, Residences in Canada, Property Photos, Buildings, Architect, Real Estate Designs
Canadian Houses : Residences
Key Contemporary Residential Architecture Developments in Canada, North America
post updated 14 Apr 2021
Houses in Canada
We've selected what we feel are the key examples of Canadian Houses. We aim to include buildings that are either of top quality or interesting, or ideally both.
We cover completed buildings, new building designs, architectural exhibitions and architecture competitions across Canada. The focus is on contemporary Canadian residences but information on traditional buildings is also welcome.
We have 1 page of Canadian residential architecture selections with links to hundreds of individual project pages.
New Canadian Homes
Contemporary Canadian Residences – latest additions to this page, arranged chronologically:
14 Apr 2021
Sandy Cove House, Digby, southwestern Nova Scotia
Design: Habit Studio with houdinidesign Architects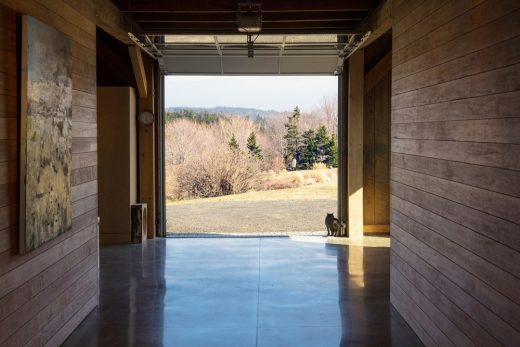 photo : Bridget Havercroft
Sandy Cove House in Nova Scotia
Sandy Cove House is a large two-storey timber frame house that reflects the form and layout of a traditional Nova Scotia barn. The client, who was inhabiting only the second floor, wanted to transform the main level from a garage and utility room into valuable living space.
14 Jan 2021
Fold House, Hamilton, Ontario
17 Dec 2020
Lambton Farmhouse, Ontario
8 Dec 2020
Le Littoral, La Malbaie, Québec
Design: Architecture49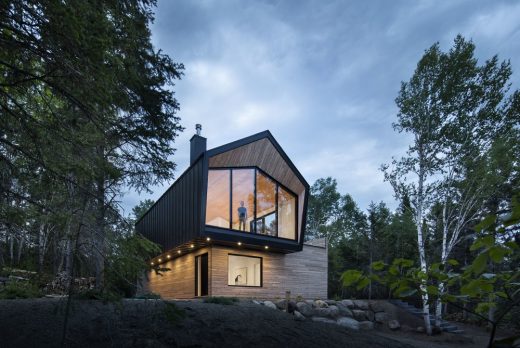 photo : Stéphane Brügger
Le Littoral Residence, La Malbaie
A couple passionate about gastronomy and great lovers of Charlevoix dreamed of designing a contemporary residence in this exceptional natural setting. This was to both enjoy a pied-à-terre in the region, but also to create a high-end tourist home where families, friends, or colleagues could gather.
26 Nov, 2020
Maison Koya, Saint-Sauveur
Design: Alain Carle Architecte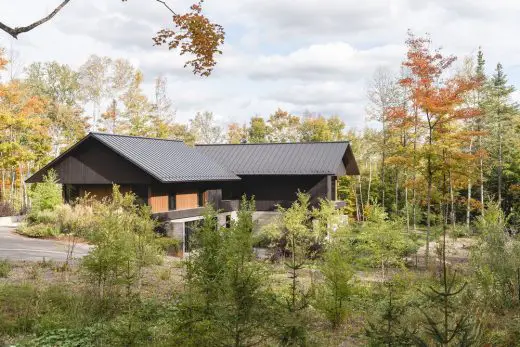 photo : Raphael Thibodeau
Maison Koya, Saint-Sauveur
The Maison Koya site is part of a real estate development on the approaches to the town of Saint-Sauveur in the Laurentians. This area is in Montréal's second ring of outlying communities, where the occupants have chosen to settle to combine a lifestyle in a natural setting (in the mountains) with the conveniences of a small regional town.
18 Nov 2020
Double Header House, Victoria, BC
17 Nov 2020
Forest House I, Bolton-Est, Eastern Townships, QC
Design: Natalie Dionne Architecture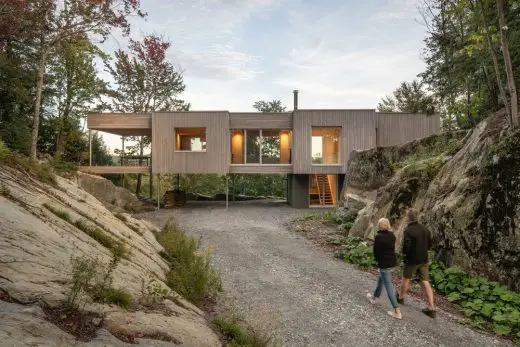 photo : Raphaël Thibodeau
Forest House I, Eastern Townships
Forest House I is the latest work by Montréal-based studio, Natalie Dionne Architecture. The firm has earned widespread praise over the years for its contextual approach, its creativity, and its attention to detail. Forest House I adds to a rich portfolio of original, residential homes, equal parts urban and rural.
26 Oct 2020
Blackwood Studio, Hinchinbrooke
20 Oct 2020
Cowley Avenue House, Ottawa
8 Oct 2020
Wendover House, Ottawa
31 Jul 2020
Chester Cottage in Nova Scotia
14 Jul 2020
Portland Residence in Mont-Royal, Québec
4 Jun 2020
Lake Huron Summer House, Ontario
Architects: Saota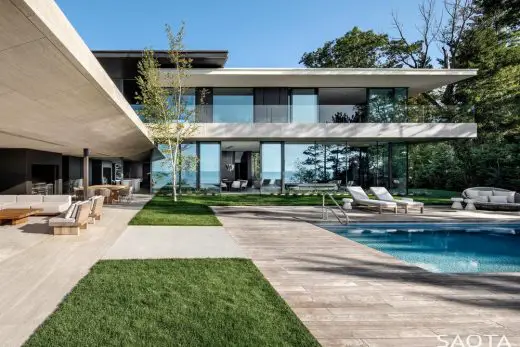 photograph : Adam Letch
Lake Huron Summer House in Ontario
This summer house is set on the banks of Lake Huron in a small, remote Canadian town about an hour's drive from London, Ontario.
14 May 2020
Abacus House on Bras d'Or Lake, Nova Scotia
4 May 2020
103, Land House in Meaford, Ontario
24 Apr 2020
La Frangine Residence Stoneham-et-Tewkesbury
22 Apr 2020
Lakeside Cabin in Lac-Brome, Quebec
31 Mar 2020
Ravine House near Don River Watershed
4 Feb 2020
Rodeo Drive House, Calgary, Alberta, Canada
Architects: Alloy Homes Incorporated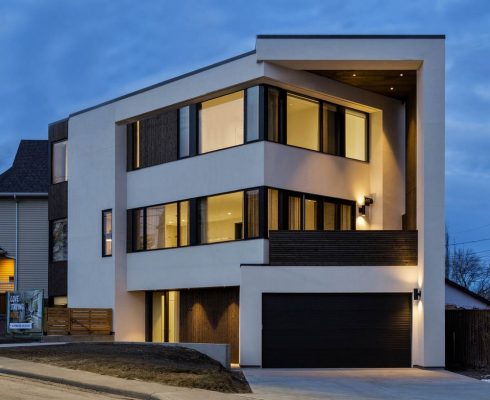 photograph : Joel Klassen
Rodeo Drive House in Calgary, Alberta
This family home is built on a small, triangular lot that was considered virtually unusable. Situated atop a ridge overlooking the Calgary Stampede Grandstand, the views are magnificent from the upper floors.
1 Feb 2020
Modern Farmhouse, Calgary, Alberta
Architects: Alloy Homes Incorporated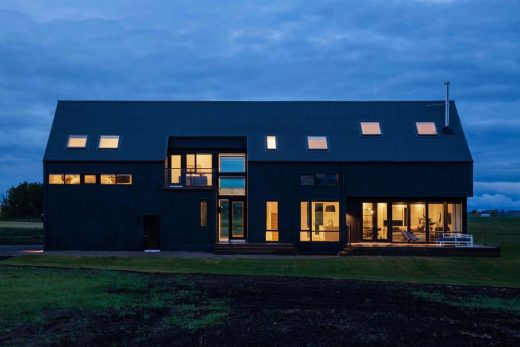 photograph : Joel Klassen
Modern Farmhouse near Calgary, Alberta
The architecture is inspired by the simple lines and humble materials of the adjacent working ranch.
31 Jan 2020
River's Edge House, Calgary
Architects: Alloy Homes Incorporated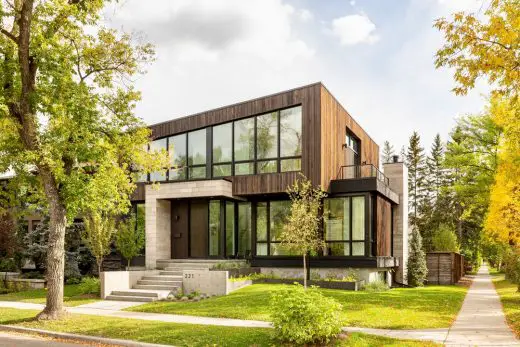 photo : Joel Klassen
River's Edge House in Calgary, Alberta
This new Canadian family home was designed and built to feel like it had been a part of the neighbourhood for years. The property is wrapped in low-maintenance natural materials designed to weather gently and enhance its character over the years.
5 Nov 2019
The River Cabins, Wheatley River, Prince Edward County
Design: Nine Yards Studio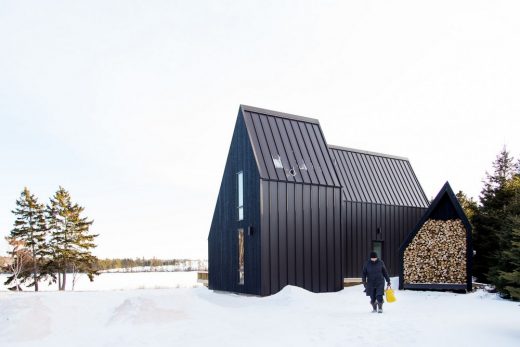 photograph : Tamzin Gillis, Nine Yards Studio
Prince Edward County Buildings
The smallest province in Canada, Prince Edward Island is celebrated for its vibrant arts and culture scene and is renowned for culinary experiences featuring world-class seafood and produce.
21 Jun 2019
Muskoka Boathouse in Ontario
16 Jun 2019
Pilon-Hébert Residence in Potton, Québec
11 Jun 2019
Powder Snow House in Bromont, Québec
28 May 2019
Hatley House in Québec
14 May 2019
Church Residence in Frelighsburg, Québec
17 Apr 2019
Gazing House in Scarborough Junction, Toronto
20 Mar 2019
Residence Le Nid on the St. Lawrence River, Quebec
17 Mar 2019
Dans l'Escarpement in Saint-Faustin-Lac-Carré
30 Jan 2019
La Barque Residence in Saint-Donat-de-Montcalm
11 Dec 2018
TRIPTYCH House in Wentworth-Nord, Quebec
3 Dec 2018
Friesen Wong House in Okanagan, British Columbia
2 Dec 2018
Shelter on a Rock in Racine, Québec
14 Nov 2018
Long Horizontals House in Petite-Rivière-Saint-François
2 Oct 2018
Vallée du Parc Residence in Shawinigan, Québec
16 May 2018
Gulf Islands Residence, Strait of Georgia, British Columbia, western Canada
Architects: RUFproject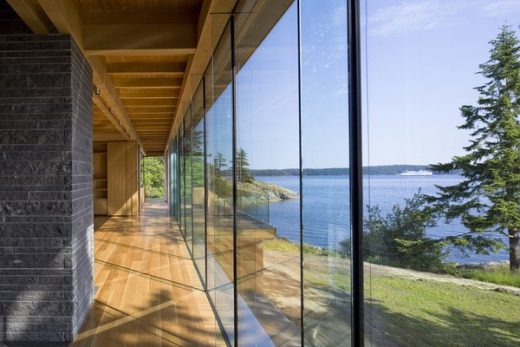 photograph : Ivan Hunter
Gulf Islands Residence
20 Feb 2018
La Cornette House, Township of Cleveland, Québec, Eastern Canada
Architects: YH2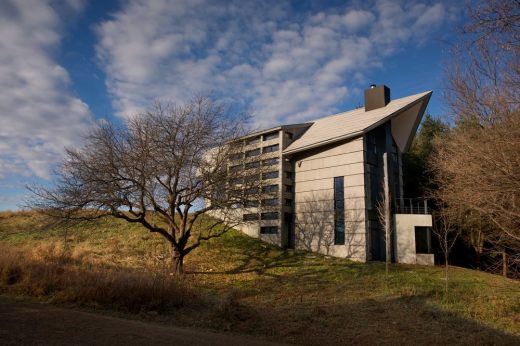 photo © Francis Pelletier
La Cornette House in the Township of Cleveland
Built on the slope of a small hill, La Cornette is a country house open to the pastoral landscape that surrounds it. Under a soaring roof resembling a nun's cornet wimple is a roomy dwelling modelled on traditional Quebec houses of old that lodged large families and their relatives.
19 Feb 2018
La Luge Cabin, La Conception, in the Laurentides region of Quebec
Architects: YH2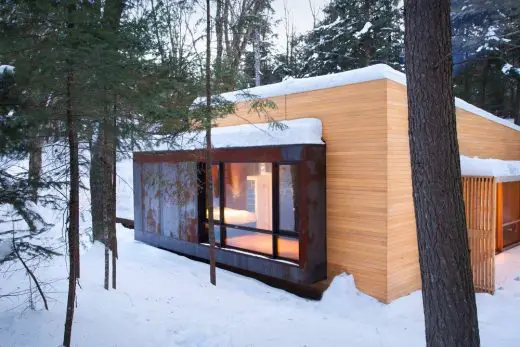 photography © Francis Pelletier
La Luge in La Conception
Mostly dedicated to the enjoyment of Quebec's winter, La Luge is a secondary home lying in the midst of the forest. Nestled on its site, surrounded by dense vegetation preserving the house's privacy, La Luge integrates a private spa which occupies almost a third of the useable area, adding on to the traditional countryside living spaces.
16 Feb 2018
Window on the Lake, Saint-Élie-de-Caxton, Mauricie region, province of Quebec
Architects: YH2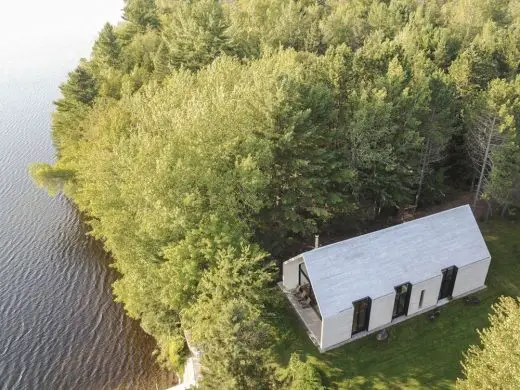 photography © Francis Pelletier
Window on the Lake in Saint-Élie-de-Caxton
The house stands on the site of an old family cottage, just steps away from the shores of Lac Plaisant in the Mauricie region. Thanks to its simplicity, restraint and refinement, the project embodies the architect's attempt to capture the essence of cottage life – a wooden home designed for vacations and enabling true communion with nature.
9 Feb 2018
Sky House, Stoney Lake, Ontario
Design: Julia Jamrozik and Coryn Kempster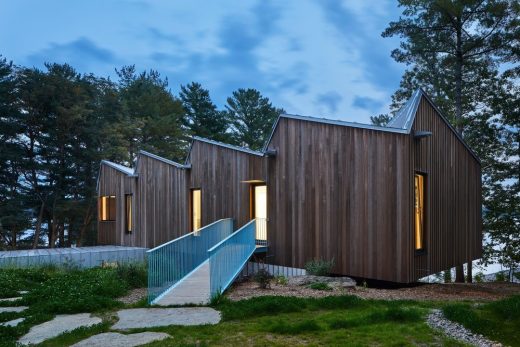 photography : Doublespace Photography
Sky House on Stoney Lake
Negotiating the steep topography of a lake-side site, this holiday house consists of two volumes stacked on one another. The lower volume nestles into the landscape so that it is barely visible as one first approaches the house.
6 Feb 2018
The Wooden Wing, Lac-Supérieur, Quebec
Design: YH2 architecture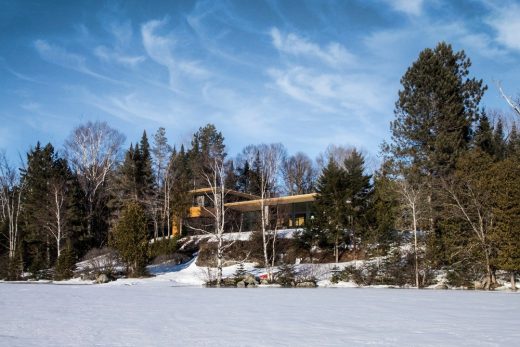 photography : David Marien-Landry
The Wooden Wing in Lac-Supérieur
The Wooden Wing is a large cottage on the shores of Lac Supérieur, in Quebec's Laurentians. The house is perched on a sizeable outcrop of granite bedrock, giving it a commanding yet intimate view of the lake and Mont Tremblant, on the other side.
4 Feb 2018
Withrow Laneway House, Calgary, Alberta
Architects: Studio North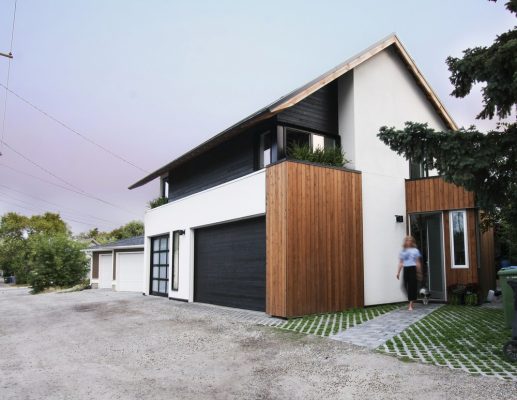 photo : Mark Erickson
Withrow Laneway House in Calgary
Affordable housing in a thriving city like Calgary is a challenge for many, not the least for two newly graduated professionals starting a design studio with big dreams and a limited budget. We see alleys as a new place for community and dwelling. This project offers an opportunity to save one of Calgary's heritage houses and to build an affordable, compact living space in the inner city.
19 Jan 2018
Indigo Lane House, Whistler, British Columbia, western Canada
Design: Stark Architecture Ltd.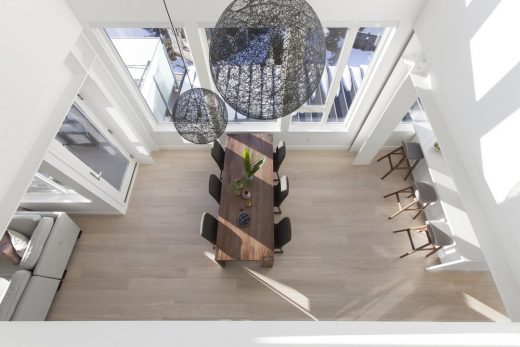 photo © Krista Jahnke
New House in Whistler, BC
A crazy site! But one of the greatest things about Architecture is having lots of constraints. The more constraints, the more inventive you have to be. The site drops steeply from the road, almost a 25 ft sheer drop down to a flat site, with retaining walls below.
Canada Properties Archive from 2009 to 2016:
More Canadian Houses online soon
Location: Canada, North America
Architecture in Canada
Canada Architecture Design – chronological list
Montreal Architecture Walking Tours : city walks by e-architect
Habitat 67, Montreal, Quebec
Moshe Safdie, Architect
Habitat 67 Buildings
Canadian Architecture by City
Montreal Buildings – key buildings + designs
Toronto Architecture – key buildings + designs
Calgary Buildings – key buildings + designs
Canada Built Environment
Canadian Architecture : news + key projects
Vancouver Architecture Walking Tours, BC
Canadian Architecture Prize, Toronto : AZ Awards – Winners News
Comments / photos for the Canadian Houses page welcome
Website: Canada