London Architectural News 2021, UK Capital Buildings, New Property Developments, Architects, Designs Images
London Architecture News 2021
Key Property Developments in the British Capital City – New Buildings in England, UK
London Architecture News for 2021 – key property updates for the UK capital
London Architecture Links – chronological list
– latest additions to this page, arranged chronologically:
London Architecture News in 2021
14 Dec 2021
V&A East Museum, Queen Elizabeth Olympic Park, Stratford, Borough of Newham
Design: O'Donnell + Tuomey, Architects, Ireland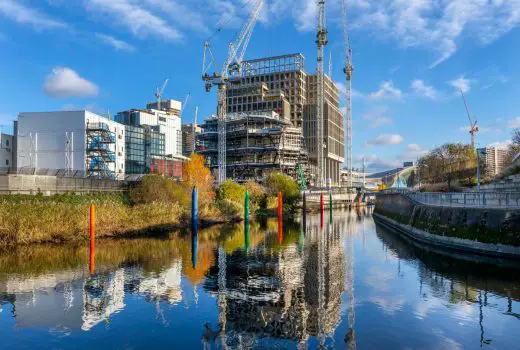 photo © Victoria and Albert Museum
V&A East museum building Stratford
The V&A marked the "topping out" of its new V&A East museum building – one of two V&A East sites currently under construction in Stratford's Queen Elizabeth Olympic Park – with the shell of the building reaching its full height. Designed by O'Donnell + Tuomey and constructed by MACE, the 7,000 sqm V&A East Museum tops out at 42.5 metres high, following completion of the installation of its intricate steel frame.
9 Dec 2021
A House for Artists, 36 – 40 Linton Road, Barking, east London
Design: APPARATA
A House for Artists Barking Town Centre
8 Dec 2021
Dora House, Royal Society of Sculptors London
8 Dec 2021
15 Clerkenwell Close Apartments
5 Dec 2021
Low Line Commons, Bankside – design awards news
Architects: PDP London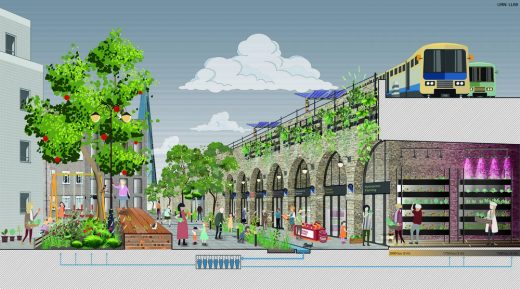 image courtesy of architects practice
Low Line Commons London Design Award
A transformative architectural project, which will create a 3.5km green corridor through some of London's oldest neighbourhoods, has won two major New London Awards. It was named winner of both Planning and Overall categories, and is the first unbuilt project to be named overall winner.
3 Dec 2021
Buildings at former London Television Centre site, 72 Upper Ground, South Bank
Design: Make Architects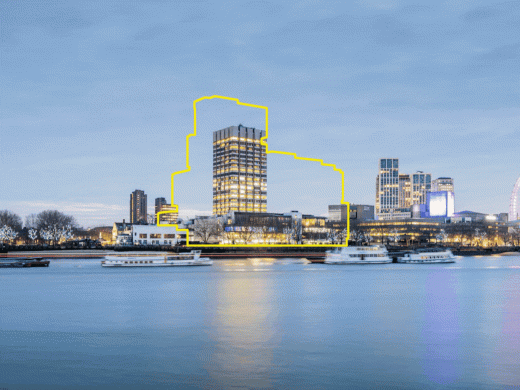 image courtesy of Coin Street Community Builders
London Television Centre Site Redevelopment
3 December 2021
Homerton High Street Development, Hackney, north east London
Design: CZWG Architects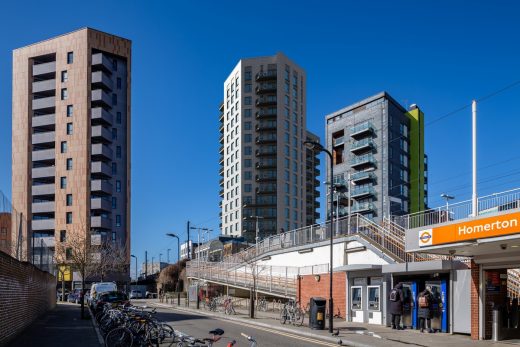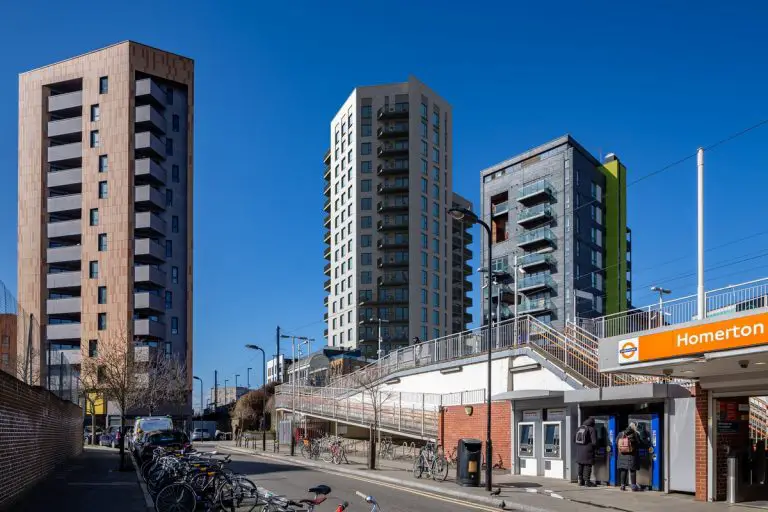 visualisation : CZWG Architects
Homerton High Street Hackney Regeneration
The London Borough of Hackney has resolved to grant planning permission for a new mixed-use regeneration development on a dilapidated urban site adjacent to Homerton overground train station.
3 Dec 2021
Whitechapel Elizabeth Line Station, Whitechapel Market Conservation area, east London
Design: BDP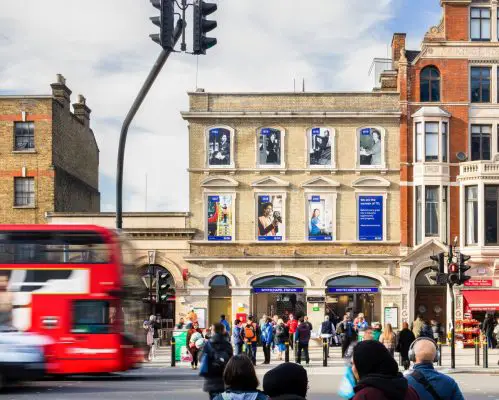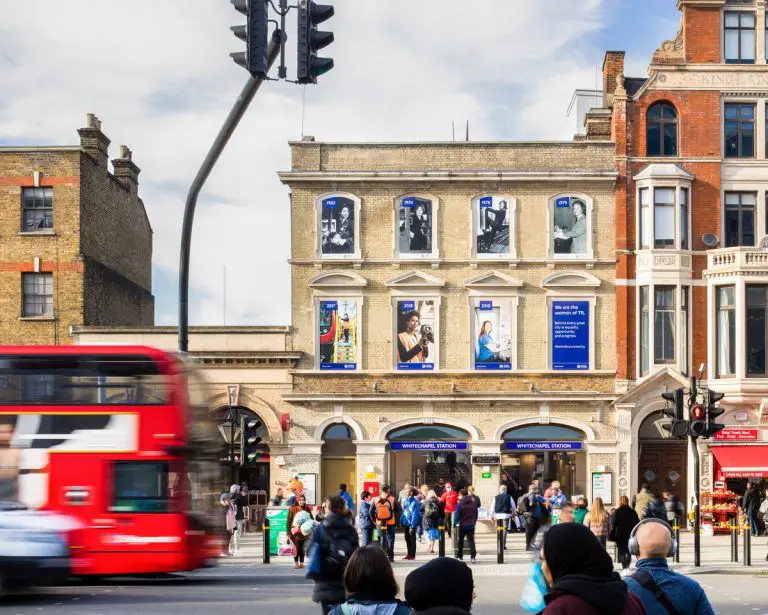 image © BDP
Whitechapel Elizabeth Line Station Building
The Whitechapel Elizabeth line station has opened after being handed over to Transport for London. Sitting within the Whitechapel Market Conservation area, the design of the new station retains the distinctive and historic buildings constructed more than 100 years ago.
3 Dec 2021
The Gilbert and One Lackington
2 Dec 2021
Pump House South Norwood, Croydon
1 Dec 2021
John Morden Centre Blackheath Building
29 Nov 2021
John Morden Centre, Morden College, Blackheath, south east London
Architect: Mae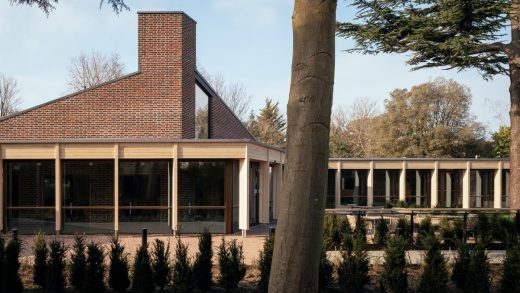 photograph courtesy of Brick Awards / architects
John Morden Centre Blackheath Building
26 Nov 2021
Chelsea Barracks Phase 3a
Architect: PDP London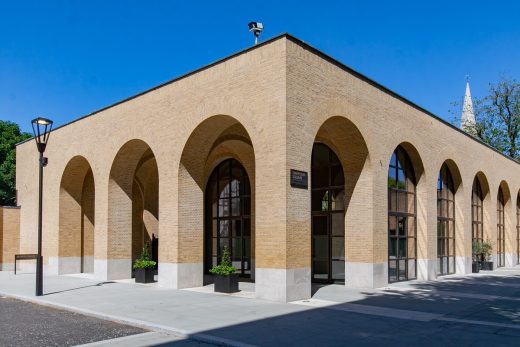 photo courtesy of Brick Awards
Chelsea Barracks Phase 3a
At the heart of the development, set in new public realm by the historic Garrison Chapel, phase 3a includes a centrepiece restaurant, delicatessen and exclusive mews house.
24 Nov 2021
One Bishopsgate Plaza, Bishopsgate, City of London
Design: PLP Architecture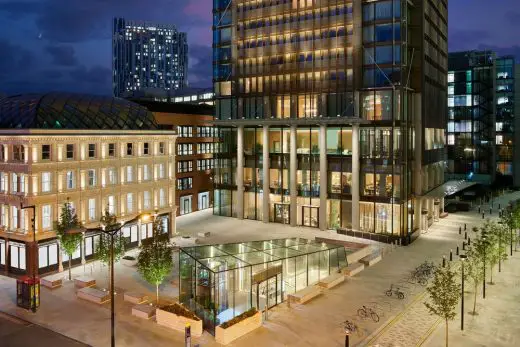 photo : Julian Abrams
One Bishopsgate Plaza
One Bishopsgate Plaza is the first high-rise residential and hospitality development built in the City of London. The site includes a new 43-storey tower to house the hotel and residential uses along with a refurbished and extended Victorian building to incorporates restaurant, office and retail space.
24 Nov 2021
Lambeth Palace Library Building
24 Nov 2021
Alumno Student Residence Bermondsey
23 Nov 2021
The Courtauld Institute of Art London Renewal
23 Nov 2021
South Kensington Station Development
19 Nov 2021
Duke of York Restaurant in Chelsea
16 Nov 2021
Vinoteca, Borough Yards, London Bridge
Design: SPPARC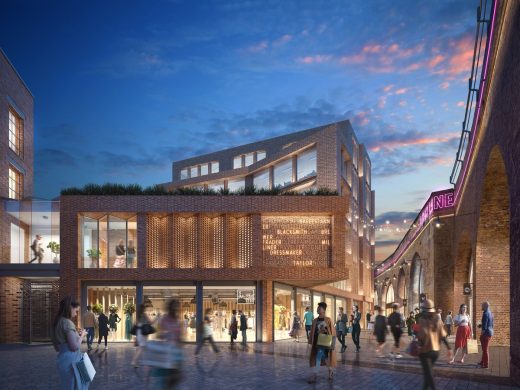 image courtesy of architects practice
Vinoteca Borough Yards restaurant and wine bar
Vinoteca will open a new 95 cover restaurant and wine bar at Borough Yards, a new shopping, dining and creative district in London Bridge. SPPARC, the architects behind Borough Yards, have worked carefully to celebrate the rich Victorian heritage of the arches by repurposing the cathedral like brick structures into exciting dining and retail spaces.
15 Nov 2021
York House King's Cross Office Building – architecture award news
13 Nov 2021
Peckham Glass Box, Southwark Home
13 Nov 2021
New Hackney Primary School Building
7 Nov 2021
Mountain View House
5 Nov 2021
Mortimer House, Fitzrovia
Design: MATA Architects and Fettle design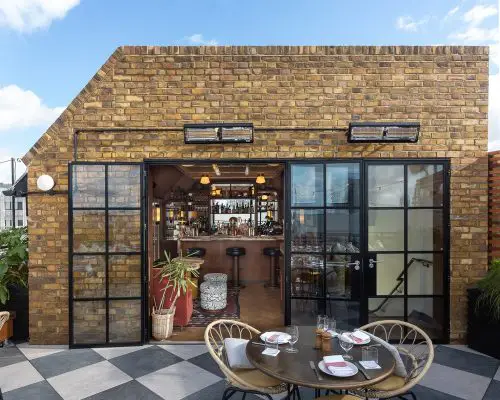 photo © Peter Landers
Mortimer House Rooftop Bar
MATA Architects were asked to maximise the potential for a small rooftop structure housing a redundant lift overrun and some outdoor space immediately adjacent to it. The goal was to create a rooftop bar and outdoor seating area for Mortimer House with views across Fitzrovia.
5 Nov 2021
Premier Inn Westferry, Canary Wharf
Premier Inn Hotel Westferry, Canary Wharf
28 October 2021
Walters Way House, Lewisham, South London
Walters Way House Lewisham
27 October 2021
120 Fleet Street Redevelopment
Design: Bjarke Ingels Group (BIG)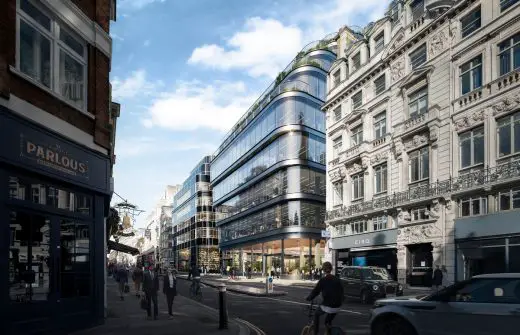 image courtesy of architects practice
120 Fleet Street Building by BIG
The proposed redevelopment of 120 Fleet Street has (26th October) been granted planning permission by the City of London Corporations's Planning and Transportation Committee.
27 Oct 2021
De Vere Gardens, Kensington, West London
Design: Alpex Architecture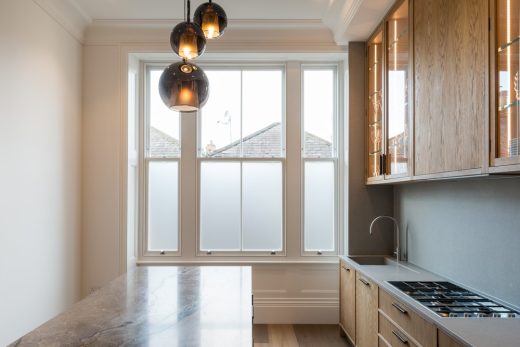 photo : French & Tye
De Vere Gardens
The property's total area is 250sqm. It is a four-bedroom apartment with a wide main reception room and kitchen looking towards the pedestrian Canning Passage and Family Room that can serve as a TV Room and Study.
22 October 2021
Palace of Westminster Building Restoration News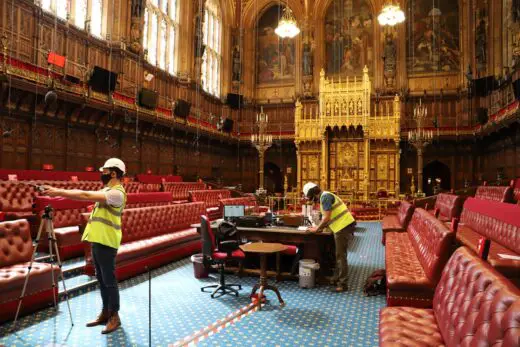 photo courtesy of the Houses of Parliament
Palace of Westminster Building Restoration News
Over 50 highly skilled engineers, architectural surveyors, acoustics and lighting specialists, and ecologists, spent a combined 4,700 hours over Parliament's recent recess period investigating the building and continuing to build the most detailed record of the 150-year-old Palace of Westminster ever created.
14 Oct 2021
Kingston University London, Town House design by Grafton Architects wins Stirling Prize
14 Oct 2021
McGrath Road Housing, East London – award news
14 Oct 2021
Apex Gardens, Seven Sisters, Haringey, Northeast London
Architect: 3DReid ; Design Architect / Concept Guardians: John McAslan + Partners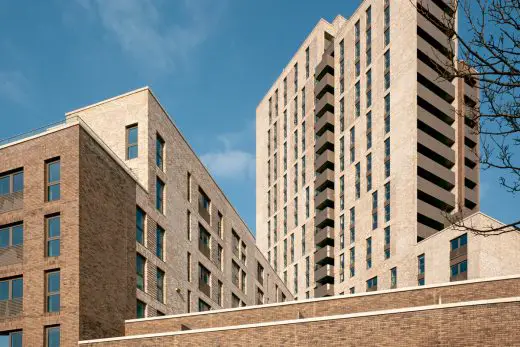 photo : Robert Waters
Apex Gardens, Seven Sisters, Haringey
Grainger has completed its latest
build-to-rent scheme in Seven Sisters
, North London. 3DReid were delighted to develop the design, vary the planning approval and deliver the project with the contractor; Ant Yapi. The scheme provides 163 high quality rental homes, a range of resident amenities and flexible commercial space.
14 Oct 2021
MEATliquor and Shed, Clapham, south west London
Architecture: Shed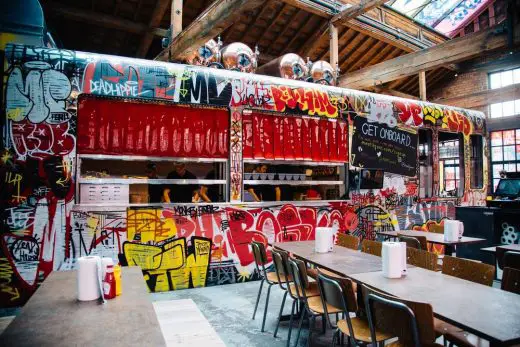 photo : Shed
MEATliquor X Shed, Clapham
Hailed as the bad boy burger behemoth of London, MEATliquor and Shed launch their latest restaurant together in Clapham Old Town, London on 21st of October. This marks 10 years since the original standard bearer of the burger revolution partnered with the creative minds of Shed to create a permanent home for them.
12 Oct 2021
'Act' revealed as London Festival of Architecture 2022 theme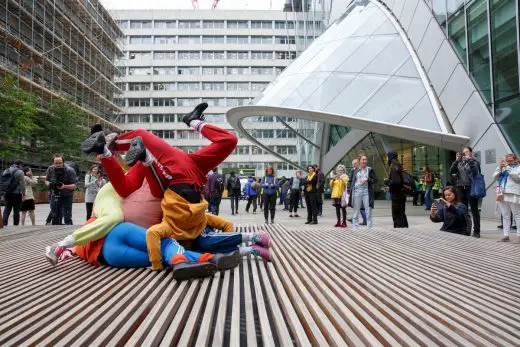 photo © Luke O'Donovan
London Festival of Architecture 2022
The London Festival of Architecture (LFA) has announced that 'Act' will be its theme for the 2022 edition of the festival when its month-long public events programme returns from 1-30 June 2022. Ahead of the call for entries in January, the festival has also unveiled the curatorial panel for 2022.
30 Sep 2021
Caffetteria at Lavazza London Flagship, 23-24 Great Marlborough Street, London W1F 7HU
Design: CRA-Carlo Ratti Associati, Architects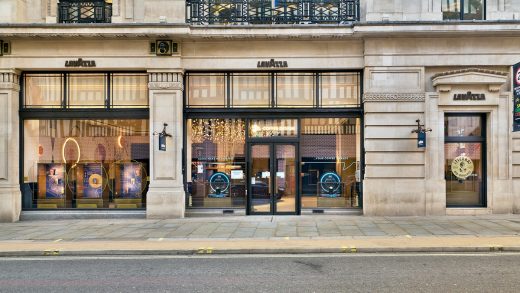 photograph : Marco Joe Fazio
Lavazza London Flagship Caffetteria
CRA unveils Caffetteria, an innovative project in Lavazza's brand-new Flagship Store off Regent Street. New technologies – from germicidal materials to lights with disinfecting properties – are employed to rethink the quintessential Italian coffee experience with one objective in mind: rebuilding social proximity.
29 Sep 2021
Young V&A, Bethnal Green
Building Design: De Matos Ryan ; Redevelopment lead designers: AOC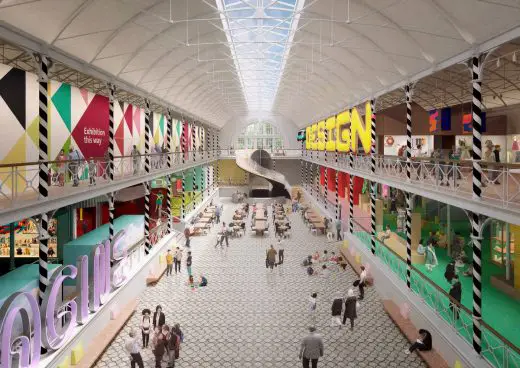 image : Picture Plane © Victoria and Albert Museum, London
Young V&A
Construction has begun on the £13m redevelopment of the V&A Museum of Childhood, the iconic Grade II* listed site in Bethnal Green, marking a critical milestone in the most ambitious transformation of the museum in its history.
28 Sep 2021
House + House Northwest London Property
28 Sep 2021
RCA New Battersea South Campus
27 Sep 2021
The Cosmic House Holland Park
23 Sep 2021
Tiger Way, north east London
Design: HawkinsBrown Architects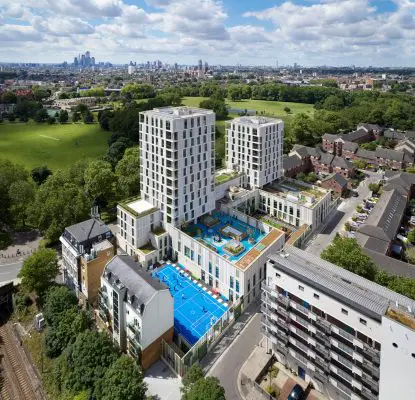 photograph : Jack Hobhouse
Tiger Way Hackney housing and school Buildings
Tiger Way co-locates a school alongside a residential block in Hackney. With space utilisation not just efficient but more than the sum of its parts, the architects prove that this complex emerging typology can be done exceptionally well and provide real social value.
20 Sep 2021
'Shaping Space – Architectural Models Revealed'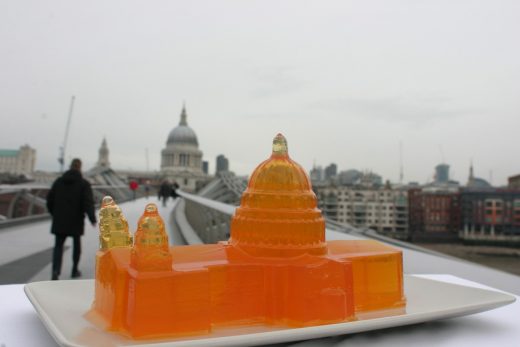 image © Greta Ilieva BuildingCentre / V&A
Building Centre architectural models exhibition
18 Sep 2021
Hand and Flower Building, Kings Road
18 Sep 2021
Kingston University London – Town House
Design: Grafton Architects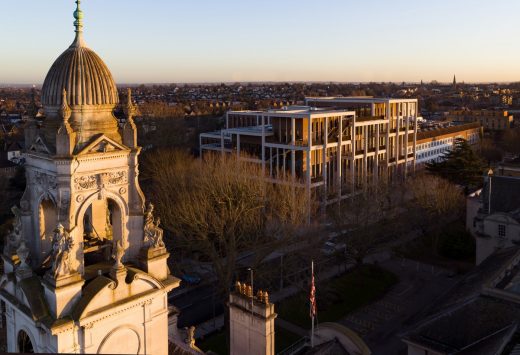 photo : Ed Reeve
Kingston University London – Town House
Of the two ambitious projects from the same client to make the shortlist, the Town House is the more conventional architectural project. It is very accomplished.
16 Sep 2021
15 Clerkenwell Close, Clerkenwell
Design: Groupwork + Amin Taha Architects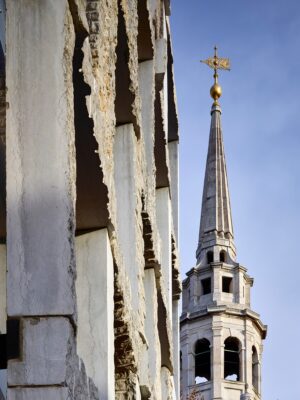 photo : Tim Soar
15 Clerkenwell Close
15 Clerkenwell Close's non descriptive title belies the astonishing architectural triumph that dwells at the simple address, occupying a plot of land a stones throw from Clerkenwell Green. The 7 storey building is the architect's own development comprising one or two flats per floor, a double-height architect's studio at basement and ground and the architect's home on the top floor.
14 Sep 2021
95 Peckham Road, Southwark, South London
Design: Peter Barber Architects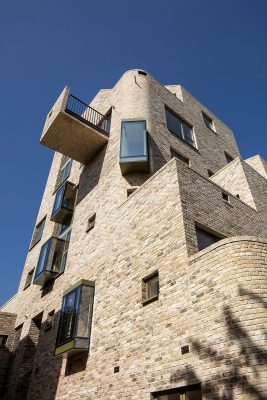 photograph © Morley von Sternberg
95 Peckham Road Southwark
The development creates 33 low-cost apartments, with a courtyard behind. There is direct access from the street and courtyard to the lower apartments. There are two additional access cores for the flats at higher level, each core serving three apartments at each level.
14 Sep 2021
McGrath Road Housing, Stratford, East London
Design: Peter Barber Architects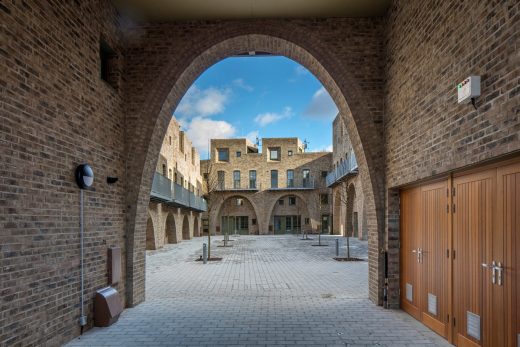 photo © Morley von Sternberg
McGrath Road Housing East London
McGrath Road inventively combines a traditional European courtyard typology with a traditional London terrace, setting a new creative benchmark for the future of London's affordable housing. Twenty-six individual three- and four-storey dual-aspect townhouses, each with its own front door, surround a tree-lined courtyard, giving the development an enhanced sense of community and openness.
9 September 2021
Reimagined Strand Aldwych
Design: LDA Design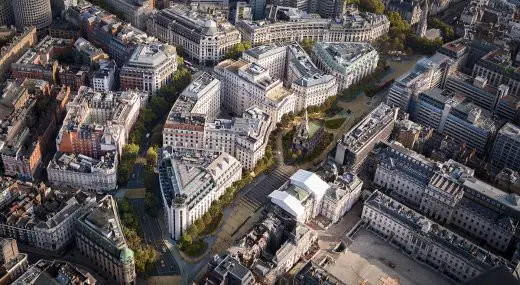 photos © Westminster City Council / LDA Design
Reimagined Strand Aldwych
'Skate the Strand', a free, temporary pop-up skate park located on the Strand outside Somerset House, marks the start of the transformation of the Strand Aldwych area. The skate park is part of the Westminster Reveals campaign and kicks off 'September on the Strand', inviting people to return to the city's streets and enjoy the capital's cultural scene, connecting celebrated talent and communities.
7 Sep 2021
The Landmark Building For The Royal College Of Art
Design: Herzog & De Meuron Architects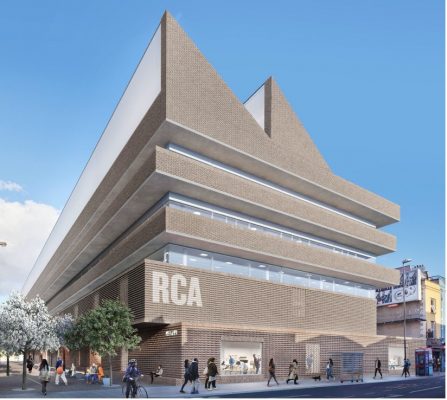 picture courtesy of architecture practice
4 Sep 2021
Southworks, Southwark Smart Offices
2 Sep 2021
West Hall Olympia, Hammersmith Road
More new London Architecture News online soon
UK Capital Architectural Updates in Summer 2021
24 Aug 2021
new teaching and learning centre for Birkbeck, University of London, 373 Euston Road
Design: Penoyre & Prasad Architects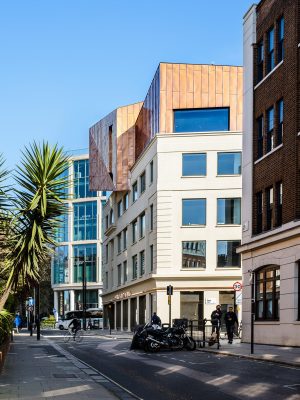 photo courtesy of architecture practice
Birkbeck, University of London teaching and learning centre
The refurbishment and extension of 373 Euston Road accommodates a state-of-the-art 180-person lecture theatre, high-quality classrooms, as well as formal and informal co-learning spaces. Refurbishment revitalises the existing building by enhancing original design elements and embraces its historical spirit.
31 July 2021
Snowdon Aviary Restoration News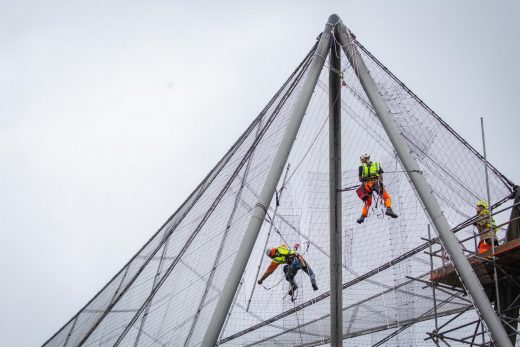 photo © ZSL London Zoo
Snowdon Aviary Restoration
Landmark footage shared by ZSL London Zoo shows the historic moment the famous Snowdon Aviary is 'unwrapped' – signaling a defining moment in the iconic structure's restoration journey.
31 Jul 2021
Goodmayes, LB Redbridge, East London
Design: Stockwool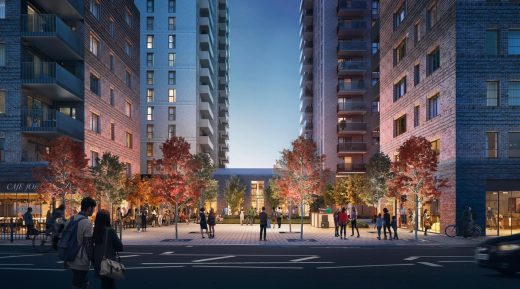 images courtesy of architecture practice
Goodmayes, LB Redbridge Development
Working within the Crossrail Strategic Growth Corridor allowed Stockwool to push height on this high-density mixed-use scheme; this in turn enabled the significant reduction to built footprint, offering an urban solution boasting 60 percent of the site as high quality public realm and landscaping.
29 July 2021
National Holocaust Memorial London Approval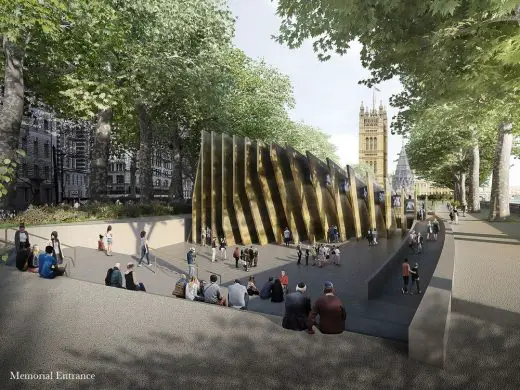 image courtesy of architecture office
National Holocaust Memorial News
The government has given the go-ahead for a Holocaust memorial in London, to be built next to the Houses of Parliament. The plans, including 23 large bronze sculptures and an underground learning centre, were previously rejected by Westminster Council.
29 Jul 2021
22 Bishopsgate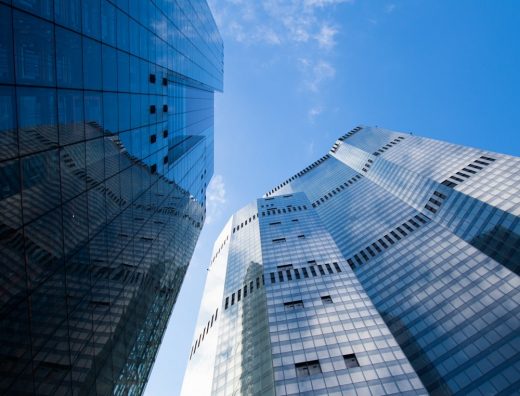 image courtesy of architects practice
22 Bishopsgate London Building
22 July 2021
EDGE London Bridge, St Thomas St, South Bank, Southwark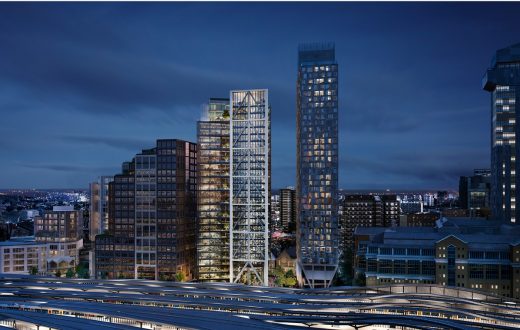 image : Miller Hare
EDGE London Bridge, Southwark Offices
14 July 2021
National Gallery Building Renewal Winner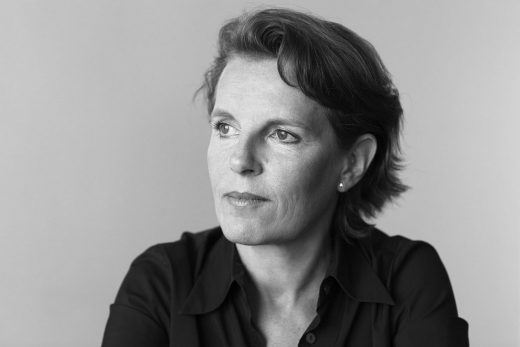 photo © Brigitte Lacombe
National Gallery Building
A team led by Selldorf Architects has been selected to work on a suite of capital projects to mark its Bicentenary, with an initial phase to be completed in 2024. Selldorf Architects' team also includes Purcell, Vogt Landscape, Arup, AEA Consulting, Pentagram, Kaizen and Kendrick Hobbs.
12 July 2021
Harrods Building, Knightsbridge Store
12 July 2021
Oriel Moorfields Eye Hospital Building
11 July 2021
Wembley Stadium – updated post with news
5 July 2021
Harrow Lodge Leisure Centre, Hornchurch
3 July 2021
Oriel Moorfields Eye Hospital Building
2 July 2021
EDGE Marylebone: Eco Design for Greener Environments
Elephant and Castle fire
We post a film of an Elephant and Castle fire at the railway arches below the station:

About 100 firefighters are battling the blaze which began shortly before 13:45 BST. London Fire Brigade said three commercial units were alight along with six cars and a telephone box.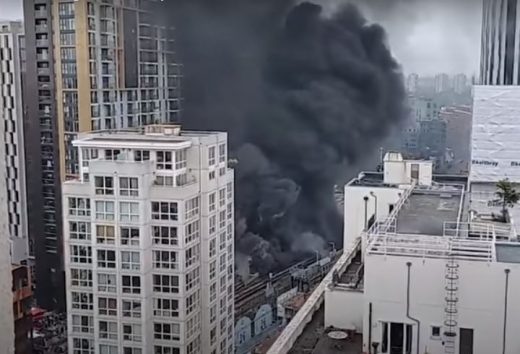 The fire is located at railway arches near Elephant and Castle station in South London. The station has been evacuated and local residential evacuations also occurred.
26 Jun 2021
Barnes Brick, Richmond
26 Jun 2021
Abbey Road Church Penthouse
21 Jun 2021
Barnes Brick, Barnes, London Borough of Richmond
Design: YARD Architects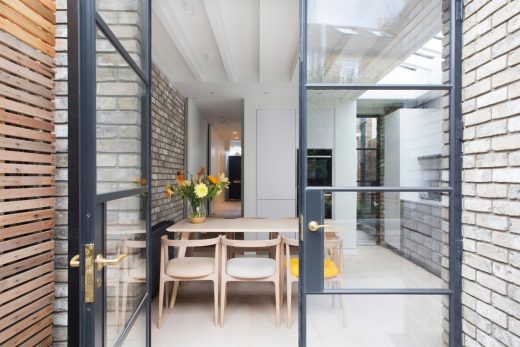 photograph © Agnese Sanvito
Barnes Brick
Barnes Brick is a small Victorian terraced house in Barnes was stripped back, reconfigured and extended with an exposed pale handmade brickwork extension to create a new minimal contemporary home.
18 Jun 2021
The Cosmic House Holland Park
17 Jun 2021
Lansdowne Road Extension, Muswell Hill
16 Jun 2021
Serpentine Pavilion 2021 London
13 Jun 2021
London Architecture Photos
13 Jun 2021
Houses of Parliament Restoration and Renewal
10 Jun 2021
The Courtauld Modernisation Project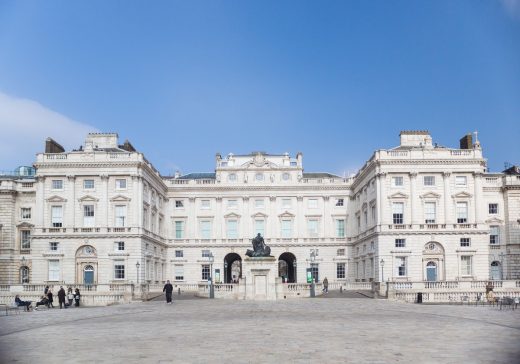 photo © Benedict Johnson Photography
The Courtauld Institute of Art London Renewal
Masterpieces from the Middle Ages to the 20th Century presented in magnificently restored setting following three-year transformation project. The elegantly restored Blavatnik Fine Rooms will showcase some of the greatest and most-loved works from The Courtauld's collection. World-famous Impressionist collection reunited in the LVMH Great Room – London's oldest exhibition space.
9 Jun 2021
Serpentine Pavilion 2021
Design: Counterspace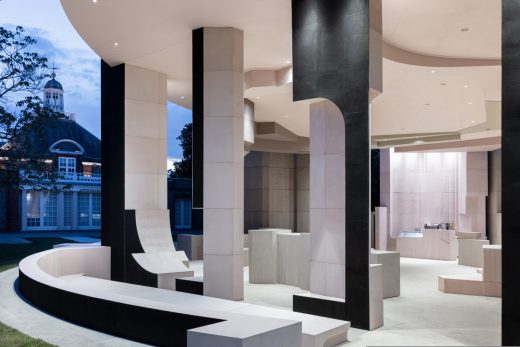 photograph © Counterspace Photo: Iwan Baan
Serpentine Pavilion 2021 Building
8 Jun 2021
City of London post-COVID in concept design competition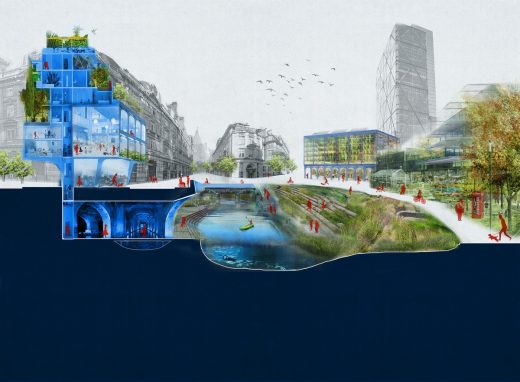 image courtesy of architects practice
City of London post-COVID design competition
The Phil Freelon Design Competition honours the eponymous late architect and Perkins&Will design director who championed design for humanity. Launched firmwide in 2004 as the Design Leadership Council (DLC) Design Competition and renamed in 2019 in Freelon's memory, the annual contest is part of the firm's culture of curiosity, creativity, and innovation.
More London Architecture News on e-architect soon
London Architecture News Spring 2021
22 May 2021
Houses of Parliament Restoration and Renewal  Programme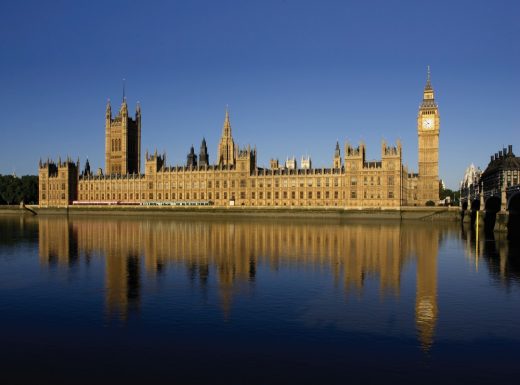 photograph © UK Parliament
Houses of Parliament Restoration and Renewal
The Houses of Parliament Restoration and Renewal Programme has partnered with experts at Heriot-Watt University (Edinburgh, Scotland) to help protect those working on the essential and complex restoration and renewal of the Palace of Westminster.
22 May 2021
One Portsoken Street London Office Building
21 May 2021
West 5 Apartment, Notting Hill
18 May 2021
NoMad London, 4 Bow St, Covent Garden, WC2E 7AT
Design: Roman and Williams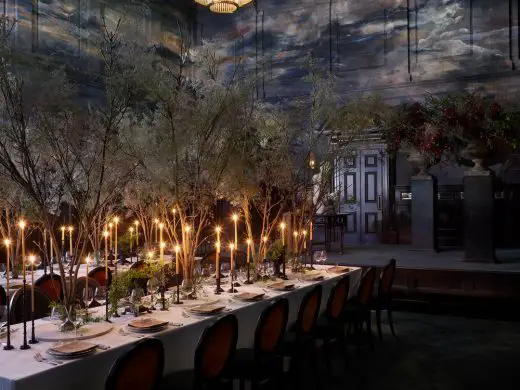 photograph : Simon Upton
NoMad London Hotel, Covent Garden
New-York based hospitality company, Sydell Group, opens NoMad London, the first international property for The NoMad Hotel brand, in the historic former Magistrate's Court in the heart of London's West End.
13 May 2021
Grenfell Tower in West London
11 May 2021
V&A Raphael Court Renewal
1 May 2021
David Hockney Digital Sunrise at Piccadilly Circus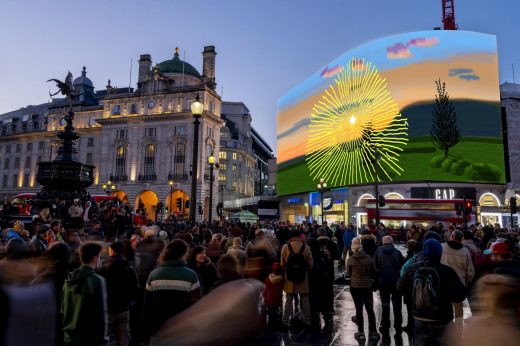 image courtesy David Hockney
David Hockney at Piccadilly Circus
A new video work by David Hockney, one of the world's most celebrated living artists, will be unveiled on London's Piccadilly Lights screen on 1 May at 20:21 BST.
29 Apr 2021
2021 City Benches Competition
27 Apr 2021
Sponge Urban Living
23 Apr 2021
London Festival of Architecture 2021
21 Apr 2021
House for a Gardener, Haringey, Northeast London
Design: Amos Goldreich Architecture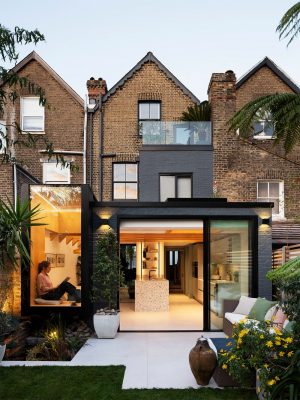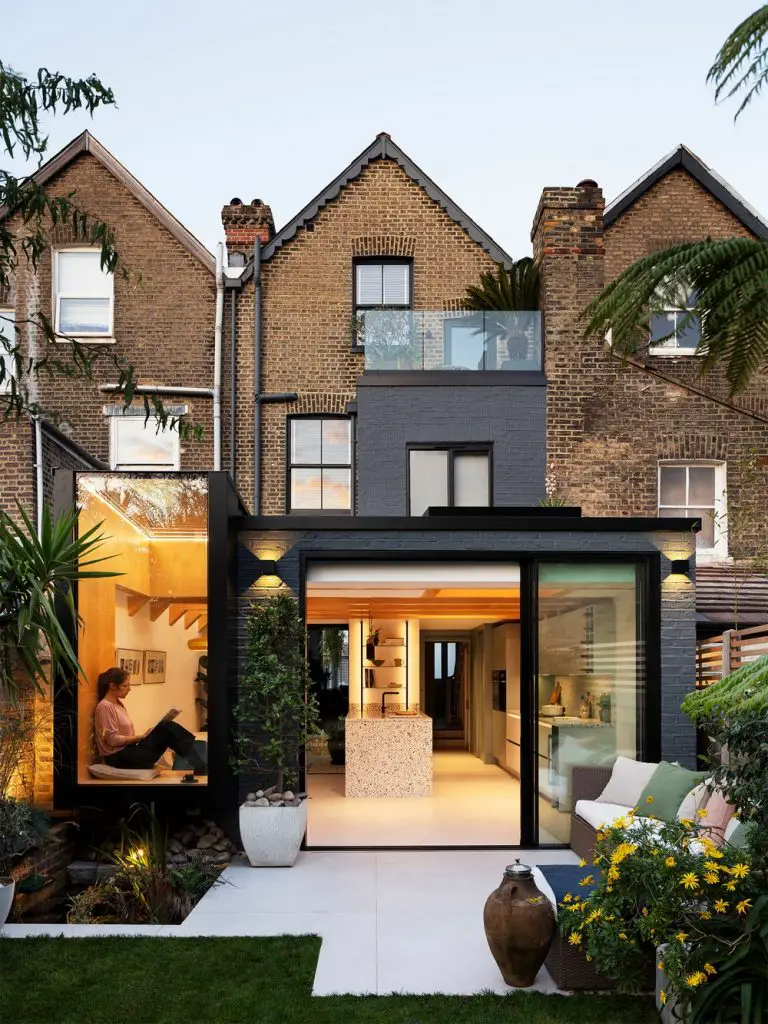 photograph : Ollie Hammick
House for a Gardener, Haringey
22 Apr 2021
Low Line Railway Arches, Bankside
21 Apr 2021
Vault House
20 Apr 2021
Bear Gardens Mixed-Use Development
15 Apr 2021
Perrins Court Office Renovation, Hampstead
7 Apr 2021
Imperial War Museums' London Staff Hub
7 Apr 2021
Hertford Theatre Development Project
7 Apr 2021
2021 London Festival of Architecture: LFA
31 Mar 2021
Pinnacle House, at Royal Wharf, Newham, East London
Architecture: Mæ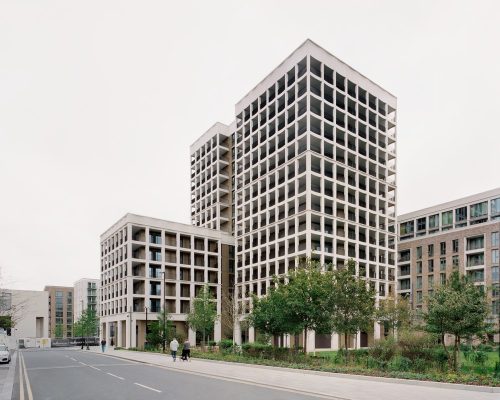 photo courtesy of architects firm
Pinnacle House, Royal Wharf Newham
Mæ has completed its newest project, Pinnacle House, at Royal Wharf in Newham – the 3,385-home riverside neighbourhood by Ballymore and Oxley.
29 Mar 2021
Palace of Westminster London Building Restoration
25 Mar 2021
Candle Factory
25 Mar 2021
Mountain View House
23 Mar 2021
The Chancery Rosewood Hotel, Mayfair
23 Mar 2021
Kaleidoscope Tiktok HQ
19 Mar 2021
National Gallery London Building
17 Mar 2021
Snowflake School, West London Building
London Architecture News Winter 2021
25 Feb 2021
Sands End Arts & Community Centre, Fulham
15 Feb 2021
Camden Highline Competition News
13 Feb 2021
Tolworth Complex, Kingston upon Thames
1 Feb 2021
KOL Restaurant, Seymour Street
14 Jan 2021
Interview with the Founder of Urbanist Architecture Ufuk Bahar
Urbanist Architecture
In an Interview with Ufuk Bahar, the founder of Urbanist Architecture, we asked him his thoughts about running an architecture company in London.
4 Jan 2021
Winter Pavilion London Competition
More contemporary London Architecture News online soon
**************************
UK Capital Architectural Updates
Current UK capital city property updates:
1 Jan to 30 Sep 2020:
All of 2019:
**************************
More London architectural news welcome – send content to info(at)e-architect.com
Location: London, England, UK
Buildings in the UK Capital City
London Architecture Walking Tours by e-architect
London Skyscraper Buildings – alphabetical list
Buildings / photos for the London Building News 2021 – Built Environment in the UK Capital City page welcome