Houses of Parliament London Building Restoration, Renewal Contracts News, BDP Refurb
Palace of Westminster London Restoration
Palace of Westminster Refurbishment: Neo-Gothic Building Restoration, UK – Winning Architects
6 Dec 2017
Houses of Parliament Renewal Debate
Discussion about Palace of Westminster
Discussion about how to ensure safe and secure future of Palace of Westminster
The exclusion of historians and archaeologists from the Westminster Hall repair project does not bode well for the rest of the Palace of Westminster, reports The Guardian.
Charlotte Higgins has nailed the dilemma of the Palace of Westminster (The Houses of Parliament are falling down, 2 December). Politicians are the last people who should be managing such a complex and precious estate on their own, says Mike Pitts, Editor, British Archaeology. Those who oversaw Augustus Pugin and Charles Barry, as they struggled to build the thing in the 19th century, have been described as "probably the worst clients in Britain", and their successors have ever since strived to live up to that dictum.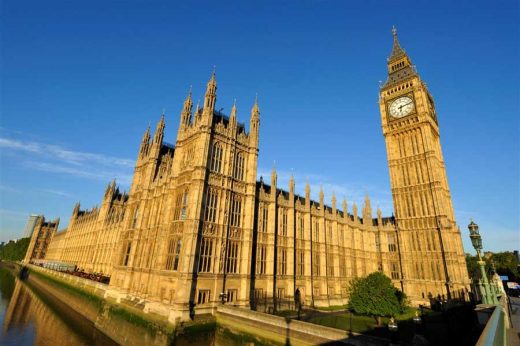 picture © Nick Weall
But the palace is nonetheless valuable, as a work of art, a symbol and a location with a richer, and more enriching, history than any other in the UK. We should encourage parliament to know that making the building safe, accessible and sustainable, while restoring and respecting its architectural heritage, is a project of international significance that, done well, would display courage and vision and earn the nation's respect.
The Westminster Hall roof is being fixed, but historians and archaeologists have been excluded from the project, with a baseless argument about cost. Without archaeologists on board, one of the great wonders of the medieval world – and the greatest treasure in this world heritage site – is at risk of compromise.

photo courtesy of architects Foster + Partners
Website: Houses of Parliament Renewal Debate
14 Jan 2021
Westminster Hall Restoration
Renovations: Perfect Circle and SCAPE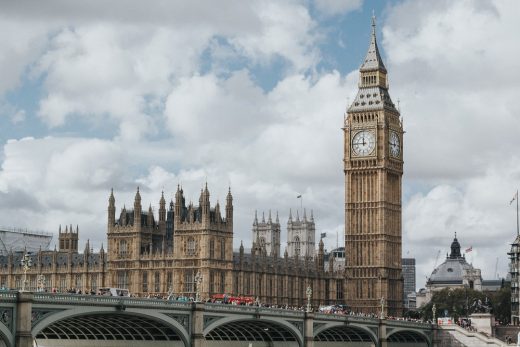 image courtesy of architects practice
Westminster Hall Restoration
22 Jul 2017
Houses of Parliament Renewal Contracts
UK Parliament Renewal Contracts awarded to help ensure safe and secure future of Palace of Westminster
British architectural firm BDP win the architectural contract for the Palace of Westminster London Restoration.
In December 2015 the following four major international architects firms were shortlisted:
Allies and Morrison
BDP
Foster + Partners
HOK
CH2M win for Lot 2.
The shortlist:
• Aecom & Mace (Joint Venture)
• Capita Property Infrastructure & Gleeds Cost Management (Joint Venture)
• CH2M Hill
• EC Harris (ARCADIS)
• Turner & Townsend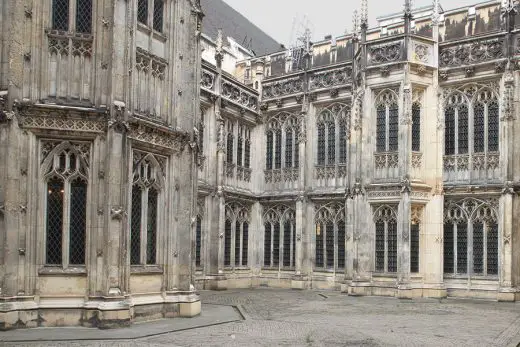 BDP and CH2M have been selected to take forward vital work that needs to be done to protect the heritage of the Palace of Westminster from the substantial and growing risk of failure of its essential services. This follows a procurement process run by Parliament, and will help ensure the continued running of a safe, secure and viable home for the UK Parliament.
The Palace of Westminster is a Grade I listed building, and, with Westminster Abbey and St Margaret's Church, is part of the UNESCO Westminster World Heritage site.
Since its construction in the mid-1800s, many features and systems in the Palace have never undergone a major renovation, and the heating, ventilation, water, drainage and electrical systems are extremely antiquated. In awarding these contracts, Parliament can take forward the crucial work required to safeguard the Palace and keep Parliament running.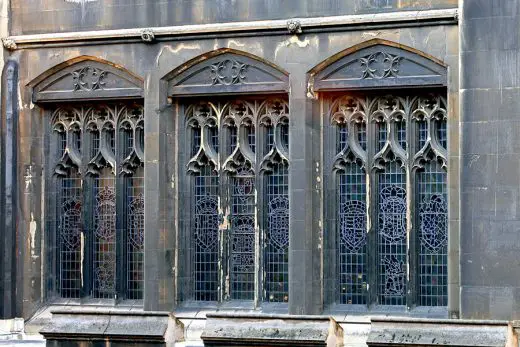 An urgent programme of mechanical and electrical (M&E) repair work which began in 2009 only protects the Palace until 2020 and only addresses those systems at highest risk of failure. These contracts will provide for a new round of medium-term M&E work, to ensure that the Palace remains safe and habitable beyond 2020.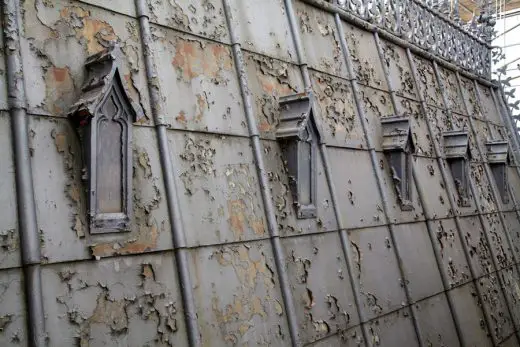 The work will also include detailed exploration of the condition of the building, a building-wide security strategy, planning for a major programme of asbestos removal, and fire safety improvements. Parliament expects to spend around £12 million under these two contracts over the rest of this financial year.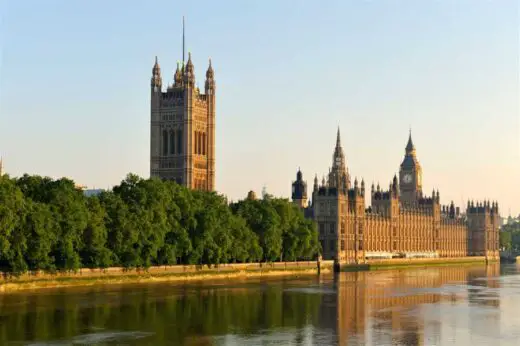 photograph © Nick Weall
The successful bidders, both of which submitted the best value for money bids, with highest overall score combining quality and price, are:
BDP for Lot 1 – Architectural and building design services.
CH2M for Lot 2 – Programme, project and cost management services.

Photos © UK Parliament unless stated otherwise
This preliminary work does not affect decisions on which option the two Houses may want to consider in any future debates on a way forward for a Restoration and Renewal Programme for the Palace of Westminster, but will lay the groundwork for a longer-term strategy that will protect the heritage of the building and ensure it can continue to serve as home to the UK Parliament in the 21st century. Work that companies may be asked to carry out at this early stage will be option neutral, that is, will be required whichever delivery option Members of both Houses may choose.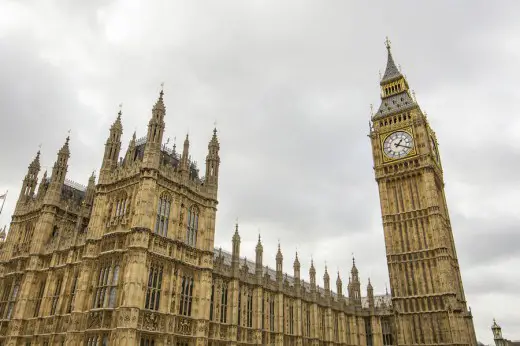 photo from architects
This next, detailed preparatory stage will ensure Parliament is ready to commission design work once Members of both Houses have made a decision in principle and will ensure that taxpayers, as well as Government and Parliament, can be confident that the final proposal is the most cost-effective, and ensures value for money for taxpayers. Before the final go-ahead for the chosen option is given, a detailed design brief, business case and budget will be developed for Parliament's approval.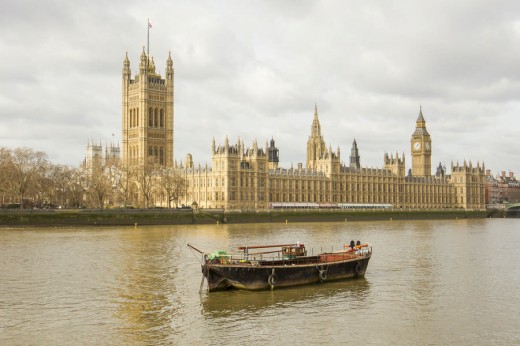 photo from architects
Brian Finnimore, Managing Director of Parliament's Strategic Estates team, said: "We are delighted to be making these contract announcements today, as an important step towards our goal of preserving the Palace of Westminster for future generations. We look forward to working with BDP and CH2M to ensure the Palace remains safe and secure for the more than a million people, including 100,000 schoolchildren, who visit Parliament each year."
Westminster Hall London building interior, oldest part of the Parliamentary Estate: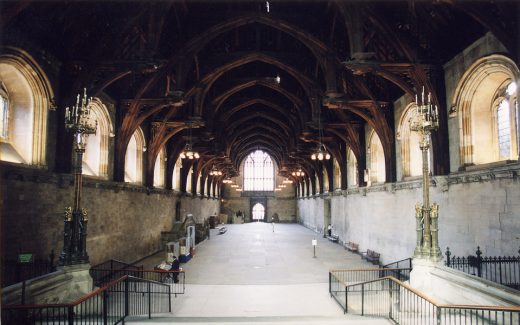 "We welcome BDP and CH2M on board, and the expertise they will bring in architectural and engineering design and in delivering projects. We have seen from other major public projects that effort put into early planning is rewarded later with financial savings, so this appointment now will help put value for money for the taxpayer at the heart of this essential work."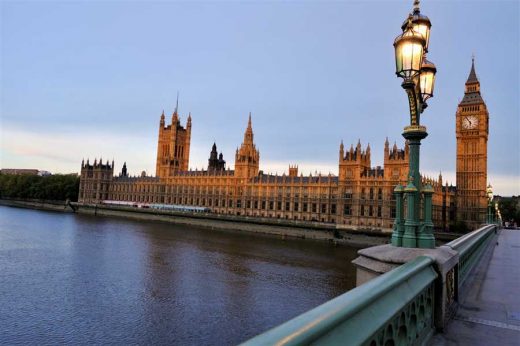 photo © Nick Weall
Tim Leach, Architect Director at BDP, said: "It's an enormous privilege for the practice to be entrusted with helping to safeguard the Palace of Westminster, this international symbol of democracy and our society's shared values. This new programme of work presents the unique and very special challenge of responding to the needs of Parliament and its visitors, and conserving its historic fabric for this and all future generations."
Jonathan Baker, Managing Director of the National Governments client sector at CH2M said: "We are delighted to have been named as the provider of programme, project and cost services for this important work. CH2M has a strong record of delivering solutions for complex and challenging programmes and we are honoured to be working in collaboration with the Restoration and Renewal Team to help preserve and enhance the use of the Palace for future generations."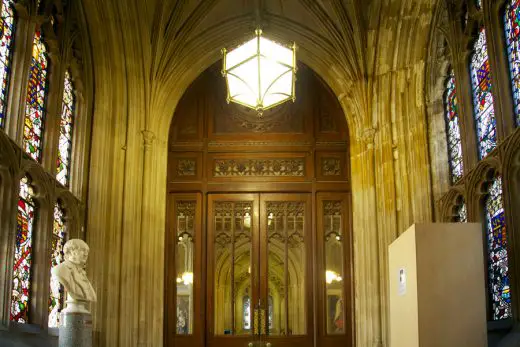 The building is both a symbol for the United Kingdom and of democracy throughout the world.
Transforming the magnificent 19th century architecture into a functioning 21st century parliament building within a UNESCO heritage site will be a major challenge. Architects BDP, formerly known as Building Design Partnership, started in Preston, Lancashire, and retains a large office in the area, in Manchester. It is a major British architecture firm with work across the world.
Previously on e-architect:
9 Sep 2016
Houses of Parliament Renewal
Palace of Westminster Building Restoration Update
Prime Minister Theresa May backs moving MPs out of the Houses of Parliament for at least 6 years. It will be the first time MPs have moved out since the Blitz.
MPs would relocate to the Department of Health while the House of Lords would decamp to the Queen Elizabeth II conference centre in Westminster.
Palace of Westminster London Restoration
Palace of Westminster Building Renewal Details
The Joint Committee on the Palace of Westminster concluded in a report that the Palace of Westminster 'faces an impending crisis which we cannot responsibly ignore'.
source: Houses of Parliament Restoration
Temporary UK Parliament on the River Thames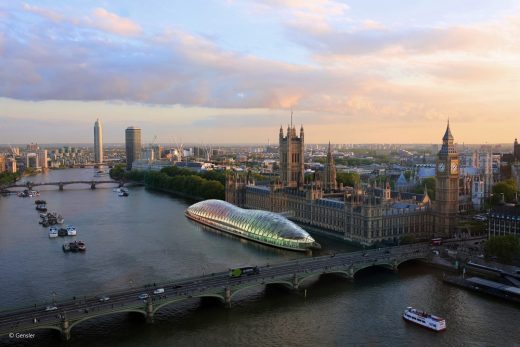 picture © Project Posiedon
Houses of Parliament on the River Thames in London – 3 Oct 2016
17 Dec 2013
Houses of Parliament Restoration & Renewal
Deloitte Real Estate and AECOM with HOK to support the Palace of Westminster's Restoration and Renewal programme
St Stephen's Tower – aka 'Big Ben':



photo © Keepclicking
The House of Commons and House of Lords announced Deloitte Real Estate, AECOM and HOK as the team appointed to undertake an Independent Options Appraisal as part of the 'Palace of Westminster Restoration and Renewal Programme'.
Aerial Photograph looking southeast:



photo © webbaviation
Built: 1840-68
Architects: Barry + Pugin
Large Victorian Gothic Building
Houses of Parliament and Burghers of Calais by A. Rodin







photographs © Nick Weall
Houses of Parliament Building Restoration
Location: Parliament Square, London, SW1, England, UK
Architecture in London
London Architecture Links – chronological list
Westminster Abbey



photograph © Nick Weall
Another building by one of the Houses of Parliament Architects – Pugin : Hub Edinburgh
Big Ben Photographs [2007] taken with Panasonic DMC-FX01 lumix camera;
Leica lense: 2816×2112 pixels – original photos available upon request: info(at)e-architect.com


Houses of Parliament London : image © Isabelle Lomholt
Houses of Parliament London joint architect : Charles Barry
Houses of Parliament : New Zealand
Architecture Walking Tours London
Comments / photos for the Palace of Westminster Renewal – Houses of Parliament London Architecture page welcome