London Festival of Architecture 2021 Theme, Covid-19 News, Design Events, LFA Architectural Festival
London Festival of Architecture 2021
LFA News, England, UK – British Capital Architectural Events + Design Contest Shortlist
London Festival of Architecture 2022
19 May 2021
London Festival of Architecture 2021 Talks
Former women's prison a hot topic at 2021 London Festival of Architecture
A surprise favourite in advance ticketing for this year's London Festival of Architecture – and one of the LFA's curator picks – is a series of panel discussions about a Women's Building to be built on the site of HMP Holloway, once the largest women's prison in Western Europe.
"We knew we had an incredible set of panellists," comments one of the discussion organisers, Reclaim Holloway's Dr Rachel Seoighe, "but the level of interest has been a gratifying surprise." Panellists include noted architects, construction industry leaders, criminal justice experts and activists from women's organisations.
"At a time when women's rights are once again a public focus, the challenge of designing something that is both a practical space for women's services and a national 'site of conscience' seems to have struck a chord inside and outside the profession." Reclaim Holloway has fielded queries about the development from other countries, notably Australia, Canada, France and the US.
The government's controversial decision to sell the 152 year old prison in 2016 offers a unique opportunity to honour the deep and layered history of the site. Peabody Housing bought the 10 acres of public land in 2019 for £82 million, with a £39 million grant from the Mayor of London's office.
"Our panellists are well-placed to discuss how Holloway's legacy can and should be honoured on this public site," says Seoighe. The first panel explores the national significance of building on the site where numerous historical figures – from the Suffragettes to the Greenham Common protesters – were jailed, as well as tens of thousands of women caught up in the criminal justice system.
Says Seoighe, "We are honoured that this first panel will include prominent architects Sarah Akigbogun and Sarah Wigglesworth along with two respected academics from the Universities of Oldenburg (Germany) and Westminster." Dr Rachel Seoighe is a criminologist at the University of Kent and the moderator of all four talks.
Reclaim Holloway has publicly stated that, in a time of unprecedented focus on women's rights and continuing inequality, this important development has somehow avoided broader public discourse. This series of discussions aims to influence the future of the Women's Building development before plans for the site are submitted for planning.
For more information:
Reclaim Holloway: [email protected] or
Dr Rachel Seoighe (panel moderator): [email protected]
For tickets/further event information, see https://www.eventbrite.co.uk/o/reclaim-holloway-33131026047
For further information about the Festival, see www.londonfestivalofarchitecture.org
Reclaim Holloway is a coalition of community groups which has been campaigning for a socially just development of the former Holloway Prison site since 2016. See our website at: https://reclaimholloway.mystrikingly.com/. We are currently engaging with Islington Council and the Women's Building developer alongside CP4H (Community Plan for Holloway) in a series of co-production meetings aimed at informing the final design of the building. Further information about the full site development can be found at www.plan4holloway.org
Panel event details
All four talks will be moderated by Dr. Rachel Seoighe, Lecturer in Criminology, University of Kent.
TALK 1
A Women's Building For London: From Women's Prison to Women's Building
7 June 2021 at 19:00 -20:00
Panelists:
Sarah AkigbogunCreative Director at Studio Aki; Vice Chair at Women in Architecture
Prof. Linda ClarkeProfessor of European Industrial Relations at the Westminster Business School; Director at the Centre for the Study of the Production of the Built Environment (ProBE), University of Westminster
Dr. Jennifer TurnerHuman Geographer, Crime and Carcerality Research Group Lead at University of Oldenburg
Sarah WigglesworthDirector at Sarah Wigglesworth Architects
TALK 2
A Women's Building For London: Feminist Architecture
14 June 2021 at 19:00 -20:00
Panelists:
Helen AstonSenior Lecturer and cofounder of feminist architectural research collective PRAXXIS at Manchester School of Architecture
Edit CollectiveEdit is a feminist design collective, focusing on the enduring biases and hierarchies embedded into the environments surrounding us.
Liza FiorFounding Partner at Muf Architecture/Art
Christine Murray Editor-in-chief, Founding Director and Owner at The Developer and Festival of Place; Former editor of the Architects' Journal and The Architectural Review; founder of the Women in Architecture (now W) Awards
TALK 3
A Women's Building For London: Therapeutic Architecture
21 June 2021 at 19:00 -20:00
Panelists:
Niki GibbsArtist, local resident and board member at Community Plan 4 Holloway
Yvonne JewkesProfessor of Criminology at University of Bath 
Nisha KurianAssociate at We Made That and a programme leader on RE—SET—GO, an initiative that will offer more than 150 people from under-represented backgrounds the experience, skills and connections to prepare for employment in built environment professions.
Kate Paradine Chief Executive at Women in Prison
TALK 4
A Women's Building For London: Structural Inequality in Architecture
28 June 2021 at 19:00 -20:00
Panelists:
Alice DietschDirector at AL_A
Dr. Susan MoirResearch Director, PGTI:The Policy Group on Tradeswomen's Issues; Founder, Tradeswomen Building Bridges, The North American Network of Women Working in the Construction Trades
Dr. Vivian PriceProfessor of Interdisciplinary and Labor Studies, and member of Tradeswomen Building Bridges
Anna Schabel Director at Wilton Studio Architects; Chair at Women in Architecture
11 May 2021
London Festival of Architecture 2021 Programme
London Festival of Architecture 2021 programme launch
The London Festival of Architecture 2021 programme is revealed today, featuring a diverse, challenging and engaging series of public events and activities aimed at anyone with an interest in the buildings and spaces around us. Featuring new specially-commissioned installations and art works, talks and debates, performances and tours, family events and workshops, the London Festival of Architecture's 2021 edition has been conceived as a lively hybrid programme of events running both online, on air and at venues across London from 1-30 June.  This year sees EY joining the LFA as Headline Partner.
The London Festival of Architecture (LFA) is the world's largest annual architecture festival, with a mission to support London's architectural and design talent, enthuse and engage with the public, and find new ways to look at familiar places. Last years' LFA Digital was an exciting new venture for the London Festival of Architecture, conceived in response to the Covid-19 lockdown. For 2021, as London gradually re-opens to residents, workers and visitors, this year's programme features a range of diverse installations both physical and digital in a brand new hybrid format.
Highlights from the 2021 programme include:
City Benches
New outdoor installations across the City of London and its fringe by a new generation of architects, artists and designers
New programmes and content inspired by architecture on BBC Radio 3.
The return of popular LFA perennials aimed at families, including the RA Lego Challenge and the Architecture Bake-Off, sponsored by Smeg.
The Housebound Diaries
Illustrator Agustin Coll's witty architectural record of the highs and lows of lockdown
Accrete
A specially created sound installation by composer Benjamin Tassie in partnership with Mary Duggan Architects
Palaces of Consumption vs. Palaces of Learning
Considering the post-pandemic future of redundant department stores
Architecture and Inequality: New Practices of Care
The digital LFA symposium, organised in partnership with the Royal Academy, discussing the responsibility of architecture and architects to create equitable and caring environments
Green Uprising
Gardeners, horticulturalists, landscape designers and architects explore how the pandemic has changed gardening for good
Nine Elms Gateway Trail
A self-guided tour across one of the biggest regeneration projects in Europe, and including LFA-inspired interventions old and new
Work Home. Play Home.
AVR London presents a film showcasing the process of designing workspaces that care for their inhabitants, featuring interviews with Sarah Wigglesworth and Jerry Tate.
Signstrokes
An interactive workshop based on a linguistic project that explores the non-standardized use of sign language in the industry, with the aim of establishing a body of technical sign language terms to level up the playing field within the profession.
Showroom Showcase
Some of London's leading showrooms host bespoke architectural installations in their showroom windows from the next generation of architects and designers.
Perfect Spaces
The V&A in partnership with MAKE architects will house a digital pavilion displaying large-scale paintings by artist Ben Johnson, depicting iconic architecture including the Crystal Palace and Neues Museum.
Each year's London Festival of Architecture programme is inspired by a theme – with this year's 'Care' theme interpreted by event organizers in myriad ways, from how architecture should respond to the impact of the Covid-19 pandemic, to wider conversations around the future of the architecture profession, social justice and inclusivity, gender issues and disability.
Throughout its history the LFA has been pioneering, flexible and resilient: LFA Digital 2020 provided pointers allowing LFA 2021 to be the first ever hybrid festival incorporating both digital and physical events. It can be followed digitally for everyone to enjoy at londonfestivalofarchitecture.org, on Instagram (@londonfestivalofarchitecture) and on Twitter (@LFArchitecture). This year's festival programme also features a concentration of activities in two LFA Destinations for 2021: Nine Elms and the City of London.
Rosa Rogina (programme director, London Festival of Architecture) said:
"We're excited to be able to present such a vibrant hybrid programme of events for LFA 2021.This year's Festival promises to explore all aspects of our theme of 'care' and with such a diverse programme of event types – in both physical and digital formats – we hope to see as many people as possible join the conversation this June. As we emerge from lockdown, we're delighted to see the Festival play its part in welcoming everyone back to the capital. We'd like to thank our Festival friends and organisers in London and beyond for their continued support in helping us make this happen – I'm looking forward to seeing this incredible programme come to life this June."
Previously on e-architect:
23 Apr 2021
LFA Curating Concourses Competition News
London Festival of Architecture and Network Rail reveal shortlist for 'Curating Concourses' competition
The London Festival of Architecture and Network Rail have revealed the six teams shortlisted for the 'Curating Concourses' competition, which will see a prototype design for a new exhibition concept installed at London's Euston Station this summer.
Emerging architects, designers, artists and curators were invited to submit creative ideas for an exhibition display that can communicate content in fresh, engaging and accessible ways, starting with Network Rail's Design Guidance Series. The project explores how innovative exhibition concepts could help establish stations as community hubs, by transforming currently underused spaces into opportunities for learning and engagement.
The competition attracted an exciting selection of entries from a range of design disciplines. Each shortlisted team offered a unique response to the competition brief in their expression of interest, demonstrating ambition when it comes to the potential of exhibitions as learning tools and emphasising the importance of local community engagement when tackling the changing role of stations in our cities.The shortlisted teams will now each be awarded an honorarium to develop their initial written responses into design proposals over the coming weeks.
The shortlisted teams and designers are:
Bamidele Awoyemi, Farouk Agoro & Livia Wang
Bamidele, Farouk & Livia are a collective of designers and artists living and working in South London, with an ambition to collaborate with different groups, specialists, and communities in their projects. Despite practisingand sharing backgrounds in architecture, much of their work has crossed into disciplines of art, film, exhibition, education, and curation.
Editional Studio
Editional Studio is run by architects Jo Sharples and Jack Richards. Working from their high-street shop in Manchester, the team promote approachable, sustainable design directly to the community. For the Curating Concourses competition, their aim is to bring the travelling exhibition to life for the diverse public that train stations provide for.
Everyday Fictions
Founded in 2020, Everyday Fictions is the collaborative practice of Jack Bardwell, Richard Fussey and Emilie Loiseleur, based in London and the Netherlands. Combining their experience in designing spaces, exhibitions and installations for cultural institutions and communities, the team use spatial design and performance to speculate on other realities and initiate public discourse.
Mark + Cristina
Based in London, Mark and Cristina are a design duo currently working at We Made That, who have recently started collaborating on personal projects. Their work is socially engaged and participatory, looking to create more equitable spaces.
Muslim Women in Architecture
Muslim Women in Architecture (MWA) is a collective based between London, Dubai, Torontoand Doha, working to empower, inspire and celebrate Muslim women in the architecture and built environment industry. It is a safe space for underrepresented Muslim women to gain control of their narratives and start a conversation around the inequality and adversity they regularly face. Through their platform, the collective encourages an open discussion amongst those within the profession and outside, in hopes to bring positive change in the industry.
Project Poché
Founded by Boji Hu and Ya Liu in 2019, Project Poché is a multi-disciplinary design practice based in London and Shenzhen. The studio engages in architecture, public realm projects and small-scale interventions. The team values a research-centred approach and keeps its flexibility, creativity and openness through extensive collaborations.
By offering creative and engaging display solutions, the competition aims to enhance passenger experiences in railway stations, testing how the future of exhibitions in stations might look. Building upon this, the winning prototype has the potential to be relocated to other Network Rail managed stations for future exhibitions, with flexible and adjustable components to suit different sites and content.
The competition is being judged by an expert panel including Anthony Dewar (Network Technical Head Buildings and Architecture, Network Rail), Frank Anatole (principal architect, Network Rail), Francesca Perry (Editor, ICON Magazine), Dinah Casson (Co-founder and Director, Casson Mann), Jason Bruges (Jason Bruges Studio) and Tamsie Thomson (managing director, New London Architecture).
Rosa Rogina, Programme Director at London Festival Architecture, said:
"We're proud to be working alongside Network Rail in our mission to support and champion emerging talent, by providing opportunities like this to transform the public's experience of a mainline London station. We've been delighted to see such a diverse range of multi-disciplinary entries to the competition, and the shortlisted teams impressed us all with their ambition and enthusiasm for the curatorial and community impact of this project. As the teams now start working on their designs, I'm really looking forward to seeing each concept take shape ahead of the next stage of the competition."
Once the six shortlisted teams have developed their exhibition design concept for final judging, the winning team will be selected to deliver, manufacture and install their exhibition display. Visuals of the winning design will be revealed in May, ahead of the exhibition design being officially unveiled at Euston Station as part of the London Festival of Architecture this June.
Background
The honorarium fee to develop their initial written responses into design proposals is £500.
The winning team selected will be awarded £12,000 – including a £4,000 design fee – to deliver, manufacture and install their exhibition display.
The London Festival of Architecture (LFA) is the world's largest annual architecture festival and is exploring the theme of 'power' in 2020. The LFA's mission is to support London's architectural and design talent, enthuse and engage with the public, and find new ways to look at familiar places.
Every year it celebrates innovation and design through a public programme that showcases London as a global architectural hub and promotes positive change to its public realm. The theme for the 2019 event – boundaries – inspired over 600 events across the capital, attracting over 800,000 visitors and a global audience of 138 million. A year-round programme of design competitions, design charettes, campaigns and other activities also champions London as the best place in the world to practice and enjoy architecture.
Twitter: @LFArchitecture
Instagram: @LondonFestivalofArchitecture
www.londonfestivalofarchitecture.org
London Festival of Architecture, 26 Store St, Fitzrovia, London WC1E 7BT, United Kingdom
Network Rail owns, operates and develops Britain's railway infrastructure; that's 20,000 miles of track, 30,000 bridges, tunnels and viaducts and the thousands of signals, level crossings and stations. It runs 20 of Great Britain's largest stations, and works round-the-clock to provide a safe, reliable experience for the millions using Europe's fastest-growing railway each and every day.
Twitter: @networkrail
www.networkrail.co.uk
London Festival of Architecture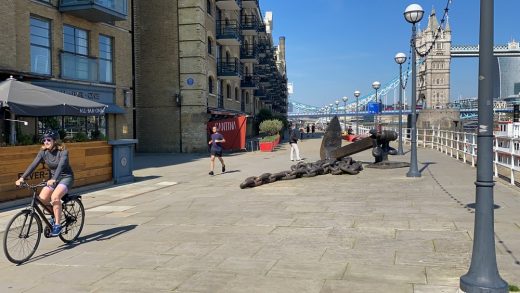 photo © Steven Ehrlich
London Festival of Architecture 2020
Reimagining Butler's Wharf LFA 2020
Coal Drops Yard
Architects: Heatherwick Studio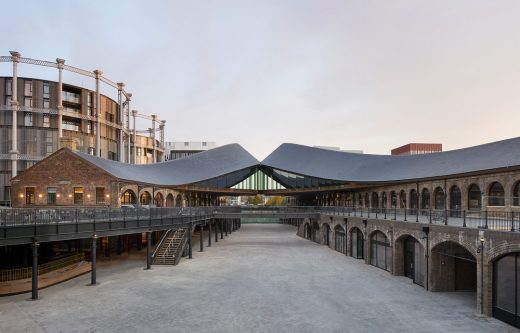 photo © Hufton+Crow
Coal Drops Yard
Bloomberg HQ London – 2018 Stirling Prize Winner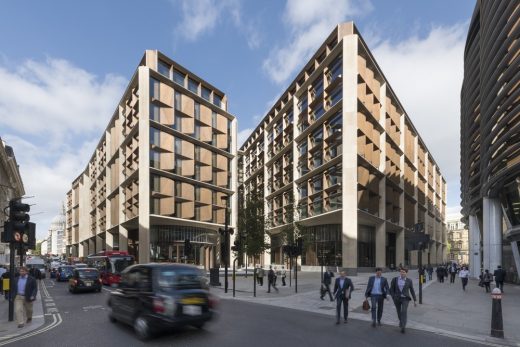 photo © Nigel Young / Foster + Partners
Bloomberg European Headquarters in London Building
London Festival of Architecture
Liminal by Wolfgang Buttress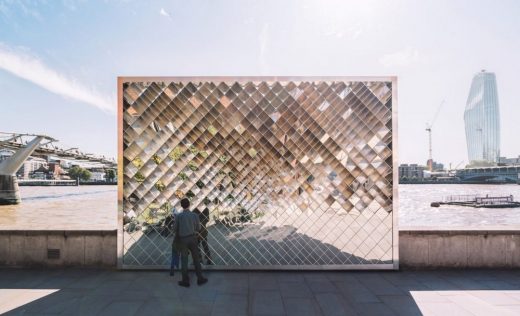 image © Sam Scales
London Festival of Architecture City Parklets 2019
Flanders Architecture Institute Exhibition in London
LFA Thessaly Road Railway Bridge Contest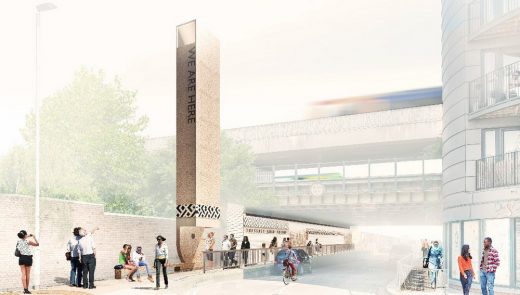 LFA London Bridge Public Realm Competition Shortlist
London Bridge Public Realm Competition Shortlist News
London Festival of Architecture Dulwich Pavilion Shortlist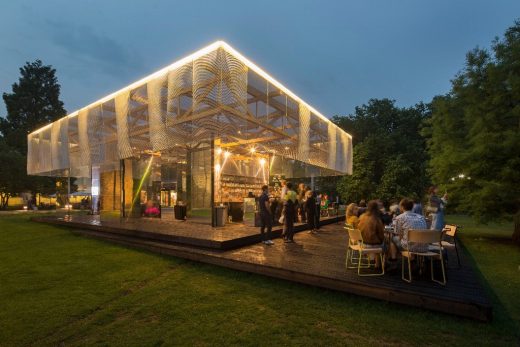 photo courtesy of LFA
Dulwich Pavilion 2019
London Festival of Architecture 2017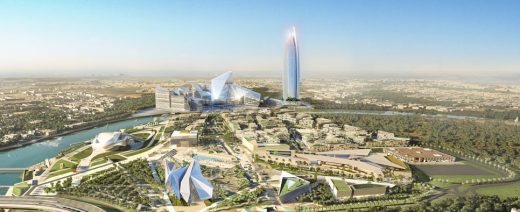 image courtesy of LFA
London Festival of Architecture 2017
London Festival of Architecture Installations 2016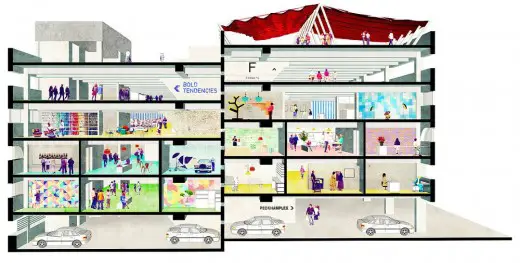 image from RIBA
London Festival of Architecture Installation in Clerkenwell
London Festival of Architecture Installation by Wilkinson Eyre
Festival of Architecture London
London Festival of Architecture
Location: 26 Store St, Fitzrovia, London WC1E 7BT, UK
London Architecture
London Architecture Links – chronological list
London Architectural Walking Tours by e-architect
Comments / photos for the London Festival of Architecture 2021 page welcome