London Architectural News 2019, UK Capital Buildings, Property Developments, Architects, Design Images
London Architecture News 2019
Key Property Developments in the British Capital City – New Buildings in England, UK
London Building News 2019
London Architecture News – key property updates for the UK capital
London Architecture Links – chronological list
London Architecture News in Late 2019
30 Oct 2019
Brexit Bunker
26 Oct 2019
York House Workspace, Pentonville Road, King's Cross, North London
Design: de Metz Forbes Knight Architects (dMFK)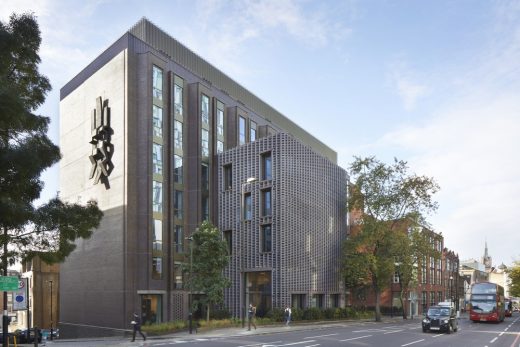 photo © Jack Hobhouse
York House Workspace
York House, The Office Group (TOG)'s latest flexible workspace, opens in King's Cross on Pentonville Road, following a complete refurbishment and extension undertaken by dMFK Architects. It is the fourth building from TOG in the King's Cross area.
25 Oct 2019
Zayed Centre for Research into Rare Disease in Children
21 Oct 2019
1 Valentine Place
15 Oct 2019
Fleet House in Hampstead
11 Oct 2019
1 Lyric Square
10 Oct 2019
Dogs and Cats Home Veterinary Hospital in Battersea
10 Oct 2019
Tiger Way School and Homes in Hackney
8 Oct 2019
Sapling Restaurant in Dalston, Hackney
7 Oct 2019
Magazine London, North Greenwich Peninsula
1 Oct 2019
27 Eccleston Place in Belgravia
30 Sep 2019
The Case for a River Thames Cultural Vision
13 Sep 2019
Kingston Academy Regeneration, Richmond Road, Kingston upon Thames
Design: Astudio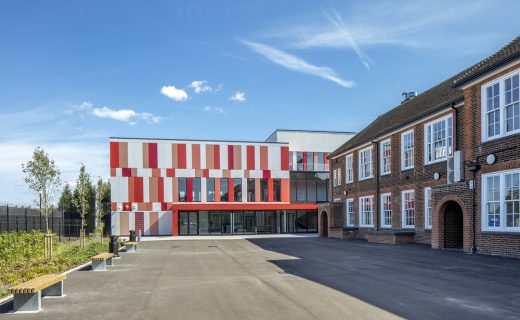 image courtesy of architecture office
Kingston Academy
astudio announce the completion of the £15 million The Kingston Academy regeneration project, which now also sees the school open to the public as community centre.
9 Sep 2019
Regents Park Property Market News
Research report by Beauchamp Estates:
Regents Park Property Market Report
7 Sep 2019
Peterhead Court, Southall
Peterhead Court Ealing Housing
4 Sep 2019
gpad appoints David Walker as associate director
Award-winning architecture and interior design practice, gpad london, has appointed new associate director David Walker to the senior team.
A specialist in workplace design, David has a robust background working on a range of high-profile projects including residential, higher education, leisure and offices, from the shell and core through to the interior of the schemes. David has a Master of Philosophy from Cambridge University and has taught at the Architectural Association, London. He joins gpad after 13 years at Bennetts Associates.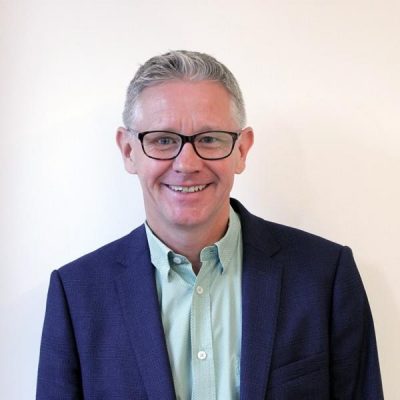 image courtesy of architects
With strong networks in the commercial and residential markets and a passion for developing relationships, David will be key in business development at gpad. He will be leading projects from conception through to delivery, lending his expertise and enhancing the quality of gpad's work on high-profile schemes with immediate effect. A strong creative leader, David embodies the gpad values of nurturing talent and collaboration in design.
Charles Bettes, managing director, comments: 'David is a highly accomplished architect who has led world-class projects. He's an exceptional addition to our team with his project track record, broader industry reputation and ability to inspire colleagues. gpad is going through a period of fast growth and his experience will be instrumental in taking us to the next level.
David Walker, associate director, adds: 'gpad's ethos strongly aligns with my own; with a shared commitment to high quality architecture, civic space, and human values. Their positive attitude to professional development, mentoring and cultivating a nurturing, creative working environment are aspirations I wholly endorse. I am really looking forward to taking on a role where I can commit to propelling this exciting, growing practice forward.'
Key projects David has been involved in include Facebook's offices in 11-21 Canal Reach, as well as the Jaguar Land Rover Headquarters in Gaydon. David spent the early part of his career in Europe, working for Imre Makovecz in Hungary and Daniel Libeskind in Germany, returning to the UK in 1996.
He is also an experienced public speaker and has presented on a wide range of subjects at architecture and construction events.
About gpad london ltd
Operating from a studio in Clerkenwell, gpad is a practice of experienced architects and interior designers delivering successful projects from concept development through construction to completion. Its team works on a multitude of scales and schemes with projects in Cardiff, Reading, Bristol and Leeds, as well as across London.
gpad are design-led architects creating high quality modern architecture that focuses on simple elegant design, whist being sympathetic to each site. The architectural response seeks to enhance the quality of the place. High quality architectural materials and detailing are used as a form of expression that intrinsically roots the building within its context. Working at different scales simultaneously to develop the design creates buildings with a sense of longevity and permanence. Gpad are driven by high standards in accessibility, functionality and sustainability.
Reliable, flexible and efficient, gpad puts communication at the centre of its approach. The team understand the stakeholders involved within a successful project and always strive to create and ensure value. They take pride in the relationships they have developed with their clients, some of whom they have been working with since the practice was started in 2002.
gpad london are winners of the 2017 BCO National Award for its regeneration of Concordia Works in Leeds city centre, 2018 Evening Standard New Homes Award, 2018 Best Office Development UK in the International Property Awards and shortlisted in the 2018 and 2019 AJ Retrofit Awards, 2019 New London Awards and The Sunday Times British Homes Awards 2019.
4 Sep 2019
Vertical Living in London
2 Sep 2019
Sky Pool at Embassy Gardens
**************************
London Architecture News Summer 2019
29 Aug 2019
Embassy Gardens in Nine Elms, Battersea
17 Aug 2019
Drawing Attention, Exhibition at Roca London Gallery
21 June 2019
Milner Square, Barnsbury, Islington, North London
Design: LDA Design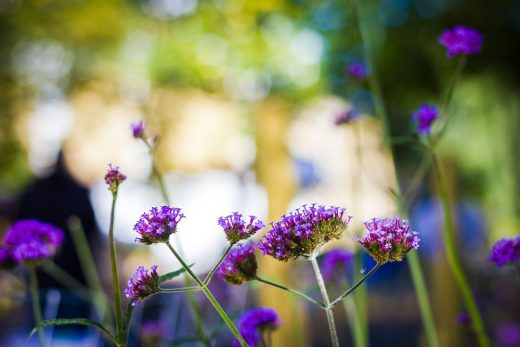 image courtesy of architects
Milner Square Barnsbury, Islington
A revamp of a once-neglected Georgian garden square in Barnsbury, Islington, has been named the overall winner of the Children's Play category in this year's Street Design Awards.
20 June 2019
Queen's Diamond Jubilee Galleries at Westminster Abbey
20 June 2019
Bank of England 325th Anniversary Exhibition
9 Jun 2019
Waterloo Station York Road Ticket Hall in London
6 Jun 2019
London Festival of Architecture City Parklets 2019
**************************
London Architecture News Spring 2019
12 May 2019
West 8 Named as Finalist in Croydon Fair Field Competition
West 8, together with their competition team featuring Periscope, Expedition Engineering, Donald Hyslop and Michael Grubb Studio, has been named as one of six shortlisted teams selected to design a world-class, exemplary public space surrounding Croydon's historic Fairfield Halls:
4 Apr 2019
Tottenham Hotspur Stadium Building
**************************
London Architecture News Winter 2019
28 Mar 2019
The Tulip City of London Tower Building
26 Mar 2019
Finchley Reform Synagogue in North London
19 Mar 2019
LFA Temporary Installation for RIBA Architecture Gallery
17 Mar 2019
Cedars Youth & Community Centre in Harrow Weald
16 Mar 2019
V&A Museum of Childhood Renewal
8 Mar 2019
Tottenham Hale Tower Building News
The Tottenham Hale tower is the last piece of the neighbourhood's eleven-phase re-development program. Designed to the highest environmental and design standards by HawkinsBrown Architects, the 32 storey, 107-meter-high mixed-use tower will consist of 279 homes and commercial spaces.
Anthology London is the property developer. The façade solution comprises a mix of unitised, stick and crown facades, balustrades, privacy screens and parapet cladding, which in total will cover close to 15,000 sqm.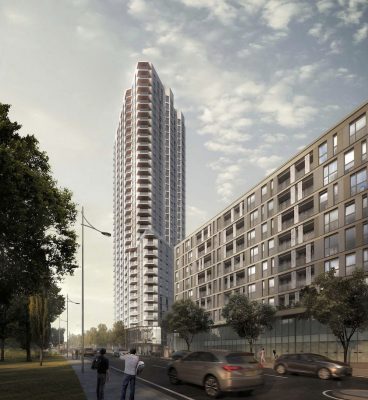 image courtesy of architects
London architects HawkinsBrown incorporated balconies or terraces into the design of all the apartments in the Tottenham Hale tower. These need balustrades or privacy screens, so to achieve the highest degree of privacy for each, without encumbering the view, numerous corners and columns are required.
The prevalence of columns and corner elements combined with the compact nature of the site make the installation phase of this project particularly interesting. To keep to the necessary safety standards without affecting the installation schedule, an ingenious and innovative approach utilising a custom-built mobile jig was adopted. This will allow it to install the panels from behind the numerous columns.
The installation process is not the only innovative solution in this project. Staticus is one of the first companies to utilise a newly-developed system that facilitates the integration of fully prefabricated sliding doors into façade panels. Its design teams worked closely with the system developers to ensure that panels fitted with this new system work as intended.
6 Mar 2019
Jiva Spa and Wellness Centre in Victoria
4 Mar 2019
National Holocaust Memorial and Learning Centre
26 Feb 2019
Royal College of Pathologists HQ, Alie Street, East London
Architects: Bennetts Associates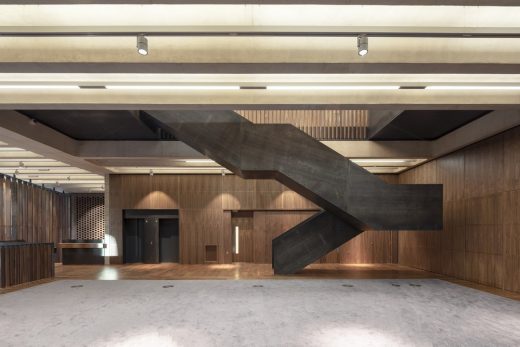 photograph : Peter Cook
Royal College of Pathologists East London
The Royal College of Pathologists has relocated to a new 4,500 sqm building on Alie St in East London, moving from a traditional Grade 1 listed building in St James to these contemporary purpose-built premises.
22 Feb 2019
London Festival of Architecture graphic design competition 2019
LFA launch a graphic design competition to create and oversee the branding and merchandising for the 2019 edition of the Festival, welcoming applications from creatives across the industry, including graphic designers, architects, designers and artists:
London Festival of Architecture graphic design competition 2019 news
18 Feb 2019
Clapham Junction Station panel discussion at London Transport Museum
6th March
Join HawkinsBrown, Mott MacDonald, Laing O'Rourke's panel discussion at London Transport Museum where they present their vision for Clapham Junction Station.
Clapham Junction Station is one of the busiest in London, cutting through the local area and creating severance across the community. The station is severely overcrowded, and acts as a bottleneck which affects the connectivity of wide swathes of south London. It's also a low-density site without a compelling commercial and retail offer, in an area which urgently requires more housing.
HawkinsBrown and Mott MacDonald present findings from their research project which examines how these factors can be combined to produce a speculative vision for a Clapham Junction of the future which succeeds for the local and wider community, airport access and all possible future users of Clapham Junction.
A select panel of experts will examine these issues and discuss the best process for coming up with workable, fundable solutions to station upgrades; solutions which are buildable and deliver value for all stakeholders.
Breakfast will be available from 8.30am with the event starting at 9am. Guests may take advantage of a free tour of the museum after the event.
Panel members:
Chair, Anna White, property writer for the Telegraph
Ian Watkins, project director, Mott MacDonald
Roger Hawkins, partner, HawkinsBrown
Oliver Steele, project director, Mott MacDonald
Tony Travers, director, London School of Economics
David Leam, infrastructure director, London First
Background
Railway interchanges are areas of huge opportunity, and huge challenge. Many of the biggest stations in our cities struggle with passenger numbers far beyond those envisaged when they opened. The complexities of upgrading stations go far beyond practical concerns about how to manage engineering works while keeping the station open.
Would-be upgraders need to consider:
• How do we balance the needs of different stakeholders throughout this process?
• What funding streams are available, and what compromises do these funding streams require?
• What improvements can be delivered for the local communities, including residents, business, and commuters? Both during and after the redevelopment work.
• How can we reconfigure the accessibility of stations to meet 21st century requirements?
• How can we make the most of the space available for new housing, retail, or commercial space?
• What are the levers and configurations available to us to help us make these decisions?
9 Feb 2019
Royal Academy Architecture Prize
New York architecture firm Diller Scofidio + Renfro (DS+R) win the 2019 Royal Academy Architecture Prize in its second year.
The Broad Art Foundation, Los Angeles, a key building designed by DS+R: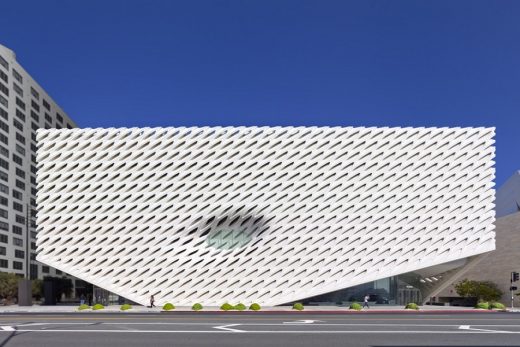 photo : Benny Chan
The Royal Academy Architecture Prize and The Royal Academy Dorfman Award, celebrate under-recognised contributions to design and uncover fresh new talent. Both prizes showcase the RA's commitment to the future of architecture and design.
According to the RA, "The Royal Academy Architecture Prize is awarded to an architect or individual who has been instrumental in shaping the discussion, collection or production of architecture in the broadest sense. The award recognises creativity and vision, and can go to an individual, duo, or group."
Japanese architect Itsuko Hasegawa received the inaugural prize in 2018.
Elizabeth Diller and Ricardo Scofidio are the architects for a new concert hall building in London, the Centre for Music in London.
Key projects include the iconic Blur Building (2002) which used an "amorphous cloud of fog", floating atop Lake Neuchâtel in Switzerland, plus work on the world-famous High Line public realm in Manhattan.
The judges were Alan Stanton RA (chair), Louisa Hutton OBE RA, Phyllida Barlow RA, Richard Burdett, Kirsty Wark and Lesley Lokko.
DS+R's four partners are Elizabeth Diller, Ricardo Scofidio, Charles Renfro and Benjamin Gilmartin.
8 Feb 2019
Sclera – David Adjaye: Making Memory at Design Museum
7 Feb 2019
The Tulip City of London Tower Building
2 Feb 2019
Bobby Moore Academies, Stratford School
26 Jan 2019
OK Google, Let's Talk Cities – All Things Urban
19 Jan 2019
Horniman Museum & Gardens, Building
Old Royal Naval College Building
Charity Dinner in the Painted Hall at the Old Royal Naval College at Greenwich: the reopening of London's 'Sistine Chapel' and Sir James Thornhill's refurbished masterpiece will be one of the cultural landmarks of 2019. The NLA will be organising the dinner which will be on May 2nd.
Routemaster Tours News
There will be three Sir Peter Hendy Routemaster tours this year: Stratford and the Olympic Legacy (Peter H is Chair of the LLDC) on April 1; the West End on June 24, and the City of London on September 23; all tours start at 6.00pm. The bus rides raise money to support greater diversity in architecture. Contact Peter Murray for details.
More London architectural news welcome – send content to info(at)e-architect.com
Location: London, England, UK
Buildings in the UK Capital City
London Architecture Walking Tours by e-architect
London Skyscraper Buildings – alphabetical list
Buildings / photos for the London Building News 2019 – Built Environment in the UK Capital City page welcome