Piccadilly Circus David Hockney, London Lights Art, UK City Screen News, Design Pictures, Building
David Hockney at Piccadilly Circus
1 May 2021
David Hockney Creates Digital Sunrise For London's Iconic Piccadilly Lights And Screens Around The World
LONDON – NEW YORK – LOS ANGELES – SEOUL – TOKYO
A new video work by David Hockney, one of the world's most celebrated living artists, will be unveiled on London's Piccadilly Lights screen on 1 May at 20:21 BST.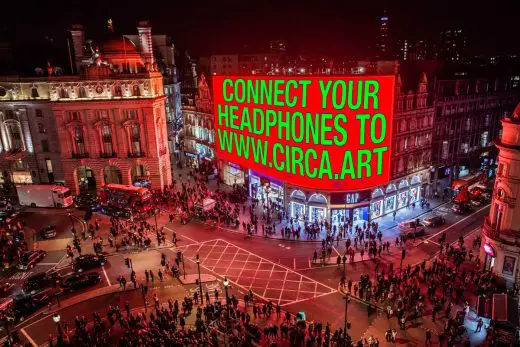 image courtesy CIRCA
David Hockney Digital Sunrise at Piccadilly Circus, London
The screening is part of a global collaboration, curated by Josef O'Connor, Founder and Artistic Director of CIRCA, an innovative new platform showcasing digital art in the public space. It is presented in partnership with Times Square Arts' Midnight Moment program in New York, synchronised over 70 electronic billboards, COEX K-POP Square, the largest LED screen in South Korea, and Yunika Vision in Japan.
David Hockney, said: "What does the world look like? We have to take time to see its beauty. That's what I hope my work will encourage people to do when they see it on the large screens."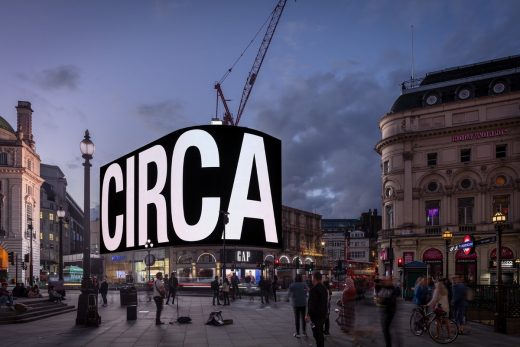 image courtesy CIRCA
The new video, titled Remember you cannot look at the sun or death for very long, will be shown every evening throughout the month of May at the following times and locations:
London: Piccadilly Lights, at 20:21BST
New York: Times Square, at 23:57EST
Los Angeles: Pendry West Hollywood, at 20:21PST
Seoul: Coex K-POP Square, at 20:21KST
Tokyo: Yunika Vision, Shinjuku, at 09:00JST
Online via the CIRCA.ART website every evening, at 20:21BST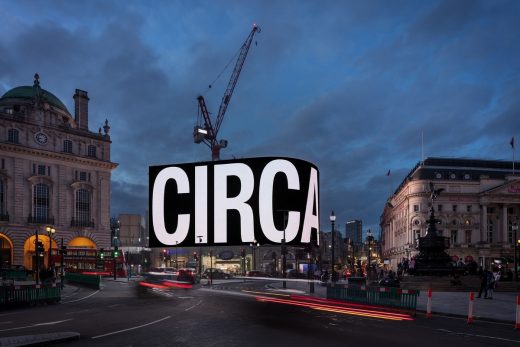 image courtesy CIRCA
In this worldwide display of unity, Hockney's animated sunrise offers a powerful symbol of hope and collaboration as many parts of the world awaken from lockdown. In place of advertisements, members of the public living across these four cities are given the opportunity for a spontaneous encounter with Hockney's meditation on the arrival of spring.
Created on the artist's iPad in Normandy, France, this global happening coincides with the release of Hockney's new book Spring Cannot Be Cancelled and his Royal Academy exhibition The Arrival of Spring, Normandy, 2020 opening 23rd May to 26th September 2021.
David Hockney Still from _Remember you cannot look at the sun or death for very long_ 2020 iPad painting:



image © David Hockney
A Time-Limited Poster by David Hockney is available to buy for £100 (exc. VAT) on the CIRCA website until 31 May 2021. Created especially in support of the #CIRCAECONOMY, which arises in response to our post-Covid world, 70% of the profits will be used to commission new culture and help support the creative community with the distribution of cash grants to artists and institutions. For more info see https://shopcircaart.com.
The CIRCA.ART website will stream Hockney's sunrise every evening at 20:21 BST.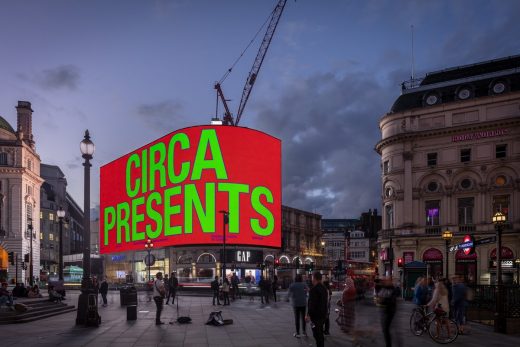 image courtesy CIRCA
Social Activation
CIRCA is inviting people to support the community by waking up early and uploading either a video or photo onto social media (#HOCKNEYCIRCA) of a real sunrise in their local neighbourhood. Participants are encouraged to make a donation in support of international and local organisations working to provide COVID relief and urgent supplies. A selection of submissions chosen by David Hockney will receive a free poster.
Norman Rosenthal, Chairman of The CIRCA Council, added "I love the idea of sunrise at sunset. It's a profound idea."
Josef O'Connor, Artistic Director, CIRCA, said: "There has never been a better time for this shining image of hope, which links people across borders and continents to celebrate the arrival of spring. We are especially grateful to David Hockney, a master in exploring the boundaries of new media, for allowing CIRCA to present his work in such a bold and democratic way, connecting Piccadilly Lights with screens all around the world."
Derek Manns, Commercial Media Director for Landsec said: "Piccadilly Lights is the beating heart of the UK, and has been the voice of the nation for the past twelve months whilst the global pandemic has prevented so many of us from connecting, sharing and being with the people around us. This is a campaign filled with hope and beauty just as we start to emerge from lockdown. I can't think of a better way to celebrate the reopening of London and other cultural destinations around the world."
Jean Cooney, Director, Times Square Arts said: "We're proud to be a part of this international collaboration featuring one of the world's most renowned living artists advocating for hope and new horizons amidst the incredible uncertainty we face as a global society. This partnership across four countries marks the most expansive collaboration to date in Times Square's Midnight Moment program's nine-year history."
David Hockney Time Limited #CIRCAECONOMY Poster 2021:



image © David Hockney
ABOUT DAVID HOCKNEY
David Hockney (b. 1937) is one of the world's most influential and celebrated living artists. From the 1960's, when he first burst onto the art scene in London, he has remained a significant force in the art world, not only for his paintings, drawings and printmaking, but also for his interrogation of photography and new media in addition to stage design. Long associated with recording life in Los Angeles, the past two decades have seen a re-engagement with the European landscape and the natural world.
In 2009, David Hockney began expanding his practice from a decades-long reliance on analog mediums to that of iPad drawings. What began as drawing with his thumb on an iPhone quickly shifted to drawing with a stylus pen on the newly released iPad: "There was great advantage in this medium because it's backlit and I could draw in the dark. I didn't ever have to get out of bed,"
British artist David Hockney in his Normandy studio, France, 24th February 2021: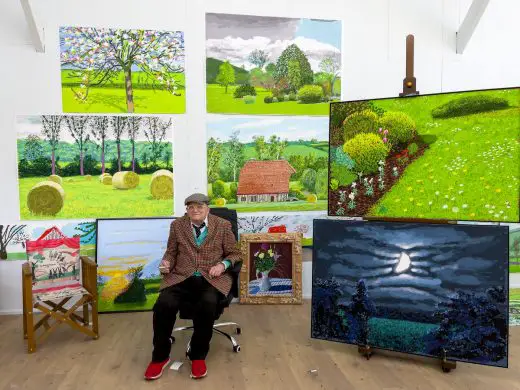 image © David Hockney ; photo credit : Jonathan Wilkinson
ABOUT TIMES SQUARE ARTS
Times Square Arts, the public art program of the Times Square Alliance, collaborates with contemporary artists and cultural institutions to experiment and engage with one of the world's most iconic urban places. Through the Square's electronic billboards, public plazas, vacant areas and popular venues, and the Alliance's own online landscape, Times Square Arts invites leading contemporary creators to help the public see Times Square in new ways.
Times Square has always been a place of risk, innovation and creativity, and the Arts Program ensures these qualities remain central to the district's unique identity.Times Square Arts's Midnight Moment program is the world's largest, longest-running digital art exhibition, synchronized on electronic billboards throughout Times Square nightly from 11:57pm to midnight. Presented by the Times Square Advertising Coalition and curated by Times Square Arts since 2012, it has an estimated annual viewership of 2.5 million.
ABOUT CIRCA
Created by artist Josef O'Connor in partnership with Piccadilly Lights, CIRCA commissions a different artist each month to present new ideas that consider our world circa 2021. Each artist is invited to create a new work for Europe's largest screen that offers an innovative and exciting way for people to engage with art, both outside and online, in a safe and socially distanced way. Hockney's work will pause the adverts on London's Piccadilly Light's screen at 20:21BST, a new time for 2021.
Visitors to Piccadilly Circus can connect their headphones to WWW.CIRCA.ART and receive a fully immersive audio-visual experience. The website also streams the artwork every evening at 20:21BST and hosts supporting content alongside past archives of CIRCA commissioned work from artists including Patti Smith, Tony Cokes and Ai Weiwei.
Starting from just £100, supporters are invited to become a CIRCA supporter as part of their innovative new fundraising campaign 'c. YOUR NAME IN LIGHTS' which offers 1,000 people the unique opportunity to support free public art and see their name appear on the Piccadilly Lights screen every evening until the end of 2021. To find out more, please visit: https://circa.art/
CIRCA has been made possible by Landsec, landlord of Piccadilly Lights, who have kindly donated media space as a helpful boost to the cultural scene in London's West End.
ABOUT PICCADILLY LIGHTS
Piccadilly Lights, London, England, artwork by David Hockney: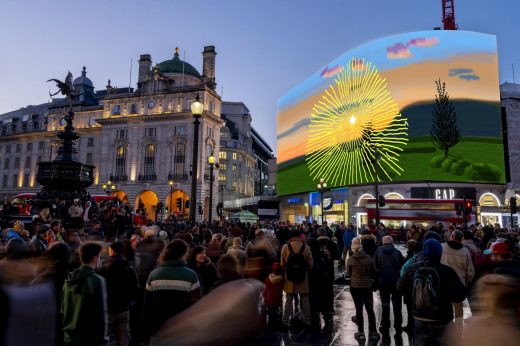 image courtesy David Hockney
The Piccadilly Lights advertisement screen has been one of London's icons for over a century and is unmissable for the 100 million people who pass through Piccadilly Circus every year. A cultural landmark in the Landsec property portfolio, at a time when culture and the arts have been heavily impacted, Landsec have donated time to CIRCA, an independently curated digital art platform, to create an institutional collaboration as a celebration of the arts in the public space, and to support the cultural community of London's West End.
ABOUT YUNIKA VISION
Yunika Vision, Japan, artwork by David Hockney: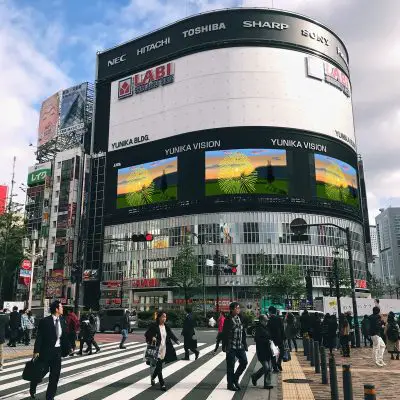 image courtesy David Hockney
The Largest 3-Paneled LED Screen in Japan, Yunika Vision is the outdoor digital signage complex which combines 3 large-scale 100m2 LED vision screens with a 52m vision screen for text broadcasting. As a landmark befitting the international Shinjuku district, they provide worldwide news and information daily.
Not only utilizing the 3 massive screens for a powerful visual impact, they also deliver various information and services. These include interlinked broadcasts with SNS and smartphones, event-linked broadcasts held at the PePe plaza  in front of the Seibu-Shinjuku Station , and real-time information services also incorporating webcasts. Readying for the IoT age, they aim to expand the infinite possibilities of outdoor media by producing synergistic effects through these endeavors.
ABOUT COEX K-POP SQUARE
COEX K-Pop Square, Seoul, Korea, artwork by David Hockney: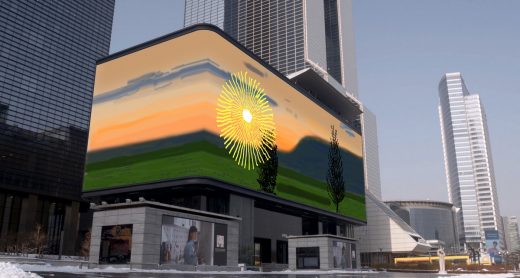 image courtesy David Hockney
Korea's biggest digital billboard "COEX K-pop Square", which is built and operated by CJ Powercast, has become the talk of the town, obtaining local as well as international attention. Measuring 81 meters in width and 21 meters in height Total measurement of 1700 square meters, (,Coex K-POP Square takes the two-dimensional display to another level, providing a three-dimensional sense of space and a whole new visual experience to the audience.
Previusly on e-architect:
3 August 2020
'I Saw The World End still' London by Es Devlin & Machiko Weston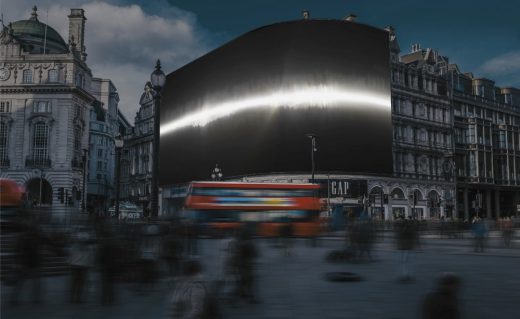 photo courtesy of Es Devlin
I Saw The World End still
24 Jan 2017
Piccadilly Lights Renewal
Renewal of the Piccadilly Lights
The iconic Piccadilly Lights owned by Land Securities undertook the major upgrade in 2017.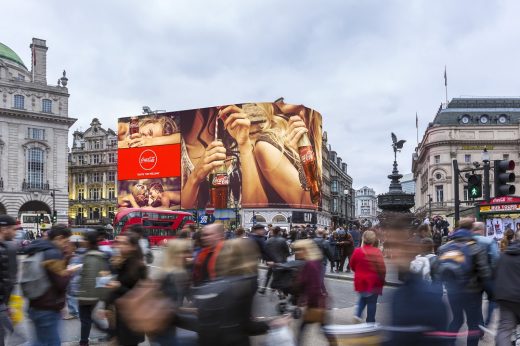 image courtesy Land Securities
e-architect editor Adrian Welch got a rare opportunity in 1996 to view the famous advertising elements from behind and from the top:
The existing screens will be replaced with Europe's largest single digital screen.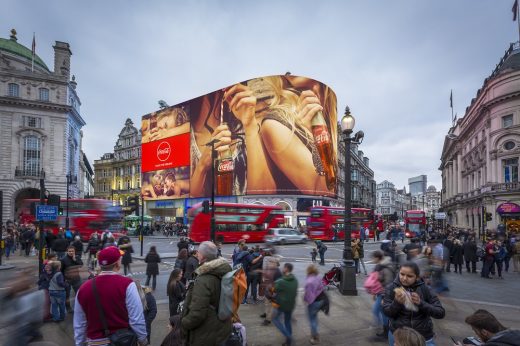 source: Piccadilly Lights Renewal
Piccadilly Lights London from the past: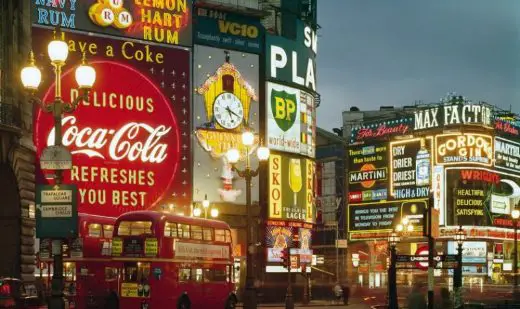 The signs originally used light bulbs which were later replace with neon lights. In 1998, digital projectors were first introduced and LED displays completely replaced neon by 2011.
Piccadilly Lights in London: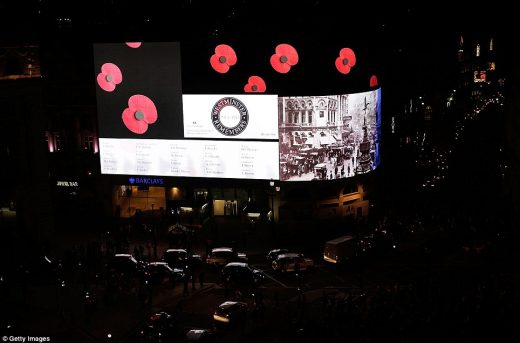 The first sign was for Perrier in 1908.
Piccadilly Lights Coca Cola sign: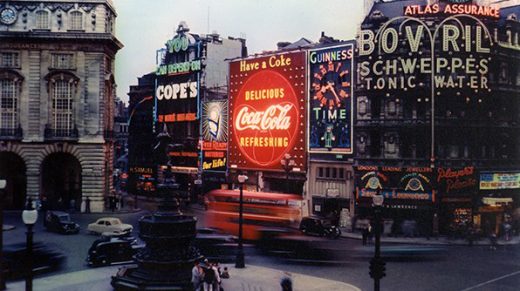 Location: Piccadilly Circus, London, England, UK
London Building Designs
Contemporary London Architecture Designs
London Architecture Designs – chronological list
London Architecture Walking Tours – tailored UK capital city walks by e-architect
Piccadilly Circus L Building Development Proposal
Design: Fletcher Priest, architects
Piccadilly Circus London Building
Piccadilly Building Art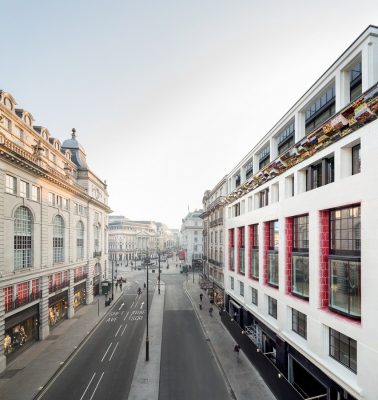 photo : Dirk Lindner
Piccadilly Building
Design: Squire and Partners
Piccadilly Building
Key Public Spaces close by
London Architecture – Selection
Buildings / photos for the David Hockney at Piccadilly Circus, London page welcome