Oriel Moorfields Eye Hospital NHS Foundation Trust Building, London NHS Property News
Oriel Moorfields Eye Hospital Building Design
Camden Healthcare Development, London, UK design by AECOM / Penoyre & Prasad / White Arkitekter
1 Jul 2021
Oriel Building Moorfields Eye Hospital News
Design: Penoyre & Prasad ; White Arkitekter ; AECOM
Address: 162 City Rd, London EC1V 2PD
Moorfields/UCL Oriel gets go-ahead for AECOM-led Penoyre & Prasad design
Success at planning committee for new world-leading eye care, research and education centre designed by AECOM-led team, with Penoyre & Prasad as lead architect
External view along St Pancras Way looking north showing south entrance: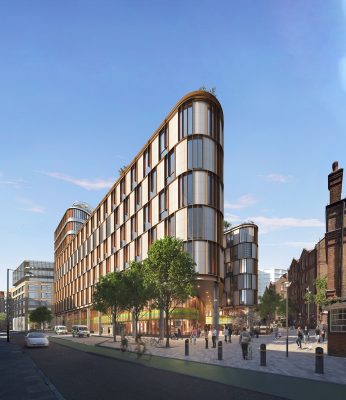 LONDON (1 July, 21) – Camden Council has made a resolution to grant planning permission for a new facility that will bring patient-centred eye care, cutting-edge research and exemplary education all under one roof in the heart of the Knowledge Quarter, an internationally renowned hub for science and innovation in London. An AECOM-led team, with Penoyre & Prasad as lead architects and White Arkitekter responsible for interiors and external landscape, is designing Oriel, which is a joint initiative between Moorfields Eye Hospital NHS Foundation Trust (Moorfields), UCL Institute of Ophthalmology (IoO) and Moorfields Eye Charity.
AECOM is leading the design team, acting as lead designer and also providing civil, structural and building services engineering, as well as sustainability and other specialist consultancy services. Award-winning architectural practice Penoyre & Prasad, a studio of Perkins&Will London, is the lead architect and White Arkitekter is responsible for designing all interiors and external landscapes. Under a separate contract, AECOM is providing project management services for Moorfields Eye Hospital and the UCL IoO to deliver the scheme.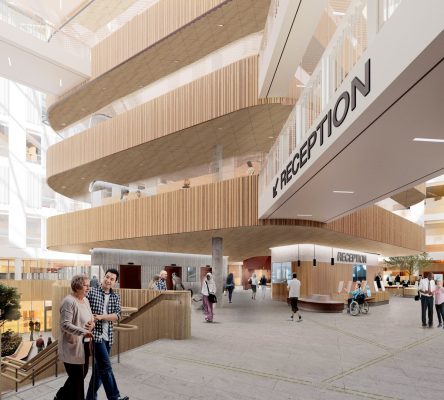 Following the planning committee last night and subject to approval by the Greater London Authority and conditions being met, Moorfields and the UCL IoO will be able to relocate from their current buildings on City Road, Islington, to the St Pancras Hospital site, in Camden.
This is a significant milestone for the project, which the partners have been working on together since 2013. Engagement on the new centre is ongoing, with a series of events taking place throughout the summer to involve staff, patients and partner organisations in the design of the building's interior.
Penoyre & Prasad's design reflects the collaborative nature of the Oriel partnership. At the heart of the building is an atrium – a new public room for the city and a place of integration between the multiple elements within the facility. Wrapping around this atrium are two enveloping wings containing all the departments that make up Oriel. Two entrances lead into the atrium, with finishes, landscaping and a glazed roof reinforcing a sense of connection to the outside world and the public realm.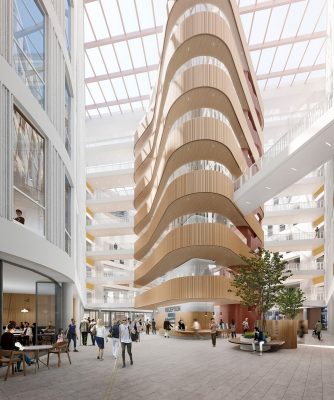 Rising up through the centre of the atrium is a tower-like structure containing the main public circulation and access to the different departments. Aptly named the oriel, this tower is the spatial embodiment of the partnership's mission. As discovery is accelerated by highly collaborative and convergent teams, these levels and bridges provide informal waiting, meeting, workspaces and incidental 'water cooler' moments between the multiple building users, as well as the building's central vertical circulation.
Designed as an 'adaptive building', Oriel is a flexible rig to accommodate a diverse range of activities that can flex and change over time. This approach is a critical element to designing future-proof research spaces, especially within the life sciences field.
The design of the building has been centred on the people who use and visit the building, aiming to create the best possible patient experience. This has meant addressing the needs of all those with visual impairment and other neurodiverse and physical needs. As such, it has been designed to ensure a truly inclusive and responsive environment appropriate for all Moorfields' patients, staff, and visitors. White Arkitekter has developed the interiors and the external landscapes. Colours and materials inspired by natural landscapes, well considered lighting, tempered acoustics and sensitive wayfinding will aim to promote and enhance the health and wellbeing of patients, staff, and visitors alike.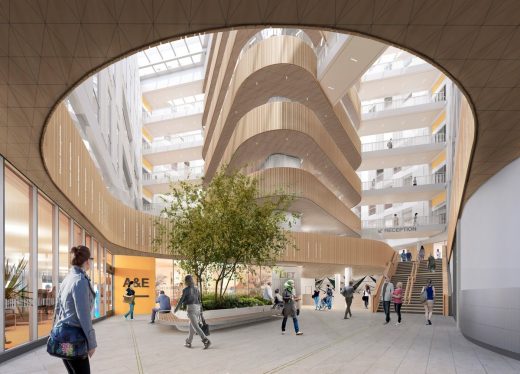 Dale Sinclair, Director of Innovation, AECOM, said: "Camden Council's resolution to grant planning approval is a significant step towards delivery for this world-leading facility that will help shape the future of eye care, research and education. With its environmental credentials, including the ability of the building to adapt in the future in response to its circular economy approach, Oriel has the potential to set a precedent that will help guide the development of many future buildings in London and beyond. The team has worked collaboratively to reach this important milestone, developing low carbon solutions for this state-of-the-art facility."
Rafael Marks, Penoyre & Prasad said: "This building is a radical way of combining treatment, research, education seamlessly under one roof and offers and adaptable blueprint of how we could be designing sustainable environments of healthcare and life sciences. We are excited by the Council's resolution to grant consent which will help the Oriel partnership to move closer to its mission of providing the world's best quality care for sight and speed-up discoveries for groundbreaking eye treatment."
Caroline Varnauskas, Lead Architect at White Arkitekter, said: "Oriel is set to transform how we provide the best levels of care for patients in the UK by strengthening collaboration between healthcare and academia. Drawing on White's significant research into healing environments, light and materiality, our evidence-based design supports recovery, while shaping a high-performance workplace for staff. From the beautiful atrium that welcomes all and the abundantly landscaped roof terrace that offers staff sweeping views across London, to the detailing, wayfinding and interiors that enhance the human experience – this is a place that has been designed with care throughout."
Oriel is part of a wider masterplan for the five-acre St Pancras Hospital site with plans being brought forward separately by King's Cross Central Limited Partnership (KCCLP) for mixed-use development on the remaining three acres of land.
The Treasury, the Department for Health and Social Care and NHS England / NHS Improvement have given the proposals the green light, which means that detailed work on designing the new centre can build momentum.
Health Minister Edward Argar said: "The Oriel eye centre will enable London to deliver world-leading patient care and scientific research under the same roof, as part of the biggest hospital infrastructure programme in a generation to build back better. The grant of planning approval is an important next step, and I look forward to working with the trust deliver this centre.
"We are backing our NHS and will be building a total of 48 hospitals by 2030, backed by an initial £3.7 billion."
David Probert, chief executive of Moorfields Eye Hospital NHS Foundation Trust said: "This is truly a significant milestone for Oriel and the future of patient-centred eye care. The new eye health centre will be a world first and has been designed to accommodate the greatest integration between research and patient care."
"Collaboration is key to this project and we are looking forward to continuing to work closely with our staff, patients and partners so that we build a new centre that is not only fit-for-purpose, but a beacon of excellence for patient-focused eye care."
Professor Alan Thompson, Dean of the UCL Faculty of Brain Sciences, said: "World-class research, innovation and education merit a first-rate facility. Our new location in the heart of Camden's Knowledge Quarter will maximise opportunities for collaborative working and bring us closer to colleagues in other UCL schools and faculties."
"With common eye conditions expected to rise rapidly over the next 15 years, we need to plan for the future. Oriel promises to deliver a more collaborative working environment that will support our translational 'bench to bedside' research through the co-development of research and early involvement of clinicians and patients."
Robert Dufton, Chief Executive at Moorfields Eye Charity, said: "It is an extremely exciting time for the partners in developing this new centre which will enable world-leading clinical care, research and education in eye health. Philanthropy is key to helping us make this global centre for advancing eye health a reality.
"We are delighted with the support we've received to date from donors and look forward to new and continuing conversations with others interested in helping us realising our vision."
Oriel Building Moorfields Eye Hospital Design Team
AECOM is the world's trusted infrastructure consulting firm, delivering professional services throughout the project lifecycle – from planning, design and engineering to program and construction management. On projects spanning transportation, buildings, water, new energy and the environment, our public- and private-sector clients trust us to solve their most complex challenges. Our teams are driven by a common purpose to deliver a better world through our unrivaled technical expertise and innovation, a culture of equity, diversity and inclusion, and a commitment to environmental, social and governance priorities. AECOM is a Fortune 500 firm and its Professional Services business had revenue of $13.2 billion in fiscal year 2020. See how we are delivering sustainable legacies for generations to come at aecom.com and @AECOM.
Penoyre & Prasad is a design-led practice with over 30 years of experience across many sectors. Their distinctive design approach is a direct response to the aims and ambitions of their clients and building users, resulting in functional, sustainable and award-winning buildings. In 2019, Penoyre & Prasad became part of global architecture and design firm Perkins and Will.
White Arkitekter is one of Scandinavia's leading architectural practices, working with sustainable architecture, urban design, landscape architecture and interior design in an international context for current and future generations. The practice was founded in Göteborg by Sidney White with the aim to improve society through architecture. His legacy lives on in White's ambition to contribute towards a more sustainable world. White Arkitekter's mission is to enable sustainable life through the art of architecture with a vision that by 2030 all its architecture will be climate neutral, through design excellence.
Responsibility, curiosity, involvement, and respect are core values that imbue everything the practice does.
whitearkitekter.com
Oriel is a joint initiative between Moorfields Eye Hospital, UCL and Moorfields Eye Charity to design, build and operate a new, integrated centre of excellence for eye care, research and education.
Our vision for Oriel is to create an environment for innovation to flourish, inspiring improvements in people's sight. The new centre will be flexible and modern, enabling Moorfields and UCL to bring together healthcare, eye research and education for the first time.
The new centre would be nearby other important health and research institutes such as UCLH, Great Ormond Street Hospital, the Wellcome Trust and the Francis Crick Institute, making Oriel part of an emerging scientific hub.
In December 2018 Moorfields secured nearly £20 million of funding under the Department of Health and Social Care's major investment in the long-term future of the NHS. Research England's UK Research Partnership Investment Fund (UKRPIF) also awarded UCL £30m funding for Oriel in July 2019 as part of an announcement of £221 million for research facilities across the country.
Moorfields Eye Hospital NHS Foundation Trust is one of the leading providers of eye health services in the UK and a world class centre of excellence for ophthalmic research and education. Our main focus is the treatment and care of NHS patients with a wide range of eye problems, from common complaints to rare conditions that require treatment not available elsewhere in the UK. Our unique patient case-mix and the number of people we treat mean that our clinicians have expertise in discrete ophthalmic sub-specialties.
We treat people at locations in and around London, the south east and Bedford, enabling us to provide expert treatment closer to patients' homes. We also operate commercial divisions that provide care to private patients in both London and the Middle East.
With our academic partners at the UCL Institute of Ophthalmology, Moorfields is recognised as a leading centre of excellence in eye and vision research. Together we form one of the largest ophthalmic research sites in the world, with the largest patient population in Europe or the USA. We publish more scientific papers than any other eye and vision research site and have an extensive joint research portfolio. To find out more go to: https://www.moorfields.nhs.uk/
The UCL Institute of Ophthalmology (UCL IoO) delivers cutting-edge ophthalmic research and education in partnership with Moorfields Eye Hospital. UCL is ranked 8th in the QS 2020 World University Rankings and rated as the top UK University by research strength. Part of the Faculty of Brain Sciences, UCL IoO attracts researchers and academics of the highest international calibre. The institute works with education institutions and hospitals around the world to help raise teaching standards and train the next generation of eye and vision health experts. For further information go to: https://www.ucl.ac.uk/ioo/
Moorfields Eye Charity supports the work of Moorfields Eye Hospital and its research partner, the UCL Institute of Ophthalmology, making a difference for patients at the hospital and for people with sight problems around the world. It provides grants and raises money to help the hospital provide the best possible care for its patients, educate the researchers and clinicians of tomorrow and support cutting-edge research that aims to develop new treatments for blinding diseases. Philanthropy will be critical to the realisation of these ambitious plans and we're pleased with the level of interest so far. To find out more go to: www.moorfieldseyecharity.org.uk
Oriel Building at Moorfields Eye Hospital – Building Information
Design team:
Client: Oriel
Architect: Penoyre & Prasad
Sub Consultant: AECOM
Interior &Landscape Architect: White Arkitekter
Key dates:
Project won:January 2019
Planning submitted: August 2020
Planning achieved: June 2021
Start on site: September 2022
Completion due: 2026
Address: 162 City Rd, London EC1V 2PD
Phone: 020 7253 3411
Previously on e-architect:
9 Jan 2019
Project Oriel Building – Moorfields Eye Hospital Competition
Design: Penoyre & Prasad ; White Arkitekter ; AECOM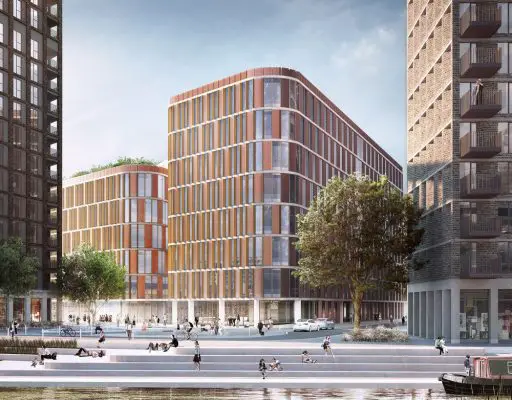 image : AECOM / Penoyre & Prasad / White Arkitekter
Oriel Building Moorfields Eye Hospital Competition
Penoyre Prasad / White Arkitekter / AECOM Architects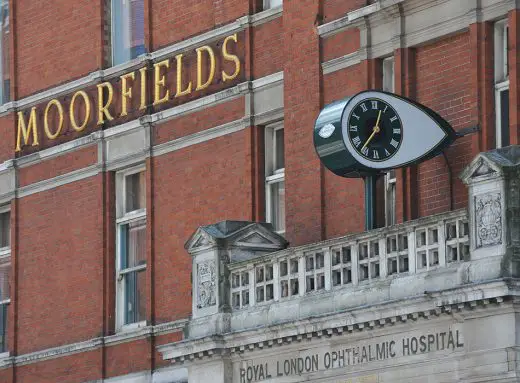 image courtesy of RIBA
Moorfields Eye Hospital
Richard Desmond Children's Eye Centre, Moorfields Eye Hospital
Design: Penoyre Prasad Architects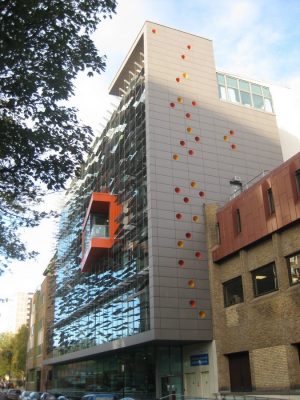 photo © Adrian Welch
Moorfields Eye Hospital Richard Desmond Children's Eye Centre – architect : Penoyre Prasad
Moorfields Eye Hospital London
Location: St Pancras Way, London, UK
Architecture in London
Contemporary Architecture in London
London Architecture Links – chronological list
London Architecture Walking Tours by e-architect
North London Hospitals
North London Hospital Buildings
Great Ormond Street Hospital for Children – Children's Medical Centre
Design: Llewelyn Davies Yeang
Great Ormond Street Hospital Building
University College London Hospital – EGA Wing
Design: Llewelyn Davies
University College London Hospital
Comments / photos for the Oriel Moorfields Eye Hospital Building page welcome