City of London post-COVID design competition 2021, Phil Freelon Contest News
City of London post-COVID design competition Winners
8 Jun 2021
Perkins&Will's global studios join forces to reimagine the City of London post-COVID in concept design competition
Design concepts for three prominent sites in the City of London, including one in the Barbican earmarked for development, emphasize social equity and sustainability.
Creative visions are part of the firm's annual international Phil Freelon Design Competition, which encourages innovative placemaking through a "Living Design" framework.
City of London post-COVID concept design competition Winners
Architects and designers from multiple Perkins&Will studios worldwide have designed bold visions for transforming parts of the City of London into healthier, more sustainable, and inclusive places for a design concept competition. These visions, prompted by the firm's annual Phil Freelon Design Competition, carefully evaluated by a high-profile panel of external jurors.
The Phil Freelon Design Competition honours the eponymous late architect and Perkins&Will design director who championed design for humanity. Launched firmwide in 2004 as the Design Leadership Council (DLC) Design Competition and renamed in 2019 in Freelon's memory, the annual contest is part of the firm's culture of curiosity, creativity, and innovation.
For this year's competition, international design teams were tasked with reimagining one of three existing sites within the City boundary, each with a design scale—urban, building or interior. The urban scale focused on the Culture Mile, a destination within the City stretching from Farringdon to Moorgate that inspires visitors to experience the City's architecture, arts, and culture. The building scale involved an architectural challenge on a plot between Gresham Street and the historic Guildhall. The interior scale called for retrofitting an unused part of the Barbican, which supports the City and its inhabitants.
Competition organisers selected the City of London for its resilience, having survived humanmade and natural disasters for over 2,000 years. In a society permanently altered by the COVID-19 pandemic and corollary social crises, the competition's challenge this year was to conceive a design solution that supports holistic well-being and enhances the quality of life for everyone—part of Perkins&Will's Living Design framework.
The winning visions
The urban scale submission entitled "MUDLARKING: Restoring Riparian Corridors to The City" won the competition.
MUDLARKING: Restoring Riparian Corridors to The City: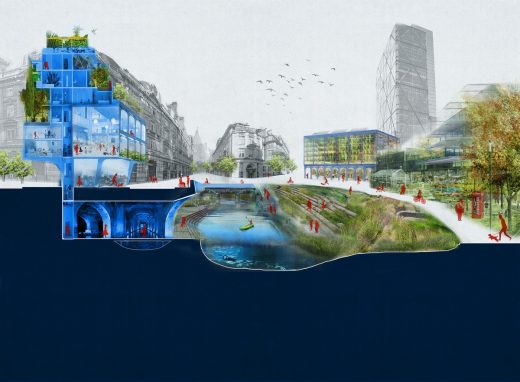 This vision focuses on reviving ancient waterway systems to create resilient urban environments and diverse living systems within London's Square Mile. MUDLARKING proposes the use of river daylighting interventions to replenish the Square Mile by restoring key segments of historic London rivers, including The Riverwalbrook and Fleet. This, the design team says, would allow regenerative ecosystems to form and flourish.
The building scale submission entitled "Lanterns of Hope" and the interior scale submission entitled "Convivo" placed second and third place, respectively.
Lanterns of Hope: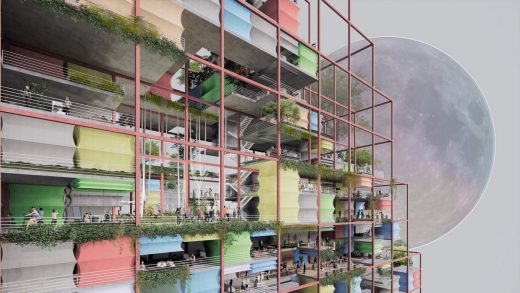 Lanterns of Hope creates a new mix-use development that adds a sense of playfulness to London's commercial district. The building's form is inspired by lantern-like cubicles, which are customisable to varying social, economic, and environmental needs of the community. The busy bee-hive atmosphere of the building promotes sharing, humane qualities, and compassion among people. It's a place to meet, organise, and socialise, all while committing to social distancing and hygiene.
Convivo: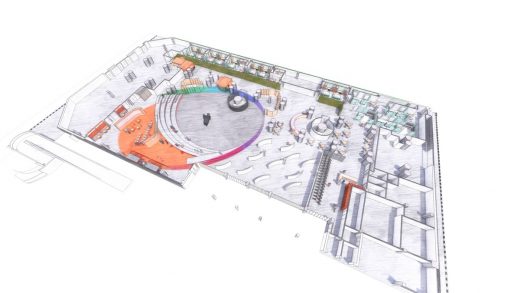 Convivo focuses on the interior scale challenge located within the Barbican. The concept brings people from all walks of life together, encouraging interactions by providing a space for exchanging knowledge, compassion, and company. It provides "live, grow and nourish" spaces and a mix of residential, retail, social, educational, laboratory, and activity areas.
PLAYWITHYOURFOOD: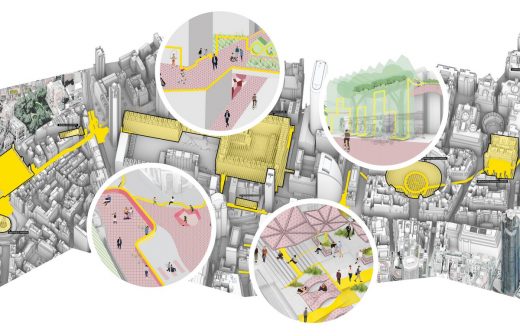 WelcometotheBothy's: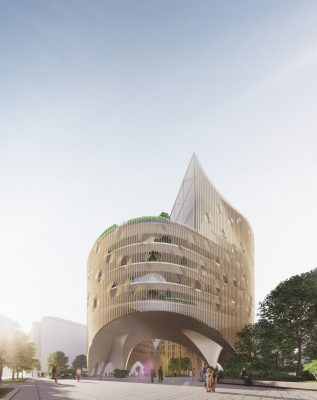 A panel of London-based industry experts served as jurors for the competition, assessing entries based on how well they espoused the principles of Living Design, one of Perkins&Will's core values—and one that the late architect Phil Freelon had championed in his own right. Living Design emphasizes a comprehensive approach to sustainability, resilience, regeneration, inclusion, and well-being.
City of London post-COVID design competition Jury Panel
• Ola Obardara, Director Property Projects Group, City of London Corporation
• Jeremy Melvin, design critic & journalist
• Amanda Levete, founder and principal of AL_A
• Jeremy Myerson, Helen Hamlin professor of design, Royal College of Art
The annual Phil Freelon Design Competition is a unique opportunity for Perkins&Will designers across different disciplines, practices, cultures, and geographies to unleash their creativity in response to a singular design challenge. It is also open to designers from Perkins&Will's subsidiary companies and sister firms, and offers a cash prize to the winners
All design visions to transform the City of London can be viewed on this dedicated website: The 2021 Phil Freelon Design Competition
City of London post-COVID design competition Juror Comments
Jeremy Melvin, design critic & journalist, commented: "It was a pleasure to be part of the judging jury and I thought each submission had a unique and creative take on the briefs provided. As a historian, the most interesting projects addressed the most fundamental issues impacting the City of London's future, including sustainable growth, while equally respecting its rich past."
Amanda Levete, founder and principal of AL_A, said: "It is fantastic to see so many interesting concepts and designs that respond to the need to reinvigorate our cities in a post-Covid world. The successful submissions had a common thread of giving back to the City of London's natural environment and community in new and exciting ways. MUDLARKING stood out through its clever design, not by adding to the cityscape but, by exposing existing, natural waterways which completely reset the atmosphere of this part of London."
Jeremy Myerson, Helen Hamlin professor of design, Royal College of Art, commented: "This competition is a great vehicle to create new visions for The City of London. There were some very special entries that not only brought interesting architectural and design elements but also really took into account how communities can thrive well into a more sustainable and equitable future."
Comments from the winning teams:
MUDLARKING: Restoring Riparian Corridors to The City – Douglas Bergert, Vanessa Eickhoff, Jeremiah Collatz, and Anna Greene:
"Our proposal offers an environmentally resilient design solution for the City of London that daylights and restores segments of the original river system. We envision a future of rich, bio-diverse, and regenerative spaces for people and natural habitats to thrive within the City."
Lanterns of Hope – Islam Magdy, Omar ElGarhy, Haguer Sami:
"Contemplating on the rich resilient history of London, we wanted to tackle the pandemic-caused destress with an optimistic approach to revive the heart of London.
Our lanterns were designed to act as a beacon of hope, a reminder that humanity will always find the silver lining and reclaim the social power to shape their future"
Convivo – Dan McNulty, Michelle Heath, Maria Lobit:
''Our hope for a post-COVID London is that it continues to be a place of vibrancy, innovation and inclusion while strengthening connections between people. Convivo creates a space for the exchange of knowledge and skills and ultimately company so that no one feels alone or disconnected.''
City of London post-COVID design competition images / information received 080621
London Design Competitions
2021 City Benches competition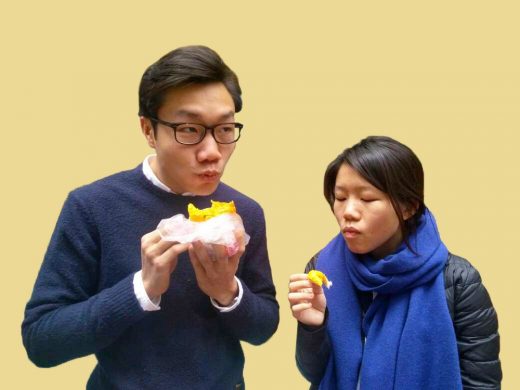 London 2021 City Benches competition
Royal Docks London Bench Design Competition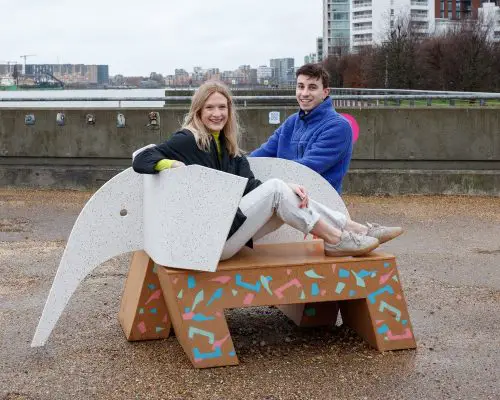 photo © Luke O'Donovan
'Pews and Perches' – Royal Docks London Bench Design Competition
Royal Docks London Contest
Design: Heatherwick Studio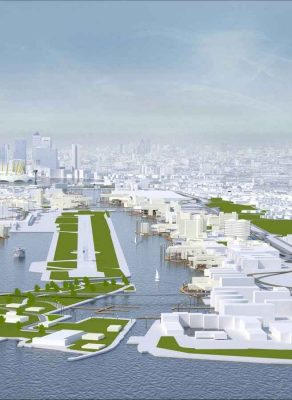 image from London Development Agency
Royal Docks London Design Competition – proposal by UK designers Heatherwick Studio
Location: London, England, UK
London Buildings
Contemporary London Architecture Designs
London Architecture Designs – chronological list
Houses of Parliament Restoration and Renewal  Programme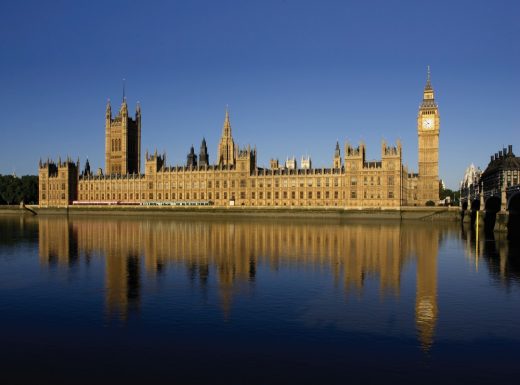 photograph © UK Parliament
Houses of Parliament Restoration and Renewal
One Portsoken Street London Office Building
West 5 Apartment, Notting Hill
London Architecture Tours – city walks by e-architect
Comments / photos for the City of London post-COVID design competition page welcome