Arup Engineers, Architects, Architecture, Studio, Global Engineering Projects, Designs, News
Arup, Engineers : Architecture + Engineering
Contemporary Buildings + Structures – News: Expansion in the Americas
post updated 20 August 2021
Arup News
Arup news updates on e-architect:
Global Firm Appoints Two Directors From Nottingham Office
Two members from Arup's Nottingham office have been appointed as directors of the global engineering firm, representing a huge achievement for the company's presence in the city.
Steve Fernandez and Vicky Evans are just the second and third members of the Nottingham team to have both been promoted to one of the firm's highest positions, signifying their knowledge and expertise in their fields and future potential.
Steve Fernandez and Vicky Evans: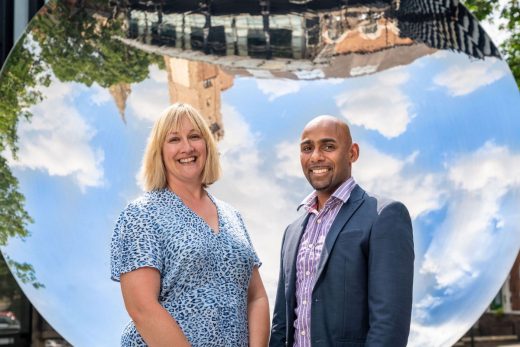 photo : Ian Hodgkinson / Picture It
Between them, the pair have worked on major local, national and international projects, including the shopping and food destination Coal Drops Yard in King's Cross, the stunning St Pancras Chambers development in London, the Defence and National Rehabilitation Centre near Loughborough, and the Government's £3.6 billion Towns Fund.
Neil Harrison, associate director at Arup, said: "We are absolutely delighted that both Steve and Vicky have been promoted to director– a huge boost for us in the region and indicative of the hard work and expertise they put into the business.
"The interview process for the role is extremely rigorous, and for the Nottingham office to have two directors appointed is a huge achievement. We're very proud of the work we do from Nottingham – we've been here for 30 years, we've got more than 100 staff based in the city centre and we are highly committed to the city."
Steve joined Arup as a graduate in 1999, working in Sheffield, London, Doha and Moscow and is now based in the Nottingham office. He is recognised internationally as an expert in his fields, leading the firm's civil and structural engineering team across the Midlands, and is the building retrofit leader across the UK, Middle East, Africa and India.
He is also passionate about educating the next generation of engineers, acting as a STEM ambassador, and has been recognised as an 'inspirational UK BAME innovator in science and technology' by UKBlackTech and Goldman Sachs.
He has designed and delivered a variety of iconic buildings and structures, ranging from a new school in Loughborough, the transformation of the listed Newton and Arkwright buildings at Nottingham Trent University, a 60,000-seat football stadium in the Middle East, a state-of-the-art research and university campus in Moscow, and a timber pavilion inspired by school children which was on display in Old Market Square in Nottingham.
Steve Fernandez, from Arup's Nottingham office, who has been appointed a director of the global engineering firm: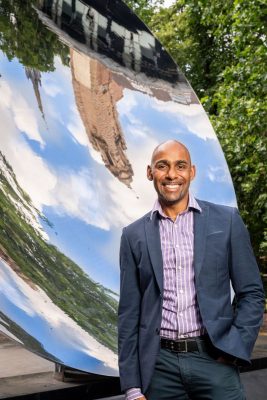 photo : Ian Hodgkinson / Picture It
Steve said: "It is a huge honour to be appointed as a director of Arup. Having worked in the Nottingham office for many years now, I'm relishing the new opportunity and helping the industry and our clients following the challenges of the last year. I am a designer at heart – I love design and working with clients to develop an idea and then seeing our work come to fruition is a great pleasure of the job."
Vicky Evans, from Arup's Nottingham office: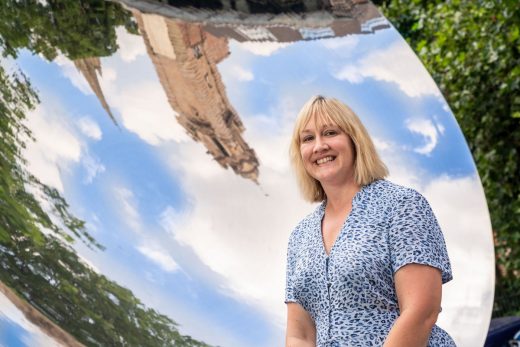 photo : Ian Hodgkinson / Picture It
Chartered town planner Vicky joined Arup in London in March 2006 and since then has also worked for the company in South Africa, Dubai and the Seychelles. Having studied geography at the University of Nottingham, Vicky said she has always had a strong connection to the area and decided to move back to the city in 2015.
A specialist in housing, strategy, policy and economic development, Vicky works across all aspects of the built environment at a regional and national level. She also leads the residential business for Arup across the UK, Middle East, India and Africa.
"My work has become increasingly strategic, meaning that I've been able to influence decision-making at the very early stages of a project, which is really exciting," said Vicky. "I've been doing a lot of planning and strategy work in the East Midlands – which is indicative of our region really putting itself on the map."
As well as her work on the groundbreaking Defence and National Rehabilitation Centre at Stanford Hall, Vicky has been working with the government on the Towns Fund, which is investing billions in UK towns as part of the levelling up agenda. She oversaw the development of 26 town investment plans in the Midlands and East region.
She was also involved in the establishment of the East Midlands Development Corporation, set up to create new employment and housing opportunities across three key sites at Toton, Ratcliffe-on-Soar and East Midlands Airport.
Vicky said she had enjoyed the 'robust and challenging' interview process which led to her promotion to director, which she said was 'a real honour'.
"It shows great confidence in me and my leadership capabilities but also indicates that Nottingham and the East Midlands is an area for growth for Arup," she said. "Our office has grown in size in the past five to ten years – testament to the draw of Nottingham as a place to live and work.
"I'm looking forward to continuing to help clients solve their most complex challenges here – turning exciting ideas into tangible reality. Net zero, levelling up and improving infrastructure are all challenges we need sustainable, socially valuable and equitable solutions to, which are specific to the region."
For more information on Arup, visit arup.com/offices/united-kingdom/nottingham
14 Nov 2017
Oman Botanic Garden Design, foothills of the Al Hajar Mountains, Seeb, Oman
Design: Arup, Grimshaw and Haley Sharpe Design (hsd)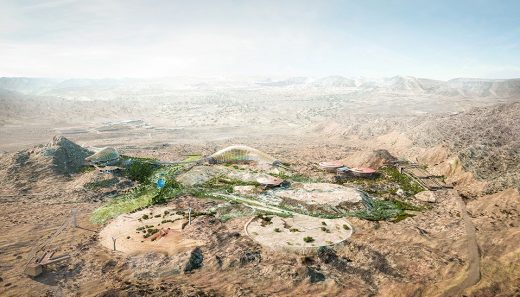 picture ©Arup/Grimshaw
Oman Botanic Garden Buildings
The breathtaking Oman Botanic Garden will be revealed to the world today by Arup, Grimshaw and Haley Sharpe Design (hsd), who have collaboratively delivered the engineering, landscaping, architecture and interpretative designs. Covering over 420 hectares, Oman Botanic Garden will be the largest within the Arabian Peninsula and in the world.
4 Sep 2017
Arup's Jo da Silva wins The Institution of Structural Engineers' 2017 Gold Medal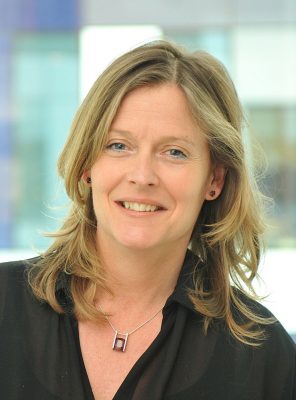 picture courtesy of Institution of Structural Engineers
The Institution of Structural Engineers' 2017 Gold Medal
Jo da Silva, Director of Arup's International Development Group and Arup Fellow, has been awarded The Institution of Structural Engineers' 2017 Gold Medal. The Medal recognises the outstanding leadership she has provided as both a structural and humanitarian engineer, and for her distinguished and cross-sectoral work on urban resilience.
Among her many achievements, Jo co-ordinated the efforts of over 100 humanitarian agencies to provide transitional shelter in Sri Lanka following the Indian Ocean Tsunami in 2005, constructing 60,000 shelters in six months.
28 Aug 2017
Masterplan for Jurong Lake District, Singapore
Design: KCAP Architects&Planners ; SAA Architects ; Arup ; S333 & Lekker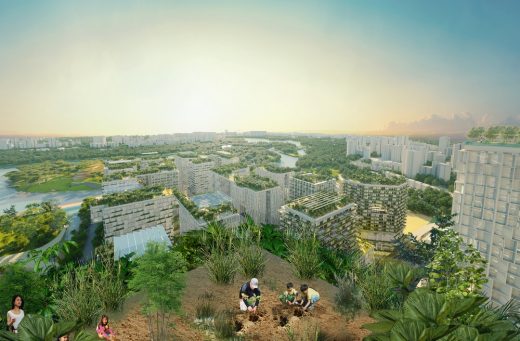 picture © KCAP/SAA/Arup/S333/Lekker
Jurong Lake District Singapore Development
The Singapore Urban Redevelopment Authority unveils the masterplan for Jurong Lake District in Singapore, the city's future second Central Business District. The JLD masterplan is exhibited till mid-September and invites the public to share their views.
11 Jul 2017
Centre for Music in London Competition Engineers Shortlist, London, England, UK
We are pleased to announce the shortlisted firms for both the Civil and Structural Engineer contract and the Building Services Engineer contract, these are:
Civil and Structural Engineer
– AECOM
– AKT
– Arup
– BuroHappold Engineering
– Ramboll
– WSP UK LTD
Building Services Engineer
– AECOM
– Arup
– BuroHappold Engineering
– Hoare Lea
– Max Fordham
– WSP UK LTD
Centre for Music in London Competition Engineers News
7 Jun 2017
Northern Arc – Hyperloop One Global Challenge, UK
Design: Ryder Architecture / Arup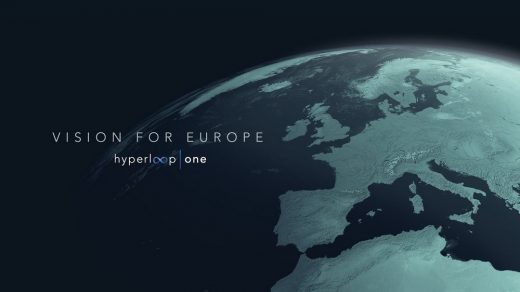 image courtesy of architects
Hyperloop One Global Challenge: Northern Arc
The Northern Arc proposal was revealed as one of nine shortlisted routes spanning the continent as part of Hyperloop One's global challenge, at it's Vision for Europe summit held at in Amsterdam.
24 Apr 2017
Arup Balances Aesthetics and Engineering in New Arts Venue: The Chrysalis
Location: Merriweather Park, Symphony Woods, Columbia, MD, USA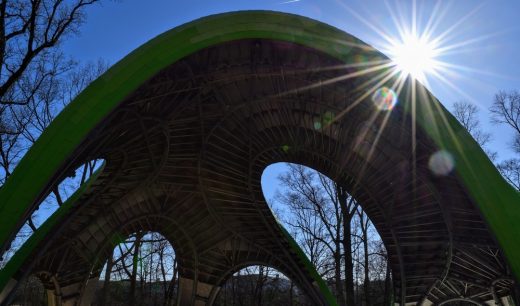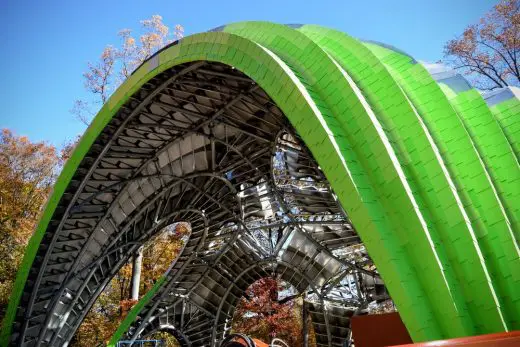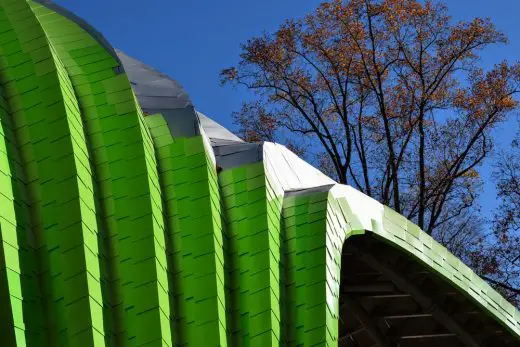 Defined by a series of asymmetric arches, the open-air pavilion offered the firm a unique opportunity to showcase its unparalleled range of specialized technical services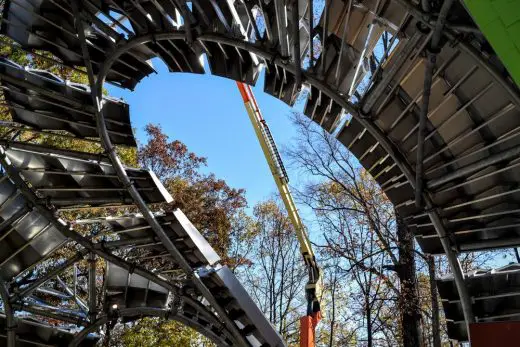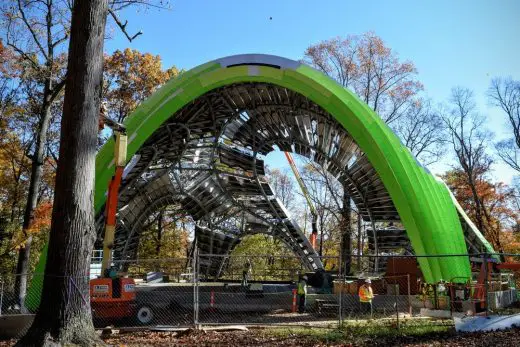 NEW YORK, NY, April 24, 2017 —Known for its work on major infrastructure projects and expansive developments, Arup, the global design and engineering firm for the built environment, has recently completed a project of a far different sort: an innovative gem of an outdoor performance venue located in Columbia, MD at Merriweather Park at Symphony Woods.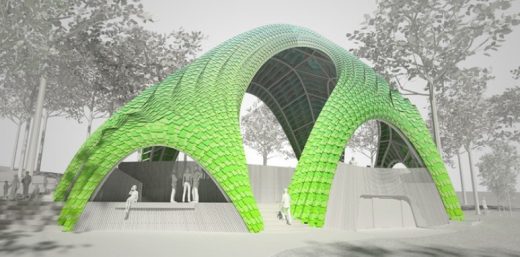 The 5,000 sq. ft. "Chrysalis" shelters a world-class stage beneath a steel and aluminum-shingled shell, forming a captivating collection of complex curves and arched openings to the forest beyond.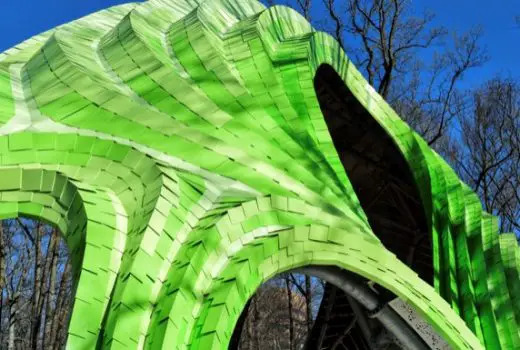 7 Apr 2017
Northeastern University Interdisciplinary Science & Engineering Complex, Boston, MA, USA
Arup Implements Comprehensive Energy Strategies at New Northeastern University Interdisciplinary Science Complex
Northeastern University Interdisciplinary Science & Engineering Complex (ISEC)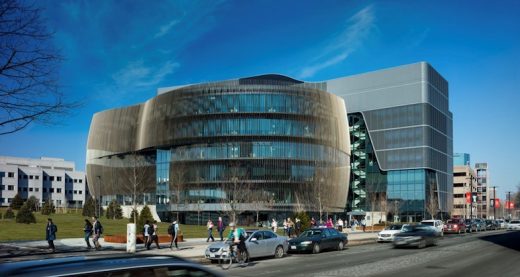 photograph © Warren Jagger
Using advanced computer modeling to integrate the design of the building systems and facade, Arup significantly reduced operational costs and improved energy efficiency, putting the project on the road to LEED Gold status—an exceptional achievement for a laboratory facility.
BOSTON, MA, April 7 —Arup, the global design and engineering firm for the built environment, celebrated the opening of the Interdisciplinary Science and Engineering Complex (ISEC) at Northeastern University in Boston. Arup was selected by the architecture firm Payette to provide mechanical, electrical, and plumbing engineering, as well as energy modeling, façade consulting, sustainability and lighting design services for the 234,000-square-foot project. The integrated design process has resulted in a high performance laboratory facility for Northeastern.
"We are extremely pleased to be a partner in such an extraordinary project at Northeastern University." said Julian Astbury, Arup project manager. "Sharing Arup's resources and expertise in sustainability and technology with the team made the experience a true collaborative process—a work of total design."
Ambitious energy goals, innovative solutions
"The facilities department at Northeastern wanted the most energy-efficient building possible," said Mark Walsh-Cooke, Arup principal in charge. By using advanced energy modeling software and building information modeling (BIM) early in the design process and holding biweekly workshop meetings with the architects and university representatives, Arup empowered the client to make better, more informed decisions about the design, enabling them to reach their sustainability goals.
The Massachusetts Stretch Energy Code calls for new buildings to perform 20% better than required by base code. The ISEC surpasses this requirement, achieving 33% energy-cost savings over code and 75% energy savings compared to typical laboratory performance. To accomplish this, Arup engineered several major energy conservation measures, among them:
• The cascade air system is the biggest contributor to energy savings at the ISEC. "This technology was new to the client and contractor, so our advanced energy modeling software studies were critical," said Astbury. In a typical scenario, laboratories have a dedicated HVAC system, an expensive feature to construct and operate. At the ISEC, the cascade system recovers conditioned air from the offices and atrium of the building, then transfers it to the lab, saving energy and reducing costs.
• Arup used performance and life-cycle analysis to optimize the façade design, ensuring both occupant comfort and energy efficiency. The northern part of the ISEC complex, which houses the energy intensive labs, is the focus of thermal improvements; at the southern exposure (where low-energy functions such as offices are located), triple-glazed windows and a shading system work to maximize daylight while minimizing energy consumption.
• Using active chilled beam technology significantly reduces the energy consumption compared to conventional air conditioning. In this system, supply air to the space is directed through nozzels on either side of a heat exchanger coil, creating a pressure difference. This pressure difference pulls air from the space over the coil, cooling or heating it, and then mixes with the supply air to be delivered to the space. Arup's comfort-modeling software balanced the downdraft and the ambient temperature to ensure a pleasant environment.
• Arup designed a hydronic run-around coil system to recovery energy from the lab exhaust air to pre-condition the outdoor air, targeting the heating as needed to either the offices or labs, and optimizing the efficiency of the system. The coils are designed to minimize the size of the fan motor and extract as much energy as practical before the exhaust is discharged.
• To optimize the efficiency of the chiller and heating system, Arup installed a heat-recovery chiller, which simultaneously generates heating hot water and chilled water. This reduces the run-time of the boilers for laboratory re-heat in the summer and shoulder seasons and for pre-heat of the domestic and laboratory hot water systems.
• The winter outdoor air heating demand to the atrium is reduced by using a passive solar collector to preheat the outdoor air using radiant energy from the sun.
The ISEC will be open to outside researchers in the interrelated fields of computer science, basic sciences, health sciences, and engineering. Attracting talent from beyond the campus raises the university's profile and diversifies the academic leadership and curriculum. The project benefits the surrounding community as well; a pedestrian bridge (currently in design by Arup's structural engineers in collaboration with Payette) spans the commuter-rail tracks to allow residents, workers, and students to easily and safely navigate their way through the site.
8 Feb 2017
Jurong Lake District Masterplan, Singapore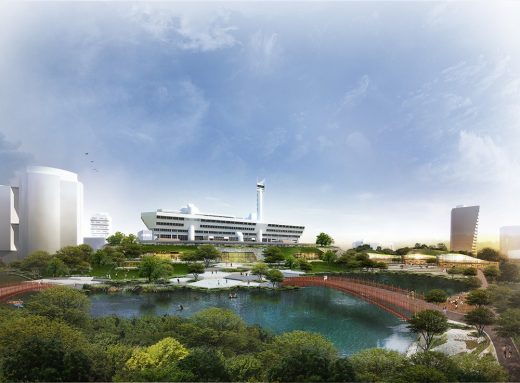 Jurong Lake District Masterplan
The ambition is to develop the area into a new mixed-use business precinct and home to the future HSR terminus, which will further anchor Jurong Lake District as 'a district of the future' and as Singapore's second Central Business District.
5 Jan 2017
Second Avenue Subway Stations in New York, NY, USA
Design: AECOM-Arup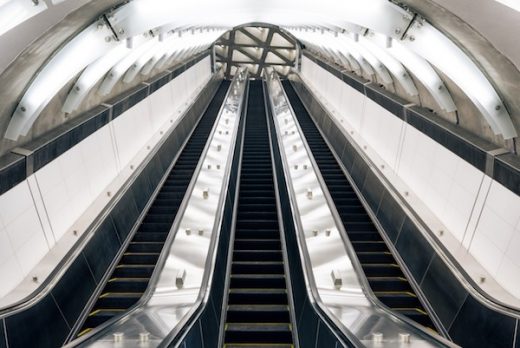 photo © Charles Aydlett courtesy AECOM-Arup JV
Second Avenue Subway Station Buildings
The first major expansion of New York City subway system in nearly a century, the 1.8 mile stretch of track runs between 63rd and 96th streets and consists of three new stations, plus one upgraded station.
4 Oct 2016
Global First: Arup Develops New Benchmark For Seismic Construction
In a Global First, 181 Fremont in San Francisco Awarded New Earthquake-Resilience Rating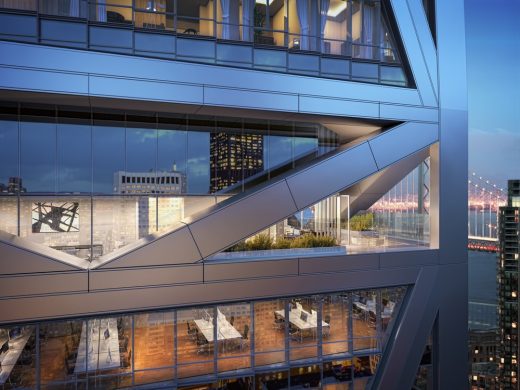 picture © 181 Fremont
Developed by Arup, the REDi™ resilience-based design guidelines establish a new benchmark for seismic construction–far exceeding current code criteria–that focuses on quick recovery and continued operations in the aftermath of an earthquake
22 Sep 2016
Arup Welcomes Felicia Cleper-Borkovi to its San Francisco Office
Renowned architect and healthcare-design specialist to focus on advancing the integration of operational effectiveness with design innovation for healing and working environments.
SAN FRANCISCO, CA—Arup, the global design and consulting firm for the built environment, is pleased to announce the addition of Felicia Cleper-Borkovi, AIA, to its San Francisco office. As a principal and expert medical planner, she will play a pivotal role in the firm's healthcare business, strengthening its ties with the healthcare community and advising owners, designers, and operators on synchronizing strategic operational improvements with innovative design.
"We are very excited to have Felicia on our team," said Bill Scrantom, Americas Region Healthcare Leader, Arup. "Her expertise and insight will enhance the advice and solutions we provide our healthcare clients to further target efficient, positive clinical and operational outcomes. Throughout her career, she has been a pioneer in redefining, de-institutionalizing, and modernizing medical facilities. Felicia's addition will benefit both our Owner and architect clients and is the obvious next step for our growing practice."
Cleper-Borkovi's award-winning healthcare projects innovatively integrate architecture, clinical planning, landscape, interior architecture, lighting, art, and environmental design. Her past projects include Li Ka Shing Foundation Cancer Hospital of Shantou University Medical College, Laguna Honda Replacement Hospital in San Francisco, Kaiser Permanente Santa Clara Medical Center, Meyer Children's Hospital in Florence, Italy, the New Acute Hospital for the SouthWest in Enniskillen, Northern Ireland and Norris Cancer Hospital and Research Institute at University of Southern California, Los Angeles.
Prior to joining Arup, she held leadership positions at Anshen+Allen in San Francisco and London and Aditazz. "Having previously collaborated with many of Arup's offices around the globe, I am thrilled to join the firm," said Cleper-Borkovi. "With its extraordinary resources and commitment to shaping a better world, I'm looking forward to strengthening our leadership in the healthcare sector." Felicia Cleper-Borkovi is an architect with specific expertise in medical planning and in orchestrating inter-disciplinary healthcare design teams. She has a Master of Architecture degree from Ion Mincu Academy of Architecture and Urbanism in Bucharest and post-graduate degrees from the Royal College of Art in London, Domus Academy in Milan, Stanford Graduate School of Business and Said Business School at Oxford.
Felicia discusses the relationship between creativity and design in Doggerel's Sound bites: Maintaining the creative spirit in design.
22 Jul 2016
Torre Reforma Mexico City Skyscraper
Design: L. Benjamin Romano Arquitects (LBRA) + Arup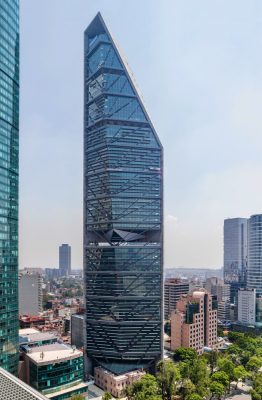 image © Torre Reforma
Torre Reforma Mexico City Skyscraper –
"Arup has been indispensable in helping to transform my architectural vision into an efficient and buildable structure," said Benjamin Romano, principal of LBRA. "They have provided innovative solutions to the complex seismic issues in Mexico City."
26 Apr 2016
New Lucerne Theater, Switzerland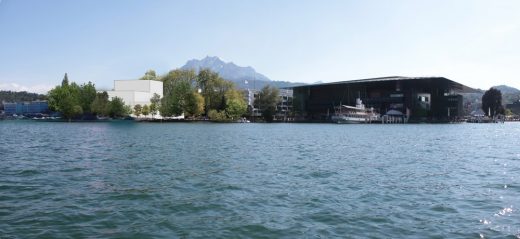 image from architect
New Lucerne Theater Building
Arup Study Sets the Stage for Innovative New Performing Arts Venue in European Cultural Hub
Interdisciplinary design and planning firm help project stakeholders define a facility that supports exploration and experimentation in the future of dramatic performances with music.
23 Apr 2016
Long Beach Civic Center Reaches Financial Close
Design: Arup with HOK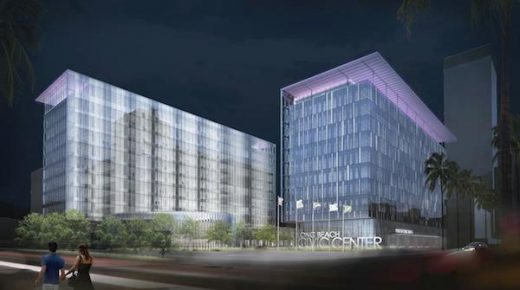 image from architect
Long Beach Civic Center Building
Arup was the City's Lead Advisor providing comprehensive services integrating financial, commercial, real estate, design, engineering, and cost consulting.
The City of Long Beach and Port of Long Beach has reached financial close for the USD$520 million Long Beach Civic Center Project.
9 Mar 2016
Engineering Innovator Arup Names New Director of Arup University
Mahadev Raman to lead Arup's global research, learning, and knowledge-sharing program
NEW YORK, March 9, 2016 — Arup, a leader in interdisciplinary engineering, consulting, and design services, has named Mahadev Raman as Director of Arup University, the firm's program to foster innovation, research, learning, and knowledge among its 13,000 staff members. Following his term as Chairman of the Americas Region, Raman brings his distinctive experience and perspective to the position.
"Arup University is an important part of our strategy. With his background in engineering design, expertise, and vision, Mahadev, who cares passionately about our professional skills and the quality of work we offer our clients, will make it even better," said Gregory Hodkinson, Arup Group Chairman.
Raman, whose career at Arup began in 1978, is a Principal, a member of the Arup Group Board, and Sustainability Director. He has provided engineering design leadership for multidisciplinary teams on a wide variety of projects worldwide and has been named an Arup Fellow, an honorary title awarded to exceptional members of the firm who are considered role models with world-class vision and initiative. Raman is also a member of the Advisory Board for the Architectural Engineering Program at Worcester Polytechnic Institute and a Visiting Lecturer in mechanical engineering at Princeton University.
In his 1970 Key Speech, firm founder Ove Arup said, "It is up to us to create an organization which will allow gifted individuals to unfold." Forty-six years after that statement was made, Arup University is a realization of that principle. Because the firm is owned in trust, with its employees as beneficiaries, the innovation generated by Arup University advances not only its team members, but its clientele and related industries, as well.
The mission of Arup University is to empower Arup's people by supporting the firm's goals – enabling greater design skills, creating better leaders, and fostering innovation. The firm has dedicated significant people, technical, and financial resources to achieve these goals.
In addition to sponsoring research and foresight studies, Arup University offers online educational modules, structured workshops, and partnerships with more than 150 schools and colleges. True to the firm's culture, employees of every level of expertise are encouraged to engage in the program, furthering the company's investment in its people—and in turn, delivering exceptional value to its clients.
"At Arup University, our work is balanced between the now, the new, and the next," said Raman. "I am excited and honored to lead the program, which continues Arup's commitment to shaping a better world."
24 Feb 2016
Engineering Innovator Arup Names New Global Aviation Leader
With decades of experience, Susan Baer will lead strategic planning and master planning for some of the biggest aviation projects in the world.
Arup, a leader in interdisciplinary engineering, consulting, and design services, has announced Susan Baer has been named Global Aviation Business Leader. With a comprehensive knowledge of the field—and its future—she brings an exceptional set of qualifications to the role. Baer's predecessor, Peter Budd, is retiring, and will continue to support the aviation team in an advisory capacity.
"The aviation team at Arup is without equal, led by exceptional professionals in the regions where expert aviation teams plan, design, and commission the best airports in the world," said Baer. "I look forward to continuing the vision for global aviation established by Peter Budd, whose leadership, business acumen, and client understanding were unparalleled."
Baer joined Arup in 2013, heading up its aviation business in the Americas region and directing global aviation planning. Through her superior negotiation and communication skills, she ensures that collaborations between planners, engineers, airport operators, and airlines are focused on the successful delivery of projects in the best interests of all stakeholders.
In her new position, Baer will capitalize on one of Arup's key resources: its ability to mobilize its experts around the world. The firm is a local as well as a global presence, bringing people together in various locations throughout the world to produce universally beneficial work. Baer will harness the firm's pockets of different capabilities worldwide, and then strategically deploy Arup's collective expertise in pursuit of shaping a better world. Arup's aviation projects currently under development include some of the biggest new airport projects ever undertaken, such as the Abu Dhabi International Airport, Heathrow Terminal 2, Hong Kong International Midfield Concourse, Perth Airport, and Taoyuan Terminal 3 (Taiwan).
Previously, Baer spent 37 years with the Port Authority of New York and New Jersey, where as Director of Aviation she oversaw the safe, efficient, and profitable operation of the busiest airport system in the U.S. There, her diverse achievements ranged from managing a $2.3 billion operating budget to negotiating airport-based retail developments to implementing a model customer service program. Baer was the first person in the agency's 92-year history to manage each of its major airports: JFK International, LaGuardia, Newark Liberty International, and Teterboro.
Such unmatched credentials provide Baer with a keen command of all aspects of the aviation business. She is leveraging this experience to bring a new perspective to Arup's well-established aviation competencies, including planning, security, IT, operations planning, strategic and business services, acoustics, operations readiness and training, transaction advice, and more. In a series of short videos posted to Arup's online magazine, Doggerel, Baer shares her thoughts on the state of airport design today and in the future.
"From airports to airlines and private customers, fulfilling the needs of our diverse clients is the most exciting part of this role," said Baer. "It is my goal as Global Aviation Business Leader to make sure that Arup's vast global skills and capabilities continue to evolve to meet the needs of this dynamic, ever-changing industry."
About Arup
The preeminent provider of interdisciplinary engineering, consulting, and design services, Arup drives the world's most prominent projects, from city-building to iconic architecture. The firm opened its first US office over 30 years ago, and now employs 1,300 people in the Americas. Since its founding in 1946, Arup has pioneered groundbreaking strategies, technical excellence, and social purpose. As a responsive and respectful business partner, Arup honorably serves its clients and shapes a better world. For additional information, visit Arup's website at www.arup.com and the online magazine of Arup in the Americas at doggerel.arup.com.
13 + 12 Jan 2016
Engineering Powerhouse Arup Names New Leadership as Firm Expands in the Americas
Andy Howard named Chairman and Leo Argiris named Chief Operating Officer
Renowned for its engineering acumen, Arup is addressing today's most complex challenges—city building, transportation/mobility, resiliency, and energy—by broadening its project and program management, planning, and advisory services
LOS ANGELES — Arup, a global leader in multidisciplinary engineering, consulting, and design, announced today that Andy Howard has been appointed Chairman of the Americas Region and Leo Argiris has been named Chief Operating Officer of the Americas Region. Their appointments reflect the firm's forward thinking and its capacity to embrace change: Arup routinely rotates its leadership to bring fresh perspectives to the firm's growth and development in the Americas and worldwide. Outgoing Chairman of the Americas Region, Mahadev Raman, has been named Director of Arup University, the firm's forum for keeping skills at the cutting-edge, overseeing the firm's research, professional-development, knowledge and foresight activities.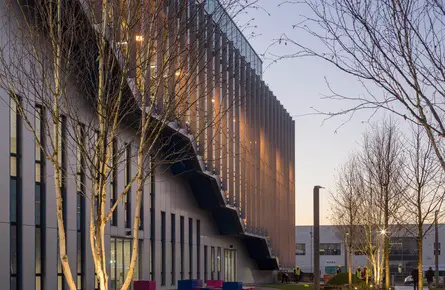 photograph courtesy Arup Associates
Gregory Hodkinson, Arup Group Chairman, said, "Arup's strategy is to do the best quality work for our clients across all specialties to achieve a positive impact on our world. Andy Howard and Leo Argiris have the right skills to advance this mission in the Americas, a region that offers incredible opportunities and where the firm has worked on some of the most complex and progressive projects for some of the most demanding clients."
The new management team aims to bring the world's best ideas and advice to clients in the Americas. By leveraging digital technologies to provide clients with efficient and inventive solutions, Howard will both drive the vision for the firm's future and serve as a steward of Arup's legacy. "Because our firm is owned in trust, with its employees as beneficiaries, we have the opportunity to invest heavily in innovation for the benefit of our clients and industry. This is a powerful motivator for me and the entire Arup team to continue to develop transformative ways of working," said Howard. Arup's clients also benefit from the company's high rate of employee retention, which ensures sustained, focused research.
As Howard and Argiris lead Arup into the future in the Americas, prospects are exciting on a number of fronts. For FYE 2016, revenues for Arup in the Americas will exceed $350 million (the firm's global revenue is $2 billion), and the group is anticipating double-digit growth annually for the next five years. "For Arup, growth is not a target, but an enabler that allows us to provide the best services to our clients and interesting opportunities for our staff," said Argiris.
BSkyB Believe in Better Building design by Arup Associates, Architects: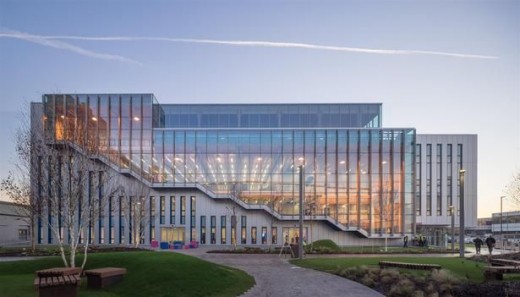 photo : Simon Kennedy
Arup in the Americas
Going Forward: Arup in the Americas
Looking ahead, Howard believes that Arup is ideally positioned to capitalize on the tremendous potential offered by harnessing automation in new ways to facilitate the design process. Arup's ability to compile and quickly analyze information on ever-larger scales is transforming the management of complex projects and development of creative solutions. In city-building, for instance, Arup synthesizes and manipulates data on resiliency, traffic congestion, pollution, and energy usage with great speed and accuracy to produce smart, real-time models that yield results of much greater impact and efficiency than traditional linear-style design. Areas specifically targeted by Howard that can benefit from this advanced approach include transportation networks and infrastructure projects.
Howard views technology as a driver for positive change within the AEC community and will work to solidify Arup's position as a strategic leader in this rapidly evolving scene. "At Arup, we're looking at expanding our capabilities," said Howard. "We have become advisory experts, giving our clients broader advice on solutions. We define our value by the positive impact we have on stakeholders and the world at large."
Setting goals to continue the company's organic growth and creating new opportunities for staff are also on the firm's agenda for the future. Arup is planning to expand its 15 offices in North and South America and is currently evaluating several locations for new branches.
Arup
The preeminent provider of interdisciplinary engineering, consulting, and design services, Arup drives the world's most prominent projects, from city-building to iconic architecture. The firm opened its first US office over 30 years ago and now employs 1,300 people in the Americas. Since its founding in 1946, Arup has pioneered groundbreaking strategies, technical excellence, and social purpose. As a responsive and respectful business partner, Arup honorably serves its clients and shapes a better world. For additional information, visit Arup's website at www.arup.com and the online magazine of Arup in the Americas at doggerel.arup.com.
14 Sep 2012
Arup Zero-Energy House
Micro-algae prove ideal for making green facades
• Algae 'bio-reactors' provide shade and a source of green energy
• Commercial-scale algae bio-façades set for production
(London) A zero-energy house under construction in Germany is set to provide the first real-life test for a new façade system that uses live microalgae to provide shade and generate renewable energy at the same time.
Bio-adaptive façade:




images from Arup
The world's first 'bio-adaptive façade' will be installed in the 'BIQ' house for the International Building Exhibition (IBA) in Hamburg, which runs through 2013.
The façade concept is designed so that algae in the bio-reactor façades grow faster in bright sunlight to provide more internal shading. The 'bio-reactors' not only produce biomass that can subsequently be harvested, but they also capture solar thermal heat – both energy sources can be used to power the building.
In practice, this means that photosynthesis is driving a dynamic response to the amount of solar shading required, while the micro-algae growing in the glass louvres provide a clean source of renewable energy.
The shading louvres for the BIQ house in Hamburg are being fabricated in Germany by Colt International on the basis of bio-reactor concept and design work led by the international design consultant, Arup, in cooperation with SSC Strategic Science Consult of Germany. The BIQ house was designed for the IBA exhibition by Splitterwerk Architects of Graz, Austria.
Arup's Europe Research Leader, Jan Wurm, said, "To use bio-chemical processes for adaptive shading is a really innovative and sustainable solution so it is great to see it being tested in a real-life scenario. As well as generating renewable energy and providing shade to keep the inside of the building cooler on sunny days, it also creates a visually interesting look that architects and building owners will like."
Simon O'Hea, Director at Colt, said, "It's been a very rewarding scheme to be involved in. We have put a lot of work into meeting the technical challenges and we now have a commercial-scale, effective solution that uses live algae as a smart material to deliver renewable energy. You can't get greener than that." Once completed in March 2013, the BIQ house will allow scientists, engineers and builders to assess the full potential of the system as a green alternative providing dynamic solar shading alongside sustainable, renewable energy.
Key Recent Arup Projects
Featured Buildings by Arup, alphabetical:
AAMI Park, Melbourne, Victoria, Australia
2010
Design: Cox Architects and Planners with Arup



photo : John Gollings
AAMI Park Stadium – information + images added 25 Jun 2012
Arup brought unrivalled skills and global experience in structural and civil engineering design to the development of Rectangular Stadium, employing structural ingenuity to support the architectural vision.
Health & Wellness Facilities, Education City, Doha, Qatar
2010-
Design: GHD Global Pty Ltd



image © Reid Fenwick Asociados
Health Wellness Doha – 25 Jun 2012
The Health and Wellness Facilities in Doha, Qatar is a spectacular project which is conceived to be the main sports facilities for the Education City Complex. The objective of the project is to develop an existing site designated within the overall Masterplan, for a Sports Facility to service the students and staff of the University Campus of Education City.
Estadio Espanyol, Cornalla, Barcelona, Catalonia, Spain
2007
Design: Reid Fenwick Associates & Gasulla Arquitectura Integral



photo : Luca Orlandini_Arup
Estadio Espanyol – added 25 Jun 2012
Located in the city of Cornella, this stadium has several commercial and sport services, library and a hotel in the corners. For this stadium, Arup developed the fire protection strategy and the structural design during the basic project phase. This included the design of both the stand and foundations as well as the roof, made of reinforced concrete and steel respectively.
Major Buildings by Arup
Beijing Olympics – The Water Cube, China
Design: PTW with Arup



photo © Arup_Ben McMillan
Water Cube Beijing – National Aquatics Centre – Beijing Olympics Venue
ETFE bubble-pattern façade – Architecture Competition win 2003
The National Aquatics Centre, also known as the 'Water Cube', will be one of the most dramatic and exciting sporting venues for the Beijing Olympic Games in 2008. Enclosed within the blue bubble walls are five swimming pools, including a wave machine and rides and a restaurant, along with seating and facilities for 17 000 spectators.
More projects by Arup online soon
Location: London, south east England, UK
Arup Practice Information
Architecture + Engineering offices based across the world


photo © Arup_Ben McMillan
Arup is a world-class firm of designers, planners, engineers, architects, consultants and technical specialists working across every aspect of today's built environment. The company, which has its headquarters in London, is the creative force at the heart of many of the world's most prominent projects. It employs 6,000 people across 17 UK offices, and thousands more worldwide, with a presence in more than 30 countries. Its business in Nottingham has been making a positive contribution to the city and the East Midlands for more than 30 years.
Arup Associates Unified Design Unit
Website: www.arup.com
Buildings / photos for the Arup page welcome