15 Clerkenwell Close London Apartments, Residential Building Development, Architecture Photos
15 Clerkenwell Close, London
Updated 7 Dec + 16 September 2021
Architects: Groupwork + Amin Taha Architects
Location: Clerkenwell, London, England, UK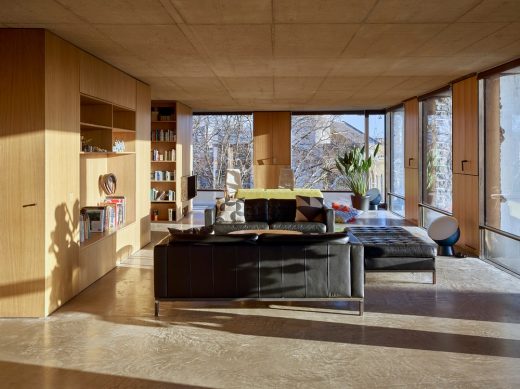 Clerkenwell Close is today mostly made up of mid to late C20th half brick stretcher bond pastiche facades unable to quite tell to which period or architectural language they represent.
15 Clerkenwell Close
15 Clerkenwell Close replaces one of these and aims in some way to better connect with a deeper and broader context, including the all but vanished first structure on the site an C11th limestone Norman abbey. The latter originally funded by Baron Jordan Briset for Augustinian nuns, it was expanded and remodelled until its C16th dissolution brought protestant revolution and precipitated a gradual erosion of the enclave. Initially appropriated as a single palace for the Duke of Newcastle then its subdivision into grand houses for the newly protestant barons following the new duke's beheading.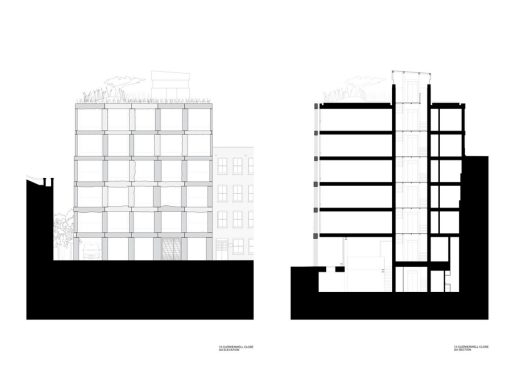 Oliver Cromwell's republican revolution replaced baronial mansions with a new large but sober home before the restoration saw its replacement with further subdivision into smaller rented properties. Which with London's C19th expansion and mass immigration briefly housed Marx and a visiting Lenin. Ignominiously a furniture sales room occupied the remains of the original abbey dining halls and cloister before fire and the 1970's left only a few stones and the road layout as a memory of the nunnery.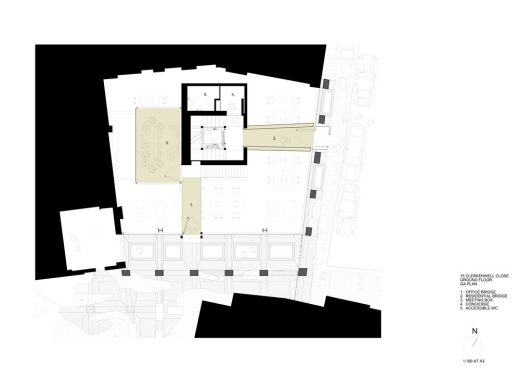 Whether Norman invasion, the killing of Wat Tyler and the Peasants' Revolt, Protestantism, Republicanism, printing presses that aided these and grew from leafleting into book and newspaper trades later attracting Marx, Engels and Lenin to write for and use William Morris's 'Twentieth Century Press' (now the Marx Library); Clerkenwell has had a history of radicalism outside The City gates and changing so with the times.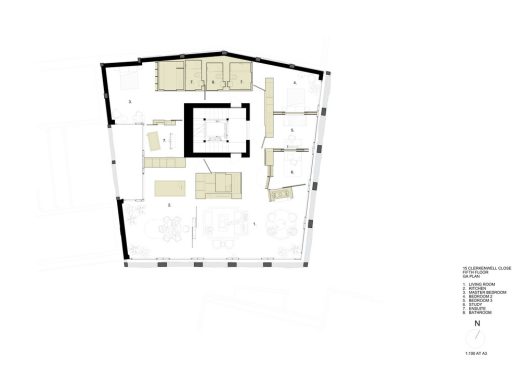 Building anew within this context ought to raise more questions than how to "fit-in" with the 1970's and 80's façade pastiches. Half brick thick stretcher bonds and poor solid to void proportions already betray a lack of understanding of period proportions and details. That they hide poorly lit deep plan office floor plates and cellular flats alike only adds to disingenuous claim of respecting context and fitting-in.
Shouldn't we question whether architecture in the form of façade composition for such purposes is to be the future of our architectural heritage and in turn our broader cultural development? We'd be somewhat perplexed if music, the visual arts or indeed the sciences limited their outlook and innovations to a criteria of fitting-in. Perhaps then this is more a question of whether architects following several generations of mastering two-dimensional façade play have lost their literacy of materials.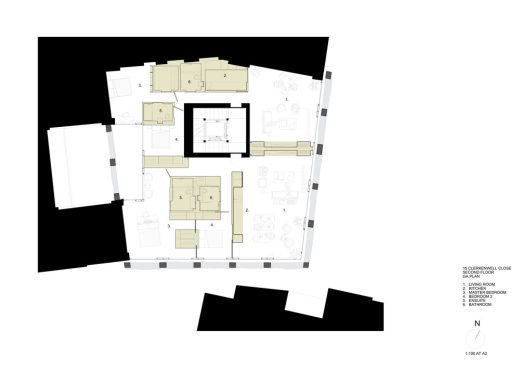 The innate structural and textural properties, the poetic possibilities of their architectonic and symbolic composition? The Normans brought with them to England the use of limestone fresh from the quarry as it remained soft enough to carve and key together before calcifying to make stronger fortifications. Timber frames, and solid brick walls became prevalent until the early C20th. The coming of steel and concrete frames and arguably for better weathering, fire and structural integrity 'façade' and 'structure' became separated and with it the skill and poetic possibilities of combining material and structure as a whole.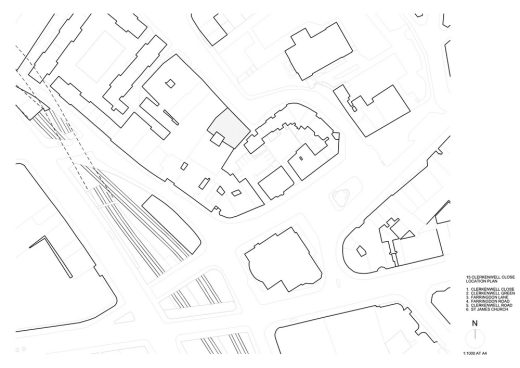 Using self-finished materials such as stone and brass, carved and fallen columns, revealed cloisters, pebble mosaic floors, and scallop shell handles 15 Clerkenwell Close at first expresses a reuse of load bearing limestone to define architecture, and alludes to a local social and historical archaeology. 8 apartments and two floors of open plan and double height office space sit within 'loose-fit' floor plates that allow future change in layout and use. Previously unkempt land to the south has been landscaped to serve occupants and neighbours and incorporated into the narrative of abbey remains with new pebble mosaics and further part-carved stonework.
A biodiverse roof provides two beehives, bird nests and habitat for invertebrates. Four mature trees are used to soak up 90% of the average annual rainfall and therefore avoid rainwater attenuation tanks and further basement excavation. A glazed solar chimney is placed on top of the stair and lift core with a rain proof open glazed overhang to allow natural smoke ventilation and therefore avoid mechanical equipment, its carbon footprint and running/maintenance costs.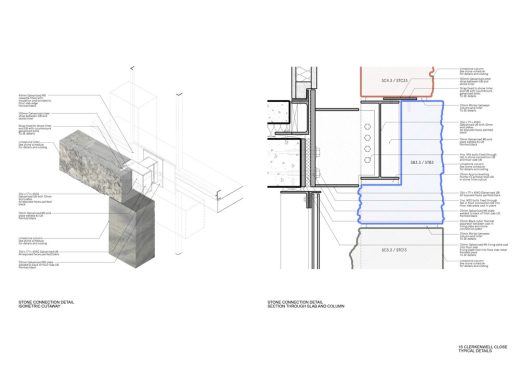 The use of stone as superstructure reducing the embodied carbon of the overall superstructure by 90% compared to steel or concrete frames. Reason enough to promote the reuse of stone for such purposes, though the dressing in this instance of quarry found fossilized coral and ammonite shells can give way to any taste. Combined with the further lessons learnt, namely more timber used larger the CO2 sequestration, the investigation has led to "build to reduce atmospheric CO2" solution. Where the combination of stone and timber can be as CO2 negative, an absorber of atmospheric carbon, as the concrete framed equivalent building is a CO2 contributor. Which Professor Tom Crowther at ETH University Zurich explains will, if we begin to plant forests for construction use, take CO2 levels back to preindustrial levels within a generation.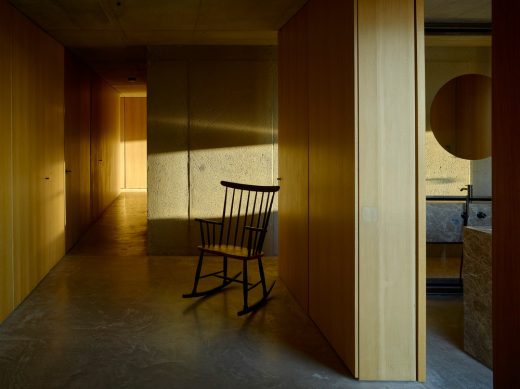 16 September 2021
15 Clerkenwell Close London Apartments
Photos by Tim Soar
15 Clerkenwell Close London Apartments Property
Jury Report
15 Clerkenwell Close's non descriptive title belies the astonishing architectural triumph that dwells at the simple address, occupying a plot of land a stones throw from Clerkenwell Green. The 7 storey building is the architect's own development comprising one or two flats per floor, a double-height architect's studio at basement and ground and the architect's home on the top floor.
It is clear hearing the architect talk about the project, including a lengthy analysis of the history of the site dating back to an C11th Norman Abbey, that the thoroughness and care that has gone into every thought and every inch of the project, crossed the border of obsession very early in the process. The result is a truly bespoke, hand crafted work of art, but one that has a grace and balance suggesting that the obsession was harnessed rather than letting the madness in.
The development occupies the extent of the site appearing to have the proportions of a cube, with the facade divided into squares. A pathway along side leads to a tiny delightful urban pebble garden, belonging to the Council, but landscaped and maintained by the architect client. One of many parts to this storey where a decision has been taken that is a little unusual and not obvious but has an outcome that helps the project sparkle (for the occupants and the public).
The facade is formed from limestone structural columns and beams set back from, but structurally connected to, the building envelope with a variety of finishes: smooth, rough, drilled, straight from the quarry. The 'fallen' column folly with decorative carving nods to the hand crafted workmanship of the material but indicates the richness of the narrative and joy experienced throughout the project.
Entering the building over the pebbled floor, dodging the glass walk on roof lights and stepping onto the Architect Studio's bridge feels like you have stepped into a void suspended between the basement well below, the heavy mass of the building floating above, surrounded by the neighbouring party walls exposed and celebrated. The floating glass meeting room balanced on an I beam, the folding raw metal stair with impossible hand rail angularly showing the way down to the studio space below; all sit together with different materials and characters but are connected by a similar attitude to simplicity, rawness and expression of the materials and junctions.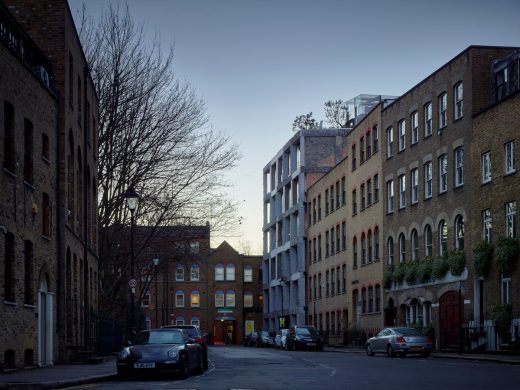 The residential development is anything but standard, and has a touch of childlike playfulness in the inventiveness of the various communal elements. The glass lift with innovative fire strategy doing away with lobbies, the metal grill stairwell, the roof top tree and reed garden are all unique experimentations challenging the obvious and the norm. The entrance corridor bridges through the studio like it might in a child's imagination, a timber clad tunnel leading to a post box wall that unexpectedly swings back to reveal the possibility of a secret concierge's office.
The flats themselves are all concrete and wood with polished floors, exposed ceilings, and oak doors and walls sliding and slotting, folding and swinging together in a complex matrix of patterns to open up or shut down different spaces like a complex puzzle. Each room leads into one another with traditional doorways, but also sliding walls to allow a route around the facade. Everything is bespoke, every detail is cared for, every junction thought through, with everything built to an impeccable finish.
15 Clerkenwell Close is brave, ambitious, highly innovative and bespoke, where risks have been taken and have paid off, resulting in a truly imaginative, intriguing and astonishing work of architecture.
15 Clerkenwell Close London, UK – Building Information
RIBA region: London
Architect practice: Groupwork + Amin Taha Architects
Date of completion: November 2017
Client company name: 15CC Ltd
Project city/town: London
Contract value: £4,650,000.00
Internal area: 2,000.00 m²
Cost per m²: £2,325.00 / m²
Contractor company name: JB Structures
Consultants:
Structural Engineers: Webb Yates
Environmental / M&E Engineers: MLM Group
Acoustic Engineers: RBA Acoustics
Landscape Architects: Todd Longstaffe-Gowan
Approved Building Control Inspection: MLM Building Control
Quantity Surveyor / Cost Consultant: Cumming Europe
Awards:
• RIBA National Award
• RIBA Regional Award
• RIBA London Award
15 Clerkenwell Close London Apartments information / images received 160921
Location: Clerkenwell , London, England, UK
London Building Designs
Contemporary London Architecture Designs
London Architecture Designs – chronological list
London Architecture Tours – tailored UK capital city walks by e-architect
Earls Court Buildings
Earls Court Redevelopment
Design: Pilbrow & Partners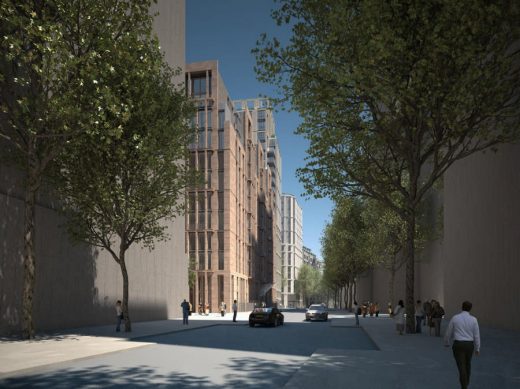 Olympia Development, Earls Court
Comments / photos for the 15 Clerkenwell Close London Apartments design by Groupwork + Amin Taha Architects page welcome