22 Bishopsgate London Tower, City Skyscraper Building, AXA Real Estate Project, News, Height
22 Bishopsgate Tower
Skyscraper Building Development constructed by Multiplex, England: Planning News design by PLP Architecture
2 August + 29 July 2021
22 Bishopsgate Building News
The Morris Project & Design LSM Reveal Stunning 2nd Floor Marketplace at 22 Bishopsgate
Inspired by London's Guilds and a focus on wellbeing & community
London – The Morris Project in partnership with DesignLSM is proud to unveil 22 Bishopsgate's Market, managed by Rhubarb Hospitality Collection. This is an inspirational market spanning the entire second floor (20,000 ft) of the UK's first wellbeing building, 22 Bishopsgate is designed to be a vertical village focused on the modern office worker and their evolving needs. Sustainability, wellbeing and community will be at its heart.
Commissioned by AXA IM and Sir Stuart Lipton for the Capital's most eagerly anticipated new 62 storey building, The Market, is Europe's first ever wellness food hall. The design team's aim was to emulate London's tradition of the guilds, of which there were once 90, whose purpose was to provide welfare to their members, and a place to gather and share ideas. After years of decline, urban guilds are experiencing a revival, and the design for 22 Bishopsgate seeks to emulate their noble objectives; encouraging the development of community while supporting collaboration, well-being, and discovery.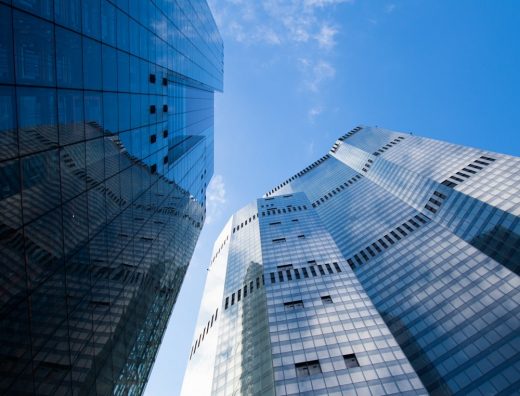 Key features of the 20,000 ft collaboration and wellness market include:
The Restaurant & Terrace will provide a welcoming "local" for meetings and gatherings; The Terrace has its own bar and relaxed seating
The Market includes four kiosks which will offer a variety of nutritious & delicious options and highlight a diverse group of future tastemakers
The Market Hub Events Space will support dynamic programming of music, talks and private events
Floor-to-ceiling walls at 20% taller than in a market-standard building, give a sense of volume and space to increase wellbeing of residents. Triple glazed windows, which not only increase the energy efficiency of the building but also reduce noise and boost the level of natural daylight by 60%, reducing need for internal lighting and providing a healthier environment
Innovative technology creating convenience for residents who want their coffee ready to pick-up on arrival, or lunch delivered to their desk
WELL Building Standard : The first building in the UK to apply.
Amy Morris is Founder of the Morris Project, and recipient of the prestigious James Beard Award for Outstanding Restaurant Design. Morris said; "Our number one goal was to design a space that is a hive for collaboration. Providing support for balance and wellbeing in business and daily life. I believe whole heartedly in 22 Bishopsgate's vision to radically embrace a new environment for the way we work. Your surroundings have a strong impact on your day. The Morris Project's partnership with DesignLSM aims to create spaces that invite collaboration and spark ideas. It's a dream project with a dream team in one of my favourite cities."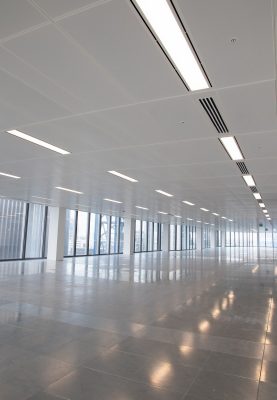 Holly Hallam, Managing Director, DesignLSM said; "We are thrilled to be a part of this monumental and exciting development of 22 Bishopsgate. Our collaborative design with US agency The Morris Project delivers a highly polished and thoughtful aesthetic capturing the spirit of a modern-day guild." Karen Taylor, Design Director, DesignLSM adds: "Our aim was to create a true "sense of place"; reflecting the heritage of the locality with a contemporary outlook; perfect for  22 Bishopsgate community to unwind, dine, relax and socialise."
Key design elements of The Market include:
Artist, Sinta Tantra: British artist of Balinese descent has created a unique installation, Illuminated (2021), which will stretch across seven arches. Sinta Tantra's immersive site-specific frames the central social space of the building. The work draws inspiration from the rich history of the City of London to inform a contemporary reading of this dynamic new public space. A careful composition of geometric forms suspended in a formal tension creates a sense of harmony and balance, echoing the ethos of wellbeing and creative exchange at the heart of 22 Bishopsgate.
Artek Domus chair: Designed in in 1946 by Ilmari Tapiovaara which was created as part of a series of furniture for the Domus Academica student housing complex in Helsinki. The style is approachable and most importantly comfortable
Maruni Lightwood Stools: By British designer Jasper Morrison and manufactured by Maruni. Visually and physically lightweight stools of near-perfect proportions. Founded in 1928 and based in Hiroshima, Maruni epitomises Japanese design. Their considered blend of traditional craftsmanship and innovative industrial techniques results in furniture that is tactile and timeless
675 Robin Day Chair: The main restaurant chair is the fresh revisited design update of the 675 Robin Day Chair which has truly stood the test of time and is one of the most recognised of the 20th century. Originally created in 1952, this Robin Day chair's most prominent feature is its curved walnut-veneered plywood back
Communal Tables Tops: Forbo Furniture Linoleum tops of the communal tables which have great Bacteriostatic properties (i.e. it stops bacteria from reproducing)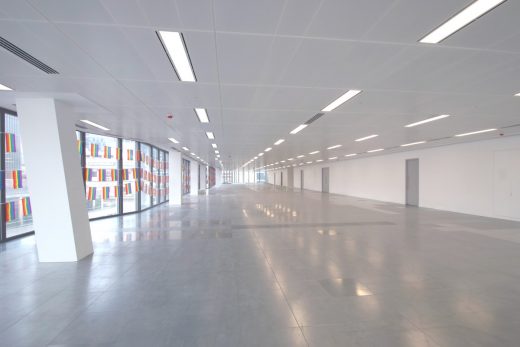 About The Morris Project
Operating in London, New York and Australia, multi award-winning agency, The Morris Project is at the heart of hospitality. They partner with developers, restaurants & hotels to offer both strategic insight, and thoughtful creativity to articulate the vision from concept to launch. Founder Amy Morris was awarded the prestigious James Beard Award for Outstanding Restaurant Design. Branding also won a Gold Prize, from the DrivenxDesign New York Design Awards.
Morris is driving original creative with focused strategy, capabilities include concept development, branding, interiors & packaging. The Morris Project only takes on a handful of clients at a time to ensure Morris works closely with founders on focused missions and authentic narrative that connects them with their communities.
The Morris Project was built out of a desire to offer the equivalent of Creative Artist Agency for hospitality. We see our clients as partners and aim to take the anxiety out of the process. Clients include: James Lowe (Flor wine bar), Vornado Reality (developer of mid-town NYC), Union Square Hospitality (Danny Meyer of Shake Shack) and Melissa Weller (Trend Setting Baker of Funk Foods Bakery) and others.
https://www.themorrisproject.com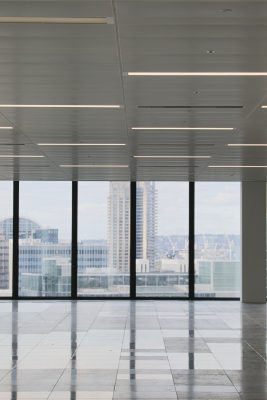 About The WELL being standard
The International WELL Building Institute (IWBI) is an independent set of standards that make spaces around us healthier, happier, and more productive. See https://www.wellcertified.com
About DesignLSM
DesignLSM is a multi-disciplined studio specialising in Strategy, Branding, Interior Design and Architecture for a diverse portfolio of world class brands within the hospitality industry. Encouraging a spirit of collaboration with clients, colleagues and suppliers to create lasting relationships and deliver engaging and memorable environments and experiences.
With over 34 years' experience, DesignLSM have master planned spaces, curated concepts and produced innovative designs for luxury hotels, large food halls, elevated dining brands and QSR concepts. Working with brands such as: Roka Restaurant Group, D&D London, Gaucho Restaurants, Lacoste, Taj Hotels, Marriott Hotels and Curio by Hilton, Shaftesbury Estates, RioCan Real Estate and Emaar Properties amongst many others.
About Rhubarb Hospitality Collection
RHC is a premium hospitality group with over 25 years' experience in luxury events. Today their portfolio includes a number of iconic locations in London including Sky Garden, The Royal Albert Hall, Royal Ascot Racing Club, the immersive experience Mamma Mia! The Party and 22 Bishopsgate. In 2017 RHC announced two restaurants and an extraordinary event space at Hudson Yards, New York. This was the first international location for the revered London hospitality group.
post updated 13 June 2021
22 Bishopsgate London Building Photos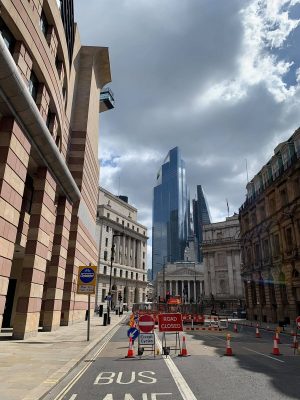 7 Dec 2020
22 Bishopsgate Building News
22 Bishopsgate reaches practical completion.
The tallest tower in the City of London stands at 278 metres high. The project is developed and managed by AXA IM – Real Assets on behalf of an international consortium of investors, with Lipton Rogers Developments retained as developer.
The 1.4 million sq. ft (130,000 sqm) development is set to be Europe's first vertical village.
22 Bishopsgate has London's largest cycle park and a state-of-the-art gym, complete with a climbing window, 125 metres above the ground on level 25, as well as a wellbeing retreat on level 41. It is also the first building in the UK to apply for the Delos WELL Building Standard.
This people-focused building is a complex, 22 sided, faceted glass structure. The design is built and managed to satisfy the changing nature of the City of London in terms of the type, size and priorities of companies based there, including demands for high standards of technology and sustainability.
According to the statistics from the City of London Corporation*, while just over a third of businesses were financial services, tech was the fastest growing major sector in the City with jobs growth of 16%, the quality of workspace needed to reflect that in order to attract a more diverse range of tenants. Emphasis has been placed on constructing a building with flexible floorplates, high ceilings and exemplary lighting that compliments the natural light flow, which is enabled with three metres high, triple glazed windows.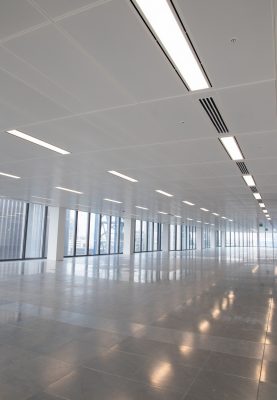 The creation of approximately 100,000 sq ft of social spaces and services throughout the floors was a key part of the design. There is a 22,000 sq ft area of food and dining space on level 2, a members' club on level 57 and London's highest public viewing gallery on level 58.
Recognising the fact that 99% of City businesses are SMEs, there is an innovation hub for small businesses and start ups on level seven. Levels three and four, meanwhile, will house a new 51,000 sq ft events and meeting venue available for use by the hour or day.
FUTURE Designs, the international lighting designer and manufacturer completed the office lighting. They developed 'GLOS' for the project, a contemporary and minimalist luminaire that results in a perfectly illuminated environment.
As well as providing a place for 12,000 people to work, creating a diverse business community, 22 Bishopsgate also provides a range of retail, bar and restaurant units.
26 Oct 2020
The 22 Bishopsgate building is now completed.
2 Mar 2017
22 Bishopsgate Skyscraper Approval
Design: PLP Architecture
22 Bishopsgate Planning Approval News
The City of London has granted planning permission for revised proposals by PLP which reduces the building height by 23m, reports the Architects' Journal.
The tower is set to reign briefly as the tallest building in the City of London until Aroland Holdings' 1 Undershaft Tower completes, which will be 290 metres high.
The 22 Bishopsgate tower, under construction by Multiplex for AXA Investment Managers Real Assets, will be 255 metres (840 feet) tall.
Back on the 5th of December 2016 architects PLP submitted revised plans for their tower design at 22 Bishopsgate, reducing the skyscraper's height by 23m.
This City office development is due to have a population of 12,000 office workers over its 59 storeys.
Otis won a contract to install 57 elevators and 10 escalators at 22 Bishopsgate, reported www.theconstructionindex.co.uk in February 2017.
Otis will install 18 of its Gen2 elevators, 13 of its SkyRise single-deck, and 26 SkyRise double-deck elevators combined with its CompassPlus destination management system.
When completed, these elevators will be Europe's fastest SkyRise double-decks, running at 8 metres/sec (approx. 30km/hour).
27 Oct 2016
22 Bishopsgate Skyscraper Development
Design: PLP Architecture
22 Bishopsgate Development News
AXA Investment Managers – Real Assets to proceed with landmark 22 Bishopsgate development in London
AXA Investment Managers – Real Assets ("AXA IM – Real Assets"), the leading real estate portfolio and asset manager in Europe(*), announces that, on behalf of a consortium of international investors, it will continue construction of 22 Bishopsgate ("22") in the City of London.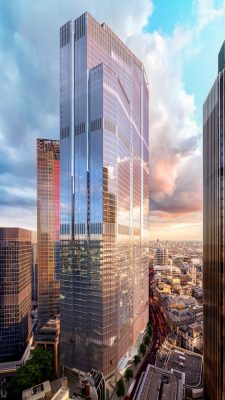 image : Riverfilm Martin Richardson
The commitment to 22 demonstrates AXA IM – Real Assets' and the consortium of international investors' confidence in how appealing this highly progressive c.1.4 million sqft (c.128,000 sqm) development will be to all types of international and domestic occupiers. This confidence is based on the unique and broad range of amenities and types of space that 22 will offer, as well as its prime location in the City of London, as one of the leading global centres for international business, notwithstanding the current uncertainties created by the EU Referendum.
AXA IM – Real Assets, together with its development partner Lipton Rogers, expect to finalise the appointment of a contractor for the main build of the tower within the next few weeks, with work due to commence thereafter. Significant preparatory works have already been undertaken on the site, including substantially completing the foundations and ground works, which utilised those from the previous unfinished development, to allow for an accelerated construction timetable, with a target completion date of 2019.
On completion, 22 will be a new model and standard for workplace design and management, with the objective of meeting emerging occupier needs for greater space, adaptability, productivity and employee satisfaction. The building, designed to appeal to a broad range of occupiers, will offer extensive amenities and spaces for meeting as well as shared work environments, including an innovation centre that will support progressive new City businesses. A wide range of services, new technologies and events will serve the community of over 12,000 people working within 22.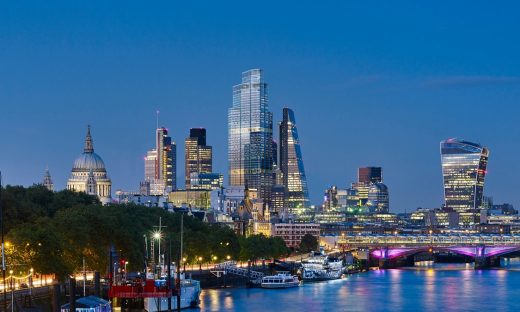 image from architects
Plans include dedicated areas for leisure, health and wellbeing. In line with AXA IM – Real Assets' ambition to be a globally sustainable business, notably by targeting 75% of total direct property under management to be certified with reputable sustainability labels by 2030, 22 is the first UK building to apply for the Delos WELL Building Standard. This certification recognises the impact that buildings have on the health of their occupiers.
Pierre Vaquier, CEO of AXA IM – Real Assets, said: "Our ongoing commitment to 22 Bishopsgate reflects our firm belief, and that of our clients and partners, in this development project, aligned to the fact we are taking a long-term view of this investment. The decision to proceed underscores our confidence in the progressive and attractive development that we will deliver at 22, coupled with the anticipated breadth of demand from local and global occupiers for easily accessible space in a prime location in the City of London, as one of the leading global centres for international business, that will respond to their future business needs."
*Source: IP Real Estate Top 100 Investment Management Survey – Nov/Dec 2015
7 Apr 2016
22 Bishopsgate Skyscraper Approval News
Design: PLP Architecture
The City of London resolved to approve the 295-metre tall building in November 2015, subject to a final decision by the mayor of London.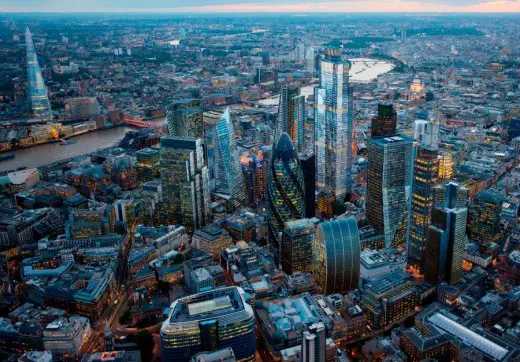 image from architects
The structure is earmarked for the site of the part-built "Pinnacle" skyscraper. This secured planning permission in 2007 and work subsequently started on-site, only for construction to be halted in 2012, reports www.planningresource.co.uk.
Following a request from the scheme's developer, AXA Investment Managers Real Assets and Lipton Roger, a report considered by the City of London's planning committee earlier this week recommended that the authority use Section 237 of the Town and Country Planning Act 1990 to override rights to light claims which threatened to further stall the development.
Website: 22 Bishopsgate Skyscraper Building article in full
5 Mar 2015
22 Bishopsgate, London
Design: PLP Architecture
22 BISHOPSGATE
PLP Architecture has been appointed by AXA Real Estate, on behalf of clients, and Lipton Rogers Developments as the architect for 22 Bishopsgate, a new office tower at the heart of the City of London.
The 22 Bishopsgate Tower is the acknowledged centre of the City cluster of tall buildings. Since the initial design, much has changed in the context of the City. A number of towers are now completed, notably the adjacent 122 Leadenhall. An entirely new design conceived for 22 Bishopsgate will now form part of the cluster.
22 Bishopsgate will be a building of character whose massing is shaped to enhance townscape views. The emphasis on the brief for the building is to be more than an office building, with social amenity spaces throughout the building shared by tenants; a free public viewing gallery, a restaurant and bar will occupy the top. Art will enrich the public realm experience.
Karen Cook, a founding partner of PLP Architecture, says, "We will work with Lipton Rogers Developments and AXA Real Estate to design what will become an exemplary building, setting new standards, for the world class workforce that is London."
The consultant design team includes WSP (structures, building services and specialist engineering services), Vertical Transportation Studio (lift strategy), Professor Robert Tavernor (townscape assessment), Miller Hare (townscape visualisation), West 8 (landscape), Alinea (cost management).
The design is currently at the development stage and no images have been formally released.
22 Bishopsgate London Tower information from PLP Architecture
20 Feb 2015
The Pinnacle – Helter Skelter
Julia Kollewe in the Guardian reports yesterday that, "The partially built Pinnacle building is to be revived to become the tallest tower in the City of London – but without the elegant twisting design at the top that earned it the nickname "the Helter Skelter".
The Pinnacle, as seen from Waterloo Bridge, forms the apex of the emerging cluster of tall buildings in the City of London: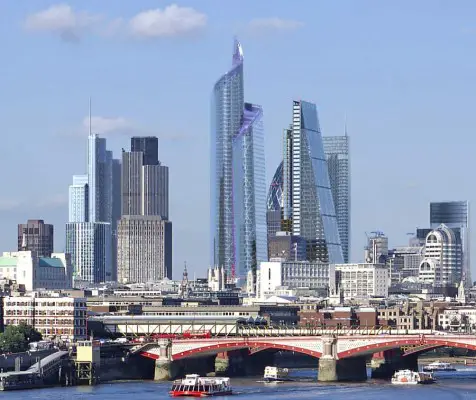 image : KPF and Cityscape
After months of negotiations, a consortium led by Axa Real Estate has clinched a £300m deal to buy the site near Liverpool Street station in the Square Mile. The building became known as "the Stump" when construction stopped abruptly three years ago.
Until now called the Pinnacle, the building will be renamed 22 Bishopsgate. Its design has undergone radical changes to save money. The office tower will be 60 storeys rather than 64, and the expensive curved-glass panels at the top are to be scrapped.
Aerial view of 22 Bishopsgate London looking south east towards the River Thames (Tower Bridge on right, Canary wharf beyond to left):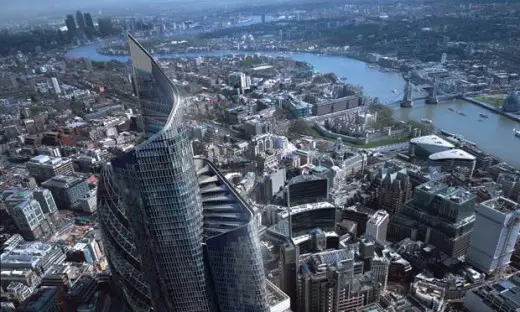 aerial picture : public domain
It will however be the tallest building in the financial district at 262m, overtopping the nearby Heron Tower at 231 metres tall (758ft)."
PLP Architecture Practice Information
Website: The Pinnacle Helter Skelter Tower – London skyscraper building
Location: 22 Bishopsgate, City of London, England, UK
London Building Designs
Contemporary London Architecture Designs
London Architecture Designs – chronological list
London Architecture Walking Tours – tailored UK capital city walks by e-architect
PLP Architecture London Research
22 Bishopsgate Background
Website: 22 Bishopsgate London design – PLP Architecture, architects



image : KPF and Cityscape
14 Mar 2013
The Pinnacle Skyscraper


image : KPF and Cityscape


images : KPF and Cityscape




tower photographs © Nick Weall
The groundwork for 'The Cheesegrater' is in the foreground, with The Pinnacle behind:



tower photo © Nick Weall
The Pinnacle London architect : KPF



image : KPF and Cityscape
The Pinnacle London



image : KPF and Cityscape
A London skyscraper by Kohn Pedersen Fox Associates (KPF):
Another Bishopsgate skyscraper building on e-architect:
6-8 Bishopsgate and 150 Leadenhall Tower, City of London, England, UK
Design: WilkinsonEyre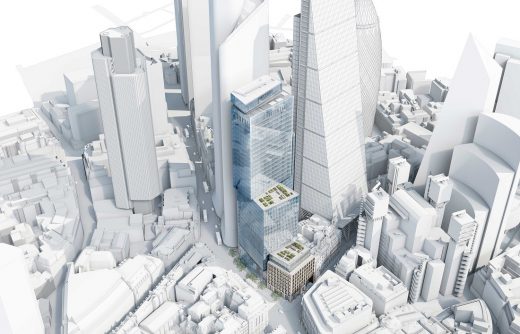 image courtesy of architects
6-8 Bishopsgate Tower
Comments / photos for 22 Bishopsgate London – Helter Skelter Tower – Architecture page welcome