Houses of Parliament London Building Restoration and Renewal, Contracts News, Refurb
Palace of Westminster London Restoration and Renewal
22 October 2021
Experts investigate crumbling stonework and hidden cracks in the Houses of Parliament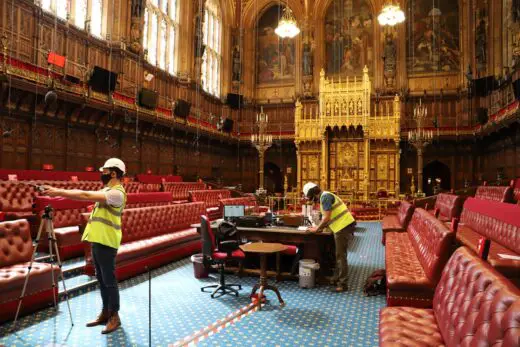 photo courtesy of the Houses of Parliament
Palace of Westminster Building Restoration News
Crumbling stones, cracking ceilings and warping windows in the Houses of Parliament were the subject of several thousand hours of recent investigations by teams of experts from across the UK, as part of work to plan the essential restoration of the Palace of Westminster. Over 50 highly skilled engineers, architectural surveyors, acoustics and lighting specialists, and ecologists, spent a combined 4,700 hours over Parliament's recent recess period investigating the building and continuing to build the most detailed record of the 150-year-old Palace of Westminster ever created.
16 June 2021
Palace of Westminster Restoration Public Views
Parliament restoration programme invites public to share ideas and views on the restoration and renewal of the Palace of Westminster
Public asked to give views on key topics including access and inclusion, sustainability, heritage, and jobs
People across the UK are being invited to tell the Houses of Parliament Restoration and Renewal Programme what they think about key aspects of the restoration of the nation's Parliament buildings.
The Palace of Westminster building viewed across the River Thames from the south: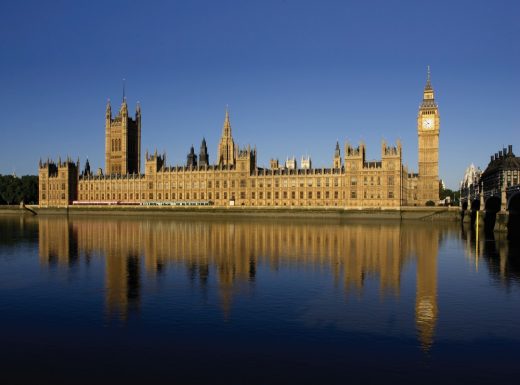 photograph © UK Parliament
The Palace of Westminster is falling apart faster than it can be fixed, with maintenance and ongoing work costs doubling in just three years to more than £125m a year. Essential restoration and renewal work is needed to protect it for future generations. The work to restore and renew the Palace will create thousands of jobs and training opportunities across the UK.
As the restoration team continues its work to develop a detailed and costed restoration plan, members of the public will be able to submit ideas and share their views on a range of issues to help inform the plans which are currently under development. Their views will be taken into account alongside those of MPs, Peers, the Parliamentary community and a range of other organisations with an interest in the Palace of Westminster.
Sarah Johnson, CEO, Houses of Parliament Restoration and Renewal Sponsor Body said:
"The world-famous Palace of Westminster is a national and international landmark, and the cornerstone of our democracy. As we develop the detailed and costed plan to restore and renew the Palace of Westminster we would like to involve people from across the country and give everyone the opportunity to tell us what they think about their national Parliament building."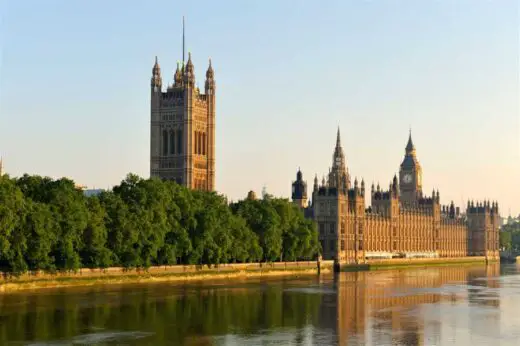 photograph © Nick Weall
Leader of the House of Commons Jacob Rees Mogg said:
"People will rightly expect the essential work needed to restore and renew the Palace of Westminster to be cost effective to ensure taxpayers' money is spent wisely.
"I welcome all good ideas on protecting our magnificent Houses of Parliament while addressing important issues including making the Palace more accessible for Members and visitors."
Through a new online participation platform, people will be asked how the programme can make the restored Palace of Westminster more welcoming and accessible for Members, staff and visitors. The building does not meet all current guidelines for accessibility, with a wide range of challenges for people with mobility issues and other disabilities, including many areas of Parliament that are impossible to access step-free and without assistance.
Members of the public will also have the opportunity to tell the restoration programme what they think about the importance of the 150-year-old Palace of Westminster being a more environmentally friendly and sustainable building.
The programme will also ask people about celebrating and preserving the heritage of the Palace, including its world-famous architecture, as well as the potential for archaeological discoveries and how to highlight them.
Finally, the public will be asked about how the restoration programme could make sure the thousands of jobs and training opportunities that will be created across the UK can benefit them directly, including considering how the UK-wide supply chain recruits a diverse range of people.
People will be able to join in the conversation, starting today until 14 July by visiting the Restoration and Renewal online conversation platform. Members of the public can also share their views by post. The conversation will be centred around the four topics outlined above.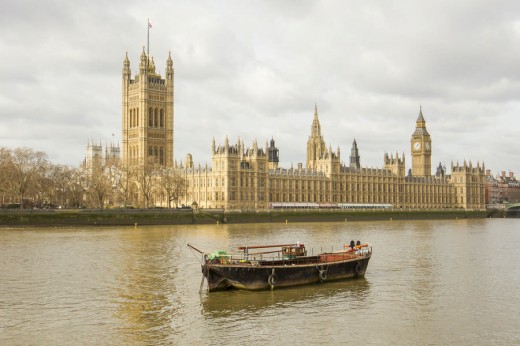 photo from architects
There will be more opportunities for people to share views on the restoration and renewal of the Palace of Westminster as plans are developed. The detailed and costed restoration and renewal plan, which will for the first time set out a true sense of costs and timescales, will be considered by Parliament in 2023.
The work to develop the detailed and costed plan will include more than 100 investigative surveys, with specialist teams spending thousands of hours analysing the building, including the 1100 rooms and more than 3000 windows.
The restoration and renewal team is also continuing to work with Parliament to determine all the functions the building needs to have in future, as well as look at vital improvements in areas like accessibility. With 3000 people typically working in and visiting the 150-year-old building every day, there are a huge number of requirements to consider.
Restoring the building will create thousands of jobs and training opportunities across the UK, including through an industry-leading apprentice loan scheme that will see around 160 apprentices, including engineers, designers, stonemasons, and carpenters, employed by the organisations overseeing and delivering the restoration of the Palace of Westminster and loaned to UK businesses working on the restoration.
22 May 2021
Palace of Westminster Restoration and Renewal Programme
Houses of Parliament Restoration and Renewal Programme partners with Edinburgh's Heriot-Watt University to research safer construction approaches
The Houses of Parliament Restoration and Renewal Programme has partnered with experts at Heriot-Watt University (Edinburgh, Scotland) to help protect those working on the essential and complex restoration and renewal of the Palace of Westminster in London.
The Palace is currently at risk of damage from fire or flood that could be caused by a failure in the complex network of outdated heating, drainage, gas and electric systems.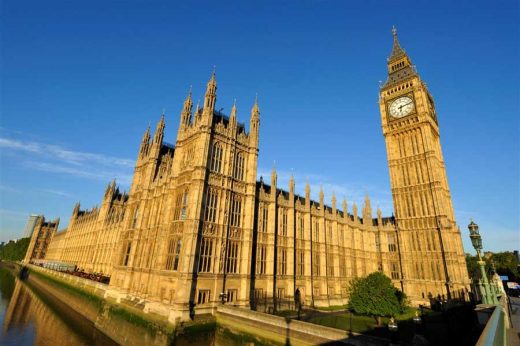 picture © Nick Weall
While the essential work to replace these systems is carried out the risks will remain so the Restoration and Renewal Programme has awarded Heriot-Watt University £75,000 funding to develop industry-leading construction approaches to safeguard those working on the project as well as the building itself.
Large construction programmes involve thousands of contractors working together in busy and noisy building sites, bringing additional challenges to those involved. These challenges, and risks, will be amplified when complex works are being carried out in a congested heritage site like the Palace of Westminster. In order to help manage these challenges, experts will advise on how construction workers, designers, and building users could work together in a safe and efficient way while on-site.
The work will include looking at the full construction project from design stage, through construction and to future operation, and will use technology to rehearse difficult construction challenges to make sure they are not dangerous for workers or damaging to the building.
David Goldstone, CEO, Houses of Parliament Restoration and Renewal Delivery Authority said:
"As we get on with the job of developing the plan to restore and renew Parliament, it is critical that we create the safest environment for future construction work by working with experts across the UK as part of our commitment to support thousands of jobs."
Professor Guy Walker, from Heriot-Watt's School of Energy, Geoscience, Infrastructure and Society, is leading the project and said:
"The Palace of Westminster couldn't be further from a new-build project where everything can be tightly controlled and specified, including the people working on site. Instead, there will be a high reliance on skill and the ability of construction teams to adapt to changing circumstances.
"We want to create an environment where the most natural behaviour is also the safest and most efficient. With technology we can rehearse construction activities in safety. Designers, engineers and construction workers can sit together in a room and use a digital platform to run scenario tests. We can rehearse ways to work better as construction teams and deal with inevitable unexpected problems."
Heriot-Watt University is a global leader in construction teaching and training and in key areas of research around smart construction and robotics including health and safety, productivity, digital twinning and autonomous systems.
The project team is now looking to work with partners in the construction industry on existing projects to further develop their methods before they are finalised for the restoration and renewal of the Palace of Westminster.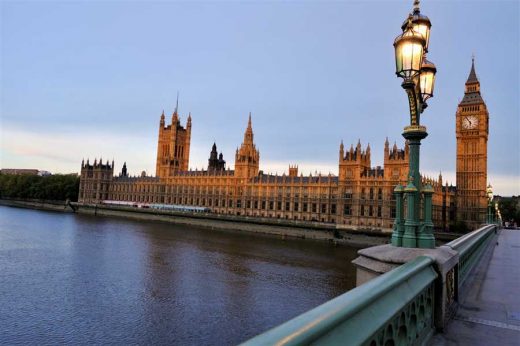 photo © Nick Weall
Over the first six months, Professor Guy Walker and team have been working with R&R to prioritise areas and projects where Heriot-Watt's expertise in the sociotechnical approach and enabling technologies can help design safer work. In the next few months, Professor Walker and colleagues will focus on delivering initial work packages. This effort will be complemented by Heriot-Watt colleagues who will look to increase further collaborations with construction companies.
Dr Gillian Murray, Deputy Principal (Enterprise and Business), said:
"This exciting project will allow us to upscale our frontier research in smart construction, to open up new collaboration opportunities with industry and contribute to a learning legacy including new digital skills, CPD and best practice.
"The partnership is grounded on the university's Strategy 2025 values and our mission to create and exchange knowledge that benefits society and will deliver impact in two of our strategic themes, Pioneering in Education and Excellence in Research and Enterprise."
Previously on e-architect:
26 Mar 2021
Houses of Parliament Restoration Programme
Palace of Westminster Detailed Record
Parliament restoration programme launches nationwide invitation for specialist surveyors to help develop most detailed record of the Palace of Westminster ever created.
Palace of Westminster London Building Restoration

photo courtesy of architects Foster + Partners
Westminster Hall Restoration
Renovations: Perfect Circle and SCAPE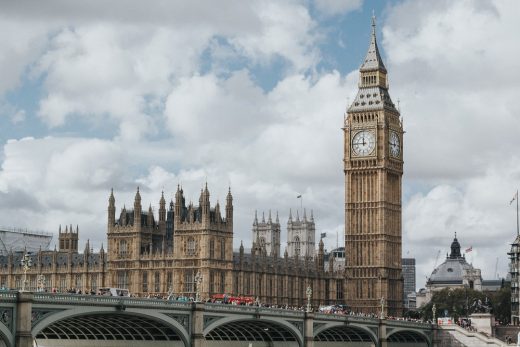 image courtesy of architects practice
Westminster Hall Restoration
Houses of Parliament Renewal Contracts
UK Parliament Renewal Contracts awarded to help ensure safe and secure future of Palace of Westminster
British architectural firm BDP win the architectural contract for the Palace of Westminster London Restoration.
Photos © UK Parliament unless stated otherwise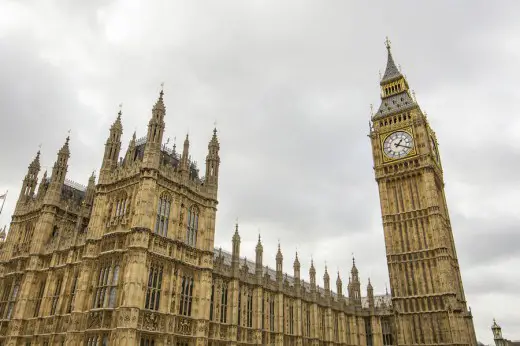 photo from architects
Palace of Westminster London Renewal
Temporary UK Parliament on the River Thames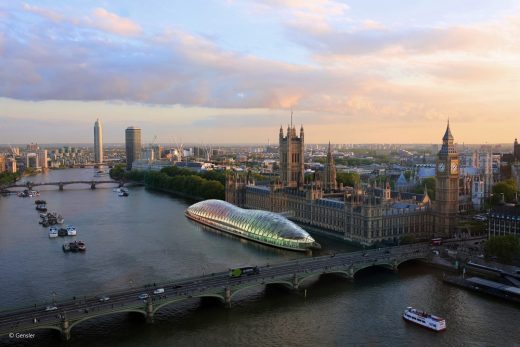 picture © Project Posiedon
Houses of Parliament on the River Thames in London
Built: 1840-68
Architects: Barry + Pugin
Large Victorian Gothic Building
Location: Parliament Square, London, SW1, England, UK
Architecture in London
London Architecture Links – chronological list
Houses of Parliament London joint architect : Charles Barry
Architecture Walking Tours London
Comments / photos for the Houses of Parliament Restoration and Renewal – Palace of Westminster London Architecture page welcome